Off-Road Touring in The Mule Wagon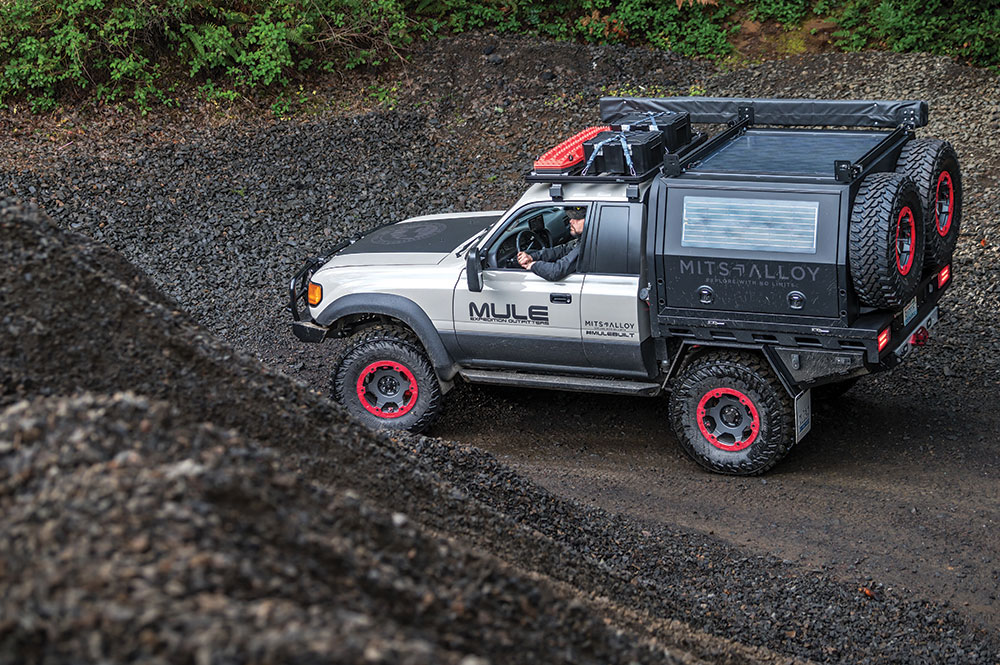 Mule Expedition Outfitters designed this 80 Series American Ute for off-road touring.
A lot of fun—and sometimes a bit crazy—adventure vehicles come out of Mule Expedition Outfitters (Mule) in Issaquah, Washington. From exo-caged aerospace-quality Vanagon builds to LMTV with a fold-out event stage and everything in-between, Mule has built some super-diverse vehicles over the years. Each company build needs to be a bit different than what the market has seen. Based on what we've seen, its latest Mule Wagon creation certainly fits that requirement when it comes to off-road touring capability.
Off-Road Touring Concept
Some very specific criteria set this build up for success. Mule wanted a wagon that they could primarily use for off-road touring, as opposed to a dedicated trail rig or full-blown overland camper. They further refined the concept by thinking about five key categories: durability, off-road capability, organization and security (of cargo), fun factor, and off-grid self-sufficiency.
Mule wanted a wagon that they could primarily use for off-road touring, as opposed to a dedicated trail rig or full-blown overland camper.
The final requirement was that it had to integrate a MITS Alloy flatbed and canopy syste, as Mule had recently become the U.S. importer for the Australian brand. This led the team at Mule in the direction of an Ute pickup.
Build Foundation
Initially, Mule looked primarily at the mid-sized trucks on offer. It quickly determined that having solid axles under both ends of the vehicle was the right decision for this build. The Jeep Gladiator was the only solid-axle mid-sized wagon on the U.S. market with the off-road touring capability that Mule wanted. However, an underlying desire to do something different inspired the Mule team to think outside the box a bit.
Inspired by the land down under, where the flatbed system they were now selling comes from, the team created the idea for the Mule Wagon's body. This 'Ute chop,' was the conversion of an SUV to a pickup. This is commonly done in Australia with a body-on-frame 4×4 SUV like the Nissan Patrol and Toyota Land Cruiser 70 Series. They could have imported a 25-year-or-older version of one of those vehicles for this build. However, Mule wanted to go with something that would be a relatively lower initial investment, in case the chop went sideways. And, the newer vehicle would be more relatable to Mule's U.S. audience.
80 Series Land Cruiser
This led the Mule to the durable and extremely off-road capable Toyota Land Cruiser 80 Series for its off-road touring wagon. These SUVs are readily available on the used market in a wide range of conditions. For this build, all the team needed from the donor vehicle was the body, frame, and axles.
In late 2020, they found it. A 1991 80 Series, on Craigslist in Olympia, Washington, only a couple hours away from Mule's headquarters. The vehicle was approaching 300,000 miles, which is common for Land Cruisers, but its body and frame were in decent enough shape.
The short wheelbase and solid axles of the 80 series combine with the modularity and flexibility of the tray/canopy system to create a Swiss Army Knife of an adventure vehicle.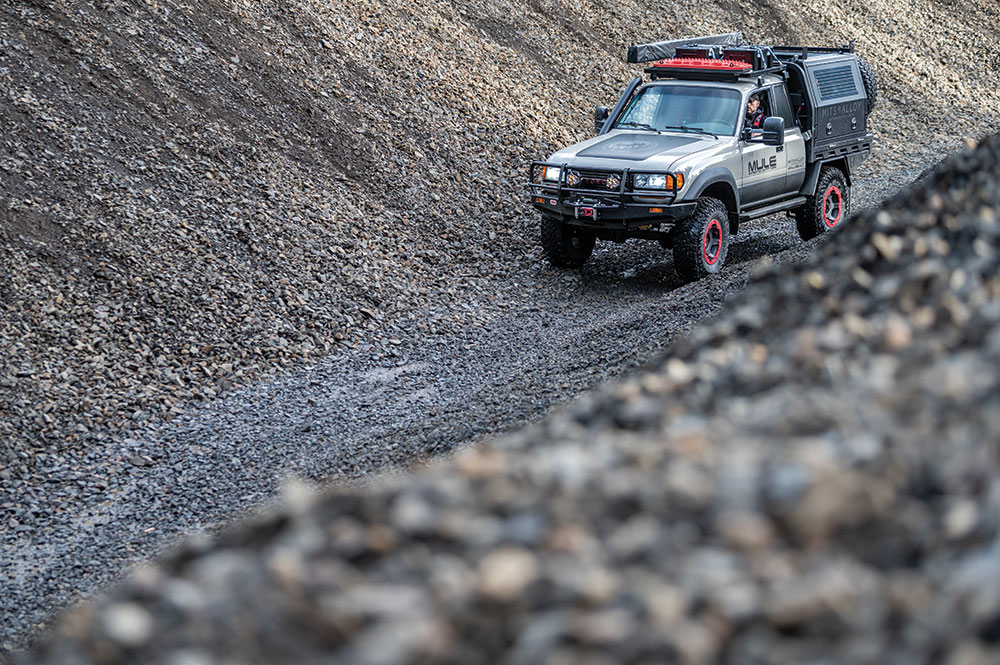 More Power
While the 80 Series is a beast of an off-roader, the inline 6-cylinder gas engine that it commonly comes with in the U.S. is lacking in both power and fuel efficiency. Given the age and mileage of the donor vehicle, a powertrain upgrade was a necessity on the long list of things to do on this build.
Mule chose to go with an LS power plant, particularly an all-aluminum LS3 crate motor from Chevy Performance. The LS3 ticked all the boxes: 495 hp, improved fuel economy, and a considerable reduction of weight. (It's 500-pounds lighter than the stock iron block inline 6-cylinder.) Additionally, the LS swap on an 80 Series is a common mod, which made that aspect of the project less daunting.
A TCI built GM 4L80E with a reverse manual valve body and beefed-up internals backs up the LS. The stock 80 Series H2FA transfer case remains, with upgraded low gears from SUMO. An Edelbrock ProFlo4 engine ECU manages the power plant, while an aluminum Griffin radiator keeps it cool. A custom 4-inch stainless steel snorkel keeps the fresh air flowing.
Chop Time
Mule decided to go with a single-cab design for this project, to keep the wagon short and nimble for off-road touring. They first stripped down the 80 Series to its bare essentials before the body went under the knife. The Mule team cut the body just forward of the rear wheel arch, and then 3D scanned the door panels and roof. Then came cleaning up the data and manipulating it on the computer to design the rear sheet metal cab closeout. Also deleted was the sunroof, which custom sheet metal panel replaced. Mule did the extensive body and paintwork on this build in-house.
To make the chassis stronger, improve the departure angle, optimize the flatbed installation and integrate a rear winch, Mule cut the off-road touring wagon just behind the rear wheels. Then, they installed a custom rear frame clip, which included a custom rear winch mount.
Up front, Mule relocated the radius arm mounts to allow increased caster and move the axle forward. This helped make it possible to fit 37s without a massive lift.
Off-Road Capability Upgrades
Yokohama 37-inch mud-terrains were wrapped around TeraFlex Nomad wheels, with integrated rub rings and air dump valves. That meaty rubber turns on stock 80 Series axels with 4.88 gears, Nitro CroMoly shafts, and ARB AirLockers. To stop that massive rolling mass, 6-piston calipers with custom 2-piece, 72-vain rotors from Power Brake were fitted up front.
What makes that big rubber setup truly work is a suspension that features a 2-inch coil lift, with 500 lb-plus heavy coils in the rear, and BP-51 extended travel internal bypass shocks from Old Man Emu all around. OME parts also upgraded the rear upper and lower control arms. The front sway bar features custom end links, while the rear bar is a 30mm White Line unit (stock was 23mm), also with custom end links.
Accessories Make Off-Road Touring Easy
Of course, a proper off-road rig must have proper armor and recovery gear. Up front, the Mule Wagon is fitted with an ARB bull bar housing a Come Up 12.5RS winch with roller fairlead and Factor55 FlatLink Expert. Victory 4×4 Blitz rock sliders are fitted and mounted with custom brackets. Out back, the custom rear-clip and skid plate houses a Come Up 9.5RS winch featuring a hawse fairlead and Factor55 FlatLink Expert.
Further expanding the off-road worthiness of the Mule Wagon is an onboard ARB Twin compressor with remote air chuck and two sets of Maxtrax recovery boards. The Maxtrax are mounted on a FrontRunner rack over the cab, along with a set of Wolfpack Pro storage boxes. Mule also fitted the wagon with a full host of quality driving lights. It's got IPF LED headlight bulb upgrades, two Baja Designs LP6 Pros upfront, Baja Designs rocks lights and Baja Designs S2 Pro flood pattern reverse lights.
UTE Systems
Of course, the backbone of this project is the MITS Alloy 5.5-foot tray with a 4-foot canopy system. The setup includes dual spare tire mounts, a roof rack, a full-length trundle drawer outback and an Alucab Shadow 270 awning. Illumination is through compact Baja Designs S1 flood pattern lights.
Inside the canopy is a sliding drawer with a compound sliding shelf, as well as a ClearView drop-slide holding a 75L Dometic fridge/freezer. The fridge and accessories are run through a massive BluOasis LiFePO4 battery being charged via the alternator when the truck is running and SunFlare solar panels mounted to the roof (126-watt panel) and the canopy doors (34 watts each) when the truck is stationary. A Redarc Redvision system controls all the power with dual Manager 30 color displays, one in the canopy and one in the cab.
Finishing Touches
The inside the cab retains the stock 80 Series dash, but fitted with upgraded electronics. The first thing you'll notice inside is the PRP Enduro Elite Recliner seats, which have a goggle pocket, hydration pack, seat heaters and adjustable lumbar support. PRP 4-point harnesses attach to a custom half cage with an integrated harness bar to ensure you stay in those comfy seats when the trail gets rough. Completing the interior is a custom shifter console housing a Winters ArtCar gated shifter.
Vehicle Versatility
The team combined the proven go-anywhere ruggedness of the Land Cruiser and the utility of the MITS Alloy tray and canopy system. In doing so, they provided a platform that is unique in the North American landscape of overland and off-road vehicles. The short wheelbase and solid axles of the 80 Series combine with the modularity and flexibility of the Tray/Canopy system to create a Swiss Army Knife of an adventure vehicle.
While dedicated overland rigs function exceptionally well for both long and short camping adventures, they can lack somewhat in practical day-to-day use. This is a dilemma many overlanders deal with on a daily basis, especially when they have only one vehicle, which they've built for overland adventures. Removing the canopy off the tray of a touring rig like the MuleWagon is a solution to this problem. Mule can quickly convert the Wagon to a fully functional truck. With that upgrade, it gains the ability to transport a wide variety of items, from dirt bikes to lumber. This is the main advantage of an Ute style build.
Mule Wagon Adventures
Big projects like this one are never truly over. The Mule team still needs to fully tune the Wagon's engine and transmission, and to button up the interior. The truck will likely see a few more exterior area lights, and maybe some ditch lights, too. A roof top tent is also an addition you might see on the canopy for specific trips.
The Mule Wagon still needs the engine and transmission to be fully tuned and the interior buttoned up. It will likely see a few more exterior area lights, and maybe some ditch lights, too.
You can check out Mule's off-road touring wagon for yourself at Mule Expedition Outfitters' massive new headquarters just outside Issaquah, Washington. You're also likely to spot it roaming the backroads of the Pacific Northwest or at a west coast overland event soon, like the Northwest Overland Rally.
---
UPGRADES
1991 Toyota Land Cruiser 80 Series Ute
Engine and Drivetrain: Chevy Performance Crate LS3, TCI Built GM 4L80E Transmission, Toyota H2FA Transfer Case with Low Range Gears from SUMO, Edelbrock ProFlo4 Engine ECU, Custom MuleBuilt Engine Mounts, Griffin Aluminum Radiator with integrated Trans cooler, Custom MuleBuilt 4-Inch Stainless Steel Snorkel
Wheels and Tires: Yokohama Geolander MT 37×12.50 R17, TeraFlex Nomad Wheels 17-inch
Suspension: ARB BP-51, OME 2-inch lift coils with 500lb+ HD Rear Coils, OME Rear Control Arms, Custom Front Sway Bar End Links, 30mm White Line Rear Swaybar with Custom End Links
Axles: ARB Air Lockers, Nitro CroMoly Front Axle Shafts, Nitro 30 Spline CroMoly Rear Axle Shafts, Front Power Brake upgrade (6 Piston Calipers, Custom 2 Piece 72 Vain Rotors, Japanese HD Pad)
Exterior: ARB classic 80 series Bull Bar with COME UP 12.5 RS Winch and Factor 55 FlatLink Expert, Victory 4×4 Blitz Rock Sliders with Custom Mounts, Custom Rear Winch Mount and Skid Plate, COME UP 9.5 RS, Factor 55 Flat Link Expert, FrontRunner Roof Rack and Wolfpack Pro Boxes, Maxtrax, Baja Designs LP6 Pros, S1, S2 Pro Flood, Rock Lights, IPF LED Hi and Low BeamsHeadlights
Interior: Custom Shifter Console, Winters ArtCar Gated Shifter, Custom Half Cage, Integrated Harness Bar, PRP Enduro Elite Recliner Seats and 4-Point Harness
Flatbed System: MITS Alloy 1680mm Tray, MITS Alloy 1200mm Canopy, Dual Spare Tire Mounts, Roof Rack, Full Length Trundle Drawer, Sliding Drawer with Compound Sliding Shelf, Clear View Fridge Slide, Dometic 75L Fridge/Freezer, SunFlare 126 Watt Panel and two 34 Watt Panels, REDARC Manager 30 with Dual Color Displays, REDARC REDVISION, Blue Oasis 200Ah 12V LiFePO4 Deep Cycle battery, ARB Twin Compressor, Alucab Shadow 270
---