Nissan Patrol Passion
A Long History with Nissan Continues
This 1990 Nissan short-wheelbase diesel Patrol is Chuck Kurtz's third Patrol, and most capable yet. Kurtz has a long history with Nissan, one that dates back to the '60s when his father owned a Datsun/Lotus dealership in Pennsylvania. His passion for the brand was solidified with a long and storied history with racing a wide range of Nissans in America.
Nissan Race Life
Kurtz's father road-course raced Datsuns and Nissans all his life. He actually built up a successful race team to such a level that it became the Nissan Factory Team in the IMSA GTU series, racing Nissan 240SXs during the '90s. At its peak the team ran a three-car program in the GTU series, winning numerous driver championships and manufacturer championships for Nissan.
"For a passionate Nissan enthusiast, the search for the ultimate off-road-capable overland machine led directly to a short wheel-base 1990 Nissan Y60 Patrol."
During 1983 to 1985, Kurtz himself raced a Nissan 4×4 720 pickup in a Pennsylvania short-track off-road series. From there he built a long racing career, nearly all with Datsuns and Nissans, that spanned SCCA, IMSA, GTU, IMSA Firestone Firehawk Endurance Series, and more. He raced 280ZXs, 300ZXs, 240SXs, and 4×4 Nissan pickups. He finished off his racing career racing in the '90s in Formula 2000 and lots of endurance races, including a GTU Class win at the 12 Hours of Sebring and finishing 13 24-hour races.
Kurtz also had the opportunity to instruct at SCCA competition driver schools and Nissan dealer launch events for the 300zx and many 4×4 trucks. After years with Nissan and with driving in his blood, Kurtz eventually turned to off-road and overland adventures for his vehicular recreation.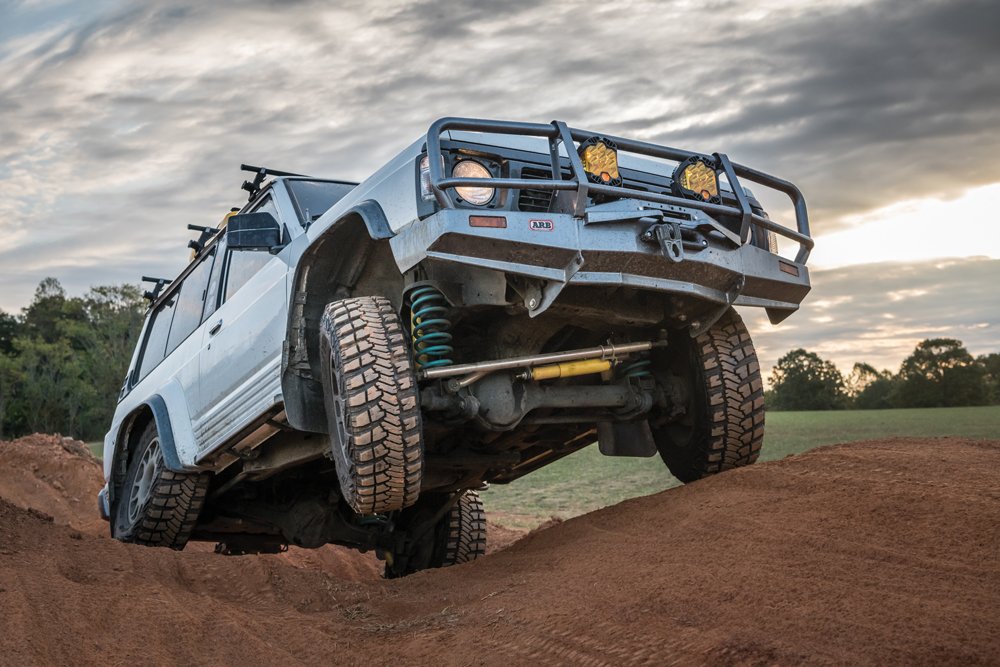 Patrol Passion
The earliest memory Kurtz has of the Nissan Patrol is as a 3-year-old helping his dad clear land with a 1966 Patrol to build their house upon. That old Patrol stayed with his dad all the way until the late '90s.  It finally succumbed to rust after serving many years of snow-plow duty at his family's Nissan/Mercedes-Benz dealership in State College, Pennsylvania.
The first Nissan Patrol Kurtz owned himself was a $500 basket case of a vehicle. While he got to enjoy it a bit, he just couldn't find the parts needed to keep it running. This was pre-Internet, and well after Nissan no longer offered parts support for the Patrol. That machine was eventually sold to make room for other projects.
In 2013, Kurtz found a Nissan Patrol he just couldn't pass up. It was a 1967 G60 model that was miraculously rust-free. He has and loves this old machine to this day. It's a primitive and slow machine, however, which isn't ideal for long drives and extended overland adventures.
Overland Inspiration
As you'd imagine with an automotive enthusiast like Kurtz, he doesn't just have old Nissan Patrols in his vehicle quiver. His daily driver, tow rig, and big overland adventure vehicle is a well-built 2014 Nissan Frontier.
"Kurtz has owned 15 Datsun and Nissan 4×4 trucks over his life, so googly eyes came quickly when he looked upon this 1990 Patrol."
He attended the 2018 Vermont Overland Birdwatching Safari with his Frontier but came away from the event thinking that he needed even more capability. Ground clearance was the Frontier's main deficiency in challenging off-road terrain. Getting the clearance and capability out of the Frontier would mean major modifications, which would also greatly reduce its road manners and towing ability. Because of this, Kurtz decided to start the search for a purpose-built off-road machine that he could use to tackle more challenging overland adventures.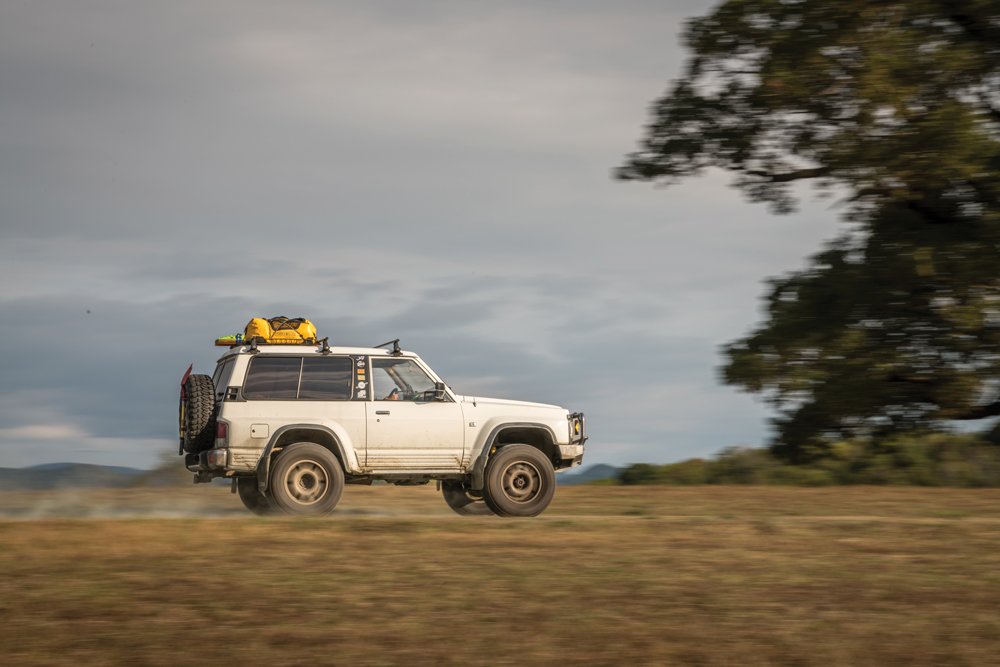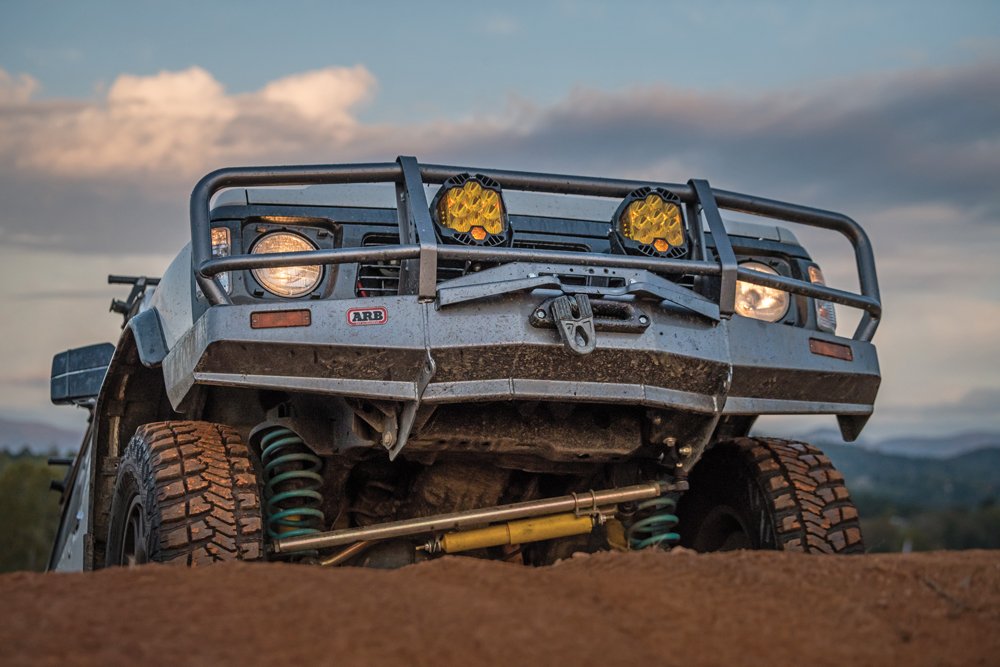 French Patrol
For a passionate Nissan enthusiast, the search for the ultimate off-road capable overland machine led directly to a short wheelbase 1990 Nissan Y60 Patrol. Kurtz found this example at just the right time on Bring-A-Trailer, and purchased it from a gentleman who had imported it to the U.S. from his home country of France. Not only was it lefthand drive, but it was more than 25 years old, therefore legally imported into the USA.
Kurtz has owned 15 Datsun and Nissan 4×4 trucks over his life, so googly eyes came quickly when he looked upon this 1990 Nissan Patrol. Besides the brand, the cockpit of this machine is also very similar to his much-loved Nissan trucks from the '90s. The seats, the switches, the layout, and more all just felt immediately comfortable to Kurtz.
Building Capability
Once Kurtz was able to procure this quality machine, he set about making it the most capable Patrol he's ever owned. First up was to sort out the suspension. He worked with the team at Main Line Overland, which led him to a Dobinsons 3-inch suspension lift system. The main reason he went with this kit was that it came with the necessary transmission mounts to prevent high-angularity driveshaft U-joint issues. The Dobinsons suspension package for the Nissan Patrol consists of springs, shocks, panhard rods, bushings, bumpstops, and a steering stabilizer. They are all designed to work in harmony, and have been used and abused for years, earning the respect of the Nissan Patrol community.
The 3-inch lift allows for fitment of a 33-inch tire. Kurtz chose the Goodyear Wrangler MTR, which he wrapped around his favorite off-road wheel, the 17-inch Evo Corse Dakar Zero. He'd been wanting to use their matte bronze wheels on something for some time, and this white Patrol was just the ticket.
For a better entry angle, solid recovery points, a winch mount, and front impact protection, an old-school ARB bullbar is mounted. Not only is it a quality unit, but the classic styling looks appropriate on the boxy '90s truck. A Comeup Seal Gen 2 9.5rsi with wireless remote and synthetic line is mounted "feet forward" for max stability and a clean install.
Kurtz runs auxiliary lighting on all his vehicles. His experience in the world of endurance sportscar racing has made serious lighting a mandatory upgrade for him, and something he uses regularly on the remote backroads of Pennsylvania. Two Baja Designs LP9 Pros, with amber lenses, are mounted on the bumper. The two lamps produce over 26,000 lumens and the amber lenses were chosen specifically to dampen the reflection from road signs, especially white speed limit signs.
On top of this Patrol are three Yakima round bars, mounted with gutter mount towers. The bars support a shallow load basket and regularly carry four Maxtrax and an Ortlieb 85-liter waterproof duffle bag. The rack can also easily carry a canoe, kayak, or paddle board, all of which are activities that Kurtz enjoys.
"Once Kurtz was able to procure this quality machine, he set about making it the most capable Patrol he's ever owned."
Inside the Patrol you'll find a clean, classic Nissan interior. The all-important rear diff lock is front and center on the dash. A manual five-speed gearbox is evident with the tall stick shift. A proper 4WD transfer case is engaged with the stick selector in the center console. An Inclinometer and Altimeter is mounted on the roof to round out the Nissan OEM look.
Updates on the interior include a period-correct MOMO sterling wheel, a touch Kurtz does to all his classic vehicles. A variety of quality American-made soft good organizers from Nittany Mountain Works, Blue Ridge Overland Gear, and Adventure Tool Company keep things organized in the driver's compartment. In the back, you'll find a variety of Alu-Boxes that Kurtz uses to secure his radios, camping gear, tool kit, recovery gear, and camp kitchen. While most of the time Kurtz likes to navigate with quality paper maps, like those by his friends at Purple Lizard Maps, he also uses a variety of iPhone apps. A RAM Mount X Grip keeps his phone securely out of the way, but within easy sight.
Overland Adventures Await
Now that Kurtz has dialed in his ultimate overland machine it's time for adventure. He plans to take this Nissan Patrol to find the road less traveled. Kurtz's overland bucket list includes Baja, by way of Moab and Route 66, the TAT, and Newfoundland. All of these trips are much more attainable now that he has the right tool for the job.
In 2020 you're sure to see this impressive machine at the Mid-Atlantic Overland Festival, the Vermont Overland Birdwatching Safari, and at Overland Expo East. You're also likely to spot it on the trails and backroads of central Pennsylvania.
---
1990 Nissan Y60 Patrol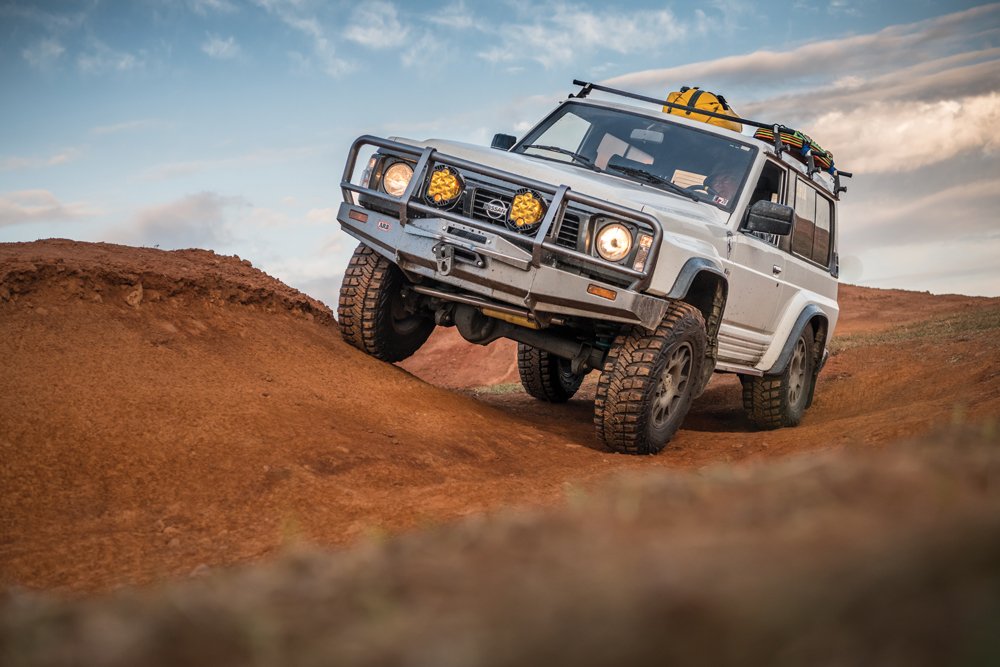 Platform: 1990 Nissan Y60 Patrol SWB LHD RD28T
Engine: 2.8L diesel turbocharged inline-six
Suspension: 3-inch Lift Suspension System
Wheels & Tires: Evo Corse Dakar Zero 17×8 Wheels, Goodyear Wrangler MTR 285/70R17 Tires
Accessories: ARB front winch bumper; Comeup SEAL Gen2 9.5rsi winch; Factor 55 ProLink E; two Baja Designs LP9 with Amber lenses; three Yakima Round-Bars with Gutter Mount Towers and Shallow Basket; Maxtrax, Ortlieb 85L waterproof duffle; Crazy Beaver shovel; MOMO steering wheel; RAM X-Grip phone mount; Alu-Boxes, bags, and organizers by Nittany Mountain Works, Blue Ridge Overland Gear, and Adventure Tool Company
Enjoy this story? Enjoy the whole issue … for free! Click here to download your FREE copy of Tread March/April 2020.
Editor's Note: A version of this article first appeared in the March/April 2020 print issue of Tread Magazine.