1969 Ford Bronco: Rebelle Rally Restomod
A Family's 1969 Ford Bronco Heirloom
After father Dennis Wolf died in 2014, his family knew they'd keep his cherished 1969 Ford Bronco. Wolf bought this Bronco new in 1968 and cherished it so much he even kept a carbon copy of the original order slip. Therefore, old iron has many stories to tell—this one included.
Although Wolf's Bronco sat for nearly 25 years (it was last registered in 1995), it was brought back to life by his family. As they slowly restored it, they had every intention to "just get it running again." Little did they know this 51-year-old 4×4 would captivate many lives as it motored its way through the California and Nevada deserts during the 2020 Rebelle Rally. This 1969 Ford Bronco stood out so much we jumped at the chance to feature this unique adventure rig. From the late, great racer Rod Hall to this new Rebelle Rally team, the early model Ford Bronco has been an iconic machine for off-road racers over a multitude of years.
Sisters Melissa Vander Wilt (42, navigator) and Rochelle Bovee (38, driver) had never rallied before. Shared between them, this vehicle was built up with the help of Tom's Bronco Parts (TBP), other sponsors, and their family. However, they decided to keep its natural patina to "make new memories with our kids, just as our dad did with us." They've added modern amenities but stayed close to its factory appearance. "I'm excited about the Bronco being a way for me to experience the outdoors in a new way," Vander Wilt explains, "really getting out there beyond just car camping or driving to a trailhead."
"Trying their best to nail the prescribed average speed during an enduro challenge."
Wolf's family originally wanted to build the 1969 Ford Bronco for overlanding as a second vehicle to support their family of six since they don't all fit in their Jeep. However, it gave meaning to a bigger purpose: to carry both sisters in the Rebelle Rally as team Roaming Wolves, honoring their love of travel and their dad's family name.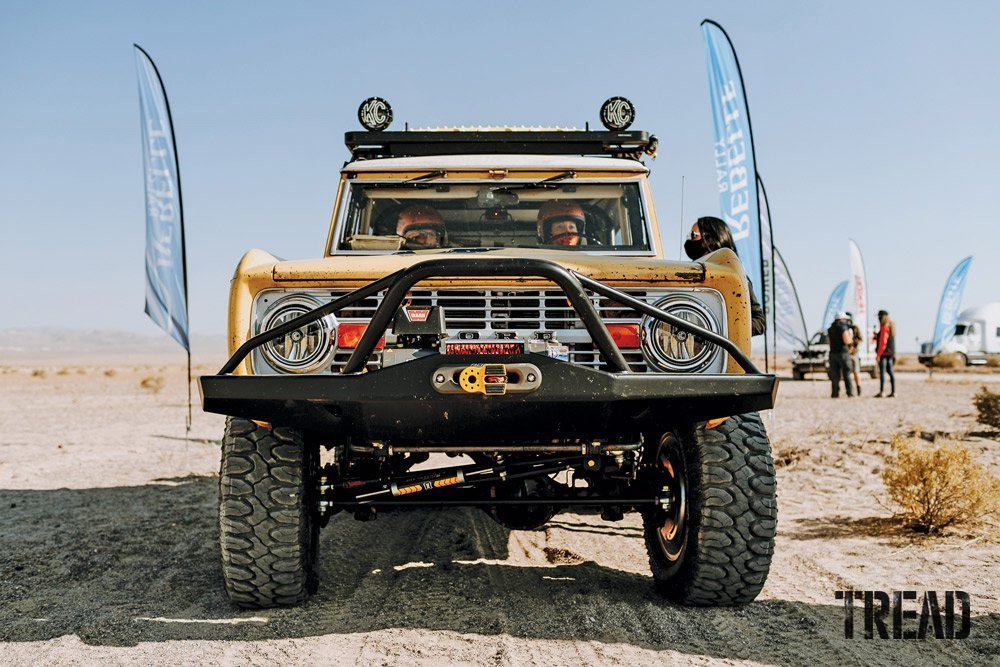 Wrenching Before Running
Sitting idle for 25 years proved challenging. Along with the interior's deterioration, the engine needed massive work. Shortly before the rally, the original 302 lost two cylinders. They had to search for a replacement engine—FAST. With an unfortunate 302 shortage, they found one with a friend on the East Coast. Their 1969 Ford Bronco golden gem now dons a 302 HO from an 1989 Mustang, along with a roller valve train and forged bottom end.
"Kilometers of whoops were no match for the suspension, which kept Vander Wilt and Bovee rolling smoothly."
The 1969 Ford Bronco's new Mustang engine is mated to a 1973 Ford C4 three-speed transmission. A TBP transmission pan and heavy-duty torque converter helped beef things up.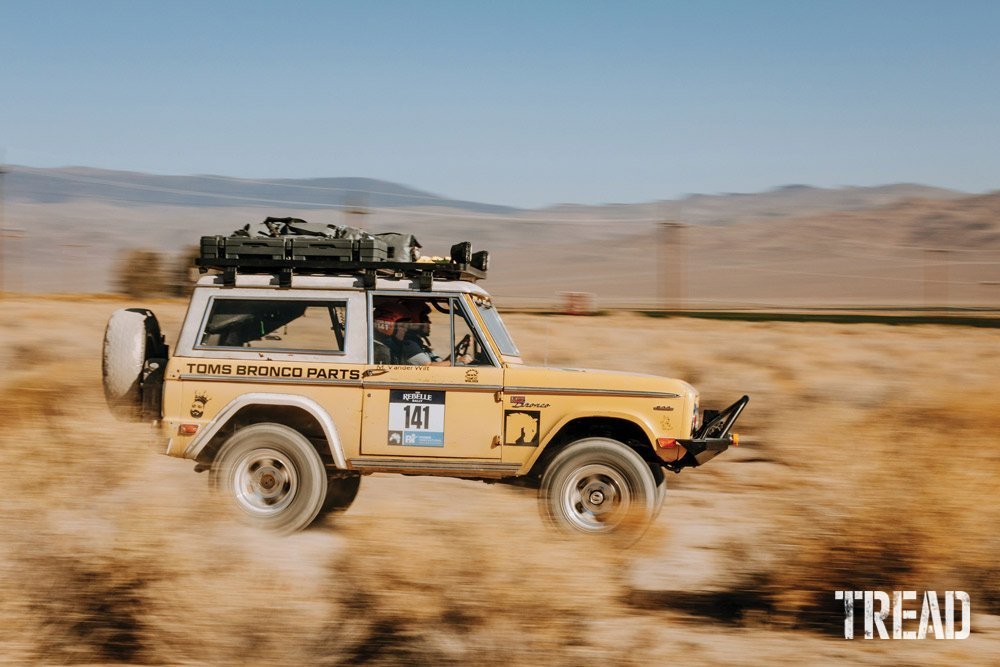 A Dana 30 along with a rare factory power locker enjoys life up front. To this they added TBP Dana 30 Trail Terminator chromoly axles. They're induction hardened and dual heat treated, making them one of the strongest chromoly axles available on the market today. In addition, the rear is outfitted with a Ford 9-inch and factory Trac-Lok differential.
Team Roaming Wolves went with an exclusively designed suspension system: a TBP 2.5-inch lift that includes progressive rate front coil springs and stout nine-pack leaf springs for the rear. A TBP adjustable track bar with drop bracket, Hellwig front sway bar, and Energy Suspension poly bushings throughout the Bronco upgrade the suspension and ride quality.
Polished aluminum Indy Mags from U.S. Mags wrapped in Milestar Patagonia Mud-Terrains round out the bit. They were added to ensure the sisters had enough grip on a variety of terrain, which included dirt, mud, rock, and soft sand.
Guts Before Glory
"My husband has been in the automotive aftermarket scene his whole career, and, therefore, so have I," Bovee says. "Our vehicles are built to perform, and being self-reliant is important to us when we're traveling or hitting the trails." As a family, their favorite thing to do is get out to the middle of nowhere, so they need to make sure their vehicles—including the Bronco—can take them there and get them back home. Undoubtedly, when the Rebelle Rally was on the horizon, they had to outfit their dad's beloved 1969 Ford Bronco with guts before it could claim glory.
The team didn't have much seat time with it before leaving for the rally. Its proving grounds would be the Nevada and California deserts, along with the famed Glamis sand dunes lining the Mexico border. This proved especially taxing since the duo didn't have air conditioning.
"It's amazing that we finished the work on the Bronco and got it there, and even more amazing that we crossed the finish line," Bovee states. "With the new-to-us engine going in around two weeks prior, the rally proved to be the ultimate shakedown." The sisters faced mechanical issues along the way, but their memories, to them, are priceless. "She wasn't completely ready this time," Bovee says. But, the duo finished the rally with the help of the Rebelle Rally staff and mechanics team, as well as other competitors.
Steering the Possibilities
"I have a really vivid memory of driving around in the Bronco with Dad when Shelly and I were young," Vander Wilt exclaims. "We were listening to Roy Orbison on the 8-track [player] and just cruising around. I think that same day the steering went out on the trail, and Dad did his usual thing, MacGyvering it so we could get back home, probably with little more than a paper clip and rubber bands."
"Fueled with little coffee, but all the jitters, Vander Wilt and Bovee head out through our first start line of the 2020 Rebelle Rally."
To fix those issues the team installed a TBP 1969 replacement steering wheel with an adapter to work with their 1974 rebuilt column. They also added a power steering gear and pump from a 1974 Bronco (it had stock manual steering). The pair upgraded other OE items like adding a TBP Trail Terminator heavy-duty Heim steering linkage kit and an Icon Vehicle Dynamics pass-through steering stabilizer.
"My favorite modification has to be the steering and suspension mods," Bovee says. "I'm just so impressed with its handling on the highway and on the trail." She adds, "the steering is precise and responsive, and the ride is comfortable."
Although the 1969 Ford Bronco struggled to change between 4L, 4H, and 2H when needed and threw alternator belts, the team made decisions based on "her" performance that steered them away from checkpoints they wanted. However, the Bronco "handles like a dream. The components and upgrades we had installed during the build worked wonderfully."
"I don't regret entering a 51-year-old rig into the event one bit," Vander Wilt exclaims. "Even with the challenges we faced." It goes to show that running the Bronco was awesome. Everyone was excited about it. "We had people constantly coming up to us to share their own story of a classic Bronco or some other early vehicle they loved," she says. "People were truly inspired to see an oldie but goodie out there and the enthusiasm and support we got as a result was fantastic." She and Bovee both believe that people really love a vehicle with a story and some soul.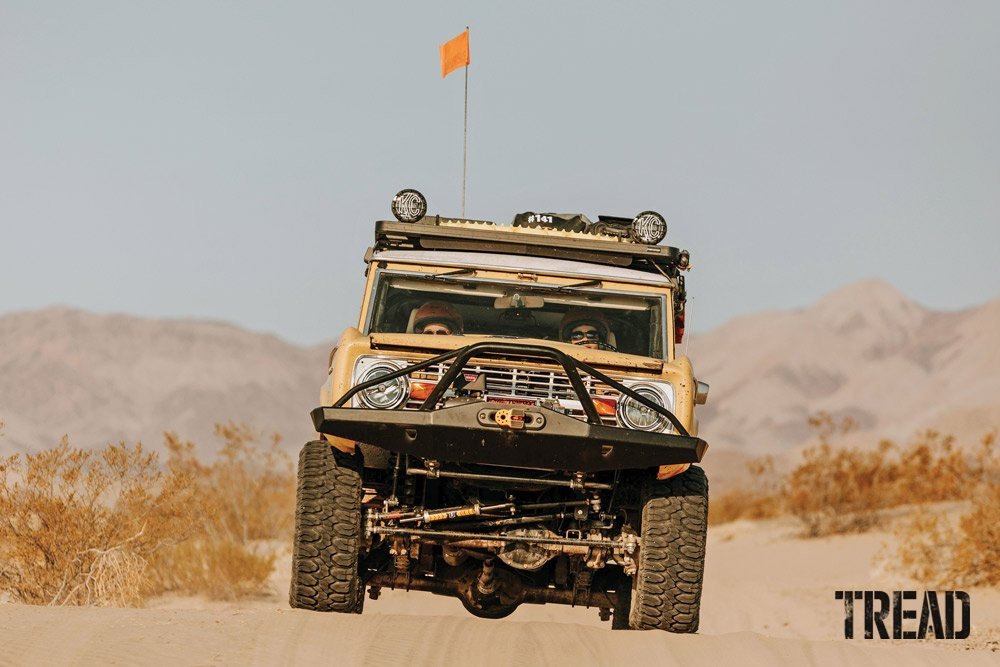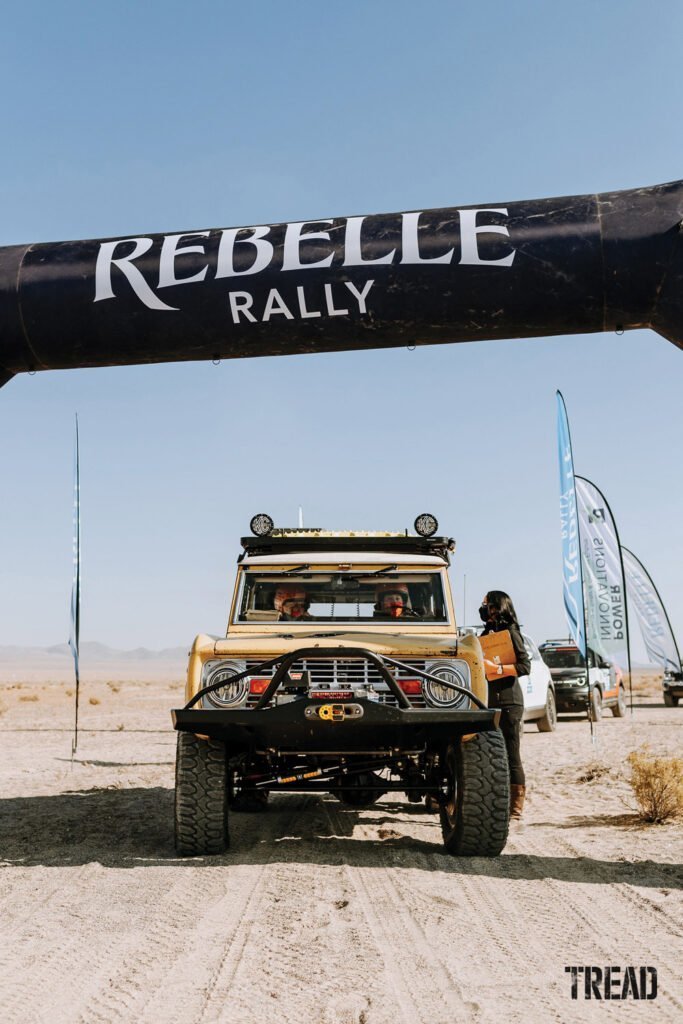 1969 Ford Bronco
Engine: 1989 Mustang 302 HO with Roller valvetrain and forged bottom end. Special Mods: Edelbrock Pro-Flo 4 Multi-Port EFI, TBP long-tube black ceramic headers, Edelbrock high-volume water pump, Powermaster high-amp alternator, Powermaster high torque starter, Melling high-volume oil pump, TBP oil pan, ARP fasteners, PRW harmonic balancer, TBP conversion flexplate, TBP Tri-Flo 4 Core aluminum radiator, TBP silicone hoses, Painless dual battery kit, Optima 34/78 YellowTop batteries, Aeromotive adjustable fuel pressure regulator and fuel filter
Transmission: 1973 Ford C4 three-speed. Special Mods: TBP trans pan, heavy-duty torque converter
Differentials: Front Dana 30 with rare factory power locker, rear Ford 9-inch with factory Trac-Lok. Special Mods: TBP Dana 30 Trail Terminator chromoly axles
Suspension: TBP Deluxe 2.5-inch lift with Progressive Rate front coil springs. Special Mods: TBP adjustable track bar with drop bracket, Hellwig front sway bar, Energy Suspension poly bushings, TBP Deluxe 2.5-inch lift with 9-Pack leaf springs rear suspension
Steering: TBP replacement 1969 steering wheel with adapter, '74 rebuilt column, power steering gear and pump (stock manual steering), TBP Trail Terminator heavy-duty Heim steering linkage kit, Icon Vehicle Dynamics pass-through steering stabilizer
Wheels & Tires: 17×9 U.S. Mags polished aluminum Indy Mags, 3.5-inch backspacing, Milestar LT285/70R17 Patagonia M/T mud-terrains
Exterior Accessories: KC Hilites Gravity LED headlights, TBP taillight lenses, KC Hilites 6-inch Pro-Sport and KC Hilites C2 light bars, Warn XD9 winch with Spydura Nightline synthetic rope, Factor55 Flatlink and Fairlead, TBP 23-gallon oversized primary gas tank with skid plate, TBP Aux 9-gallon gas tank with skid plate (factory dual tank), front runner Slimline roof rack with Roam Adventure Company Rugged Case, TBP Plate Style Family six-point interior bar, TBP front impact winch bumper with Pre-Runner Bar, TBP rear impact bumper with tire carrier
Interior Accessories: TBP premium front bucket seats, Terratrip 202+ Rally computer, custom wood center console and cup holders, Blue Sea dual USB power center console outlet, Dometic dual power rear outlet, TBP Deluxe insulation and carpet kit, TBP door panels, Terratrip Terraphone Rally intercom system, Retrosound "Model 4" custom stereo with Sirius XM and Bluetooth
Other Features And Mods: MagnaFlow Street Series dual exhaust with X-pipe, Painless Performance Products chassis harness, Painless Trail Rocker switch system, TBP power disc brake conversion, Premium manual hubs, Billet master cylinder and stainless steel brake lines, TBP Deluxe dual wiper motor conversion, ARB on-board air compressor