Profile on the 2020 Jeep Gladiator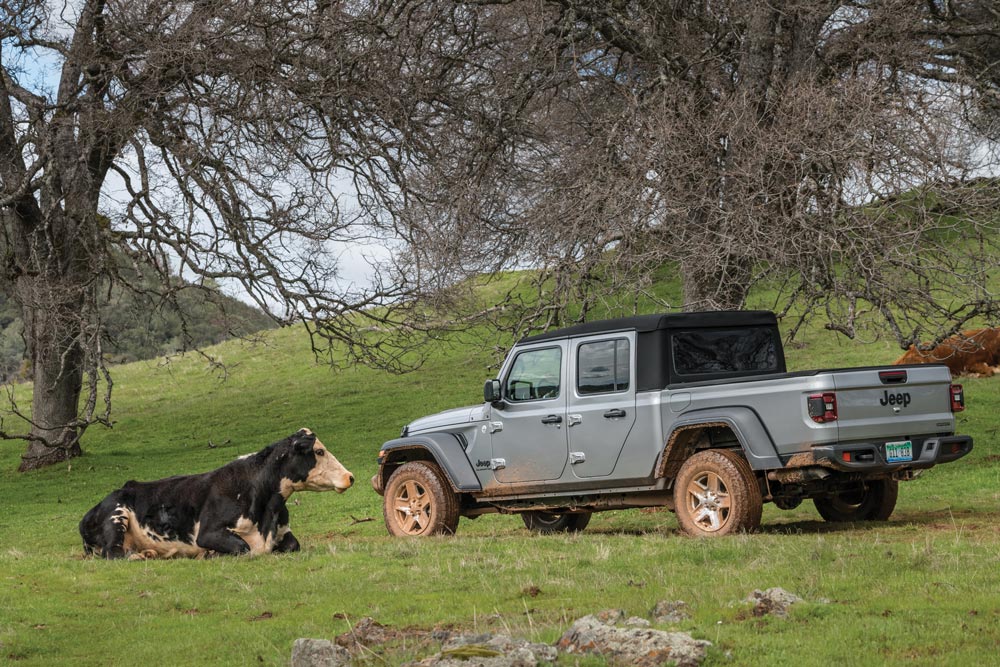 Is The Jeep Gladiator Right For You?
By now you've seen the specs and probably have seen a few of the 2020 Jeep Gladiator trucks rolling around the streets near you. Have you been behind the wheel yet? I have, and played with the full gambit of JT configurations, on and off road. Let's dive into what this vehicle is really all about.
Is It a Jeep?
Is the Gladiator a Jeep? The short answer is a resounding, yes. The new Gladiator is a stout off-road capable 4×4 with solid axles and body-on-frame architecture. It offers everything you can get in a modern Jeep Wrangler, with the addition of a truck bed. That means you can remove the top and doors, as well as drop the windshield, for the ultimate open-air motoring experience. A very unique experience in a truck, but expected in a proper Jeep.
Is It a Truck?
The Gladiator is a proper pickup truck in every way. It has a truck bed and offers up impressive payload, up to 1,600 pounds, and towing capacity, up to 7,650 pounds. Note that the truck bed is relatively shallow and only 5 feet long. The Gladiator isn't the best gear hauling truck, but it is great at hauling a good mix of people and gear. You can only get it in a four-door shortbed configuration—for now.
Off-Road Prowess
For the Gladiator to be taken seriously it needs to have substantial off-road chops. Of course it does, as it is basically a Jeep Wrangler with a longer frame, truck bed, and Ram 1500 rear suspension. This truck has earned its Jeep Trail Rated badging.
It offers an impressive 43-degree entry angle, but does fall a bit short on the breakover and departure angles, 26 and 20.3 respectively. The ground clearance is also impressive, and possibly the most important thing, at 11.1 inches. Do note that the long wheelbase will hang up on some obstacles, and you can expect to put the sliders and rear bed corner protectors to good use. The rear bed corner protectors are built right, as they can hold up to one-third of the vehicle's weight before they start to deform.
You'll find Dana 44 solid axles front and back. This makes the Gladiator a unicorn in the U.S. midsize truck market, as all other offerings have independent front suspension. Solid axles make this truck extremely durable and capable off road. They also help make it extremely customizable and upgradable to meet the standards of enthusiasts.
With the best off-road Gladiator you can buy, the almighty Rubicon, you get all the off-road goodies. The Rubicon Gladiator offers up an insane stock crawl ratio of 84.1:1, electronic sway bar disconnect, front and rear differential lockers, rock sliders, skid plates, 33-inch tires, and so much more. For sure, this is the ultimate go-anywhere off-road pickup truck.
Making Power
While the 3.6L Pentastar V-6 is your only option right now, there will be a 3.0L EcoDiesel V-6 on offer in 2020. The 22-gallon tank on the gas truck offers up 400-plus miles of range, with a 19 mpg combined EPA fuel economy rating. With 285 hp on tap, the gas V-6 has no problem getting this truck moving. The 442 lb-ft of torque the diesel is said to offer next year will be truly impressive to play with off road and when towing. We're also looking forward to seeing what fuel economy the diesel will offer.
Sure the diesel will be a great option next year, but what we all really want, at least in concept, is a V-8 Hemi underhood. The ultimate option would be the 1,000hp Helliphant motor, which we're sure to see in a few custom Gladiators soon.
Manual Transmission Available
It's rare that you can row your own gears on a modern vehicle, but the Jeep Gladiator does come with a six-speed manual. While you have that option on the order sheet, this is the first vehicle that I've ever said, "Don't do it." The manual gearbox is just a bit clunky and is particularly horrible on the highway. Where it does shine is off road, with its crazy crawl ratios.
"Even though the Gladiator can tow an impressive 7,650 pounds, it isn't all that good at tow duty. The biggest issue is the tiny, inadequate side mirrors."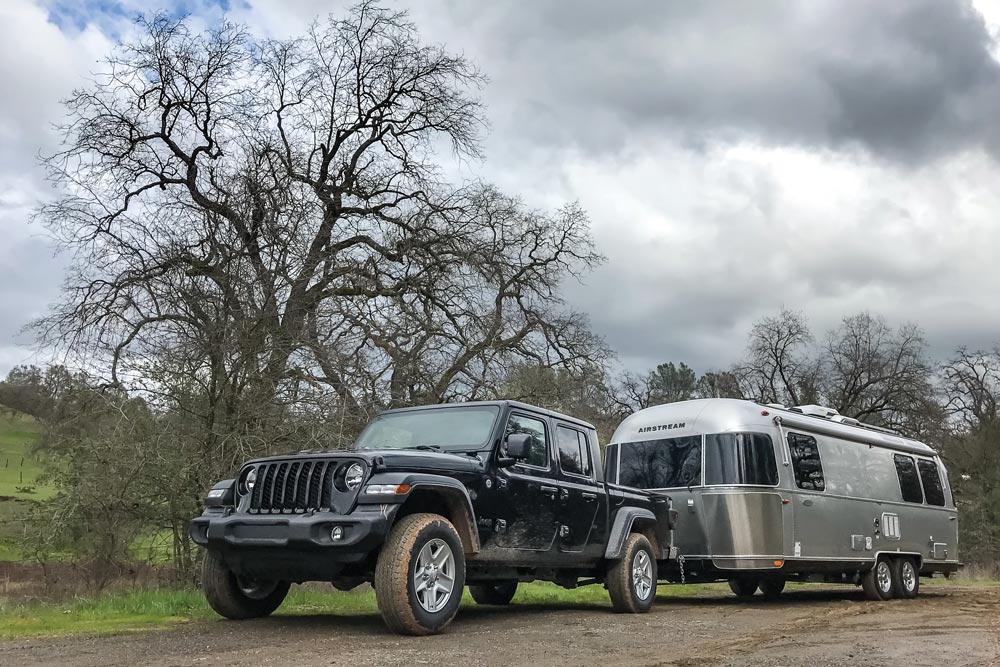 The 3.6L V-6 paired with the eight-speed automatic transmission is just as much better and a more refined option for nearly all driving situations. You'll particularly notice this when passing at highway speeds. The eight-speed transmission is super smooth and just generally plays nice with the V-6.
Cabin Comfort
Inside the cabin you will find the latest in driver safety aids, infotainment, and overall passenger comfort features. The inside of a Gladiator is a nice place to be. If you're tall or long legged, the rear seats will definitely feel snug, but there is plenty of headroom for all passengers. The seats feature a nice, adjustable lumbar support and soft lower cushions, but aren't bolstered very aggressively, which has you sliding around a bit when the trail gets rough.
My biggest issue with the inside of the Gladiator is that there is no dead pedal to rest your left foot on while driving. Having your foot flat on the floor puts your ankle at a weird angle. On top of that the door limiter strap intrudes on the footwell and rubs against your shin. Both of these thing are tiny, but annoying.
Behind the Wheel
I'm most impressed by the throttle, brake, and steering response in the Gladiator. There is little play in any of the controls, with a hint in the steering wheel. While there is a bit of computer lag between mashing the skinny pedal and acceleration, the brakes are super linear and direct. The brakes are the largest of any midsize pickup, actually, which is good as the Gladiator isn't a small or lightweight truck.
The engine start-stop feature on the Gladiator is a bit aggressive and abrupt. You very much notice when the system turns the engine back on, but the shutoff is quiet and seamless. You can turn the start-stop feature off, but you need to deactivate it every time you start the vehicle.
Why You Want a Gladiator
Let's start with the obvious. This is the only truck on the market that has a removable top, removable doors, fold-down windscreen, and built-in rollcage. All are signature Jeep Wrangler, but are now on offer in a Jeep Trail Rated truck package. Open-air off- and on-road adventure motoring has never been more accessible.
Also, there is no other truck that you can go to a dealership and drive away with that is more capable off road. Solid axles and the ability to fit 35s with no modifications are all uniquely Gladiator.
Impressive payload and towing make this a useful vehicle to outfit for adventure and do a wide range of work truck duties. The fit and finish of the interior is also quite impressive, especially when you consider it is designed to handle top-off motoring and be hosed down when it gets muddy.
Why You Might Not Want a  Gladiator
The Gladiator is not a short truck. At over 18 feet long, it is the longest overall in the midsize truck class. It also takes a whopping 44.5 feet to turn this beast, which can be tough on tight tracks and technical off-road obstacles.
If you need a big truck bed to haul gear in, the Gladiator isn't for you. The tiny truck bed can accommodate two dirt bikes, with the tailgate down, but is otherwise pretty small in all dimensions. It is also way too short for most people to sleep in, so forget building out a sleep platform in the bed and truck camping on your next adventure.
"You'll find Dana 44 solid axles front and back. This makes the Gladiator a unicorn in the U.S. midsize truck market, as all other offerings have independent front suspension."
Even though the Gladiator can tow an impressive 7,650 pounds, it isn't all that good at tow duty. The biggest issue is the tiny inadequate side mirrors. These mirrors are barely acceptable without a trailer behind the vehicle. With a decent-sized trailer, they are pretty worthless. Mopar supposedly has no plans to offer an attachment or upgrade, so there is a big opportunity here for the aftermarket. The tow hitch is also a long way behind the rear axle, which can cause the trailer to get squirrelly in adverse conditions and makes backing up with a trailer a bit more challenging.
While the Gladiator is quite refined for an open-top capable Jeep, it offers pretty poor on-road driving quality and cabin noise levels compared to the competition. This makes it much less of a comfortable daily driver or long road trip machine than the competition, as well. Even the Rubicon's 2-inch Fox shocks didn't seem to help smooth out the on-road ride. With all that said, the Gladiator corners far flatter than you'd expect and does have a bit of a light twitchy rear end when unloaded, but that is to be expected.
The elephant in the room for many might be the price tag. With the Gladiator starting at $33,545, the Rubicon most of us want starts at $43,545 and tops out at over $62,000. Those are steep prices for a midsize pickup; in fact, the highest in class. I, for one, was surprised they weren't priced higher, however, as the demand for this truck is crazy high. It will be a few years before Jeep can keep up with demand on this new truck.
Personalize
There is no other truck on the market that will have more aftermarket support than the Gladiator, not even the reigning king, the Tacoma. Many parts from the Wrangler JL will fit on the Gladiator, and the Wrangler by far has the most aftermarket support of any vehicle ever. Personalizing the Gladiator for your needs and tastes will not be hard.
Any easy quick upgrade that is perfect for the Gladiator is a tire size upgrade to 37s. A 37 will fit in the stock location under the truck, it is the right tire size to make the truck look right proportionately, it only requires a 2-inch lift to accomplish and it greatly upgrades the off-road performance of the truck. With all that said, it will for sure reduce your fuel economy. If you opt to put on 37s consider the 2-inch Mopar lift, as it retains the factory warranty on all components.
There are soon going to be a lot of options to maximize that tiny truck bed on the back of the Gladiator. Camper toppers for the back are in the works from many companies right now, like GFC and AT Overland. Companies like Patriot Campers and Norweld have/are developing flatbed systems specifically designed for the Gladiator. Another option is to put a full drawer system in the bed, like those made by Decked and MSA, and then put a versatile rack system over that, like a Lietner or similar.
No Bull
The Gladiator is an amazing vehicle. It's for sure more Jeep than truck, but is a good melding of the two. If off-road performance, ease of upgrades, and having an open air motoring option are driving factors for your next vehicle, Jeep has the truck for you.
Editor's Note: A version of this article first appeared in the September/October 2019 print issue of Tread Magazine.