EXPLORING ONBOARD REFRIGERATION
Cool It Now
It seems like it wasn't long ago that the best way to keep your food fresh and drinks cold was to lug around an ice chest or two loaded up with space hogging ice. Dealing with melting ice, soggy food and leaking coolers only after only couple of days on the trail or at the campsite came with the territory of having fresh provisions aboard. Luckily for us, the advent of miniaturized, electric refrigerators has since revolutionized the way we transport food, beverages and even medicines to far off locales—as well as our favorite nearby retreats.
As we researched 12v fridges for this article, we realized that there are mobile refrigerators that originate from all corners of the planet and many of them find their roots as important tools supporting everything from medicine and organ transport services to use in space exploration. Now this technology has been adapted to serve outdoor adventurists and weekend campers alike.
One look around and you can say that we consumers are "suffering" from an embarrassment of riches when it comes to the availability of truly fantastic onboard fridges at our beckon call. With so many units to choose from, how does one begin to shop for a fridge that will fulfill ones' needs?
Onboard fridges are no small investments; diligent comparison-shopping will help you zero in on the right one for you. Which factors should one look for when shopping for an onboard refrigeration unit? Let's examine a few that you will want to keep in mind when making your choice.
Capacity
How big should you go? Let's keep in mind that unlike ice-powered coolers, onboard fridges do not need ice, which means that their internal storage capacities can be used in their entirety for cold storage. Traditional coolers typically require half of it to be filled with ice to keep your items frigid, which needless to say, drastically eats up valuable space. Plus every time you open it you allow the ice to deplete itself that much quicker. You won't have that problem with electric powered fridges.
Think about your typical trip length, how many meals you will need to prepare, how many hungry mouths you need to feed and what items really need to be refrigerated. Meats and dairy, for sure. Canned soup and crakers? Don't waste the space. Some choose to get the largest unit they can fit in their cargo area that maximizes the available space, which is fine too, but keep in mind the larger your fridge, the less space you have for other equipment. It's about finding balance.
Also, it's worthy to note that some models act only as fridges and some models are combination fridges and freezers, with a special built-in "freezer shelf," and some can be configured as either a fridge or freezer at the press of a button. The way a unit is configured will affect your capacity choice.
We find that the most popular capacity fridge floats in the 50-liter range, give or take a few liters, but of course, your mileage may vary. Stacking a typical load of food and drinks and measuring its dimensions is a way to estimate your needs too.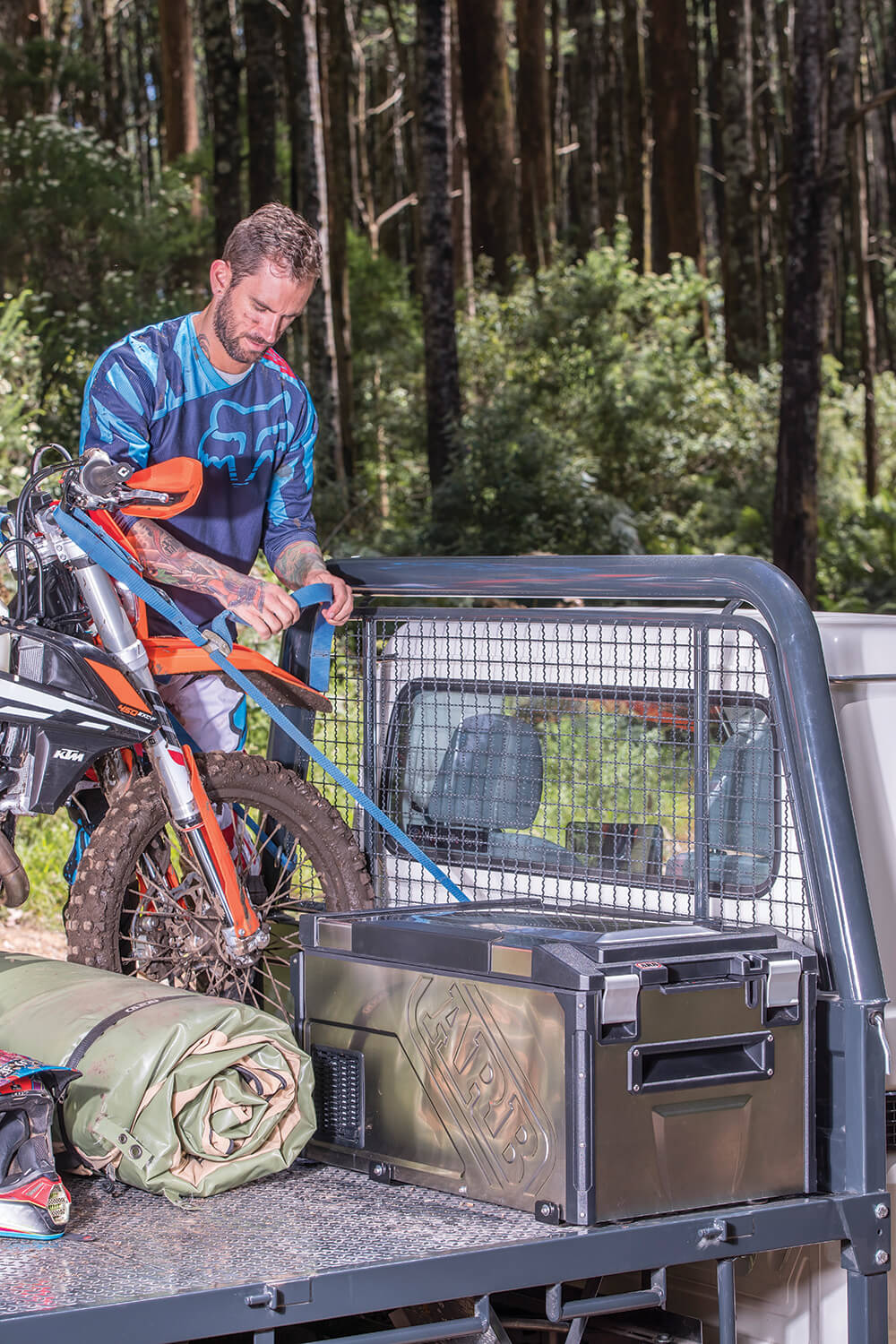 Overall Size
Another factor to think about the overall size of the fridge. Keep in mind the outside dimensions of the refrigerator and the space you have in your rig or trailer. Some of the taller or larger units require more space overhead for their hatches to be accessed and some are longer than the rear cargo areas of many Jeeps and SUVs. If you have a limited footprint, you'll want to plan around it.
The good news about height restrictions is that many fridges have slider systems available for them that allow them to be slid out for unfettered access. This may help to ease interior height restrictions but also keep in mind the floor dimensions of the slider too. That said you'd also want to ask yourself if you don't mind your rearward visibility to be blocked by a tall fridge. If you mind that, then you may want a shorter unit.
Power Consumption
Most onboard fridges don't use as much electricity as one might think. Because their compressors only turn on to get it to your selected temperature then promptly turns off, (other than when they are first turned on to get to their initial operating temperature) the rest of the time they're just in temperature managing mode, which is surprisingly miserly in how much amperage they draw. Here's a quick tip, to get your fridge down to operating temperature, we suggest plugging it into a wall socket at home before loading it into your vehicle whenever possible.
Depending on the model of fridge and environmental conditions, typical power draws can be less than one amp, maxing out at three amps per hour. Many models feature a battery protection feature that will shut themselves down if it senses battery power becoming low.
If your vehicle is equipped with a large capacity deep-cycle battery, it isn't unheard of if your fridge runs three or more days and still has enough juice to start the engine up. We do suggest running a dual battery set up, which will give you greater peace of mind if you want to run a fridge for even longer between battery charges. Solar panels are also another power source for augmenting your fridge's runtime.
Functions
Study which fridge functions you need. As mentioned before, some onboard fridges can be freezers and some are combination refrigerators and freezers. Some models will have a main cooling compartment and a smaller secondary compartment that is even colder than the main compartment. Some fridges have digital displays that show not only interior temperature but also the vehicle's battery condition as well. Some will self-shutdown to avoid battery drain.
As each successive generation fridge comes out, more technology is packed into them. Do you need a fridge that can be locked electronically or via a physical lock? Do you need to monitor details about how your fridge operates from your vehicle's cockpit? Wireless fridge monitors are a thing now.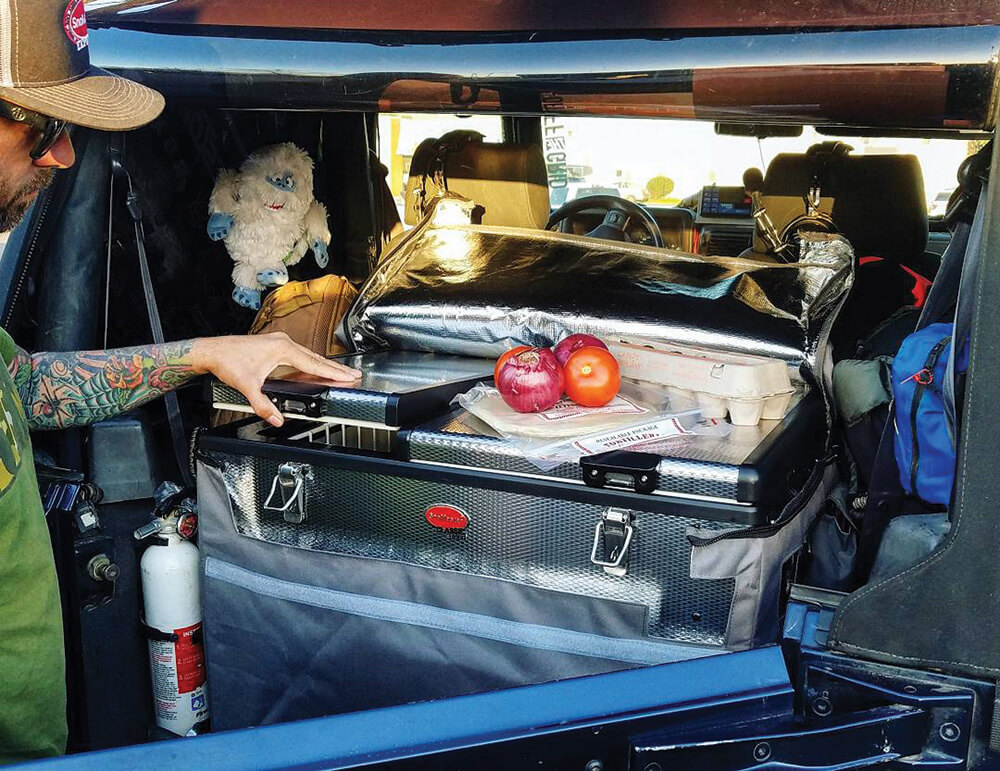 The Choice Is Yours
Of course, what you need in a fridge is completely up to you and your individual situation. The aforementioned list of factors cover only a few things that you should be aware of when making your decision. Also take a look at available accessories such as insulating covers, fridge slides, interior baskets and wireless controllers. The availability of a certain accessory may sway your decision. What we do know is that regardless of which brand and model you choose, the fridges featured in the following guide are solid performers that will undoubtedly provide you with plenty of ice-cold food and drinks—and even ice cream far from home, all without the need for ice.
_____________________________________________________________________________
1. ARB/Fridge Freezer 50 QT
Overview: With a proven track record for dependability, ruggedness and usefulness, it's easy to see why the ubiquitous line of blue and grey ARB Fridge Freezers have been a fixture in the overland scene for quite some time now. An internal LED light shows you its contents even in the dark and its lid is completely removable for easy interior access. Two separate power cords are included with the unit one for AC operation (120 V) at home, and one for DC operation (12/24 V) in your vehicle. It maintains sub-freezing temperatures in 90° F heat, while only drawing 0.87 amps per hour from a 12V power source. It is solar panel and power generator compatible.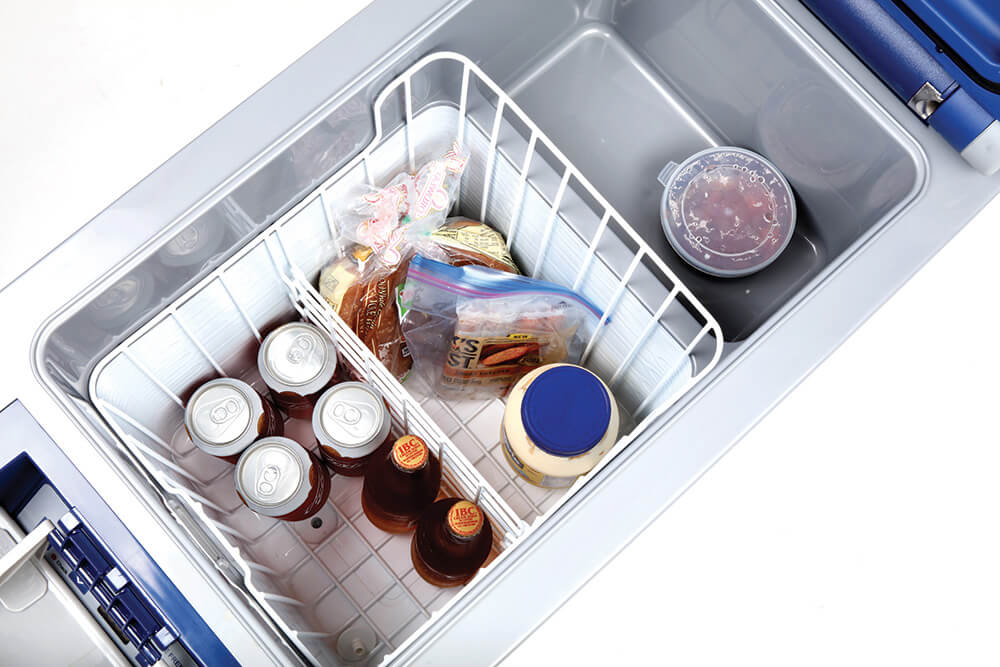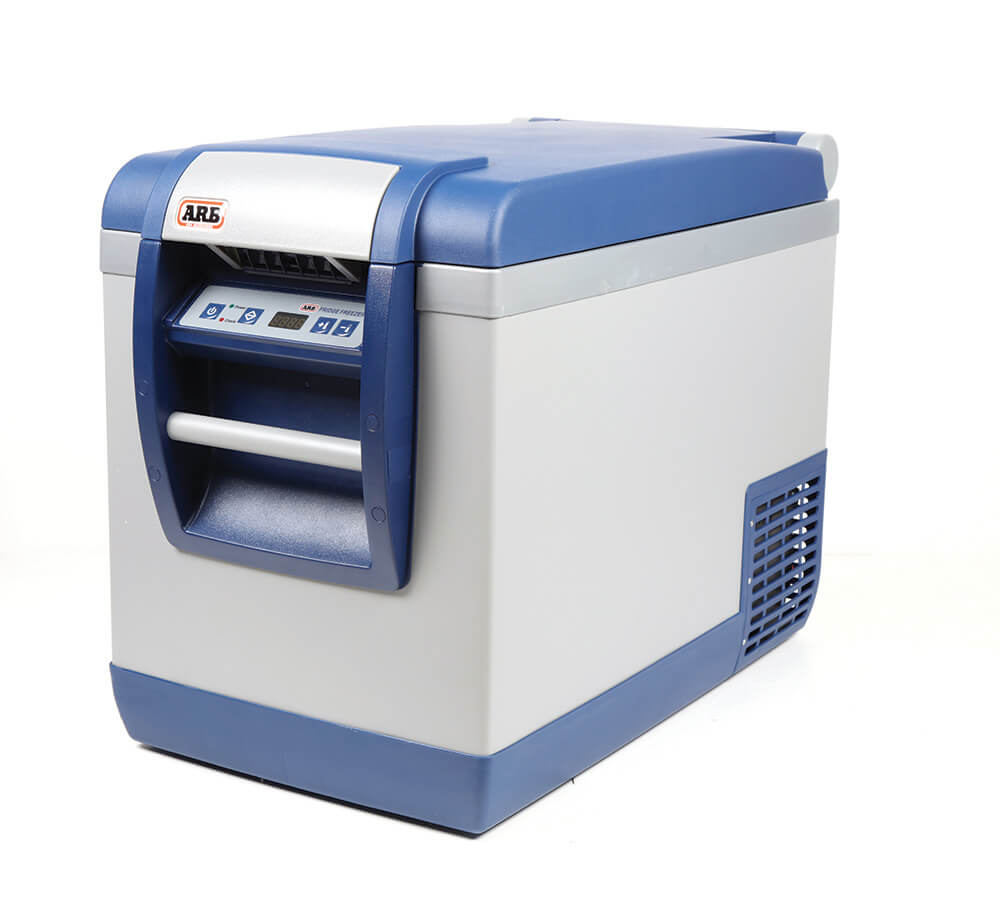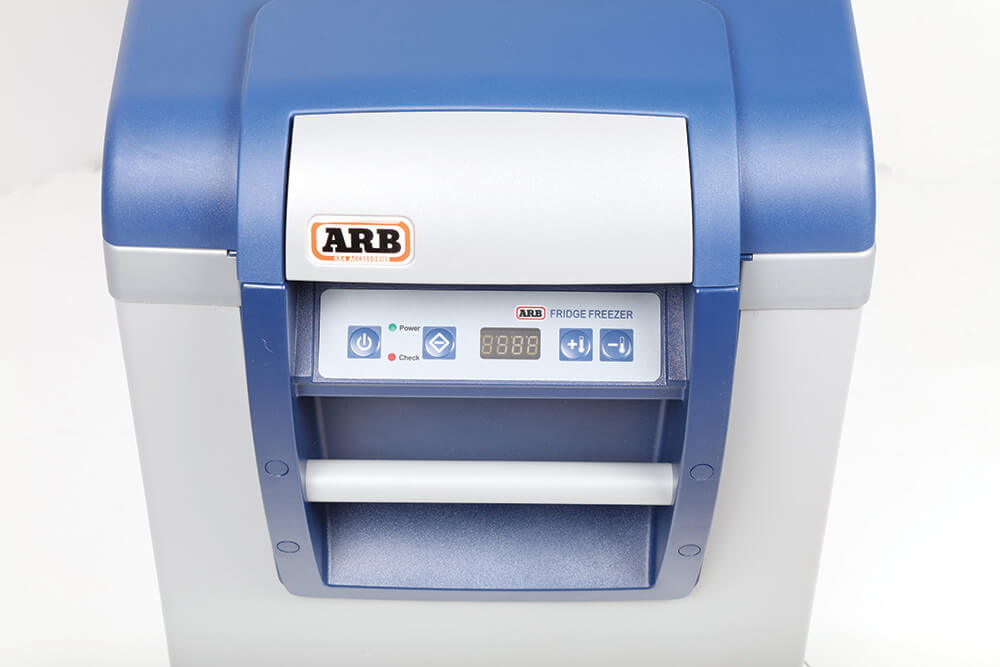 Capacity: 47 liters (50qt)
Also available in capacities: 37qt (35L), 63qt (60L), 82qt (78L)
Cooling: 50°F to 0°F
Weight: 49.6 pounds
External Dimensions: 20" H x 15" W x 27.8" D
Internal Dimensions: 15.8" H x 11.2" W x 13.3" D (Main Compartment), 8.1" H x 11.2" W x 6" D (Dairy Compartment)
Power: Built-in 12/24V DC and 100-240V AC power, Integrated battery protection system
MSRP: $924
URL: arbusa.com
2. Dometic CDF-11 Portable Refrigerator/Freezer
Proving that not all 12 Volt fridge/freezers need to be stationed within a vehicle or stranded at a campsite, the ultra portable CoolFreeze CDF-11 can travel virtually anywhere you do. The CDF-11 is an ideal fit in tight corners, inside cabinets or strapped into a passenger or rear seat. With two integrated cup holders built-in, some might even try to replace their vehicle's center console armrests with it. Its 10-quart capacity can refrigerate or deep-freeze food and drinks, regardless of high ambient temperatures. All because its small doesn't mean it doesn't have advanced features such as an electronic thermostat with digital temperature display and a three-stage battery monitor. Weighing less than 20 pounds and equipped with a convenient shoulder strap, it's comfortable to carry to your perfect picnic spot.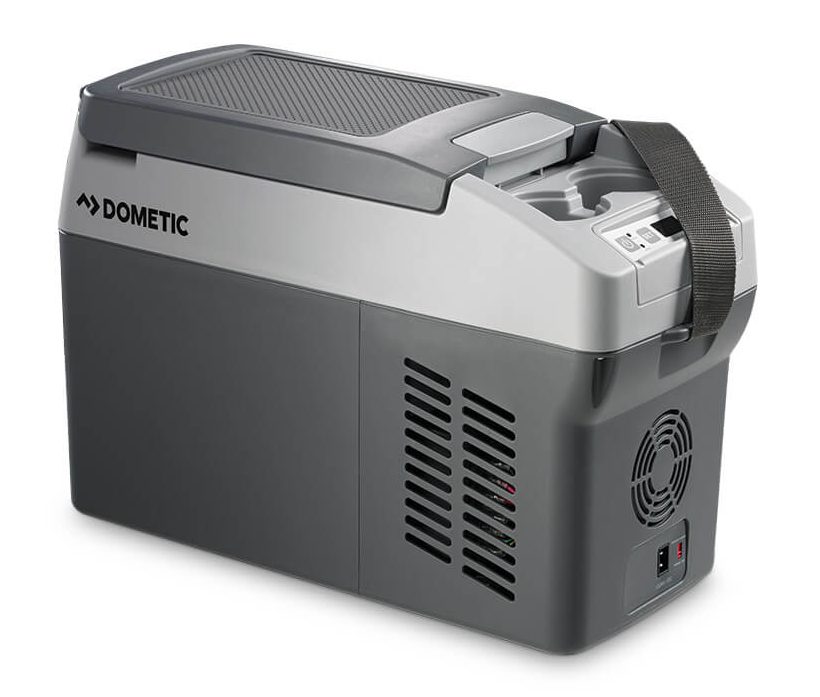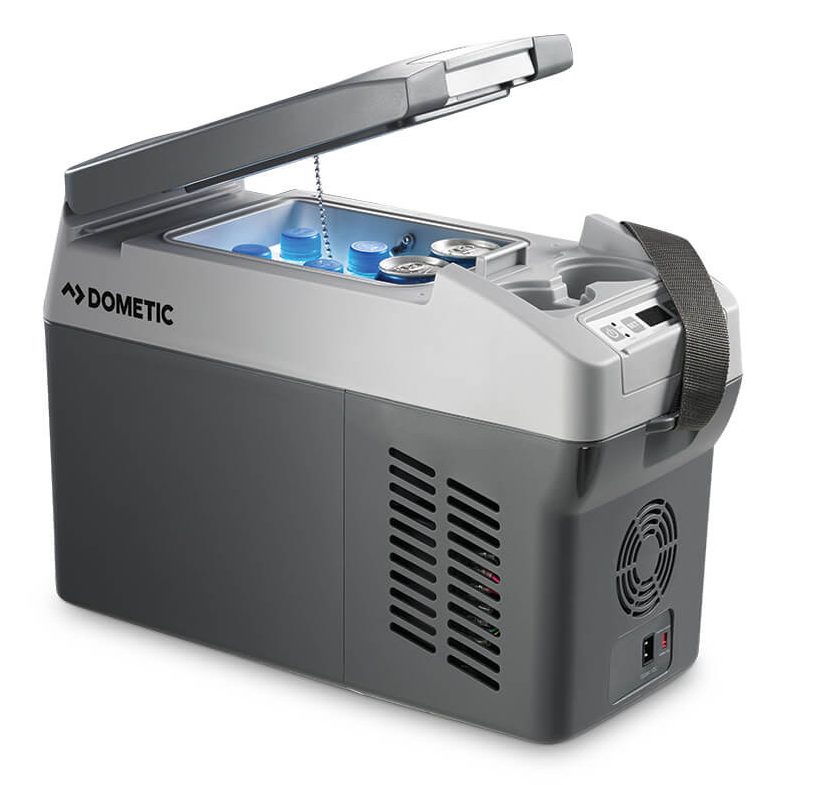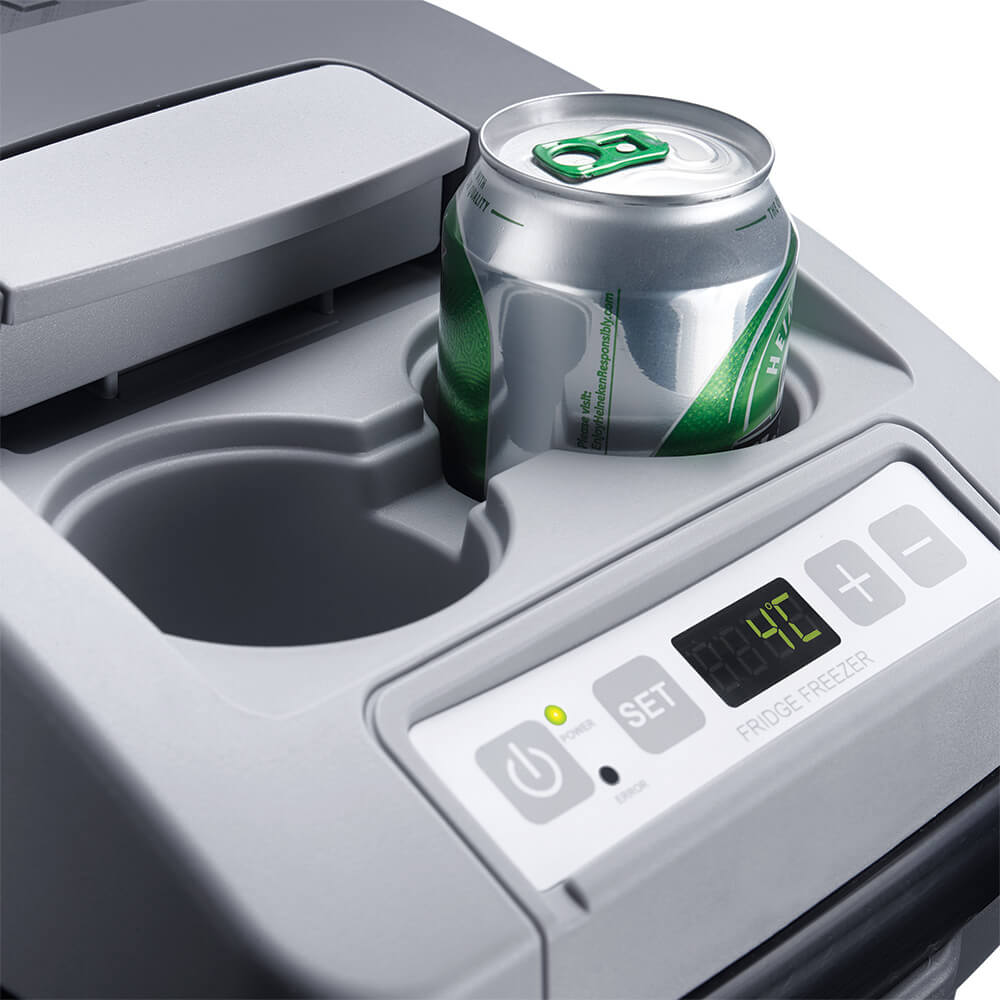 Capacity: 10.5 liters (10qt)
Cooling: 50°F to -8°F
Weight: 19.4 pounds
External Dimensions: 14" H x 9.25" W x 21.25" D
Power: 12/24V DC
MSRP: unlisted
URL: dometic.com
3. ARB/Elements Fridge
Overview: With the needs of pick-up truck owners and other exposed-to-the-elements uses in mind, ARB developed the aptly named Elements Fridge. This version of ARB's Fridge Freezer builds upon ARB's legendary refrigerator service record and adds to it all weather capability. Re-engineered to survive out in the elements, ARB's latest fridge freezer is packed with unique features that not only protect and secure, but also make accessing your food and drinks even easier. It is constructed of stainless steel, anodized aluminum latches, UV-resistant trim and features protected placement of electrical connections. Other improvements include a gas spring strut that holds the lid open at any position, touch pad temperature control, low voltage cut-off, and lock out security controls, as well as padlock recess for extra security.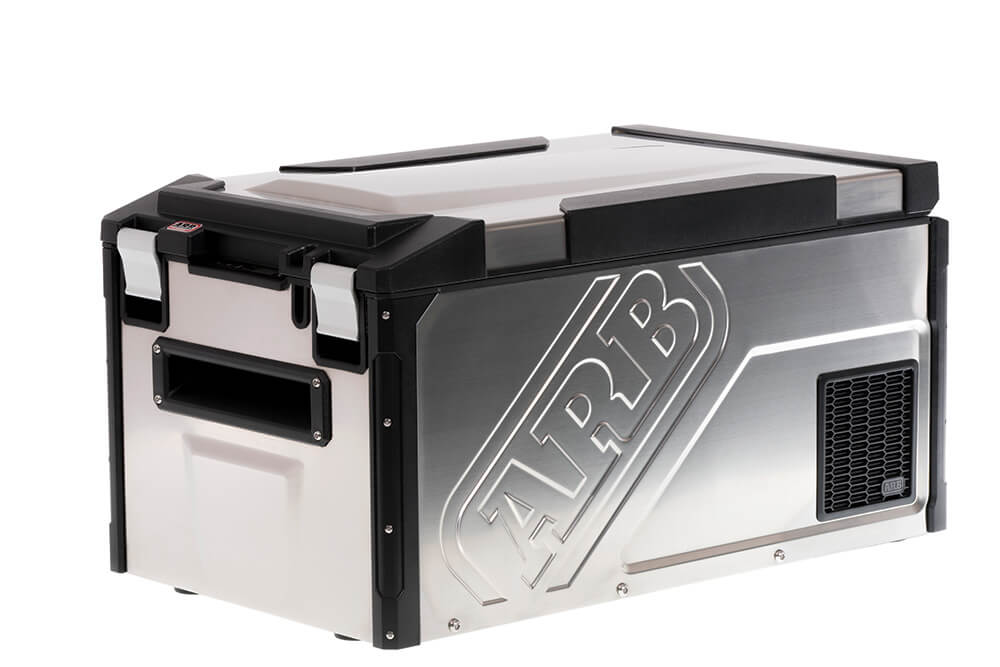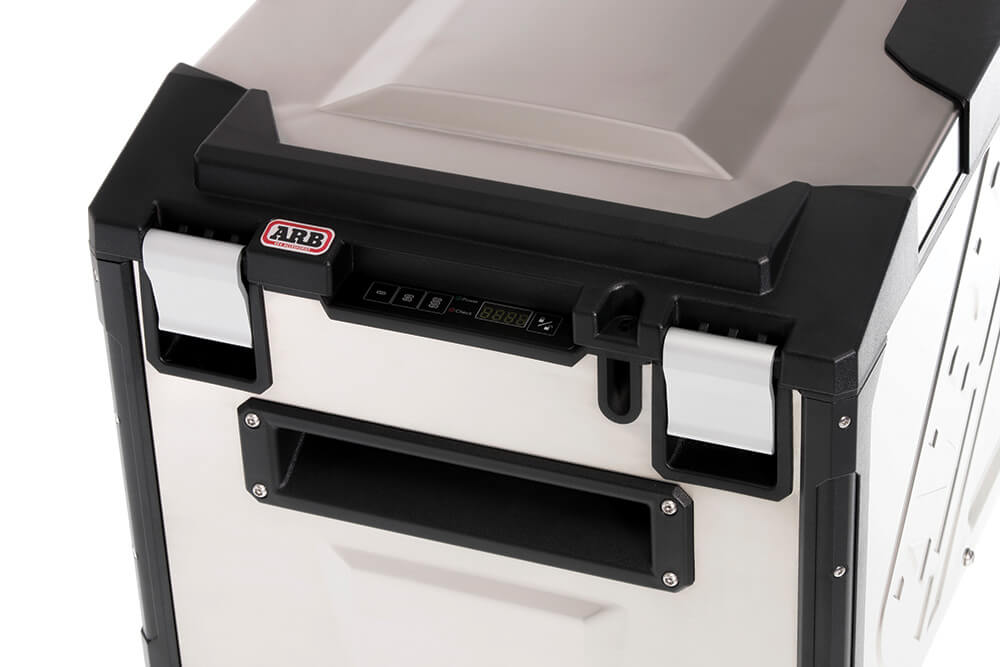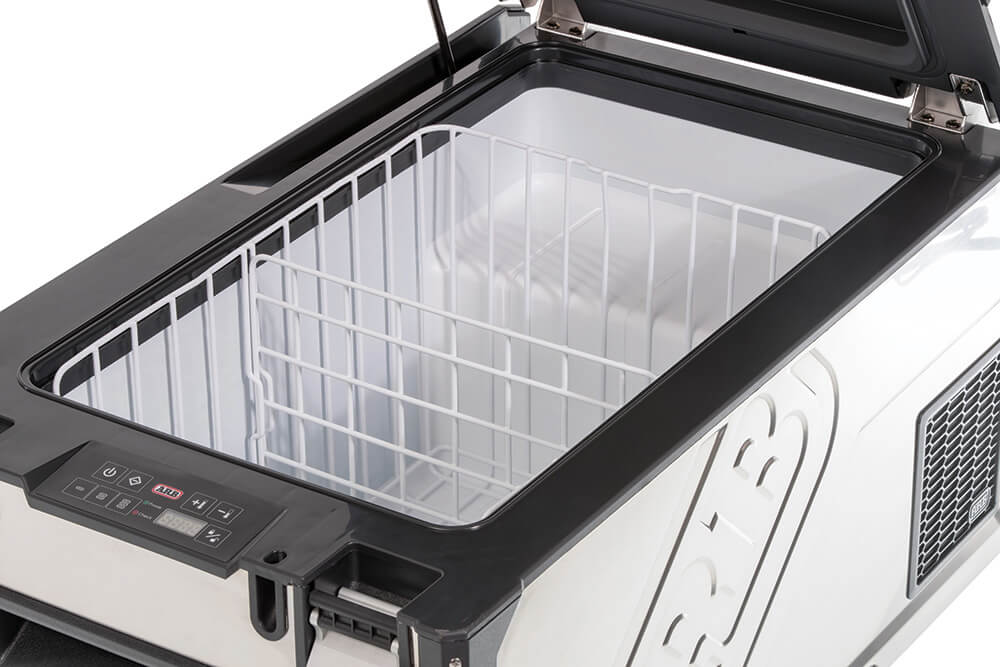 Capacity: 60 liters (63qt)
Cooling: 50°F to 0°F
Weight: 70.1 pounds
External Dimensions: 17.1" H x 19.3" W x 32.3" D
Internal Dimensions: 13.1" H x 14" W x 18.8" D (Main Compartment), 5.7" H x 14" W x 6.1" D (Dairy Compartment)
Power: Built-in 12/24V DC and 100-240V AC power, Integrated battery protection system
MSRP: $1,289
URL: arbusa.com
4. Dometic/Coolfreeze CFX 50W
Overview: Some early adopters might recognize Dometic from their previous brand name, WAECO. Sweden-based Dometic has a wide variety of portable fridge/freezers that include their CFX series of fridges. This cooler is impressively efficient and withstands the most demanding of loads thanks to its robust design. Useful features include an interior LED light, space saving detachable handles, USB port for charging electronics, efficient freezing down to -8°F, a special cooling compartment with wire basket and separate crisper for fruit and vegetables, as well as temperature control through a smart phone Wi-Fi app.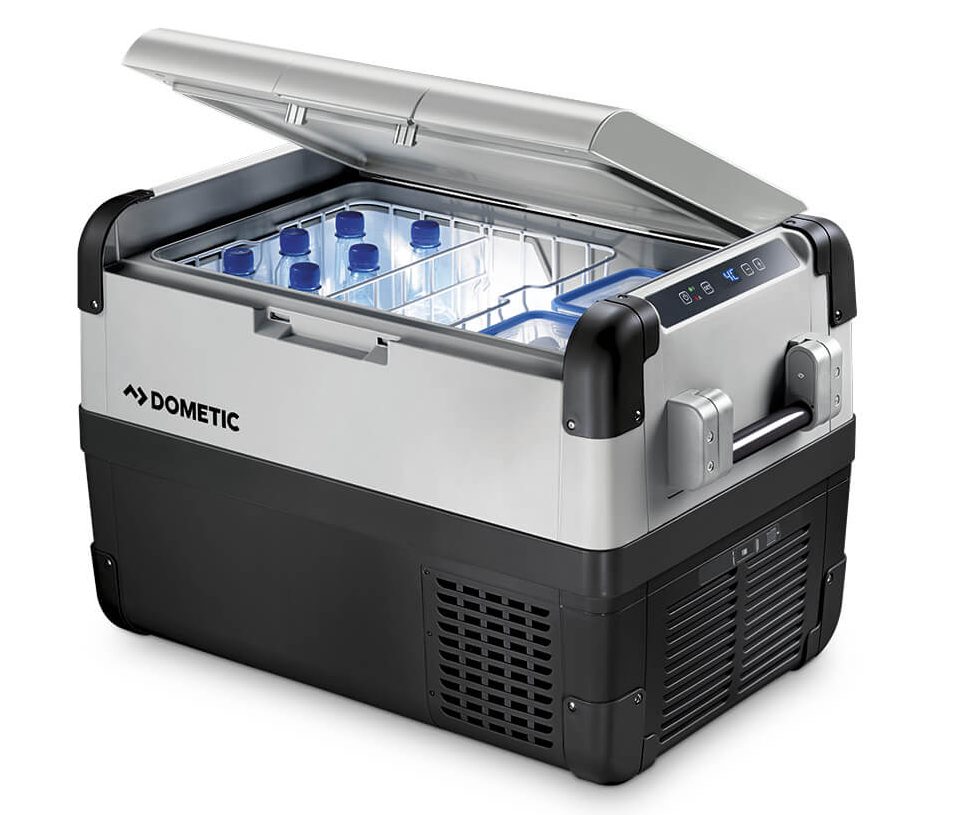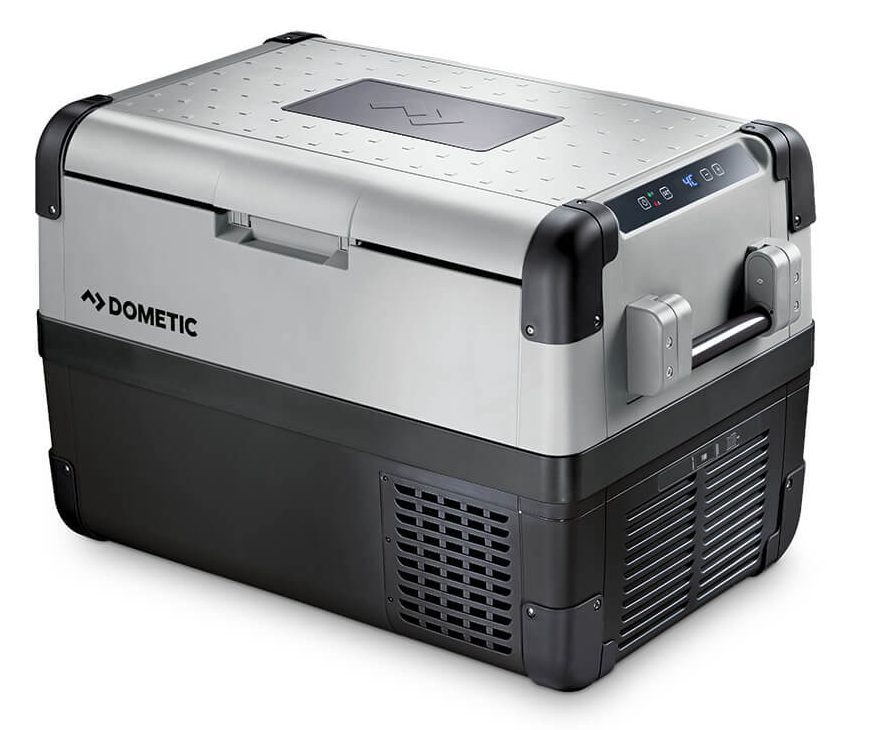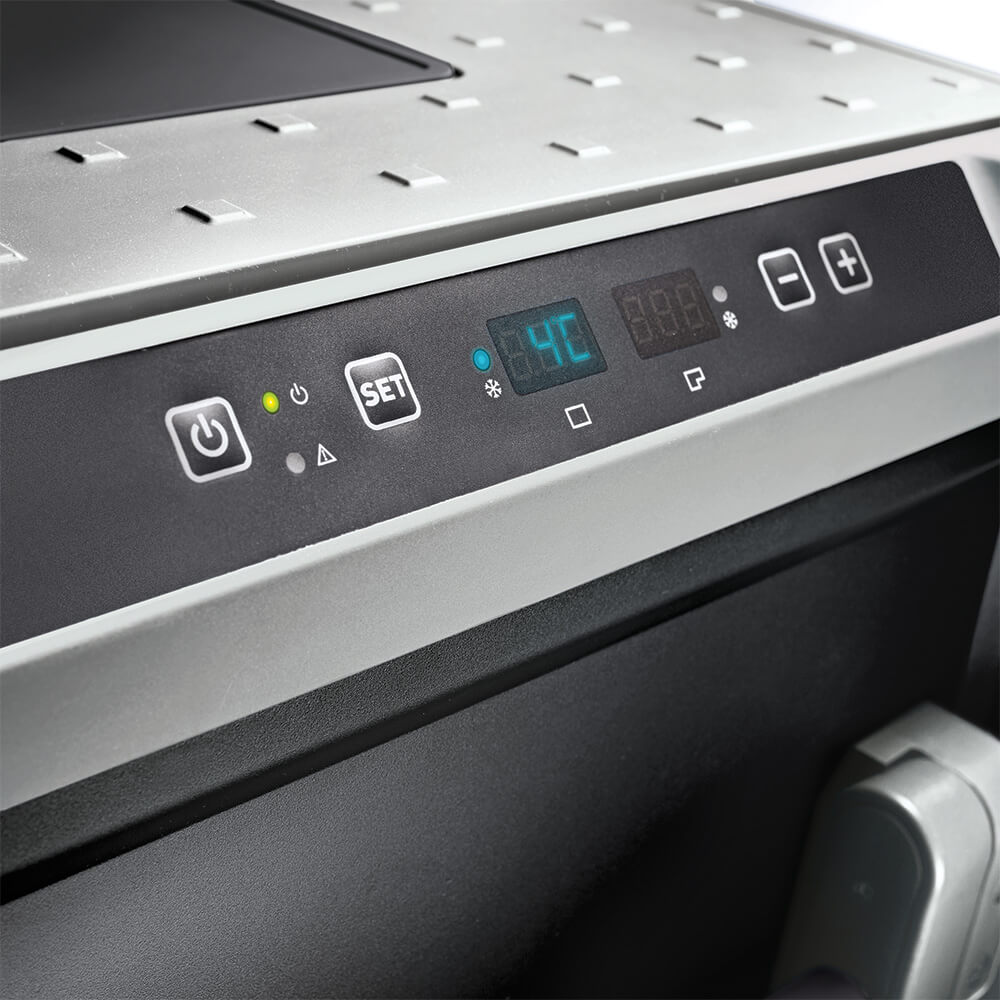 Capacity: 46 liters (48.6qt)
Also available in capacities: 28L, 34.5L, 41L, 60L, 81L, 88L
Cooling: 50°F to -8°F
Weight: 44.98 pounds
External Dimensions: 18.5" H x 28.375" W x 17.875" D
Internal Dimensions: 14.6" H x 13.5" W x 13.1" D (Main Compartment), 6.7" H x 6.5" W x 13.1" D (Secondary Compartment)
Power: Built-in 12/24V DC and 100-240V AC power, Integrated battery protection system
MSRP: unlisted
URL: dometic.com
5. Engel MT45F-U1 AC/DC Fridge/Freezer
Overview: The MT45 features Engel's Swing Motor Compressor. Highly efficient, the compressor typically draws around one to two amps per hour, which is roughly 40% less than traditional compressors. This Engel fridge/freezer can run on 12V/24V DC battery power or 110V AC. Highlight features include variable temperature control, operation at up to a 30° incline, automatic voltage selection between AC and DC power, low amp draws, solar power compatibility, and built-in vibration resistance for those ultra rough trails. It includes an interior wire basket and its heavy-duty handles are removable for tight spaces.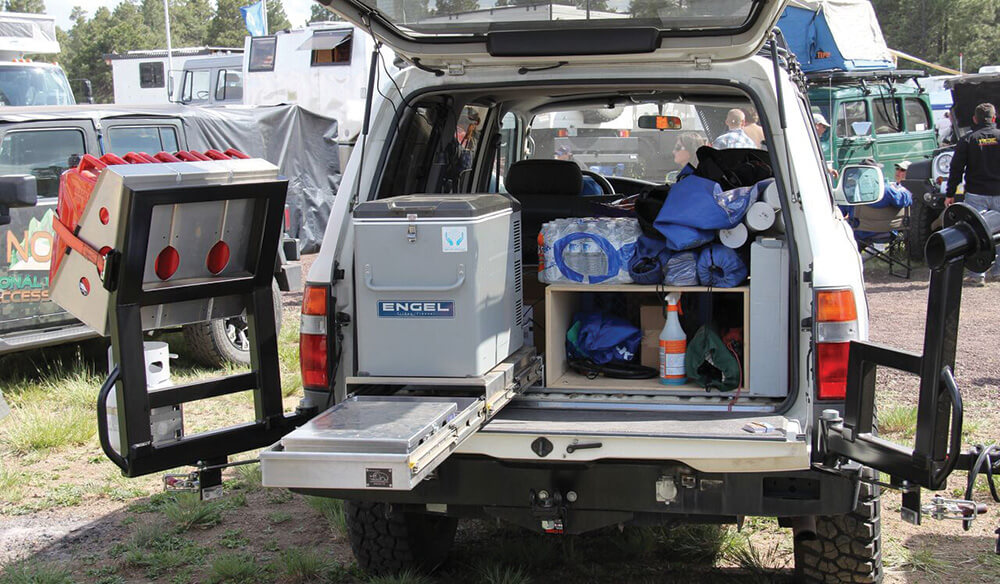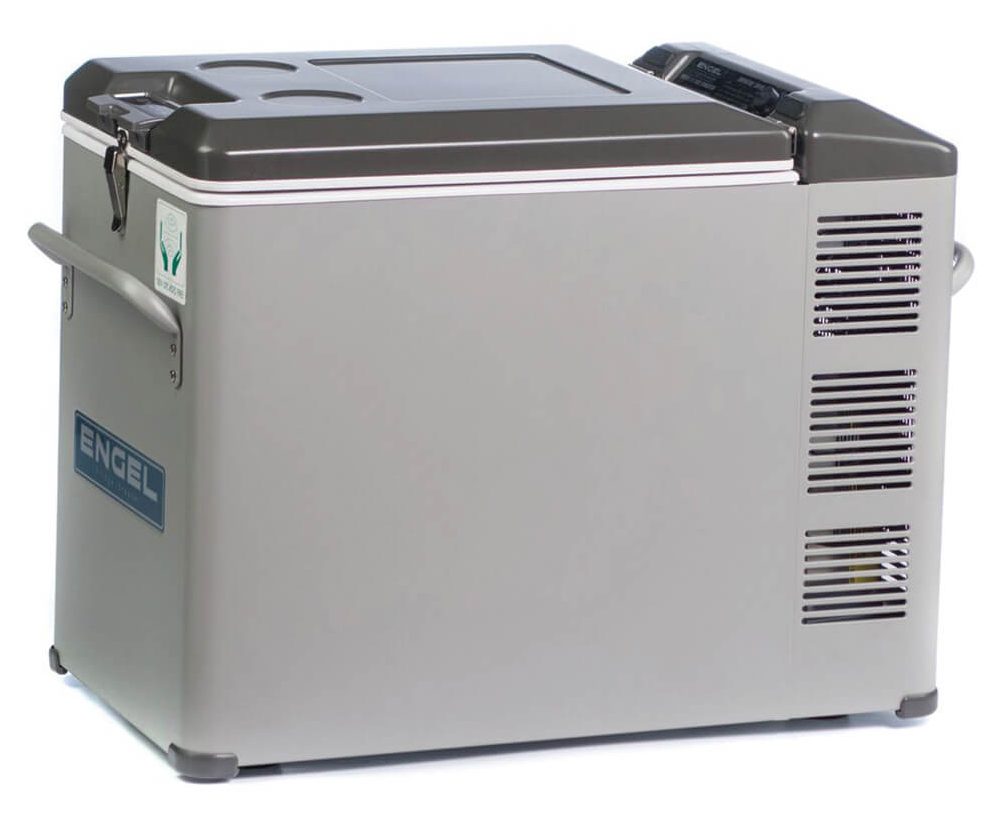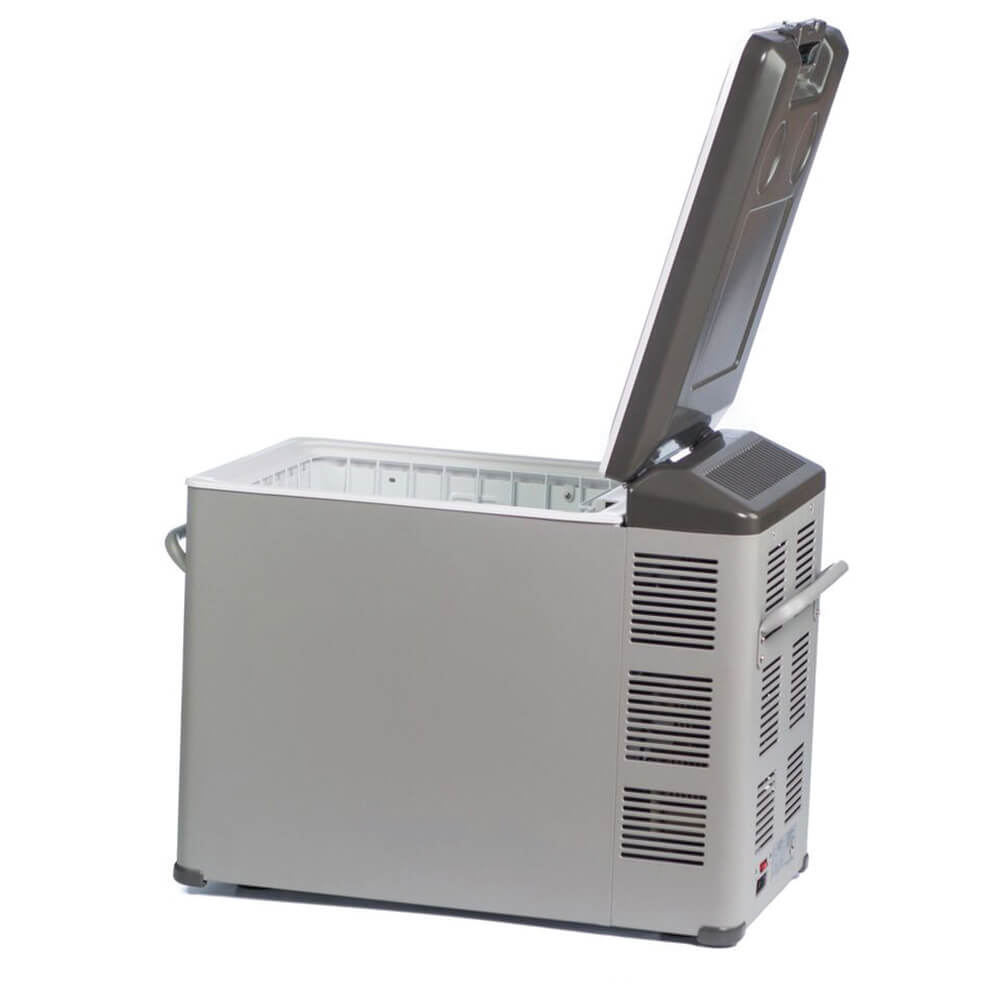 Capacity: 40 liters (43qt)
Also available in capacities: 16qt, 22qt, 34qt, 43qt, 64qt, 84qt
Cooling: Will Operate 90°F from ambient temperature
Weight: 66 pounds
External Dimensions: 20" H x 14.3" W x 25.5" D
Internal Dimensions: 16.4" H x 10.8" W x 15.4" D
Power: 12/24V DC and 110-240V AC power
MSRP: $669
URL: engelcoolers.com
6. National Luna 50L "Weekender" Twin Fridge & Freezer
Overview: Originally designed to meet World Health Organization specifications for transporting medicines in harsh African conditions,the National Luna refrigerators are known for their exceptional cooling power and efficiency. All models are tested and guaranteed to freeze to a minimum of -18°C, even in ambient tropical conditions of 43°C. The National Luna 50L "Weekender" Twin Fridge & Freezer features stainless steel construction and offers two separate compartments, a 40-liter fridge and a 10-liter freezer for convenience. A single thermostat measures the temperature in the left 40-liter fridge compartment and can be set between +15°C to -12° C. Thanks to its smart design, the right freezer compartment will automatically be 10° C cooler.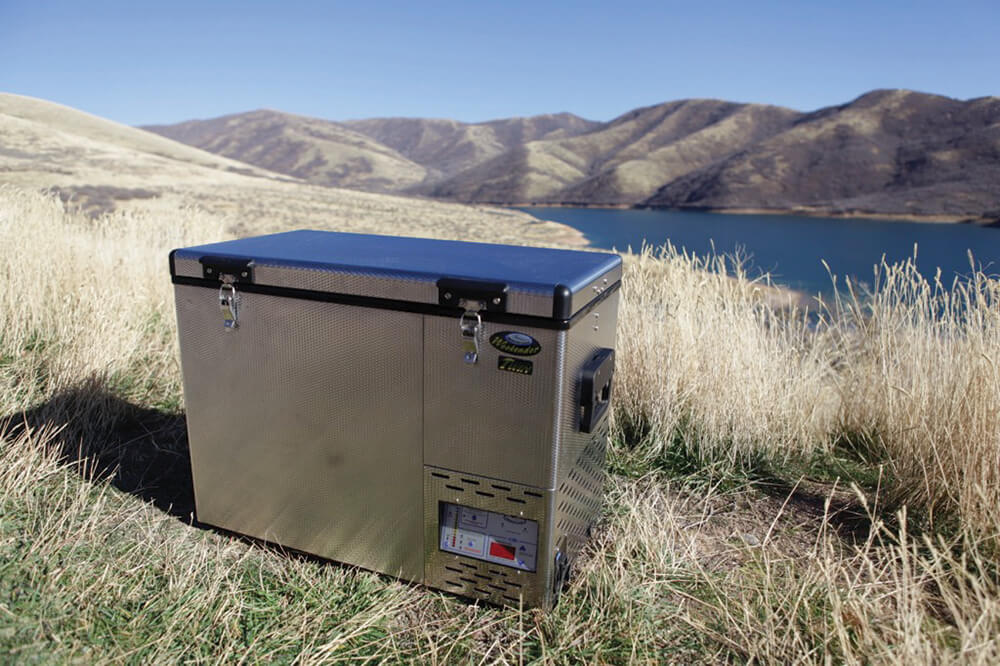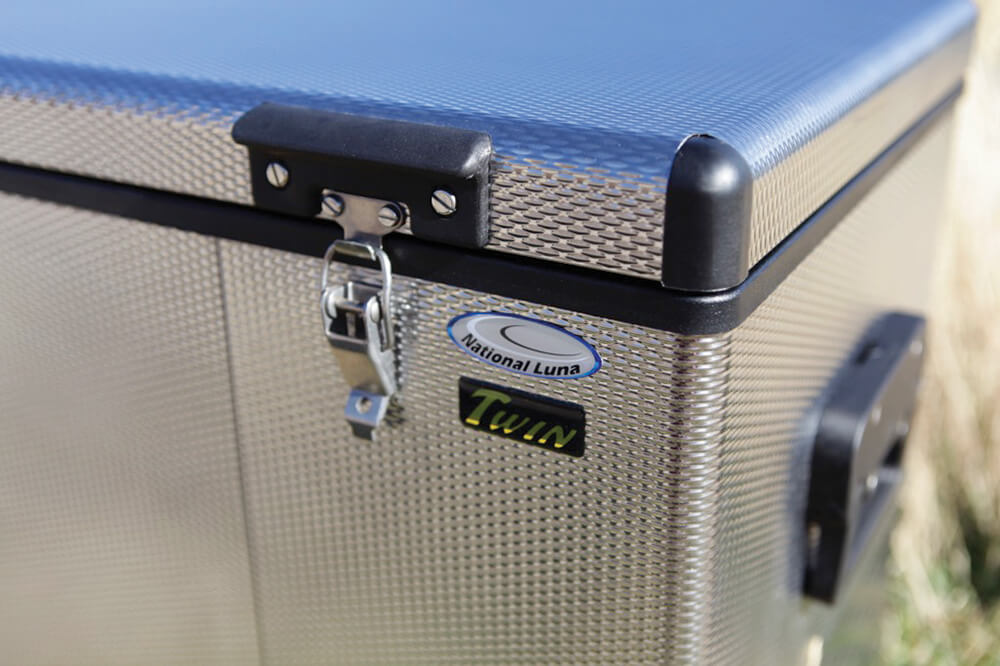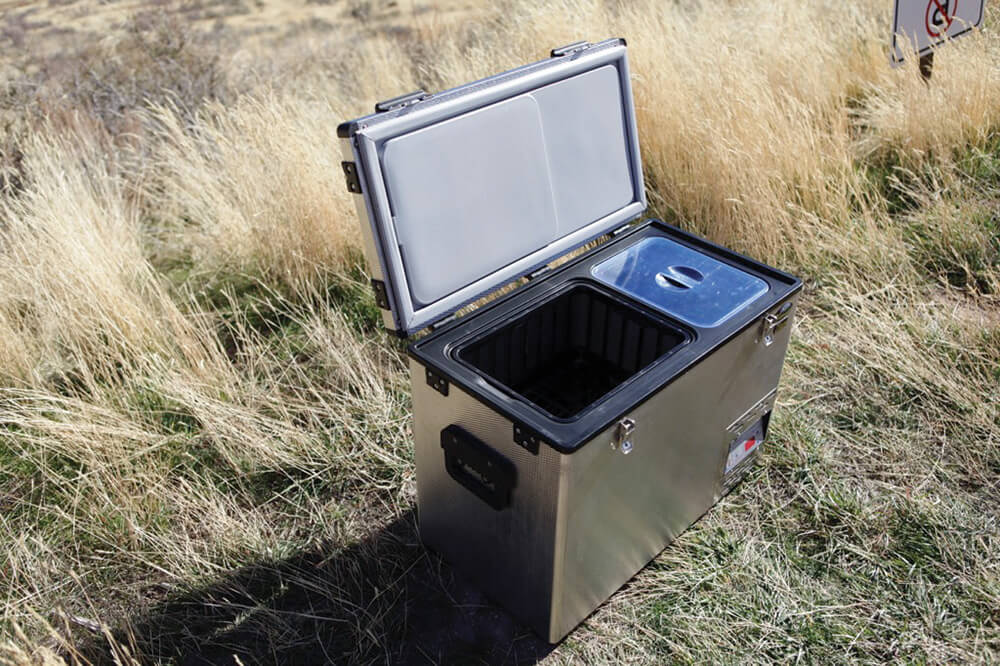 Capacity: 50 liters (53qt)
Also available in capacities: 52L, 55L
Cooling: 59°F to -10°F
Weight: 55 pounds
External Dimensions: 20" H x 15" W x 28" D
Power: 12/24V DC and 100-240V AC power
MSRP: $1,650
URL: equipt1.com
7. Indel B Travel Box 51L Fridge or Freezer
Overview: When NASA came looking for a fridge for use on the Space Shuttle, they chose Indel B to create it. That's saying a lot about the brand and its products. The Indel B Travel Box line of fridge/freezers combines the highly efficient Danfoss DB35F compressor with a well-insulated enclosure to create a portable refrigerator that's popular with explorers and sportsmen alike. The TB51 offers an energy-saving function to extend battery life, a turbo function to cool things as fast as possible when power is available, multi-function electronic thermostat that allows simple and economic management of the fridge, 12/24V DC or 115/230V AC power capability with automatic switching between voltages, and a three-level voltage protection system to protect against draining your battery. All of these high-end features are standard on the entire line of Indel B Travel Boxes.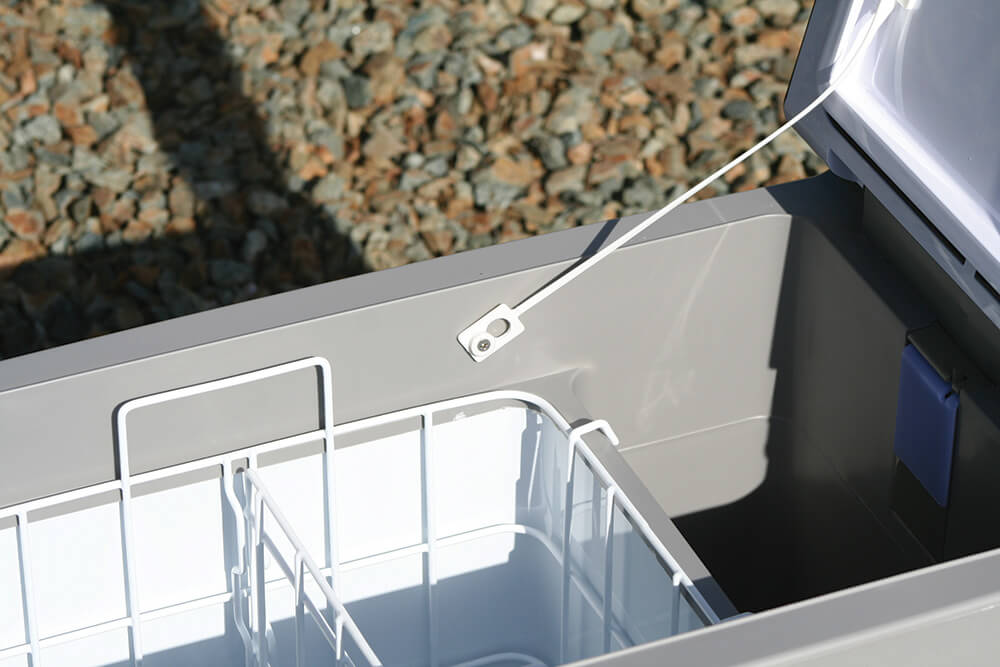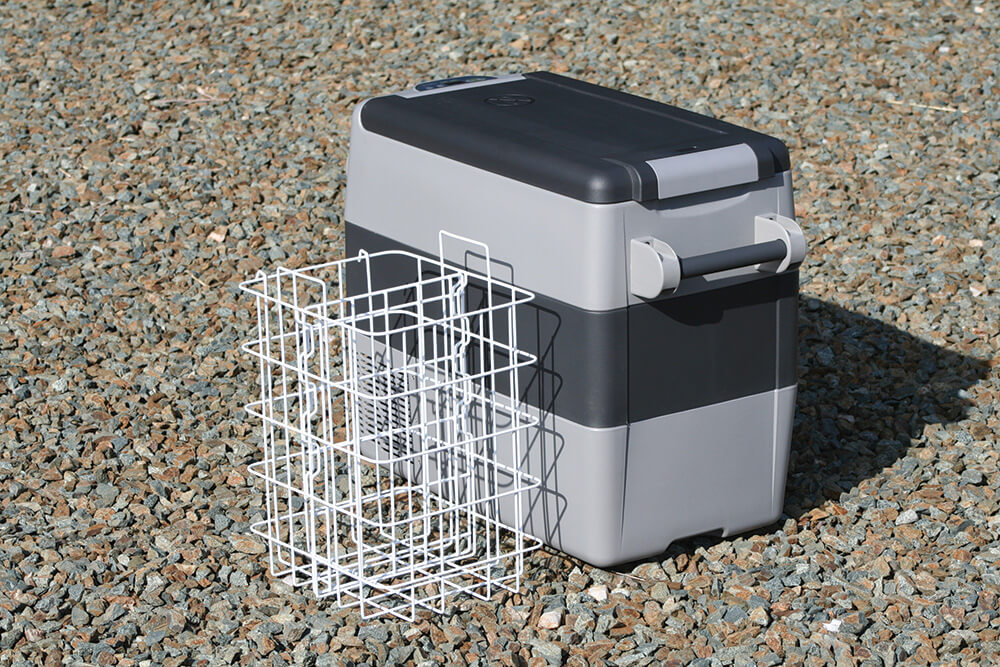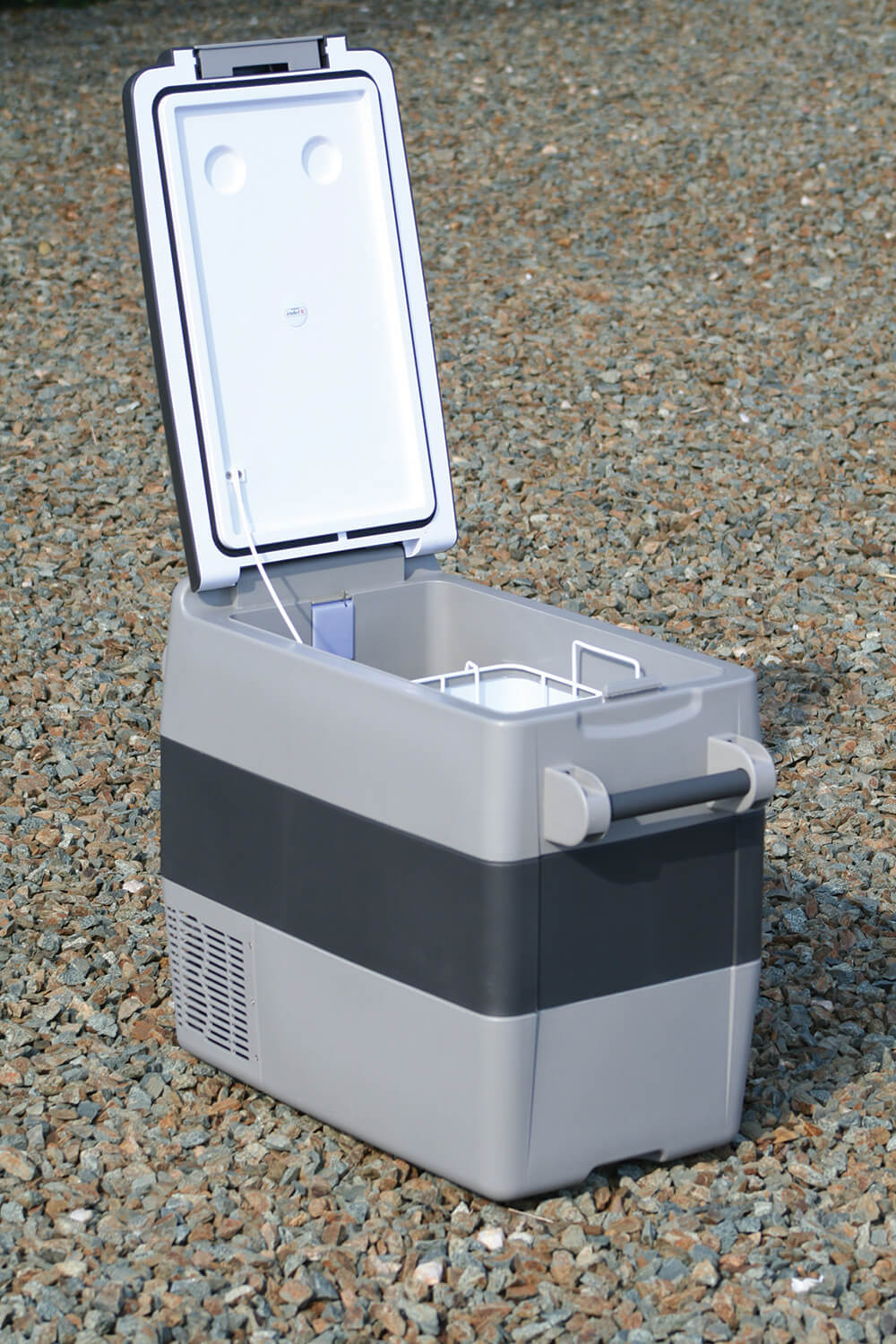 Capacity: 46.5 liters (49qt),
Also available in capacities: 15L, 18L, 31L, 41L
Weight: 41 pounds
External Dimensions: 20.5" H x 14" W x 23" D
Power: 12/24V DC and 115-230V AC power, Battery protection
MSRP: $600
URL: equipt1.com
8. Smittybilt Arctic Fridge/Freezer
Overview: There's nothing better than pulling an icy, cold beverage or crisp, refreshing sandwich out of your Smittybilt Arctic Fridge/Freezer during a hot day out on the trail. Its 52-quart capacity is large enough for extended forays into the backcountry, yet still sized to easily fit in the back of most 4x4s. The Arctic Fridge/Freezer's ultra-efficient compressor can run on 12 volt or 110 volt to provide temperatures as low as -22°F and keep its contents cold in conjunction with its 55mm thick polyurethane insulation. The Arctic Fridge/Freezer's advanced LED controls are recessed to protect them from damage or accidently being altered, and the three-stage automatic power cut off will ensure that your vehicle's battery has enough reserve capacity to start the engine.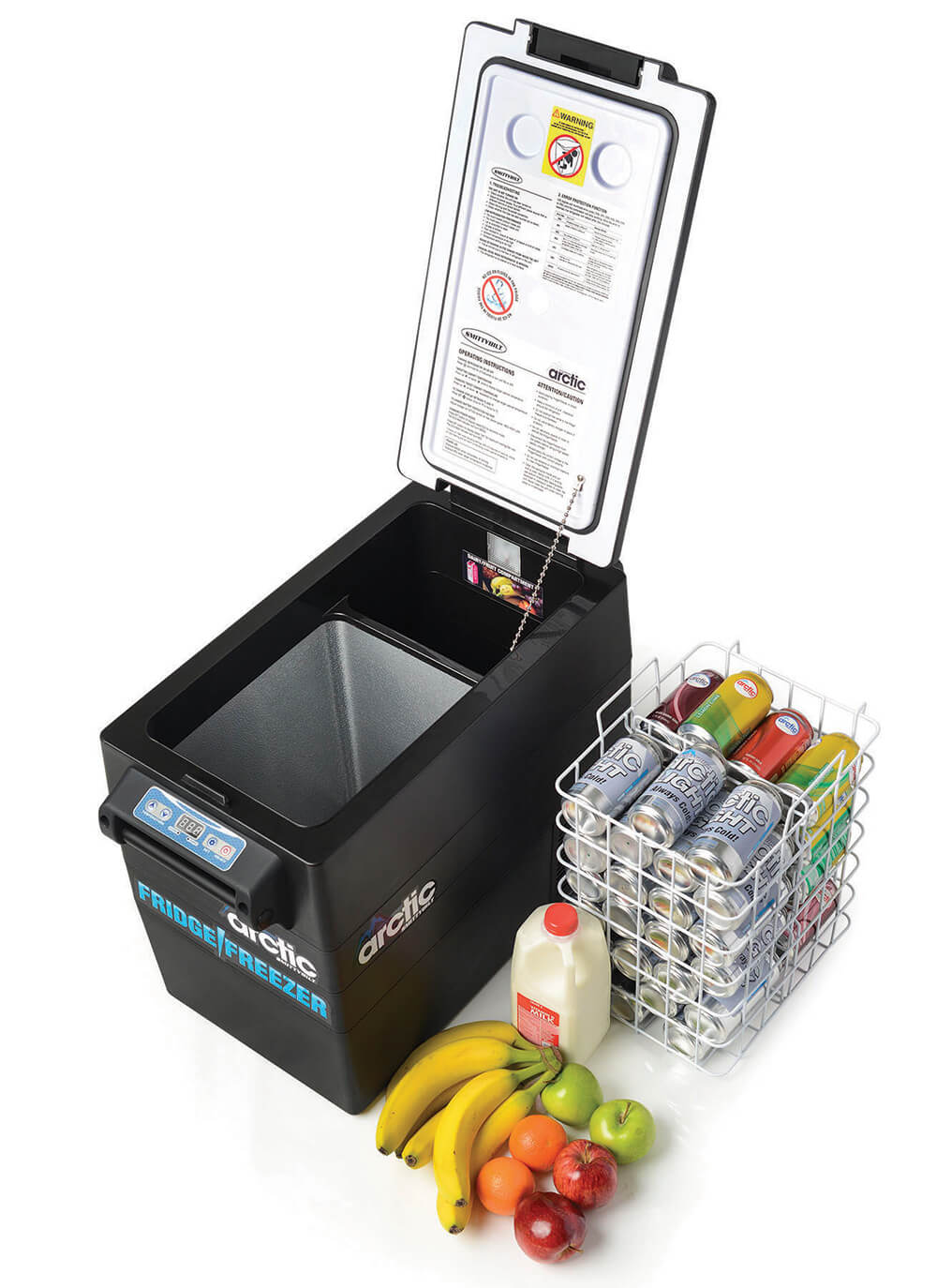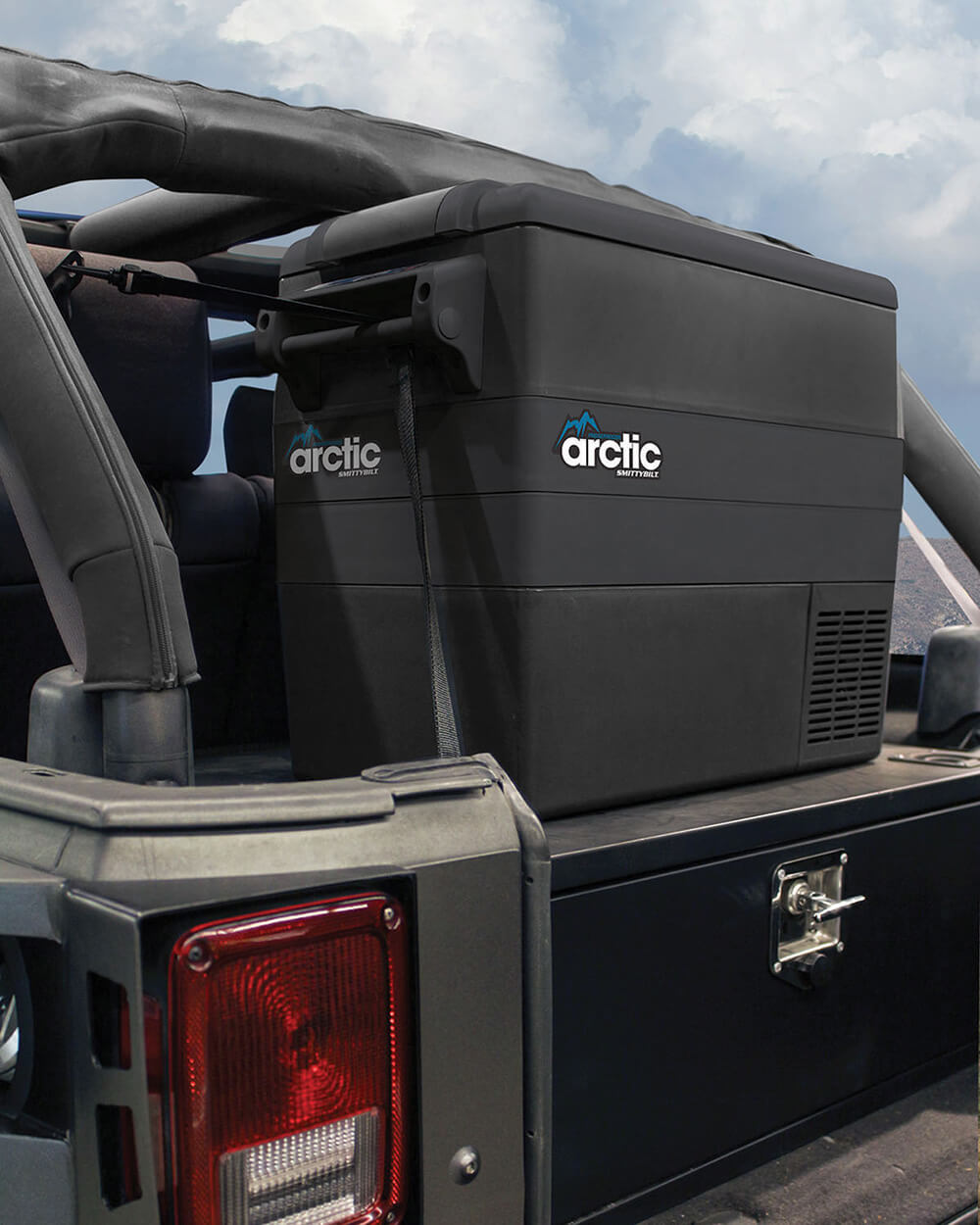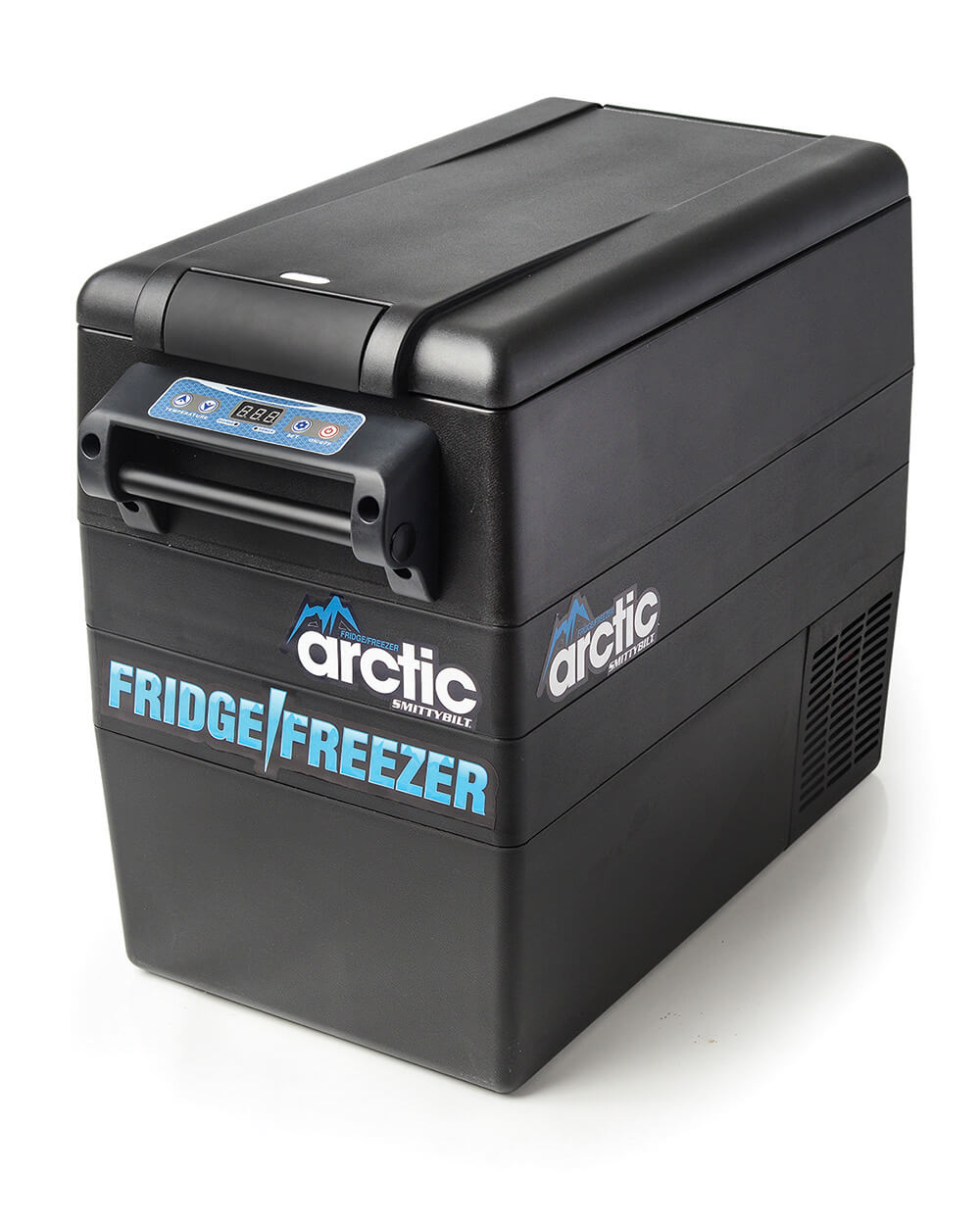 Capacity: 49.2 liters (52qt)
Cooling: 50°F to -22°F
Weight: 40.8 pounds
External Dimensions: 20.5" H x 13.2" W x 26.9" D
Power: 12/24V DC and 100-240V AC power, Battery protection
MSRP: $800
URL: smittybilt.com
9. SnoMaster Traveler Series BD/C-42SS Fridge/Freezer
Overview: The stainless steel Traveler Series of fridge/freezers were designed by SnoMaster of South Africa. The Traveler Series BD/C-42SS is finished in stainless steel and is a compact unit that can easily fit in most trunks, rear cargo areas, and even backseats. Ideal for outdoor gatherings or family outings, this single compartment model can act as either a refrigerator or freezer and has a capacity of just over 44 quarts and includes an optional (and handy) bottle opener. Other convenient features include a lid open alarm, solar wireless temperature controller, battery monitor, and impressive 55mm-thick polyurethane insulation.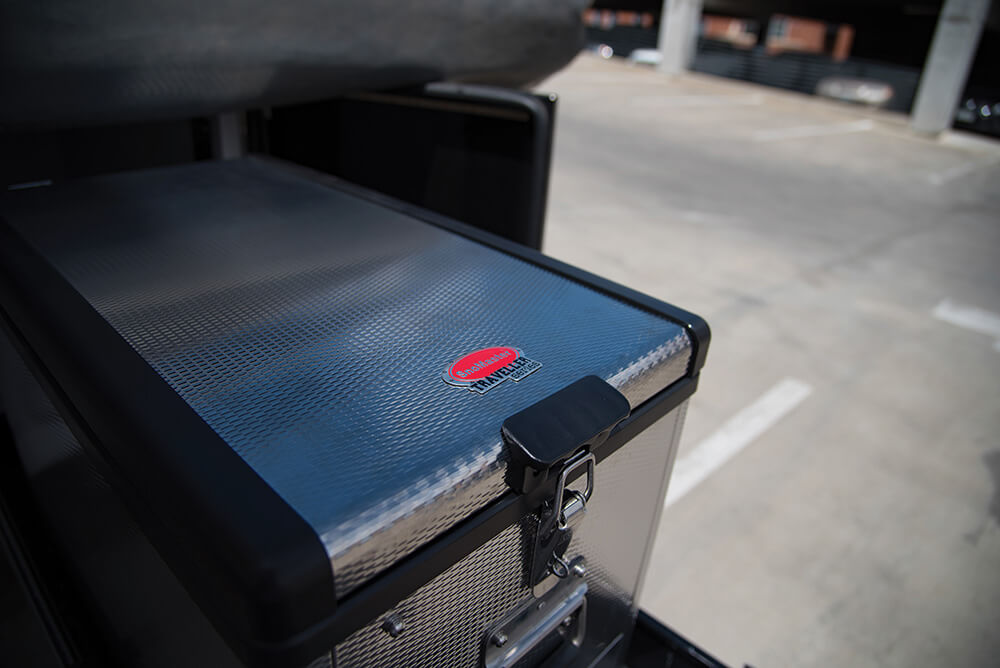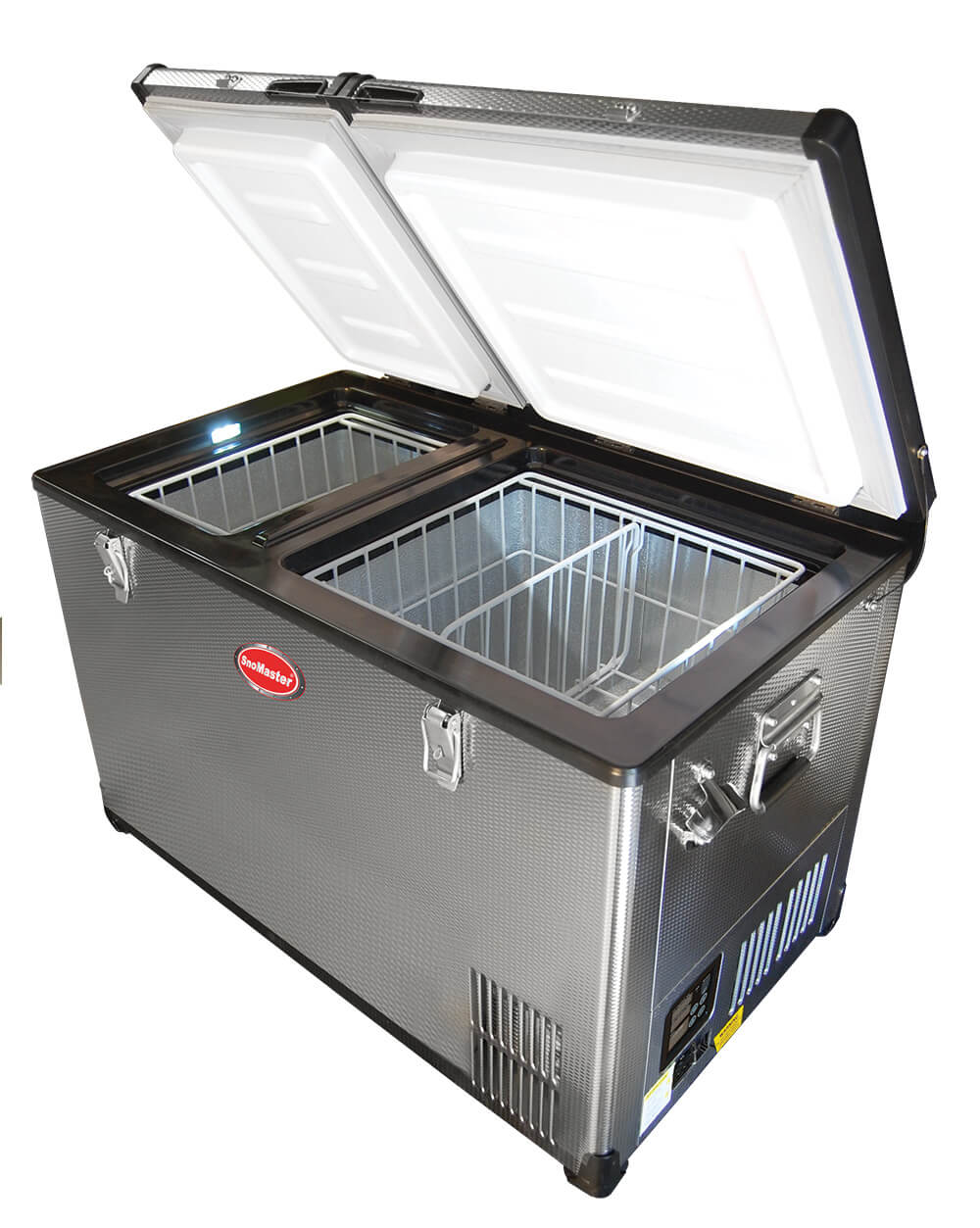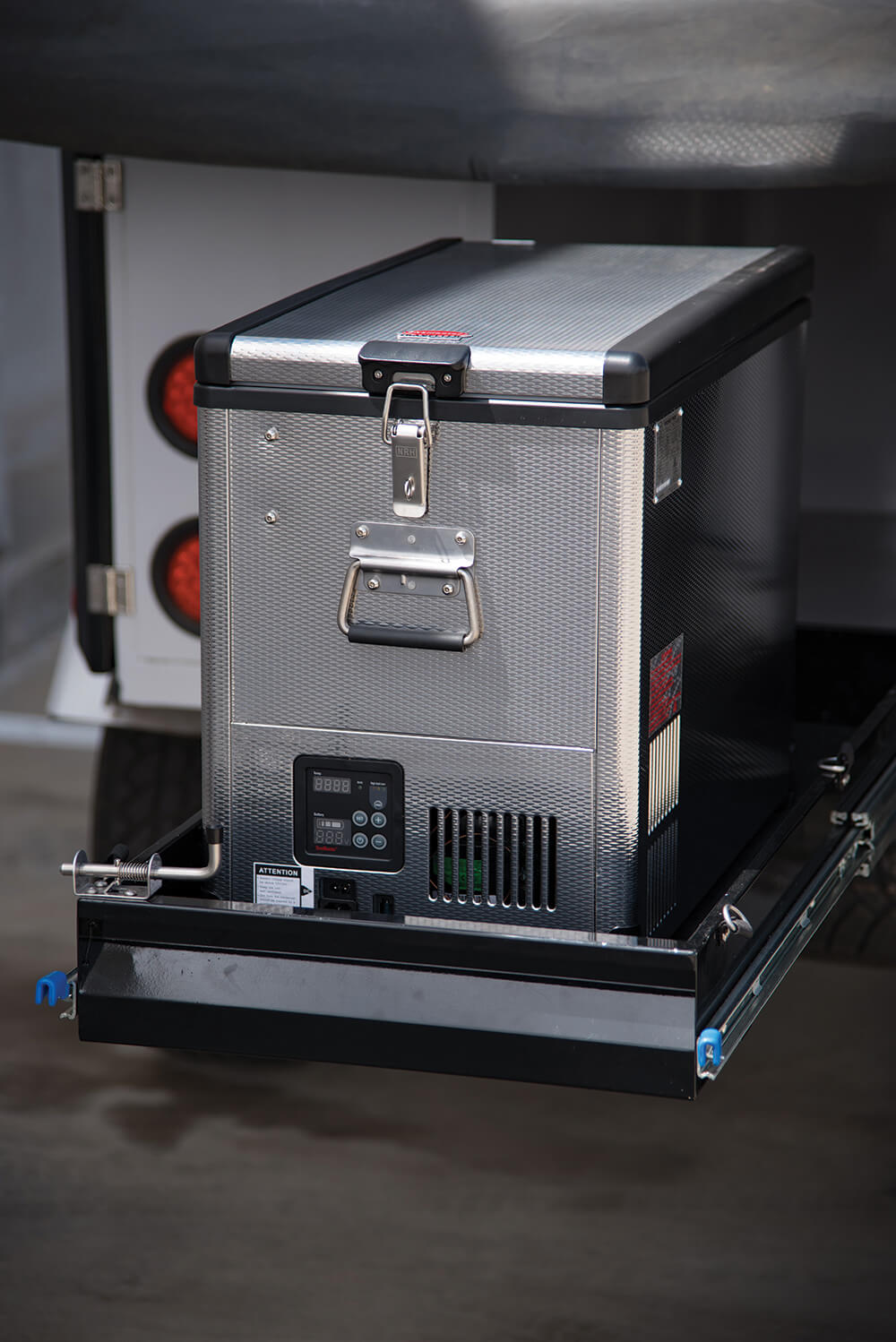 Capacity: 42 liters (44.3qt)
Cooling: 50°F to -8°F
Weight: 52.9 pounds
External Dimensions: 20.3" H x 14.3" W x 26.8" D
Power: 12/24V DC and 100-220V AC power, Battery monitor
MSRP: $1,000
URL: snomasterusa.com
10. SnoMaster BD-C12 Mini Fridge Freezer
Overview: Who says good things come in small packages? With the release of SnoMaster's BD-C12 Mini Fridge Freezer, we'd say that SnoMaster does. This console-sized fridge/freezer is as full-featured as its bigger brothers come, but can fit in many more places—including between your vehicle's front two seats. Powered by a Micro Danfoss Compressor, the BD-C12 can effortlessly cool and even freeze your drinks and lunch down to -12° C. Who says you can't have ice cream in the middle of the desert? It features an interior LED light and a durable casing to help withstand general wear & tear. Its vent is side discharging to help reduce overheating.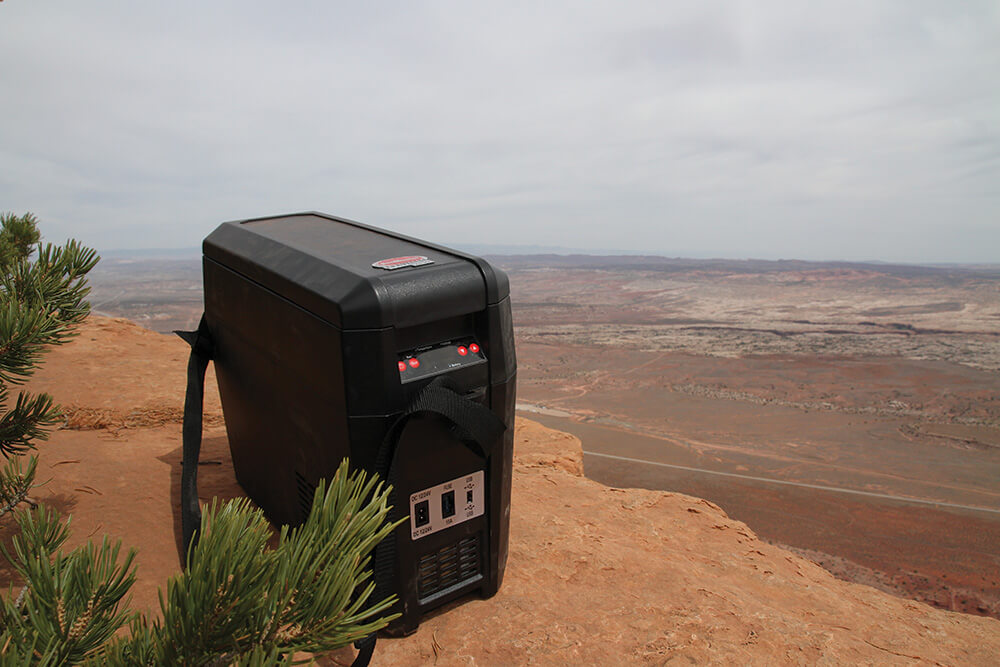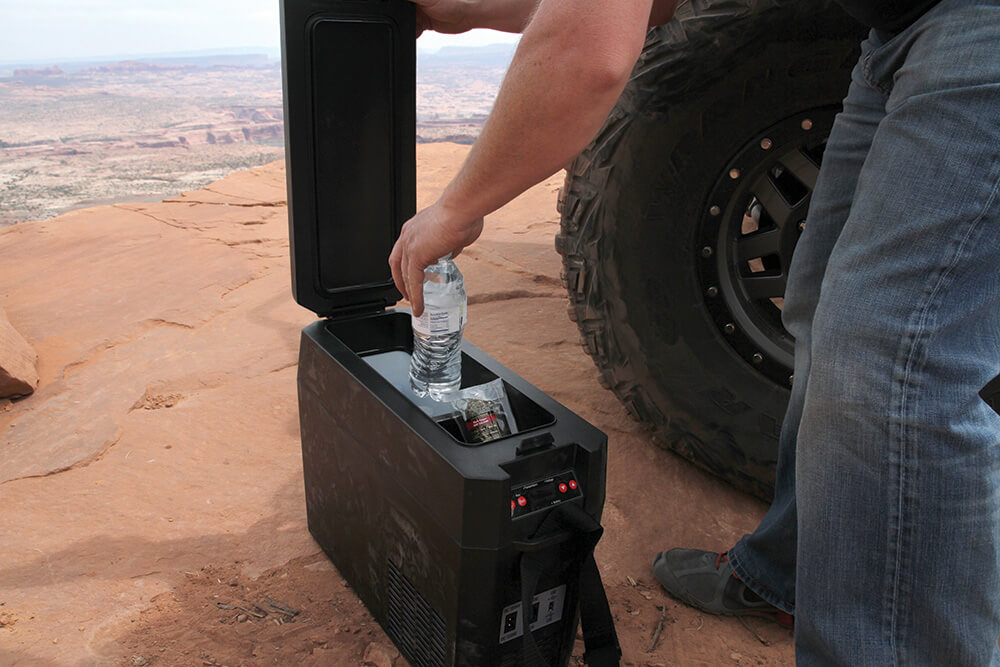 Capacity: 12 liters (12.7qt)
Cooling: 50°F to 10.4°F
Weight: 15.4 pounds
External Dimensions: 15.7" H x 7.2" W x 20.3" D
Power: 12/24V DC
MSRP: $560
URL: snomasterusa.com
Editor's Note: A version of this article first appeared in the July/August 2017 print issue of Tread magazine.