REVEALED: INEOS Grenadier's Interior and Intent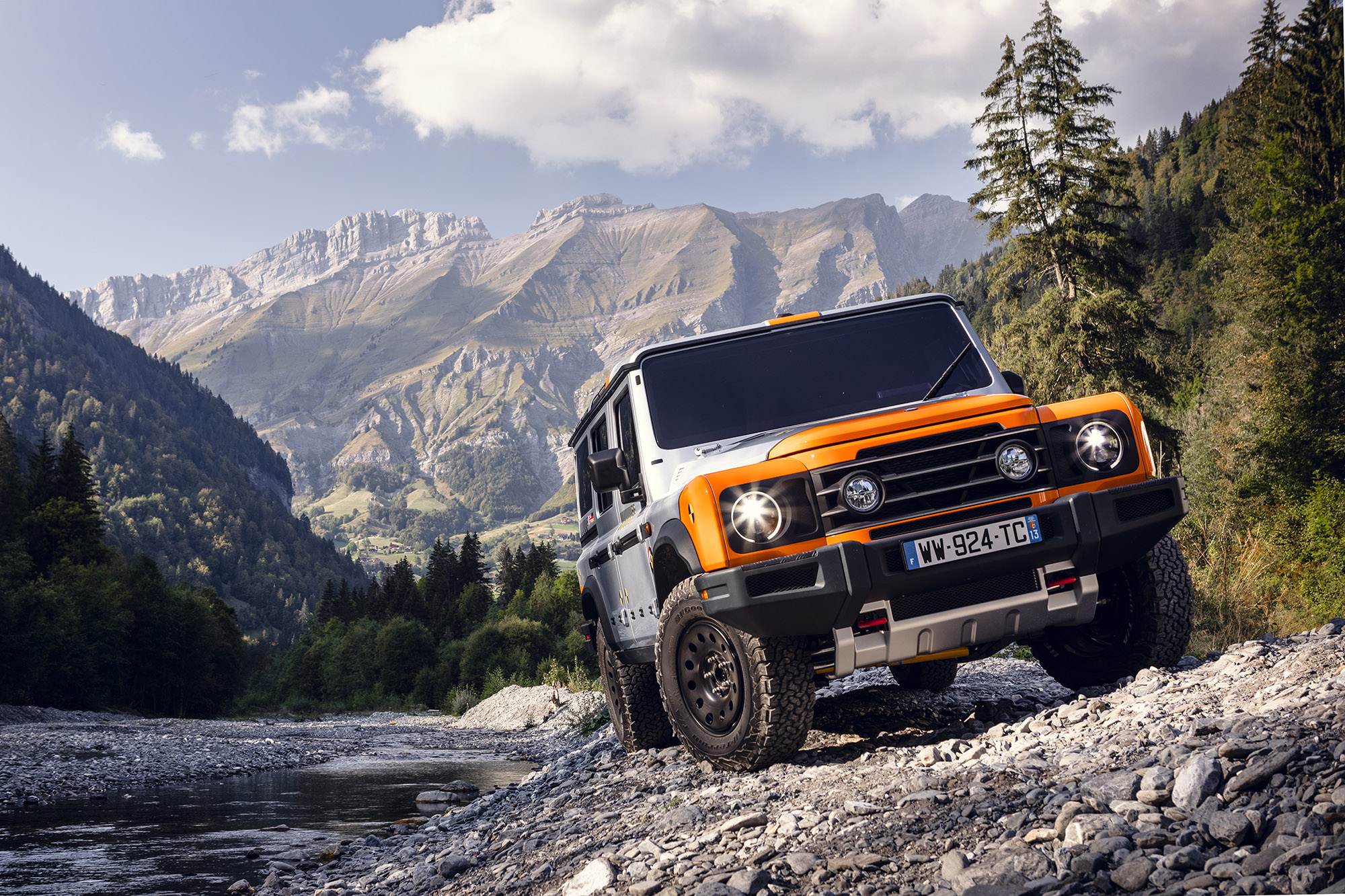 Will the brand new INEOS Grenadier 4×4 become an off-road dominator in North America?
Off-road enthusiasts have long shared opinions about what the best 4×4 on the market is. Some say the Land Rover Defender is the king of off-pavement terrain. Others swear by Toyota, no matter if it's a Tundra, Tacoma, or 4Runner. Then there's Jeep. No one has forgotten the 80 years of off-road history this automaker is about to celebrate.
There is a new off-roader in town that has the potential to shake things up. Enter the INEOS Grenadier, a stout 4×4 that's meant to service off-road adventurers and utilitarian-minded folks equally.
INEOS Grenadier's Intent
Global chemical company INEOS is a multi-faceted conglomeration consisting of a few dozen businesses in 26 countries. They employ 22,000 people. INEOS saw a need in the automotive market. They believed it wasn't being fulfilled. They leapt at the opportunity to fill it. Hence, INEOS Automotive was born.
The INEOS Grenadier 4×4's intent is to become a workhorse for off-roaders, mountain bikers, hikers, and road warriors alike. However, they want to make it comfortable enough with tech enhancements, creature comforts, and thoughtful touches. INEOS also wants the Grenadier to be a solid cross-country cruiser.
Already in talks with various established aftermarket companies, the Grenadier plans to work with key players that manufacture items like roof racks, bumpers, winches, and more.
Off-Road Offerings
The French-made INEOS Grenadier combines British design with German engineering. It is not unibody; it's body-on-frame construction. This four-wheel-drive includes items like a two-speed transfer case as well as rock sliders and skid plates. Also showcased are triple locking differentials, front and rear solid axles, and coil-sprung suspension, and mud-terrain tires for off-road trail usage or Bridgestone all-season tires if the pavement is more your thing.
Note: INEOS Automotive is determining which will be standard equipment upgrades and factory optional.
By the looks of it, the INEOS Grenadier 4×4 be extremely off-road capable. However, it also plans to have a towing capacity of 7,000 pounds, perfect for pulling a trailer for road-worthy adventures or remote off-grid travels. Also of note is a static rooftop load of approximately 750 pounds. This gives cargo-carrying occupants the chance to load up the Grenadier's roof with gear, a rooftop tent, kayaks, etc.
Diesel Dilemma?
Two engine types are featured with the INEOS Grenadier 4×4. The North American contender is a straight-six BMW gasoline engine mated to an eight-speed transmission. This powerplant incorporates manual shifting capability although no traditional stick shifts are found here.
The diesel we long for isn't anticipated for Canada or the United States, unfortunately.
It was decided the BMW diesel would not be offered for sale in the U.S., or Canada, or Mexico, said Greg Clark, INEOS Automotive's Executive Vice President of the Americas.
Is bringing the diesel to North America a possibility? "As we continue to develop our relationship with BMW," he stated. "I'll never say never. There is a possibility that a diesel might come and of course, alternative powertrain is something that has to be true in our plans."
As of now, the INEOS Grenadier 4×4's diesel variant will remain overseas. Clark eluded that future INEOS plans may bring a fuel cell powertrain on board versus crowd-favorite electrification.
The INEOS Grenadier Interior
INEOS Automotive just revealed the Grenadier's highly anticipated interior—it's obvious the company studied a wide variety of mediums in order to formulate their answer to the perfect 4×4 interior. Simplicity meets functionality, technology, and thoughtfulness.
"When we started thinking about the Grenadier's interior, we looked carefully at modern aircraft, boats and even tractors for inspiration, where switches are sited for optimal function, regular controls are close to hand, auxiliary ones are further away," said Toby Ecuyer, the company's Head of Design.
Other manufacturers have done away with old-school toggle switches and twist dials in favor of touch screens, finger swipes, and deep-seated menus. However, INEOS Automotive focused on functionality with a technology assist. Not only have they incorporated OE auxiliary switches pre-wired to run winches, aux lights, or other accessories, they labeled them clearly and spaced them further apart in case users use them when wearing thick winching gloves.
Additionally, an optional power source provides a 2,000-watt AC convertor that supplies go-go juice for extra equipment.
In addition to its center stack and overhead controls, the INEOS Grenadier boasts heavy-duty, "wipe-down" materials throughout its cabin. It also showcases drain plugs (a feature Jeep Wranglers have) in its rubber flooring. The interior can be hosed out. This rings true after a mud-filled day on the trails. This is unlike the Honda Element that boasted a hose-out cockpit but didn't allow water to easily escape.
Note: The INEOS Grenadier 4×4 will offer carpet and leather upholstery options for those seeking a less utilitarian and more luxurious feel.
Additional Accoutrements
The INEOS Grenadier 4×4 incorporates various niceties on the technology front. The infotainment system is managed by its centrally located 12.3-inch touchscreen. This is also controlled by a simple old-school rotary dial. Incorporated Apple CarPlay and Android Auto mean smartphone navigation will always be current. An on-board "off-road pathfinder navigation system" allows owners to program, record, and follow specific routes via waypoints—a feature normally found on external wayfinding units like the Garmin Overlander.
INEOS Automotive also considered secured storage spaces. The Grenadier includes a dry storage box under the rear seat, a lockable center stack box, as well as side-mounted storage opportunities in the rear. Additionally, the rear cargo bay boasts tie-down hooks and optional "fixing rails" to secure goods.
Optional glass roof panels allow extra light into the cabin. They can also tilt to allow added airflow or be removed completely. Whereas Jeep Wranglers outfitted with the Freedom Top come with a storage bag solution, INEOS Automotive anticipates storage bags or securing methods for their glass roof panels an open-sourced option.
Grenadier Pricing
The Grenadier's pricing is not determined. Its MSRP will land somewhere above the higher end of the Bronco and Wrangler vehicles. Production units are being delivered in the United Kingdom starting July 2022 with Canadian and United States units around the first half of 2023.