ISSUE DROP: Tread November/December 2019 is Here!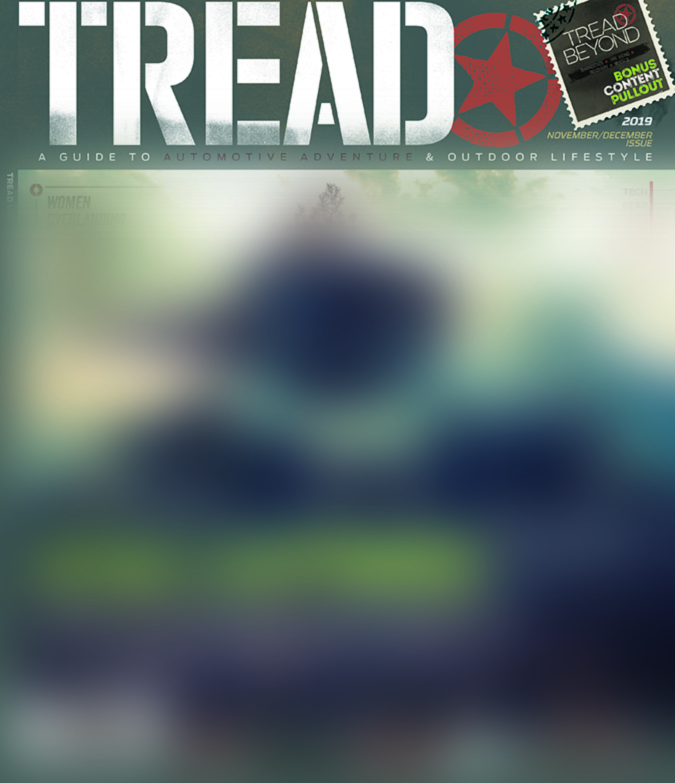 Issue No. 22 has arrived at our offices and will be delivered to mailboxes any day now. You can expect to see it on newsstands by 10/22/19. Be sure to pick up a copy, it's packed with great stories, great gear and great vehicles. See below for what's inside.
CONTENTS
Twenty-Second Issue
November/December 2019
Features
28     Land Yacht
A World Conquering 6×6 Home On Wheels
42     Fly & Buy
An Andes Overland Adventure
54     Fire to Go
Portable Fire Pit Guide
66     Doing It Right
A Look Into the Development of Putco's VentureTEC Overland Modular Cargo System
70     Women Overlanding Costa Rica
An Epic Adventure Though South America
80     From Concept to Reality
A Customized 2020 KIA Telluride: is it an AWD Dream Rig?
98     In the Land Down Under… 50 Years On
The 2019 BF Goodrich East-West Australia Jeep Crossing
106     Self-Contained
Storage & Container Guide
116     Make Room
Küat Pivot V2 and Transfer Platform Rack
122     Life Saver
A Toyota Land Cruiser 200 Series Built For The Adventure of Life
134     'Tis The Season
Tread's Holiday Outdoor Gift Guide
144     The Art of Walking
Traversing Difficult Terrain Without Falling Down
150     BBQ Anywhere
Primus Kuchoma Grill
Departments
8     Editor's Letter
14     Rock 'N Roll
Put Your Best Foot Forward
16     Outfitted
A Round Up of the Latest Automotive Accessories
20     Gear Box
Supplies For Life Off The Beaten Path
22     Made The Cut
The Latest Pocketknife Releases
24     Rec
2020 Can-am Defender MAX Limited HD10