Garmin Overlander and inReach Mini Duo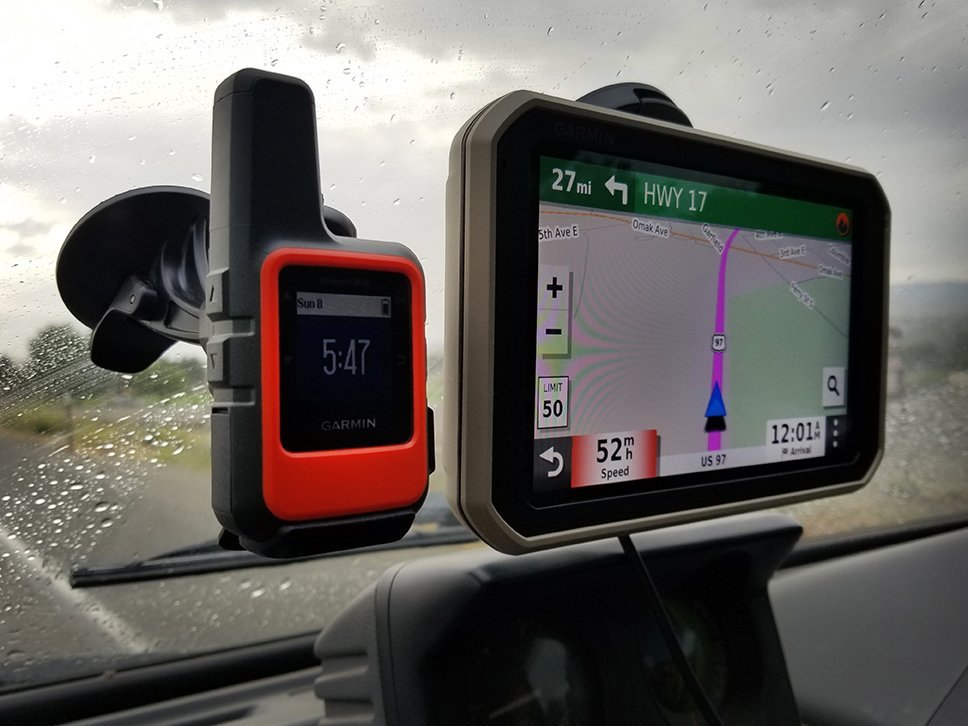 The Garmin Overlander is an all-in-one GPS made for people who like to adventure off the beaten path.
These people take their customized 4x4s across vast sections of nothingness into the unknown. Off-grid trail adventures make them smile, but it's best to know where you're going at all times. Garmin recognized this need—a need to create an all-encompassing GPS unit that can handle the daily rigors of on-road tarmac duties but excel at off-pavement adventure. They listened, they designed, and then they produced a robust piece of technology to handle on- and off-road navigation, pair with Garmin's Explore app, find remote campsites off-line via pre-loaded iOverlander and Ultimate Public Campground campsites, and even sync routes, waypoints, or tracks from the device to a smart phone.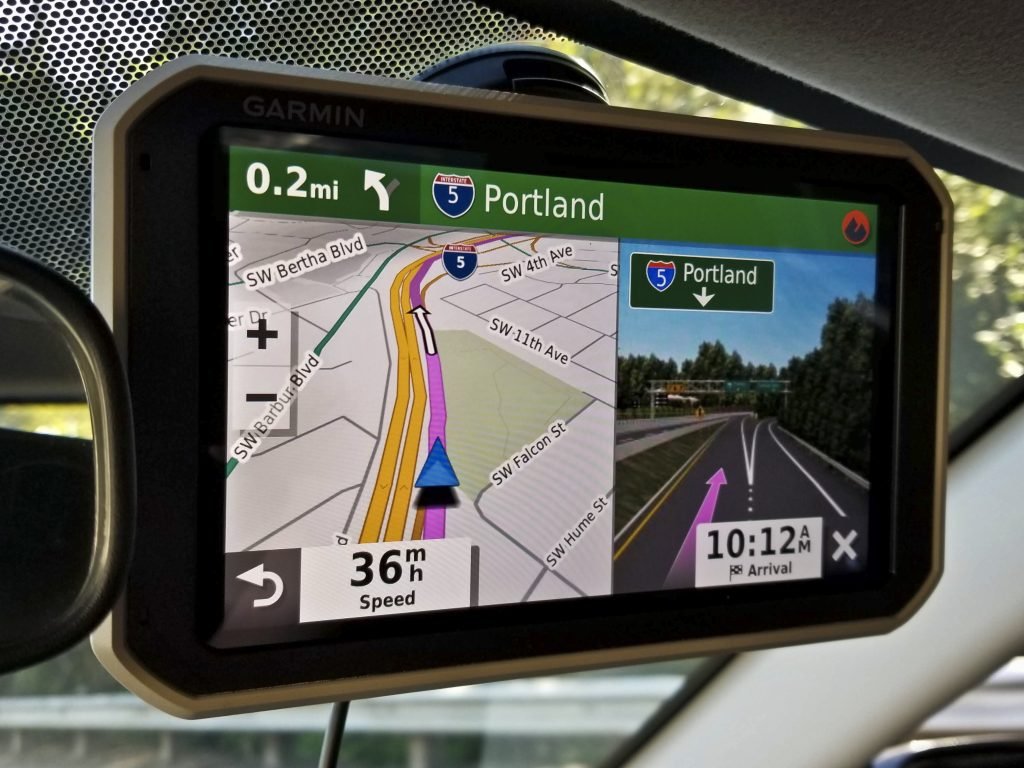 Features
The Garmin Overlander also showcases topographic maps that include public land boundaries (helpful when primitive camping), various trails and 4×4 treks, as well as other pertinent land use data. Additionally, this heavy hitter GPS unit contains a track recorder, pitch and roll gauges, a digital compass, along with a barometric altimeter. It's also inReach compatible. Once an inReach device is paired to the Overlander and a subscription is purchased, it'll give you the opportunity for two-way texting, SOS emergency communications, and weather forecasts. Heck, at first usage, the Overlander appeared it could even make you breakfast.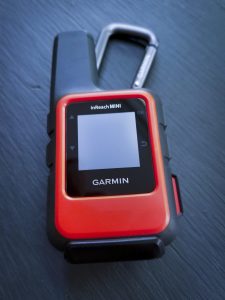 The Overlander seems very intuitive and easy to use. The 6.0-inch wide x 3.5-inch high screen is oversized and quite readable. Its resolution is very good, tooz—it boasts 1024×600 colorful pixels. Unlike the Garmin GPSMAP 66i, the Overlander's Bluetooth paired to our Samsung Note 8 in mere seconds and stayed connected. Garmin's Explore app allows the opportunity to download maps, sync waypoints and routes, and so on. You can also sync contacts.
Finding a destination to drive to via the Overlander is relatively easy. Its voice recognition works well, but can misinterpret in some instances. For example, when trying to find Devans Street, it asked back multiple times to find Dickenson Street. It also took two of us to finally find a coffee shop nearby when headed home after a long day's journey. It kept translating the word "coffee" into a word neither of us ever heard of. We even tried a few different accents to assist its recognition.
Mounting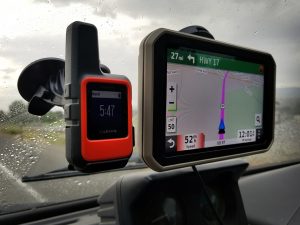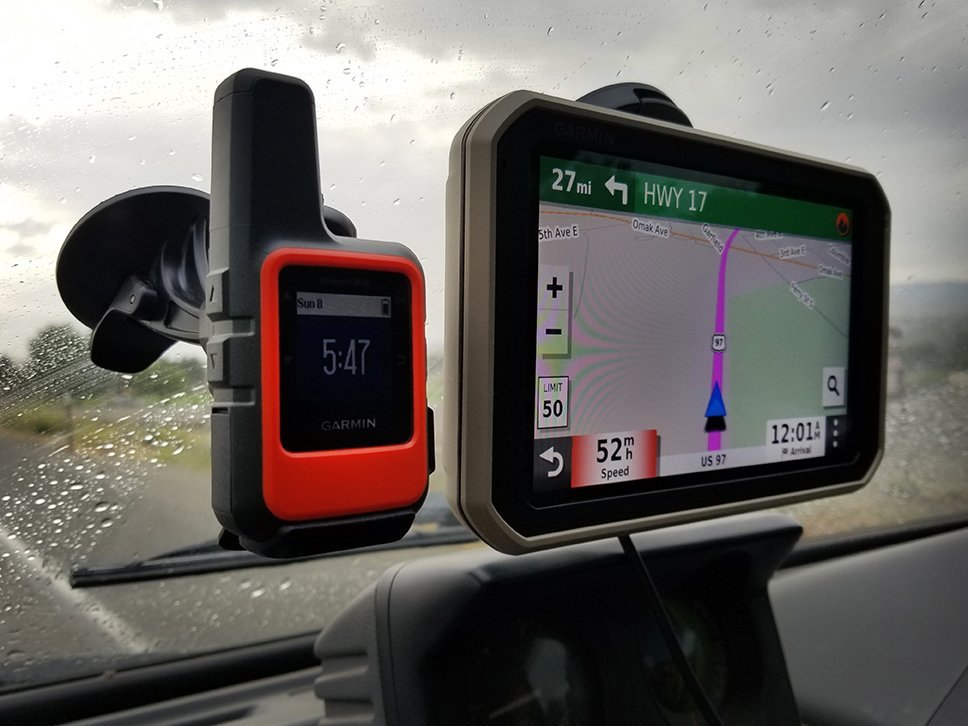 While the supplied RAM mount with ball adapter is heavy duty and durable, it was a bit challenging to mount it in two of four vehicles. The angle wanted wasn't quite possible, making the ball pop out of its socket. That could be due to the extreme windshield angles the Toyota Yaris and Mitsubishi Mirage run-abouts have, however. Additionally, the Overlander doesn't allow its screen to always stay on when using it via batter power, or not plugged in. You can choose various settings, but only up to 30 minutes of screen time before it goes black and has to be touched again. It can be a bit distracting when trying to charge multiple devices during a trip and you only have one outlet to charge from in an older vehicle like some 4x4s.
Conclusion
With the Garmin Overlander and the inReach Mini prices, users will need to decide if the benefits of these units paired together outweigh overall cost. Whereas most in-vehicle navi systems provide only on-pavement directions, the Garmin Overlander supports various important off-grid guidance and assistance. From pre-loaded 4×4 roads of North and South America, offline camping spots—pretty much all over the place—as well as public land boundaries and more, it's a serious overlanding companion, especially when it's paired with the inReach Mini.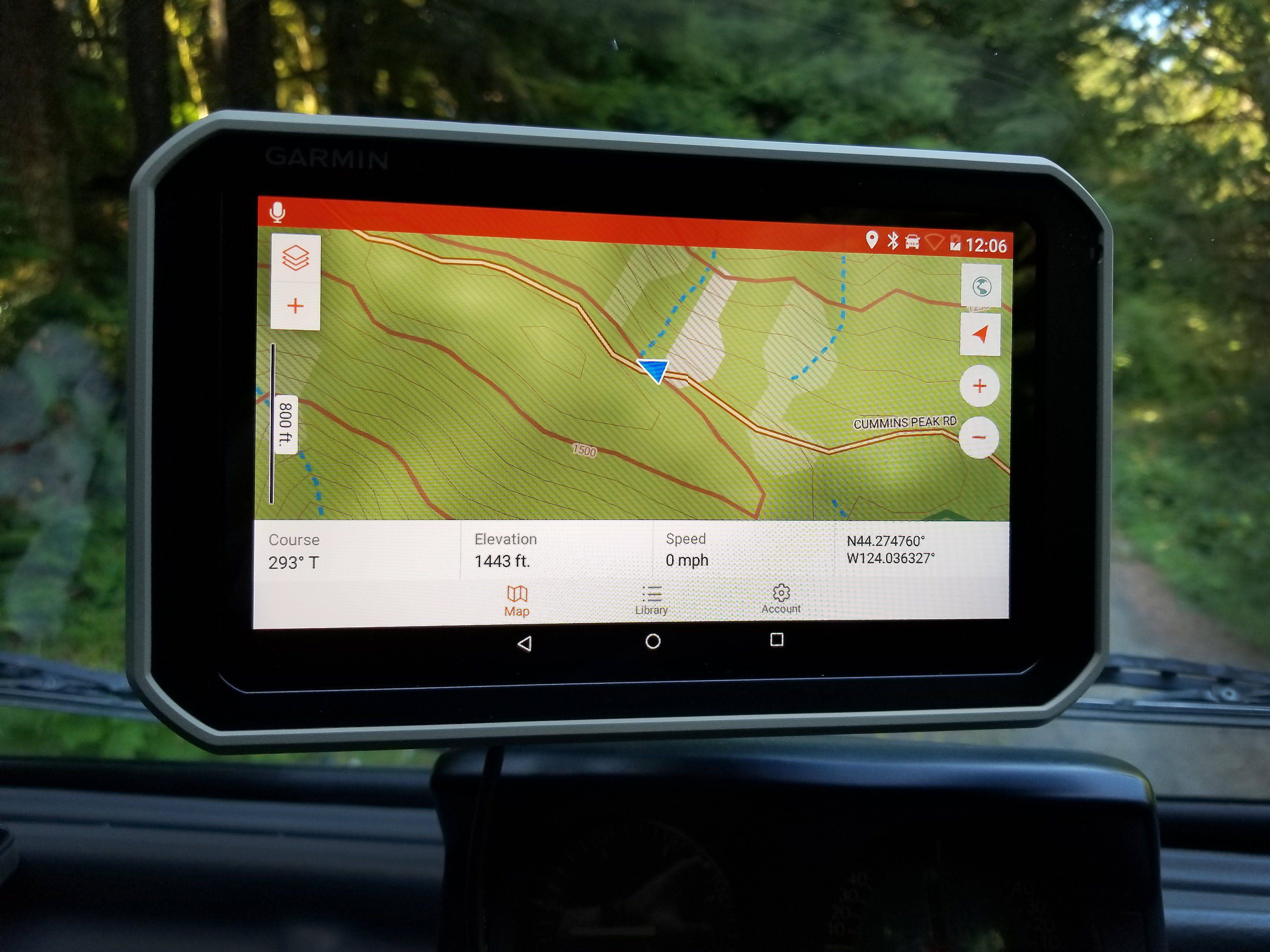 Garmin Overlander
MSRP: $699.99
Garmin inReach Mini
MSRP: $349.99