Nitro Gear Ultimate Adventure RV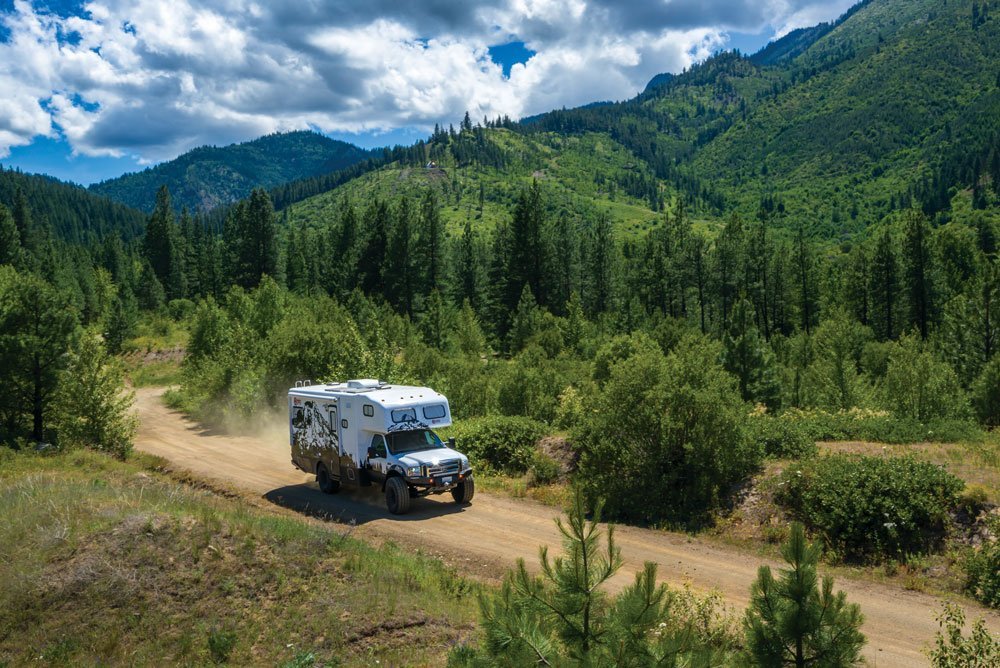 Work Hard, Play Hard
Carl Montoya isn't just the owner of one of the most respected axle and gear aftermarket manufacturers and up-fitters in the world, he's a family man who loves to play hard in the great outdoors. Montoya is a consummate mountain biker, snowboarder, and off-road enthusiast, so it only makes sense that he needs an adventure RV. When he's not working hard in his shop in Cashmere, Washington, he can usually be found out in the mountains playing with family and friends.
He built this next-level adventure RV with the work hard and play hard ethos. It is the Nitro Gear & Axle/Just Differentials tow and event rig, as well as his family weekend play machine. If you've been to an off-road or overland show on the West Coast in the past few years you've likely seen this beast already. But there is much more than meets the eye to this not-so-run-of-the-mill RV. From humble, but high-quality, beginnings, Montoya and his team at Nitro Gear have transformed this into a truly formidable adventure RV machine.
Quality Beginnings
This beast started life as a 2004 Xplorer Xcursion motorhome, based on a 4×4 Ford F-450 with a 6.0L Powerstroke diesel. Underneath it had four-corner leaf spring suspension, a Dana 60 front axle, and a Dana S110 rear axle. It also came equipped with three 20-gallon diesel tanks and a 100-gallon fresh water tank.
The onboard living systems in the Xplorer Xcursion adventure RV are well appointed from the factory, offering up all the comforts of home while on the road. The RV itself is made of a one-piece fiberglass shell, which offers both durability and all-weather insulation. The layout offers up sleeping for six, two in the queen cab-over bed, two in the slide-out dinette, and two in the rear bedroom. There is also a full bathroom, full kitchen, and plenty of storage.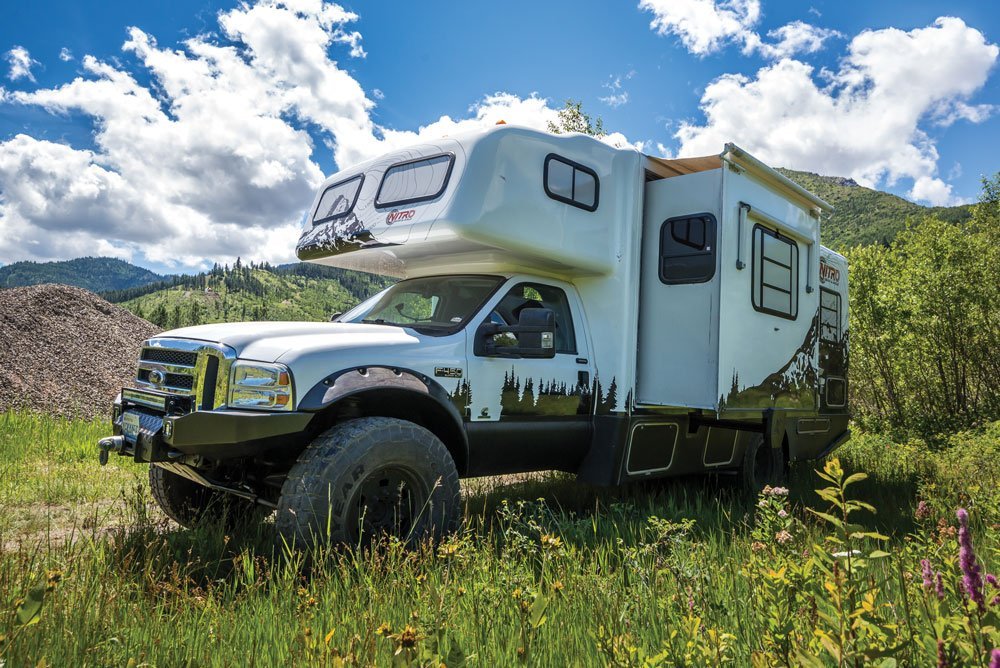 The motorhome also came equipped with a generator, two big commercial deep-cycle house batteries, and two solar panels on the roof. Of course it also came with things like heat, A/C, LCD TVs, a Bluetooth stereo system, and a huge awning.
Adventure RV Upgrades
As you can tell, the motorhome itself really didn't need a whole lot to meet Montoya's self-contained adventure base needs. It did need a few tweaks, however, specifically to better handle cold weather conditions. The standard RV toilet and black water tank was removed and replaced with a Nature's Head composting toilet. This system doesn't require dump stations, has no odor, and doesn't have plumbing that can freeze and break. The fresh water tank was also exposed to the cold weather and susceptible to freezing, so Montoya added insulation and heat ducting from the interior.
Elevating the Chassis
While the Ford F-450 4×4 chassis is super competent, it wasn't quite up to the demanding requirements of where Montoya planned to take the vehicle. He also didn't just want another RV/tow rig/adventure base, but instead an impressive showpiece for his company. This of course meant that he needed to make it truly off-road capable with the side benefits of the off-road upgrades making the big rig look badass.
First up was suspension and tires, which should be first on just about every off-road build. The idea was to fit massive 41-inch tires with as minimal a lift as possible, keeping the center of gravity of this huge vehicle as low as possible. It took a smart combination of a lot of things to accomplish that goal.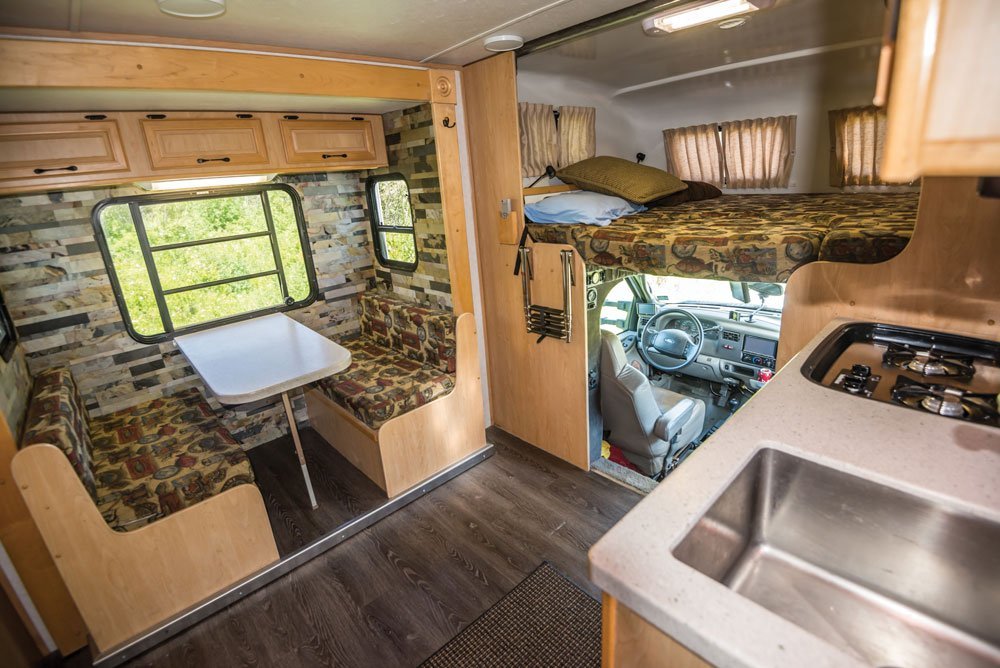 First up was swapping in a 2005-plus frontend out of an F-550. This swap offered up a more stout Dana "fatboy" Super 60 front axle, a 6-inch-wider front track width, and a plush coil-spring suspension. Along with a 2-inch spacer lift, airbags, an Armored Truck Spec panhard rod, 2005-plus F-350 steering box, PSC 10-inch hydraulic steering assist ram, and custom Radflo 2.5-inch remote reservoir shocks, the frontend was an all-new engineering masterpiece. This setup allowed for much better overall handling, fitment of big tires, and a truly impressive turning radius.
Out back they swapped the stock leaf packs with custom 12,000-pound packs from National Springs. A custom 1-inch spacer block with the new rear spring packs netted about a 2.5-inch lift. To control the higher center of gravity, although not that much taller, and improve towing performance, a big Hellwig sway bar and helper airbags were installed.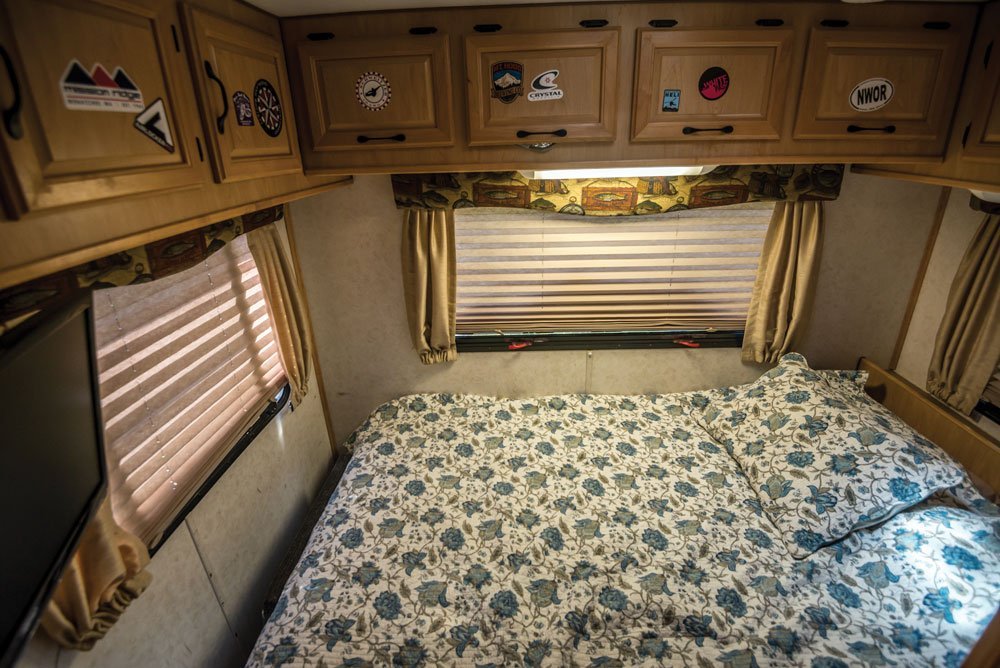 Fitting big 41-inch Goodyear military tires was still no easy task, even with the increased track width and modest lift. Up front, 5 inches had to be trimmed from the fenders and Bushwacker Cutout Flares installed. In the back, the factory flares were actually removed all together. Next up was getting rid of the factory Alcoa wheels and replacing them with Buckstop super singles. This got rid of the dualie rear wheels on the vehicle, for much-improved off-road capability.
Big Tires Need Big Gears
With the massive tire size increase, from factory 31s to the massive 41s, the big motorhome had issues getting moving and cruising at highway speeds. The big tires and stock 4.30 gearing was extremely mismatched. Of course this wasn't really an issue for Montoya, as his company specializes in handling this exact issue. The stock gearing was swapped out for 5.38:1 Nitro Gears. This gearing not only made the big truck driveable again, but improved the fuel economy.
"The new powertrain package … puts out an impressive 900 lb-ft of torque and 450 hp. This motorhome now tows like a dream and is fun to drive."
While the Nitro Gear team had the differentials open they installed an Eaton E-locker up front and a Truetrac limited slip in the rear. While this big beast will never be a rock crawler, these traction aids help immensely in snow, sand, and muddy conditions that this vehicle encounters regularly. The differentials were then filled up with Nitro Gear Lube by Schaeffer's and closed up with Nitro Xtreme diff covers.
Off-Road Protection & Recovery
Now with big tires, great suspension, and sorted axles it was time to add some protection and recovery equipment to this adventure RV. Up front the original Herd Alloy bumper was replaced with a modular unit from ASFIR. The ASFIR bumper offered up a winch mount, front skid plate, and much better alignment with the new wider track width and extended fenders. Out back a custom rear bumper by Hazzard Fabworx ensures the fiberglass camper shell isn't damaged if/when the big booty on this motorhome comes in contact with terra firma. To improve the departure situation a large amount of fiberglass was trimmed from the rear of the camper, made possible by the removal of the black water tank.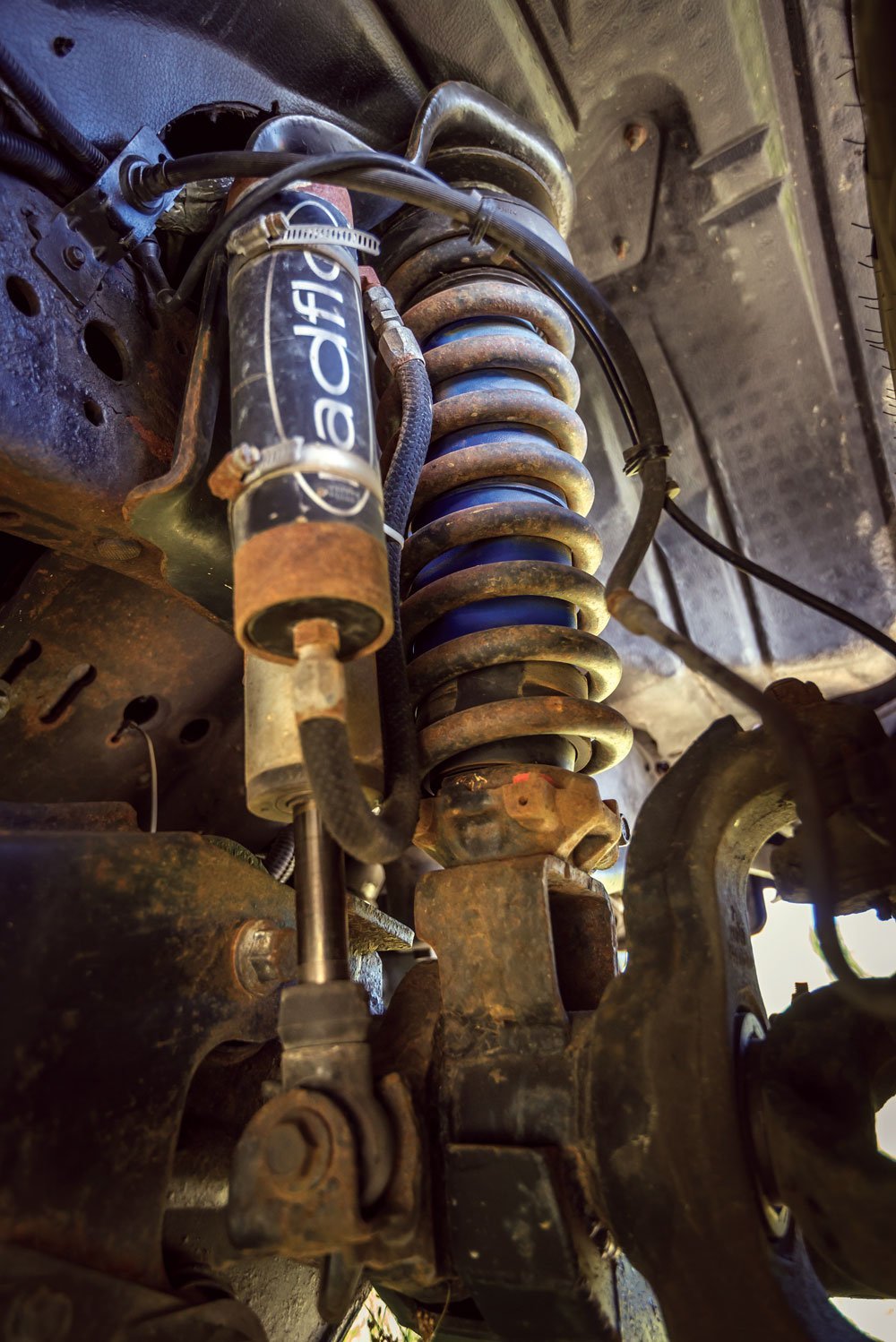 A 15,000-pound Milemarker winch with Masterpull synthetic line and a Factor 55 Pro Link ensure this big machine can recover itself, and help others along the way. An ARB twin compressor and air tank ensure that the big tires are easy and relatively quick to inflate after a day of aired-down fun.
Engine Swap Time
While Montoya tried his hardest to bulletproof the 6.0L Powerstoke, the engine offered nothing but continual headaches. After a second head gasket failure it was time to take drastic measures. After much research, Montoya took the camper to Diesel Conversion Specialists in Kalispell, Montana, to shoehorn a big-tuned 6.7L Cummins into his adventure machine.
The engine swap was no minor undertaking. The big 2007.5 Cummins 6.7L got head studs and a banks intercooler. It also got twin turbos courtesy of Dynomite Diesel Performance. The whole package is tuned with an SCT programmer, monitored with Edge gauges and electrified with dual Odyssey batteries.
In order to handle the increased power, the big Cummins is backed by an ATS-built 5R110 Torq-Shift automatic transmission. A Five Star Torque converter, built for the Cummins/5R110 swap, and a high-capacity ATS aluminum trans pan keep everything running happy.
The new powertrain package has been incredibly reliable, greatly increased throttle response, and cooled EGTs. Oh, it also puts out an impressive 900 lb-ft of torque and 450 hp. This motorhome now tows like a dream and is fun to drive.
The Adventure RV Package
With 60 gallons of fuel on board and average fuel economy around 12 mpg, this big machine can go over 700 miles before a refuel. Surprisingly, this massive off-road adventure RV only weighs in at around 17,000 pounds when fully loaded and wet.
Montoya has taken a nice 4×4 RV and created a truly capable off-road, self-sufficient home away from home, which is also a super-capable tow rig. While this machine will never fit down tight technical trails, it can go just about anywhere it can fit. Sure the break-over and departure angles are horrendous, but rock crawling is not what this machine is all about. Montoya can tow one of his trail rigs with this machine for that type of fun.
If you were wondering, the fun vinyl graphics wrap on this impressive machine not only promotes Montoya's company, but is also a nod to the mountains in the Pacific Northwest where he likes to play—specifically the steep glaciated peaks of Mt. Rainer, Mt. Hood, and Mt. Stuart.
To find out more about Montoya's business and the crazy builds they create, check out www.justdifferentials.com.
UPGRADES
2004 Xplorer Xcursion Motorhome
Base Truck: Ford F-450, 6.0L Powerstroke Diesel, 4WD, leaf sprung, Dana 60 front axle, Dana S110 rear axle
Truck Upgrades: 2007.5 Cummins 6.7L twin-turbo conversion by Diesel Conversion Specialists, Headstuds, Banks Intercooler, SCT Programming, Edge gauges, SCT and EFI Live Programming, Odyssey Batteries, ATS Stage 3 Transmission with Billet Converter and High-Capacity Pan, Buckstop 20×11 HD wheels, Goodyear G275 MSA 335/80R20 (41 inches) Military Tires, 2005-plus coil-sprung F-550 frontend, Dana Super 60, Nitro Gear 5.38 ring-and-pinions, Eaton E-Locker front and Truetrac rear, Nitro Xtreme diff covers, Rear Hubs swapped to 10-lug (to match front), Warn manual-locking front hubs, stock coils with 2-inch spacer and airbags, 12,000-pound rear OE leaf packs with 1-inch block leaf lift and assist airbags, custom Radflo 2.5-inch remote reservoir shocks, Icon armored truck Spec panhard rod, 2005-plua F-350 steering box with F-550 Pitman arm, PSC 10-inch hydraulic steering assist Ram, Bushwacker Cutout Flares, ASFIR Modular bumper, Milemarker 15,000 winch, Masterpull synthetic line, Factor 55 Pro Link, 2007 F-550 grille, headlight update, AMP Research side steps, Hazzard Fabworx rear bumper, ARB twin compressor, vinyl graphics package
RV Systems: Solar Panels, Norcold 12V fridge, 20-gallon LPG propane tank, LPG furnace, LPG cooktop, LPG Onan 5K Generator, A/C Unit, shower, toilet, two sinks, Queen Cabover bed, queen rear bedroom, slide-out dinette, Nature's Head composting toilet
Editor's Note: A version of this article first appeared in the November/December 2020 print issue of Tread Magazine.