All-New Yamaha Ténéré 700 Adventure Touring Motorcycle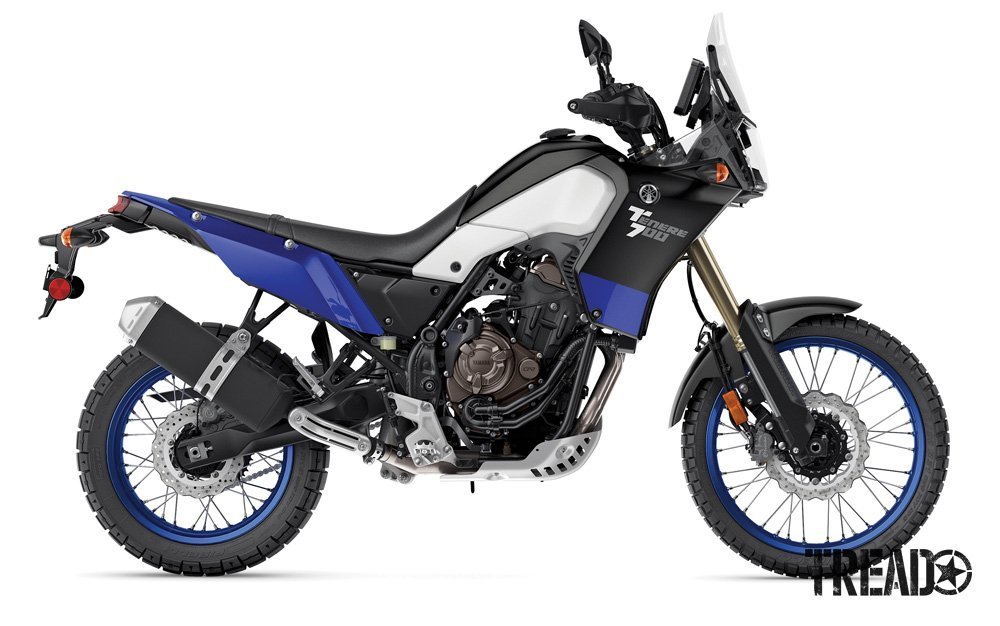 2021 Yamaha Ténéré 700 Adventure Touring Motorcycle
As much as we love our go-anywhere four-wheeling rigs, there's something special about mounting a lightweight, two-wheeled motorbike to really feel the freedom that motorized adventuring has to offer. Enter the 2021 Yamaha Ténéré 700.
Yamaha's all-new adventure-touring motorcycle, the 2021 Yamaha Ténéré 700, was conceived with on- and off-road adventuring in mind. It's designed as a lightweight, no-compromise adventure bike that features outstanding reliability at its core, which, as anyone who has motored into the unknown can tell you, is an essential attribute.
The Look and Feel of the 2021 Yamaha Ténéré 700
Understanding that adventure riding is different from everyday riding, the designers at Yamaha endowed the Ténéré 700 with a narrow body, slim fuel tank, and flat seat that allows for maximum rider agility. The ergonomics involved allow the rider to grip the fuel tank whether sitting or standing, which gives added confidence whether on dirt or asphalt.
Ensuring that the 2021 Yamaha Ténéré 700 is capable of embracing aggressive rides when the pavement ends, the bike's highly adjustable, long-travel suspension is backed by durable multispoked wheels and 21-inch front and 18-inch rear go-anywhere tires. Because stopping is as important as going, the 700's triple-disc brakes also feature selectable ABS that can be disabled when desired for off-road riding.
What Makes the 2021 Yamaha Ténéré 700 Fun
The 2021 Yamaha Ténéré 700 features an inline twin-cylinder engine derived from Yamaha's award-winning MT-07 Hyper Naked sportbike. That's right, the lively and responsive fuel-injected, 689cc liquid-cooled sportbike engine has been adapted for touring needs.
As with the many other powersport vehicles in Yamaha's stable, the Ténéré 700 is built to combine Yamaha's renown reliability with high performance and rider comfort and safety. The 700's compact LED headlights, strong and narrow steel frame, smooth counterbalanced motor, and crystal-clear LCD gauges are all designed with those factors in mind. Furthermore, the bike's protective fairing and handguards work with its tapered handlebar in order to ensure rider comfort on the longest rides.
2021 promises to be much different than the previous year that we all suffered through. What better way to celebrate than to jump on this all-new adventure touring bike to explore and experience true freedom on and off the road? See you on the trail!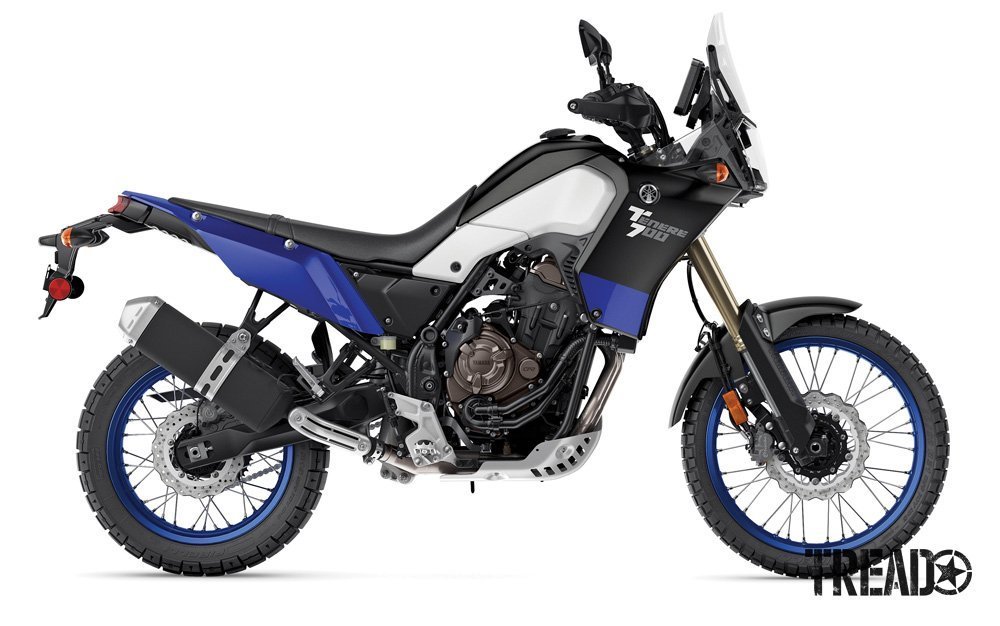 Performance
Engine
Developed from the MT-07 Hyper Naked sportbike, the CP2 689cc liquid-cooled DOHC four-stroke, eight-valve engine combines exceptional reliability and exciting power delivery in a compact, fuel-efficient package. Its 270-degree crank provides linear torque in response to throttle input.
Transmission
The six-speed transmission "stacks" the gearbox and the crankshaft in a triangular layout to keep the overall engine size shorter front to back, which optimizes the bike's weight balance.
Fuel Injection
Electronic fuel injection settings provide excellent fuel economy, robust acceleration, and precise controllability on- and off-road. Fuel injection is calibrated to deliver precise response for technical riding off-road as well as casual pavement rides.
Suspension
Suspension
Aggressive dirt riding requires capable suspension. The Ténéré 700 is equipped with a long-travel 43mm inverted fork with 8.3 inches of travel. Its robust inverted layout shrugs off flex to maintain precise steering and suspension action. The linkage-type rear shock features 7.9 inches of travel, and a remote preload adjuster for fine-tuning for ever-changing road conditions.
Frame
Lightweight Double Cradle Frame
The bike's lightweight, high-strength tubular steel frame features a short 62.6-inch wheelbase and provides a tuned rigidity balance for nimble, responsive handling with the strength and durability needed to tackle the harshest terrain with confidence.
Brakes, Wheels & Tires
Switchable ABS Brakes
Stopping the bike are a pair of wave-style 282mm front discs and a 245mm wave-style rotor in the rear. ABS comes standard and can be temporarily disabled for full manual control, which is ideal for off-road riding.
Wheels & Tires
Unlike other adventure bikes that feature cast alloy wheels or road-biased tires, the Ténéré 700 is shod with tough spoked wheels that mount 21-inch front and 18-inch rear tires.
Overall Length
93.3 in.
Overall Width
35.6 in.
Ground Clearance
9.4 in.
Fuel Capacity
4.2 gal.
Curb Weight
452 lbs.
How much will it  run ya?
$9,999*
(Editor's Note: A version of this article first appeared in Tread March/April 2021.)