Lexus GX Goes Off Road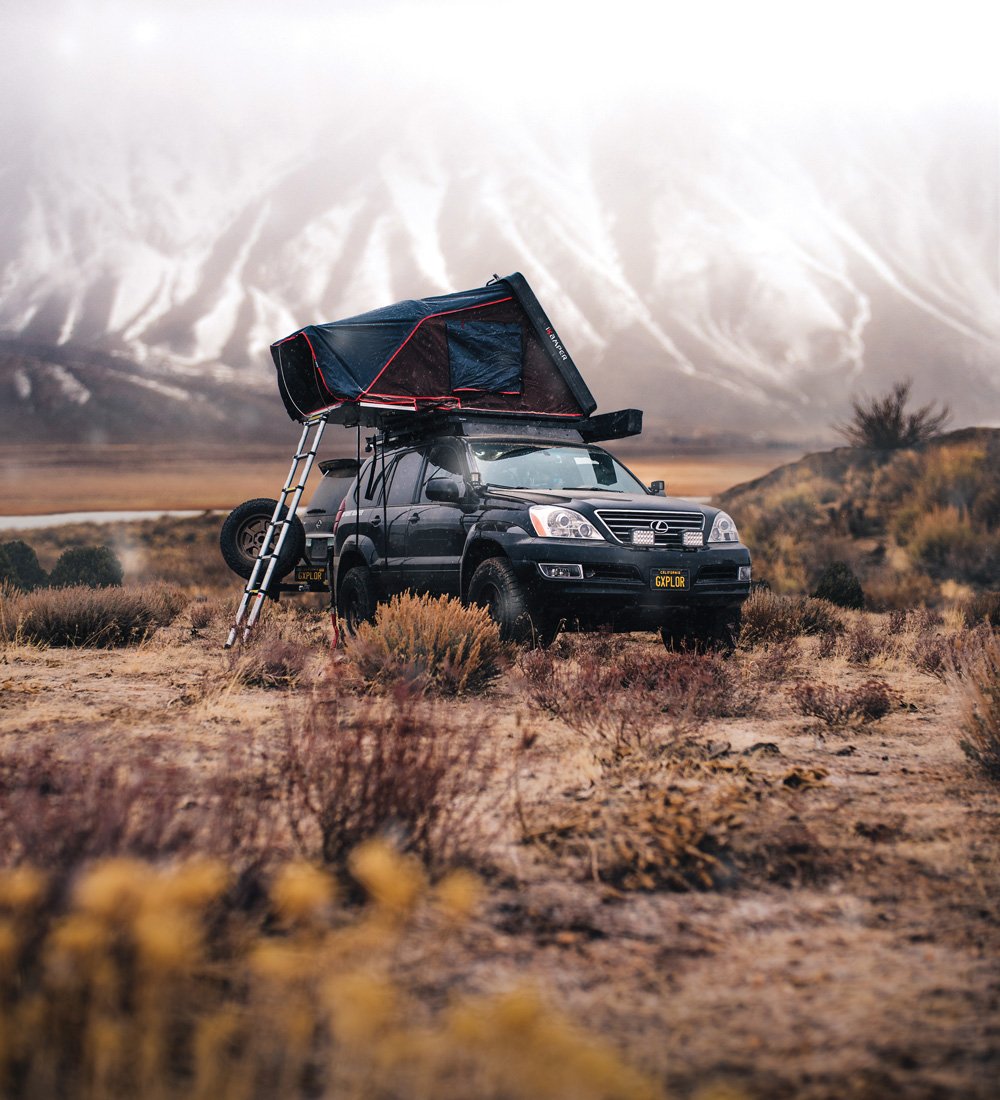 The Rise of the GX
What's not to like about seeing a luxury soccer mom car traveling through remote, challenging, off-road terrain? Not only is the Lexus GX perfect for the suburban upper-middle-class family, but it's also extremely off-road capable right off the showroom floor. This is because hiding under that shiny paint and leather interior is a Toyota Land Cruiser Prado.
The Lexus GX off-road craze has been brewing for years, but it's only been since about 2016 that it has really taken off and become a mainstream concept. The enthusiast community has quickly grown since that time, and is still seeing exponential growth year over year.
Big drivers for the GX's recent popularity amongst off-road enthusiasts are the explosion of overlanding, the bottom of the depreciation curve for many model years of the GX, cheap fuel prices, high used market prices on 4Runner and Land Cruiser models, recent aftermarket parts support, and the GXOR enthusiast group. There is no sign of this momentum slowing, and used GX prices are starting to reflect that.
Lexus GX Platform
The Lexus GX family consists of two models, the GX 470 and the GX 460. The Lexus GX 470 was offered in the U.S. from 2002 to 2009, and is based on the Toyota Prado 120 sold around the globe. There were 174,473 GX 470s sold in the U.S. market. That's just enough volume to mean parts are relatively easy to find and shouldn't run out anytime soon. Pricing started at $47,615 in 2009 for the GX 470, but can be found on the used market today for under $10,000 regularly.
"TO TOP OFF THE VALUE PROPOSITION, MANY TIMES THE GX CAN ALSO BE FOUND WITH LOWER MILEAGE, HAVING BEEN DEALER MAINTAINED, AND NEVER GOING OFF ROAD MORE THAN A GRAVEL PARKING LOT AT THE LOCAL SOCCER FIELD."
In 2010 we got the second generation of this luxury SUV, the GX 460. This model is still on offer at your local Lexus dealership today, with 2021 models already announced with only minor updates. The Toyota Prado 150 Land Cruiser/fifth-gen Toyota 4Runner share the underpinnings with the Lexus GX 460. Over the past nine years more than 192,409 have been produced for the U.S. market. The starting price for this machine in 2020 is about $53,000, with top spec models hitting about $65,000.
Sadly, the GX does not get the diesel engine or rear door–mounted spare tire options on offer on the Prado in other parts of the globe. It does, however, share the same body-on-frame construction, five-speed automatic trans, center locking differential, and permanent 4WD system. It also shares much of the same bodywork and interior, although the Lexus offers a more angular aggressive front end and more upscale interior.
The GX is shorter and narrower than its U.S. market siblings, the Lexus LX series, which are based on the 100- and 200-series Toyota Land Cruisers. It also falls between the big Land Cruiser/LX and slightly smaller and more basic 4Runner in the marketplace.
A big thing the Lexus GX platform offers to the off-road enthusiast is a V-8 underhood. That means it gobbles fuel, and premium fuel at that, but also means quality power and torque. The 4.7L 2UZ-FE V-8 in the GX 470 offers 235 hp and 320 lb-ft of torque. The GX 460 has a 4.6L 1UR-FE V-8 underhood, good for 301 hp and 329 lb-ft of torque. That horsepower is needed, however, as these aren't light vehicles, even in unmodified form. The GX 470 weighs in at about 4,871 pounds and the GX 460 at about 5,405 pounds.
GX Value Proposition
The real key to the Lexus GX platform's popularity amongst the off-road crowd is its affordability on the used market. Many times you can find one of these V-8–powered luxury machines for less money than a comparable V-6–powered basic 4Runner. To top off the value proposition, many times the GX can also be found with lower mileage, having been dealer maintained, and never going off road more than a gravel parking lot at the local soccer field.
Now, with all that said, the used GX for off-roading train left the station a long time ago and prices are on the rise. Nearly every Lexus 4×4 model has seen big increases in value on the used market the past few years, and even more so during the pandemic. Getting a super-cheap Lexus GX to build into an off-road machine is still doable, but you'll have to settle for higher mileage and more abused models than could previously be had for impressively low prices.
Another way to look at the value of a GX is to compare it to the Land Cruiser models. In general the GX can be had at about a 30 percent discount over a Land Cruiser of the same year and condition. When compared to the 4Runner you first have to look at the engine options. Fourth-gen V-8 4Runners are relatively rare these days and highly sought after, so bring a premium price on the used market. The latest fifth-gen 4Runners are only available with a V-6 and still hold their values extremely well.
Off-Road Modifications
Stock, the GX is a formidable machine off-road, but its running boards, low front bumper, and street tires aren't exactly conducive to serious off-road terrain. However with some key modifications there are few obstacles that can get in the way of the GX. Luckily for the community many aftermarket companies have taken notice of the enthusiasm behind this platform and recently started offering a wide variety of quality parts.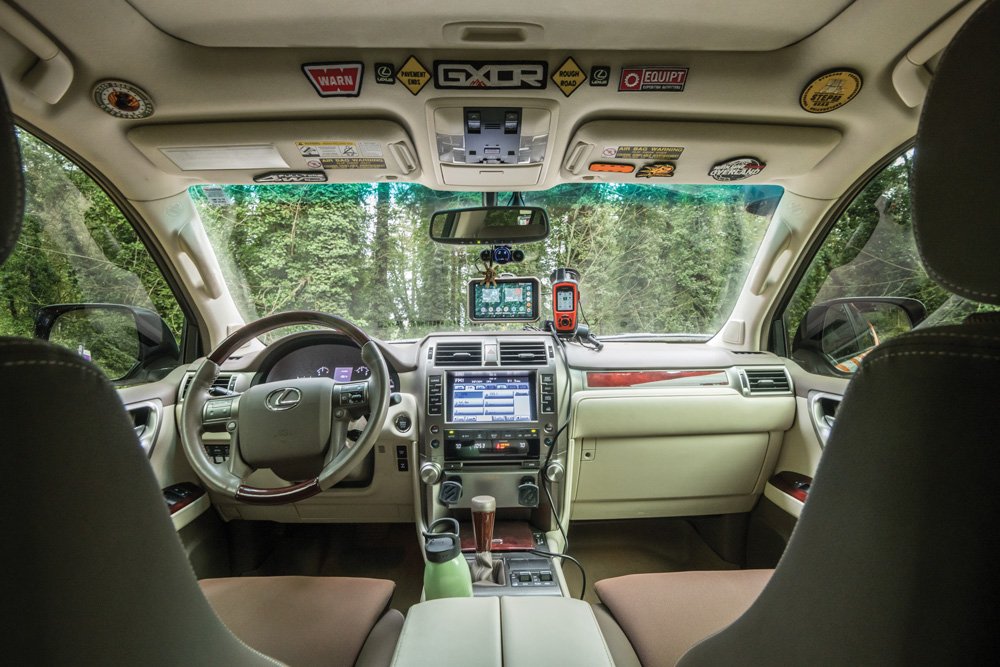 The most common upgrade, and most people's first upgrade, is a small lift and bigger tires. A mild 2-inch lift, some heat gun work to the inner fender liners, and maybe a body mount chop is step one. This basic mod usually doesn't require UCAs or wheel spacers, and allows for 32.7-inch tires (285/70R17), the most common tire size for the upgraded GX. This basic upgrade, including tires, will set you back around $2,000.
"KUNZ BOUGHT HIS GX 470 IN JANUARY 2010 AT A TIME WHEN A LITERAL HANDFUL OF PEOPLE IN THE U.S. HAD LIFTED OR MODIFIED A GX FOR OFF-ROAD TRAVEL."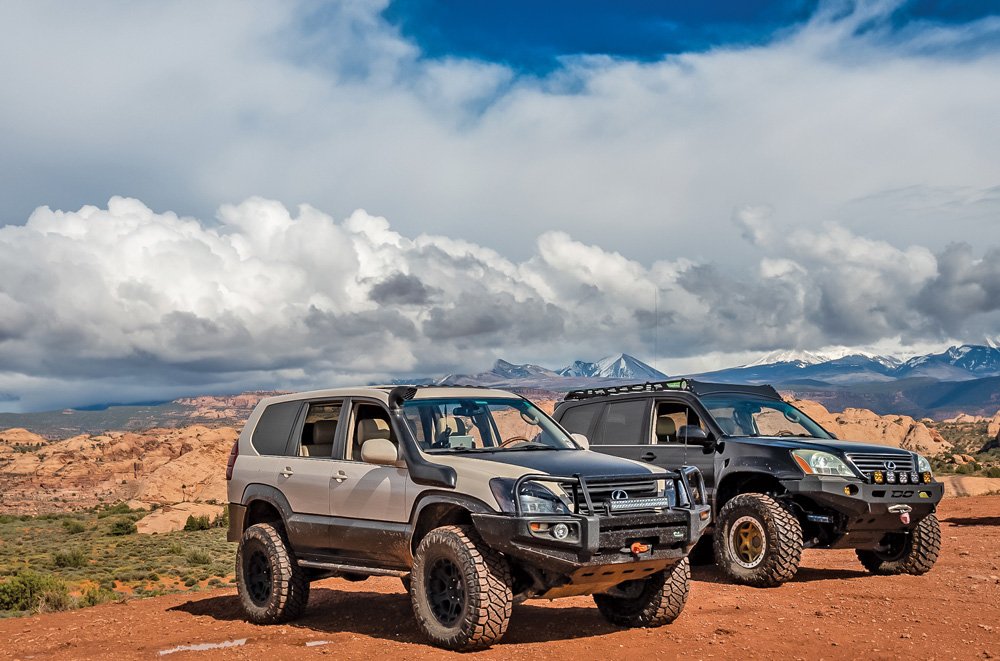 With that said, many are going WAY further with their modifications than that! Top-spec wheels, tires, and suspension can easily cost you a total of over $10,000. Then there are bumpers, sliders, skid plates, winch, lighting, roof rack, and so on that can be done. All that and you haven't even gotten to the popular overland mods like RTTs, rear cabinets … it is very easy to spend more in modifications than the used purchase price of a GX. Some people are now even modifying brand-new GX 460s, pushing those builds into six-figure territory.
Lexus GXOR Concept
You know a community and movement around a vehicle has made it when the manufacturer shows up at an enthusiast event with a concept car to honor that community. At the 2019 FJ Summit in Ouray, Colorado, Lexus showed up with a special surprise, a 2019 Lexus GX 460 GXOR Concept build. The SUV was put together by some of the top companies in the overland and off-road industries and featured a ton of unique prototype parts. The best part is that Lexus had zero issues taking their concept truck off-road throughout the event, leading many trail runs. This build was meant to be used and showcase the abilities of the mighty GX 460 platform as a viable off-road overland vehicle.
"STOCK, THE GX IS A FORMIDABLE MACHINE OFF ROAD, BUT ITS RUNNING BOARDS, LOW FRONT BUMPER, AND STREET TIRES AREN'T EXACTLY CONDUCIVE TO SERIOUS OFF-ROAD TERRAIN. HOWEVER, WITH SOME KEY MODIFICATIONS THERE ARE FEW OBSTACLES THAT CAN GET IN THE WAY OF THE GX."
Could we see a factory off-road–oriented Lexus GX offering in the future? For sure that won't happen through 2021, but our fingers are still crossed for more off-road action directly from Lexus.
GXOR
The GXOR community was started by Dan Kunz in July 2016. The small niche community of GX off-road enthusiasts had been hiding amongst the FJ and 4Runner communities up until that point, as those are the vehicles that were similar enough to offer aftermarket parts that would fit the GX platform.
Kunz bought his GX 470 in January 2010, at a time when a literal handful of people in the U.S. had lifted or modified a GX for off-road travel. Kunz and others connected with Australian companies and imported Prado parts to build their GXs, when comparable parts from the FJ and 4Runner suppliers would not work. Kunz saw the need to create a community around this truck and the passion for modification and adventure.
Within the first six months of the launch of the GXOR Facebook group it had 500 members. In 2017 that number skyrocketed to 5,000. Today there are about 16,000 GXOR community members on Facebook, with countless others on local GXOR groups, the I8MUD forum, Reddit, and other social outlets.
GXOR has become much more than just about a truck, and today is really all about a like-minded, very diverse community of enthusiasts. Kunz uses the money from schwag sales to give back to this community, like help people fix their rigs and give to charity organizations. Just last year the group banded together to buy and build a truck for a community member who lost their wife.
Kunz sees the future of GXOR as a lot of the same, but bigger. He wants to make it a non-profit and find ways to help more people. He'd love to see the Lexus GXOR concept turn into a factory-built offering, something akin to the Lexus version of Toyota's TRD Pro vehicles.
The GXOR Facebook group is "a dedicated group to GX 470 and GX 460 owners who want to hang out, chat, plan trips, ask technical questions, or share those sweet pictures of adventures past. This will be a community site. Lots of polls for preferences, lots of regional rides organized, and lots of stickers, fun, and hopefully new friends!" Be sure to join and check it out for yourself.
Also be sure to visit gxor.org to get your schwag and link through to the GXOR Wiki. It is a treasure trove of consolidated knowledge about all things Lexus GX. This is true about OEM and aftermarket parts, repairs, issues, and so on for both the GX 470 and GX 460.
Editor's Note: A version of this article first appeared in the Winter 2020 print issue of YOTA Magazine.