Top Tire Jacks for Off-Road Adventures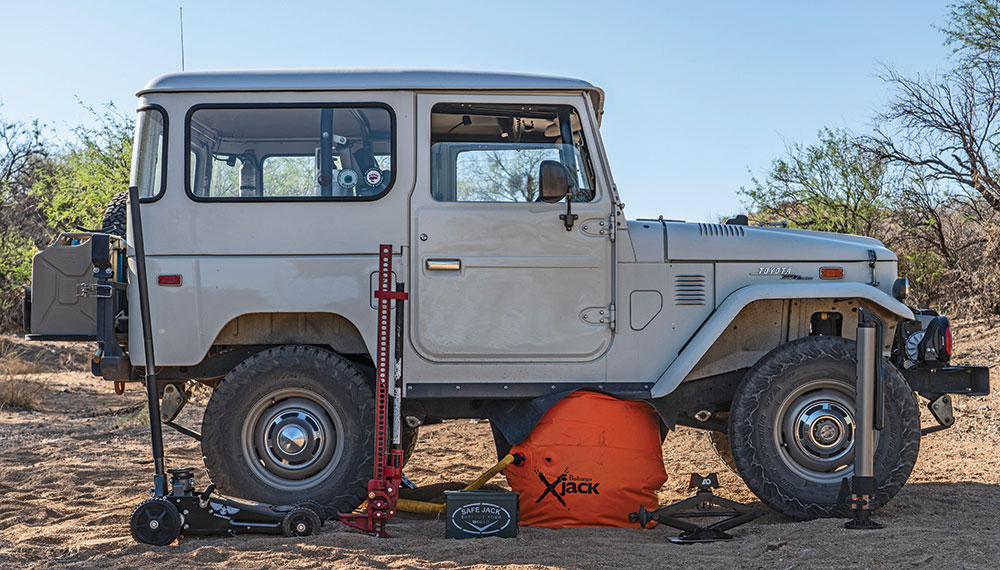 All Jacked Up
Which Tire Jack is Right for Your Rig?
 A few years ago, I was helping lead a group trip along the Continental Divide when one of the participants badly sliced a tire on his Tacoma on a back road in Wyoming. My wife and I were riding tail gunner.
As we pulled up, the driver had already chocked the wheels, retrieved the factory scissors tire jack and had placed it under the rear axle. But he was failing completely in his efforts to raise the axle and tire, straining mightily, but futilely, on the crank handle.
Why? Because mounted on the back of the Tacoma was a four-wheeled camper—which, in turn, was loaded with water, food and supplies for a two-week trip.
We stopped, I got out my 4-ton hydraulic bottle jack, and we effortlessly lifted the truck and swapped the tire.
With very few exceptions, such as the superb, Italian-made hydraulic bottle jack that's supplied with solid-axle Land Rovers, factory-supplied jacks are designed to minimal specs to lift the vehicle—on pavement—just high enough to change a tire. Load that vehicle up with bumpers, winches, roof racks, camping gear or a camper, and you might find that jack whimpering under the load. (Actually, you'd be the one whimpering.)
If you want something that can handle a tire change on a loaded vehicle, as well as take care of recovery duties—for example, to lift the vehicle off a high-centered situation or shovel substrate under a bogged tire or insert MaxTrax—you need to step up the game with something rated to at least half the GVWR of your rig.
Then, you have a major decision to make: Do you want to lift from up top, via a bumper or slider, or from below, via an axle or chassis?
Consider a Bumper Jack
The advantage of a bumper jack is that you don't have to crawl under the vehicle to lift it. That's nice for staying clean, but it's also possibly critical if your 4×4 is buried right to the axles in sand, mud or water. With very few exceptions…factory-supplied jacks are designed to minimal specs to lift the vehicle — on pavement — just high enough to change a tire.
Disadvantages
First, your vehicle must be equipped with sturdy, recovery-capable bumpers in front and rear—and preferably with rock sliders as well—that will accept the jack's tongue.
Second, to lift a tire off the ground with a bumper jack, you first have to cycle through the vehicle's full suspension travel, which can mean a foot or more of wasted elevation and could leave the vehicle precariously tippy.
Finally, bumper jacks tend to be heavy and bulky.
How About an Axle/Chassis Jack?
The axle/chassis jack is compact (with the exception of the Pro Eagle); it doesn't waste lifting height to raise a punctured tire; and, with a few accessories, it can perform a variety of recovery tasks. However, access to the underside of the vehicle is mandatory, and bottle jacks, in particular, tend to have limited lifting range—often only 6 or 7 inches, unless you buy a double-extension model, which will increase that by another 4 or 5 inches. Even so, this is still paltry when compared to the 30 inches or more of a bumper jack.
My suggestion: If you mostly need a sturdy jack for tire-changing and occasional recovery work, look at the chassis jacks here. If you like to challenge yourself and your vehicle, and you frequently find yourself a bit buried, consider making room for one of the bumper jacks or the ARB X-Jack.
Powerful hydraulics make lifting with the ARB Jack easy …… and lowering is a one-finger operation.
Hi-Lift Jack 
How many products survive a century virtually unchanged? The antediluvian Hi-Lift still scores points in this group because of its low price, rugged simplicity, ease of refurbishment and versatility. It's the only product here that will also function as a clamp or a (very slow) winch. The Hi-Lift's 4,660-pound rating has become the de facto standard for competitors, and in this group, its range of lift is second only to the ARB Jack.
Downsides include the Hi-Lift's 29-pound mass and jam-prone lifting mechanism (the latter issue is usually rectified with a dousing of almost any lubricant, including Keystone Light (according to my nephew). But the big, red flag in the Hi-Lift's manual of arms, as anyone who's used one knows, is the "zone of disfigurement" circumscribed by the arc the handle makes. Let your head stray inside this arc, whether you're raising or lowering your vehicle, and you're asking for a broken nose or jaw if you lose your grip.
MSRP: $100 (48-inch; all cast)
URL: hi-lift.com
ARB Jack
Think of the ARB Jack as a Hi-Lift that went to a very expensive finishing school: The coarse, mechanical mechanism is gone, replaced with smooth and powerful hydraulics (in fact, my 110-pound wife can lift the entire loaded rear end of our 70-Series Troop carrier on her own).
At a demo I gave at the Overland Expo using the front of an FJ40, one lifelong Hi-Lift user walked up, gave the handle exactly one pump and said, "That's all I needed to see." He then headed for the ARB booth.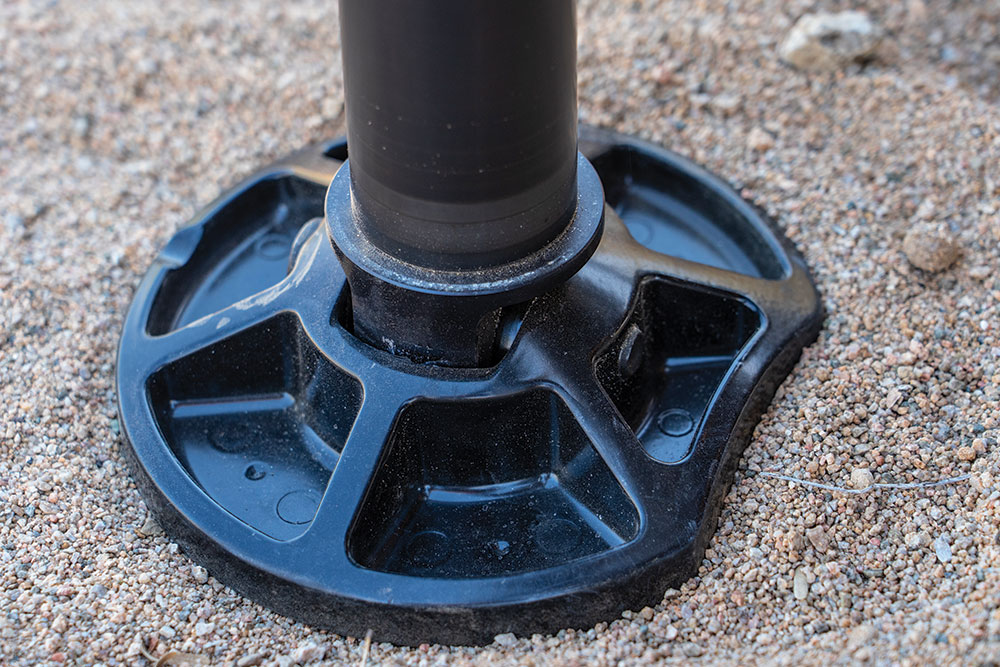 There's zero possibility of face-altering kickback, and lowering is literally a one-finger operation. To adjust the lifting tongue to bumper height, you only have to lift the tongue, itself, to the appropriate slot on the aluminum body, leaving the full lifting range of the jack intact—up to 48 inches. It's 15 percent lighter than a Hi-Lift and only 36 inches long in its carrying case. The sealed mechanism won't jam in dusty conditions, and the base even has a clever cutout to facilitate breaking the bead on a tire. What's not to like? (I just hope you're sitting down when you see its price.)
MSRP: $833
URL: arbusa.com
Safe Jack Bottle Jack Kit
There might be more-versatile jack systems around, but none that also fits into a .50-caliber ammo can.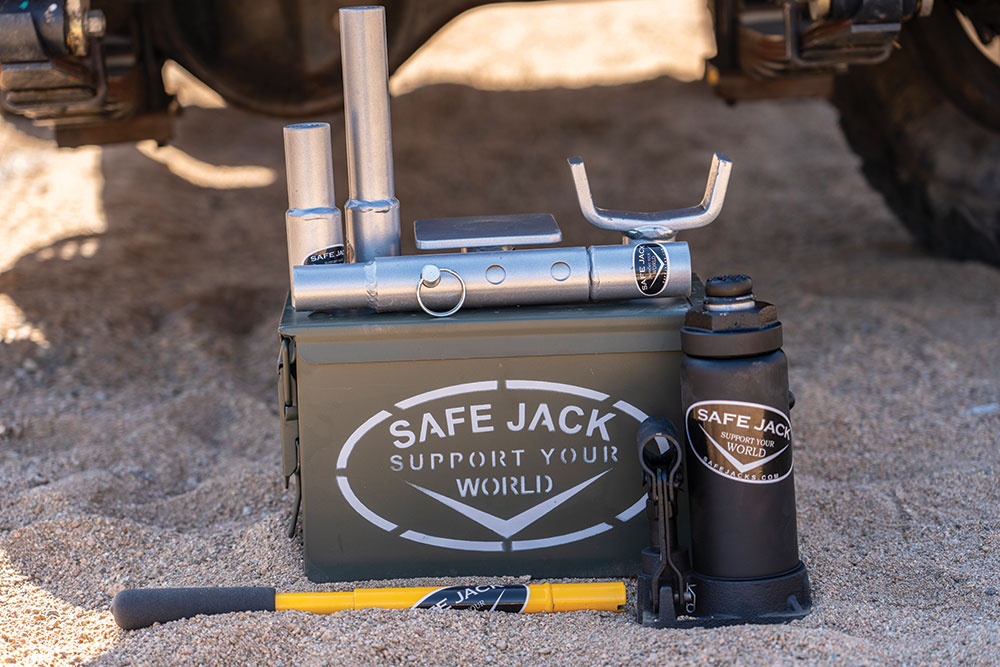 The 27-pound Safe Jack "Sergeant" kit comprises a 6-ton hydraulic bottle jack, flat and curved lifting attachments, and three extension posts, one of which is adjustable. Other Safe Jack kits, from "Private" to "General," include fewer or more extras (all of these are available separately). The range of extensions allows you to lift from an axle, the chassis or a bumper, as needed.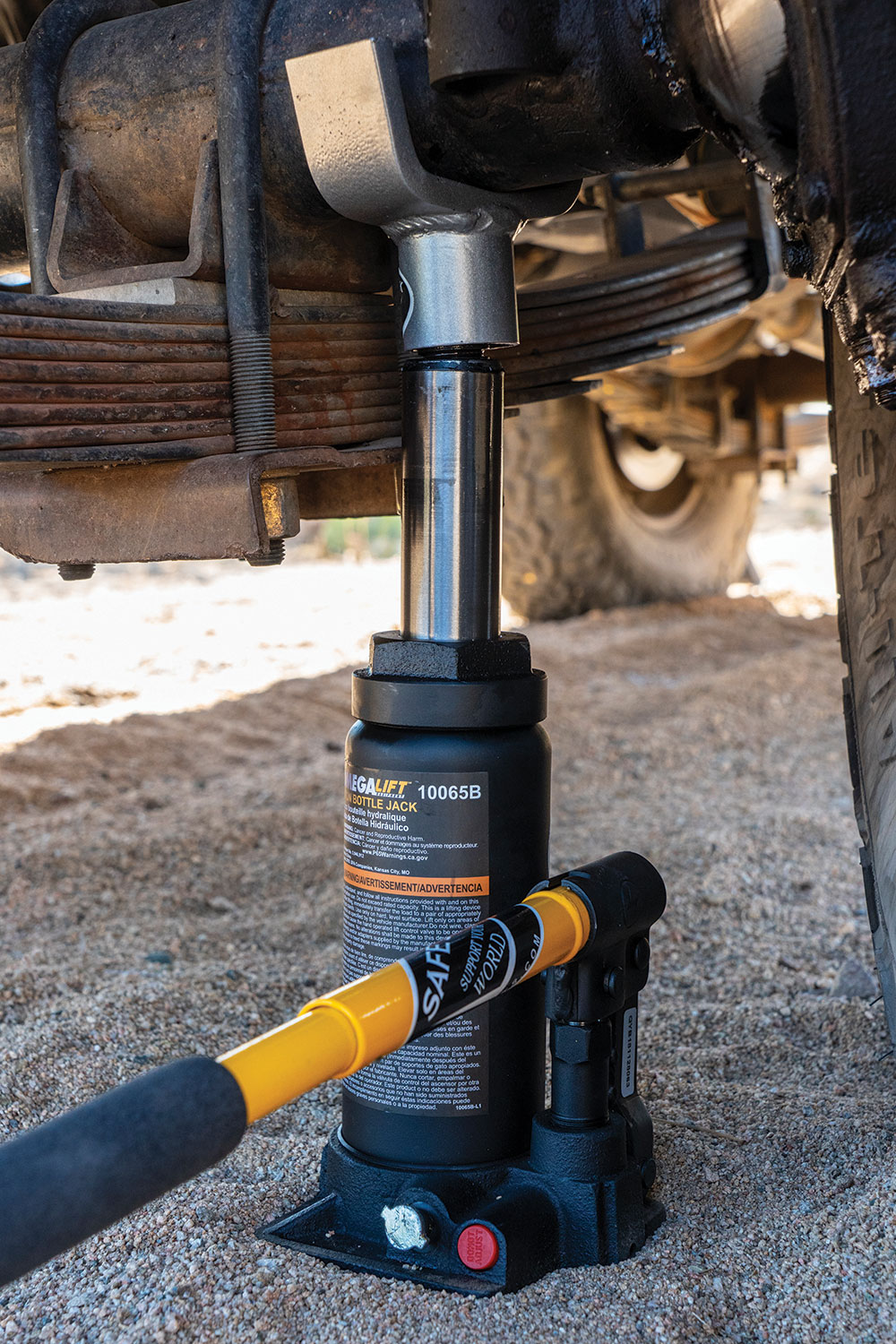 Its compact size limits the included jack to 6 inches of extension. However, as long as the post is compatible, you could pair the Safe Jack attachments to any bottle jack you like, such as the double-extension model I own. In fact, my Safe Jack kit hasn't yet met a vehicle it couldn't lift.
MSRP: $269
URL: safejacks.com
Surplus M998 Scissors Jack and Agile Off Road Chassis Adapter
Gotta love military surplus. The heavy-duty (3.5-ton) scissors jack configured to lift the front or rear A-arms of a high-mobility, multipurpose, wheeled vehicle—"Humvee" to most of us—is available by the score on eBay with a case, ratchet handle and extension rods for around $75. Add Agile Off Road's reversible, billet-aluminum adapter, and it'll securely support your noncombat vehicle at either the axle or chassis.
A reversible ratcheting handle means you don't have to crank in a complete circle in a confined space (a brilliant idea), and as long as your truck weighs less than an up-armored HMMWV, this jack will lift it easily to a height of 20.5 inches with the adapter in place.
A generous, 7×12-inch base plate ensures support in Middle Eastern-theater sand (or any other kind). The lifting post on the jack has a bit of wobble built in, so Agile Off Road recommends tack-welding it to increase stability. I used it as is and had zero problems.
MSRP: $75 (scissors jack); $90 (chassis adapter)
URL: agileoffroad.com
Pro Eagle Off Road Jack 
A floor jack with off-road tires; why didn't someone think of this before?
Take a 2-ton, hydraulic floor jack—the easiest way ever to lift a vehicle on a concrete driveway—add solid axles and burly, composite wheels, and you've got an all-terrain floor jack.
The Pro Eagle rolled over my gravel driveway effortlessly and lifted the entire front end of my FJ40 in a sandy wash without digging in more than a couple of inches. Given the fat tires, along with a full-length underbody "skid plate," it shouldn't sink in any substrate that doesn't have a current. Pop on the adjustable extension post for a full 26 inches of lift height.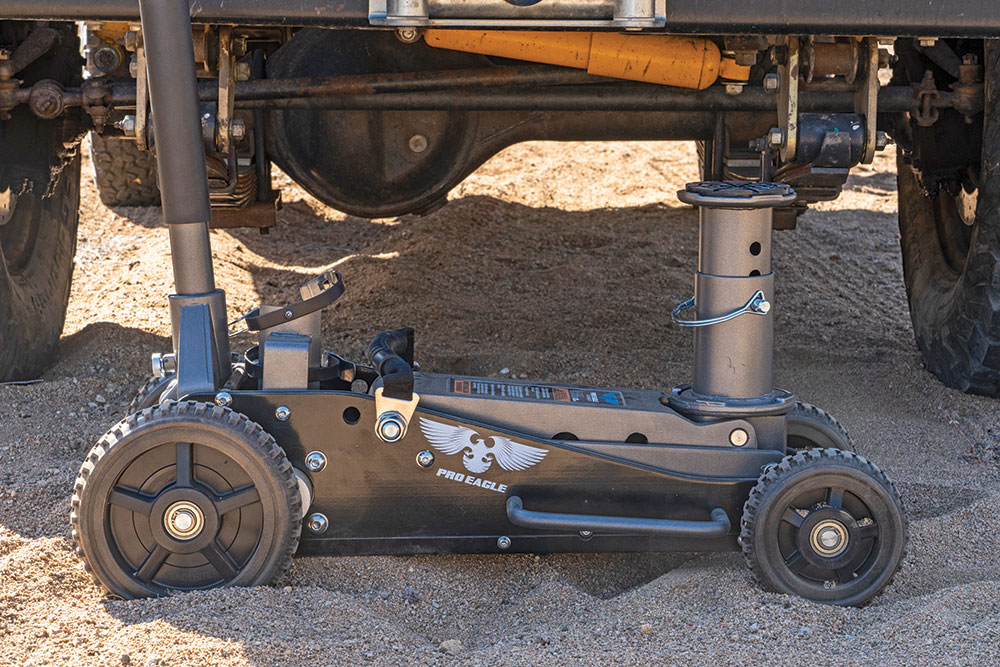 Safe Jack "Sergeant" kitI certainly wouldn't carry this bulky, 52-pound jack for field duty in my FJ40, but if you've got a full-sized truck or Sprinter (there's also a 3-ton version) or are traveling with a group, it'll make any recovery a breeze. And, of course, at home, it's an excellent shop jack.
One operational note: As with all such jacks, the lifting pad moves through an arc as it rises. If you employ the extension, and both the jack and vehicle are stationary, the extension can wind up significantly tilted. So, plan ahead.
MSRP: $440
URL: proeagle.com
ARB X-Jack Exhaust Jack
Some of the jacks discussed here are easy to operate. Some are difficult to operate. Only one is effortless to operate.
Situate the deflated ARB X-Jack under the chassis of your 4×4. Hold the inflation cone over the exhaust pipe or connect an air compressor to the Schrader valve. The expanding bag will lift up to 4,400 pounds up to 30 inches in the air.
"If you want something that can handle a tire change on a loaded vehicle, as well as take care of recovery duties … you need to step up the game with something rated to at least half the GVWR of your rig."
Is your truck buried to the bumpers, with no way to get a bottle jack or Hi-Lift underneath? All you need is 4 inches of scooped clearance for this jack to slide underneath. Stuck in rocks, with no secure base for a bumper jack? The X-Jack molds itself around virtually any substrate, and the hard rubber "teeth" on the bottom help prevent slippage.
Included is a thick square of guard material to protect the already-stout envelope, but it's best to remember that this thing is still a heavy-duty balloon. Consequently, make sure to keep it away from bolt ends and hot exhaust pipes. Also remember that at full height, your vehicle is supported on air inside a flexible casing, so expect a bit of squidginess. But then, you wouldn't get under a vehicle that's supported only by any of these jacks, right?
MSRP: $270
URL: arbusa.com
Chocks for Tire Jacks
A jack isn't the only item you need for safe tire changes and recovery work. You also need a way to ensure the vehicle remains stationary and doesn't roll off the jack. Additionally, you need a way to ensure the base of the jack doesn't sink in sand or mud.
The best vehicle chocks I've used are the nesting units from Safe Jack, which are substantial enough to anchor the vehicle for winching, as well as jacking. In addition, the best base plate I've used is the ARB unit. It's configured to accept ARB's jack and a Hi-Lift. Very smart.
EDITOR'S NOTE: A version of this article appeared in Tread September/October 2021.