Hiking the Grand Canyon With Dad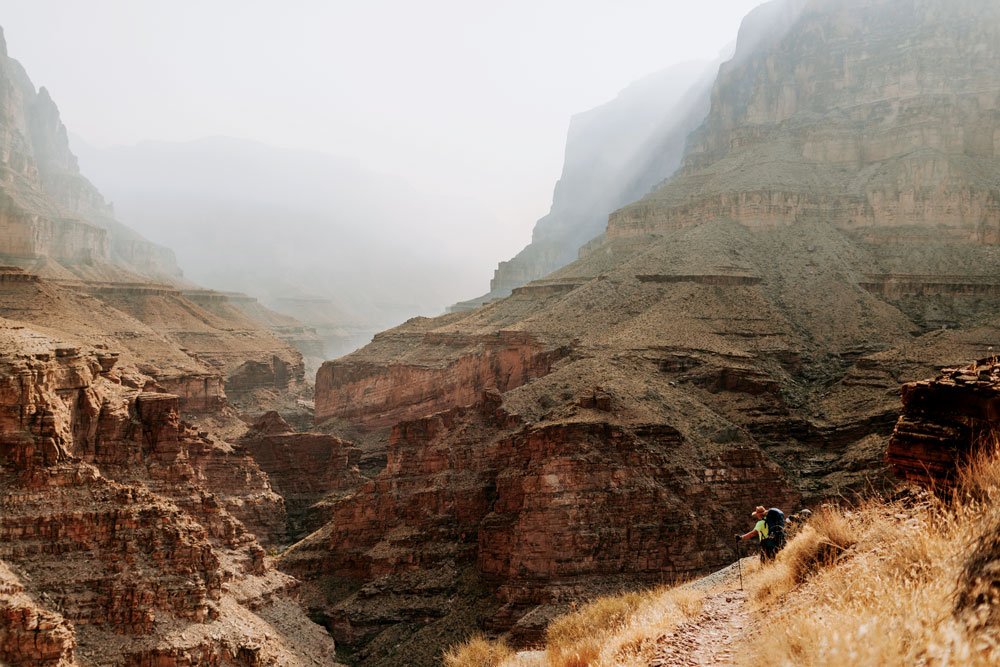 The Gift of Time
One month after Father's Day I received a text message from my dad: "Finished The Emerald Mile last night. Great read. Want to do a hike in the Grand Canyon?"
There was zero hesitation on my part before answering in the affirmative. The canyon, as Theodore Roosevelt once said, "is the one great sight which every American, if he can travel at all, should see."
I gifted my dad a copy of The Emerald Mile by Kevin Fedarko for Father's Day. The book delves into the Grand Canyon's rich history, the design and construction of the Glen Canyon Dam, and the challenges of environmentalism, resource extraction, and tourism in the canyon today. Fedarko's work was a great fit for my dad, a cerebral civil engineer with a love for mountain biking and the great outdoors.
Nearly a vertical mile deep, the Grand Canyon is not the most cavernous in the world, but its iconic vistas are readily identifiable across the globe. And for good reason. The scenery is spectacular—staircase layers of limestone, sandstone, and shale exposed and eroded over time that melt into steep slopes dotted with barrel cactus and aromatic sage brush. Each layer of strata is like a thick history textbook, its contents revealing the state of the world long before humans arrived. Descending into the abyss is, quite literally, like traveling back in time.
Two months later and nearly 200 miles northwest of Flagstaff, Arizona, we arrived at the Bill Hall Trailhead, unsure of what to expect. One thing we did expect was to spend the next 96 hours together.
We're pretty good at spending quality time together as a family when we get the chance, but this trekking trip was different. No screen time. No television. No escaping. Just one foot in front of the other, gripping our hiking poles with nothing to do but chat, walk, hydrate, and admire the view.
In the book Hiking the Grand Canyon's Geology, authors Lon Abbott and Terri Cook describe the 30-mile Bill Hall and Thunder River Trail loop as "very difficult, remote, long, and steep." Our two-day descent would take us through 26 layers of stone and six of the planet's seven climatic zones. Most of the dozen or so yearly deaths in the park are heat related. If we weren't careful, we would be at risk for dehydration. Steep trails with loose footing and frequent exposure to heights were commonplace. Yikes.
As we hoisted our 60-liter packs onto our backs, Dad adjusted the straps across the front of his fluorescent T-shirt, fingers unimpeded by his mountain biking gloves, straw cowboy hat shading his eyes from the unforgiving afternoon sun. He was about to embark on his first multi-day hike.
Three years ago my dad herniated the L4-L5 discs in his lumbar spine. He is an active guy who enjoys cat skiing in Revelstoke, crushing moguls at the local ski hill, and mountain biking with his buddies. He prides himself on how much he can accomplish before noon.
After his back injury, he couldn't walk for three months.
Several days into the hike, as we plodded past prickly pear cactus, splashing in cold but sporadic creeks, and enjoying the seemingly endless vistas, I realized how much I had learned about my dad in such a short period of time.
He didn't hesitate to be adventurous. Why not jump into a chilly pool beneath a rushing waterfall? Or chat up a group of rowdy river rafters, ultimately departing with two cans of Tecate beer? Later that evening, he perfected the brew's temperature by tucking the cans into the cold river before cracking one open and savoring every drop.
Unbeknownst to me, my dad completed a nuclear fallout shelter course in 1985. I also learned that two cups of coffee were too much for my already high-octane father. Caffeine coursed through his veins as he chattered away, quoting stats from the The Emerald Mile, his blue eyes whizzing back and forth as he energetically traipsed over the limestone-encrusted trail that morning. Our guide took notice and limited him to one cup the next morning.
We navigated around juniper bushes and pinyon pines while we chatted, carefully avoiding patches of cryptobiotic soil. If damaged, this bacteria-rich crust takes up to 1,000 years to recover. Eventually, we arrived at the mighty Colorado River, flinging our hiking shoes aside, digging our toes into the white sandy shores bordering the 1,450-mile waterway. We cooled our feet in the brown water, which had carved its way down from Colorado, continuing past us and nearly terminating at the Gulf of California in Mexico. Charcoal-colored, 2 billion-year-old Vishnu Schist surrounded us forming the canyon's subbasement. As I ran my hands along the cool slabs of rock, I realized we had arrived at an incredibly ancient place. During the initial formation of this primeval vault, water-dwelling bacteria was the only living organism on the planet.
I couldn't help but notice the theme of our backpacking trip. It was all about time. Not just the time spent with my dad, but the incredible result of patience and the gift of time. From the eroded layers of rock that took billions of years to form, to the delicate cryptobiotic soil and dusty footprints we left behind, retracing the steps of the Ancestral Puebloans, the Hopi, the Hualapai, the Havasupai, and many other tribes who inhabited the area long before Spanish Conquistadors arrived in the early 1500s.
The next morning we sat at camp, munching on our breakfast of instant potatoes, powdered eggs, and sausage. "Guess what day it is today?" Dad exclaimed. It was his 67th birthday. We each took a sip of the Jameson whiskey from the flask he'd hauled all the way from home. I reached deep into my backpack for a gift-wrapped copy of Born to Run by Christopher McDougall. I purchased it for the occasion, hoping the story of the Tarahumara tribe of Mexico's Copper Canyon would inspire our next adventure together.  
Editor's Note: A version of this article first appeared in the July/August 2020 print issue of Tread Magazine.