Pure Sport: 2017 Yamaha YXZ1000R SS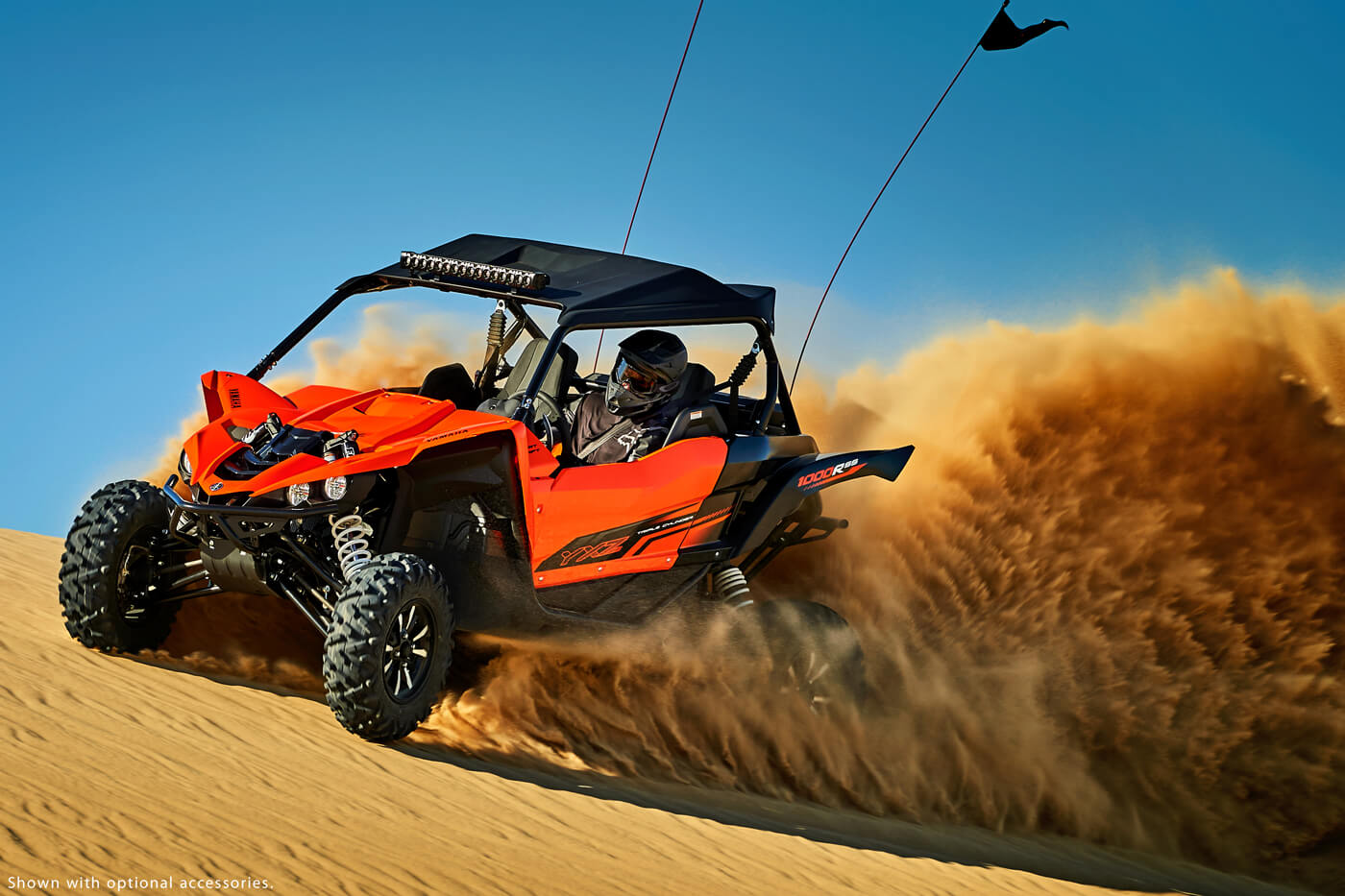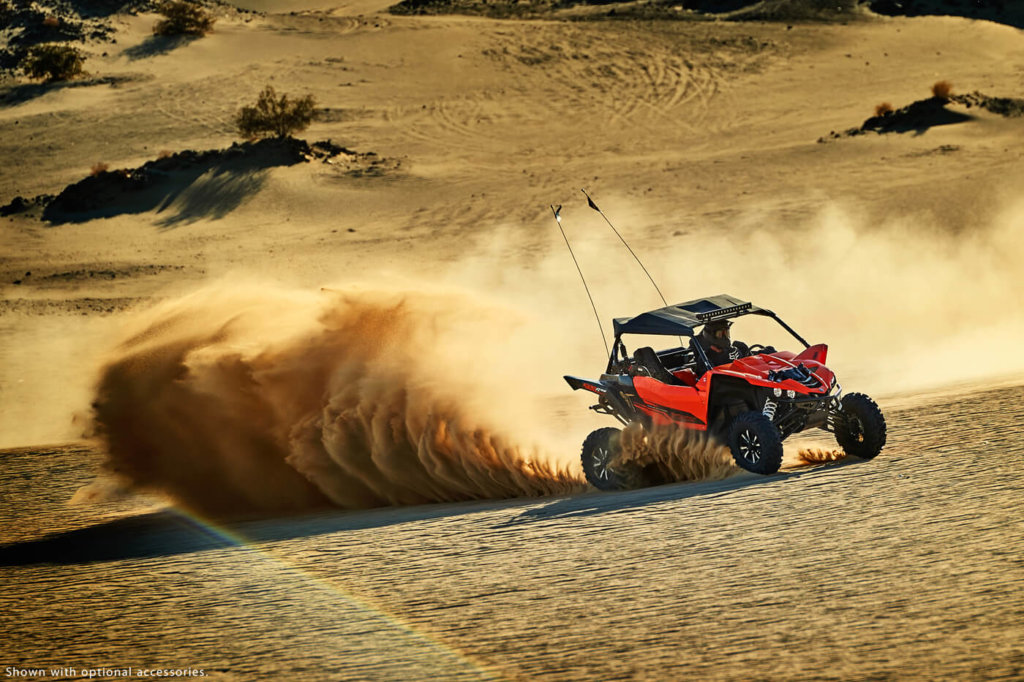 Whether your chosen playground is an endless sea of sun-drenched sandy dunes, or a damp forest populated by tall trees and narrow dirt trails, scaling down from a large vehicle to a nimble and responsive side-by-side can be a fun and liberating experience.
Being able to zoom in and out of tight spots, and explore areas your full-sized rig simply can't go, can put a smile on your face every time you get to drive one.
As you have undoubtedly experienced, off roading over uneven and loosely packed ground is best done in a vehicle that you have total control over. Steering and throttle response are of great importance if you'd rather focus on getting to where you want to go instead of focusing on getting unstuck.
The fundamentals are the same whether or not you're in a truck or a side-by-side.
Yamaha's YXZ100R SS features a high-performance Sport Shift five-speed sequential shift transmission that is user selectable for the ultimate in off-road control. Sport Shift is Yamaha's sequential five-speed manual transmission that combines the power, durability and efficiency of a traditional manual transmission with an automatic clutch system. This system replaces the standard foot-operated clutch pedal with finger-operated paddle shifters, mounted to the steering column just behind the steering wheel. To switch gears, you never have to let go of the steering wheel, which is handy when you're negotiating difficult terrain.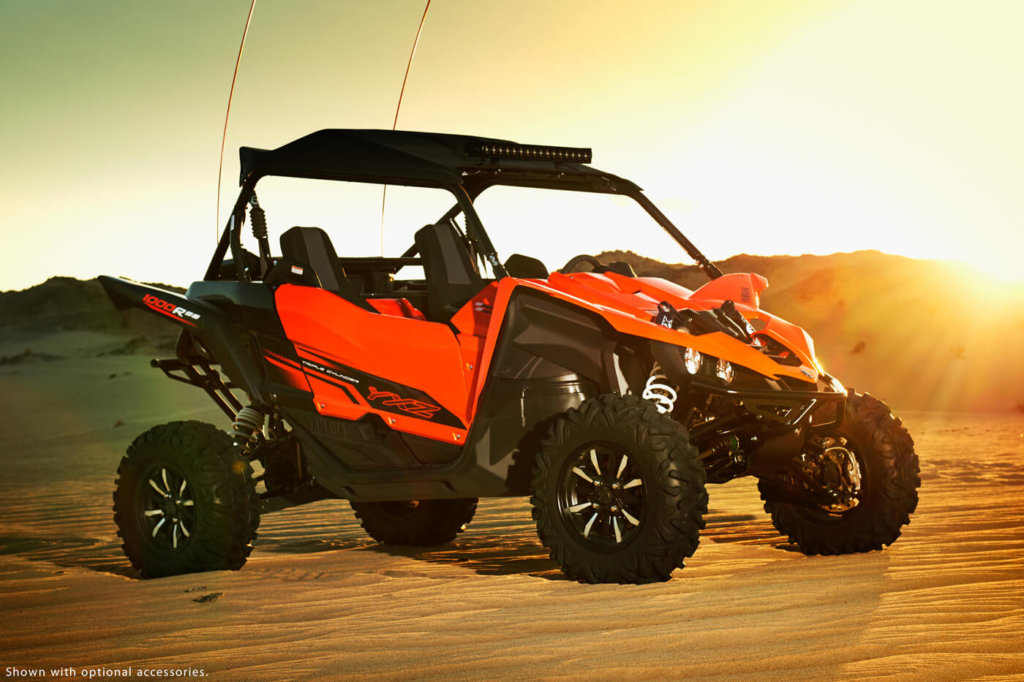 Because the YXZ100R SS is designed for pure sporting fun, it is equipped with a feature that you'd usually expect to only find on European supercars: Launch System. Activating Launch System by using the brake pedal and both steering wheel paddles, allows the driver to build up power for high-speed take-offs and maximum acceleration.
Powering the side-by-side is a 998cc inline three-cylinder engine. There's plenty of get up and go, thanks to its compact double overhead cam, twelve-valve cylinder head, aggressive 11.3:1 compression ratio and dry-sump lubrication. All this culminates in a power plant that outputs 112 horsepower, great mid-range torque and a high-revving 10,500 RPM redline. It has a reported top speed of 85 miles per hour. Combined with its sequential shift transmission and shaft-driven four-wheel drive, you'll be hard pressed to find terrain that you can't power through.
Its ground-hugging prowess comes thanks in part to Fox 2.5 Podium RC2 Shocks. These piggyback shocks give the YXZ100R SS an amazing level of performance adjustability. It has both high- and low-speed compression damping adjustments, as well as high- and low-speed rebound. The versatility of this setup, and the capability it brings to this side-by-side, is off the charts. Each shock also features dual springs, with crossover adjustments that provide a generous 16.2 inches front, and 17.0 inches rear, travel.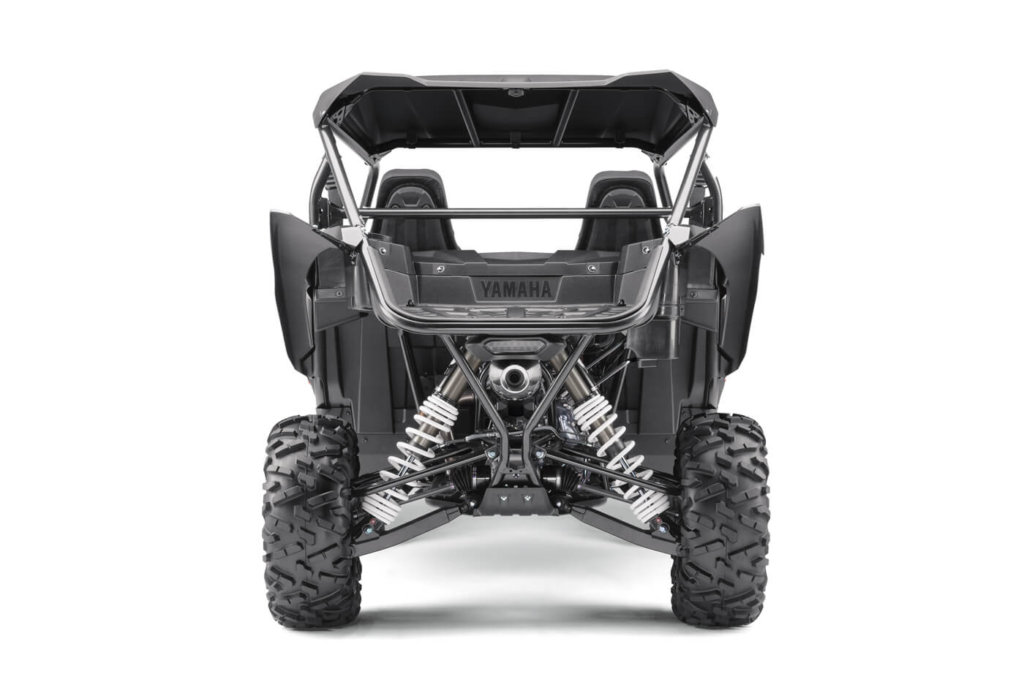 With the entire driving experience in mind, Yamaha designed the cockpit to straddle the middle ground between pure driving performance and driver's comfort. Stepping inside, you'll find comfortable high-back seats with extra lateral support and outside shoulder bolsters. Its floorboards are purposely shaped to provide the driver and passenger ample legroom, while still allowing for a steady grip during aggressive maneuvers. Both the driver's seat and steering wheel are adjustable to ensure just the right fit.
Make no mistake: The Yamaha's YXZ100R SS is not made for doing mundane chores around the property. Realizing that you have plenty of options when choosing a side-byside, Yamaha helped narrow down the field by producing this made-for-fun machine— and boy did they deliver. Where would we take the SS out to play?
It doesn't matter, as long as we're behind the wheel.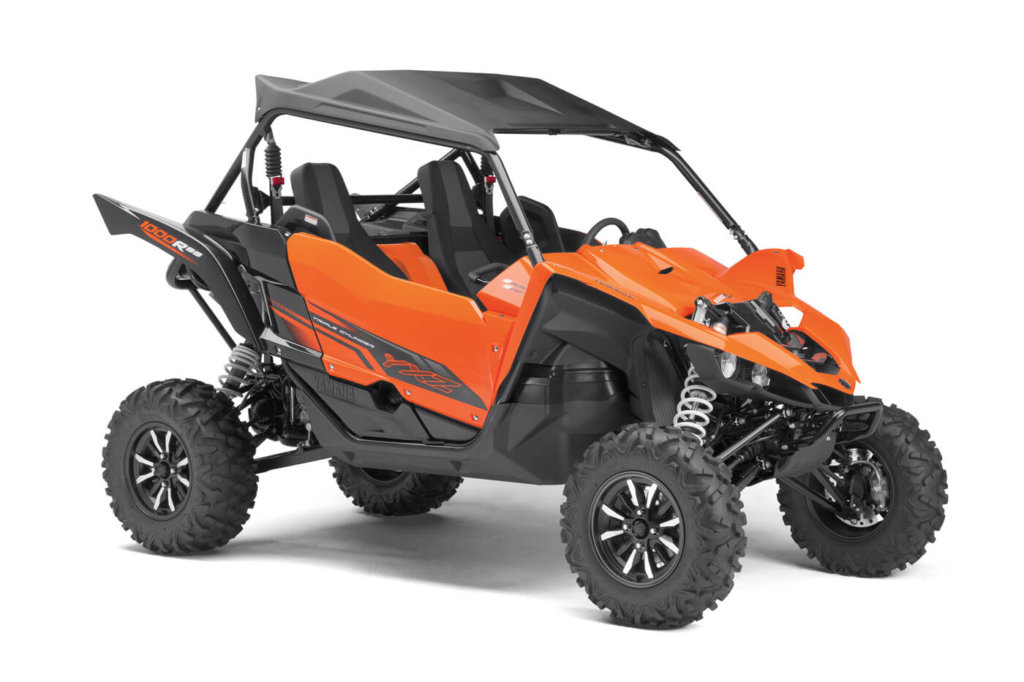 Power
998CC LIQUIDCOOLED DOHC INLINE 3-CYLINDER ENGINE
DUAL HIGH-FLOW INTAKE SYSTEM
3-INTO-1 HIGH-VOLUME EXHAUST SYSTEM
CENTER-MOUNTED MUFFLER
Suspension
INDEPENDENT DOUBLE WISHBONE W/ ANTI-SWAY BAR
FULLY ADJUSTABLE FOX 2.5 PODIUM RC2 SHOCKS
SPEED-SENSITIVE ELECTRIC POWER STEERING
RIGID SPHERICAL-JOINT DOUBLE A-ARMS
Driveline
SPORT SHIFT FIVE-SPEED SEQUENTIAL WITH AUTO CLUTCH AND REVERSE
PADDLE-SHIFT TRANSMISSION
THREE-WAY LOCKING DIFFERENTIAL
SELECTABLE 2WD AND 4WD WITH DIFF LOCK
Wheels/Tires
F: MAXXIS MU09 BIGHORN 2.0; 27 X 9.00R-14
R: MAXXIS MU10 BIGHORN 2.0, 27 X 11.00R-14
14-INCH YAMAHA ALLOY WHEELS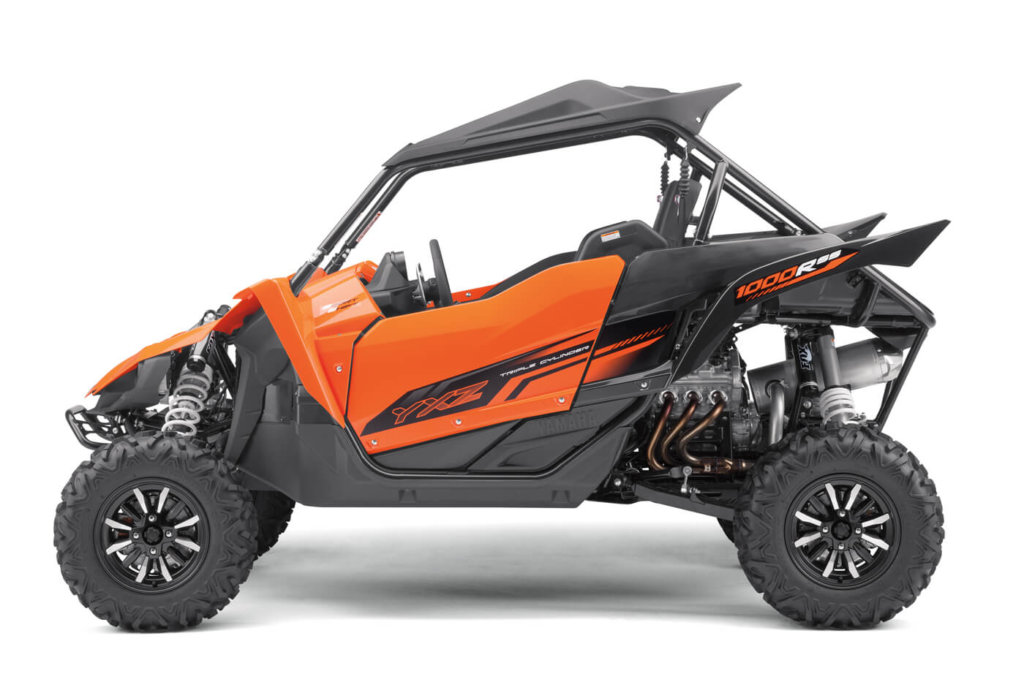 Brakes
FRONT AND REAR DUAL HYDRAULIC DISC
TWIN-PISTON CALIPERS; 245MM ROTORS
Comfort/Style
HIGH-BACK SEATS
ADJUSTABLE DRIVER'S SEAT
ADJUSTABLE STEERING WHEEL
SUPERSPORT-STYLE DASHBOARD
Editor's note: A version of this article first appeared in the May-June 2017 print issue of Tread Magazine.