Zenvanz Customs Make Vanlife Zen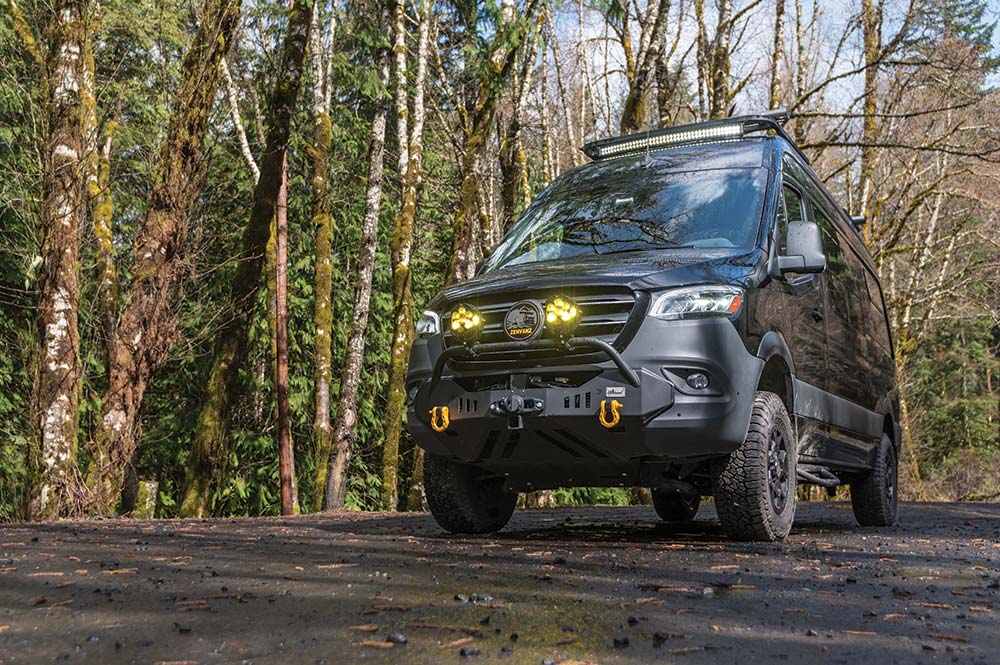 ZENVANZ MK1 Van Is The Guide for Awesome Custom Van Builds
Finding zen while living the vanlife is harder than you might imagine. Bryan and Jen Danger, along with their sweetheart yellow lab Karma (RIP), lived the overland life for nearly seven years in four different vans. They both ditched impressive corporate careers for a nomadic life of adventure without deadlines. Bryan is an architectural designer and continued to iterate what he thought would be the perfect four-season overland campervan for the couple's life on the road. What that turned into is Zenvanz: modular DIY kits that not only look awesome and unique, but are also extremely durable and functional.
What that turned into is Zenvanz: modular DIY kits that not only look awesome and unique, but are also extremely durable and functional.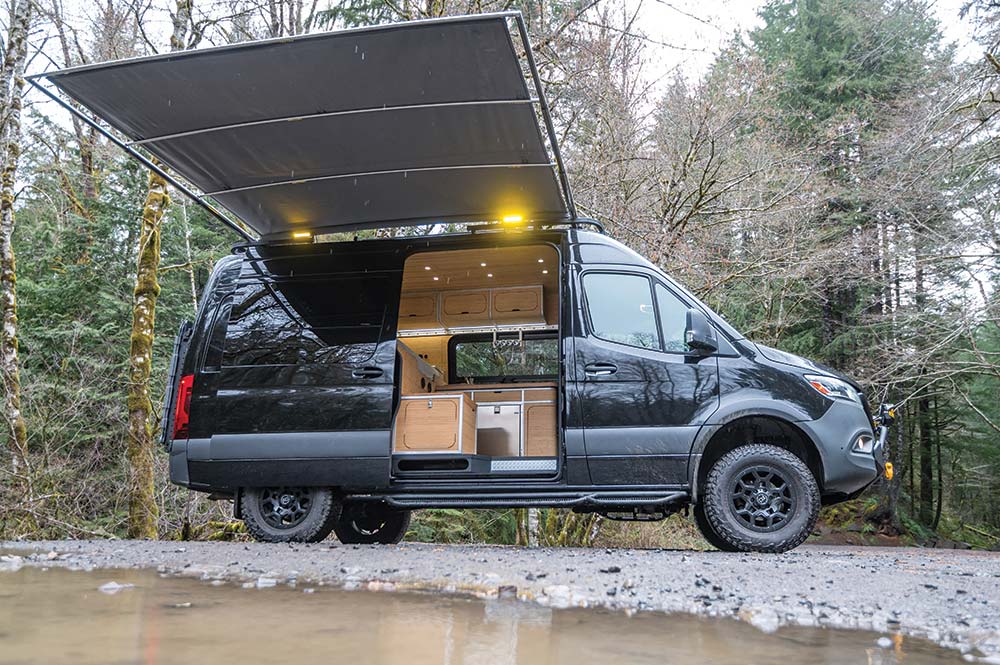 Zenvanz Begins
After years of turning down offers to buy their vans and/or build other people their own—for fear of losing the freedom that vanlife had given them—a friend talked them into starting a proper business. That friend, Bent Carpenter, brought professional general contractor skills to the table, which complemented Bryan's design skills and business/marketing acumen.
Zenvanz started by selling DIY install interior cabinet kits for Sprinter vans. Aluminum and bamboo is Zenvanz signature look, with black powdercoated aluminum recently becoming a popular option.
Zenvanz Designs
Cabinets, flooring, and walls all mount into factory mounting points with minimal and similar hardware, making installs super easy with limited tools. The modular and easy install nature of the Zenvanz cabinetry allows for quick and easy changes to the layout of the van based on work, travel, people moving, and gear storage needs.
Cabinets, flooring, and walls all mount into factory mounting points with minimal and similar hardware, making installs easy with limited tools.
With the Zenvanz interior buildout thoroughly designed and tested over years of use and iterations, the company eventually started to offer full custom van buildouts. Bryan and Brent coach each client through the design process to help them build the perfect van for their specific travel needs. They build each van with a "land yacht" ethos, utilizing boat systems that can handle years of rugged and remote overland travel with ease.
MK1 Van
The van you're seeing here is the Zenvanz show vehicle, which they've dubbed the 'MK1 Van.' It is based on a 2019 Mercedes-Benz Sprinter 144 4×4 and features the Zenvanz cabinetry kit, some upgraded cabinet modules and accessories, and a full host of off-road capability upgrades.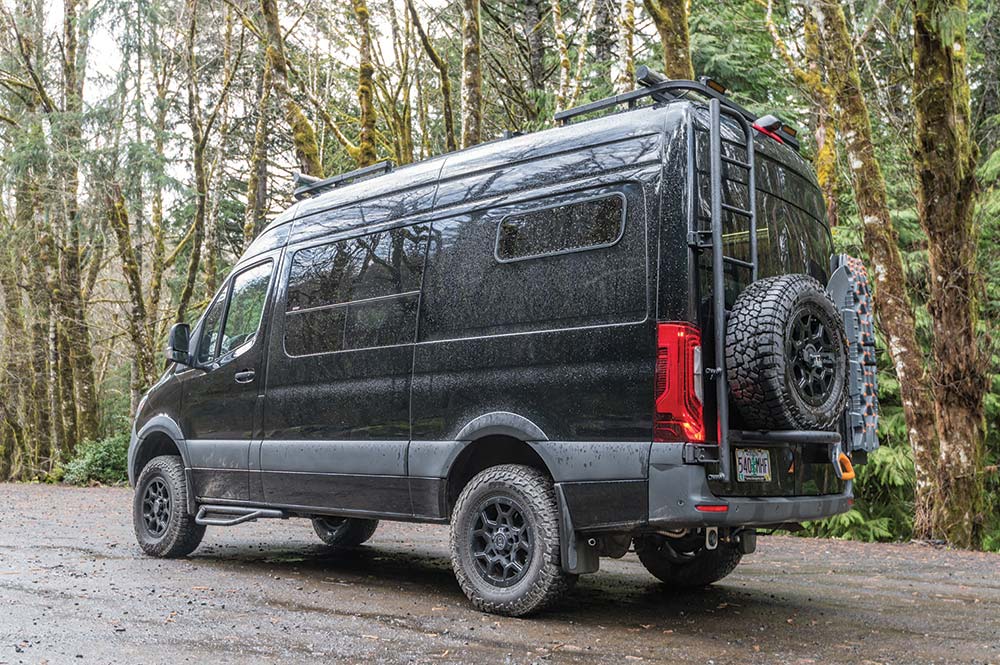 This van shows potential clients how the company's DIY cabinet kits look when installed. Therefore, it features some custom options to show the quality of the company's in-house install work. It's also available for Zenvanz employees to take out camping on the weekends to experience the lifestyle, test new systems/products, and find areas for improvement.
We got a chance to take this van out into the wild for a photoshoot and play with all its features. We came away impressed with its smart design, comfort, and all-terrain capabilities.
House On Wheels
Of course, the main attraction is the bamboo and aluminum Zenvanz cabinetry kit. On this van the setup includes; galley upper 2 bay, driver-side rear 3 bay, passenger-side rear 2 bay, kitchen galley, 3-panel bed system, divider panel with access door, bedside cubby, sliding door folding gear drying rack, toilet/step stool module, bunk window trims, ceiling slats, and wall panels. It also features a stowable table on a pivot arm that works in concert with the rotating front seats.
Before installing the walls, ceiling, and cabinets all stock penetrations into the van were waterproofed, Kilmat sound deadening was used on all open areas, Low E insulation was installed under the flooring, Amvic reflective foam was put on the walls, and Thinsulate 600 insulation was installed. Lonseal vinyl flooring with aluminum trim and a Flatline step extension at the sliding door create a big, flat, durable, and easy-to-clean living area. CRL Windows were also installed at the galley, sliding door, on both sides of bed, and in the rear doors.
To finish off the interior living space build-out, the Zenvanz team installed an aluminum over-cab shelf and garage area sliding tray, with bike fork mount. These storage solutions optimize all the available cargo area in the van.
Vanlife Systems
After establishing the interior layout/structure came the installation of the living systems. Of course, a comfy bed is first on the list, so a 6-inch memory foam mattress was a necessity. A Quest Overland window blackout shade kit ensures you can get a good night's sleep in privacy.
Up next was running hot water. A Timberline diesel central air and hot water heater—Zenvanz now installs a Rixens heat/hot water system in new vans—works in concert with a 20-gallon fresh water tank, 7-gallon gray water tank, stainless sink and faucet, and an exterior shower unit.
Besides the kitchen sink the Expo Van also offers homey comforts like a True Induction cooktop and Isotherm 65L fridge. The sink even has a custom Zenvanz cutting board that covers it, offering up more counter space when meal prepping.
All the electrical in the MK1 Van is controlled with a SwitchPro unit—although all new Zenvanz get Garmin Overlander and Powerswitch controllers. A 360W roof-mounted solar array charges the 315 Ah lithium battery system. That system in turn powers the van's three USB outlets. Additionally, a 3,000W inverter powers three 110V outlets.
Creature Comforts
There's lots of super bright and warm, 3,000K, LED lighting throughout the interior of the Zenvanz MK1 van. There are dimmable under-cabinet light strips, ceiling light pods, two rear bendy reading lights over the bed, and an underbed light in the 'garage' area.
No proper comfortable 4-season campervan would be complete without some sort of toilet system. For the MK1 Van, a Laveo Dryflush porta potty was installed in a small module by the sliding door. This offers a comfortable place to do your business. Plus' it's an added seating spot inside the van, a step stool into the bed, and an exterior drop-down table for when the sliding door is open.
Off-Road Goodies
With the interior fully sorted, it was time to tackle the task of making the 4×4 Sprinter off-road adventure ready. First up was getting it rolling right with a Van Compass 2.3 suspension system and 32-inch Falken AT3 tires wrapped on 17-inch Black Rhino Overland wheels. To make those big tires fit properly, Terrawagen fender flares were mounted.
Up front, a CA Tuned Hammerhead front bumper was installed to house a Warn winch and mount Baja Designs off-road driving lights. An Agile Offroad skid plate also protects the bottom of the engine. Rocker protection is achieved via RoamBuilt sliders/steps. On the rear doors an Owl Vans rear tire carrier and ladder are mounted, along with a Sherpa system, which carries traction boards and a shovel.
On top of the van is a minimalist Zenvanz roof rack that holds the solar panels and an extremely impressive, powered, and huge marine-grade Sureshade awning. On the rack is also a 40-inch curved lightbar and a bunch of 6-inch orange Diode Dynamics LED area lights. Finishing off the up-fit is an sPOD system to control all the outside accessories and an ARB compressor to keep the tires at the optimal pressure at all times.
Nomadic Life Continues
The Dangers maybe got too good at vanlife… So, they took off early in the spirit of the company's life on new adventures. For the past four years, they've been traveling on a 39-foot catamaran in the Caribbean. They continue to strive to find that elusive work/life balance. Bryan continues to personally coach each new client towards the perfect vanlife setup for their needs.
REcently, the Dangers put their boat up for sale in Florida. Now that they're back on solid land, they are living the van life once again. Meanwhile, they're striving to continue to enrich other's lives with the freedoms of vanlife. While their future travels are a bit uncertain, they'll likely include setting sail in the South Pacific. Plus, their future will no doubt include a bit more overland travels by Zenvanz.
Brent Carpenter keeps production running of both kits and custom vans in Zenvanz' new, larger, headquarters in Portland, Oregon. Want to check out the MK1 Van and more of Zenvanz impressive builds? You'll find them at a number of overland and van expos on the west coast throughout the year.
You can contact the company through their website at zenvanz.com and follow the Dangers' nomadic adventures at TheDangerz.com.
---
UPGRADES
Zenvanz MK1 Van
Platform: 2019 Mercedes-Benz Sprinter 144 4×4
Wheels and Tires: 17-inch Black Rhino Overland Wheels, LT265/70R17 Falken AT3 Tires,
Suspension: Van Compass 2.3 Suspension
Camper Upgrades: Zenvanz Cabinetry Kit, Maxxair Vent Fan, CRL T-Vent Window, CRL Fixed Window, CRL Bunk Windows, CRL Rear Door Windows, Sound Deadening & Insulation Throughout, USB Charging Ports & 110-Volt Outlets, LED Interior Lighting, SwitchPro, 315 AH Lithium Battery Pack, 360-Watt Solar Array, Victron Solar Controler, 3,000-Watt Inverter, Victron Battery & Water Monitor, Timberline Central Air & Hot Water, Flatline Step Extension, 20-Gallon Fresh Water Tank, 7-Gallon Gray Water Tank, Exterior Shower Unit, Isotherm 65L Fridge, Sink & Faucet w/Custom Cutting Board, True Induction Cooktop, Aluminum Sliding Tray w/Bike Fork Mount, Shuksan Over-Cab Shelf, 6-inch Memory Foam Mattress, Quest Overland Blackout Shades, CO Alarm, 2-pound Fire Extinguisher
Off-Road Upgrades: RoamBuilt Sliders/Steps, ARB Compressor, Owl Vans Rear Tire Carrier & Ladder, Owl Vanz Sherpa, Zenvanz Roof Rack, Sureshade Awning, Baja Designs LP9 & LP6 Off-Road Driving Lights, 40" Curved Light Bar, Diode Dynamics 6" Load Lights, Terra Wagon Fender Flares, CA Tuned Hammerhead Front Bumper, Warn Zeon 12-s Winch, Front Recovery Point D Shackles, Factor 55 Prolink XXL, Agile Offroad Skid Plate, ARB Tread Pro, SPOD