All-New 2022 Toyota Tundra: Ready to Overland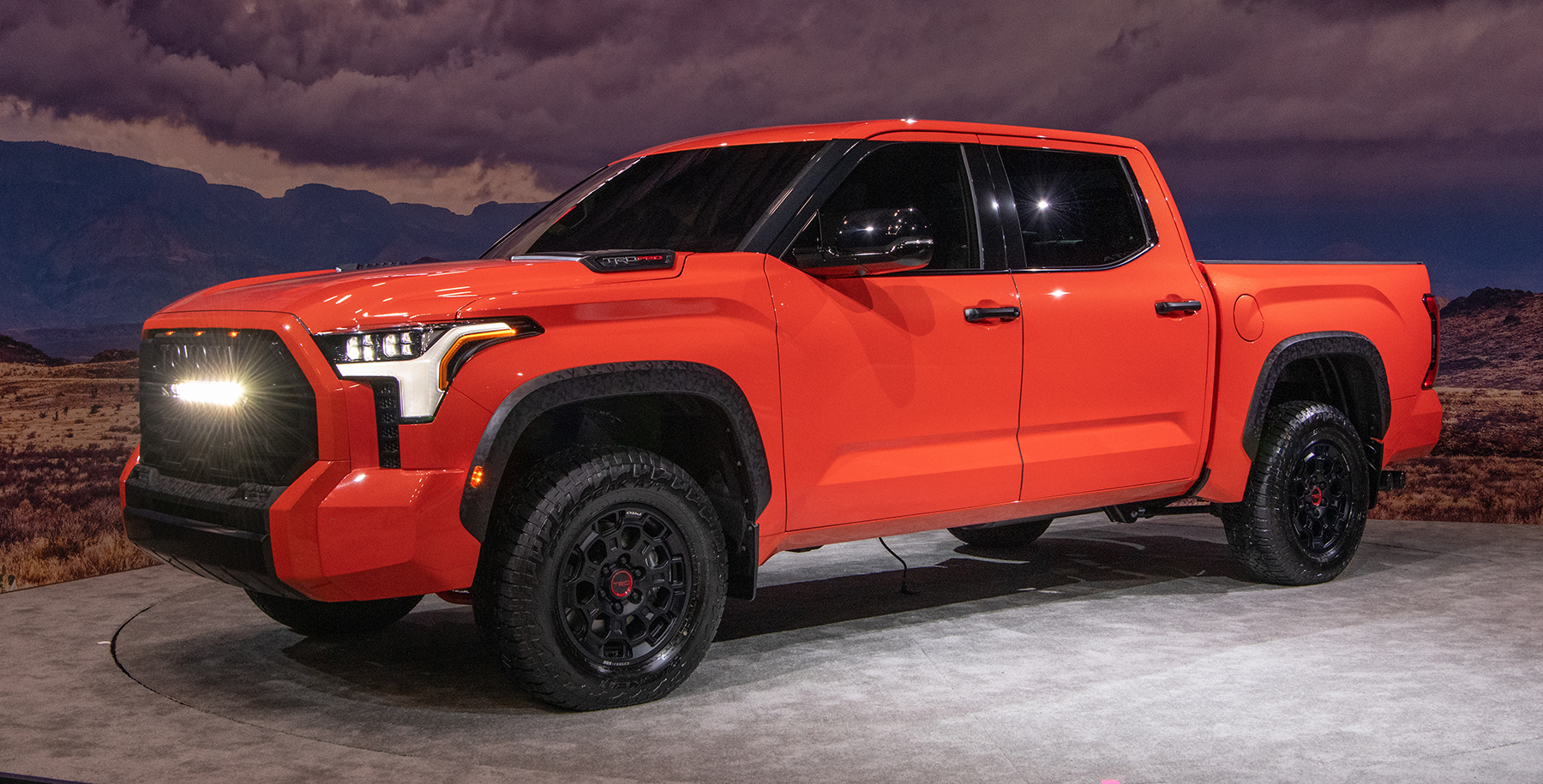 Built From the Ground Up by Truck Owners
As more overlanders switch over from mid-size trucks to full-size trucks, will the all-new 2022 Toyota Tundra meet all their needs? Tread got the chance to attend the exclusive media event with Toyota where they revealed the all-new 2022 Toyota Tundra—it left us impressed.

Designed, engineered and assembled in the U.S. from a group who knows and understands trucks and driving off road, those looking to build an overland rig, upgrade to something new or tow a trailer will want to strongly consider the all-new Tundra as a front contender in their selection. We couldn't take our eyes off the 2022 Toyota Tundra TRD Pro in Solar Octane.
The 2022 Toyota Tundra is Built Tough
This full-size truck has been reimagined from the ground up. The all-new 2022 Toyota Tundra took a long and deliberate road to its creation and it shows. Toyota got a lot of customer feedback in its creation, along with the opportunity to take a part and inspect one of several predecessors which hit the million-mile mark. The tried and true dependability of Toyota is beautifully fused with the utility and needs of a what a truck owner truly wants, whether as a tow vehicle or to push its paces on dirt.
The new high-strength boxed, steel-ladder frame, aluminum-reinforced composite bed, and fully redesigned multi-link rear suspension are highlights for this stout new Tundra which now has an impressive towing capacity of 12,000 pounds and a max payload capacity of 1,940 pounds.
The much-anticipated conversation around powerplant options is now answered. The all-new 2022 Toyota Tundra will offer two powerplant configurations. Goodbye to the V8 engine (sigh), but Toyota did not leave you hanging. The new I-Force twin-turbo 3.5-liter V6 engine produces 389 hp and 479 lb-ft. of torque. That adds 8 hp and 78 lb-ft. of torque when compared to the earlier models. While some may be disappointed with the loss of the V8, efficiency and technology still bring the gains desired. If you're one looking for a bit more torque and a greener option, the I-Force Max incorporates hybrid technology to achieve 437 hp and an impressive 583 lb-ft. of torque. Both configurations will be mated to a 10-speed automatic transmission. These updates were selected to bring more power, more torque and better gas mileage to the consumer—all much desired from the feedback received from customers.
Notable Updates on 2022 Toyota Tundra TRD Pro
Finally, the all-new 2022 Toyota Tundra will follow suit with other TRD models and offer selectable drive modes, something new on the Tundra. Multi-Terrain Select and Crawl Control now come standard on the TRD Pro. The TRD Pro models are now built off the Limited platform to include heated/ventilated seats, JBL audio sound system, to complement the new techno camo fender flares. Previous generation TRD models were built off the SR5 platform.
Other Enhancements and Updates to 2022 Toyota Tundra
While we all notice the exterior updates first, most notable on the all-new 2022 Toyota Tundra is the much-needed update to the multi-media system. The 14-inch multimedia touchscreen stands out when looking at the interior, providing a seamless connection to a mobile device.  Apple CarPlay and Android Auto can now be wirelessly connected. Connected services can also be monitored through the Toyota app and also allows for "over-the-air" updates.
Own an off-road trailer or fifth wheel? Towing now is easier with the Tundra. Sensors and cameras allow the Tundra's driver assistance technology to help easily connect a trailer and keep it in a straight line when backing up. With a 12,000 pound towing capacity, this full-size truck will not only last for many miles, but allow for a lifestyle with multiple hobbies.
Towing aids, off-road enhancements and an all-new multimedia system featuring Apple CarPlay and Android Auto will bring this truck up to date with its competitors. With plans to go on sale later this year, pricing is still to be determined.
We can't wait to get behind the wheel of this full-size beast and put the truck to its paces. Stay tuned for our first drive impressions in the next few weeks.
To keep up to date on the all-new 2022 Toyota Tundra visit Toyota.com and sign up for updates.