Yearning for the Great Outdoors in Reesor's Tacoma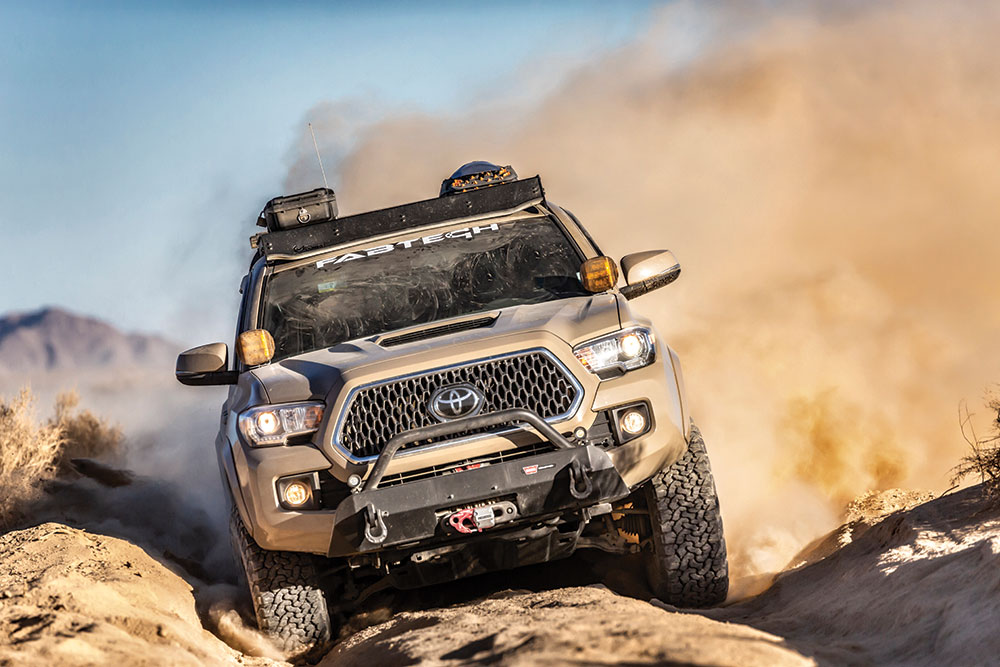 Curt Reesor's Tacoma Solidifies His Outdoor Adventures
Curt Reesor yearns for the great outdoors; he loves exploring remote backcountry with his family. They camp near breathtaking landscapes and enjoy the life of solitude together. "For me, the Toyota Tacoma is the classic overland rig," Reesor stated. "It's reliable and capable, both on and off the pavement. I've spent most of my life living in California and Oregon, two states I know well and have enjoyed very much," he said. "My Toyota is key to getting out beyond the crowds."  This led them to purchase Reesor's new 2019 double cab Toyota Tacoma TRD Sport. He promptly hooked up the couple's Wisconsin-made XVENTURE XV-3 off-road trailer and traveled from Oregon to Anza-Borrego, a stunning area approximately 20 miles from the Mexican border. There, they celebrated by exploring Mother Nature, detaching from everyday duties.
The Reesors camp near breathtaking landscapes and enjoy the life of solitude together.
Returning to Your Roots
Although Curt Reesor owned other 4x4s, he always appreciated Toyotas. His first new truck was a 1988 Toyota single cab 4×4 boasting a 22RE four-cylinder engine and manual transmission. His Toyota was bombproof, giving Reesor years of reliable service, including thousands of miles off the beaten path. To him, that truck was built to last. He kept his storied '88 for several years until they had a child, suddenly they didn't have enough room. Sadly, they had to let it go. Departing from his Toyota, Reesor deviated from the brand and owned two Jeep Wrangler TJs, a Ford F-150, and a Ram truck. However, the memories of his '88 Toyota brought him back to the brand.
Reesor and his wife Erika frequently visited the Colorado and Mojave deserts and places along the Eastern Sierras. They even took his beloved Toyota on their honeymoon via dirt roads spanning the entire state of Oregon, from the California border to the Columbia River.
The Perfect Platform
…Reesor knew they'd have adequate storage and off-pavement capability with their new setup, coupled with their XVENTURE trailer.
Reesor purchased his 2019 Tacoma for the extra space it offered. With it, he can easily carry cargo and extra passengers. However, Reesor opted for a short bed instead of the longer version. He didn't want a "land yacht." The Reesors purchased the TRD Sport versus the TRD Pro Series Tacoma, as they didn't plan to visit places where a rear locker was needed. The couple compromised, knowing they'd have adequate storage and off-pavement capability with their new setup, mated to an XVENTURE trailer. "My vehicle is a backcountry camping machine. Besides that, it's my daily driver," Reesor explained.
'My vehicle is a backcountry camping machine. Besides that, it's my daily driver,' Reesor explained.
The customization of the Tacoma and XVENTURE trailer were strategic. For the rig to travel thousands of dirt-filled and tarmac-topped miles, it can't just be a rock crawler. While capable in stock fashion, it's ready for when the trails got more difficult and to store more stuff.
Reesor's Ultimate Upgrades
"I'm drawn to blank places on the map with bad roads," Reesor said, "places that most people have not even heard of, which are becoming harder to find." His current favorite? The three corners region of Oregon, Idaho, and Nevada.
Key upgrades included aftermarket niceties like the newly released 17×8.5-inch WARN Diamond Cutter wheels shod in beefy LT285/70R17 BFGoodrich KO2 all-terrain tires. While the factory front skid plate remains in place (soon, they'll get an upgrade to the TRD Pro Series version), bolt-on CBI rock sliders add side protection when navigating tough trails with potential hazards.
Reesor upgraded his factory suspension with a Fabtech 3-inch suspension system. This included including upper control arms and Dirt Logic coilover 2.5 reservoir front and 2.25 reservoir rear shocks. This increased ground clearance and ride quality. A set of Firestone Ride Rite air bags also adds load support and leveling ability when pulling the XVENTURE trailer. Lastly, a set of 1-inch Supreme Suspensions lift blocks fine-tune the truck's stance from the rear.
"The Fabtech kit feels rock solid on and off the road, giving me extra confidence that it'll hold up to extended beatings the truck may take," Reesor explained, "when heavily loaded on long backcountry journeys."
Winch When Ready
There are times when Reesor travels to remote locations without a companion vehicle or a cell signal. He needed the extra confidence of a winch to get them out of potential trouble. He incorporated a WARN ZEON Platinum 10-S winch, mounted within a WARN Semi-Hidden winch bumper, creating a low-profile look. It respects the Tacoma's front-end design.
"The winch is mounted out of sight, behind the bumper," Reesor stated. "It fits perfectly within the generous open space of the Tacoma's lower front end." To minimize weight, Reesor opted for the ZEON Platinum with a lightweight synthetic rope. "I wanted the Platinum's remote clutch, which makes it easy to engage and disengage the winch's freespool clutch, even when the winch is completely tucked away behind the steel bumper," he said. The factory supplied WARN winch hook got an upgrade to the Factor 55 UltraHook. With this change, Reesor added a great dal of confidence of the company's closed loop system.
"When traveling off-road, I always pack a full winch recovery kit that includes a winch rigging strap, tow strap, and shackles," Reesor said. He also occasionally carries a Pull Pal land anchor, depending on terrain difficulty.
Storage, Lighting, and Electrical Add-Ons
Reesor added storage capability with the Leitner Active Cargo System, including four Leitner GearPODS. He also included a DECKED truck bed drawer system. Plus, a Prinsu double cab roof rack gives him an abundance of storage.
Electrical affairs incorporated an Off-Grid Engineering dual-battery setup with two Odyssey Extreme Series Group 35 AGM batteries. This carries the load for auxiliary lights and other camp accessories. A Trigger Six Shooter 12-volt power distribution system easily connects and wirelessly controls all fo the electrical additions to the rig. Reesor mounted Rugged Ridge comms system in the center console, and a magnetic roof antenna amplifies its signal. Lastly, lighting additions include Denali D2 light pods on the winch bumper and Rigid Adapt XP Xtreme lights, configured for ditch lighting.
A Wisconsin-Made XVENTURE Trailer
One of Reesor's most memorable experiences with his new Tacoma? Camping on the edge of a remote cliff overlooking a sweeping view of the Utah Canyonlands. "The drive in was an adventure; we had this world-class location to ourselves," he said. "It was unbelievable. It would not be possible without a capable rig and some careful planning."
Along for the ride is their trusty sidekick, an XVENTURE XV-3 trailer. It's an American-made, military-proven cargo hauler incorporating the couple's kitchen, water and propane, additional cargo area, shade, and sleeping quarters. Its all-aluminum weldless Huck bolt chassis making it an ideal tow-behind companion. It surpasses the weld-together competition by decreasing chassis fatigue and vibrations.
For Reesor, the XV-3 tracks well behind his new 2019 Tacoma TRD Sport. It is gives them wonderful balance and is the perfect mate to their new adventure machine. Since their TRD Sport came tow-ready, fully wired with a hitch, they've increased their adventure potential.
Solidyfing Reesor's Outdoor Adventures
"The XV-3 gives us the ability to set up a multi-day base camp while keeping the tow rig free to explore the surrounding areas," Reesor said. "We appreciate the XV-3's smaller dimensions and extreme off-road capability. It's light and easy to tow. It can go literally anywhere the Tacoma goes."
Set up and breakdown is fast and easy. The couple enjoys the convenience of full-perimeter lighting, an electric ARB fridge, and on-demand hot water. Solar panels allow the couple to power accessories when parked for extended stays—perfect for solidifying Reesor's outdoor adventures.
You can follow Curt Reesor's adventures via his landscape photography on Instagram @curtreesor.
---
UPGRADES
2019 Toyota Tacoma TRD Sport
Engine: 3.5L 6 cylinder
Suspension: Fabtech Motorsports 3-inch suspension system with upper control arms, Dirt Logic coilover 2.5 reservoir front and 2.25 reservoir rear shocks; Firestone Ride Rite air bags, 1-inch Supreme Suspensions lift blocks (rear)
Wheels & Tires: WARN Epic Diamond Cutter in Gunmetal 17×8.5 w/6×5.5 bolt pattern, 0 backspacing; BFGoodrich KO2 LT285/70R17
Interior Accessories: Rugged Radio comms; Off-Grid Engineering dual battery system with two Odyssey Extreme Series Group 35 AGM batteries; Trigger Six Shooter 12-volt power distribution system
Exterior Accessories: WARN Semi-Hidden winch bumper; Rigid Adapt XP Xtreme lights; Denali D2 Light Pods; WARN ZEON 10-S Platinum Winch, WARN Epic Shackles; FACTOR 55 UltraHook; Leitner Active Cargo System with four gearpods; DECKED truck bed drawer system; Prinsu aluminum roof rack; CBI Offroad Rock Sliders; magnetic radio antenna
Off-Road Trailer: XVENTURE XV-3 (upgraded); fifteen52 Turbomac HD Classic wheels in Carbon Gray 17-inch; Yokohama Geolander A/T LT285/70R17; Line-X cargo bed; 22-gallon water system; Max Coupler Hitch; Independent mechanical parking brakes; spare tire carrier; slide-out kitchen galley; water heater; tonneau cargo bed cover; Rhino Rack Batwing Awning; Rhino-Rack platform tray (set atop height-adjustable frame); James Baroud Evasion roof top tent; two Wavian Jerry cans with Front Runner Jerry can holders; custom trailer paint to match the "Quicksand" Tacoma color; Ark Extreme Offroad Series 750 trailer jack, 20 lbs. Propane tank, mounted with a Powertank stainless steel bracket; Renogy 100-watt 12-volt flexible solar panel; ARB Classic Series II fridge/freezer; 50 AH deep cycle battery and charger, separate power distribution center
---
Editor's note: A version of this article previously appeared in the print issue of Yota Winter 2022.