Proving the All-New 2020 Defender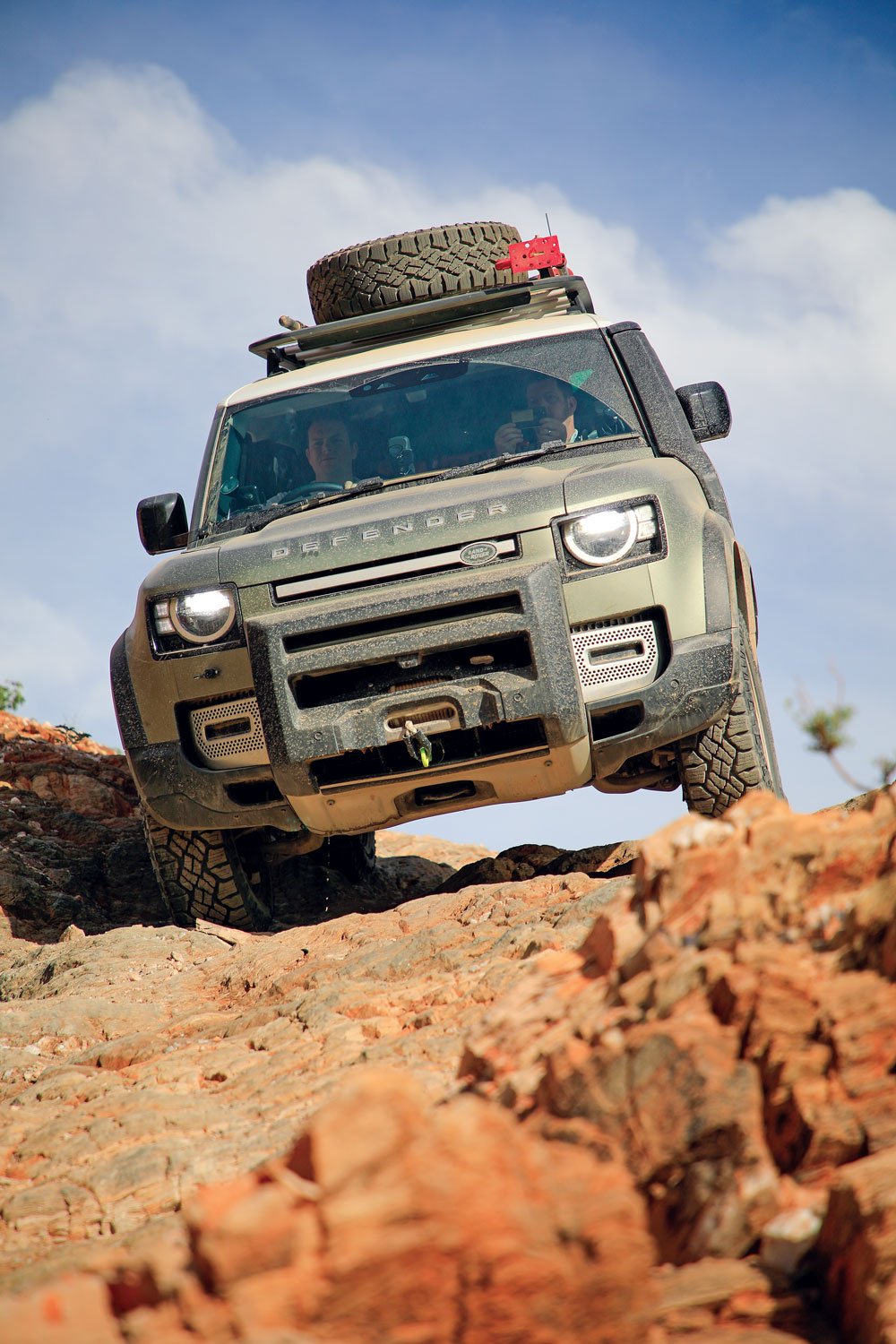 African Defense in Namibia's Harshest Place
After ensuring there weren't any goats, springbok, or giraffe on the runway, we touched down to a surprisingly smooth landing on the dirt strip in Opuwo, located in the remote far Northwest of Namibia—Africa's most sparsely populated country. Just outside of the plane sat five pre-production Defenders outfitted with the latest in proper exploration gear—Maxtrax recovery boards, extra fuel cans, shovels, and communications equipment—all attached to the factory roof rack. The new machine certainly looks the part with available side ladders, storage cases, and even a factory raised air intake that we'd end up putting to legitimate use.
After the pilot killed the engines and the dust stopped flying, I grabbed my duffel and walked over to my Defender. It sounds like a tiny detail, but I'm so happy they kept the one-piece side-opening rear door just like the classic models have always had. Not only does it provide a purposeful place for mounting your spare tire, it also makes the back of the Defender easy to access with a single hand, no matter if you're carrying expedition equipment or groceries.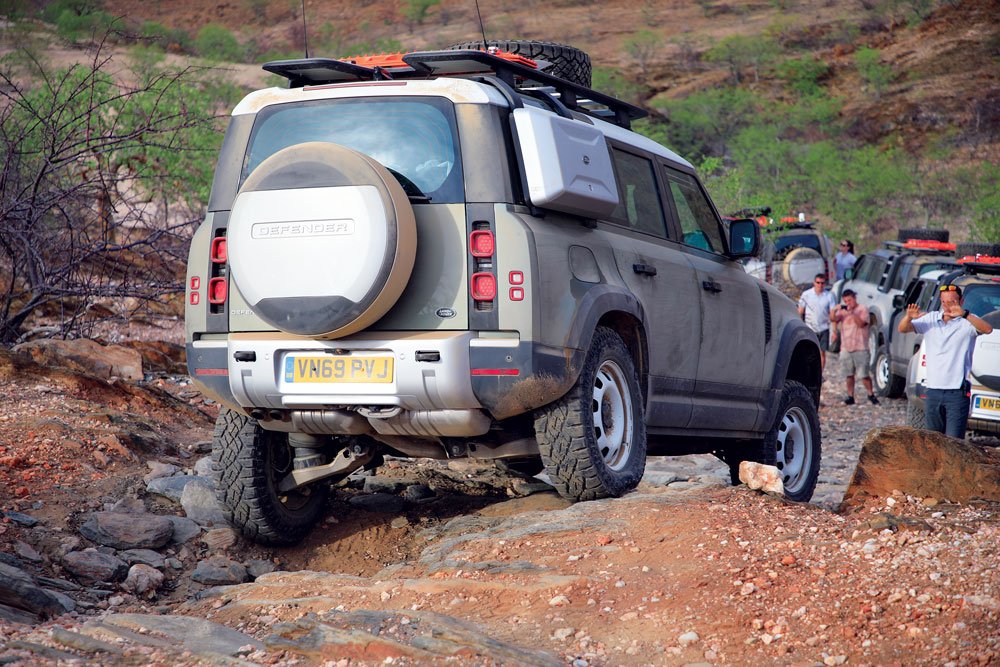 The route ahead pitted the Defenders against what might be the world's most grueling test—a combination of automotive journalists with license to use-and-abuse and remote Northwestern Namibia's rugged terrain, including one of Africa's most-iconic trails: Van Zyl's Pass.
"IF YOU'RE AN EXPLORER WHO DOESN'T WANT TO TURN BACK WHEN THE GOING GETS ROUGH, THEN THE DEFENDER IS ALL ACES."
If there is a road in Africa, there's a reason. Van Zyl's Pass was constructed in 1965 by the former commissioner for Kaokoland, Namibia's most-remote province. Shortly after its construction finished, Namibia found itself at war and the route was never fully developed, leaving it as a technical challenge for those looking to prove their skills in the most-remote environment imaginable.
While Van Zyl's Pass may not be as technical as the gold-standard Rubicon Trail, it is also a two-day drive from the nearest first-world hospital in Windhoek, the nation's capital, bringing with it an entirely different set of risks and challenges.
We were camped just a stone's throw from the trailhead that night and were thrown straight into the thick of it with a nasty obstacle that saw the right front of the Defender drop into a massive hole while already at a steep angle. In my rearview mirror I could see the back tire lifting up in the air, but from inside the cab I was fairly well-isolated from how much work the vehicle's systems were doing on my behalf—this is a machine that inspires confidence, though at the cost of driver feedback.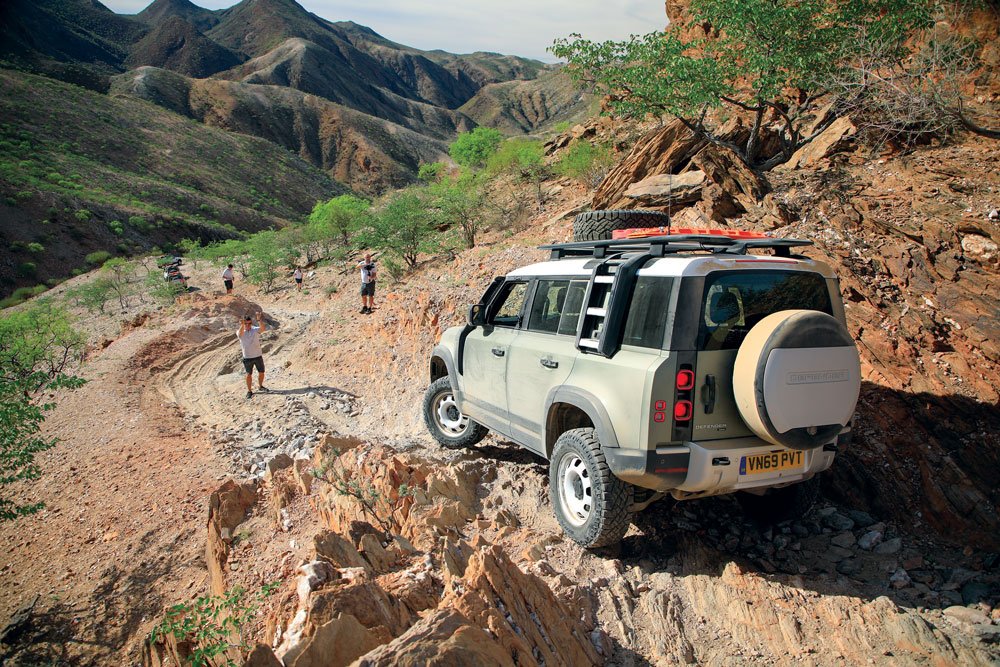 A variably locking rear differential is fitted as standard to the all-new Defender, along with a center differential lock, but some Internet warriors have complained that the Defender isn't equipped with a front locking differential like the Wrangler Rubicon or Mercedes G-Class. None of this really matters to anyone actually out exploring and seeing the world's remote places.
The Defender's traction control is class leading, minimally intrusive, and quick to react, thanks to the now-customizable Terrain Response system that allows you to adjust everything from steering feel to throttle sensitivity. Sure, you can't go and tell the system to completely lock your differentials, but, in my opinion, that binary school of thought is outdated. What if I don't want my differential completely locked because I want to be able to wiggle my way through obstacles and actually be able to turn?
The Defender allows you to approach technical terrain like a grand master in a chess match, unlocking moves that would otherwise be impossible to all but those with professional experience. If you had traditional locking differentials, you'd have to wait (and hope) that they instantly lock and unlock at your command, something they do not often do.
Within less than a hundredth of a single-wheel rotation, the Defender's traction control system was able to apply brake pressure to prevent wheel spin and enable traction on the more challenging sections of Van Zyl's Pass. Terrain Response communicates with the suspension which is capable of both cross-linking the airbags to allow it to function as if it had a solid beam axle—another reason the Defender is so sure-footed.
Overall, the Defender exceeded my expectations on technical terrain, but let's be realistic. If you're buying a new vehicle for the sole purpose of turning it into a rock crawler, you're going to, and should, buy a Jeep Wrangler. If you're an explorer who doesn't want to turn back when the going gets rough, then the Defender is all aces.
Skeleton Coast (Mud, Water, Sand)
My time in the Skeleton Coast is one of juxtaposition. It is of drought and deluge, feast and famine. Dotted with thousands of shipwrecks and the haunted stories of those who didn't survive the harsh environment, it is one of the least-accessible places on earth—with entry permission for our adventure granted solely due to Land Rover's ongoing charitable and conservation work in the region.
The rains had just begun further inland with the local Himba tribes, who mostly live traditionally off the land, awash with the excitement that meant easier times ahead. But for us it meant an unpredictable drive up the treacherous Hoarusib River Canyon, a roughly 50-mile-long dry river wash that we'd heard might not be so dry. And it wasn't—but that's all part of the adventure.
You couldn't imagine a worse environment for a pre-production vehicle, especially a Land Rover Defender. Dust. Mud. Sand. Water over the hood. Repeat. We would be wearing all of them in triplicate had we been in a classic Defender. We must have had over a hundred water crossings that day, and let me tell you that Defender didn't have a single issue. Sure, we had to pull out the winch, we had multiple tire failures, and we lodged a rock in the brake caliper. But it was real four-wheel driving—this is the kind of stuff that is supposed to happen.
In the dunes, the P400 inline six-cylinder engine was brilliant, and being a mild-hybrid there's no lack of instant torque to get the ball rolling. And since it is simultaneously turbocharged and electrically supercharged, it had this weird combination of lag-free high-rpm power that was needed to get through the kind of hellish mud that can only happen after it hasn't rained in a decade. If the engine proves to be reliable, Land Rover has a winner on their hands.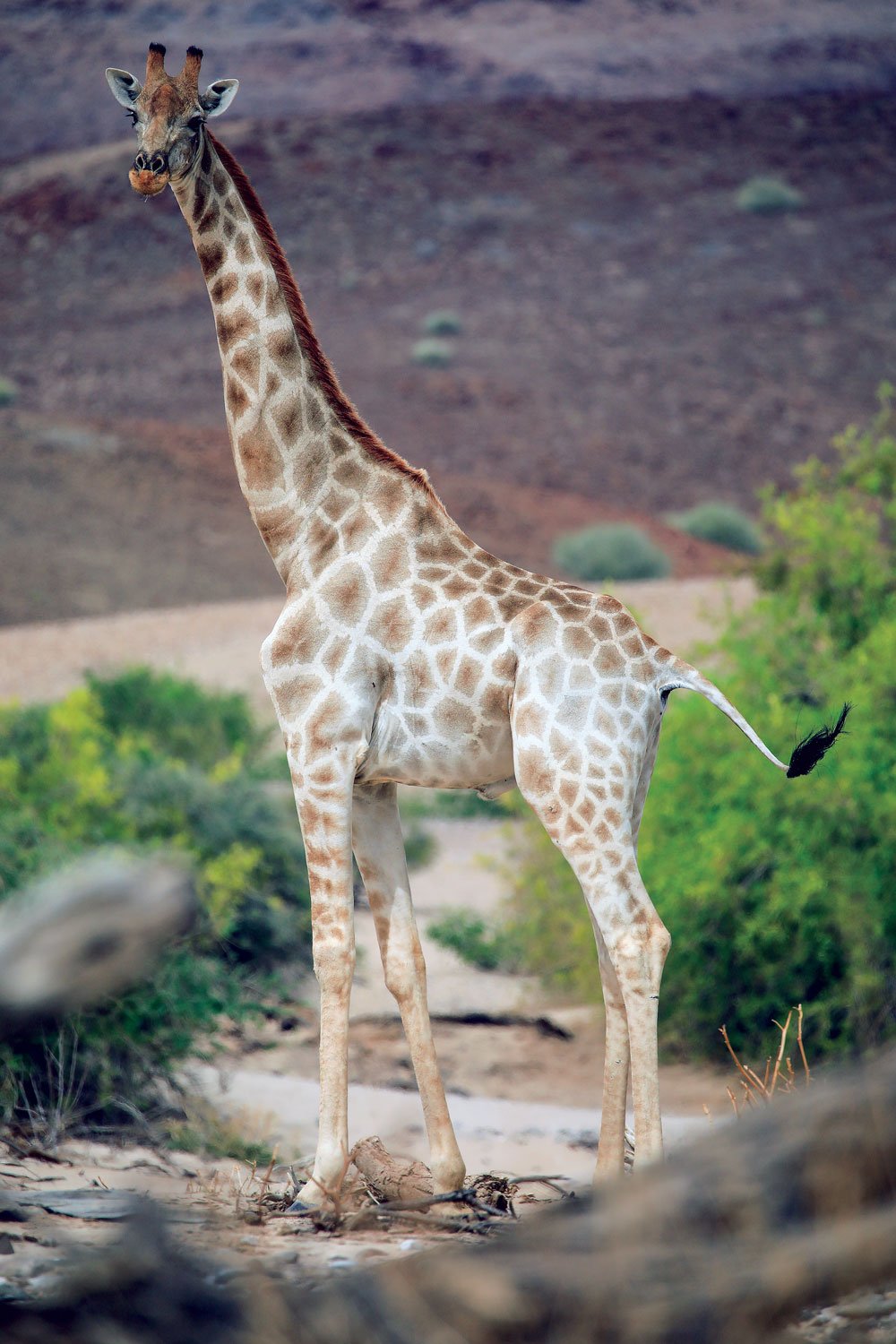 The class-leading departure angle of 38 degrees meant that we could drop off freshly washed-out ledges into streams without worry about slamming the back end, and the adjustable suspension meant that we could crank up the ride height for those extra-scary muddy water crossings. Frankly, I'm surprised we made it through them all. The Defender really has the capability of putting power down in a controlled way that few other vehicles can match.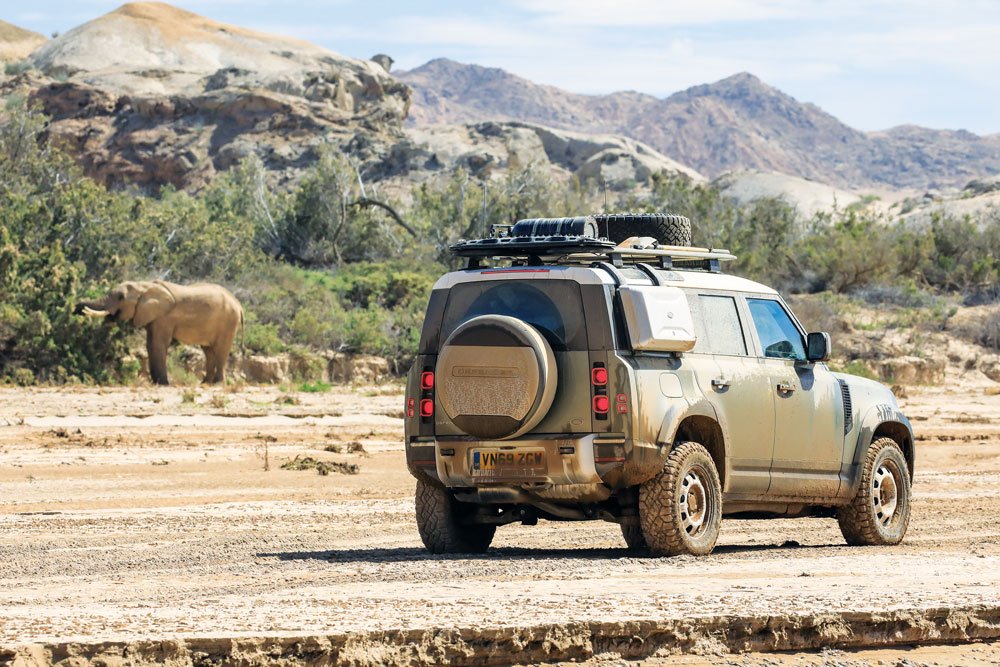 Somewhere in the Hoarusib River Canyon, a place I never thought I'd be, driving a vehicle I never thought I'd see, the all-new Defender finally made sense to me. It isn't supposed to be a replacement for its former self. It's supposed to be an all-new vehicle for an all-new world—for an all-new buyer.
The only thing that remains the same? There's no finer way to travel the world than behind the wheel of a Land Rover Defender.
Editor's Note: A version of this article first appeared in the July/August 2020 print issue of Tread Magazine.