Off-Roading Tacoma Parts Buyer's Guide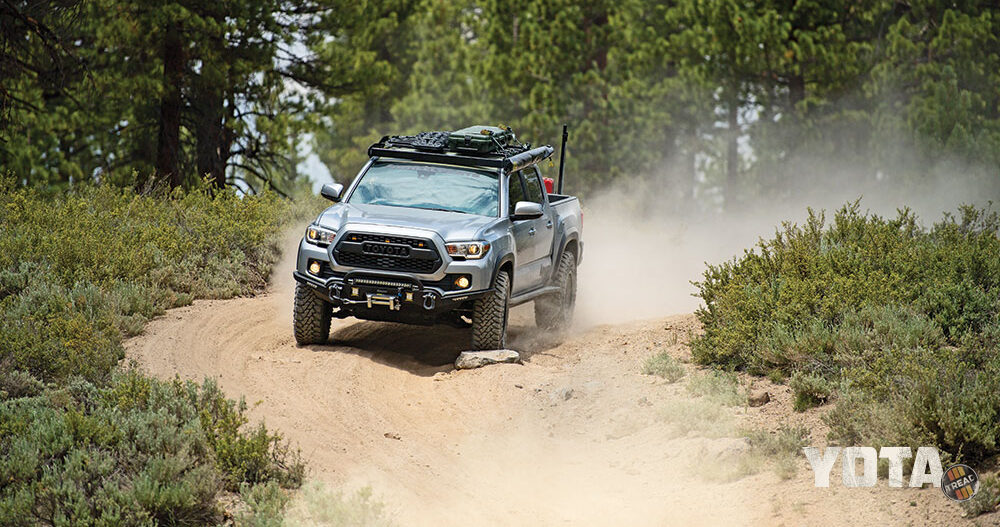 Get Your Off-Road Yota Totally Hooked Up
Just why do we love our Toyota Tacomas for off-roading so much? A few factors include their rock solid reliability, unbelievably good looks and off-road capability that's second to none. We can go on and on about them, but as a fellow owner, you already know how great they are. What we want to know is: how else can we mod out our rigs to make them even more capable?
The good news is that aftermarket support for Toyota off-road vehicles is robust. It doesn't matter if you drive a Tundra, Tacoma, 4Runner, Land Cruiser or FJ. If there's a need for a modification for most any year, model or even trim level of a Toyota produced vehicle, you can bet that someone makes it. Everything we'll recommend below is perfect for Tacomas, but many of them will fit other Toyota models as well.
Whether you use your Tacoma off-roader for hardcore rock crawling or weekend overlanding, upgrading your vehicle is a great way of personalizing it for your needs. Additionally, adding upgrades will definitely up its performance aptitude. Without further ado, let's check out some of the latest products designed specifically for Tacoma off-roading applications.
1. Armordillo / CR1 Chase Rack for Tacoma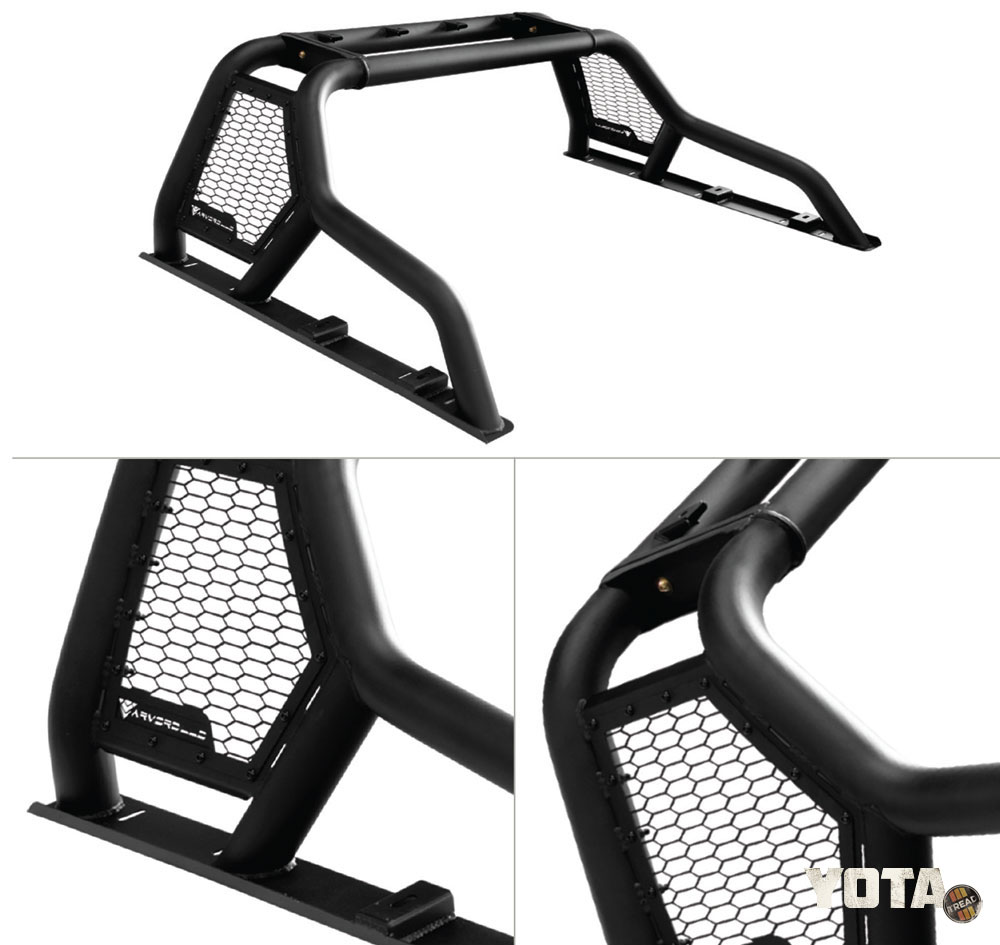 Application: Tacoma
MSRP: $840
URL: armordillousa.com
Highlights: Whether you are on the road or off the pavement, the Armordillo CR1 Chase Rack for Tacoma off-roading will fulfill all your pickup's needs. It's designed by and for the enthusiast. With this in mind, the CR1 Chase Rack features premium steel with a three-inch diameter tube frame. It also has four auxiliary light mounts, and showcases a unique above-the-bed tire carrier. Unlike other chase racks in the market, the spare tire carrier sits above the bed. So, you will not lose the space needed if you use this rack on or off the road. (Light and Tire Carrier sold separately.)
2. Bilstein / B8 8112 (ZoneControl CR) for Tacoma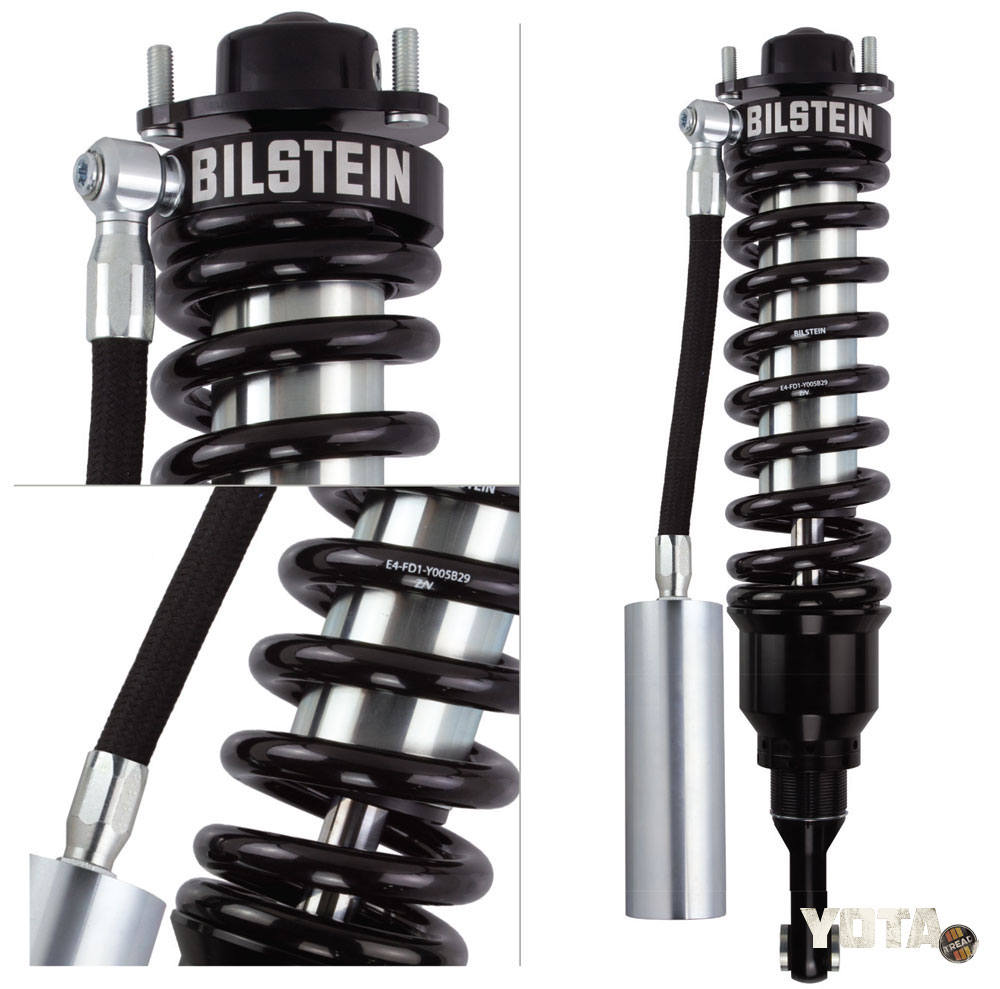 Application: 2005-2017 Tacoma
MSRP: $799
URL: bilstein.com
Highlights: Bilstein's B8 8112 (ZoneControl® CR) shocks give you everything you want and need in a bolt-on package for off-roading the 2005-2017 Toyota Tacoma. Bilstein's unrivaled damping performance is achieved through three compression zones and two rebound zones; all controlled by three fully independent, position sensitive, internal pistons. Costly secondary bump stops, and finicky limit straps, are no longer needed. The B8 8112 (ZoneControl® CR) takes care of it all by controlling every inch of stroke in both directions.
3. Bilstein / B8 Upper Control Arms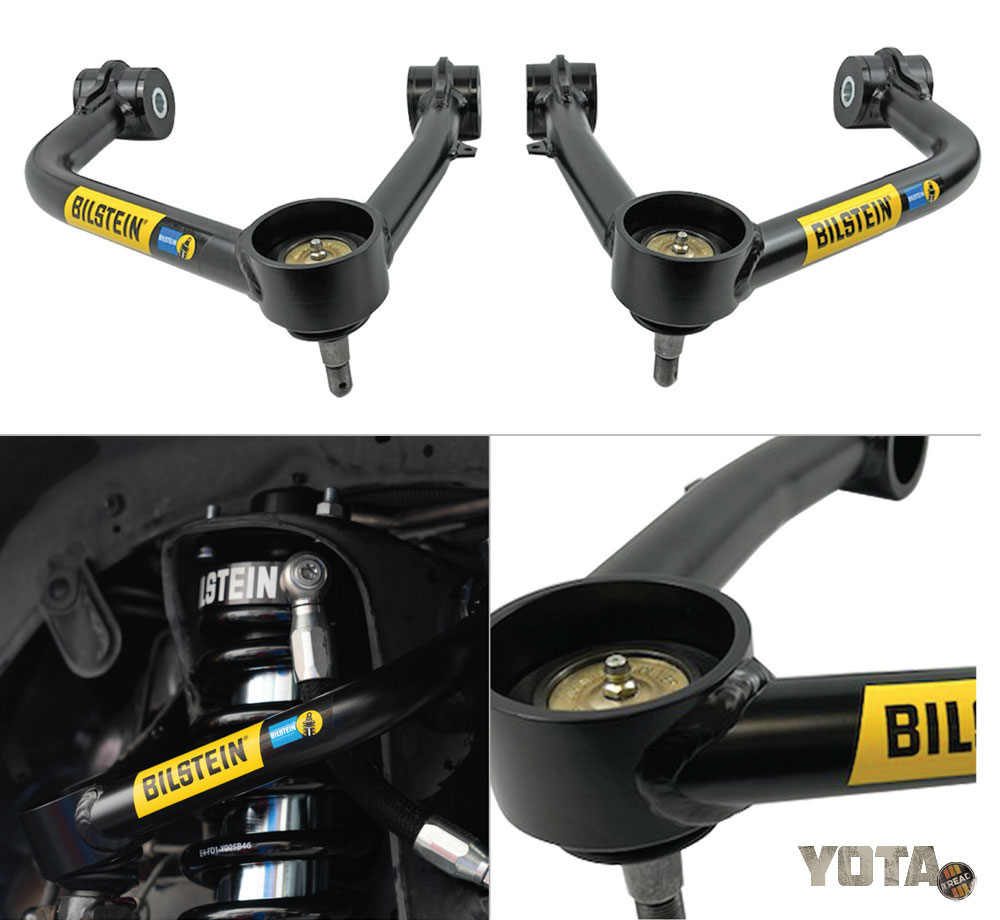 Application: Tacoma, Tundra
URL: bilstein.com
Highlights: Available for off-roading Tacomas and Tundras, Bilstein B8 Upper Control Arms are direct fit, premium upper control arms. Designed to correct suspension geometry, they increase cater angles and suspension travel. On top of that, they improve ball joint pivot angles for more straight-line stability on lifted trucks and SUVs. Additionally, they are a perfect complement to any Bilstein 5100 RHA, 6100 RHA, 6112 and 8112 suspension packages.
4. Eaton / ELocker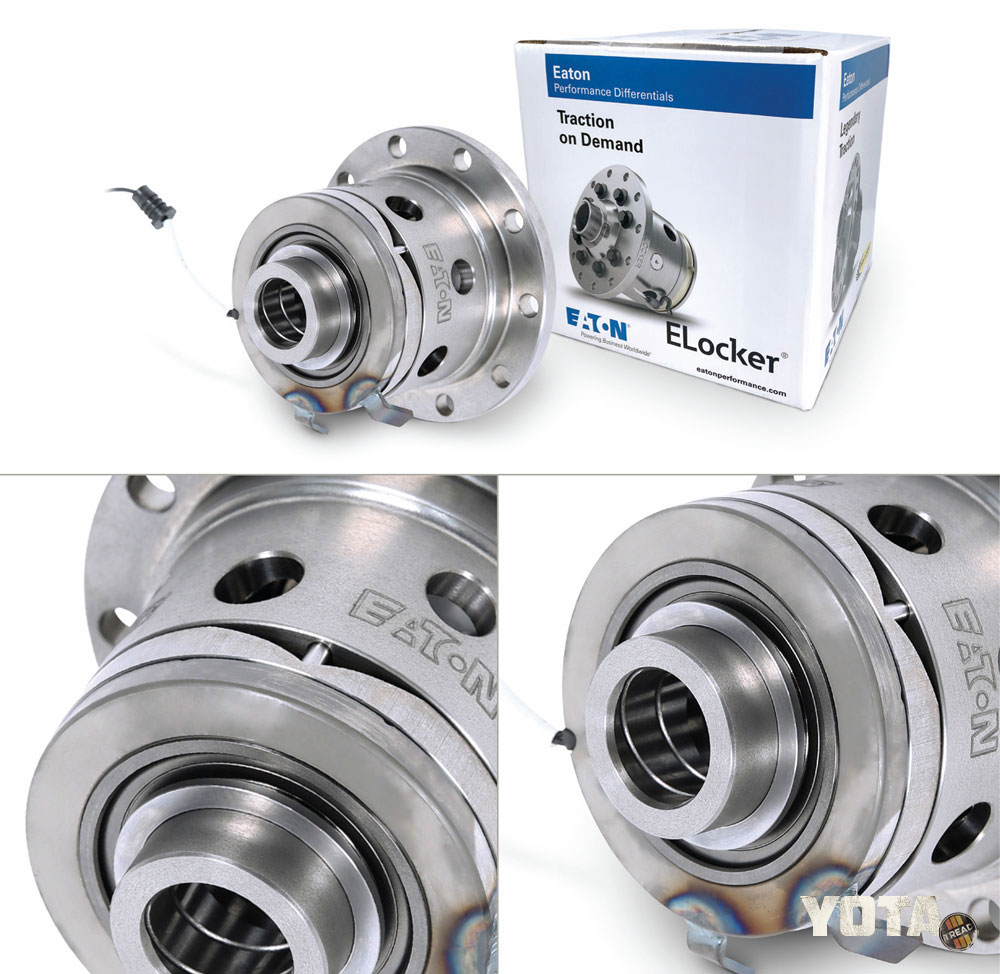 Application: Tacoma, 4Runner, FJ Cruiser, Land Cruiser, Tundra
URL: eaton.com
Highlights: The Eaton ELocker is an electronic locking differential designed for Tacoma off-road drivers that want full control and traction on demand. The ELocker features net-forged gears for the strength and durability needed for off-road and recreational driving. Its electronic controls provide driver-selectable operation and added reliability over similar air-controlled products. By simply pressing a dash switch, drivers can conveniently engage their differential to a 100-percent locked position and back to an open position.
5. Magnaflow / Overland Series Cat-Back Exhaust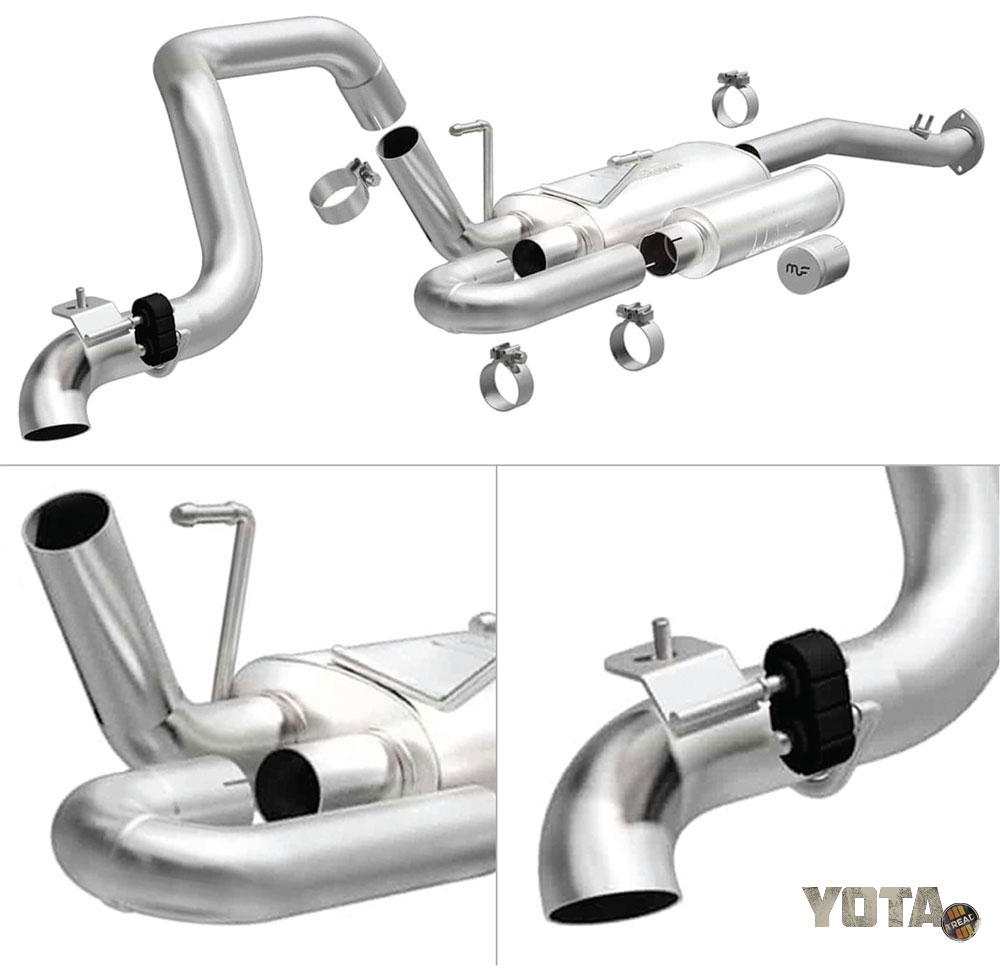 Application: Tacoma, 4Runner, GX460
MSRP: $648-799
URL: magnaflow.com
Highlights: The new Overland Series system features MagnaFlow's No Drone Technology, or NDT. Versatile sound tuning incorporating noise-cancelling quarter-wave resonators results in a less aggressive, but signature, MagnaFlow tone. This technology combined with the compact muffler design, high clearance exit pipe, stainless steel construction and limited lifetime warranty, Tacoma off-roader builders can be confident in the performance and quality of the Overland Series.
6. Magnuson / TVS1900 Supercharger System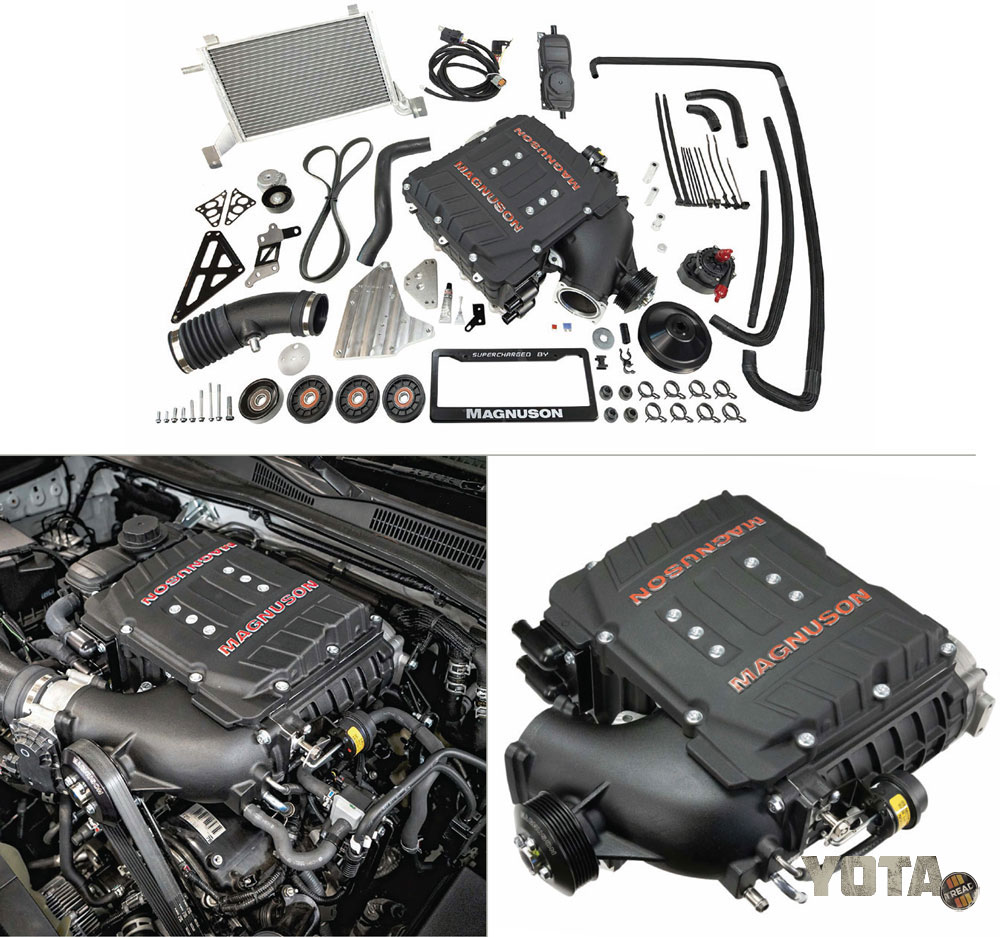 Application: 2016+ Toyota Tacoma 3.5L V6
MSRP: $6,695
URL: magnusonsuperchargers.com
Highlights:  Need more hot sauce on your Taco? Magnuson has the answer with its TVS1900 Supercharger System for the third gen Tacoma 3.5L V6. Whether you use your truck for dusty desert racing, overlanding, towing or daily driving, bolting on an extra 90 horsepower and 65 ft-lb will make your Tacoma off-roader even more capable than it already is. Magnuson Superchargers are engineered to deliver these substantial power gains while maintaining the reliability and longevity that Tacoma owners demand.
7. Rago Fabrication / Secondary Battery Box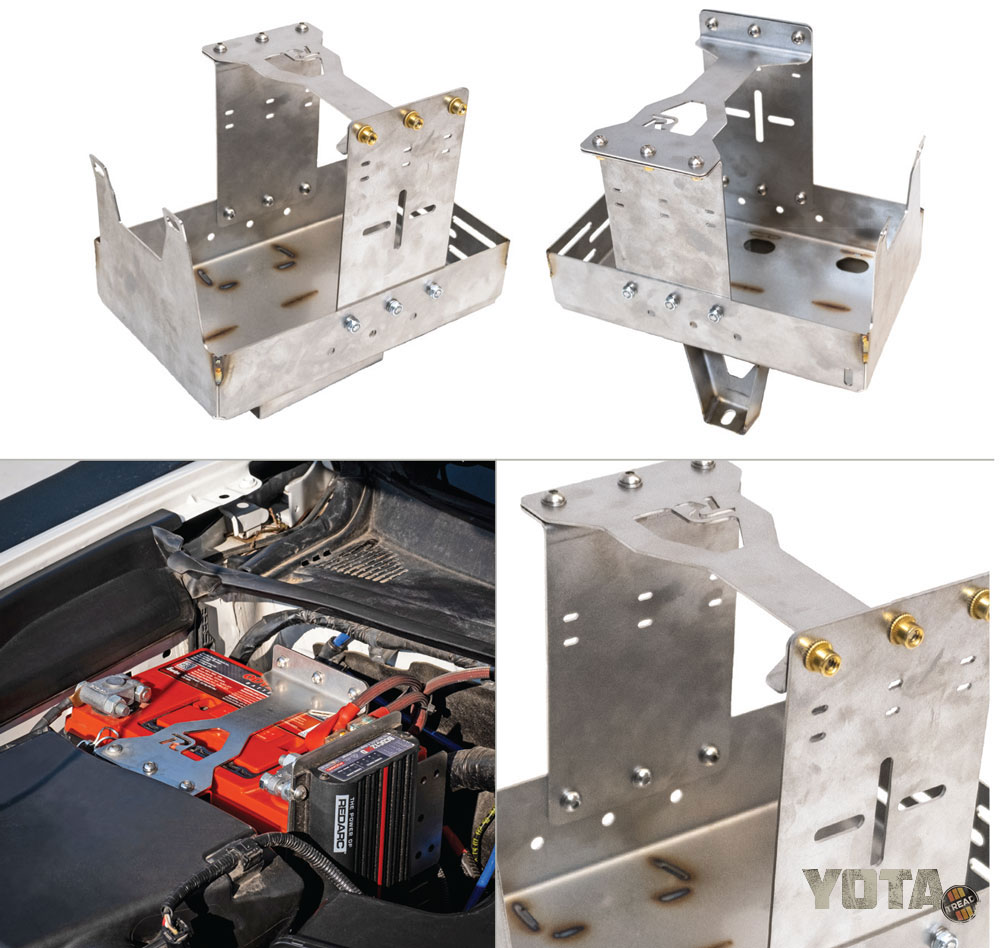 Application: 2016+ Toyota Tacoma
MSRP: $ 216
URL: ragofabrication.com
Highlights: Whether you are running dual batteries to power your accessories or as just an extra power source, you want to keep that battery safe at all costs. Rago's Secondary Battery Box keeps your Group 34 or 35 Odyssey Battery secure while you ride on rocky trails. (Or, when you just want to test the speed demon in your Tacoma off-roader.) This product mounts onto the passenger side of your vehicle to give it a little room to breathe. Made from strong, rust-free stainless steel, the Rago Battery Box offers protection on all sides of your battery and includes mounting points for the Redarc or Blue Sea System, as well as your differential breather kit.
8. WARN / Semi-Hidden Kit – No Grille Guard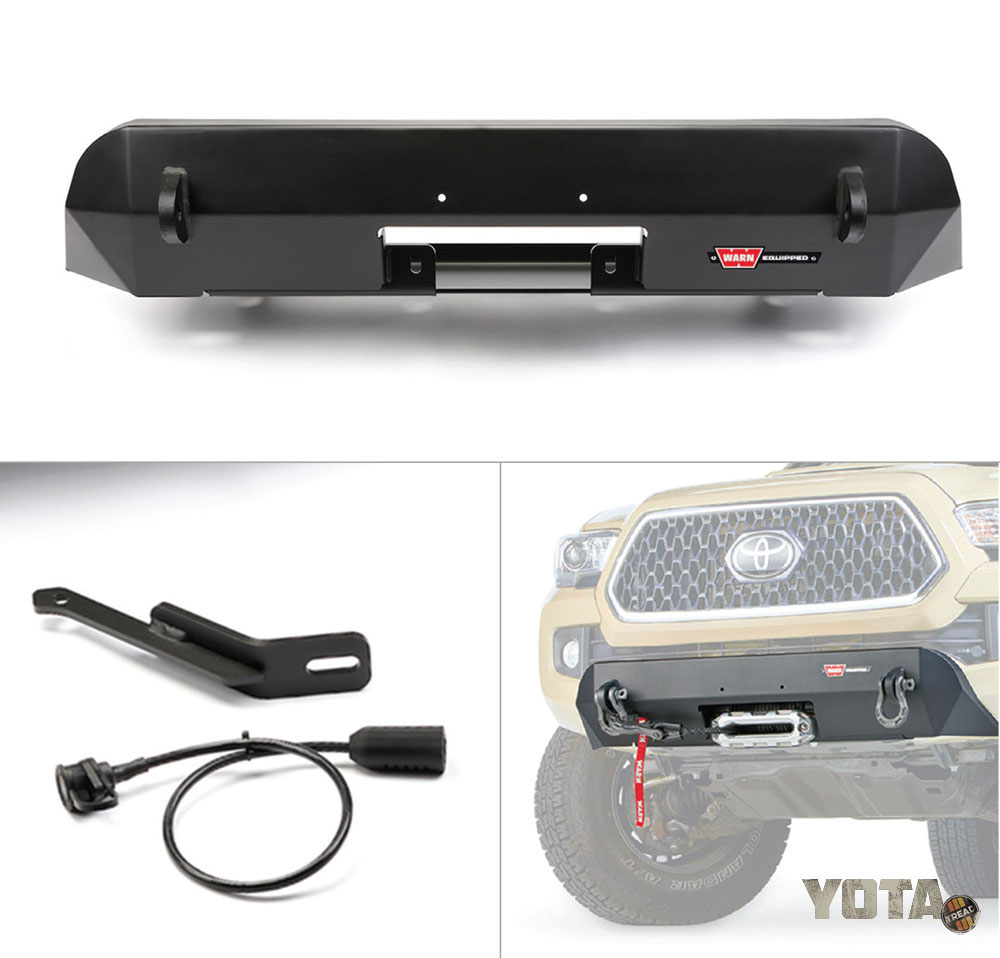 Application: 2016+ Toyota Tacoma
MSRP: $850
URL: warn.com
Highlights: Warn now offers the low-profile, Semi-Hidden winch mounting system without the grille guard tube for an even cleaner, more subdued appearance on your off-roading Tacoma. These systems offer a durable yet minimalist look that maintains the vehicle's factory style and allows users to install a low-profile winch up to 12,000 lbs. in capacity. Includes welded eyelets for shackles. Made in the USA.
9. Go Rhino / CEROS Low Profile Roof Rack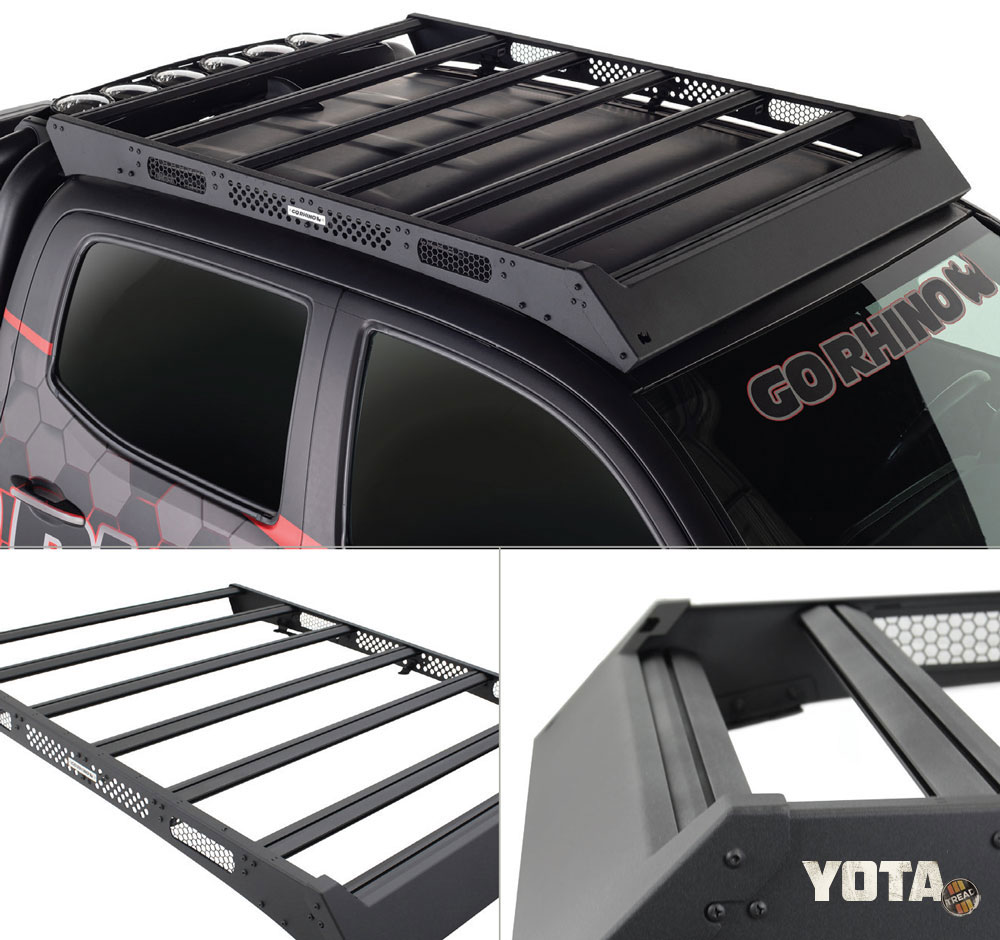 Application: 2016+Toyota Tacoma
MSRP: $624.95
URL: gorhino.com
Highlights: The aerodynamic, low profile design of the CEROS Low Profile Roof Rack brings cutting-edge style and practicality to any off-roading Tacoma. It features exclusive 4-CORE crossbars braced by an aluminum frame. Off-roading Tacoma owners can bolt any accessory to this rack with the 4-CORE extruded track system of slotted bars. It can accept any 1/4 inch-20 hex bolt or quick-release clamp, offering unlimited mounting options for accessories, gears and tools. Go Rhino designed the CEROS roof rack with integrated lighting options to mount a light bar or cube lights to give a sleek and streamlined look. They also included strategic mounting slots, to hide wiring from lights. The CEROS rack uses factory mounting holes for easy, no drill installation.
10. 4 Wheel Parts Factory / Tacoma Rear Bumper + Swingout Accessory Gate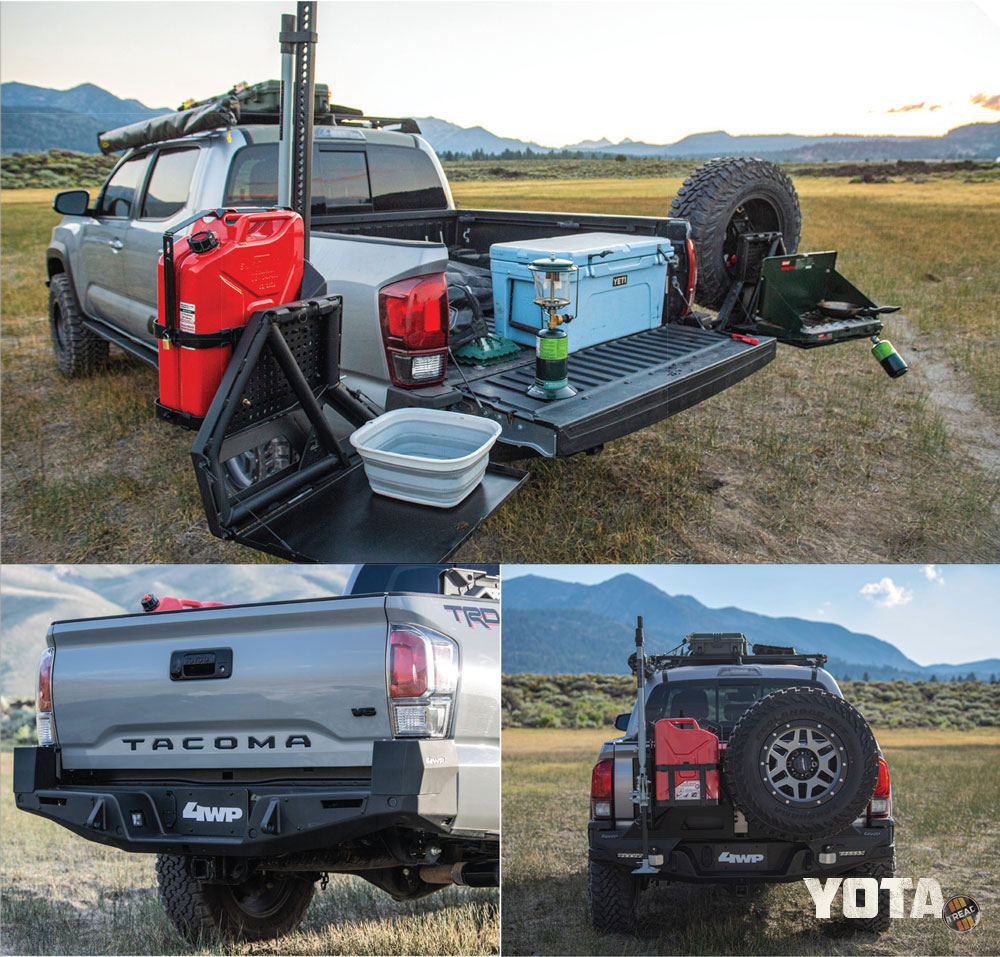 Application: 2016+ Toyota Tacoma
MSRP: Bumper $1000 / Swingout $600 ea.
URL: 4wheelparts.com
Highlights: The modular rear bumper is the optimum solution for any user who wants the looks and benefits of a steel bumper without sacrificing their OE styling or sensors. The base rear bumper provides recovery points, light mounts for 6″ single row light bars and rock lights, integrated bottle openers and storage cubby while also allowing the customer to keep their factory tow hitch, back up and blind spot sensors.
The bumper comes fully powder coated to be trail ready out of the box. For increased storage, 4 Wheel Parts Factory offers an optional upgrade to a Rear Bumper Swing Out on either the driver or passenger side. The more extreme overlander can choose to upgrade to both Swing Outs for the ultimate adventure rig setup. Each swing out comes loaded with features such as universal mounting plate for a customizable setup, drop down tables for a flat work surface, integrated bottle opener, a unique Quick-Cam latch and serviceable bearings to keep them operating smoothly.
11. 4 Wheel Parts Factory / Tacoma Sliders with Rear Kickouts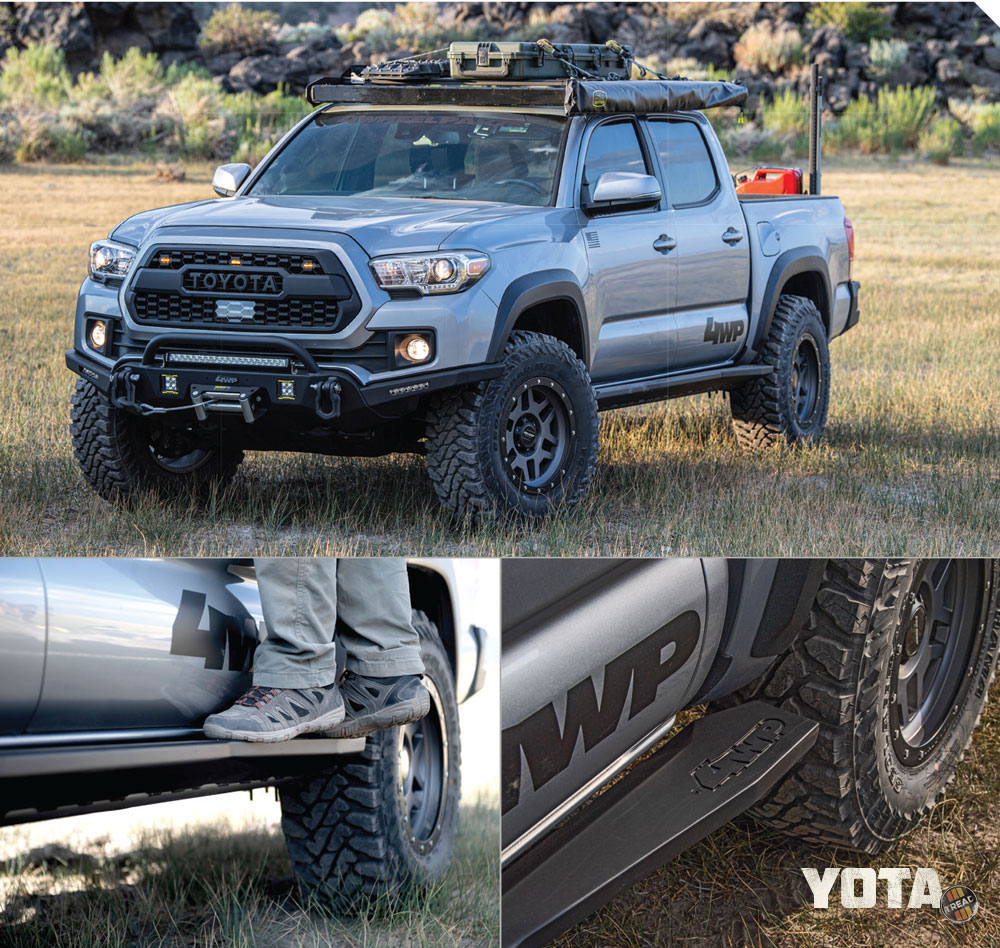 Application: 2016+ Toyota Tacoma
MSRP: $950
URL: 4wheelparts.com
Highlights: The rock sliders with kickout are the perfect side protection solution for the off-roading Tacoma owner who wants to get after it on the trail without sacrificing their OE footprint. The sliders have an integrated rear kick out to push the truck bed away from obstacles when you make contact, helping to protect your rig. Not only do the sliders provide a sleek design that flows with the OE body lines and increases protection but also provides a secure mounting position for rock lights to help navigate the trails in low light conditions. Each slider comes fully powder coated to be trail ready out of the box
12. 4 Wheel Parts Factory / Tacoma Bed Stiffeners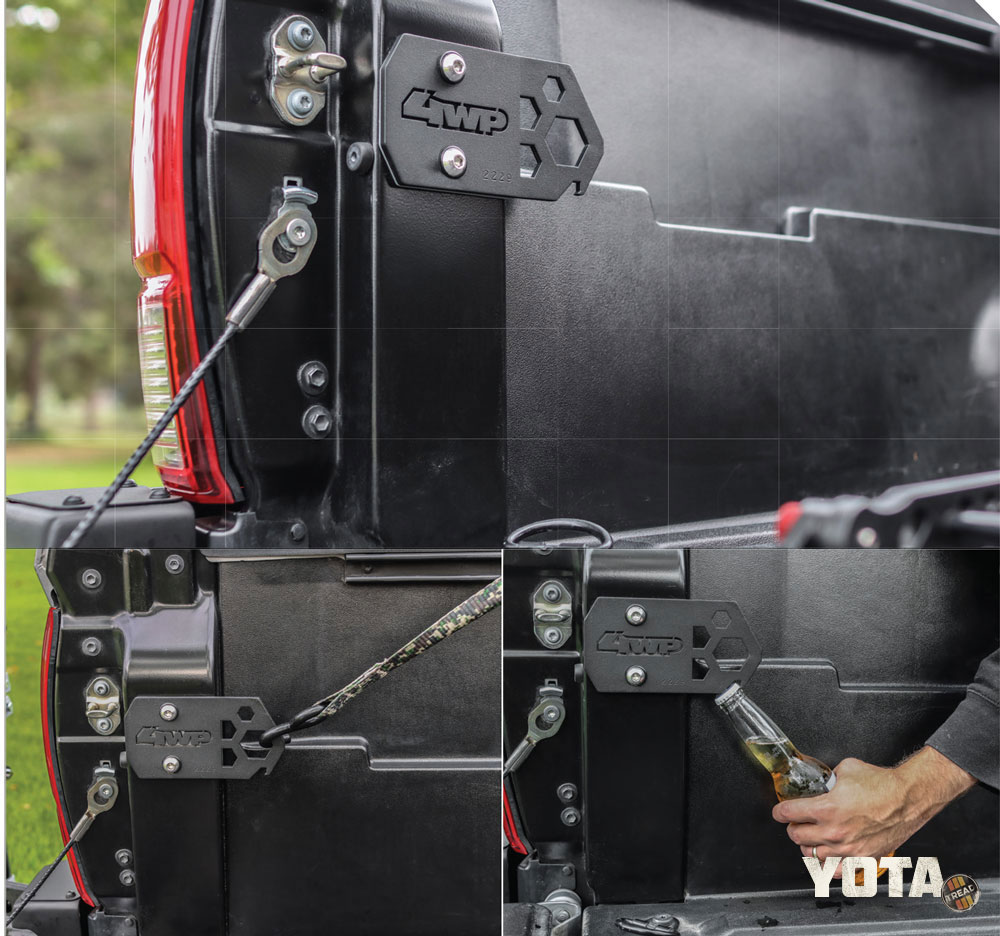 Application: 2005+ Toyota Tacoma
MSRP: $150
URL: 4wheelparts.com
Highlights: The Tacoma Bed Stiffeners are the best solution for the off-roading Tacoma owner, including those who want to use their rig to its fullest potential on and off road. The unique internal brace system allows for full use of the truck while providing additional strength, integrated bottle openers and tie down point options. The bed stiffeners also provide a customizable logo plate and come fully powder coated to be trail ready out of the box.