A GPS Plus inReach Handheld Device
If you're in the market for a handheld GPS or inReach upgrade, or want to get into the game of security when in remote surroundings, check out Garmin's GPSMAP 66i handheld unit. It's a backcountry tool that combines GPS capability with navigation, along with two-way satellite communication with worldwide coverage in a single product. Does it live up to its hotly anticipated expectation? Is it worth its $599.99 price tag? We examined the pros and cons of this unit as we took it to Iceland on a cross-country camping excursion.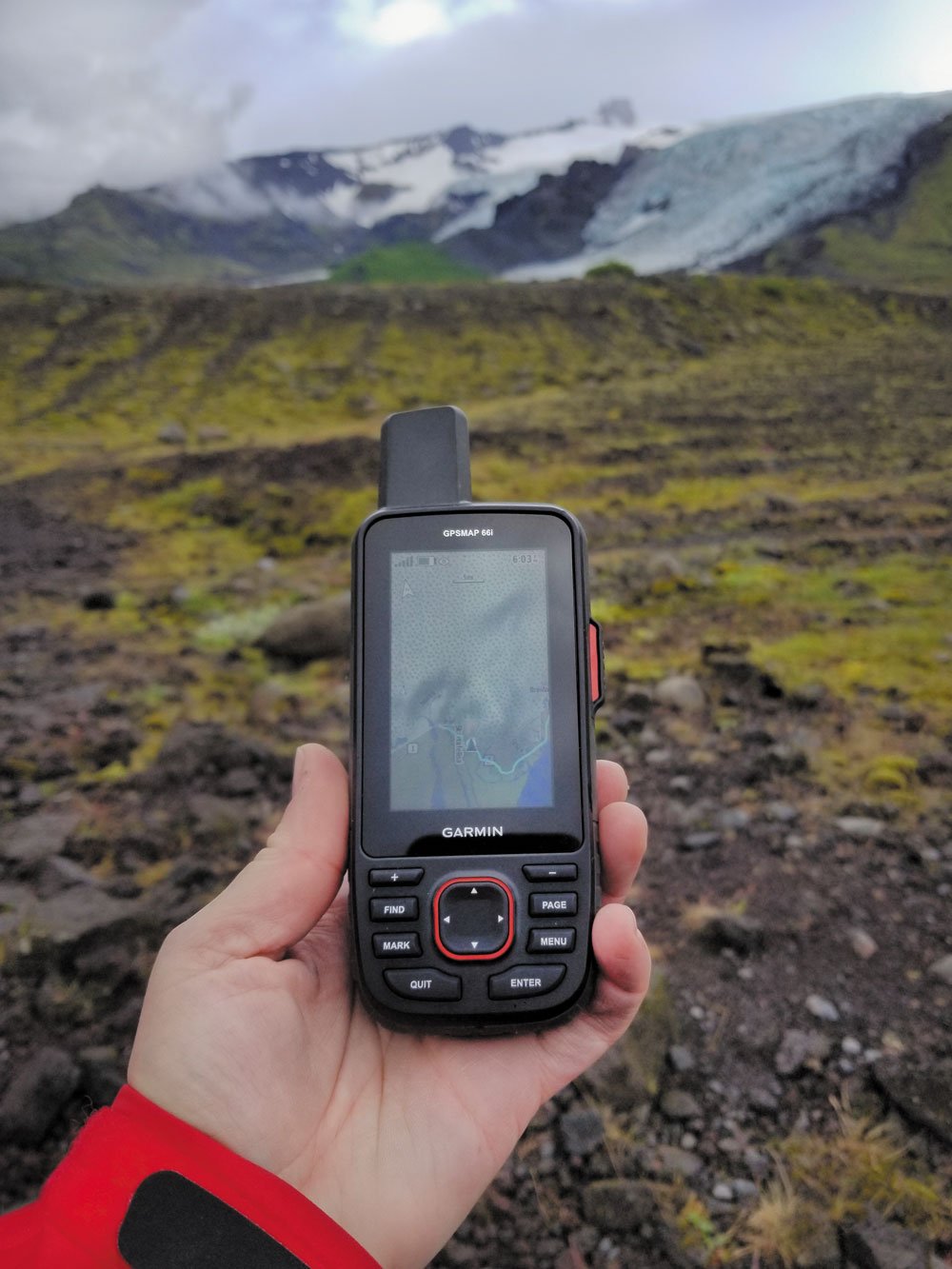 Keeps You Satellite Connected
Same as Garmin's other inReach units, the Garmin 66i operates on the Iridium satellite network. With a paid subscription, this device allows you to send and receive text messages and emails from virtually anywhere around the world. If this product has a clear line of sight to the sky, it'll connect and keep you connected. Using the Iridium satellite network, it allows users to communicate with any cell number, e-mail address or other inReach device, all while using GPS to track your adventures. The 66i also allows you to use these satellites in case of an emergency. After depressing the SOS button, an emergency response center will respond, find your location, and dispatch the nearest search and rescue to you. This is available 24/7 and is included in a paid subscription—perfect in case the unthinkable happens.
Easy to Pack
Weighing in at a mere 8.5 ounces, this handheld GPS unit is small, even though it packs a ton of features typically found in two separate units. With its physical dimensions only 6.4×2.6×1.4 inches in size, it boasts a 3-inch display that showcases 240×400 colorful pixels. While it's easily readable in most weather scenarios, its high-gloss screen made it difficult to see in full sun or high-contrast situations.
This device can be held, clipped onto something or inserted into a dedicated powered GPSMAP 66i mount. Our tester spent most of its time sitting atop our '19 Suzuki Jimny 4×4 rental or clipped to the outside of my Arc'teryx extreme duty GORE-TEX slicker.
Weather- and Shock-Resistant
The 66i has an IPX7 rating, meaning it's suitable for rain, snow or quick splashes of wetness. It's not intended for underwater activities, however. It survived the daily deluge in Iceland when we trekked atop glaciers, tramped next to dozens of waterfalls or traversed off-pavement F-roads high up in Iceland's volcanic mountains. It didn't skip a beat. The 66i also showcases a MIL-STD 810G rating for thermal and shock performance, giving it the ability to withstand applicable environmental conditions.
GPS, Map Storage
The GPSMAP 66i comes loaded with topographic maps of North America (U.S. and Canada). With 16GB of built-in memory, you have room to store additional maps. But, if you're a global trekker, the 66i also comes with a microSD card slot. Users can also download high-resolution BirdsEye imagery to the unit using its built-in Wi-Fi—no subscription needed here. The GPSMAP 66i helps you figure out trails, and can even calculate a "breadcrumb" route, allowing you to return back to a trip's origin in exactly the same manner as you went. The Garmin Explore app and website could be used to manage tracks, waypoints, routes and sync info; however, we weren't able to test this pairing to see how it worked.
Send and Receive Messages
Even though compiling messages with the GPSMAP 66i took a while, this handheld GPS device successfully sent and received messages from family while abroad. Using features like auto-suggest and auto-complete words helped speed things up. The GPSMAP 66i also offers up customizable texts, preset messages and can automatically send preloaded messages at certain intervals, if so desired. The key is to keep the unit within clear sight of the sky. My tester made an audible sound and vibrated whenever messages were sent or received. This is also customizable.
In addition, you can connect the GPSMAP 66i via Bluetooth to use Garmin's Explore app via smartphones. The Explore app can be used for several things, like viewing maps, creating routes or adding waypoints, reviewing tracks completed and linking you to MapShare.
Real-Time Tracking
Additionally, if you enable the 66i's LiveTrack feature, loved ones who want to follow along on your journey can check out the device's location on a web-based MapShare tracking portal. MapShare allows them to contact you, see where you're at and send you messages in real time. If so desired, you can even link this to social media accounts. You can alter the LiveTrack feature to lengthen your rechargeable internal lithium-ion battery (by using Expedition mode or choosing a LiveTrack interval that is more than 10 minutes). Garmin states that users can receive up to 35 hours at 10-minute tracking and up to 200 hours at 30-minute tracking (via the power saving mode). During our Icelandic adventure, I set the GPSMAP 66i to ping every 30 minutes and it easily lasted a few days without charging it.
Note: When charging this device in a vehicle, do not use a USB charge cord with any USB outlets to give your 66i juice. It may shut it off immediately and go into a "I'm connected to a computer" hard drive mode. Garmin has been notified of this issue. We're hopeful there will be a resolution to this.
Additional Features
In addition to the above features, this handheld GPS and inReach powerhouse has a lot of other abilities, including items like a compass, altimeter, flashlight, weather maps and even a waypoint manager (allowing you to create a waypoint log that you can easily and quickly navigate back to). Also on board is a Sight 'N Go feature, allowing you to point the 66i to a desired destination and project its waypoint or set a course to it. You can even register a 66i with geocaching.com in order to use it for geocaching hunting.
If you want to roll with Garmin's 66i's capabilities that include two-way messaging, SOS, weather updates and location sharing, you'll need an active subscription. Garmin offers a plethora of options to hook you up. Both month-to-month and annual plans are offered. Although the GPSMAP 66i has a steep price tag of nearly $600 and has a few bugs to still work out, this unit has tons of bells and whistles to potentially make this your one-stop-shop for handheld GPS and inReach integrated satisfaction.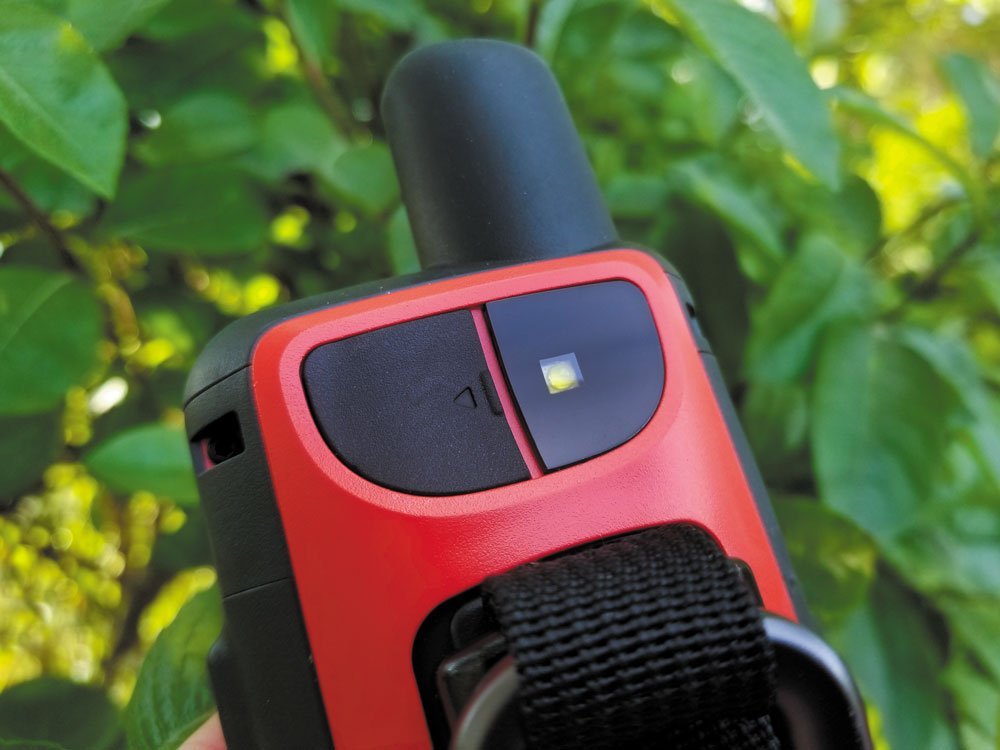 PROS

Small, lightweight, and packs a ton of features
Weather-resistant
Operates on satellite network
Send and receive messages
Provides weather updates
CONS

Pricey—$599.99 price tag
High-gloss screen difficult to see in full sun
Not for use underwater
Satellite requires paid subscription for access
Garmin GPSMAP 66i
MSRP: $599.99
Editor's Note: A version of this article first appeared in the January/February 2020 print issue of Tread Magazine.