1988 Toyota Bandeirante Comes to America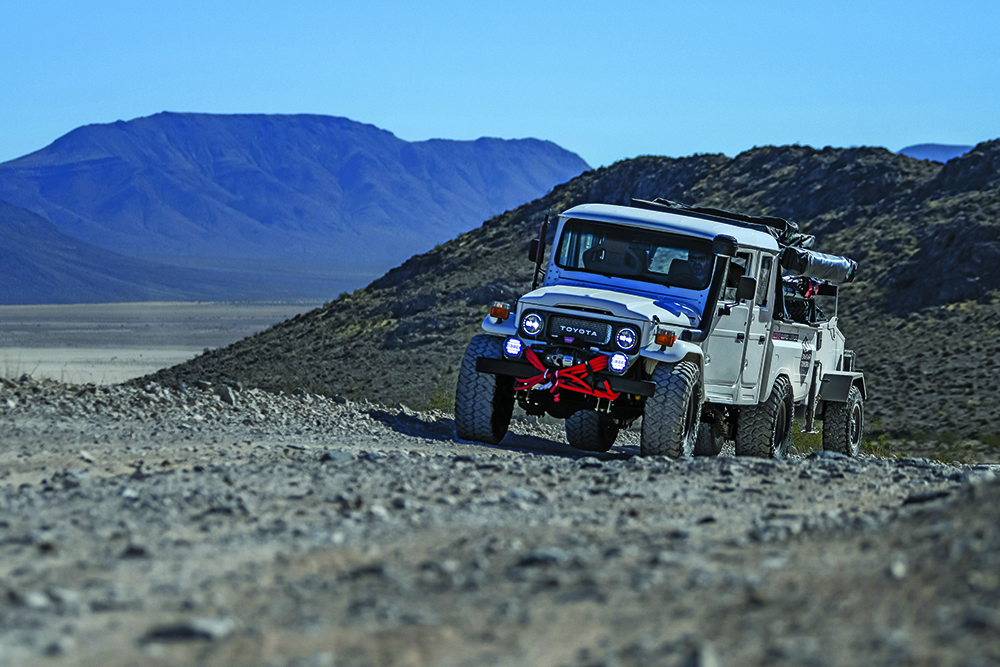 DakarTundra's Brazilian Land Cruiser makes the trek to the U.S.A.
Martin Reginato, @DakarTundra on Instagram, continually builds up cool Toyota vehicles. His latest batch included some standout imports that we rarely see on North American roads. One of his recent builds is this 1988 Toyota Bandeirante, which debuted at the Specialty Equipment Market Association (SEMA) Show 2021.
Bandeirante
First you might be asking, what in the world is a Bandeirante? Good question! It is a Toyota 40 Series truck that Toyota of Brazil manufactured in Brazil from 1968 to 2001. It only has a few stylistic differences from the Japanese built trucks. Because Brazil imposes steep taxes on imports, Toyota built in country to avoid those. The OM-314/OM-324/OM-364 direct-injection inline-4 diesel engine and the Toyota 14B inline-4 direct-injection engine power these Brazilian 40 Series Land Cruiser pickups. These trucks are affectionately known as 'Bandi.'
Reginato's 1988 Toyota Bandeirante has the classic and iconic Mercedes-Benz OM-314 diesel engine. His Bandi started life as a single-cab long bed pickup before Reginato converted it to a double-cab short bed. After he found it on a farm in Brazil, it took about 3 months for the truck to find its way to the USA. For part of that time, Reginato focused on extending and reinforcing the frame, making the truck bed like-new and adding the 4-door cab. The 1988 truck falls under the 25-year import rule, making it newly legal to own and drive on U.S. roads.
Eventful First Road-Trip
The truck came in through the port of Houston, Texas. Reginato then road-tripped the truck back to his home in Salt Lake City, Utah, from the importer's shop in Oklahoma. The real adventure had begun.
He hit the road in October 2019 in a truck that had no heater or AC, no windshield wipers, brakes that barely worked, and old, stiff recap skinny tires. Reginato says that it was "like a bouncy house in there," and going through the snow and mountains got so cold that he had to wrap himself in blankets.
Somewhere in the middle-of-nowhere New Mexico, the front driveshaft exploded, which slashed all the diesel lines. Luckily a highway patrol car was nice enough to drive him to and from a parts store, so he could patch the truck back together and get it rolling under its own power again.
Sadly, that didn't last long though, as the engine died soon after. Reginato then rented a Uhaul to tow the injured 1998 Toyota Bandeirante the rest of the way back to his home garage.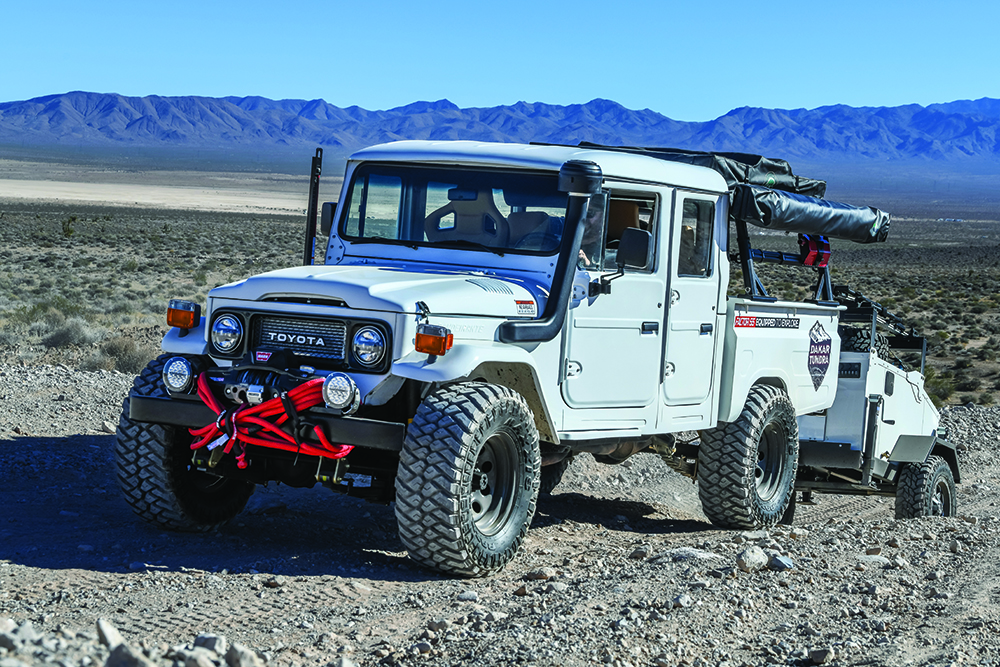 Bandi Build
The Bandi then languished in the shop for nearly two years. It needed a complete engine rebuild, and unique parts from Brazil were extremely hard to come by, especially during the COVID pandemic. During the rebuild, Reginato upgraded the small Mercedes-Benz diesel engine with a turbo and intercooler from Sierra Diesel, making it much more powerful—and usable on U.S. roads.
The truck rolled out of the shop with a newly revived engine and a renewed lease on life. During the process, Reginato cleaned up the truck and upgraded it with a full electrical overhaul, custom made driveshafts, all new upgraded brakes and a full Old Man Emu suspension with a 6-inch custom lift. Big super wide Maxxis RAZR MT tires, size 35×13.5×17, look rugged and give the Bandi a widened, more stable stance.
The 1998 Toyota Bandeirante utilizes new Vintage Air AC/Heater system that was designed for the FJ40. You'd think it would mount right up, but instead it took forever to figure out and required fabrication of custom brackets.
Looking Good
Stage two of the build was adding a full quiver of off-road and overland parts. Up front the Bandi got a Warn Zeon 10S winch with Factor55 UltraHook. It also got two 5-inch Hard Korr LED off-road driving lights, a snorkel with Sy-Klone precleaner, and a Hi-Lift jack. Reginato also swapped out the signature Bandi square headlights for a more traditional FJ40 round design, but with modern LED functionality.
Out back, the truck got an OVS bed rack that supports an OVS Nomadic extended white roof-top tent and a 270-degree awning. Also on the rack are two sets of Maxtrax Xtreme traction boards and a Deadman Offroad recovery system.
Finishing Touches
The final stage of the build before SEMA was to dial in the interior. Reginato upgraded and re-covered the front seats and completely rebuilt the rear seats. JC Covers in Lindon, Utah, handled all the interior work, which also included a custom leather dash, Bluetooth audio system, fresh carpet and a new headliner.
The SEMA crunch was real, and Reginato ran out of time to get the truck repainted to the quality and color (sand) he wanted, but the truck did get some last-second touch-up paintwork done.
The final piece of this Bandi double-cab SEMA build was a Hinckley Goat off-road trailer. This super small, light, and nimble trailer has full on-board power, water, and fridge systems.
2021 Bandi Double-Cab Build
Reginato built this truck to turn heads at SEMA and around town. He wanted it to be an everyday driver, hence the addition of the engine power and cooling upgrades, heat/AC and Bluetooth audio system.
He also went for a relatively low and big tire look, hence the fitting of the big aggressive mud-terrain tires that fill the wheel wells. For more aggressive off-road action, the 1988 Toyota Bandeirante would need smaller and narrower tires. A bigger lift could also give the truck the necessary space for full articulation of the suspension.
These days, you'll find this Bandi double-cab diesel pickup roaming around Boise, Idaho. It's still on the road as it moved on to a new caretaker after SEMA Show 2021.
It Takes A Team
A build like this takes a team of specialists to pull off, and Reginato has built up a great team. He wanted to send a special thanks to Juan at Sierra Diesel. According to Reginato, he did more than expected on the build, even while going through hard times himself. HeReginato also credits Juan Carlos from JC Auto Covers for all the interior work. Jeremy at Auto Solutions provided the electrical, and the Gamboni Auto Body team helped last minute with paint touchups.
Photo Gallery
1988 Toyota Bandeirante
Engine: Mercedes-Benz OM-314 diesel engine with Sierra Diesel Turbo and Intercooler
Wheels & Tires: ProComp 97 Series Rock Crawler Wheels; Maxxis RAZR MT tires 35×13.5×17
Inside Accessories: Vintage Air Heater/AC, Hermosa Radio/Bluetooth Vintage Audio, Aftermarket Front Seats, Custom Leather Dash Covering, Pedal Covers
Outside Accessories: OME Shocks w/Custom Lift, LED Headlights, 5" Hard Korr Driving Lights, Warn Zeon 10S Winch w/ Factor55 UltraHook, Factor55 Recovery Rope, Snorkel w/SyKlone Precleaner, Hi-Lift Jack, Overland Vehicle Systems Freedom Series Truck Rack w/ Overland Vehicle Systems 270 Awning, Overland Vehicle Systems Nomadic RTT, Maxtrax Xtreme, Deadman OffRoad The Deadman, DMOS Shovel
Trailer: Hinkley Goat w/Full Power, Water and Fridge Systems