EV Off-Roading: News, Updates and More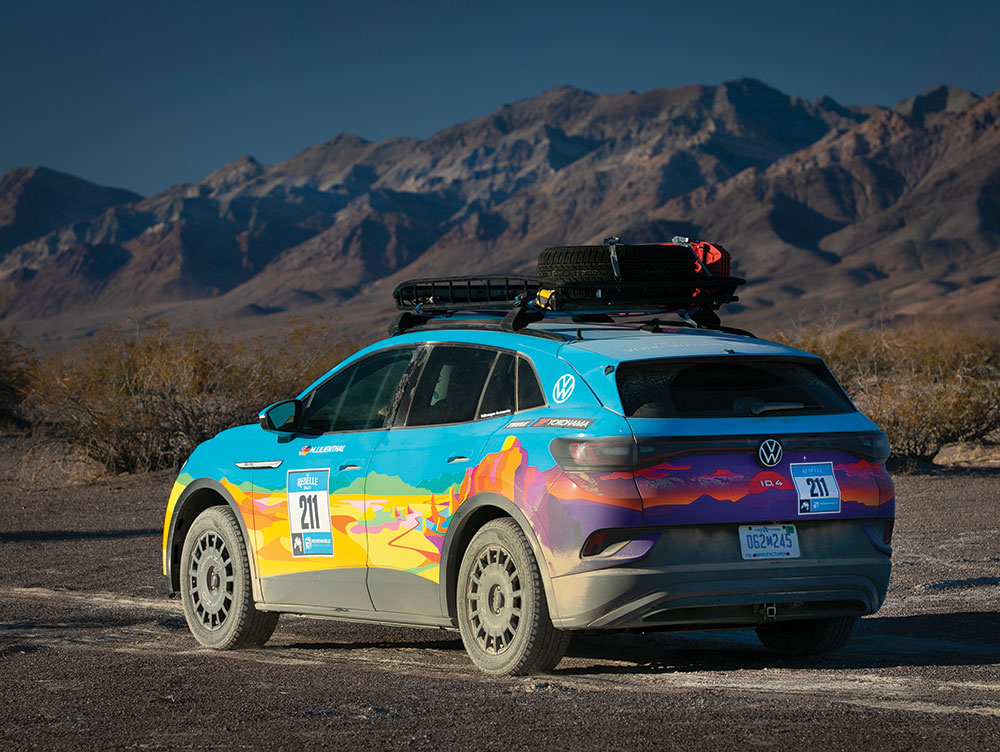 EV off-roading and all-electric vehicles as they stand today, including a nod to their past
We're seeing change: electric vehicles, or EVs, are starting to become prolific in the marketplace. Electric AWD and 4×4 adventure rigs are starting to make appearances on the trail. Even though we consider ourselves early adopters of high-voltage vehicles, EV ownership dates back nearly 200 years ago. Let's take a look at EV off-roading and all-electrics: their past, their current state and what's to come.
EV History Highlights
Some think EVs have only been around for the last few decades or even the last few years. Wrong. The first crude electric vehicle was developed around 1832 by Scottish inventor Robert Anderson. It wasn't until 40 years later that all-electric cars started becoming practical, though.
According to the United States Department of Energy, in 1890 another Scot, chemist William Morrison (who lived in Des Moines, Iowa) created the first U.S.-made electrified entity. It really wasn't much more than a self-powered wagon. However, his electrified carriage was a catalyst for many more inventions, including those from Thomas Edison and Ferdinand Porsche.
However, factors like high costs, low top speeds and a short battery life killed the earliest EVs on the market. Along with the petrol-powered Model T and cheap Texas crude oil, gas vehicles capitalized on the market, and squelched wattage warriors.
It wasn't until the 1960s and 1970s that a resurgence of tarmac-trouncing all-electrics took place. Gasoline prices soared. The tug of war between ICE, internal combustion engines, and battery-powered people haulers regained momentum. From 1996 to 1999, General Motors produced the EV1, an on-road EV that quickly gained a cult following. But, the world wasn't ready for it. In fact, the 2006 documentary film, Who Killed The Electric Car? was made about the EV1's rise and demise.
21st Century Vehicles
Not long afterward, however, newcomer Tesla started to capitalize on the on-road EV segment. Established auto manufacturers took note, fast-tracking their electric endeavors for on-pavement focus and some for off-road potential.
All-electrics like the Nissan Leaf and Chevy Volt charged onto the scene in the early 2010s. Many more startups and major auto manufacturers followed suit. Now, automakers are finally manufacturing a swath of EVs for non-petrol patrons, several featuring AWD and 4WD capability.
As EVs become more and more popular on the pavement, manufacturers are beginning to design for EV off-roading as well.
Current EV Happenings
In addition to road-trip considerations, automakers are focusing more on remote adventuring. They're constantly figuring out ways to sustain life away from public charges and at-home go-go juice.
Manufacturers are designing street-minded EVs for around-town duties, but AWD variants could be considered for light-duty off-pavement use. A few modified all-wheel-drives, like the all-electric Volkswagen ID.4, recently proved its chops in major off-road competitions. Upcoming EVs include the Kia EV6, Hyundai Ioniq 5, Nissan Ariya, and even newcomer Canoo's proposed lineup. These could potentially be customized and bring all-electric alternatives to all-wheel-drive adventurers.
Start-up Fisker even announced the AWD Force-E, an off-road version of its upcoming Ocean SUV. It features niceties like an upgraded lifted suspension and added lower bumper lights and roof rack lights. There's also a full-size spare recessed in its hood with a large water tank below it. The off-road-ready 550 hp Force-E is poised to please the torque-loving crowd. With standard Ocean AWD trim levels ranging from 340 to 350 miles of range, the Force-E could be similarly equipped.
Remote charging is demanding and costly, but is very rewarding because it's scalable power independence.
On the other hand, the upcoming crop of all-electric 4x4s offer more substance for challenging EV off-roading opportunities. For instance, the truck market recently announced several EV pickups. From the electrified Chevrolet Silverado and the GMC Hummer EV pickup, to the Ford F-150 Lightning and the Rivian R1T, the EV pickup truck selection is ever-growing. Other automakers, like Land Rover, Porsche and even Mercedes-Benz with its 2023 EQG-Class will offer high-tech EV 4x4s, upping the competition.
Rivian Readiness
Some manufacturers have already tested stock or modified all-electrics in a variety of off-road competitions. From the Mexican 1000 to the Rebelle Rally, Rivian and Volkswagen of America are putting their vehicles through the paces at EV off-roading events to understand how they operate in less-than-ideal off-pavement conditions.
"Rivian has made adventure and sustainability core elements of their mission in creating the R1T and R1S," said Rebecca Donaghe, a veteran Rebelle Rally navigator and teammate of seasoned off-road driver Emme Hall. Donaghe and Hall teamed up with Rivian for the 2020 and 2021 Rebelle Rally. During the all-women's traditional navigation competition, they drove a pre-production all-electric Rivian R1T truck through 1,500 miles of desert and sand dunes.
"The Rebelle was the perfect adventure-focused endurance event to pit the R1T against the most capable 4×4 vehicles on the market," Donaghe said.
Unplugging for the Rebelle Rally
In 2020, they tested the first-ever R1T prototype. However, 2021 showcased an optimized, production-ready vehicle. Donaghe and Hall were so confident with its range the second year of testing, they brought an ARB fridge for drinks and ran the AC or heat whenever they chose.
"It felt luxurious to not have range anxiety make any of our tough decisions on course," Donaghe stated.
"After we did all the math, we only really 'needed' to charge on two days," Hall explained, "but when someone brings a multi-million dollar portable charging station to you in the desert, you take advantage."
Donaghe and Hall kept track of their range using a percentage system where ideally 1% equaled approximately 1.5 miles. In the Glamis sand dunes, they were getting 1.1 miles per 1% but other terrain types allowed 3 miles or more per 1%.
After the competition ended, they converted the math back to miles per full charge—they averaged 227.6 miles of range. Rivian expected a 10% to 15% range decrease with 20-inch wheels. This would have equaling 266 to 283 miles per charge in ideal conditions.
"Losing just 14% to 20% of that while off-roading, including a punishing day in the sand dunes," Hall exclaimed, "is seriously impressive."
An Idyllic ID.4
With the rear-wheel-drive Volkswagen ID.4 EV successfully completing the NORRA 1000 with rally expert Tanner Foust, the all-wheel-drive ID.4 derivative ran the Rebelle Rally.
Released only three weeks before the rally, my teammate Emily Winslow and I partnered with Volkswagen of America to showcase the customized crossover. Being new to EV off-roading, we focused on range in addition to terrain.
The truck was armed with up to 249 miles of range, along with 295 hp and 339 lb.-ft. of torque. I smoothly and successfully drove the ID.4 to the finish line. We learned the all-wheel-drive ID.4's range started at around one mile of range (or less) per one mile driven. As we drove, we discovered that the range extended to more than four miles used per one mile driven.
With a smooth-and-steady attitude, we successfully completed the rally with zero mechanical or battery issues. We didn't run out of range. And, we secured our place in history as the first-ever all-electric crossover to finish the event.
Renewable Innovations
President and CEO of EV-charge-company Renewable Innovations, Bob Mount, said EVs can be charged in the field. RI is innovating large ICE-based generators or sustainable solutions like wind and hydrogen, or solar (which has limited power). Even with several ways to charge, challenges still exist for EV off-roading.
Mount stated that access to sufficient grid power includes lack of availability, cost, infrastructure, and timing. Small-scale charge operations are currently in use, but not large-scale sufficient for rapid EV charging. Additionally, Mount said charging in remote areas is demanding and costly. On the other hand, it is also very rewarding because it's scalable power independence.
RI supplied power to the Rebelle Rally's all-electric and plug-in hybrid vehicles via its mobile semi-trailer MEC-H2EV unit. The MEC-H2EV can operate with a large diesel generator if required. However, it normally runs on hydrogen power, a renewable energy supply with no carbon footprint. RI's trailer-mounted MEC-Solar charger showcased "follow-the-sun" solar flowers which powered basecamp.
RI's other EV chargers, the MPG and stationary Green EV Rapid Chargers, are a hydrogen-supported towable power supply . Aside from the rally, these can offer EVs fast-charge times far exceeding current availabilities. They're averaging around 20 minutes, versus a standard 45 minutes to multiple hours. Stationary units boast no infrastructure or installation costs.
Off-Grid Charging
Various-sized portable EV off-roading chargers are gaining ground. In addition to Renewable Innovations, other companies are creating portable charging solutions. Los Angeles-based EV Safe Charge rents mobile EV charge stations. The chargers get power through existing power sources at each site, solar panels, or self-contained generating systems. EV Safe Charge offsets their carbon footprint by planting trees. The company strives to leave a minimal footprint, especially in an industry that often requires fossil-fueled generators.
SparkCharge also offers various mobile charging solutions. Its services include the Roadie system with its ChargeUp program, an on-demand mobile charge delivery service that fast-charges electrified vehicles. These chargers are accessible all over, in places like apartment complexes or grocery stores. They offer Level 3 charge opportunities at comparative prices to static EV charge stations. Currently in Los Angeles, San Francisco and Dallas, more cities will follow as SparkCharge and its ChargeUp program grows.
Even though portable power is becoming available, it's mostly catering on-road use. However, automakers are expanding off-road-capable adventure machines. We bet charge opportunities will grow for remote travels with EV off-roading in mind.
From the Manufacturer's Perspective
"Petroleum generators are the easiest means for supplying power in remote areas," stated Christopher Michelbacher, Manager of EV Charging and Infrastructure, Audi of America.
"The technology has proven robust in harsh climates, compact in size, easy to refuel, and serviceability is high and well understood. However, petroleum generators are far from ideal from a sustainability perspective." Michelbacher said one needs to seek newer and often more expensive technologies support renewable remote refueling one. For example, hydrogen fuel cells or large battery banks could be the answer to this sustainability problem for EV off-roading.
"The extreme heat of summer in Arizona to mountain passes in Colorado and the subzero temperatures of a Minnesota winter all pose challenges to EVs," Michelbacher added.
"Hot and cold climates see greater energy consumption in order to keep vehicle occupants comfortable and battery temperatures within operation tolerances," he said. Additionally, topographic terrain can strain EV range, particularly if traction limits the energy recuperation from regenerative braking.
What's Next for EV Off-Roading
Once we set the charging and range game aside, EVs can be ideal adventure vehicles. All-electrics have been showen to have low-end torque and a near-instant and linear throttle response. Combine that with individual wheel articulation via sophisticated traction control and torque vectoring, and you've got a vehicle that's better equipped in stock form than many purpose-built rigs. As adventure EVs evolve and EV off-roading becomes popular, EV technology and its charging infrastructure will continue to catch up—supporting adventurers near and far.
---