AWDROLA: Changing the Off Road Race Game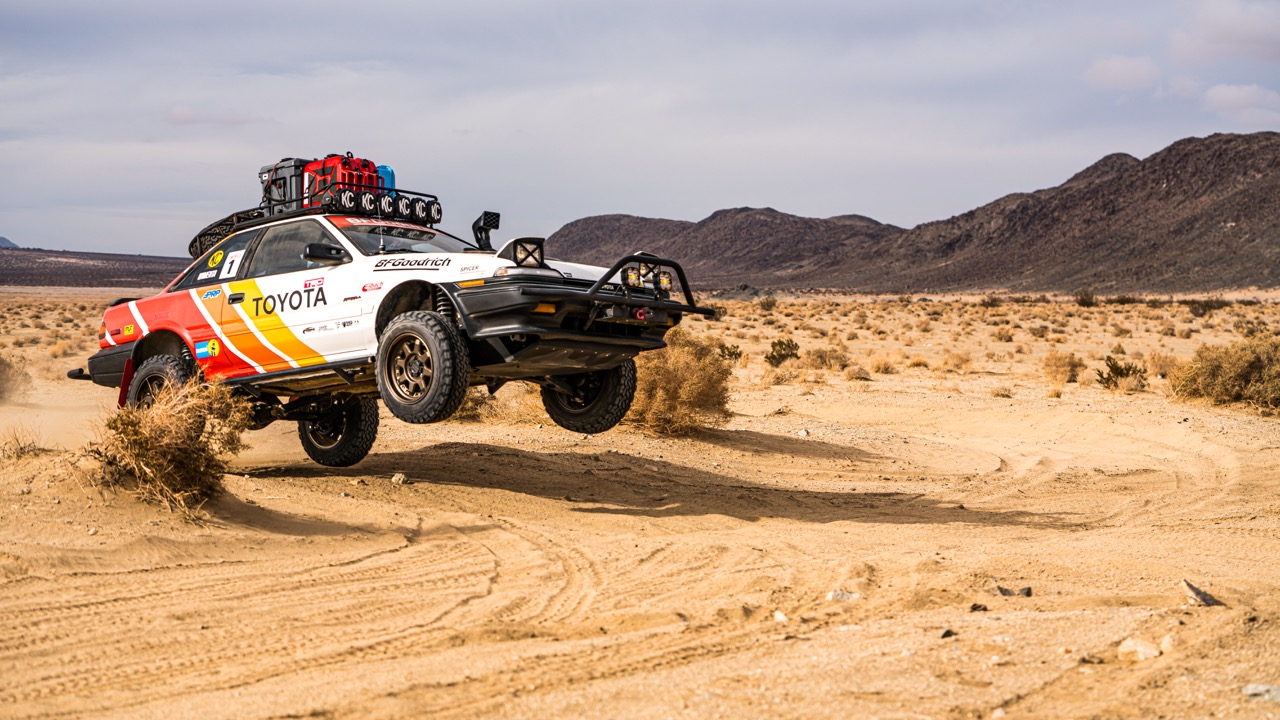 You already know this isn't just any old Corolla.
You may have heard of the AWDROLA (pronounced "Odd-Rolla"). If you haven't, here's a quick version of the story: a rendering of a Corolla AE86 by @stevo.form that circulated around Instagram came across KC HiLiTES Marketing Activation Manager Randy Wimenta's feed way back in 2020, and, long story short, a couple of years and a ton of elbow grease later, we have the AWDROLA.
The rig we see rolling out in the desert today is a true Frankenstein, with the body of a Corolla, the 4AFE transaxle and transfer case of a 1989 All-Trac wagon, and the suspension of a 1999 Rav4. Down to its individual components, this vehicle is unique, from a 4AGE engine cranking out 120hp to its fully custom roll cage.
SAFARI TEAM
Randy's 1989 Toyota Corolla GT-S was his daily driver back in 2020, but he immediately saw potential to turn it into something that looks a whole heck of a lot like this Ivan Stewart-inspired B-Class Safari rig rendering. But first, he needed a team.
First came the AWD conversion, a full swap with a 1989 Toyota Corolla All-Trac, set up by Randy's cousin Will Wimenta and executed with the help of Alberto Rivera of KC. Overall direction of the suspension and roll cage install was provided by Jon Rood. (Stay tuned in the future for more about his Safari build, a 1984 Celica.) Suspension and roll cage fabrication was done by Trophy Truck trainer and builder, Chuck Dempsey.
From there began the first of three phases of the AWDROLA (so far):
Phase 1: AWDROLA "GR"
What's "GR," you ask? Gambler Ready, of course. To get the AWDROLA to this point, Randy and the team put in a ton of work. Taking the AWDROLA to the Gambler 500 HooptieX off-road run was just the first of many steps in Phase 1. Along with Dempsey's assist, Randy worked with Bilstein and Eibach to add dual rated springs and coilovers, which pair with the Rav4-donated suspension to give the AWDROLA 7-8 inches of travel in the front and 11-12 in the back.
The Phase 1 AWDROLA had a lot of kinks to work out. However, that meant supply chain delays gave the team plenty of time to put their heads together on the rig's mechanics, tuning up for her first foray into off-road racing.
After a serious squeeze, wrenching and welding right up until the last minute, the AWDROLA hit the dirt. For the first lap, she was looking good, conquering the shakedown run with confidence. Randy's open-minded, can-do attitude propelled them along… but the team could only go so far. Unfortunately, the AWDROLA was just about beat after the first lap.
Other drivers might have been let down, but Randy decided that it was no sweat. They just had to keep working. That brings us to Phase 2…
Phase 2: AWDROLA 'Round the World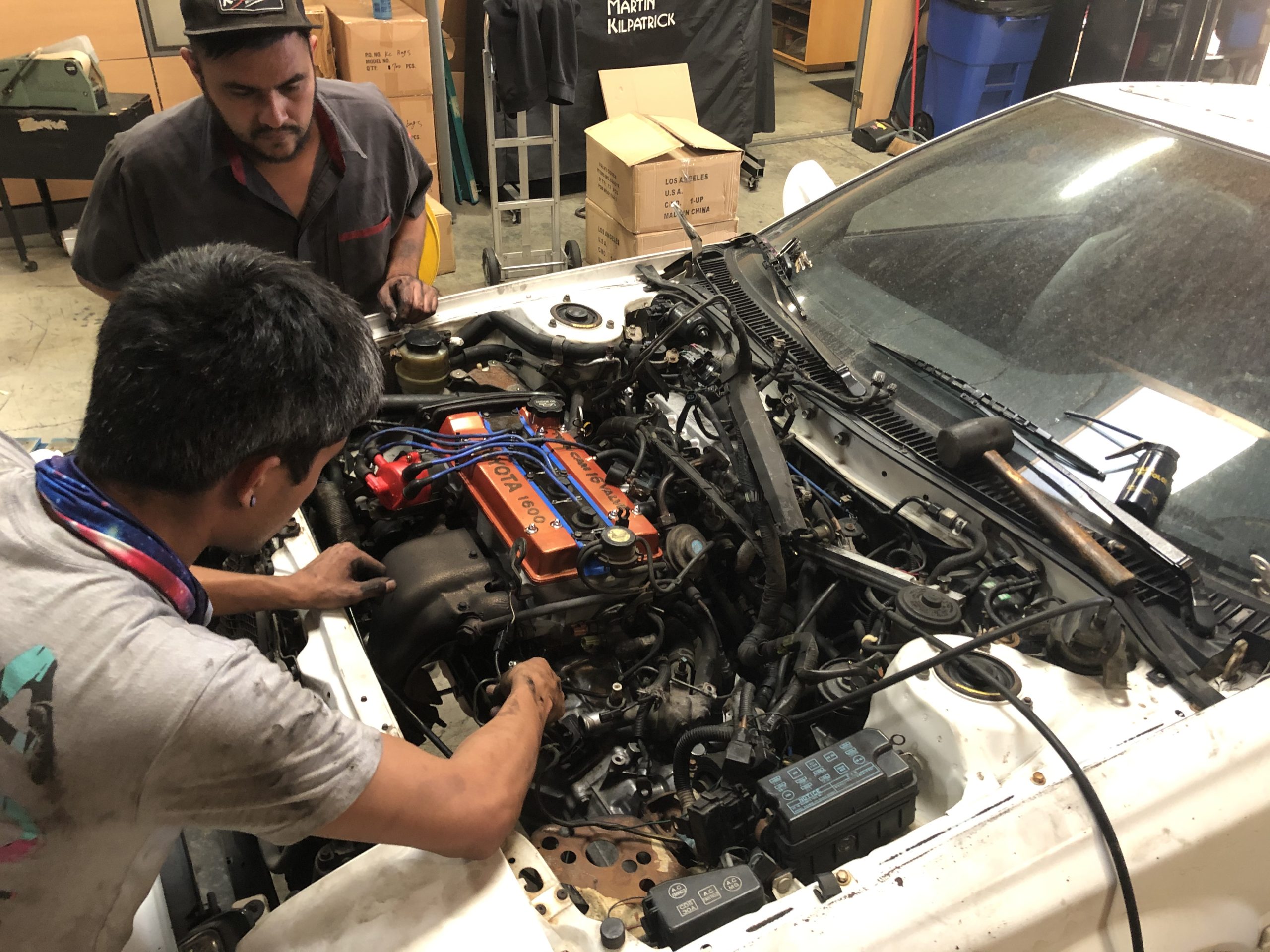 …or around west-coast off-road events. Equally cool, in our opinion. After the Gambler, Randy and the AWDROLA headed to Off-Road Expo. That's where the build really started to look like that rendering – and the AWDROLA we know today.
With a short timeline and a lot of work to do, Randy knuckled down. First, the suspension needed adjusting, then he spent time tinkering with the look and feel of the build. As awesome as the exterior looks of the build are, we know that's just the tip of the iceberg. Hours went into getting the body panels perfect for Off-Road Expo.
We don't need to tell you that the build made waves at Off-Road Expo. '80s rally inspired and Hooptie-tested, the little Corolla stands out among other off-road rigs.
From there, the next step was SEMA Show. Partnering with BASF, a chemical coating company, Randy headed out to display the ADWROLA at their booth. "From SEMA," he tells us, "it just blew up." Taking inspo from "the OGs of the safari rally build" turned out to be a recipe for success. With greater social media following and brand partnerships, the AWDROLA has jumped leaps and bounds.
That can only mean one thing: it was time for phase 3.
Phase 3: AWDROLA 2023  

Talk about a lot of change. The AWDROLA that's rolling in the desert today looks a whole lot different from its Off-Road Expo iteration. It's bulking up, showing out, and covering some serious ground. Armed with a completely rebuilt suspension thanks to Eibach and Bilstein parts as well as custom front and rear bumpers and roll cage, this old roller has turned into an off-road machine.
Recent adds to the build include what Randy calls his "007 cameras," a James Bond-style setup by Stinger Offroad that provides him a full view of the drivetrain. It's a smart move, informed by his experience driving off road. He knows what's most likely to break, and knows he's going to want to have eyes on it when it does. Stinger Offroad also provided batteries that will keep Randy powered up once he starts taking the AWDROLA on longer trips.
Today, the interior of the vehicle is loaded with safety and communication features. A set of custom PRP seats with harnesses keep Randy secure no matter where his next adventure will be. In addition, Rugged Radios comms provide them with both GMRS and race communications.
He's also working with Magnaflow to get the build "closer to street legal," by adding in a full front to back cat-back exhaust as well as their Universal X Mod muffler.
Randy's partnership with KC HiLiTES has the AWDROLA lit. It's rocking all the latest innovations in vehicle-mounted lighting, including the Gravity Pro Pro6 Light Bar, FLEX ERA 4 Combo Light System, Clear Cyclone Universal Rock Light Kit, Amber Cyclone Chase light, and Diffused Cyclone Dome Light.
The AWDROLA sits on 947B Scout Raceline Wheels with plenty of grip provided by BFGoodrich KO2 tires.
Everything about the exterior of the AWDROLA is custom. Randy installed the front and rear bumpers, Dempsey Fabrication designed the roll cage and subframe as well as custom roof rack and tire, and Imagination Works and Fast Friends created the custom decals that invoke '80s inspiration.

LOOKING TO THE FUTURE
There's more to come from a recent trip to Joshua Tree, where Randy and the AWDROLA were accompanied by two of the most top-notch safari builders out there, Jon Rood and Natasha Adams. (Hint: you'll see more photos of them in YOTA soon.) Testing out the build on real tracks and mock runs has been a necessity as Randy prepares to enter it in races in the coming year.
On this most recent trip to the desert, it was Randy's main goal to see how the AWDROLA stacked up against other Safari rigs. After all that work, it was critical to test beforehand. (Better to have things break when you can fix them and stop them from breaking again, right?) He also wanted to see how Jon and Natasha's cars went through the whoops, checking out the suspension differences and more.
So what's next for Randy and the AWDROLA? He's working through a testing phase right now, but we're sure to hear mores stories from him soon. On deck are both the NORRA Safari Class and the Mint 400 Gambler-HooptieX Class.
After that, he's planning a shift to endurance trails (as if taking names in the off-road race world wasn't enough). A Mojave road trip sounds pretty good to us… and the AWDROLA certainly looks good in the desert.
Be sure to follow Randy Wimenta's AWDROLA adventures on Instagram @adventurejones_rigs and stay tuned for the whole story in the upcoming issue of YOTA, available on newsstands and online on May 9th, 2023.
AWDROLA UPGRADES
Platform:
1989 Toyota Corolla GT-S
Engine:
Rebuilt 4AGE Engine with 4AFE bottom housing; Custom Clutch and Flywheel from F/S Clutch
Suspension:
Eibach Dual-Spring Setup: Front and Rear
Shocks:
(Front) Custom Streetwise/Bilstein Strut System; (Rear) Bilstein 8125 Coilovers with Reservoir
Wheels & Tires:
Raceline Wheels 947B Scout 16X8, 5X114.3; BFGoodrich Tires KO2 LT215/65R/16; SpeedStrap Tire Bonnet
Interior Accessories:
Full Intercom System by Rugged Radios; Stinger Off-Road Display Unit and Speakers; Custom PRP Seats / Harness; Custom Center Console
Exterior Accessories:
Custom Front and Rear Bumper; Custom Roll Cage and Sub-Frame by Dempsey Fabrication; Custom Roof Rack & Tire Carrier by Dempsey Fabrication; Custom Decals from Imagination Works and Fast Friends; Axon 55-S Powersport Winch; Factor 55 Hawse Fairlead and Flatlink; Deadman Off-road Recovery Anchor; KCHiLiTES Gravity Pro Pro6 Light Bar, Flex Era 4 Combo 2 Light System, Clear Cyclone Universal Rock Light Kit, Amber Cyclone Chase Light, Diffused Cyclone Dome Light
Additional Modifications:
Front Transaxle and Transfer Case from All-Trac Wagon; Rear Axle from All-Trac Wagon; Custom Front CV Axles by Dana-Spicer Parts; Custom 4-Link to Rear Axle by Barnes4WD; Stringer Off-Road Red Top Battery and Fuses; Auxbeam Switch Controls