'87 4Runner Finds Racing Inspiration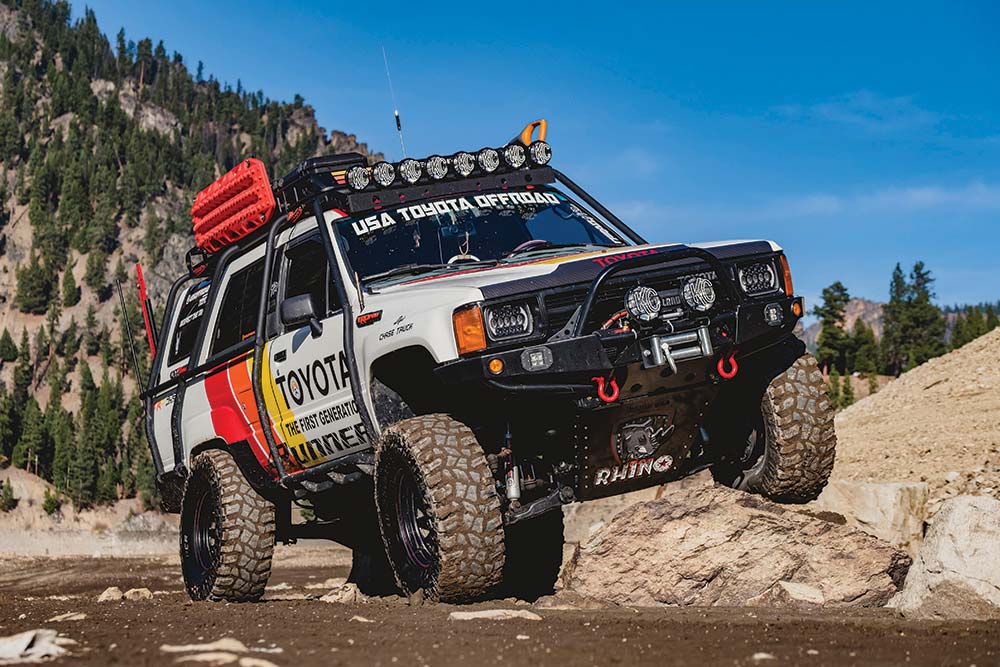 '87 Toyota 4Runner Goes from Stock to Serious Overlander
The Toyota 4Runner definitely has a soft spot in off-road enthusiasts' hearts; it all started with the first generation back in the mid-80s up to the current fifth generation, which has been on sale for over the last two decades. For Wayne Weidow, the inspiration for his '87 Toyota 4Runner started with another Toyota pickup of off-road royalty and grew into this pretty capable overland rig.
'I like the simplicity of the 1st gen Runners. Easy to work on and incredibly fun and pleasing to customize and personalize,' says Weidow.
The Inspiration
Weidow grew up drooling over the Toyota pickups of the 80s, particularly watching Ivan "Ironman" Stewart thrash around Baja in his iconic rig. After watching Stewart thrash yellow, orange, and red-striped race trucks for a decade, in 1988 he graduated high school and purchased a 1985 Toyota Pickup to thrash on his own. It was his first-ever vehicle purchase and for over 30 years it was his daily driver—until last year when Weidow gifted it to his son.
"[I] did a lot of off roading, camping, and hunting in that rig. I spent my life as a kid outside and in the mountains. I love the outdoors and traveling and seeing new country not accessible by the average vehicle." Weidow said, "I love the challenge of navigating trails and building a rig with features and modifications that make the rig better and better."
He took his "Ironman" pickup inspiration and channeled it into one of the most eye-catching and capable first generation 4Runners you will find in the wild.
The 1st Gen 4Runner
Weidow purchased the '87 Toyota 4Runner SR5 locally in Montana about 3 years ago. It was completely stock before he began throwing modifications at it. When Weidow started building the rig to his liking, the goal was to turn it into a serious overlander to get into the places you cannot get your typical family vehicle into.
"I like the simplicity of the first gen Runners. Easy to work on and incredibly fun and pleasing to customize and personalize," says Weidow.
The Signature Look
The first modification of the '87 4Runner was actually the paint. He rattle canned the white base color on the rig then Farrside Sign added the stripes and the retro text to give it homage to that look that inspired his love of off-road vehicles in the first place. Keen-eyed fans and owners of current generation TRD offerings might spy some TRD Pro and TRD Off-Road badges tastefully sprinkled about. Weidow says, "The paint scheme was Ivan 'Ironman' Stewart-inspired, as well as the overall theme of the rig."
Besides the livery and look of the rig, one of the more noteworthy modifications to this '87 4Runner is the custom exoskeleton armor. Basically an exterior roll cage for the 4Runner, it ties in very nicely with the Addicted Offroad Bumper and the 4x4Labs dual swingout rear bumper.
Speaking of that rear bumper, of all the modifications thrown at this 4Runner, Weidow told Tread his favorite has to be the 4x4Labs dual swingout rear bumper. He has his spare tire, spare tire bag, two jerry cans, and his jack all attached to it in some way.
…Weidow ditched the original 2.4L 22RE inline-4 engine…for a 2.7L 3RZ inline-4 engine out of a 1999 Toyota Tacoma.
Coming in at a close second, he shared, has to be his Baja Rack. It does the job of holding his MaxTrax, a Pelican case, ax/shovel, and Kickass shower curtain awning. Probably the most important thing about the Baja Rack is it really was the whole reason for the cool exo-cage. Baja Racks racks start with the 3rd Generation 4Runner. To make it work on his first gen, Weidow had the cage made for the Baja Rack to fit and it grew on from there, expanded, and covered most of the vehicle after that. Besides its functionality, it definitely ups the aggressive factor of the rig.
Needing More Power
As one can see, it is built like a tank. To get this tank of a 4Runner moving, Weidow ditched the original 2.4L 22RE inline-4 engine, which should have kicked out about 116 horsepower, for a 2.7L 3RZ inline-4 engine out of a 1999 Toyota Tacoma. That 3RZ gave the build a nice power bump up to 150 horsepower.
Along with that power, the '87 4Runner comes with some help to traverse the terrain in the form of a great wheel and tire combo and a little bit of differential gear finessing. The first gen 4Runner features some black steelie-style American Racing wheels wrapped in 33-inch Cooper STT Pro tires in all four corners. Regarding that differential gear finessing, Weidow ditched the stock gears in the differential and opted for a stock 4.88 differential gear out of a Toyota Tacoma in order to make it easier to run those big 33s.
Taking It to the Mountains
Weidow has put lots of work into his '87 4Runner over the last three years, as many would agree has been a rough time in our lives. He had a few off-road trips planned, but with the pandemic, plans fell through. For the most part, he has stayed within a four-hour distance of his home base, but that has not been without its own fun.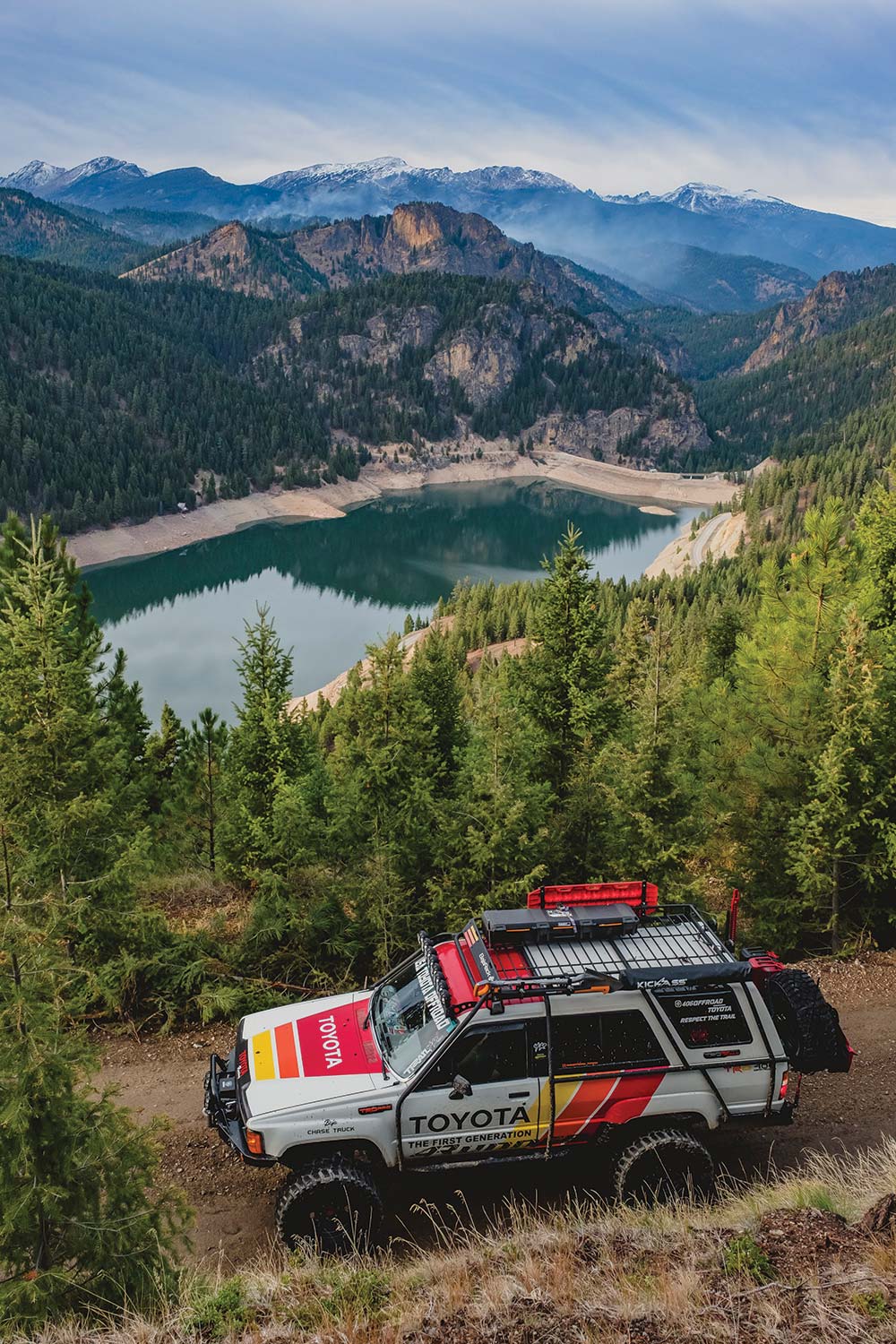 He often takes his 4Runner to the mountains to the east, favoring the Sapphire Mountain range. Often driving the 14-mile trek on an unpaved road to an old fire lookout tower to camp out at. From that location, he is able to see three different mountain ranges : the Bitterroots, the Sapphires, and the Pintlers. Weidow says the views are incredible and well worth the journey up there, particularly when a thunderstorm comes rolling through.
He definitely takes the '87 4Runner out to have some great experiences off of the pavement. Perhaps the most respect given to the rig, though, is that it takes on double-duty as his daily driver. Not only can it go off-road and take Weidow to special locations, but it gets him around town to run errands and visit his family.
What the Future Holds
Weidow has stayed mostly in that four-hour distance range around his home base. However, the big thing he wants to do is take his 4Runner down from Montana to Moab, Utah. Along with Moab, he wants to hit up the Pink Sands Desert. Overall, he just believes the journey from Montana to Utah will provide views of a lifetime.
He also has some future plans for the rig itself. Weidow has been enjoying the Rough Country suspension kit. He has a four-inch lift kit front and rear, but wants to look into a beefier setup for future adventures.
…the stripes and the retro text to give it homage to that look that inspired his love of off-road vehicles in the first place.
Apparently, the modifications aren't going to stop there. The 4Runner is currently running that set of 33-inch Cooper STT Pros. However, he wants to up that size a bit to even further enhance its off-road abilities. Along with some more meaty rubber, he intends to add a short shifter and some electric windows. He wants to add some more lighting and controls to the rig as well. All of which will be great additions for when those Moab plans get ironed out.
Want to follow along with where this 1st Gen '87 4Runner is going to end up next? Be sure to follow Wayne Weidow on Instagram @406offroad_toyota.
Editor's note: A version of this story by @dkorecki previously appeared in YOTA 2022.
---
UPGRADES
1987 Toyota 4Runner SR5
Engine: 3RZ 1999 Toyota Tacoma inline-4
Differentials: 4.88 regeared from Toyota Tacoma
Suspension: Rough Country four-inch kit (front and rear)
Wheels & Tires: Black American Racing wheels; 33×12.50 Cooper SST Pros, Trail Gear 2-Inch wheel spacers; Onboard Puma Air compressor
Interior Accessories: Caribou Yota dual ashtray cup holder; multi-control panel for lights and air; Rocker Locker 1776 Paracord Handles; Midland mounted and handheld comms; Beofeng Handheld; fire extinguisher; Odyssey battery
Exterior Accessories: custom exoskeleton cage; custom skid plate; Addicted Offroad front bumper; 4x4Labs dual swing-out rear bumper; Rhino tow shackles (front and rear); custom eight 5-inch KC HiLites Apollo Pro light bar; 2 KC HiLites Apollo Pro 6-inch off-road lights mounted to the front bumper; Rock lights; Trail Gear Sliders; Baja Rack; Maxx Trax; Pelican case; Axe/Shovel; Kickass Shower Curtain Awning; Adventure Trail Gear spare tire bag; High Lift jack; Jerry can
---