Adventure Advice, Moto Style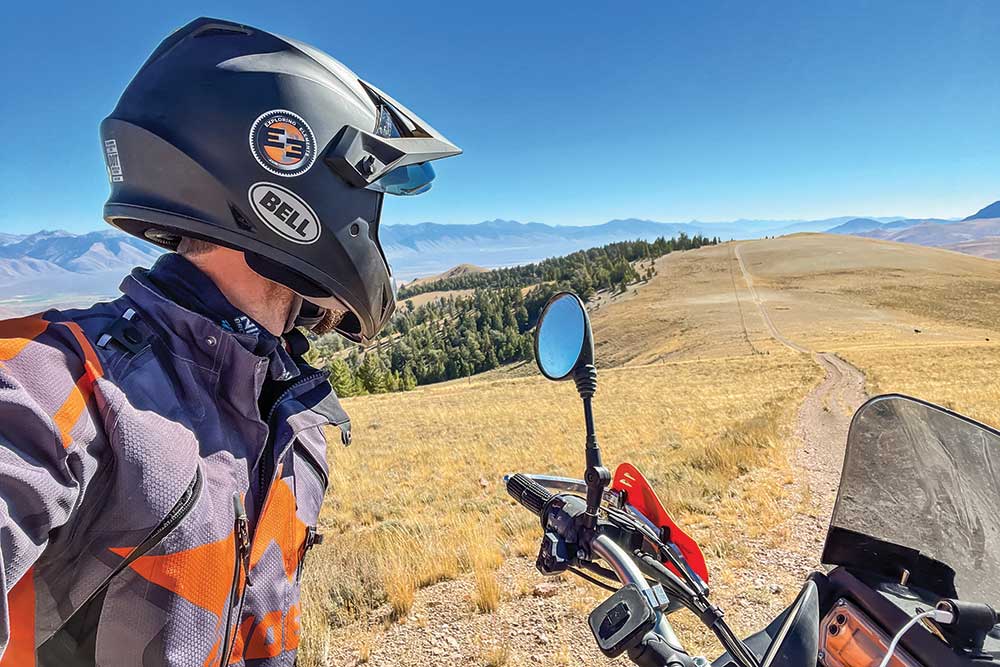 Advice on How To Keep Everyone Smiling on Your Next Motorcycle Adventure
I've been on a wide range of solo and group, supported and unsupported, adventure motorcycle rides around the globe. They each have had their own group dynamics and goals but, they all have a lot in common, and that's where this advice comes in. For every tip to keep your group smiling, I'll share an anecdote from a recent week-long, 900-plus mile loop in Idaho that I did with a group of five friends. Five of us were on motorcycles and one in an overland camper.
I'm lucky enough to have a broad friend group, where some love traveling off road on four wheels and some on two. I love both, and I do both. While I love self-supported motorcycling for its minimalism, I've also come to love vehicle-supported riding. It offers the ability to carry much more comfort items—from beer to a full-size pillow—and above all keeps the weight off the bike which greatly increases riding performance.
Hopefully the advice from I've learned over the years will help keep your group safe and smiling on your next adventure motorcycle trip. Now let's dive into how to maximize your precious moto time with friends.
Adventure Advice:
Be Flexible

Stop Often Enough

Eat & Hydrate

Get Sleep

Keep Eelctronics Charged

Take Personal Time

Have Backup

Bring Tools

Just Smile

Just Ride!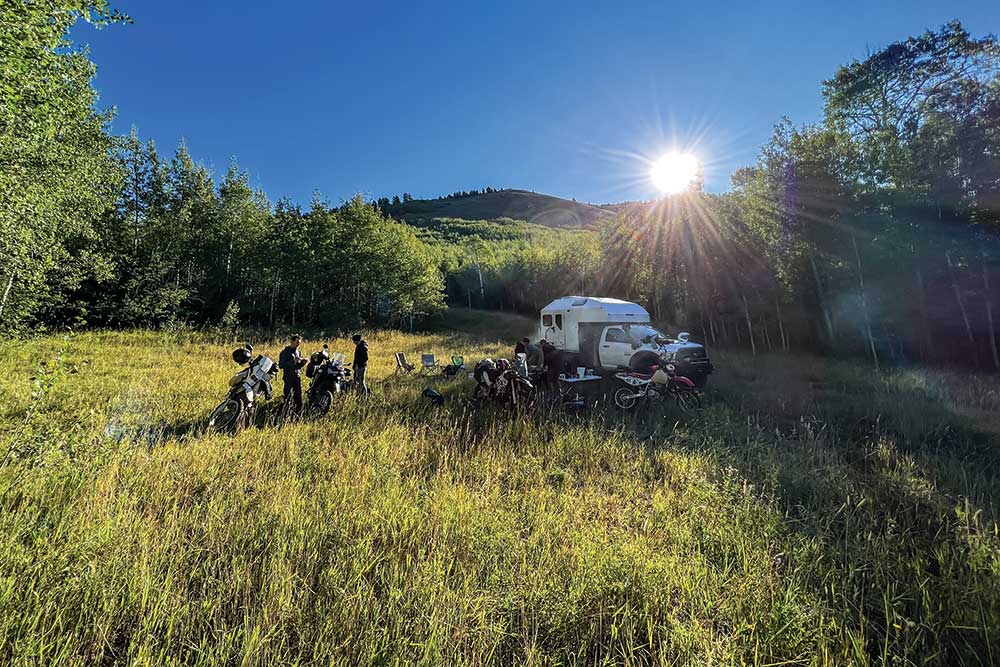 Be Flexible
Every adventure not an expedition or competition; my advice is that there are no winners but there can be losers. Losing is when you stop smiling, big mistakes are made, and/or injuries are sustained. Taking all that into consideration, understand that it's always best to be flexible and go with the flow.
A prime example of this is being okay with turning around, even if you're like me and hate to do so. Ensure that the least skilled rider in the group, the person having the roughest day, the person nursing an injury, and/or the person riding the least capable equipment is comfortable enough to be safe on the terrain you're tackling.
If things get overly rowdy, the right answer is to take a deep breath and find a new path that everyone is comfortable with. We had one of these situations, with one of the best riders on the most capable bike in our group go off the side of a steep hillside on a shelf road. The rest of us struggled to even get to that location to help out. Needless to say, we spend half a day going only a few miles and ending up back were we started before finding a new route. The correct answer was to turn around, and to be okay with finding a new path to our next destination.
Stop Often Enough
It's important to check in with the riders in your group, stretch legs, and inspect gear regularly. You want to make sure everyone is still smiling, and the group as a whole is making the best decisions possible to keep everyone smiling, or at least not induce frowns.
Don't forget to take in the sights. On our trip we stopped for waterfalls, wildlife, and small-town charm. We even stopped—the one night we stayed at a motel—at a small-town dive bar. Not only was it a good time, but we learned a ton from the locals and got advice on a few epic routes and interesting sights with tons of adventure potential that we would have otherwise missed.
Also, let fast riders rip and slow riders putt. The key is to ride at your own ability level and not hold up those that have other speed/aggressiveness desires. With that said, fast riders should regularly check up, stay safe, and wait for slower riders as to not spread out the group too far.
Eat & Hydrate
This goes along with the last piece of advice—stop enough—to keep fluids and food flowing to keep the adventure flowing. Hydration and fuel for the body are so critical in keeping morale up and everyone healthy. Check in with your riding buddies and be sure they're getting the intake they need to keep alert and smiling. Riding a motorcycle requires constant awareness and exertion that saps energy quickly.
Check in with your riding buddies and be sure they're getting the intake they need to keep alert and smiling.
We had to skip a fun section of our route in the mountains because of a massive forest fire, but a quick stop for frozen yogurt helped keep spirits high and energy up to make a new plan and change course. Ice cream, coffee/tea, and other treats pretty much always puts a smile on people's faces, so don't hesitate to stop and sample the local flavors.
Get Sleep
Bring enough camping gear to be comfortable and don't be shy about snagging a hotel room when the weather sets in and/or you just need to recharge. Being on a bike for long periods each day takes a toll on both the body and the mind. You'll want both to be as sharp as possible, so mistakes aren't made and fun is more readily achieved.
On our trip we used everything from remote dispersed camping, to state campgrounds, to a small-town motel, and even an AirBnB house rental on our last night. It all depended on how the group was feeling, the weather, and where we were. It also, obviously, depends on the budget goals of the trip, so be sure that is discussed early in the planning stages.
Keep Electronics Charged
It's hard to communicate with the outside world or anyone in your group if your comm devices have dead batteries. And paper maps are great, but it's hard to get where you want to go without nav devices that work. It's also really hard to get the photo or video of your buddies or the awesome scene unfolding in front of you without a charged smart phone or camera batteries.
Most modern motorcycles come with at least one 12V outlet. If your machine doesn't have one, then it's pretty easy to add one. I recommend a USB outlet as well. Either stand alone in addition to the 12V plug, or with an adaptor in the 12V plug. On my bike I just use a small adaptor that offers up two USB outlets from my one 12V plug. I use this to keep my phone charged at all times, and then also keep other electronics charged up while I'm riding, like a rechargeable headlamp, an inReach, DSLR batteries, and so on.
Take Personal Time
Sure, you can be in your own world a bit when on the moto, but every time you come to a stop with a group of riders there is lots of interaction. Be sure to find time at stops and around camp to do what's right to keep your spirits up.
That can be checking in with a loved one back home, reading a book in your tent, going for a short hike, or just getting up early to take in the sunrise on your own. Finding a few moments off the bike to check in with yourself to ensure your personal needs are being met will help you be a better member of the group.
Have Backup
Whenever possible be sure to have backup options in mind for when the proverbial poo hits the fan. This can be a 4-wheeled support vehicle able to transport a motorcycle—truck bed, hitch carrier, or trailer—communications to local-ish help, and/or sat comms.
On my trip, on the second day, the timing chain snapped in the crank case on the older Honda dual-sport in our group. We were a few hours from civilization on a dirt road. This could have been a massive headache, but it wasn't at all as we were prepared. In under 15 minutes, the bike was loaded on the hitch carrier on our support vehicle and the rider was in street clothes relaxing in air-conditioned comfort.
Bring Tools
Always bring the basic tools necessary to work on your specific bike. Even if you don't have an issue with your bike, it can be super gratifying to help a friend work through an issue with their equipment. Whether a major wrenching mission at camp to get a bike running right again or a trailside tire repair, lending a hand, some knowledge, and maybe some tools, is always super gratifying.
I managed to hit a large rock at speed at just the right angle to bend my rim. I run a tubeless setup, which means the tire went flat pretty fast. Sure, I had the knowledge, tools and the tube required to get back on the road but, the support truck we had with us had bigger tire irons, a more powerful air compressor, and people with even more tire changing skills than I. All of which made getting the group back rolling down the road that much faster and less taxing.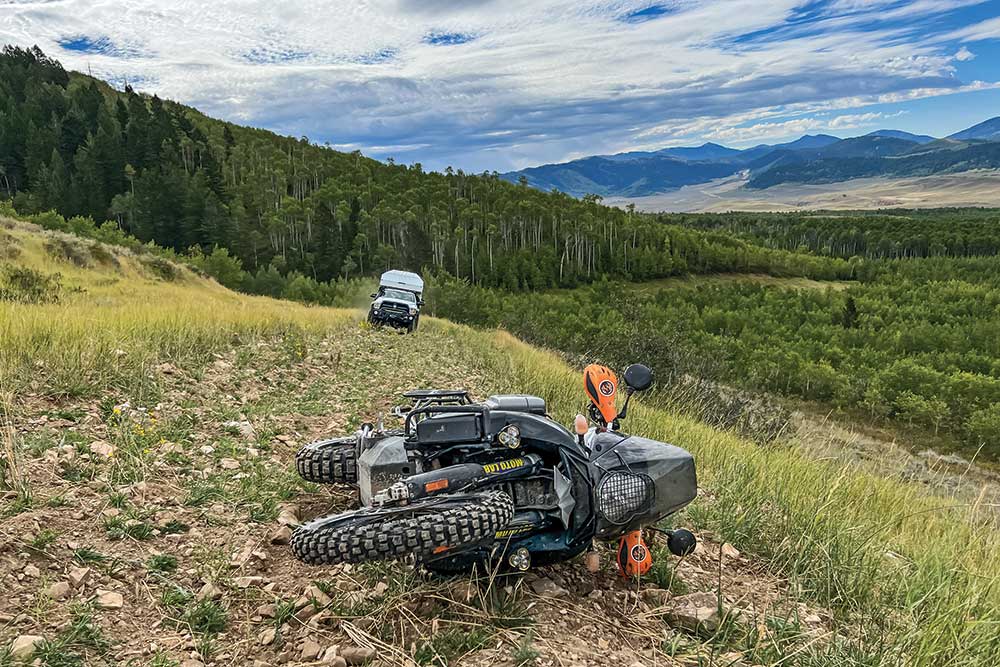 Just Smile
You will have tip overs, crashes, mechanical failures, flat tires, and so on. My best advice is not to take yourself or the adventure too seriously. Be sure to goof off a bit and have fun. Again, you're not in a race or competition. You're out on your moto exploring the countryside with your friends.
If you smile at others, you're very likely to get smiles back. Smiling is free, contagious, and good for you.
Just Ride!
Now get out and ride! I'm already dreaming up a few big adv moto adventures around the globe with friends, and planning some fun local shorter ones as well, so stay tuned for more advice soon.
---
Editor's Note: A version of this story previously appeared in the TREAD Jan/Feb 2023 issue.