Land Rover TReK 2022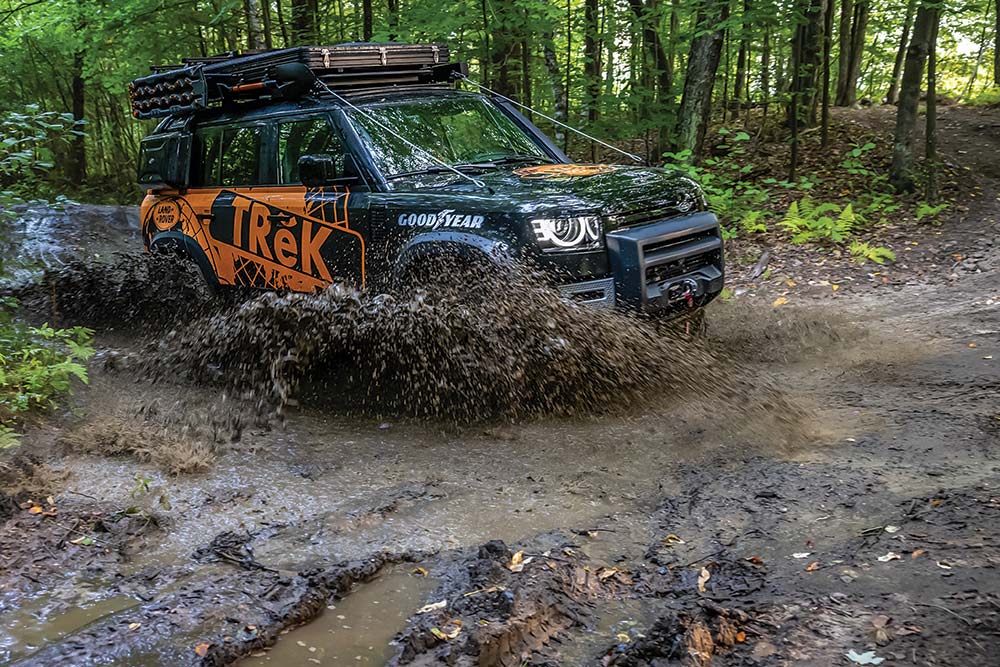 Camel Trophy Light
Land Rover TReK 2022 was a different animal and in a much different setting than the last few TReK events, which were all held at the Biltmore Estate in North Carolina. The style of competition completely changed. It started at Jaguar and Land Rover headquarters in Mahwah, New Jersey, with stops on a beautiful estate in rural New York, and an overnight at the Land Rover Experience Center in Manchester, Vermont.
After a cross country flight, I landed to the hustle and bustle of Newark airport just outside New York City. After a good night's sleep in a local hotel, I hopped in a brand new fully built Land Rover Defender 110 with my teammates Jeff Glucker of the Hooniverse and Tommy Mica of The Fast Lane (TFL). We met last year on the Land Rover TReK event, taking home the media-wave win, and were back to defend our title.
Land Rover TReK
Modeled after the legendary Camel Trophy, Land Rover TReK is a competition that pits 3-person retailer employee teams from across North America against each other in specially outfitted new Land Rovers. It is specifically designed and run to ensure that the core off-road ethos of the Land Rover brand is instilled in its dealers.
Unlike in the past, where challenges had widely different scores and there was a ton of strategy in which to attempt, this year each team essentially got the same opportunity to attempt each challenge. Each was scored for accuracy over speed, but generally had a 15-minute time limit, besides a few special tasks.
For 2022, a record 100 teams (90 from the U.S. and 10 from Canada) competed head-to-head in 10 waves, with the winner of each wave, and a wild card, coming back to compete in the final. The 2-day prelims event traversed 190 miles across four states and involved off-road driving, navigation, and team collaboration. The final was similar, but harder and involved a trail cleanup with Tread Lightly!.
"As we look ahead, we are thrilled to bring back the TReK competition for another year putting the Defender vehicle's capability and our retailers' skills to the test," said Joe Eberhardt, President and CEO, Jaguar Land Rover North America. "This competition lets us engage with our retailers while letting them embrace and experience firsthand what the Land Rover brand means."
2022 TReK Vehicle
The limited-edition vehicle this year was based on a 2023 Land Rover Defender 110 with the 2.0L I4 engine and very few factory options. All 100 vehicles sported identical modifications with a combination of Land Rover factory-approved accessories and curated parts from aftermarket supplier Lucky8 Off Road.
The 2022 TReK competition vehicle was a very overland style build. This, of course, means it was outfitted with a rooftop tent, awning, rear ladder, rear parcel shelf, refrigerator, solar panel, battery generator, and a full host of camping gear. It was also set up for real off-road capability with upgraded tires, a winch, snorkel, air compressor, limb risers, front skid plate, rock sliders, off-road lighting, full recovery gear, and more. Other accessories, including custom badging, a spare tire cover, mudflaps, and custom graphics, all ensure you know this is a limited edition 2022 TReK vehicle.
Battle at HQ
Kicking off the Land Rover TReK 2022 was an obstacle course at JLR HQ in New Jersey. It was a relay-style event that led directly into a group water carry exercise. Pacing and teamwork were the name of the game, with these tasks providing a glimpse of the physicality that the tests would require this year.
The next steps directed us and our vehicles to a parking lot full of cones. One team member had to memorize a path through the cones, and then another team member had to drive the route for time, with penalties for any errors, touching cones, or reversing. The second half of this was driving a different memorized path on the same course in reverse. This challenged every team's communication, preplanning, and driving skills.
The final challenge at HQ was moving a vehicle Egyptian style, in this case on a sheet of plywood atop PVC pipes. This challenge saw two teams working together for time, moving the vehicle forward a car length and then back to the starting point. Finding a rhythm, quick communication, and above all teamwork were keys to success here.
NJ to VT
We then set off from the starting area, with a route book that basically had us doing a time-speed-distance rally on public roads. We needed to get to a specific location for our next set of tasks in a specific time and having traveled a specific distance, while going through a few virtual checkpoints along the prescribed route.
This challenge was much harder than it sounds. We tackled it by having a driver, a front seat navigator, and a calculator in the back seat. All three people had to work in concert to ensure accuracy over the entire three-plus hour drive.
NY Challenges
Our destination ended up being an amazingly beautiful hillside property in New York state. Here we had to do a series of four more challenges. This ranged from carrying the spare tire through a wooded trail obstacle course without it touching the ground, towing a trailer with pool-noodles hanging off the sides through a tight set of cones off road, a compass and distance navigation challenge in a field, and a mechanical advantage human-powered vehicle recovery task. All were pretty fun, but also quite challenging.
Land Rover Experience Center VT
We then drove another hour or so up the road to Manchester, Vermont. Once arriving at the Land Rover Experience Center, we set off again to fuel up and shop for dinner, lunch, a specific food item, and ingredients for an appetizer challenge, all within a specific budget, set for us on a Visa gift card.
The rest of the evening involved setting up camp, cooking the appetizer for the challenge, cooking dinner, enjoying s'mores around the campfire, and some optional further training on HiLift and winching. We then snuck in a few hours of sleep in our tents.
Kicking Off a Strong Finish
The chilly, dewy fall New England morning started with a quick breakfast and breaking camp. We then set off on what would be the first of seven challenges for the day. First up was another running relay, this time through the off-road trails at the Land Rover Experience Center. Some solid elevation changes, including a rope-assisted climb up a muddy hillside, got the blood pumping early in the day.
The next six challenges of eight possible (we ran out of time to do the last two, but every team was only able to do the same amount), were full of off-road driving and off-road recovery scenarios, with a bit of navigation and physicality thrown into the mix. All required strong teamwork and clear communication. At only 15 minutes max per challenge, it was a fast and furious day.
We drove backwards through a winding bermed course, drove across a bridge we built, winched up a steep hill without the winch-line hitting the ground, drove a muddy steep course while trying to get hanging chalk cones to touch a target sticker on our roof, pulled our Defender sideways using a HiLift, and rotated tires while only using one lift and some rocks. The driving challenges were hard and fun, the winching was easy but frustrating, and the HiLift as a come-along is always the least favorite and most physically demanding. Overall, though, the challenges covered all the bases in terms of skills required, and mixed real fun with type-2 fun quite well.
We Won!
Our media team, 'No Time to Cry,' managed a commanding win at Land Rover TReK once again in 2022, earning 161 of 170 possible points, with the Second Place team earning just 128 points.
In case you were wondering, we managed 15 mpg over the nearly 200 miles of extremely mixed terrain driving, with lots of idling time. Even though the outfitted vehicles were extremely heavy, the small 4-cylinder engine never left us yearning for more power, but it was also not exactly exhilarating.
The main difference between the media wave we competed in and the main retailer employee event was that our wave was five teams and the retailer waves were ten teams each. The only other difference is that we got pillows in our camping gear, because most journalists are a bit soft, and the retailers had to find a comfortable resting spot for their heads themselves.
Thanks
I'd like to extend a huge thanks to the entire team at Land Rover North America and TReK 2022 for the invite, hospitality, and for putting on another world class event. A special shout out to my amazing teammates Jeff Glucker and Tommy Mica for once again being the amazing humans they are and for putting in the effort to bring home the win.
A proper congrats also has to be extended to the Land Rover of Rochester, New York team for also being repeat winners, collecting the trophy and winning an all-expenses paid vacation. Their commanding overall event win was followed by a close battle for Second Place by Land Rover of Los Angeles, California, who edged out Land Rover Calgary, Canada.
---
Editor's Note: A version of this story previously appeared in the January/February 2023 issue of TREAD Magazine.