Custom Outfitted Mitsubishi Montero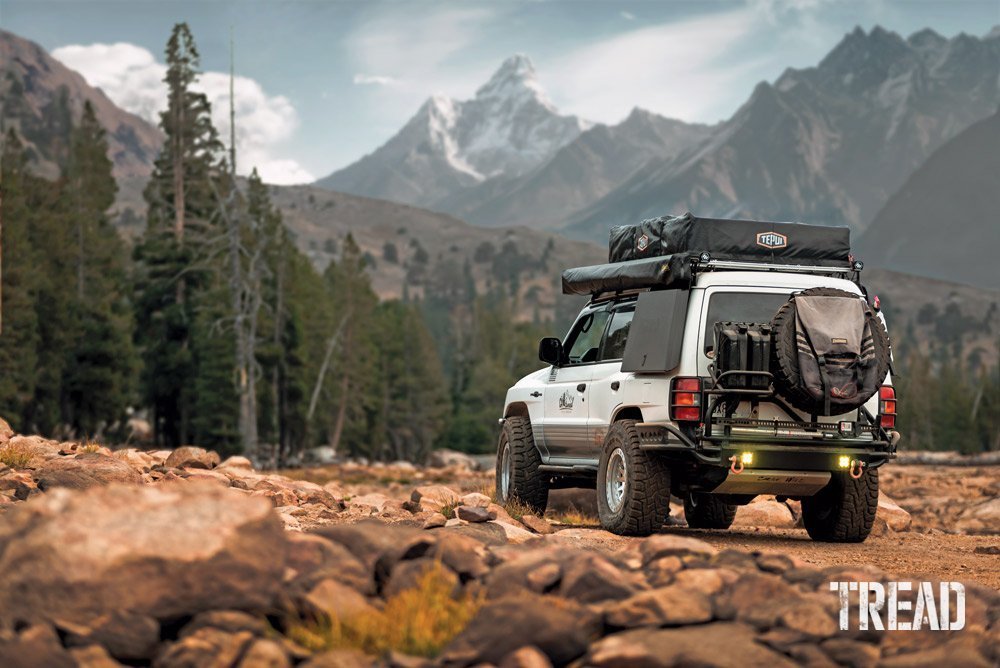 From Boat Hauler to Off-Road Camping Cruiser
It's not every day you see a Mitsubishi Montero hit the trails dressed to the nines in overlanding accessories and gear. However, if you live in the Bay Area of Northern California you may have seen this Montero on its way to its next adventure driven by owner Carlo Ramos. Originally purchased to pull a fishing boat for Delta Wood Bombers, the owner's fishing lure business, the Montero took a turn toward a new purpose and became an all-out adventure camping mobile. Still used to fuel the owner's passion to spend as much time outdoors as he can, this Mitsubishi Montero has evolved over time and continues to evolve.
For this Mitsubishi Montero to become what you see today, the transformation wasn't an easy road. With a unique choice of vehicle also came the challenge of finding aftermarket parts that would work. Ultimately, Ramos had to persevere and pave his own way, getting custom-made parts for most of the build. But that came as no challenge for Ramos, who came from the import car scene. While that interest and hobby didn't last long due to his professional paintball career and then having his daughter, it gave him a background in automotive culture and know-how. And that background proved its worth as Ramos strived to create a masterpiece build to mirror his friend, Angelo Koutsoupias, who had the same generation and color as Montero. Koutsoupias had what Ramos considers the best-built Montero in the U.S., so Ramos wanted the best-built Mitsubishi Montero on the West Coast. With those lofty, yet attainable, goals in mind, Ramos went to work planning.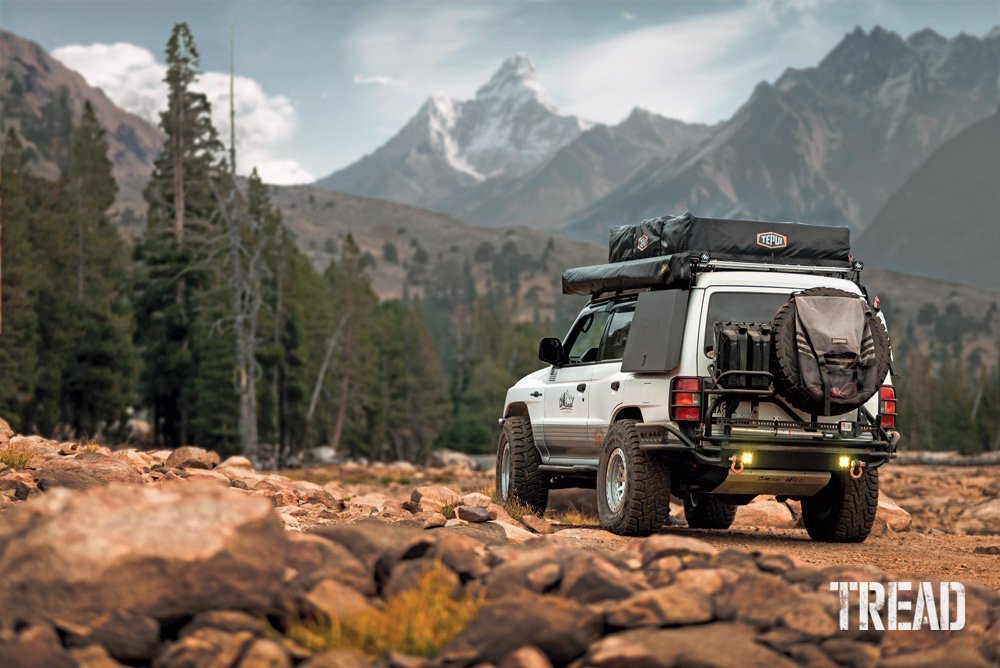 Family Focused
Many may wonder where the drive and initiative comes from to want a build so intricate and elaborate. That comes from deep within; the things that make you get up in the morning and push you toward your goals. For Ramos, it has always been family. Overcoming great tragedy when he was very young with the loss of his father, Ramos used that struggle as fuel to excel in various aspects in his life, whether it be paintball or being the best father he can. Not growing up with a father of his own, he pours all he has to give his daughter the best life possible. And what that translates to is quality time together doing the things they both enjoy. Ramos shares, "I built this vehicle because my daughter and I both love the outdoors. When she was growing up she rode horses and quads. Together we golfed and fished frequently. We hiked and backpacked up and down California and Canada. I wanted to continue making memories outdoors in nature with her." And what better way to do that than build a vehicle that allows them to go anywhere and camp as long as they wanted.
With a unique choice of vehicle also came the challenge of finding aftermarket parts that would work.
Paving His Own Road to Adventure
To get to where it sits today, the Mitsubishi Montero and Ramos didn't have it so easy. Mirroring the events in his life growing up, Ramos knew that anything was possible no matter the challenges presented. At first he came up disappointed when doing initial research because there wasn't a lot of support for Monteros, or it was non-existent here in the U.S. It's then that he decided, "everything will have to be custom fabricated if I want to build the best Montero on California's West Coast." And looking at the Montero, you can see plenty of custom work completed.
While most will leave things stock but the essentials, Ramos has customized just about everything down to the engine. With help from CAtuned Off-Road, the 3.5L V-6 engine was rebuilt, serviced, and tuned. He also added a custom-built aluminum radiator by Brice Thomas Radiators, Mishimoto External Transmission Cooler, and External Oil Cooler, fabricated to fit in the beast.
I built this vehicle because my daughter and I both love the outdoors. … I wanted to continue making memories outdoors in nature with her.
Tackling Tough Terrain
Ramos doesn't have any problems getting to the hidden or rarely visited spots in his exploration land vessel. The suspension, tire, and wheel choice always get him there and back, no matter the distance. His front suspension is custom-built Fox shocks with adjustable external reservoir, custom valved and built by AccuTune Off-Road, along with torsion bars by Sway-A-Way. In the rear he opted for custom-fabricated Dobinsons MRR with external reservoir to coincide with heavy-duty Kings Australia springs and Air-Lift airbags.
To give it a bold and tough stance, the custom suspension is complemented with Black Rhino Primm Beadlock wheels in size 17×9, offset -30, wrapped in Toyo Tires Open Country R/T in size 35×12.50×17. And not to be forgotten, Ramos wanted proper stopping power knowing how much weight the vehicle would soon have. Stop Tech Cryo Slotter Rotors and custom-built brake hoses by Safe Brake in Australia were installed.
For times when Ramos gets a late start to his camping destination or desires a night trail drive, plenty of Baja Designs lumens light the way. Up front, Ramos uses Baja Designs Squadron fog lights and ditch lights and a Baja Designs 50-inch light bar to light his way forward on dark trails. Helpful on dusty trails and at night, he uses Baja Designs chase lights on the roof and Squadron flush mount reverse lights, along with a 30-inch rear taillight bar in back. And not to be missed, Baja Designs rock lights, along with the interior dome light, prove useful around camp. It's quite evident Ramos stays tried and true to Baja Designs to get him out of dark spots.
Extra Protection
When you can go anywhere, you best be sure you're fully protected. Of course, Ramos found the armor to keep the Mitsubishi Montero out in the wilderness as much as possible. Without any options of pre-fabbed Montero bumpers, Ramos had one custom built where he then attached a Super Winch Tiger Shark, along with an Agency6 Billet Shackle, Agency6 Fairlead Hawse, Agency6 Megamount, and Agency6 shovel.
Ramos doesn't have any problems getting to the hidden or rarely visited spots in his exploration land vessel.
To protect the rest of the vehicle, skids, sliders, and a custom rear bumper were installed. Underneath protection is provided by Adventure Driven Design skid plates for front, transmission, and the gas tank. The sliders and rear bumper were custom built, of course. The rear bumper gives more clearance while also holding the fullsize spare tire, Hi-Lift and dual 5-gallon NATO fuel cans with the help from an Agency6 baseplate.
Creature Comforts
Long road trips to Canada or constant weekend trips to camping spots in Northern California require comfort in the cockpit and other amenities close by. In the cockpit, you'll first notice the Scheel-Mann Vario F seats installed with a custom floor platform with gun vault and aluminum seat brackets from Dissent Offroad. To ensure Ramos gets to his intended destination, often the Eastern Sierras, he uses a Pioneer AVIC-W8500NEX for navigation. And when he's traveling with friends or in a pack, he uses the Midland MXT400 mounted on his dash.
And the comforts don't stop up front, he's got plenty in the back to keep him happy and comfy while he waits for his friends to arrive at camp. Enjoying a beer from his Dometic Dual Zone CFX75DZW or mixing up a cocktail in the back while enjoying the new campsite makes the time go by easy. If his friends need to get in touch with him, he won't miss their radio call as he also has a Midland MXT275 in back.
Ramos' favorite accessory of them all, though, is the Redarc Electronics Total Vehicle Management System, which includes the Redarc Redvision and Redarc Manager30 Battery Management System. Ramos says it is because "power is no longer a concern on a three- to five-night excursion. It keeps our fridge with offshore power." It also allows for other conveniences when home. He goes on to say, "And it gives the ability to keep power running to it from the house when home. I can connect a plug to the car and the fridge keeps going." He has it hooked up to a dual battery system using Group34 Odyssey Xtreme Batteries so as not to drain the battery that starts the car. Not only can he run his fridge off it, but also exterior lighting and his air compressor in the rear.
A unique spin on the interior of this build is the Dissent Offroad mounting solutions. The Redarc system is mounted in the rear with custom-fabricated aluminum housing on the driver side, while there are mounting solutions and molle webbing on the opposite passenger rear side. And not to be forgotten is the Boss Strong Storage Box.
Adventures Ahead
While the Mitsubishi Montero has gone from California up to Canada in its stock form, it has taken Ramos and his daughter on many trips since. His most memorable experiences are anywhere and anytime his daughter gets to travel with him. He recalls the first trip they took right after he got the Tepui Ruggedized Kukenam 4 rooftop tent installed. They camped at one of their favorite coastal spots along Pacific Coast Highway on Father's Day a few years ago. Ramos reminisces, "There isn't a better time, spot, or opportunity to have a heart-to-heart talk other than the outdoors, especially in camp close to the fire."
Luckily, Ramos doesn't have to worry about excessive wear and tear on his rig. The Montero is for trips out on the weekends or longer, not his daily. And in the upcoming months, he's got more plans and changes coming to dial it in just to his liking. As he says, it's getting a complete face-lift. We can't wait to see what is in store for the future of the Delta Wood Bombers Montero.
For more adventures in his Montero, follow Ramos on Instagram @deltawoodbomber.
1998 Mitsubishi Montero
Engine: 3.5L V-6, newly rebuilt and tuned, Custom Aluminum Radiator by Brice Thomas Radiators, Mishimoto External Transmission Cooler, Mishimoto External Oil Cooler
Suspension: Custom (front) Fox shocks with adjustable external reservoir custom valved by AccuTune Off-road, Sway-A-Way heavy-duty torsion bars (rear) Dobinsons MRR custom fabricated with external reservoir, heavy-duty Kings Springs, Air-Lift airbags
Wheels & Tires: Black Rhino 17×9 Primm Beadlock, Offset -30, Toyo Tires Open Country R/T 35×12.50×17
Interior Accessories: Dissent Offroad Custom Aluminum Seat Brackets with GunVault, Dissent Offroad Custom Aluminum Platform Deck, Dissent Offroad Custom Aluminum Molle Panels with storage attic, Dissent Offroad Custom Aluminum Panel for Electronics Management System, Custom BossStrong Box, Custom Aluminum DFG Offroad Fridge slide and tilt, Redarc Electronics Manager 30 Battery Management System, Redarc Electronics TVMS (Total Vehicle Management System), Redarc Electronics HMI (Human Machine Interface) Controller, (Dual) Group34 Odyssey Xtreme Batteries, Midland USA MXT275 (rear of the vehicle), Midland USA MXT400 (dashboard mounted), Midland USA XTalker, SwitchPro SP9100
Exterior Accessories: Baja Designs Squadron Foglights, Baja Designs Squadron Ditch Lights, Baja Designs 50-inch LightBar, Baja Designs Squadron Rear roof, chase light, Baja Designs Squadron Flush Mount Reverse lights, Baja Designs 30-inch Rear Taillights bar, Baja Designs RockLights, Baja Designs Interior Dome Lights, Baja Designs S1Work/Scene Lights (four), 5-gallon Wavian NATO, 315mm StopTech Cryo Slotted Rotors (front), 315mm StopTech Cryo Slotted Rotors, Custom-built brake hoses by SafeBrake Australia (rear), Custom-built Roof Rack, Tepui Ruggedized Kukenam 4 rooftop tent with Annex, Alu-Cab 270 Shadow Awning, Custom-Built CNC'd Accesory Mounting Molle Panel, Custom Aluminum Entertainment/Bar/Charging Station