Travel-All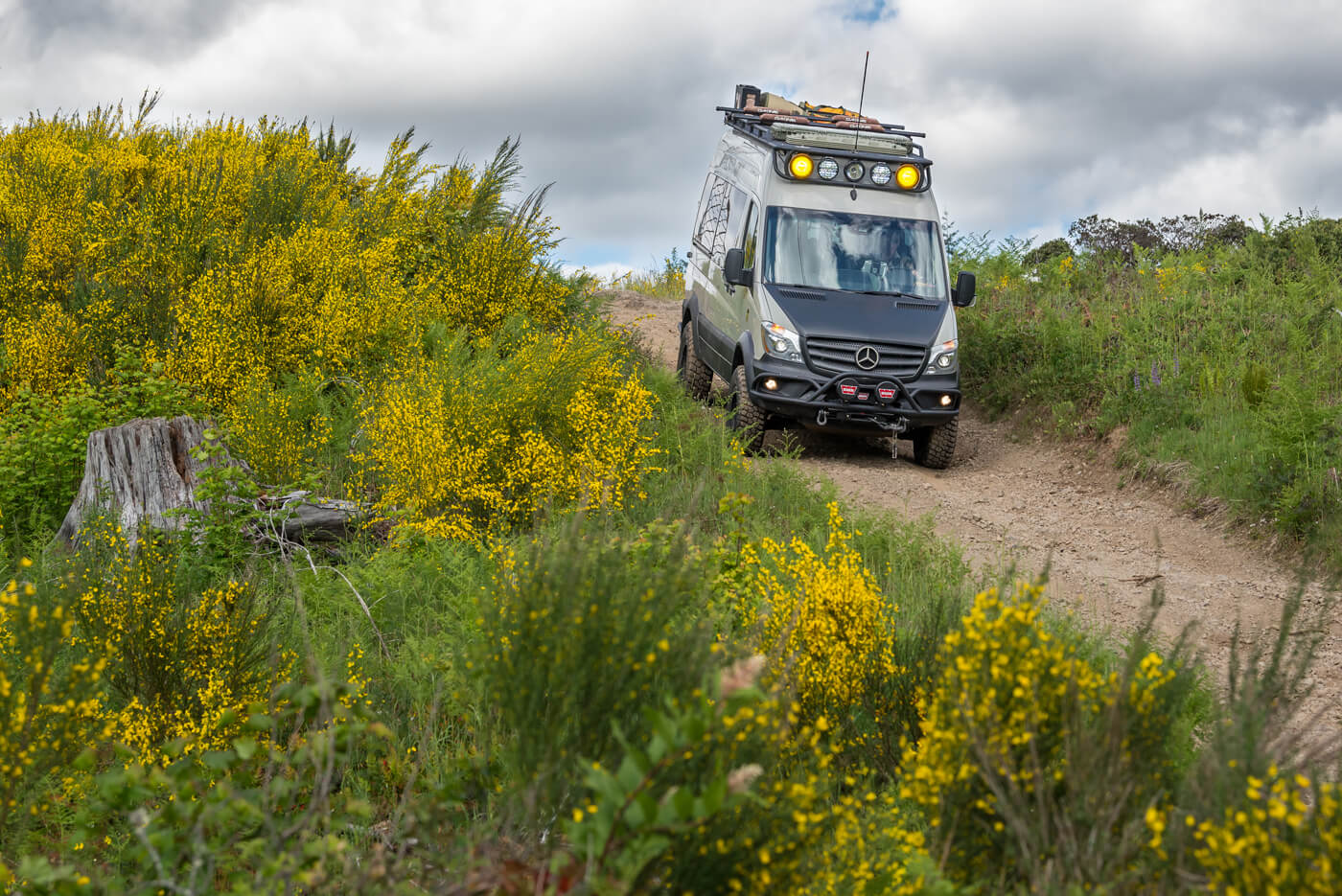 The 4WD panel van is not a new concept. In World War II, the grand-daddy of factory 4WD trucks—The Dodge Power Wagon—was available in a panel truck version known as the WC53, and later the Town Wagon in the civilian market. Initially, it was only offered to the civilian market as a 2WD model in its first year, followed up with a 4WD version the following year that outsold the 2WD version to the point it was not offered anymore.
This lay the foundation and the legacy for what we love and cherish today as factory 4WD trucks from all manufacturers. Unfortunately, despite the overwhelming consumer support of 4WD trucks, the 4WD van thing never really caught on with the commercial market. The live-front-axle support has always stemmed from aftermarket up-fitters that take the time to masterfully graft truck components into these vans, and turn them into off-road monsters that can be lived in or used as goods transports.
In 1995, the first generation of the Mercedes-Benz Sprinter was released globally. It quickly earned a reputation as being a hardy diesel-powered workhorse that was incredibly modular and consumer available. Most of these consumer-owned Sprinters started their lives as work trucks and were retired and sold second-hand to vagabonds who wanted to live the nomad life.
In 2013, the second generation Sprinter received a curious factory upgrade: four wheel drive. Initially, this was only offered as a European option, available in several configurations. After constant pressure from U.S-based customers that saw the benefits of the factory 4WD system, Mercedes relented and the 4WD option was available in the U.S. as a '15 model year.
The U.S. 4×4 Sprinter models are available as 2500 and 3500 load configurations, with 144-inch and 170-inch wheel bases, and low and high roof models. There is only one engine and transmission configuration which is Mercedes 3.0L V6 BlueTEC and 5-speed automatic with a two-speed transfercase with low range. The 3.0L diesel puts down 188 hp at 3800 rpm and 325 lb-ft of torque.
Since its '15 U.S. introduction, several outfitters have developed high-grade suspension components for the vans, and dozens of other products ranging from rock sliders to heavy-duty roof racks. The Sprinter van has gone from zero to hero almost overnight and has become an incredibly capable platform looking for those that want to try their hand at #vanlife.
If you're interested in the 4×4 Sprinter platform, check them out on the Mercedes website, along with outfitters like Washington State-based RoamBuilt and their fantastic Instagram.