WINCHING TECHNIQUES: HOW TO BE OFF-ROAD READY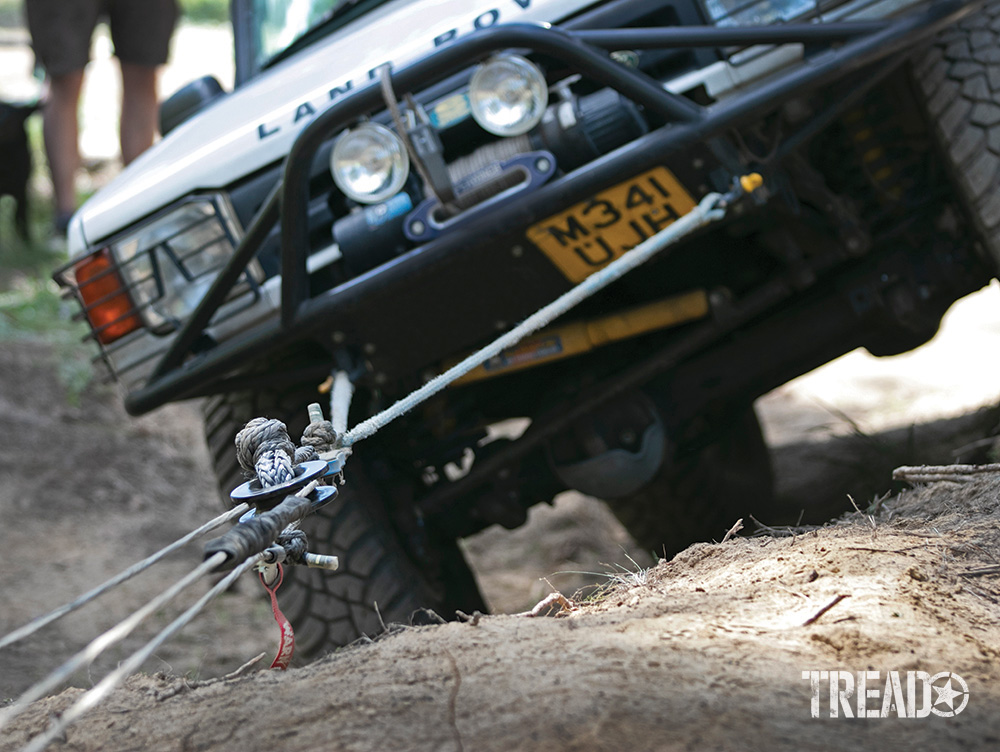 How to properly use a winch and maintain it
Understanding winching techniques, knowing their capabilities and limitations and how to maintain them properly is critical. Newcomers and seasoned travelers, alike, can make off-road excursions safer with winch know-how.
The smell of Mother Nature's freshness after a hard rain wafts across your nose as you're surrounded by majestic pine trees and muddy trails. Miles into a desolate, hardly used area, what once was a hard-packed dirt track gets narrower—allowing little room for adjustment.
Suddenly, a 4×4 slides off the trail and into a perilous position. However, the winch mounted on this adventure rig hasn't ever been used. It's seen thousands of miles but wasn't practiced with or learned about. Uh, oh.
You Bought a Winch and Installed It. Now, What?
Stretch the winch rope. Whether you own a synthetic- or wire-equipped winch, one of the first things you should do is stretch the winch's rope. Instructions on how to do this can be found online. Stretching a winch line involves putting it under tension to get the rope snug on the drum and get the rope wound evenly. By doing this simple step, you'll ensure the winch line won't get crossed up atop itself and get crushed during the winching process.
Understanding how to use a winch, knowing its capabilities and limitations and how to maintain it properly are critical.
Winch maintenance schedule. Understanding a winch's maintenance schedule is also important. For starters, maintaining a winch rope can lengthen its life span. Wire rope can develop burrs; it could also rust if it's not properly cared for. Conversely, synthetic rope, while lighter and easier to handle than wire cable, can degrade from the inside out if it's not regularly cleaned. If a winch rope is compromised, it's time to replace it.
Keep Your Line Clean
Clean the winch line. If you're "playing" in mud or driving through silt-filled trails with a synthetic rope-equipped winch, cleaning the line with warm water and mild dish soap can help keep the rope clean. (Pro tip: By pushing the rope together during the cleaning process, much as with a Chinese finger trap toy, soap will penetrate the inner area and help keep it in tip-top shape.) Remember to rinse the rope with clean water after cleaning.
Free-spool. If you don't use your winch very often, free-spool the winch line out a few times a year and power it in under a slight load—essentially, you'll be re-stretching the line. Similar to a car or truck, winches need usage to lubricate and recoat their gears, bearings and bushings to keep everything moving correctly.
Inspect the winch. Regularly inspecting a winch, along with associated power cables and connections, can help keep it running smoothly. You don't want to be stuck on the trail with "all show and no go" if a winch becomes disabled without you knowing it.
Winching Techniques: Regular Usage Equals Prepared Overlanders
Practice using a winch. Learn how to use it comfortably before needing to use it. Know a winch's capabilities and restrictions. That'll help you remain calm during vehicle recoveries.
Recovering an adventure rig can take a while. However, slowing down and taking time to ensure everything's in order before recovering the vehicle can make a tense situation bearable. Stash a winch remote in a known safe spot. Better yet, carry two remotes for peace of mind. Keep sturdy winching gloves within easy reach; they'll help prevent rope burn and protect your hands from line burrs or other things the rope might pick up during the winching process.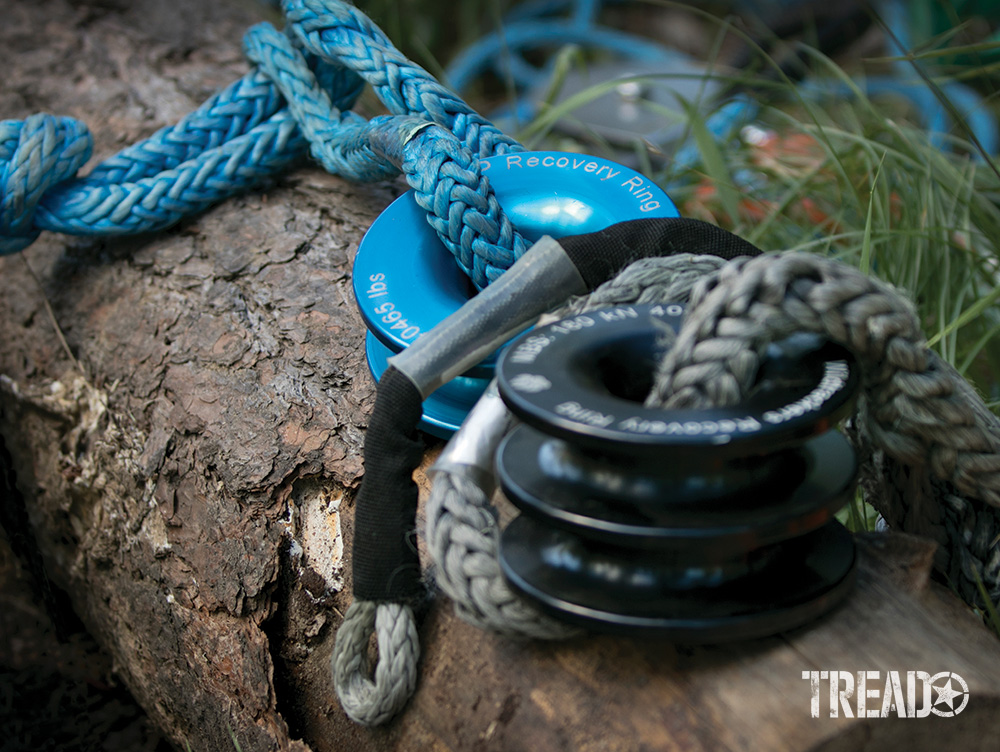 Additionally, use a winch damper—whether it's a dedicated winch line damper, a heavy bag or even floor mats. Putting weight on a line will help it fall to the ground in the case of a winch line failure.
Understanding where people can and can't stand during a vehicle recovery is also crucial. If someone is near a line and it happens to snap, they could be injured.
Safety First
Note: Have bystanders stand father away from a winch line than the length of rope that's pulled from it. If 100 feet of line are pulled out, have people stand at least 100 feet away from it. This can help prevent injury in case a line breaks and snaps back toward any direction.
Additionally, don't step over the line if it's under tension. By doing this, adventure seekers save themselves and others from harm should the line break unexpectedly. The winch operator should also be in a safe place. This means the operator should be inside the vehicle or, if outside, the operator should stand behind an vehicle's open door for added protection. Don't stand in front of, or behind, the vehicle.
Regularly practicing with a winch ensures safety, sanity and smart actions when the going gets stuck.
Recover Me, Please
It's important to understand where a vehicle's recovery points are located. Using a tie-down loop instead of a dedicated recovery point can be detrimental if it's used during a recovery operation. Knowing the differences between a proper recovery connection that can handle the load of a winch pull or a tie-down point that's used only during transport can mean the difference between a successful retrieval or a damaged vehicle … or worse.
In addition, if an adventure rig dons a front or rear aftermarket bumper, make sure it came from a reputable manufacturer that tests its products. Inspect it regularly to make sure all recovery points are secure, aren't rusted and can handle severe-duty pulls.
Awesome Winching Accessories
Make sure you have the right accessories in your winching kit; this is essential for proper winching techniques. It's like adding your favorite jelly to an already awesome peanut butter sandwich. It's recommended to carry at least two shackles (it doesn't matter if they're made from a metal or a synthetic construction), a snatch block or recovery ring, a static tree trunk protector and a kinetic recovery strap. Shackles are used for connecting the winch rope to a recovery point. A static rope is used around a tree or another anchor point. And a kinetic rope is used to yank a vehicle out of its dirt-filled ditch dive.
Recovering an adventure rig can take awhile. However, slowing down and taking time to ensure everything's in order before recovering the vehicle can make a tense situation bearable.
Additionally, if a vehicle is equipped with a hitch receiver, a hitch receiver shackle bracket turns a standard hitch into a legitimate recovery point.
As mentioned earlier, adding solid gloves and a winch line damper helps round out a basic winching kit. Bringing these items along when venturing off the beaten path can help ensure safe recoveries after unexpected stuck situations.
Winching Techniques: Recovery Readiness
Adding key recovery items to your gear is recommended. This is besides the basic winching kit. A solid shovel and adventure-ready recovery boards are two ways to safely supplement a recovery effort if you're not extremely stuck. Recovery boards are often used as the first attempt of recovery This is in lieu of winching. Here are the basic steps to use recovery boards:
Plan an escape route—either forward or backward.
Dig out—in front of or behind the tires.
Lay the recovery boards even to the ground, directly in front of, or behind, the tires.
Kick them into place under the tires until the nubs connect with the tires.
Slowly accelerate to freedom. If your vehicle remains stuck, repeat all steps.
Note: If you're using traction devices or recovery boards, don't accelerate quickly and spin the tires, because you might melt the nubs.
Knowledge Is King
There's a vast world of winching techniques and recovery know-how. The most important thing is to learn about it before you go out on an adventure. Know the capabilities and limitations of your winch and equipment. Purchase from reputable manufacturers. Ask questions … and practice, practice, and practice.
Arming yourself with proper winching techniques and recovery know-how will ensure safer, satisfying and smoother travels off the beaten path.
(Editor's Note: A version of this story appeared in Tread July/August 2021.)