2020 Alcan 5000 Rally Preparations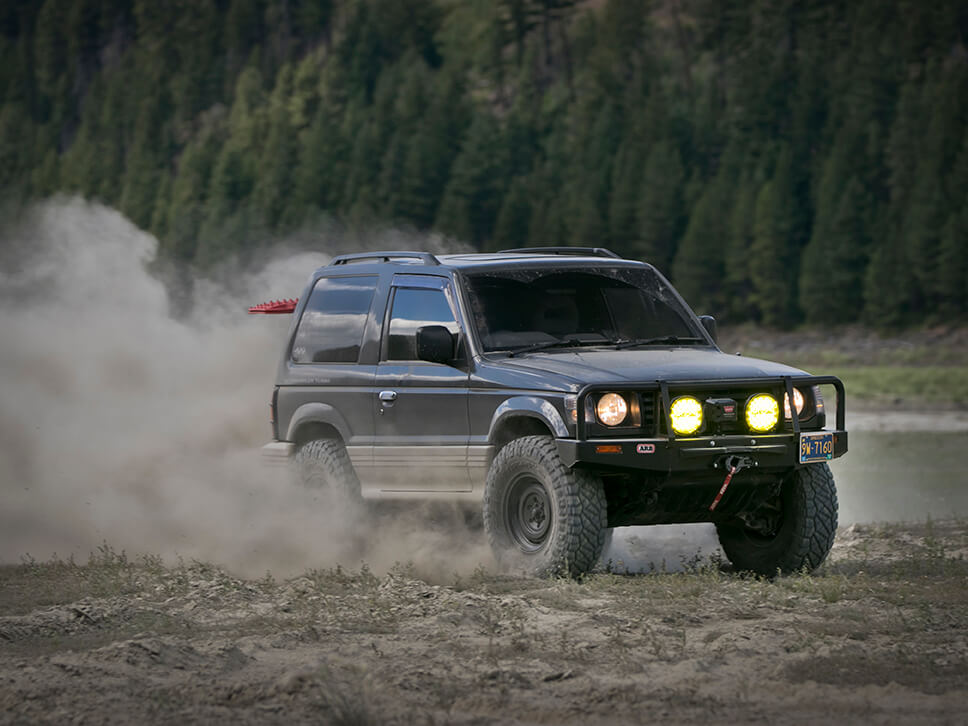 5,000 Miles of Arctic Fury:
Prepping for the Alcan 5000 Rally
Sub-zero temps and bone chilling wind. Teeth chattering opportunities and endless miles of snow. Populated areas occasional moose and hauling-ass semis. This climate sounds like a challenge for anybody, especially a husband and wife team in an old '91 turbo-diesel Mitsubishi Japanese Domestic Market Pajero! That type of harsh climate is exactly what we've been preppin' for. Andy, my husband, and I will be competing in the 2020 Alcan 5000 Rally.
The Alcan 5000 Rally
You may ask yourself what this rally is all about. It's an Arctic drive competition that'll top over 5,000 miles of snow, ice, and gravel. The Alcan 5000, which was started in the 1980s, is a TSD road rally (TSD stands for time/speed/distance). The co-driver (or navigator) needs to carefully follow the supplied roadbook for rally road directions, intended speeds, and other items in order to give proper instructions to the driver.
TSD rally instructions may include phrases like:
L (left) onto Smith Road
CAST (change average speed to) 38 for 1.27 miles
CG (cattle guard)
BR (bear right) by speed 45 sign
CAST 42
There's a lot to manage, especially if your stock speedometer is in kilometers per hour and your odometer is off due to a larger tire size (like us). The key is continual calculations. After morning TSD sections are complete, long transit sections ensue. They can range from a few hundred miles to several hundred miles, all in one day! You sleep at a motel, and start it all over again the next day. Nearly two weeks of snow and ice pounding endurance testing.
The Terra Tractor
When we flew to Texas and drove the Pajero (aka the Terra Tractor) back to Oregon just over a year ago, we had immediate intentions to build it up. Before we could do that, however, we were faced with several important maintenance items: fixing brakes, re-building a leaky diesel injection pump, correcting radiator issues and replacing belts—among other things. Those repairs took a few months' time. It's not easy finding parts for said Pajero (aka the Terra Tractor). Even though this is the second Pajero we own, each has its own issues and quirks. In order to rally this 4×4 in the Arctic, we need a solid base from which we could build upon.
The Overall Build
A lifting needed to happen and we wanted to upgrade worn-out stock shocks.
First, we cranked up the front torsion bars (not all the way up) and replaced the original rear coil springs with long-wheelbase Montero springs. This increased the overall height nearly one inch.
Next, we tore out the worn out stock electronically adjustable shocks for new nine-way manually adjustable Rancho RS9000XL shocks. This allowed us a range of ride comfort: being in a Pajero that could offer up a full firm to soft marshmallow-like experience, these shocks have proven successful in mostly all the terrain we've taken it through to date.
After the lift was complete and suspension was upgraded, we replaced the stock front bumper with a heavy duty ARB steel winch bumper and WARN M8-S winch. Even though we patiently waited for the winch bumper to come via slow boat from Australia, it was worth waiting for. Remember: This is a Japanese 4×4 that was never sold in the States. Parts have to come from where Pajeros are readily sold, and Australia has gobs of them. The solidly built ARB bumper serves as the perfect platform for the winch and our two bright and beaming suns: our Lightforce Genesis LED auxiliary lights. We may be looking to switch these LEDs out for hot-running halogens for the Alcan, however, as snow and ice will melt off of them versus cool-running LED fixtures.
After the frontend was improved, new tires and wheels were in order. We switched out the corroded stock wheels with mismatched, worn-out rubber and installed fifteen52 Analog HD wheels wrapped in Nitto's Ridge Grappler hybrid all-terrain / mud-terrain tires. Although fifteen52 wheels bolt right up to Toyotas, Jeeps, and the like, the center openings were bored to 108mm to allow them to fit over the Pajero's large front hubs.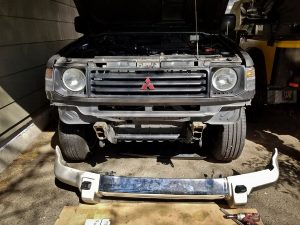 Lift? Check. Upgraded suspension and new bumper/winch/lights? Yep. Much needed new wheels with off-road ready rubber? Yes, sir. During this time we also completely re-built and replaced the front end (axles, ball joints, wheel bearings, bushings, etc.). The first part to break is the last one you decide not to attend to!
We'll also bring along our MAXTRAX recovery boards, Pull Pal land anchor, Epic WARN recovery kit, and other items to make us rally ready.
In addition to preparing for the Alcan 5000 both physically and mentally, we need to get the rig specifically built for it. We're both from the Midwest originally, so we're used to below zero temps and -20+ wind chills. But, it's another story when you're driving your old-school right-hand-drive diesel all day long, in that, for nearly two weeks! We need to focus on two important things: getting to the finish line in one piece and staying alive.
We partnered up with Long Range America and Wanderlust Overland (WO) to start the first of several key Alcan upgrades: ordering and installing a long range auxiliary diesel fuel tank. WO, a Long Range America approved tank installer, got the job done in less than two days. Since this addition, we nearly doubled our total mileage capacity from a miniscule 250 miles to over 500 miles. In addition to the well-made tank, Wanderlust Overland worked with us to custom design and fabricate rock sliders on both Pajeros. Now we have range, as well as added body protection.
What's to Come?
We've come a long way in prepping the Terra Tractor but there is a still lot to do. We're researching how to keep our diesel running properly and not gel up in the Arctic temps (like Webasto coolant heaters), how to keep the interior cabin (and us) warm, and how to safely stow our gear. We need better batteries with more robust cold cranking amps (CCA's) and to fashion up a radiator cover to restrict the full flow of cold air in, keeping the engine temp warmer.
Additionally, we're looking at roof rack systems, which viscosities of all fluids to run, and what happens to vehicle systems when temps dip below -40 Fahrenheit. We also need to switch our tires for three-peak rated rubber (it's mandatory for the rally). The Pajero runs an odd tire size so we're limited to tire offerings. From tools, an inverter, and a hair dryer, to an extreme temp extension cord and spare parts, careful consideration to bringing proper gear and methodical packing will play a major role.
An abundance of research has gone into prepping the Pajero, but what about us? What about food, drink, and clothing? We have to sustain ourselves, too: using double-walled containers to keep water from freezing and packing enough protein to keep us energized is key. We're researching severe-rated pants and jackets, too—our ski and snowboard garb may simply not be enough.
Andy and I are trying to prepare for the unexpected. We've competed in a few local TSD rallies, have been improving our communication as driver (Andy) and navigator (me), and understanding how TSD rallies really work. Even though we're used to driving off road in a variety of terrain, we're both novices at TSDs. I always say, "Go big or go home." So, for us, competing in the Mother of all winter rallies will be hard to beat! Stay tuned, there'll be more updates …
Follow our journey via social media at Crankshaft Culture and at Tread magazine.