Valkyrie Racing Conquered the Antarctic in a Vintage Porsche 356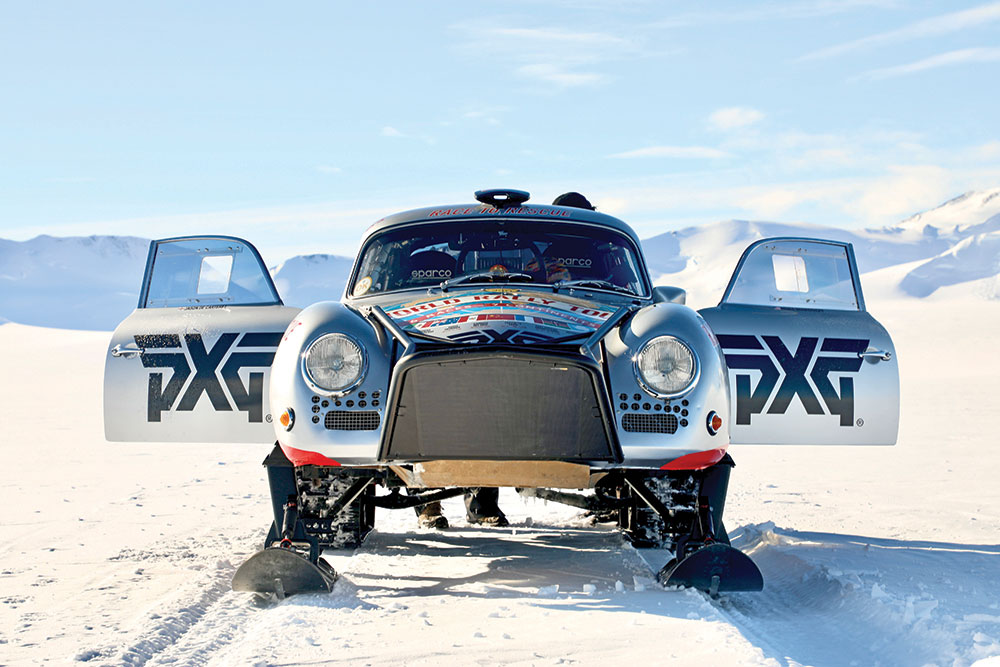 Valkyrie Racing conquered six rallies, seven continents, and nearly 20,000 miles in a classic Porsche 356 to end child trafficking.
After experiencing over five decades of life, Renée Brinkerhoff wanted to give back. Her age and lack of experience didn't make her falter—she went big and decided to race every continent to help end child trafficking. This was the impetus for the Valkyrie Racing Porsche 356 and the Project 356 World Rally Tour.
Instead of pursuing a professional career, Colorado resident Brinkerhoff, a mother of four, was a stay-at-home mom. It wasn't until her last child departed that her life changed forever. At 55, Brinkerhoff realized she had been telling herself a one-liner for decades. What started as a subconscious conversation turned into the ultimate decision: She was going to become a racecar driver. Although she had never raced, Brinkerhoff knew it'd be a massive undertaking; one she had no initial skill or background for. She knew this was non-traditional, but that didn't stop her. Her car of choice? A vintage 1956 Porsche 356.
The Story Behind Valkrie Racing
Brinkerhoff's childhood wasn't that of an average youngster. She spent her early years divided between a small beach town in Southern California and Southeast Asia during the height of the Cold War. She and her family also called Hong Kong home during Mao's Cultural Revolution, where they lived through the turmoil of the Red Guard riots. Additionally, they resided in Laos during the end of the Vietnam War.
Brinkerhoff's childhood shaped her in many ways, but she didn't realize this until later in life.
Project 356 World Rally Tour
Brinkerhoff participated in her first competition by driving someone else's car. In 2013 her newly formed team, called Valkyrie Racing, started competing as an entity. As the mind behind Valkrie Racing, Brinkerhoff was the sole driver of the vintage Porsche 356, and she captivated audiences.
[Brinkerhoff] completed major rallies in 17 countries and on 6 continents until she faced her last and most difficult challenge: conquering 356 miles of blue ice in Antarctica.
Valkyrie Gives
In 2017, Valkyrie Racing formed Project 356 World Rally Tour. That year, Brinkerhoff also created a philanthropic arm called Valkyrie Gives. Its purpose was to raise awareness and funds for child trafficking while she raced each continent. Brinkerhoff finally found a way to translate people's enthusiasm for her 1956 Porsche and her journey into caring about victims of child trafficking with no voice.
Brinkerhoff has raced all over the world, from La Carrera Panamericana, a treacherous 2,000-mile road rally across Mexico, to the East African Safari Classic; the toughest off-tarmac classic car rally in the world. She completed major rallies in 17 countries and on 6 continents until she faced her last and most difficult challenge: conquering 356 miles of blue ice in Antarctica. Brinkerhoff took on this challenge with an extremely modified version of her beloved vintage Porsche.
"Snow"blocks
Valkyrie Racing faced a wide array of challenges during the Project 356 World Rally Tour. Crashes and broken parts, like the accident at the 2015 La Carrera Panamericana race, kept the team busy. Corrupt customs agents challenged the organization and asked for bribes. Ocean crossing delays and changing rally regulations tested stamina. Language barriers also caused problems.
The team also confronted other roadblocks. Racing at elevations of up to 16,000 feet and competing in terrain that was different than what they prepped for proved difficult. Project 356 was pushing their skills to capacity, but they kept going. In their hearts, they knew each dollar raised was helping those who had no voice.
Brinkerhoff's last challenge to close out the Project 356 World Rally Tour was to face the most extreme environment yet: Antarctica. Would she succeed or would the land of ice and remoteness be too much for this Colorado mother of four?
The Antarctic Endeavor
Brinkerhoff armed herself with key players to help prep the Valkyrie Racing Porsche 356, which underwent a massive transformation. UK-based extreme explorer and senior chassis design engineer Kieron Bradley spent over 18 months re-engineering Brinkerhoff's Porsche, ensuring its safety and endurance for the final expedition.
Also on the team as Brinkerhoff's navigator was Jason de Carteret, a world-record holder for polar exploration who led more than 50 expeditions, including those to the North and South Pole. Brinkerhoff's daughter Christina held the operations manager position and is the photographer for Valkyrie Racing and Valkyrie Gives. Chief Mechanic Simon Redhead accompanied Valkyrie Racing on every Project 356 competition and prepped the Porsche uniquely for each rally, including the Antarctic endeavor. Finally, Neil Carey joined the group for a second time as the team videographer.
According to Keiron Bradley, the success of Brinkerhoff and her car were due in part to the "thoughtful balance of appropriate technology we've added, and the mass reduction implemented."
Since they expected 24 hours of sunlight across Antarctica during their effort, the team removed elements like lights, framework, fire extinguishers, and wheels to save weight. Plus, they removed the Porsche's heating system.
Ski Rally
Additionally, a custom setup included front skis and rear tracks, as well as a crevasse bar and a specialized brace and suspension system that increased the vehicle's mass to accommodate various snow conditions.
Bradley explained that while the overhaul had increased the mass of the Valkyrie Racing Porsche 356, the mass per square inch (the footprint) using the ski and track system was reduced to fewer than four percent of the standard wheel displacement.
"The ski we've created must do 40-50 percent of the work, by compacting and prepping the snow for the track unit to follow over, with the underside blade guiding the direction," Bradley stated. "This ensures the tracks will not submarine under the light snow." By using skis and tracks, he upped flotation by as much as 300 percent when compared to typical Antarctic 4×4 support vehicles running 42-inch tires.
'Nothing was ever easy,' driver Brinkerhoff stated. 'The whole journey has had so many hurdles, right up to completing the last few miles in Antarctica.'
Other important changes to the Porsche 356 were additions like a crevasse bar that supported dual-sided solar panels for reflecting sun and snow as the Valkyrie Racing team faced the Antarctic terrain. They also added a roll cage and suspension arms from TIG-welded T45 material, and a 4-ton bag jack to lift the vehicle in soft snow in case it got stuck. Other retrofits included a rear-engine frame winch point, an emergency rear window exit and a design that must accommodate the fitting of pre-approved spiked ice tires with no wheel alignment change in case of emergency.
Not-So-Smooth Sailing
In addition to a custom ski-and-track setup, the team devised several technical considerations to help the vintage Porsche function in brutally cold temps of -15ºF to -20ºF. Because of those extremes, all materials had to be field repairable. Among other items, only simple hand tools were permitted on the ice to constrain running tool mass. In addition, the crevasse bar couldn't impede Brinkerhoff's vision.
However, the best preparations still allow opportunities for unexpected challenges.
When the Valkyrie Racing team arrived at Union Glacier, they learned the logistics company supporting their effort on the ground was three weeks behind schedule. They also discovered the people responsible for staging the fuel along the route toward the South Pole they planned to traverse… hadn't.
Consequently, the team adapted their strategy and drove 356 miles through Schanz Glacier, Schneider Glacier, Driscoll Glacier, and Union Glacier.
On two separate days, the team thought the engine was terminal and would need replacing. Three of the four spare bolts for the hubs on the front skis broke. Air filters kept on freezing, and they had to switch out the carburetor in sub-freezing temperatures. In addition, they stashed water, fuel, and fluids in places one normally doesn't want to see in a typical engine setup.
However, the team didn't let those setbacks deter them. As navigator de Carteret said, "You're going into an envelope of danger. You're taking the trust, taking the chance, and living a little!"
A Triumphant Finale
On December 10th, 2021, the Valkyrie Racing team completed all 356 miles in Antarctica with an epic finish at Drake Icefall. They battled fierce winds and white-out conditions, as well as mechanical issues and uncertainty, all to conquer the last continent: Antarctica.
"Nothing was ever easy," Brinkerhoff stated. "The whole journey has had so many hurdles, right up to completing the last few miles in Antarctica. It was a team effort the whole way and every team member brought their 100% best to achieve our goal."
To date, Valkyrie Gives has raised over $556,000 to help fight child trafficking. From prevention and rescue fieldwork to restoration, the organization dispatches 100% of funds to vetted frontline non-profits. They team has an added focus on India, Peru, Brazil, Kenya, Mongolia, Cambodia, Thailand and domestic establishments.
"Every one of those children deserves to be rescued and then restored," Brinkerhoff said. "It's the most horrific tragedy in our so-called modern civilized world. I don't understand how people can be so apathetic about the most barbaric, horrendous thing that is being perpetrated on the children of our world."
Next Steps For the Valkrie Racing Team and the Porsche 356
Even though the Valkyrie Racing Project 356 World Rally Tour is now complete, the team is already working on an even bigger challenge that'd be another first for Brinkerhoff's rally-decorated vintage Porsche 356.
"Other than a cold air issue in the engine bay which can easily be resolved and a bolt that can easily be improved," Brinkerhoff said, "the skis and tracks functioned way too well on the snow and ice to not challenge it again even further."
Valkyrie Racing is well on its way to raising $1 million to help end child trafficking, but its goal is to far surpass that. It's a noble cause that intertwines a unique vehicle, world travel, and one especially determined woman.
Be sure to follow @Valkyrie_Racing on Instagram to see more of Renée Brinkerhoff's adventures.
---
Special Upgrades
If a pair of skis are only attached at the hub points on the vehicle, the hubs and attaching suspension system would potentially be overstressed and compromised, even under light use.  Therefore, Bradley's solution attached the ski brace bar to the ski leg. This transmitted the load away from the hub points and attached the leg to the suspension system. The aesthetics of the skis look great. And, they were also supported by all the other components, as their design makes less of an impact on the snow than a footprint.
Bradley discounted the use of any tire and proposed the skis and track combination. Skis increased the flotation by as much as 300 percent when compared to Antarctic 4×4 support vehicles on 42-inch tires. The 356 will be gliding and leading the tracks throughout the entire journey.
Other significant retrofits include:
Crevasse bar that supports dual-sided solar panels (reflecting both sun and snow)
Twin solar panels to produce a minimum of 150W at peak saturation
Roll cage TIG welded/T45 material
Rear track suspension mount frame with TIG welded T45 material
Track bearing system running Dupont Krytox low-temp grease
12V low-temperature compressor
4-ton bag jack to lift vehicle in soft snow
Rear-engine frame winch point
Temperature gauge for early gearbox overheat detection
Ability for occupant to have rear window exit option
Accessibility from with the cabin area to reach survival dress, water, and communication equipment
Technical Considerations:
Design must accommodate the fitting of pre-approved spiked ice tires with no wheel alignment change
Operational temperature range -50°C to +55°C
Vehicle must use original rally-prepared suspension and steering system with only complementary suspension to control the tracks
Use of simple hand tools is only permitted on the ice to constrain running tool mass
Crevasse bar to not impair driver vision
All track and ski fitment to be accomplishable by one person
Recommended speed for component durability 40 mph
1.2psi maximum ground pressure at 50mm soft snow depth
---