Yeti-Built Adventure Dream Rig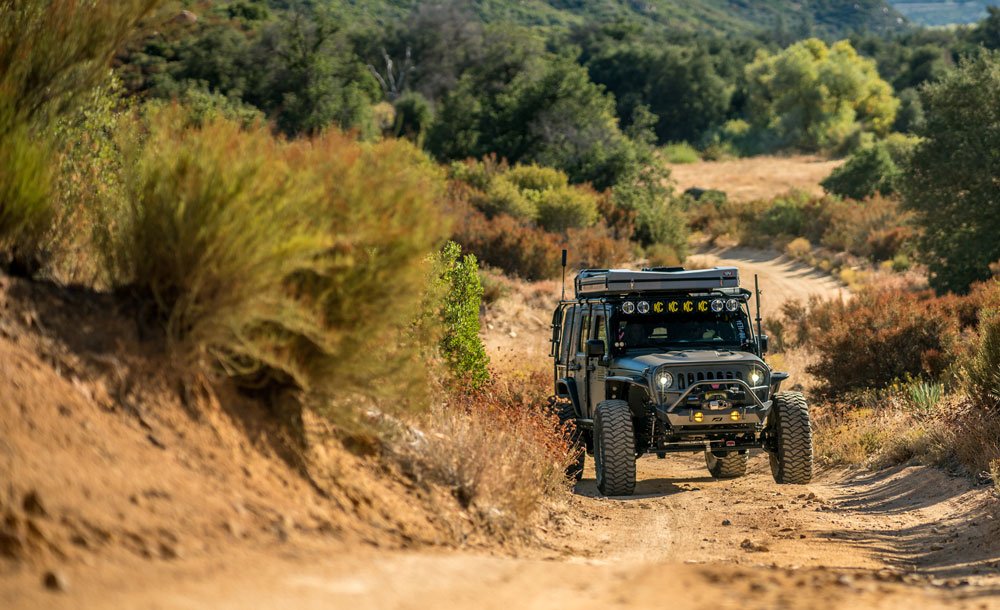 Photos by Malcolm Tweed
The 2010 JKU Turns into an Adventure Dream Rig
Imagine you had the chance to build the ultimate rig. One that has the capabilities to go wherever you wanted, features to accommodate all of your gear, and a look to make heads turn. What would it look like? What platform would you base it off of? What features would you incorporate? Not many of us have the expertise, knowledge, nor opportunity to build something almost from scratch, but if you did, you know you'd jump at the chance. And that's exactly what Jonathan "Yeti" Norvell did. The foundation he built from fabricating vehicles, customizing cars, and building epic off-road rigs all led him down the unimaginable path to eventually build his ultimate vehicle: the Adventure Dream Rig, affectionately called ADR. It made its debut at Overland Expo West 2019 and has continued to turn heads ever since. This one-off dialed-in machine turned up the power, increased the capabilities, and opened up the possibilities of what it could hold and where it could go.
Ideas Come to Life
Already well versed in living life on the road full time, Yeti came up with the idea for this build from a conversation he had with Pete Brownell. After spending some time together in Iowa, currently where Yeti has his shop set up, Brownell asked Yeti what he would build if he could build anything he wanted. What would be his tool for adventure? The wheels turned and the thoughts and ideas spilled out as Yeti reflected on his years living off the grid with his girlfriend and adventure partner, Holly "Yolo" Freeman. The things he discussed weren't the typical cool gadgets and products we all love, although those are also a necessary addition, but rather he focused more on the things he needed when he was in the middle of nowhere—the features that held importance with extended long-term use of a vehicle. Thus came the birth of the Brownells Adventure Dream Rig.
Brownell partnered up with Yeti for the build and dreams became reality. After deciding which model to use, JKU or JLU (which was just coming out), he opted for the JKU. The simple-yet-rugged platform allowed him to do the most he could with what was available at the time. He mentioned the search for a JKU on his Instagram account and the DMs flooded his inbox with people offering up their Jeeps. After searching from east to west on one of their many trips, Yeti finally found a clean 2010 Jeep JKU in Southern California for $20,000. It already had a following on social media and was recognizable in the overland space with a small lift, roof rack, and light pods. What it transformed into is much, much more.
Building a Dream Rig
Yeti and Yolo spend countless hours putting miles on their vehicles traveling the U.S. On average, they travel 30,000 miles or more per year off the beaten path; tack on all the highway miles at 70 mph and they are hitting high numbers. They need their rig to handle it all—the Adventure Dream Rig does that and more. While many off-road builds are plenty capable on dirt, they are not necessarily safe on the highway. Yeti knows because he's built plenty of those in his days. This time around, he wanted to create a vehicle that can haul around any piece of gear, is able to do any off-road trip, and is capable of handling any terrain they may come across on an adventure.
Coming from a background of blue collar work, Yeti was always resourceful in his builds and able to create the parts needed. However, opportunity presented itself to learn and do even more with this Jeep. For the Adventure Dream Rig, GM opened up their race department to help build the perfect combination of engine and drivetrain. Novak Jeep Conversions in Utah opened up a mechanical bay to Yeti for two months and he worked there, utilizing their 50 years of expertise to guide him in areas he was less familiar. With Novak's help, the Adventure Dream Rig received a stealth mode custom-built intake to help create the 500 hp and 495 lb-ft of torque from the custom-tuned 6.2L V-8 GM Performance engine, along with a 3-inch hand-built stainless TIG-welded exhaust and headers. In fact, the selectable flow exhaust utilizes a push-button performance exhaust option.
The drivetrain and suspension needed to be heavy-duty so in went a GM Performance 6L80E transmission with integrated tap shift controls for the six-speed factory Mopar steering wheel, achieved utilizing RPM Extreme technology. Teraflex CRD/Tera 60s true high-pinion 1-ton axles are in both the front and rear. They clear 70 inches, fullsize truck width, to widen the stance of the Jeep without using backspacing or wheel spacers. The Jeep was geared to 4:88 with ARB selectable lockers in front and rear, along with a Teraflex Big Brake Kit and 8-lug axles. To ensure the ride was smooth but also capable on more difficult terrain, Yeti opted for a 4-inch Teraflex long arm suspension paired with Walker Evans Racing 2.5 Piggyback adjustable shocks and Teraflexbumpstops in both the front and back. All of this powers the four hefty 40/13.5-17 Mickey Thompson Baja MTZ P3s with 17×9 Walker Evans Racing Legend II Beadlocks, and of course there is a fullsize onboard spare.
"Pouring yourself into something takes undeniable energy at all cost, but it has a way of giving back."
Knowing the heavy-duty, durable drivetrain and suspension would bring on weight, Yeti built the body as light as possible without skimping. The majority of bodywork is done in aluminum, although it has a heavy steel appearance, along with hidden parts in carbon fiber and SMC to keep it light and nimble—the thought process being that he wanted the Jeep to be able to haul three people, supplies, firearms, tent, and other accessories for a three-week trip. He never wanted to feel as if the vehicle wasn't capable for any unknown situation. Looking at the Jeep, you couldn't guess that the custom hardtop was so lightweight. Adding more function to form are the two doors of the hardtop on both the driver and passenger side that give access to cargo and a 12V/USB charging station. Of course, this artisan's attention to detail isn't just underhood, but also shines in the epic "Battle Worn" paintjob. While most may think it's a wrap, it is actually a finely crafted piece of artwork where he grew water-born crystal in between mid-coats to give it that subtle sheen when looked at from different angles.
One of the biggest alterations made was the 10-inch body stretch and 2-inch cap height increase. Yeti knew that the JKU didn't afford enough room to haul all the gear he wanted on his and Yolo's adventures and also used this as an opportunity to make the best use of space. A lot of work had to be performed to make it happen, but the result is worth the efforts. He found every nook and cranny that could be used—and used it. Thinking back to his prior experiences living on the road, he wanted a flat working space for times when he needs to service the vehicle or clean his firearms. "Nothing is worse than dropping something in the dirt that you're trying to clean, only to be dirty forever," Yeti says. The body stretch allowed him to create the flat space he longed for with a twist. In the subfloor, he installed magnets to lock in tools, cooking utensils, and other items that he didn't want to get lost. Additional magnets were added in other places on the vehicle for similar use. An extra 10 inches also allowed him to create storage compartments for gear and firearms. The extra space allowed for the ARB Dual Compressor, used for both air lockers and onboard air needs, to be tucked inside the rear quarter-panel. Thinking ahead, he set it up to pull clean air from inside the cabin where less dirt and dust tend to be. Housing the electrical and compressor in the internals of the vehicle also keeps them less prone to wear and tear.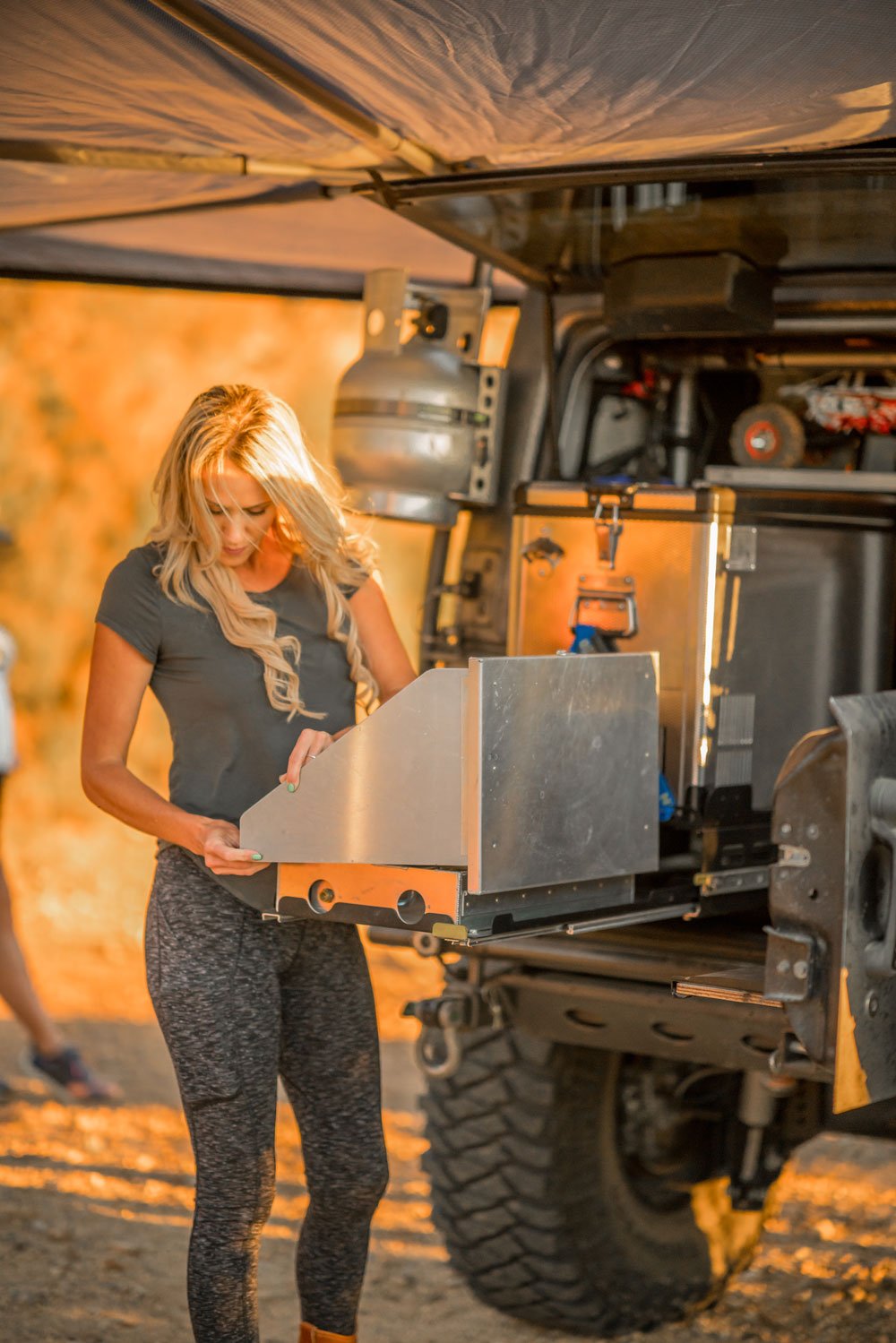 Although Yeti was able to customize all the internal entities of this vehicle, it goes without notice that the outside shows off plenty of thoughtful additions, too. The front end touts a 10th Anniversary hood, KC HiLites Gravity LED Pro 7-inch headlights, and a Motobilt Crusher front bumper and Warn Zeon 10S with upgraded Step 22 Gear Synthetic Line, Factor 55 Ultra Hook, and fairlead. There's also the KC HiLites Infrared (IR) pillar lights and KC HiLites Pro 6 light bar up top. And don't forget the Yeti-built fenders with the fan-favorite feature of built-in cup holders. The Jeep is encased in a full modular Yeti-built Exo Rack System that holds the Front Runner Outfitters water system and 10-gallon fuel system, Agency 6 recovery shovel, Powertank mount and aluminum propane tank, and of course, the Tepui Tents White Lightening Hard Shell RTT and Roam Adventure Company 270-degree awning. In the rear, he went with Poison Spyder flush-mount taillights and a KC HiLites Chase Bar that has amber strobes, reverse, running, and blinkers integrated. And if you can believe it, modified Poison Spyder Rock Sliders act as the custom EXO Rack mounting location.
Challenges
When asked about the greatest challenge he came across, Yeti responded that it was learning the things he didn't know. Going into the build he didn't know about electrical or pairing the mechanical features with the electrical features. He broadened his knowledge of engineering the systems on board and had to be OK doing it wrong two or three times before he got it right. Trial and error was simply part of the process. It really allowed him to reflect on why he was building the Adventure Dream Rig and flush out the things that weren't ideal. Building the entire system helped him truly understand why things work the way they do so he could know what to do should something go wrong in the future. And that leads to the next challenge, writing up a manual to live with the Adventure Dream Rig to document all the systems and brands that are a part of the build. This book will travel with the Jeep on its many adventures.
Living Up to Expectations
We know what you're thinking: Does it really do all it set out to do? We can tell you on his "dry run" it traveled 4,000 miles across 10 states from Iowa to Arizona for Overland Expo West 2019. Before it was seen in the KC HiLites booth at Expo West, Yeti and Yolo joined up on the four-day Four Wheeler Overland Adventure trip preceding the event and couldn't have been more ecstatic to give the Adventure Dream Rig the attention it deserved.
"This time around, he wanted to create a vehicle that can haul around any piece of gear, is able to do any off-road trip, and is capable of handling any terrain …"
Built with international travel in mind, the Adventure Dream Rig has already shown its capabilities stateside. Not only has it traveled the trip out west for Overland Expo West 2019, but Yeti and Yolo also took it back on another West Coast adventure that lasted six weeks. It included a weeklong guided trip of Yeti's dream off-road camping adventure. Fans joined up from all over, even as far as Australia and Sweden, for this trip, which was really special to them. It truly encompassed what adventure vehicle travel is all about: meeting people from all around the world and bonding to now consider each other family. On the same trip, Yeti and Yolo got to see friends, visit brands in person that they have built relationships with online, attended their first SEMA Show, and then capped it all off with an intimate historical tour of old western towns, spots of famous shootouts, and other notable landmarks to absorb our country's western history on their way home to Iowa.
It goes without saying that Yeti is an artist. He pours himself into his projects and gives them undeniable energy at all cost. He's no stranger to working around the clock to complete sections of his build, and the Adventure Dream Rig reflects that type of passion and craftsmanship. While the build timeline of the Adventure Dream Rig was a total of two years from purchase to Overland Expo West, it was actually five to six months of actual work completed. Dedication and drive pushed him through long hours of labor but also brought about time for reflection. Like a true artist, the Jeep is an expression of himself, and the memories it evokes is payback for all the hard work and labor. After all the reflection, and as our interview came to a close, Yeti realized he had to pay homage to the Original Yeti Jeep. He says, "If it wasn't for the Original Yeti Jeep, the Adventure Dream Rig wouldn't have existed. It was the catalyst to many events that led up to the ADR." What started as a quick trip in his buddy's Jeep while he had a paralyzed arm, led to his first Jeep purchase three days later, meeting Yolo, going on the road full time, meeting Pete Brownell, and the chance to build the Adventure Dream Rig . Truly, one thing in life leads to another.
"… he focused more on the things he needed when he was in the middle of nowhere—the features that held importance with extended long-term use …"
"Pouring yourself into something takes undeniable energy at all cost, but it has a way of giving back," Yeti explains. He recognizes that this was an untouchable type of build for the average person and for him it was never intention driven or to get something out of it. "Things pay back naturally when you let things come to you. You do you and things will come your way." And that theme emanates in his and Yolo's mentality expressed in their posts on Instagram. Fight for what you believe in. Live the life you were meant to live. Live without fear. We couldn't agree with them more.
To follow along on Yeti's builds or his and Yolo's adventurous life full of shop cats and delicious Traeger meals, look them up on Instagram @thejeepcalledyeti and @thewildyolo or online at yeti-built.com.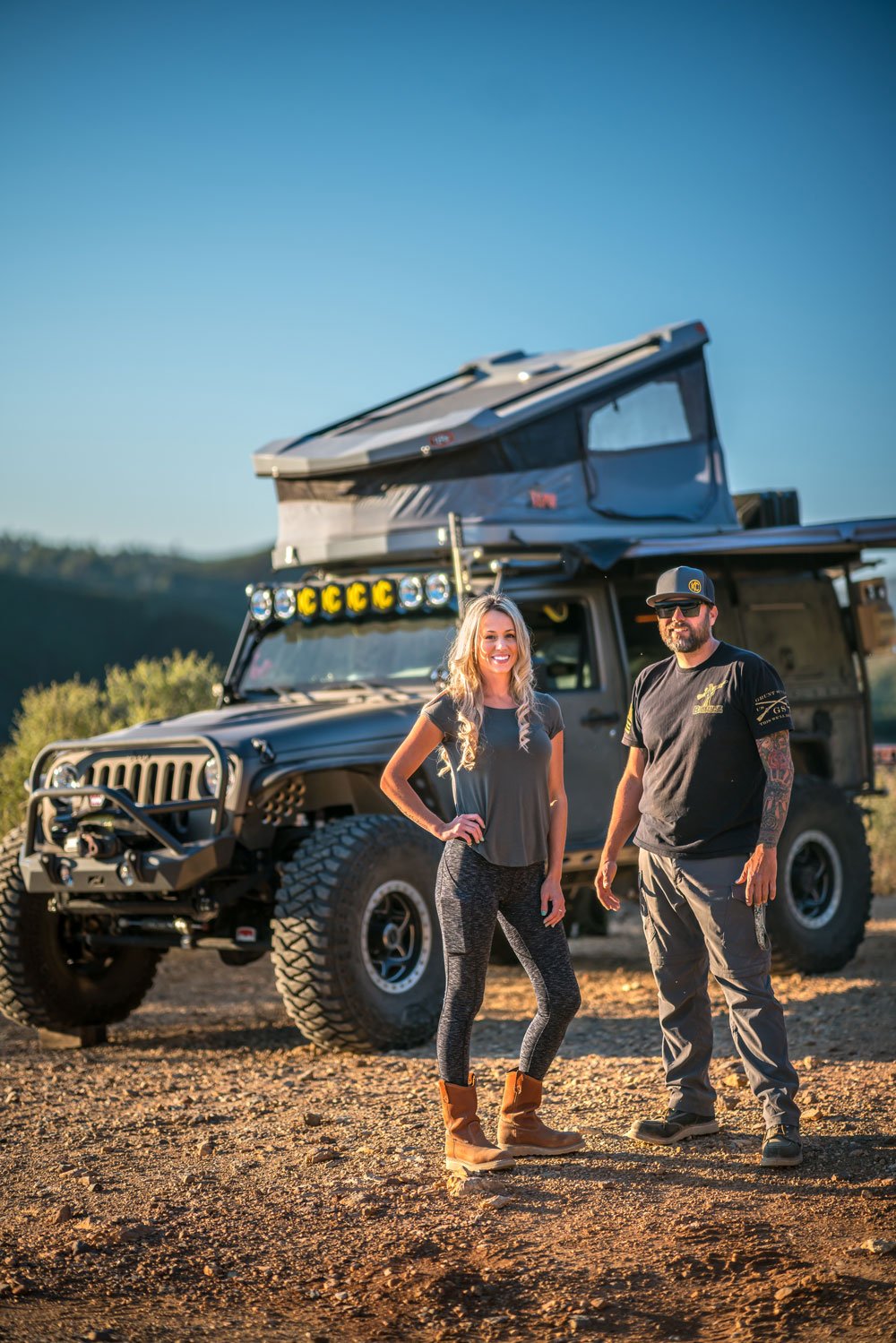 ---
UPGRADES
2010 Jeep Wrangler JKU
Engine: GM Performance 6.2L V-8 LS3 crate engine
Suspension: 4-inch Teraflex Long Arm suspension, Walker Evans Racing 2.5 Piggyback adjustable shocks, Teraflex bumpstops
Wheels & Tires: Walker Evans Racing Legend II Beadlocks, 8-lug, 17×9; Mickey Thompson Baja MTZ P3s 40/13.5-17
Accessories (Exterior): 10th Anniversary Hood, KC HiLites Gravity LED Pro 7-inch headlights, KC HiLitesInfra Red (IR) pillar lights, KC HiLites Pro 6 light bar, MotoBilt Crusher front bumper, Yeti-built fenders with built-in cup holders, Full Modular EXO rack system, Front Runner Outfitters water system, Front Runner Outfitters 10-gallon fuel system, KC HiLites Chase Bar on rear rack (amber strobes, reverse, running, and blinkers integrated), Tepui Tents White Lightening hard shell RTT, Agency 6 Recovery Shovel, Powertank Mount & Aluminum propane tank, Flush Mount Poison Spyder taillights, Poison Spyder Rock Sliders modified as EXO rack mounting location, Warn Zeon 10S with upgraded Step 22 Gear Synthetic Line, Factor 55 Ultra Hook & Fairlead, 10-inch body stretch with quarter-panel compartment built in that houses the ARB dual compressor, custom-built hardtop, custom paintjob, PSC power steering setup with Teraflex Big Bore Box, One-Ton steering, Falcon Steering Stabilizer
Accessories (Interior): Goose Gear Plate system, full custom-built rollcage, SnoMaster 41 L fridge/freezer on a TemboTusk slide, Cook Partner two-burner stove, Goose Gear Drawer system, Hard Korr LED Camp Lighting with amber option (rear interior lighting), Ram Mounts for iPod, PRP custom seats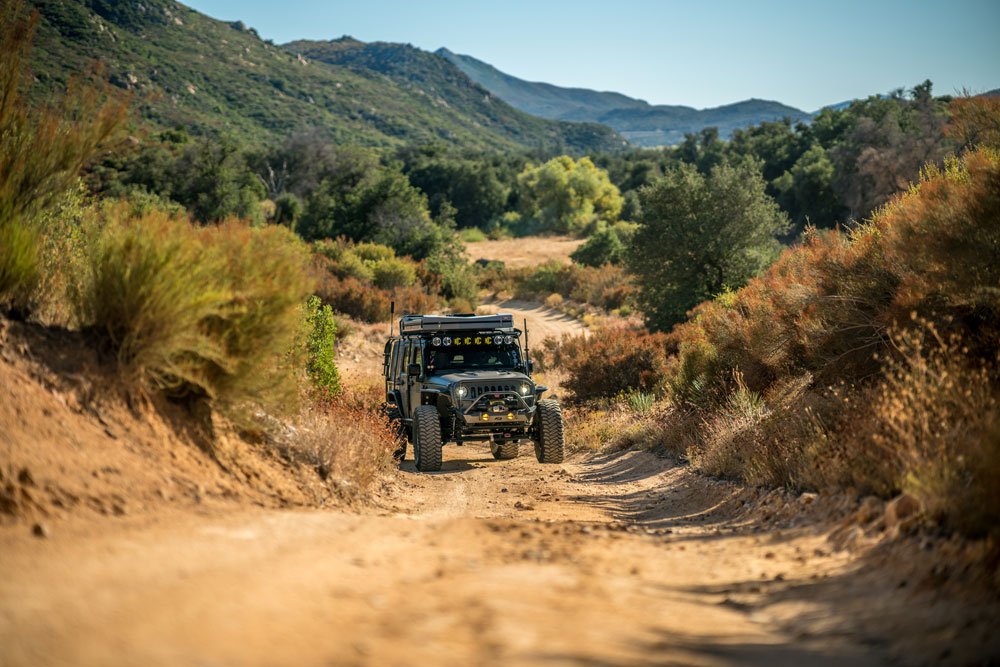 Editor's Note: A version of this article first appeared in the May/June 2020 print issue of Tread Magazine.