Alex Earle's Raptor Build: a Minimalist Adventurer's Dream Rig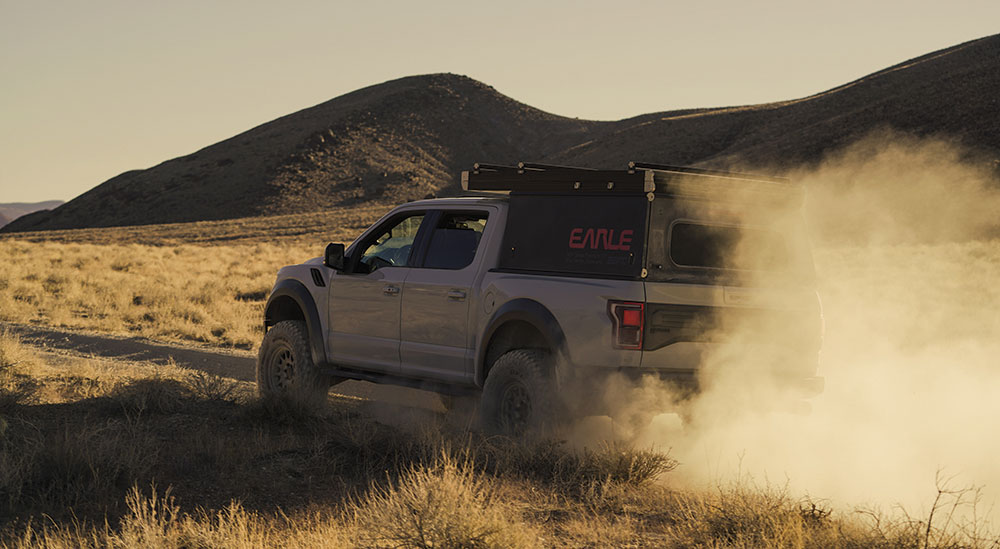 Alex Earle, an experienced automotive designer, built his Ford Raptor to create big adventures.
Alex Earle's daily driver 2017 Ford Raptor build was a well-thought out impulse purchase. The plan to obtain one was long in the works, but finding one at a reasonable price range proved challenging. After luck and circumstance brought owner Alex Earle to this truck, his plan to create a basecamp for adventure bike excursions became a reality.
Between bringing along motorcycles for those tight off-road adventure spots and packing in his family of five for some weekend camping, Earle needed his Raptor to do double duty. By keeping it pared down to the very essentials, he's able to choose what kind of gear he brings along on every single adventure.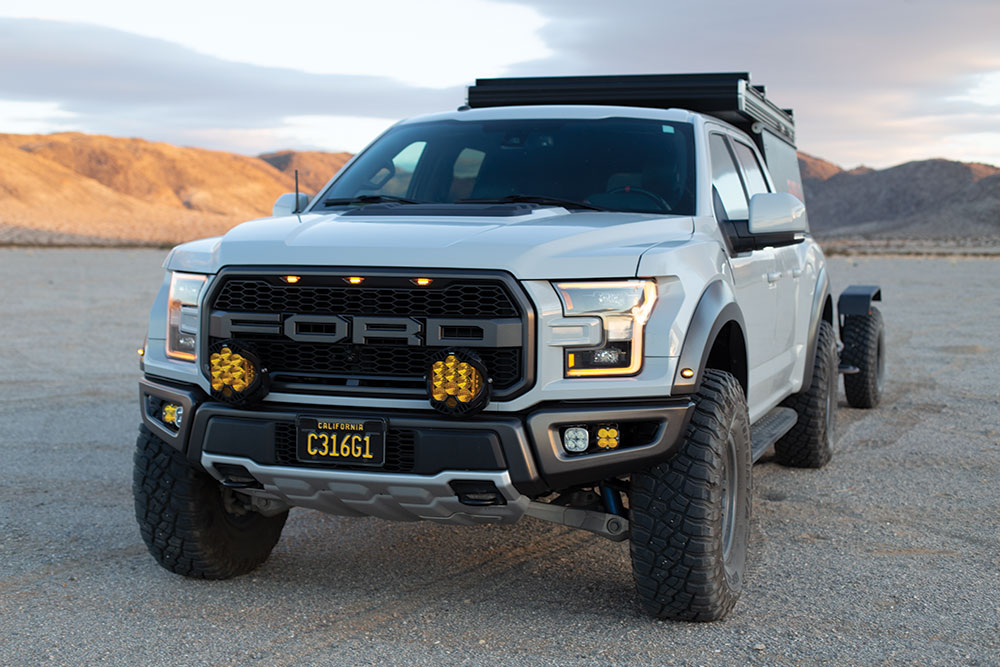 A True Designer
A transportation designer by trade, Alex Earle has spent his life working with manufacturers, teaching students, and bringing motorcycle concepts to life. His company, Earle Motors, is a creative passion project. There, he develops, curates, and builds his dream machines, primarily with an off-road focus. Hot Wheels ever replicated one of his projects, a Jeep Commando, as a toy.
The Art Center College of Design graduate studied Automotive Design and has worked with many automotive and motorcycle companies in various capacities. He shares his knowledge and experience with students a couple of days a week as the transportation design instructor for his alma mater. "I feel very fortunate that my personal interests and hobbies filter into my daily job," said Earle.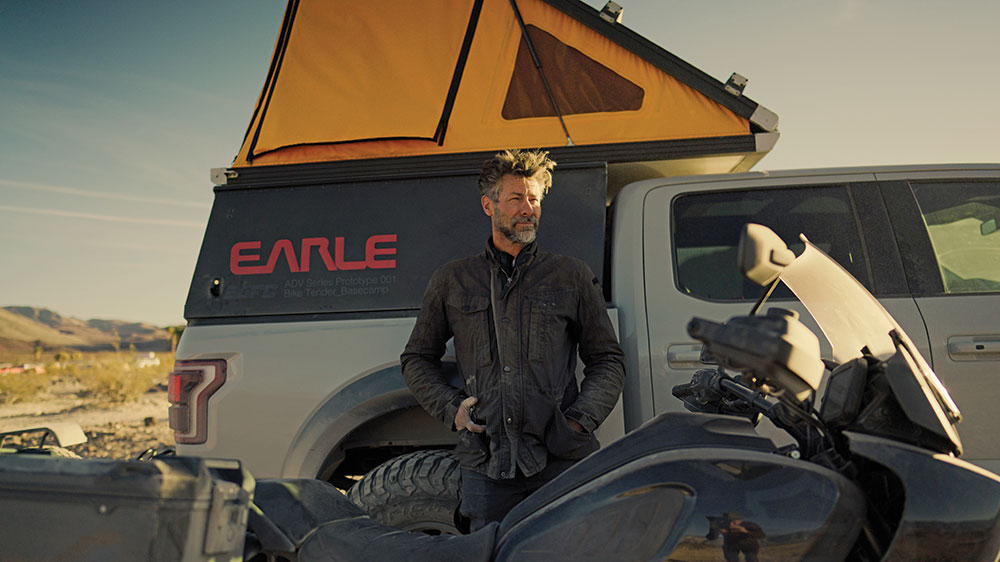 Growing Up In The Outdoors
Earle spent his childhood backpacking and off roading through the various landscapes in Utah and Colorado. The need for adventure and the outdoors stuck with Earle through his life so much that his work reflects his love for the desert and mountains. He often finds his inspiration by visualizing various environments and landscapes, imagining how his projects would engage in each scenario.
To help satisfy his urge for the outdoors, he was in need of a new vehicle. Originally, the plan was to build a capable daily driver that would also be used as part of his motorcycle basecamp concept. He needed to have a truck that could transport dirt bikes and larger adventure bikes to remote desert locations.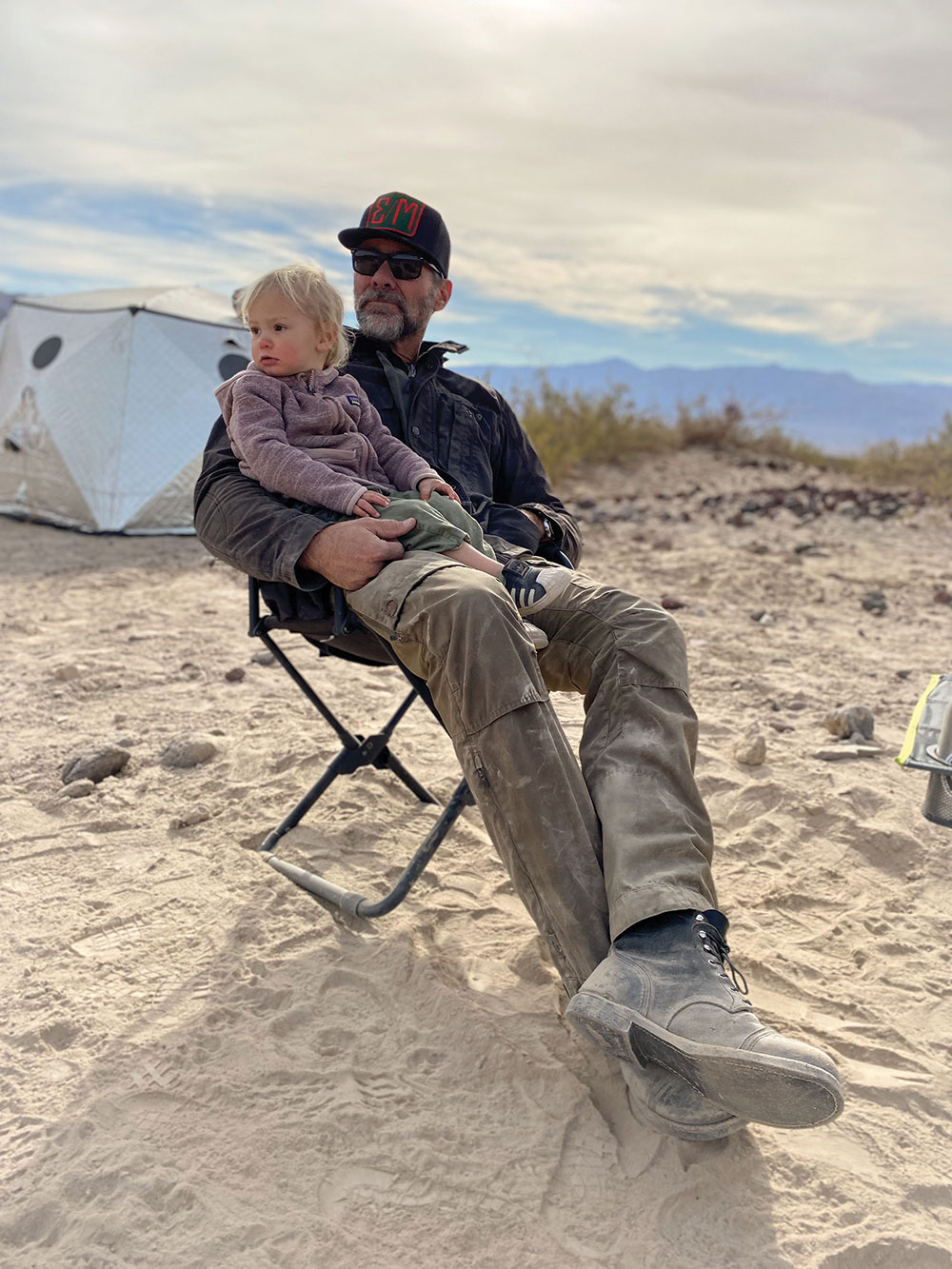 The need for adventure and the outdoors stuck with Earle through his life so much that his work reflects his love for the desert and mountains.
Obtaining The Raptor
Earle patiently waited a couple of years, hopeful that the pricing for the Generation 2 Ford Raptors would come down to a more reasonable price range. After a failed camping trip in which his family was forced back home because of a nearby forest fire, Earle found himself at local car dealerships. Eventually, he stumbled across an Avalanche Grey 2017 Ford Raptor with only 12,000 miles. It was then that he made a spontaneous purchase and drove home with the V8-powered beast. "Since the Gen 2 Raptor premiered in its signature Avalanche Grey launch color," Earle shared, "I was transfixed by its capability, design and color."
Minimal Design With Lots of Function
With the new truck in his possession, the design process began. Alex Earle's goal was for the Raptor build to function as a comfortable and capable off-road vehicle.
Earle elected to add a Go Fast Camper (GFC) to ensure a good night's sleep. Within a weekend, he made the trip from Los Angeles to Montana and back to install the camper. He left on a Friday, watched the Go Fast team lower on his GFC V2 platform camper on Saturday and hauled it back home on Sunday. The platform camper is his favorite update to the rig.
As a designer, Alex Earle appreciates the details in products. The GFC camper's details checked off a lot of boxes for his Raptor Build. It provides a lightweight solution with the necessary security, function, and comfort that he required. He also appreciates the construction detail, quality materials, and highly modular design of the camper. The lightweight nature of the camper, weighing around 300 pounds, helps to ensure the Raptor's performance isn't negatively affected. As Earle puts it, "This unit epitomizes my whole theme for this project." Linking his background and current needs together, he goes on to say, "It's more a backpacker's approach of high-quality minimalism, where everything is reduced to its bare, most-effective purpose."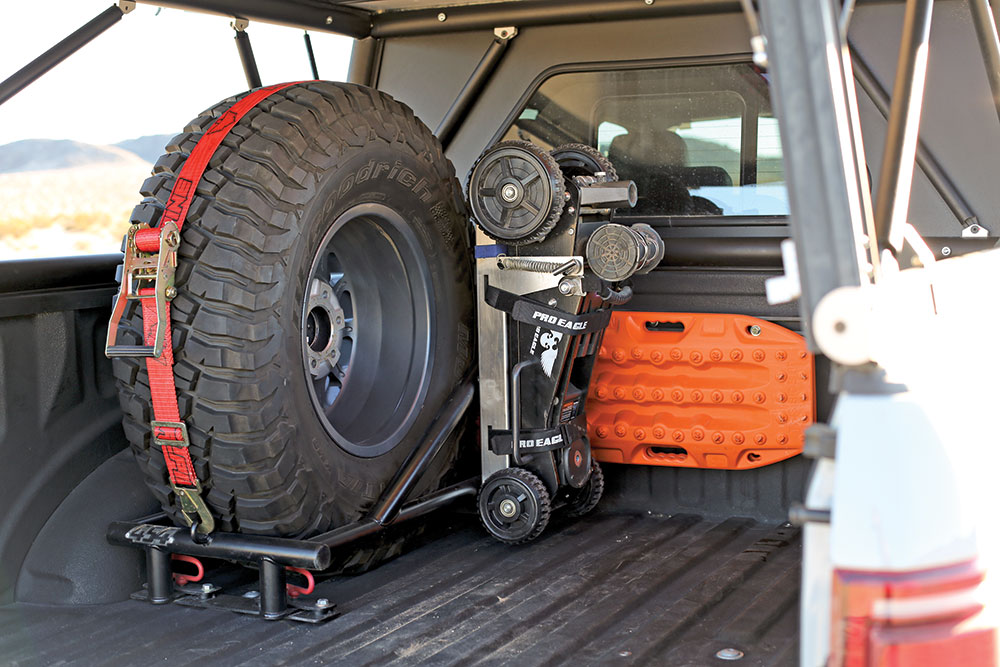 In keeping with his designer minimalistic approach, Earle wanted to keep things simple and light on the Raptor build.
Destinations Abound
One of the main destinations with the truck is an annual Thanksgiving trip to the Saline Valley Hot Springs, located in Death Valley. Earle and his friends have visited this area over the holidays for over eight consecutive years. The tradition began as a way to unwind and explore with a group of European colleagues that were away from their families during the holidays. The group has now grown to around 8 vehicles and over 20 people.
Initially, Alex Earle would take his old Rubicon or even his 1967 Jeepster Commando. Now, the Raptor build provides him with a reliable vehicle with an ample fuel capacity at 36 gallons. This ensures he has enough gas to get him to the location and back. As an added bonus, he also avoids the mechanical issues that would plague him on previous excursions.
Earle also looks forward to trips to other destinations easy to get to from Southern California. He enjoys trips to Johnson Valley as well. There, he likes to leave the trailer at home so he can really enjoy the Raptor's speed and suspension. He also likes to visit El Mirage, Rowher Flats, Moab, St. George, and Anza Borrego. As Earle says, "With the platform camper, the possibilities are endless."
Dialing In The Ride
To help assist with the added load and weight, Alex Earle updated the suspension on his Raptor build with Deaver +3HD springs along with a Camburg Racing 2.5 bump stop mount kit with Fox air bump stops. This setup ensures a plush ride over open desert at speed when fully loaded. He also upgraded the front suspension with Eibach springs that raised the truck 2 to 3 inches. He has plans to add Camburg Racing billet upper control arms in the future.
For style and performance, a set of Method Race Wheels 703s were added with 37-inch BF Goodrich KM3 tires. After a close call on an icy West Yellowstone highway, though, he plans on swapping to a set of all-terrain tires when the time comes. He decided that the increased rubber would better suit the Raptor.
Relocated to inside the bed of the truck is a larger spare tire. A removable 454 Motorsports Delta cage is used to secure the 37-inch spare, as well as mount a Pro Eagle 3-ton jack. Utilizing the space between the bed's bulkhead and the tire is a set of MAXTRAX recovery boards.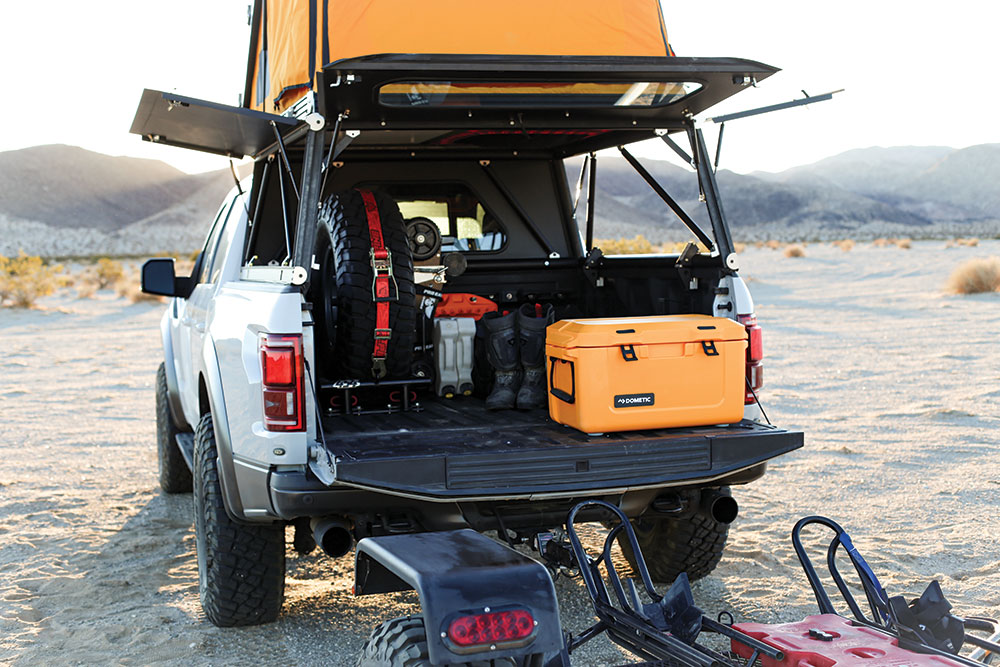 Keeping It Light and Functionable
In keeping with his designer minimalistic approach, Earle wanted to keep things simple and light on the Raptor build. He opted to refrain from using an electric cooler and instead uses a Dometic Patrol 35 to help keep things as light as possible. He has resisted the urge to add the additional weight of extra batteries, drawer systems, and so on. He's still experimenting to find the right balance for his trips, but this works for his travels.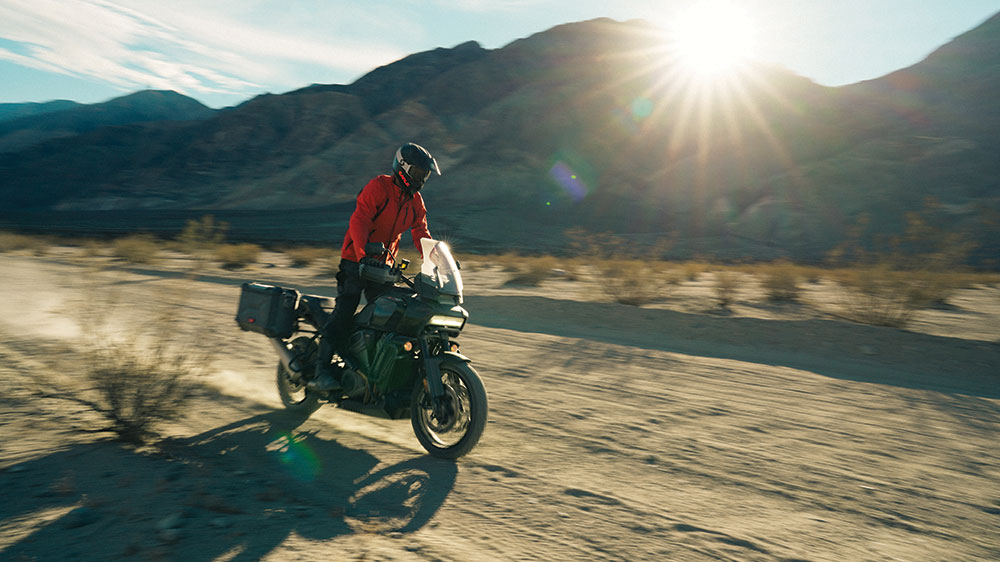 To help illuminate the trails at night, a collection of Baja Designs lights were added including LP9s and Squadron driving lights. Earle uses these same lights on his motorcycle builds. This not only provides a consistent look for his builds, but also comes in handy should one of the lights takes damage in the field. He can easily transfer the light accordingly.
One to be prepared for most situations, Earle keeps a Factor 55 waxed cotton recovery bag with an extreme duty tow strap, tree saver, rope retention pulley, and a Viair portable air compressor. He also carries a water-resistant, wide-mouth tool bag to keep everything organized.
The Motorcycle Trailer
Using his design background, he devised a solution for a trailer that can transport heavy motorcycles to remote locations. Plus, Alex Earle can possibly use the Raptor build in deep desert recovery. He purchased a Kendon dirtbike trailer on Craigslist and began to modify it for off-road use.
Earle first addressed the need for additional ground clearance by adding a pair of BF Goodrich 285/75 R17 KM3 tires mounted on Fifteen52 Analog wheels. He fabricated raised fenders to clear the taller tires. Then, he added Spydertrax spacers for clearance and to adapt the bolt pattern to the wheels. The truck needed more modifications to clear larger castors for moving the trailer around on its tail in storage mode. Earle also added Rotopax mounts to the deck for additional fuel and water. For additional support, he carries Sea to Summit hydraulic dry bags to lash to the trailer deck, while keeping his gear safe, along with a portable Warn XT17 portable winch to pull the bikes onto the trailer.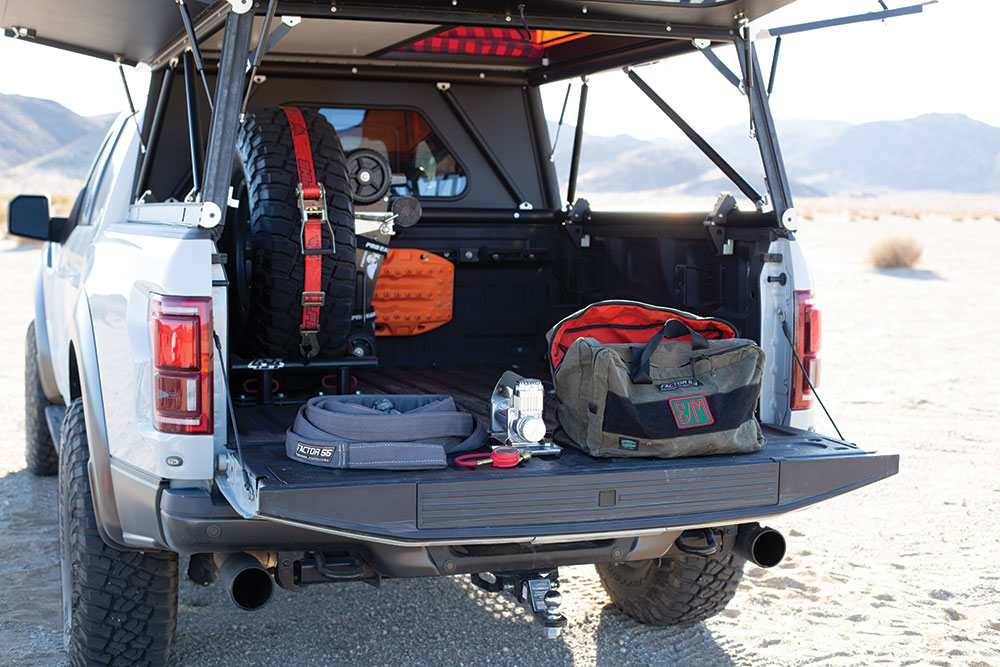 Dreams Do Come True
Earle is pleased with the outcome of his build. "Overall the combo is a dream," he shares. "Performance is exceptional off road at speed, towing my small trailer on the highway, hauling my family of 5 with camping gear, sleeping in the roof top tent or securing equipment in the platform camper."
Earle is reaping the benefits of a fullsize truck. The Raptor allows him to bring the entire family along for the adventure. While he's riding the bikes, his wife can pilot the Raptor behind and get some time behind the wheel. He realized that this truck has given them the ability to access remote areas that previously could only be reached via a Jeep or motorcycle. This type of quality time provides the inspiration for future projects, while creating long-lasting memories.
"I see so many things that excite and inspire me every day—the hardest part is choosing what to commit to!"
You can follow Alex Earle's Raptor and motorcycle adventures on Instagram @earlemotors.
---
UPGRADES
2017 Ford Raptor
Engine: Ford EcoBoost 3.5L Twin Turbo with Borla resonator eliminator and tube exhaust
Suspension: Eibach coils 2-inch lift (front); Deaver +3HD (rear); Camburg bump stop mount kit w/Fox air bump stops (rear)
Wheels & Tires: 17-inch 703 Titanium finish Method Race Wheels; 37×12.5r17 BF Goodrich KM3 Mud Terrain
Additional Modifications: Torsen limited slip differential
Interior Accessories: Rugged Radios RDH16-V handheld radios
Exterior Accessories: Baja Designs LP9 Pro Amber (2), Squadron Amber (4), optional 36 gallon gas tank; 454 Motorsports removable Delta cage spare tire carrier w/ Pro Eagle mount; Pro Eagle 3 ton jack; Maxtrax sand channels