This rig was in need of new rollers

Take your Super Duty to the next level. Sponsored Content The Sherpa Thunder Roof Rack for 2017-2022 FORD F250/F350 CREW CAB Ford Super Duty drivers, meet The Thunder roof rack from Sherpa Equipment Company, an innovative new roof rack they're calling "the ultimate roof rack for your 2017-2022 Ford F250/F350." The Thunder is one

Celebrating 40 years of Eezi-Awn with a new RTT release. Last week, we got the scoop on a new roof top tent heading our way from Eezi-Awn, the Sword RTT. Well, get ready for even more new coming from Eezi-Awn later this summer. In celebration and recognition of their 40-year anniversary,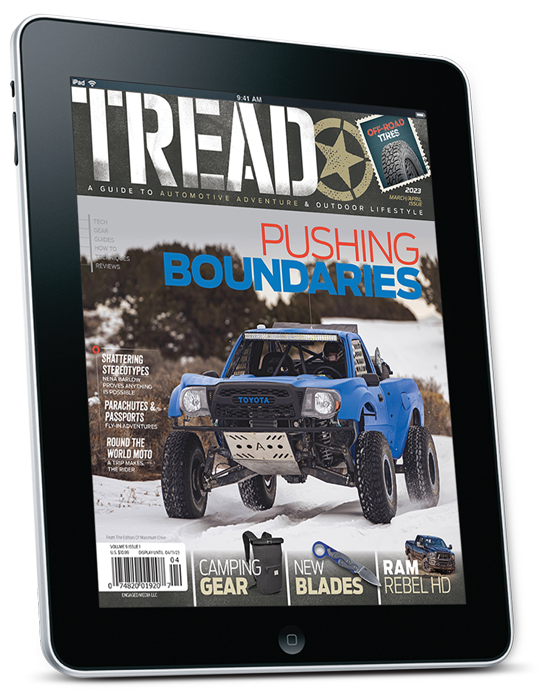 delivered to your door or device
Subscribe to

Tread

magazine
Subscribe to Tread magazine for compelling stories, tips and tricks, and all things automotive adventure and outdoor lifestyle.
Get the magazine
Explore 71,000 acres of South Dakotan wilderness, "Where the buffalo roam." If you're planning a trip to South Dakota this year, make sure that Custer State Park is a destination on

Send in your video submissions by 3/29/2023 at 11:59pm for a chance to be featured! Everybody loves a drive in movie, right? And we all love watching videos of cool people

There's always a lot of gear to pack in case things go wrong when taking your off-roader out exploring mountains, deserts, or simply getting lost for thrills. Not having the right
Read more