OEX Overlanders: Expertly Trained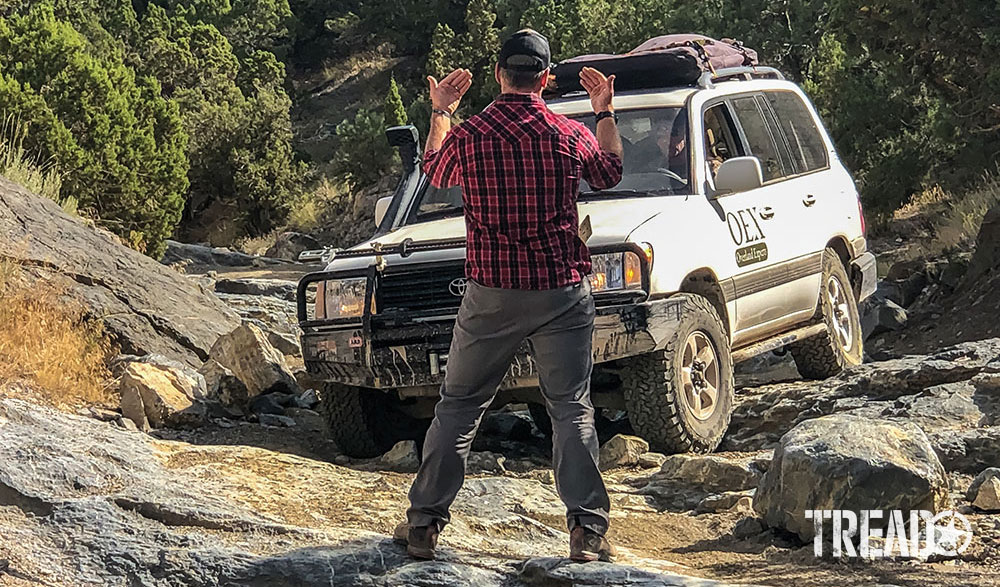 Overland Experts (OEX) provides professional off-road training for all.
There are few organizations in the off-road and overland industries that exhibit the level of professionalism and expertise as the aptly named Overland Experts (OEX). OEX is an off-road driving and recovery school with four locations around the United States that train just about everyone. From weekend warriors to rally raid competitors and elite Special Forces military—and everyone in between—OEX has the off-road expertise to train them all.
While we've seen the OEX team in action at overland events across the country for a decade now, we wanted to find out more to share what makes this company unique.
For one, OEX guys show up to events with unobtainable vehicles such as brand-new Toyota Hilux and 70 Series Land Cruisers.
To find out more, we connected with OEX's Tony Cerruto.
TREAD: What's your role at OEX, and what led you to this professional pursuit?
Tony Cerruto: I found out about OEX when I was the NCOIC (noncommissioned officer in charge) of the Combat Mobility Detachment for 3D SFG(A). I needed to take my team through a course that would teach us how not to break stuff (that is, our vehicles) while conducting operations. I instantly fell in love with the OEX methodology and saw a correlation in the OEX curriculum and how we conducted our own unconventional training.
I've always been a geek for all things off road. I've been driving in dirt ever since I could reach the pedals. I'm currently the director of military training for OEX but also love to teach civilians. There's no greater satisfaction for me (and my colleagues) than seeing a student's eyes light up and get that "aha moment." The excitement when a client cleans a particularly difficult line or obstacle is incredibly rewarding.
The Value of Good Training
For me, personally, it goes deeper in the fact that I get the privilege of instructing my former peers. As a retired Green Beret and having served 26 years in the Special Operations community, I know the value of good training. It keeps people safe and alive. In the units I've had the honor to serve with, we were trained to parachute, fast-rope, rappel, swim and helicopter into the fight. I would have to say that given the nature of the battlefield for the past 20 years, most of us found ourselves driving some sort of vehicle to the mission. Ninety percent of the time it was off road. The fact that I can keep one foot in the military community by teaching a skill that's often taken for granted is extremely important to me.
What does OEX specialize in?
TC: We specialize in training anyone who wants to operate a stock or near-stock 4X4 off road with vehicle "sympathy," environmental preservation and safe recovery practices. That's to say, we've continued to focus on what we've done best since 1998: produce off-road drivers with the requisite skills to operate their vehicles in the off-road environment in a deliberate and thoughtful manner.
Our curriculum really is second to none, creating a driver who reacts in an instinctive manner when challenged with any obstacle rather than one with a "defensive" or reactionary response. Over the last 10 years or so, our industry has become rather enamored and somewhat overly focused on recovery rather than actual driving. Recovery certainly plays a very important role in our world, and it's something that we take very seriously—it's part of off-road driving—but we are a driver's school first, I think, and that plays an even greater part.
What is the overall approach of the company?
TC: We are a 4WD education school with an emphasis on off-road driving as a means to get you, your vehicle and equipment to your destination and back in one piece. We are not a race "go-fast," mud-slinging, doughnut-doing, rock-bouncing organization. While those things are fun and OK to do on closed courses or specific areas, we concentrate on the journey being the least impactful as possible.
What types of classes do you teach?
TC: We teach military, industrial and civilian courses. Each student learns the same methodology and curriculum, with slight adjustments tailored to the client's needs. We teach a 4WD novice course ("4WD 101") and an advanced course that's designed for civilian recreation. Those are full-day courses designed for groups. We also teach a full-day recovery workshop, also designed for civilians. We teach civilian private classes from one to five days, depending on the request and needs of the client.
Our civilian clients range from people who've never owned a 4X4 to folks getting back into the activity after a few years of hiatus. We've had women come for our three-day course in preparation for the Rebelle Rally, an all-female, off-road navigation rally raid. Our regular daily clients range from preppers to outdoor adventurers, such as kayakers, climbers and mountain bikers. All these folks want to learn to drive their vehicles to where they can conduct their favorite pastime and enjoy the journey as well.
Where are you located, and why did you choose those locations?
TC: We currently have four locations: East Haddam, Connecticut (the first location and headquarters); Orange, Virginia; Troy, North Carolina (our biggest private land facility); and a pilot location in Utah. That location is based in Salt Lake City at the Land Cruiser Heritage Museum and utilizes public land. That one is primarily used for military clients, although I've had a civilian client do that trip as well. The western Utah course is a long-range, unsupported overland movement that covers 300 to 350 miles of permitted routes in a five-day period. Although we do teach many civilian courses at our Virginia and North Carolina locations, they're both very popular with DOD and other government agencies (OGA) due to their proximity to Washington, D.C., and Fort Bragg.
How do your civilian and military classes differ?
TC: The military courses are a 40-plus-hour program of instruction. At the eastern locations, it's a "train during the day and hotel at night" type of class. Although the curriculum is the same as for civilians, the pace is a bit more intense, and the scenarios try to be as relevant to what they might encounter while on a mission. We also incorporate at least one night of night vision goggles (NVG) driving as well.
"OEX is an off-road driving and recovery school with four locations around the United States that trains just about everyone."
The western course offers the same content and curriculum, instructed on the move over the five-day duration. The operators camp and live out of their vehicles, as they would while conducting ops. Our military clients are Special Operation units who often find themselves driving civilian nontactical vehicles—either rented, bought or borrowed from the host nation they're deployed to. They're almost always operating in areas with little to no support and are in groups of fewer than 12 people. They have to understand the limits of the vehicle and themselves and need to be self-reliant. In the military courses, a lot of time is spent on field-expedient repair, as well as "pre-rigging" for recovery.
What does your fleet of instructional vehicles consist of?
TC: Our fleet is almost all Toyotas, with the exception of two Mitsubishi Pajeros and a Land Rover Discovery, as well as two RAM 3500 4X4s and a Jeep Wrangler for our industrial clients. We have so many Toyotas because they're reliable and can literally be found all over the world. Many of our fleet vehicles are imported from other parts of the world and are non-U.S. spec. We want to replicate, as closely as possible, what the operator might find themselves driving in another country. We have quite a few right-hand-drive Land Cruisers, Surfs (foreign 4Runners) and Hilux pickups.
How are you able to have new, non-U.S.-spec vehicles in North America, and can civilians come and drive them?
TC: Because we train personnel from DOD and government agencies, we have an import waiver that allows us to actually buy and own the vehicles for three years and use them for training. At the end of the three years, the vehicles have to be in port, ready to be on a boat and on their way to be sold to someone in another country—not in continental North America. If the vehicle is older than 25 years, we can keep it (so can you). With the three-year imports, we try to reserve them for military clients just to save on wear and tear. We do have plenty of "cool," older exotics that you can rent in a private class. We don't rent out vehicles for folks to just come and "bomb around in" (yes, that one was an actual client request).
What does OEX have to offer the overland community?
TC: With more than 23 continuous years of being one of the top-tier off-road driving schools, OEX has a tried-and-true teaching methodology, developed by founder Bruce Elfstrom, that's linear and comprehensive for any student. Bruce has been driving, recovering and fixing 4X4s since he was 11 years old. His parents were documentary filmmakers who lived and worked in the Middle East and North Africa in the 1970s and early 1980s. While Bruce's parents were filming and interviewing, he was the "wheel man" responsible for getting the family to the action and safely home again.
OEX has nine instructors available in four locations with more than 150 years of combined experience. The instructor staff consists of engineers, a retired national park backcountry ranger, avid outdoorsmen, former helicopter pilots and mechanics, expedition coordinators, hunting and fishing guides, and retired Special Forces operators. It takes six months to a year of internship for an OEX instructor to be ready to teach a full class on their own.
Four of our instructors are International 4WD Trainer Association certified (I4WDTA). All have real-world experience, and everyone does this "for fun" when they're not busy sharing knowledge. Everyone at OEX is passionate about educating and helping people understand that there's more to off-road driving than big tires mashing the skinny pedal.
Where can people find out more about getting professional off-road driving and recovery instruction with Overland Experts?
TC: There's lots of great information about our classes at OverlandExperts.com. Also feel free to give us a call, because we'd love to help guide each of our clients toward the right training for their particular needs. A great place to start for many people is our one-day group "4×4 101" course ($275).
"From weekend warriors to rally raid competitors and elite special forces military—and everyone in between—OEX has the off-road expertise to train them all."
If you want more-individualized instruction, time behind the wheel and hands-on experience, our private classes are also a great option (starting at $600/day). We really do offer something for every skill/experience level. So, don't hesitate to reach out; we'll be sure to find the best training for your needs.
OVERLAND EXPERTS
860-873-9640
OverlandExperts.com
---