Axial Racing SCX10 III Jeep Wrangler Rubicon JLU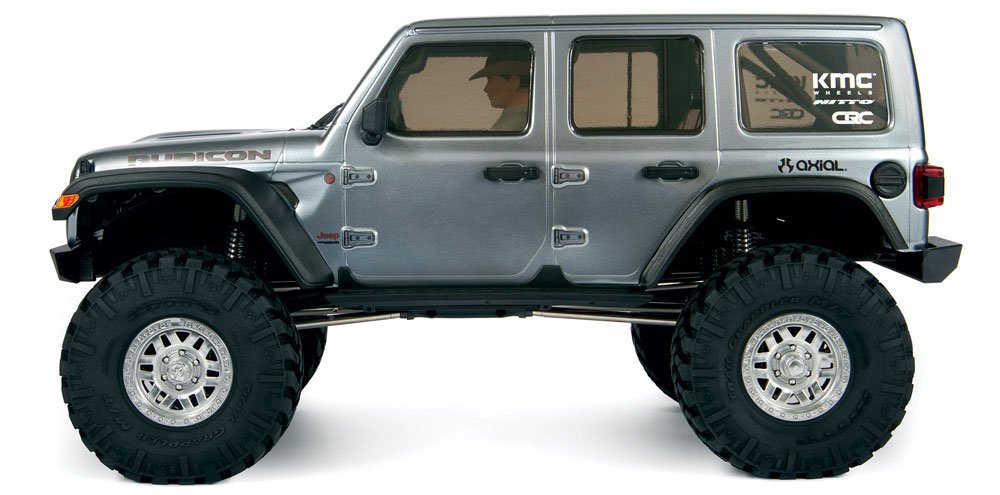 Scale and Trail
Every successive generation of the Jeep Wrangler seems to take a leap forward, both in terms of capability and styling. Sure, we all have a favorite legacy model, but there's no arguing that Jeep's latest JL is packed full of the latest technology enhancements that previous generations lack. This is true of the newest Wranglers on the lot and of its scaled-down radio-controlled recreation, the SCX10 III Jeep Wrangler Rubicon JLU made by RC
off-road experts Axial Racing.
The JLU that you see here is actually a 1:10-scale radio-controlled version of its big brother. We don't blame you if you had to do a
double-take; it can be hard to tell at first glance. This officially licensed radio-controlled Jeep Wrangler Rubicon was created by Axial to tackle steep inclines and the most technical of off-road trails.
Based on their latest SCX10 III platform, this miniature JLU features plenty of authentic off-road performance attributes and a highly detailed look. The electric RC rig is driven by a high-torque motor and realistic four-wheel-drive drivetrain. It features portal axles for higher ground clearance and remote switchable high- and low-gear transmission to get you over the hump.
This impressive little Jeep can take on campsite obstacles and hit the trails alongside full-scale vehicles, too. Don't let the fun stop after you've parked your rig. Take a spin in Axial's SCX10 III Jeep Wrangler Rubicon JLU and keep the trail run going.
Scale Details
Authentic Wheels
Yes, those are KMC XD Machete wheels you see on this rig. The true three-piece beadlock wheels are officially licensed by KMC and are molded in satin chrome in stunning detail.
Licensed Tires
Authentic wheels deserve authentic tires. The Nitto Trail Grappler tires that are included with the SCX10 III Jeep kit feature scaled Nitto tire tread produced in a crawler-specific compound that provides more ground clearance and more grip in the variety of off-road terrain.
Detailed Body
The scale Jeep Wrangler Unlimited body mirrors its fullsize counterpart with a detailed interior for "super scale" looks. The interior has a molded rollcage, steering wheel, and driver head. On its exterior, you'll find front radiator, windshield wipers, mirrors, door handles, and a lot more. Add optional LED lights for even more realism.
Driveline
Locking Differentials
Just like the real thing, this 1:10-scale Jeep features front and rear differentials that can be locked and unlocked according to the terrain you drive it on.
Transmission
Moving from a black diamond crawling section to take on a technical trail? Switch to high gear to effortlessly drive longer distances. Once you're ready to crawl again, engage low gear for the extra torque you need to tackle the rocks.
Portal Axles
Portal axles, like those found in some fullsize off-roaders, are also used in the SCX10 III to provide higher ground clearance and reduce the torque on other drivetrain components.
Suspension/Motor
Suspension
Scale coilover shocks provide shock absorption and dampening over rough trails and rocky roads. The Jeep's hard-anodized aluminum oil-filled coilover shocks feature threaded shock bodies for quick-and-easy ride height adjustment.
Motor
The kit utilizes an electric 540-size motor that is mounted in the chassis under a V-8 engine detail piece. The motor, which is sold separately, is mated to a realistic transmission housing and transfer case just like a 1:1 vehicle.
Tech
Four-Link System
The front suspension has been optimized to reduce bumpsteer, while the rear four-link reduces torque twist. It also helps with steep off-camber climbs by having the proper amount of antisquat and roll characteristics. The four-link system also aids against suspension wrapup in high-power applications.
Adjustable Wheelbase
We wish our fullsized trucks had this option. Swap out bodies or tune for a specific trail by adjusting the SCX10 III's wheelbase.
Editor's Note: A version of this article first appeared in the July/August 2020 print issue of Tread Magazine.