Jeep Wrangler JLU That Does It All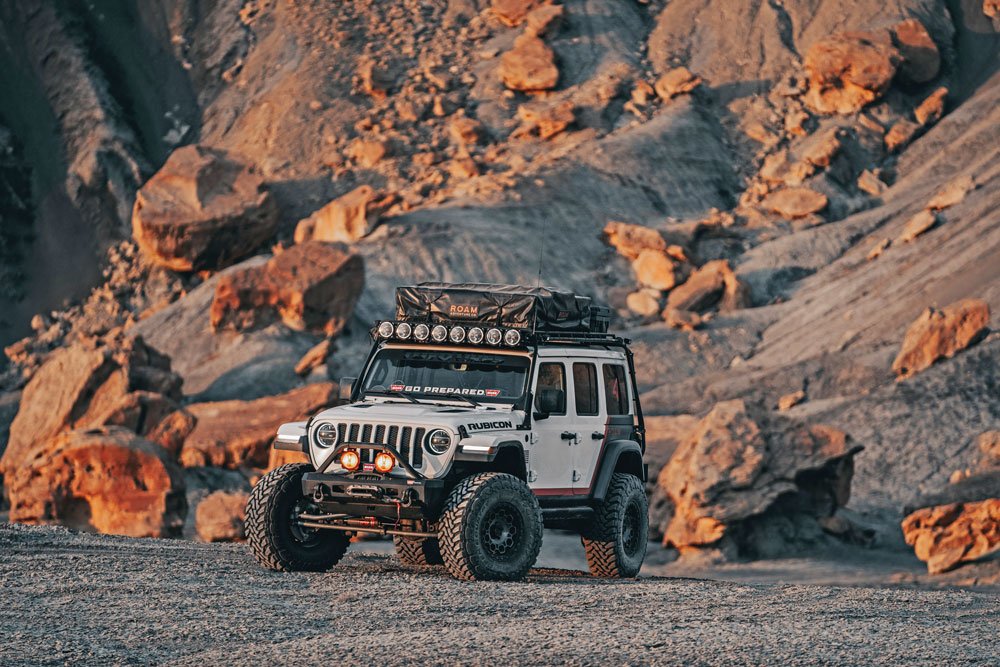 Swiss Army Knife
Car people are always car people. One may find their interest begin in one genre and as he or she matures, those interests change. However, it's worth good money to bet those very people still turn their heads at the sound of a throaty engine or at the sight of a clean, modified vehicle of any sort. An appreciation for the craftsmanship of a finely built machine lives within us; it's what we're made of.
Where It All Began
Jon Sackett is no different than other auto enthusiasts. The love for Jeeps seeped through his veins and eventually steered him back from sports cars. Having grown up in the Chicago area, he always loved Jeeps and drove them around his hometown. However, inclement weather and road conditions always had him leaving them stock. Back while working as a firefighter-paramedic after high school, he discovered the automotive aftermarket industry and built a sportscar, a Nissan 300Z. This passion for building the perfect car eventually brought him to California, home of "top down" weather—and traffic. Owning a sports car was harder in California. A Jeep, however, is the perfect vehicle. And it was then that a passion for Jeeps reentered the scene. Only this time Sackett would naturally want to build his idea of the perfect one with the aftermarket knowledge gained since owning his last Jeep.
"THIS JEEP WRANGLER JLU WAS TO RACE THROUGH THE DIRT, CLIMB ROCKY INCLINES, AND TAKE HIM TO REMOTE CAMPING SPOTS."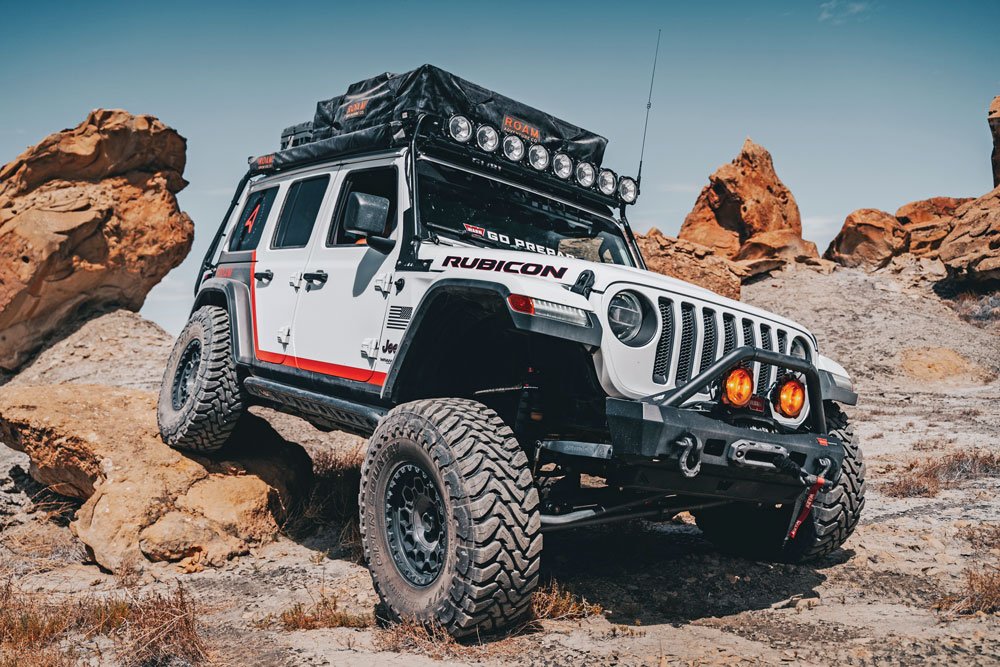 Just like any 6-year-old, young Sackett has a fondness for dinosaurs. After he saw Jurassic Park for the first time, the love for a Jeep grew within. When he turned 16 and got his license, you bet his first vehicle was a Jeep, a TJ. He went on to own two JKs and eventually had to have the new JL when it was released. He even created his very own version of the Jurassic Park Jeep, a YJ, to pay homage to the movie that started it all, which he still owns today. Wanting the latest technology available to complement the latest technology and innovation in the aftermarket, Sackett nabbed a 2018 Jeep Wrangler JLU Rubicon and spent the next two years making more Jeep dreams come true. The end result is a fully equipped, ready-for-any-terrain adventure vehicle that takes him from sand to dirt to rocks to … just about anywhere.
The Build
Up for the challenge to highlight the newest technology, Sackett wanted to keep the JL 100 percent to Jeep heritage. He carefully chose the aftermarket parts that were retro looking with modern technology. Tried-andtrue companies, such as Warn Industries, KC HiLites, and Gobi, allowed him to do just that. He also wanted the Jeep Wrangler JLU to be versatile and built for many purposes, not just rock crawling or a daily driver around town. This JL was to race through the dirt, climb rocky inclines, and take him to remote camping spots. Sackett called upon his friend, Neal Takemura from Huntington Beach, California, to help build his dream Jeep. The wheels turned in his head and it all started to come together.
"THE THOUGHT OF HAVING HIS VERY OWN 'TREEHOUSE' ATOP THE JEEP WAS A DREAM COME TRUE."
Our first introduction to Sackett was at Overland Expo West in Flagstaff, Arizona, where the Jeep Wrangler JLU was on display in the Warn Industries booth. Having been a fan of a company so ingrained in off-road history, it went without question to include their products. This also led him to display these top-notch products on his Jeep at the event. Keeping to his theme to include the latest technology, the JL sports a Warn Elite front bumper that houses the Warn Zeon 10-S Platinum winch and Warn Epic fairlead, D-ring shackles, hyperlinks, and winch hook to use with the Warn Epic recovery kit. In the rear, the JL also has a Warn elite rear bumper and tire carrier. To round out his protection, LOD rock sliders complement the look.
Sackett is proud to be Team Toyo, seen by the decal displayed on his windshield. The KMC KM545 Trek wheels in satin black with gray tint are wrapped in Toyo Tires Open Country M/Ts. One of his favorite choices, these tires have never slipped or punctured and have been reliable while standing up to an unbelievable beating.
The grille, hood, headlights, and taillights are OEM, but you can't miss the KC HiLites Pro6 light bar above the windshield and on the front grille. Also seen are the rear KC HiLites multifunction rear chase lights and side flood lights.
Now, it goes without saying that, if you choose to modify a Jeep, the suspension has got to be epic—and epic it is. Another of his favorite mods, he called upon Adventure Offroad in Huntington Beach, for the install. To keep it steady at high speeds and able to articulate on rougher terrain, the Jeep Wrangler JLU has Synergy adjustable upper and lower control arms in front and rear, HD drag link in front, HD track bar with track bar relocation bracket, 3-inch coil springs in front, and special overland 4-inch HD coil springs in the rear, with a rear shock relocation bracket. The RockJock 4×4 anti-rock sway bars in front and rear create additional stability. And that's not to overshadow the Fox Factory Race Series 2.5-inch remote reservoir shocks with DSC adjuster and Fox Race series 2.0 ATS steering stabilizer in front, along with Fox Factory Race Series 2.5-inch piggyback reservoir shocks with DSC adjuster in rear.
Inside
Sackett's meticulous ways are seen as you open up the rear door to see his Dometic fridge powered by a Goal Zero Yeti 400 sitting next to the Boss Strongbox drawer storage system. The Goose Gear rear floor plate system keeps it all in place and secure. Most likely you'll also see a Roam Adventure Company rugged case holding the supplies for his dog, Ahsoka. No man travels on adventures without his best friend.
As you walk around to the front and climb inside, you'll notice the ham radio mounted up top and a clean dash, as the JL Rubicon technology doesn't necessitate too many extras. And it all doesn't go without notice of the Innovative JK Products on-board air kit with ARB twin air compressor neatly tucked under the seat ready to be used. One of the simpler and quickest airing setups we've seen, unravel the hoses, plug them into the compressor on each side, attach them to the valve stems, and on it goes, to air up or down.
Let's Go Camping
While building the Jeep Wrangler JLU and starting to get it into the dirt and put it to use, he met and befriended Nick Mazzanti, owner of Roam Adventure Company. Learning more of the Roam Adventure Company's products and Mazzanti's innovative ideas, he supported the vision and jumped at the opportunity to come on board when asked. Having grown up a boy scout and eagle scout, Sackett was no stranger to the outdoors. He and Mazzanti bonded over the love for nature and he was honored to be a part of the company to bring the community RTTs and rugged storage cases. The thought of having his very own "treehouse" atop the Jeep was a dream come true. Similarly, working for a company like Roam only enhanced his build dreams and created an off-road and camping family. You'll see the Jeep Wrangler JLU with a Roam Adventure Co. wrap by Beyond Wraps, in Huntington Beach, to match the Roam Adventure Co. Vagabond RTT that sits on the Gobi roof rack. And not to be missed is the Roam Adventure Company Rugged Case mounted to the rack up top in back. There's no doubt who this Jeep represents.
"FROM AREAS ACROSS CALIFORNIA, ARIZONA, AND UTAH, THIS JEEP ALLOWS SACKETT TO ROAM UNTIL HE FINDS THE NEXT PERFECT CAMPING SPOT."
But much more than a vehicle to help represent the company, this Jeep Wrangler JLU represents dreams coming to fruition. From the days as a 6-year-old enjoying dinosaur movies to the man he is today, Jon Sackett's love for Jeeps and the outdoors shines through in the details on this build. No doubt, the knowledge of building a head-turning sportscar came into play when he built an off-road vehicle. The Jeep grabs attention and turns heads just like his 300Z, but he's much happier knowing this vehicle can do it all and take him anywhere.
"WANTING THE LATEST TECHNOLOGY AVAILABLE TO COMPLEMENT THE LATEST TECHNOLOGY AND INNOVATION IN THE AFTERMARKET, SACKETT … SPENT THE NEXT TWO YEARS MAKING MORE JEEP DREAMS COME TRUE."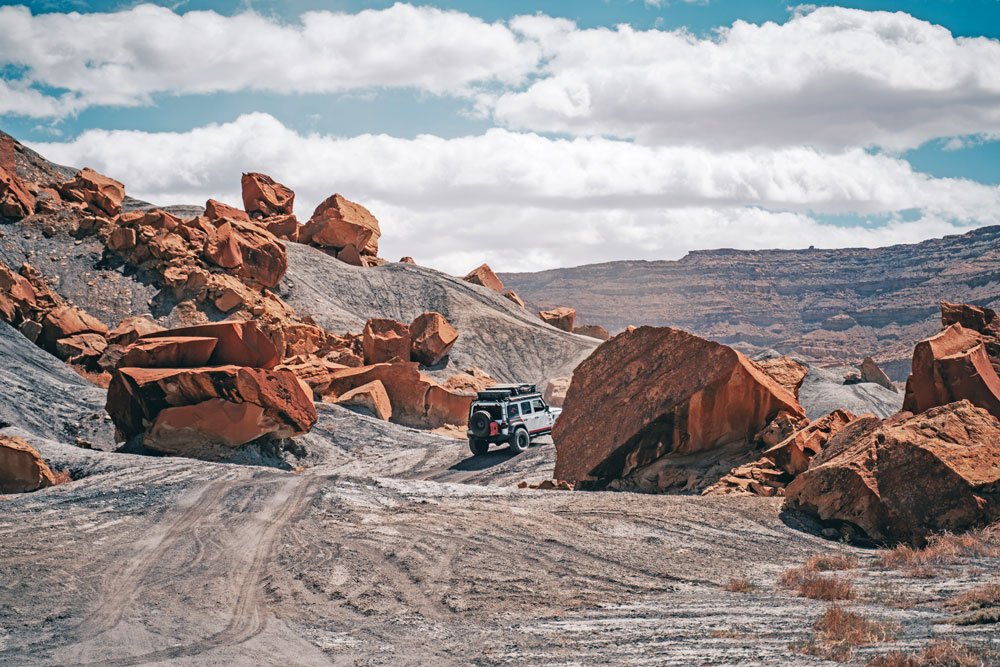 From areas across California, Arizona, and Utah, this Jeep allows Sackett to roam until he finds his next perfect camping spot.
You can follow Jon Sackett's adventures on Instagram @bearded.wrangler.
UPGRADES
2018 Jeep Wrangler JLU Rubicon
ENGINE: 3.6L SIX-CYLINDER WITH MAGNAFLOW ROCK CRAWLER AFTER-CAT PERFORMANCE EXHAUST
SUSPENSION: (FRONT) SYNERGY ADJUSTABLE UPPER AND LOWER CONTROL ARMS, HD DRAG LINK, HD TIE ROD, HD TRACK BAR, TRACK BAR RELOCATION BRACKET, 3-INCH COIL SPRINGS; ROCKJOCK 4X4 ANTI-ROCK SWAY BARS; FOX FACTORY RACE SERIES 2.5-INCH REMOTE RESERVOIR SHOCKS WITH DSC ADJUSTER, FACTORY RACE SERIES 2.0 ATS STEERING STABILIZER; (REAR) SYNERGY ADJUSTABLE UPPER AND LOWER CONTROL ARMS, HD TRACK BAR, TRACK BAR RELOCATION BRACKET, SPECIAL OVERLAND 4-INCH HD COIL SPRINGS, REAR SHOCK RELOCATION BRACKET; ROCKJOCK 4X4 ANTI-ROCK SWAY BARS; FOX FACTORY RACE SERIES 2.5-INCH PIGGYBACK RESERVOIR SHOCKS WITH DSC ADJUSTER
WHEELS & TIRES: KMC WHEELS KM545 TREK IN SATIN BLACK WITH GRAY TINT 17X9 -12 OFFSET; TOYO TIRES OPEN COUNTRY M/T 37X12.5X17
ARMOR: WARN ELITE FRONT BUMPER; WARN ELITE REAR BUMPER AND TIRE CARRIER; LOD ROCK SLIDERS
INTERIOR ACCESSORIES: BOSS STRONGBOX DRAWER, HAM RADIO, GOAL ZERO YETI 400, DOMETIC CFX 45, INNOVATIVE JK PRODUCTS ON BOARD AIR KIT WITH ARB TWIN AIR COMPRESSOR
EXTERIOR ACCESSORIES: KC HILITES PRO6; KC HILITES MULTIFUNCTION REAR CHASE LIGHT AND SIDE FLOOD LIGHTS; WARN ZEON 10-S PLATINUM WINCH; WARN EPIC FAIRLEAD, EPIC D-RING SHACKLES, EPIC HYPERLINKS, EPIC WINCH HOOK, EPIC RECOVERY BAG; WARN TUBE DOORS; ROTOPAX FUEL CANS; GOBI STEALTH ROOF RACK; GOOSE GEAR REAR FLOOR PLATE SYSTEM; MAXTRAX TRACTION BOARDS; ROAM VAGABOND ROOFTOP TENT IN SLATE GRAY, ROAM 95L RUGGED CASE, ROAM 52L RUGGED CASE
Editor's Note: A version of this article first appeared in the September/October 2020 print issue of Tread Magazine.