Overland XJ: Adventure On A Budget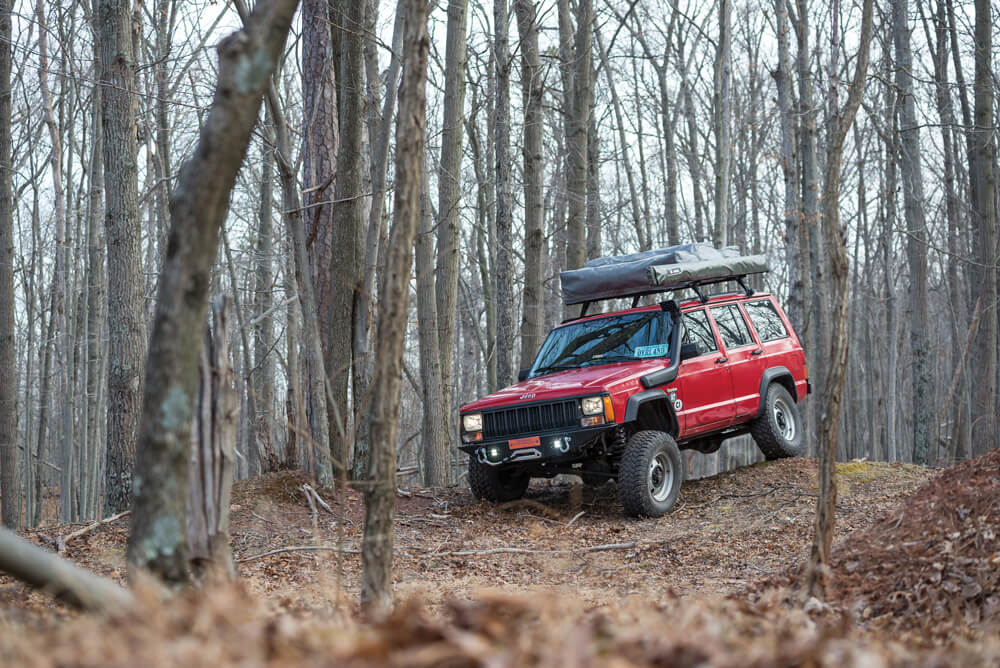 Probably the most bang for your buck of any off-road vehicle available today is the four-door Jeep Cherokee XJ—especially for pure versatility.
The classic, boxy, station wagon body style is unmistakable, especially because there were nearly 3 million built around the globe over the vehicle's 18-year life span from 1983-2001. Because of the long model life, high build volume, and the vehicle's off-road prowess, there is huge aftermarket support for this vehicle today.
While these vehicles have proven their durability, you can also be confident that no matter where you travel you are sure to find readily available inexpensive replacement Jeep Cherokee XJ parts. Because of the age of the vehicle, they are also devoid of any computers, which makes them easy to work on whereever your adventures might take you.
"While these vehicles have proven their durability, you can also be confident that no matter where you travel you are sure to find readily available inexpensive replacement Jeep Cherokee parts."
The XJ was the first non-military 4×4 with unibody construction, which paved the way for the small SUV and crossover craze we see today. Its stock 4.0L inline-six puts out 190 hp and 225 lb-ft of torque. While not known for its power, the Cherokee is relatively lightweight and has enough grunt to carry a load, while traversing tough off-road terrain. The AX-15 five-speed manual transmission provides the driver with the control needed to get the most out of the motor in all conditions.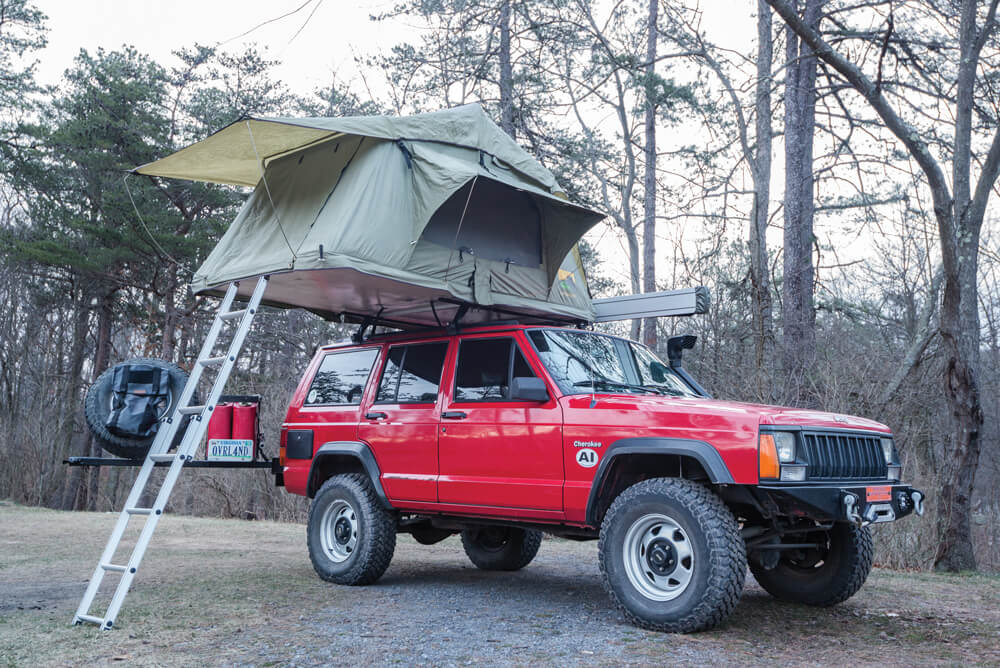 Sub $500
Adam Schalow bought an unmodified red 1994 Jeep Cherokee 4-Door SE 4.0L I6-powered five-speed manual model off craigslist for $450, and built it into the overland adventuremobile you see here. Yep, this is a sub-$500 craigslist story.
The Jeep Cherokee came with a bad clutch and the common rust issues that these vehicles have a reputation for, but Schalow is a mechanic and was able to address those issues himself. The rust, a continual battle, was the major repair when purchased and quite the job, as it required welding in new floorboard patch panels from a donor XJ from the muffler all the way to the tailgate above the passenger side framerail.
The idea behind this build was to create a comfortable, capable, easy to fix and inexpensive to keep on the road overland vehicle that could be completely self-sufficient and off the grid for up to seven days.
At First Sight
Schalow's passion for the Jeep Cherokee runs in the family, and started at an early age. His first experience with the XJ was at age 8 when his father brought home a brand-new 1991 Laredo model. He and his father loved it so much that when Schalow turned 16, with a fresh driver's license in hand, his father bought him a 1992 Country model.
Schalow was so excited to have his own new Jeep Cherokee that he spent that first night sleeping in it, sprawled across the back seat while parked in the driveway. He built that vehicle into a well-equipped rock crawler, but sold it five years later, as his interests shifted toward the world of sports cars. Fast-forward to June 2015 when Schalow was on the hunt for a VW Westfalia Bus to enter the world of overland travel. While on the hunt for the bus, he came across the craigslist ad for this XJ, and it was love at first sight.
Cost Conscious
Everything on Schalow's off-road vehicle build is done with cost and function in mind. Each dollar saved on the build is another dollar that can be spent searching for adventure on the road less traveled. Schalow stuck with the stock XJ wheels, both for their "utilitarian" looks and cost savings.
He was able to modify a $75 Amazon special snorkel to work with the stock airbox, and mounted two $20 LED Amazon light pods in the front bumper, which he sealed up with RTV for better moisture resistance. Sure these aren't the highest performance or most durable products, but they get the job done, can be replaced easily and are incredibly inexpensive.
Schalow found a great used deal on a Rough Country 3-inch lift and three Nexen Roadian MT (31×10.5R15) tires, which only had 800 miles on them. The entire lift kit has since been upgraded to higher-quality parts, which offer up a much better ride.  He loves the tires off-road, but only gives them a 2.5 out of 5 star rating for on-road use, and says they are nearly impossible to balance properly on his wheels. Perhaps it's his wheels or something the previous owner did to the tires, he can't be sure.
Built For Function
The 4×4 capabilities of this XJ are improved with a few other key parts as well. The Rusty's Front Bumper offers up a winch mount, which houses a Warn M-8000 with Rugged Ridge synthetic line and utilizes a Southeast Overland hawse fairlead. Its rear bumper is a custom-made unit, which utilizes a trailer ball hitch coupler to secure the spare tire swing out and lockable double jerrican holder.
The radiator was upgraded to a Mopar HD unit, to keep the XJ running cool in the 100-degree Virginia summer heat, where Schalow lives. The front axle is a stock D30 with a Lockright Locker, while the rear is a non C-clip D35 out of a 1986 XJ, with 4.10 gears and a Lockright Locker. Its brake lines were also extended at all four corners, to work with the 3-inch lift, and the headlights were upgraded to improve nighttime visibility. When the trail gets tough, Schalow can also disconnect the front sway bar to get maximum wheel articulation.
Living Quarters
Since this Jeep Grand Cherokee is Schalow's home away from home, when he's on the road chasing adventure, it has all the creature comforts that you'd expect around the house. Most of the interior camping systems are based around a custom-built wooden platform system that houses much of the equipment, and doubles as a sleeping platform.
At the rear of the vehicle is a full kitchen setup that has a 31-quart Dometic drawer–style fridge and a heavy-duty slide out that holds a propane Coleman grill and a stainless Houzer sink. Always keeping a cold drink within reach, a Dometic 10.5-quart freezer is installed between the front seats. Making that work was no small task, as the stock console needed to be removed, the stock E-brake hole was welded up and a foot pedal E-brake system out of a Jeep Comanche needed to be installed.
"While not known for its power, the Jeep Cherokee is relatively lightweight and has enough grunt to carry a load while traversing tough off road terrain."
Just because it was built on a budget doesn't mean that it's devoid of some luxury Jeep accessories. This overland XJ even has a custom pressurized hot water shower system, which utilizes a 10.6-gallon Front Runner water tank, 1/2-inch PEX plumbing, 12V Shur-Flo RV water pump, a Duda Diesel heat exchanger, and a Phoenix exterior RV lockable shower box.
All the electrical needs are handled with a dual battery system, which utilizes one deep-cycle AGM battery and is charged through portable Overland Solar panels and a Blue Sea charge relay/battery isolator. A Blue Sea ST Blade fuse block is used to handle the power needs of all the vehicle's accessories.
Atop Schalow's XJ is a roof top tent (RTT) and awning, mounted to two Thule gutter mount crossbars. The RTT is a 1998 Camping Lab model that Schalow picked up used, which offers up a comfortable 3-inch foam mattress and an optional full annex, which is equally great to escape the weather and use as a shower room. The awning is a Foxwing unit by Oztent/Rhino Rack and offers 270 degrees of coverage around the vehicle.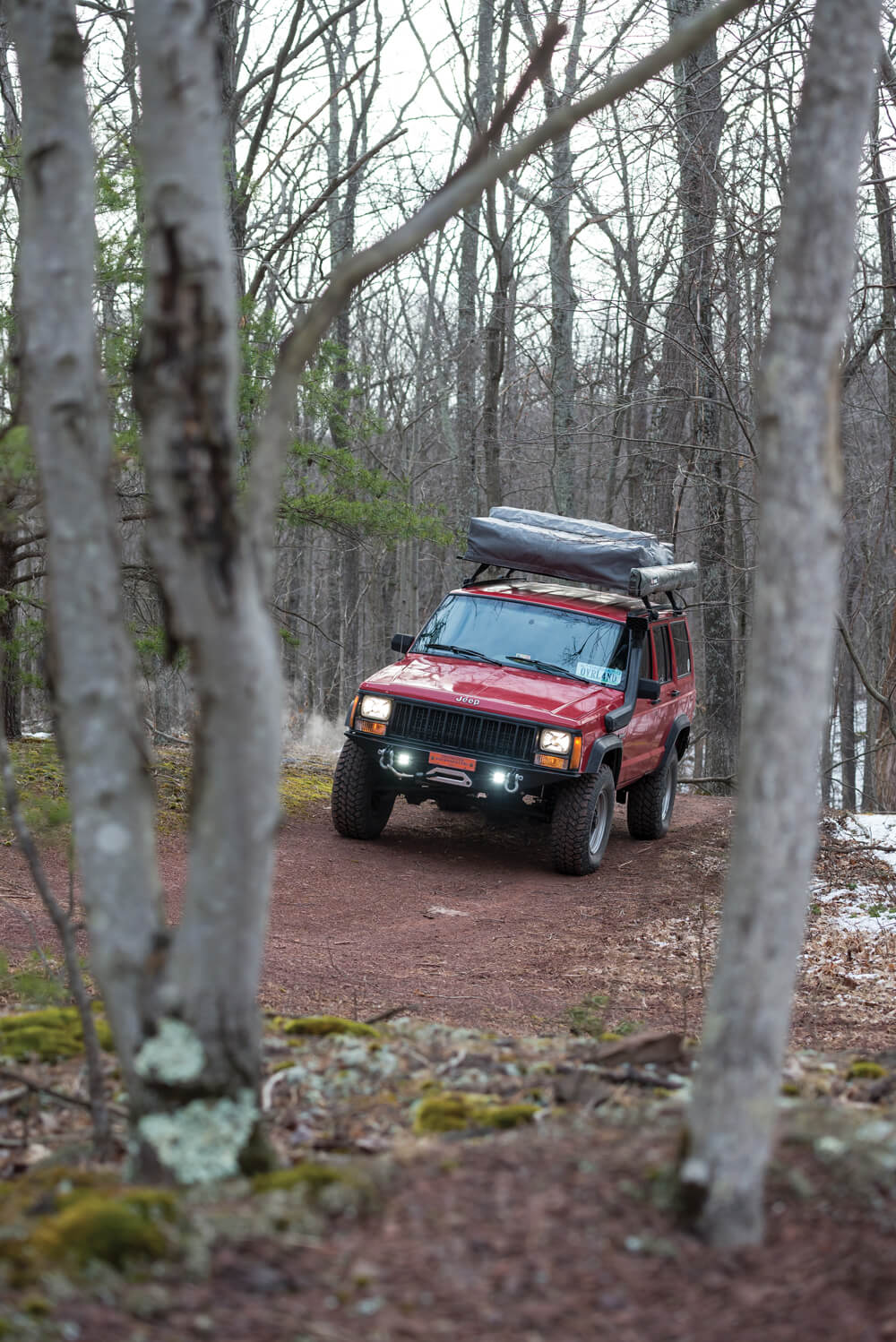 Future Plans
Schalow has grandiose plans for both this build and the places it will take him. The next vehicle upgrade will be a new motor, as the current one has some internal noises, is showing signs of compression issues in one of the cylinders, and has the occasional puff of blue smoke.
Smaller upgrades for capability and ease of use will also be addressed, like adding rock, backup, and awning lighting. Schalow thinks big, and plans to tackle a full custom Westfalia-type pop-top roof on the XJ himself, which will allow him to still sleep up high on the vehicle while also allowing him to mount kayaks and mountain bikes to the roof.
"Everything on Schalow's off-road vehicle build is done with cost and function in mind. Each dollar saved on the build is another dollar that can be spent searching for adventure on the road less traveled."
For Schalow's next overland XJ adventure, he is hoping to take a six- to eight-week trip from Virginia all the way to southern Baja and back. First heading west to Southern California then down the Baja peninsula before coming back via ferry to mainland Mexico and meandering back to the East Coast.
For more info on Schalow's adventures in his Jeep Cherokee XJ be sure to follow him on Instagram @Overland_History. Besides fun photos of the XJ in interesting locations, you'll also learn a ton about the history of the places Schalow visits.
_____________________________________________________________________________
UPGRADES
1994 Jeep Cherokee
Wheels & Tires: Stock XJ wheels wrapped in 31×10.5R15 Nexen Roadian MTs
Running Gear: 4.10 Yukon Gear front and rear, Powertrax Lock-Right Lockers front and rear
Suspension: 3.5-inch Rubicon Express coil and leaf spring lift kit with adjustable Trackbar, Bilstein 5100 Series shocks
Under The Hood:  Mopar HD radiator, Duda 20-plate heat exchanger, Top Gear Automotive headlights with H4 bulb upgrade, Flowmaster 40 series after-cat exhaust
Armor: Rusty's Front Trail bumper, custom rear bumper with tire and double jerrican holders
Off-Road Accessories: Warn M-8000, Rugged Ridge Synthetic winch line, Southeast Overland Hawse Fairlead, Rough Country sway bar disconnect, Nilights Floodlight Pods
Overland Accessories: Camping Lab RTT, Foxwing awning, Thule roof rack, Overland Solar 90-watt portable panels, AGM deep-cycle battery, Blue Sea Charge Relay, Blue Sea ST Blade fuse block, Custom 10.6-gallon Onboard Hot Water Shower System, Dometic 31-quart Drawer Fridge, Dometic 10.5-quart Console Freezer, custom sleeping platform/storage system, Coleman propane grill, Houzer stainless sink, Blue Ridge Overland Gear seat-mounted organizational system, Blue Ridge Overland Gear spare tire storage bag
This article originally ran in the July/August 2017 issue of Tread magazine.