4×4 Sprinter Blazing Trails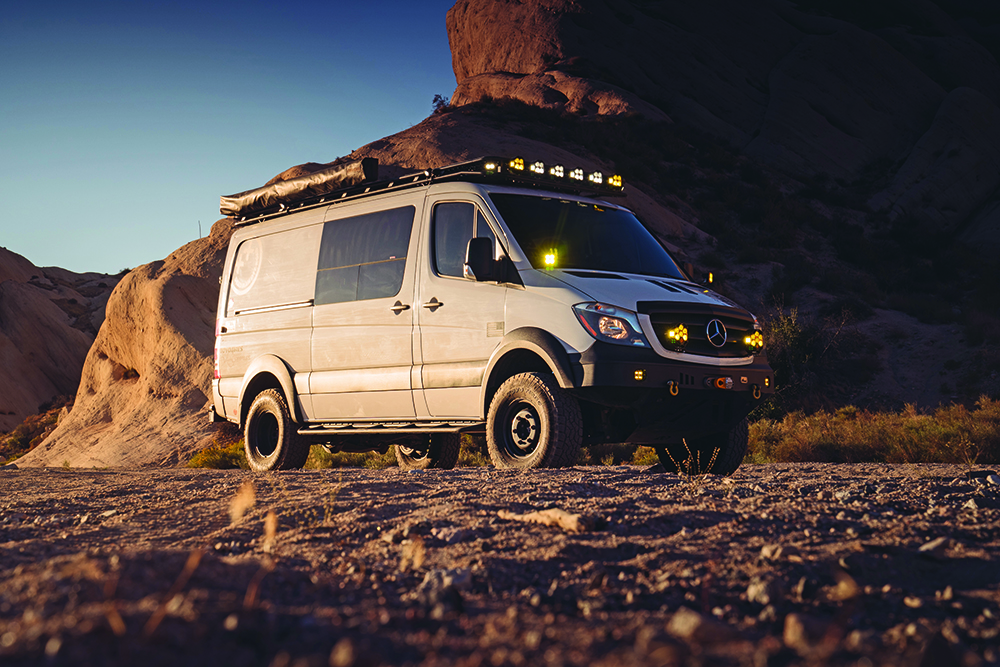 A family 2018 4×4 diesel Mercedes Sprinter van pushes limits off road.
Story by Kelly Nomura | Photos by Gone Dirtin'
Transformed from a utility cargo hauler, this 2018 Mercedes Benz 3500XD 4×4 Sprinter van found new life to transport its family to outdoor adventures over the last two years. We've seen this Sprinter go places and traverse terrain most people wouldn't dream of taking such a vehicle.
"Built to be a family adventure van, this 2018 Mercedes Benz 3500XD 4×4 Sprinter hits the trails ready to tackle the terrain and bring smiles to his kids' faces."
However, this 3500XD 4×4 Sprinter is a little different than most: It was built for off-road adventures with family and friends so that owner Brian Lau has no problem following the group down some trails most Sprinter owners would pass up.
As we've heard him say a few times, "Sure, I'll give it a try. Why not?"
Ready for the challenge and the opportunity to push the limits, Lau truly proves the capabilities of the 4×4 Sprinter—and we admire him for it.
Family Van Gone Off Road
A love for the outdoors and a desire to take his family camping steered Lau away from fast European cars to the off-road world. He grew up in the outdoors, with the beginning of his outdoors experiences taking place when he was a Tiger Scout as a first-grade student. As he got older, he continued with the Scouts to eventually became an Eagle Scout. The foundation of skills provided by the Scouts proved helpful and has fueled his desire to take his family camping. He exposes them to the magnificence and wonders of nature as often as possible.
On early trips, he whisked away his two young, energetic kids, then 3 and 5 years old, so his wife could take a break and get some peace and quiet. Those weekend trips with the kids in the 3500XD Sprinter also became an obsession to spend time with new and old friends and upgrade the van.
And, as most know, once the ball gets rolling with modifications, it's hard to slow it down.
As Lau says, "The Sprinter grew a life of its own as a go-anywhere weekend off-roader. We were always seeking that next destination to go off the grid and relax."
Buckle Up, Kids—Obstacles Ahead
One of Lau's most memorable trips was to Anza Borrego with the Weekend Offroad group, whose members really motivated him to get out and explore. His first proving ground was Diablo Drop-off.
"With the kids buckled up, as well as a great spotter and dozens of spectators who had never seen a Sprinter van tackle the obstacle, I took the plunge and never looked back." Lau explains. "We've done more-challenging obstacles since, but this was what started it all."
As that trip proved, this unique platform affords all the conveniences of a family van, including space for the kids and their toys, while being able to push limits on the trail.
Lau shares, "As a 4×4, it's very capable off road. It's my 'proving ground,' so to speak. I built it with function and purpose to go pretty much anywhere my fellow off-road and overlanding friends go. And it hasn't let me down."
Pushing the Limits
"Three or four times a year, SOT takes large groups of Sprinter owners to remote destinations, feeds them well for the weekend and teaches new skills through clinics."
To get to those far-off destinations and keep up with his other off-road buddies, Lau knew he needed to outfit the van properly. From the suspension setup to the armor and all the lights that keep him blazing trails in the dark, he turned to the companies in the biz that produce quality products. The majority of the work was done by Agile Offroad, Rugged Design Concepts, Losthiway Customs and Richard Dang (wiring), so Lau knows his van will safely get him and his family to distant camp spots and back home again.
He's no stranger to the car scene and used his experience to help shape the direction and needs for the 4×4 diesel Sprinter build. He knew he needed it to perform well in various conditions and added the special touches to make that happen.
Putting power to the OEM Steel wheels from Mercedes Benz wrapped in Toyo Tires ATIIIs is a 3.0 V6 Turbo Diesel engine. The engine also gets some help from a Renntech tune, Kerma Diesel Intake filter and K&N cabin filter.
Smooth and Comfortable Ride
Built to be a family adventure van, this 2018 Mercedes Benz 3500XD 4×4 Sprinter hits the trails ready to tackle the terrain and bring smiles to his kids' faces.
Lau chose the Agile Offroad RIP Kit Max suspension setup—one of his favorite modifications—to carry the van smoothly through the trails. It uses Bilstein struts, Fox 2.0 aux shocks and Agile Offroad 16mm wheel spacers in front. The back consists of custom leaf springs, Fox 2.5 shocks and Bora Offroad 1-inch, aluminum, hub-centric dually rear spacers. He was also one of the first to install an ARB rear differential locker from Agile Offroad to give him more traction when needed. These items brought a world of difference to the Sprinter's ride quality, which Lau highly recommends to others.
Keeping his kids and himself comfortable and secure are upgraded and functional seats. In front, the van has the VS30 Sprinter front seat upgrade from Mercedes Benz, with a front seat swivel kit by TravoisParts.com. The kids' car seats fit perfectly on the three-point, foldaway bench seat by Freedman Seating Company. Lau can fold it down for use when the kids are with him and fold it up to provide more room when they aren't.
Proper Protection
When you want to go just about anywhere, peace of mind is key. The van is protected—front to back—with full skids underneath, along with sliders and off-road bumpers. This 2018 4×4 diesel Sprinter dons an Agile Offroad engine skid plate, Van Compass transmission skid plate and fuel tank skid plate, and Rugged Designs Concepts rear differential skid plate.
The front is protected with a CA Tuned Offroad Vader Steel bumper that sports Baja Designs Squadron fog lights. You'll also notice the Baja Designs LP6 Pros on the front grille to help guide the van in the dark. A WARN Zeon S12 winch, Deadman Offroad winch line and Factor 55 flatlink are all at the ready for any recovery situations. A Rugged Design Concepts rear bumper and sliders finish out the armor on this Sprinter to give it a tough and clean aesthetic.
Building a Better Community
An active member of the overlanding community in Southern California, Lau attends numerous events throughout that area. There, he gets a chance to inspire others to get their rigs dialed in for adventure. It's also a chance to catch up with friends and people he's met in the community.
He also enjoys taking a more active role in the Sprinter community. He's a co-organizer for Sprinter Overland Trip (SOT), along with friends Cody Foster and Steven Mary. Three or four times a year, SOT takes large groups of Sprinter owners to remote destinations, feeds them well for the weekend and teaches new skills through clinics. SOT even brings along a professional photographer to capture the memories to share with those who attend.
They've built a community of repeat attendees who can't wait to see where the next adventure takes them, as well as to spend time with the friends they've made through the trips. We know firsthand the fun group that's developed, because we've attended a few Sprinter Overland Trip excursions. We think the trips are perfect for those who own a Sprinter and have taken it out camping to more-established campsites but also want to get to more-remote areas without doing so on their own quite yet. The trips are also great for those looking to make new friends within the Sprinter community.
Storage Solutions
As a trip leader and co-organizer, Lau hauls lots of gear on the SOT excursions. One of the most noticeable and unique items on this Sprinter van build is the Rugged Design Concepts side storage mount on the outside that holds the Roam Adventure Co. case on the driver's-side rear. Inside the case, Lau stores the items he needs to reach quickly, such as recovery gear and tools.
Rugged Design Concepts also built the Baja-style roof rack, interior subframe, ladder and custom accessories ladder mount. The roof rack provides the ability to store more gear up top, if needed, and also offers a spot to mount the AluCab 270 Shadow Awning.
Inside storage solutions are provided by Losthiway Customs, which created the bed/storage/rear slide tray. Lau also makes good use of the Roam Adventure Co. cases: He has two more of various sizes. And, when he needs to bring bigger items, such as a camping hot tub, his efficient packing allows it (yes, Lau brought a makeshift hot tub on a camping trip with us to test out his new Joolca Hottap hot water system. Not only did the hot tub fit into the van with all his camping gear, it was also a hit with the kids).
Capable, Functional and Fun
To lead a group into the great wilderness, one needs a capable vehicle—and, specifically in this case, a capable Sprinter van. Lau perfectly meshed form with function and has built a unique Sprinter van that can go just about anywhere and carry lots of gear. Whether it's toys for the kids or gear for big trips, this 4×4 Sprinter can handle it. The modifications and accessories on this build are thoughtfully matched to take Lau and his family to the remote destinations he seeks.
While this 2018 4×4 diesel Mercedes Benz Sprinter might not have the cosmetic frills that other Sprinter van builds feature, it triumphs, as far as function and performance are concerned. It's that utilitarian motif and functionality that make this Sprinter van one that catches our eye.
Follow along on Instagram @more.van.ever or @Sprinteroverland to see more of this Sprinter van's adventures. 
UPGRADES
2018 Mercedes Benz
3500XD 4×4 Sprinter
Engine: 3.0 V6 Turbo Diesel
Suspension: Agile Offroad RIP Kit Max—Bilstein struts, Fox 2.0 Aux Shocks, Agile Offroad 16mm Wheel Spacers (front); custom leaf springs, Fox 2.5 Shocks, Bora Offroad 1" aluminum hub-centric dually rear spacers (rear)
Wheels & Tires: Mercedes Benz OEM Steel Wheels 16×8 (front and rear); Toyo Tires ATIII, size 296/75/16
INTERIOR ACCESSORIES: Losthiway Customs bed, storage system w/ pedestal sink, rear slide tray, fridge slide, Interior wall panels and rear window trim kit; Rugged Design Concepts Interior Sub Frame; Roam Adventure Co. 85L Case; Freedman Seating Company ES-GO 3-point Foldaway Bench Seat; Mercedes Benz VS30 Sprinter Front Seat upgrade; Travoisparts.com Front Seat Swivel Kit; Kenwood DDX9906XR w/ Kenwood DRV-N520 Dash cam; AEM X-series OBD2 Gauge;
Midland USA MXT500 GMRS Radio w/ 6db antenna and deluxe external speaker; Weboost Driver Reach Cell Booster w/ OTR antenna; eRiggers Marine antenna w/auto antenna mount; Flatline Van Co 3" mattress; Noico Sound Deadening & RED Insulation; Havelock Wool Insulation; Iceco Fridge VL60 Pro; Ceramic Tint on all windows; Xplr Outfitters Insulated Window Covers; Morrflate Tire inflation/deflation system; ARB Twin Compressor + PowerTank Super Couplers; Powertank 10-lb. Tank; Joolca HOTTAP Hot Water System; ZeroBreeze Mark 2 Portable AC unit; Kicker Audio 4-Channel Amp, 5.25" door speakers, 6.5" rear speakers
Exterior Accessories: ARB Rear Locker by Agile Offroad; Trackspec Motorsports universal heat extraction vents; Baja Designs LP4 Pro, LP6 Pro, Squadron Fog, Squadron Pro, S1 and S2 Pro, RTL-S and Rock Lights inside; Warn Zeon S12 w/ Deadman Offroad winch line; Factor 55 Flatlink; Agile Offroad 28-gal. Auxiliary gas tank; Agile Offroad Engine skid plate; Van Compass Transmission skid plate and fuel tank skid plate; Rugged Designs Concepts Rear Diff skid plate; Rugged Designs Concepts Rock Sliders; CA Tuned Offroad Vader Steel Bumper; Rugged Designs Concepts Ladder,
Custom Accessories Ladder Mount, Baja Style Roof Rack, Baja Style Rear Bumper, Exterior Side Storage Mount; Roam Adventure Co. 83L case; Renogy Solar 300W solar panels, 300ah Aux Lithium Batteries; 2000W Inverter, Wanderer Controller; CR Lawrance Vented Passenger Windows; FlareSpace Rear vented Windows; Scrubblade Platinum Windshield Wipers; Terrawagen Wide Fender Flares; Terrawagen Front window vents; Rig'd Supply Ultra Swing Mega Fit Tire Carrier w/ Ultra Table; Terrawagen Aero Hood Spoiler; Diff and Transmission breather tubes; Seaview Cable Seals for lights and solar wiring; AluCab 270 Shadow Awning; Pro Eagle 3-Ton Jack
---