Overland Daily Driver: Fifth-Gen 4Runner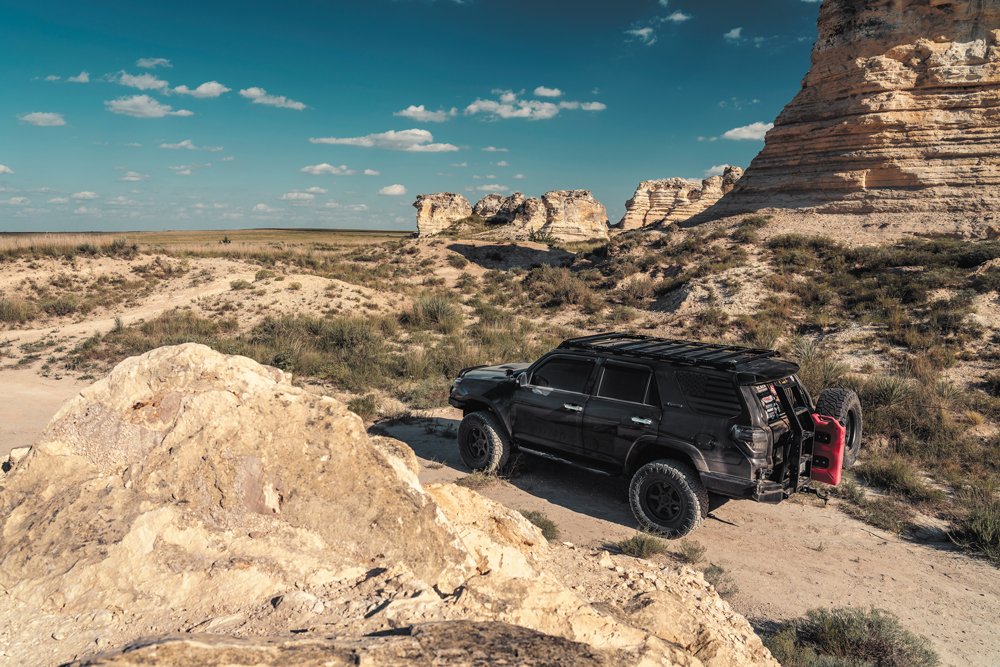 Jonathine Salas' Daily Driven, Spotless Fifth-Gen 4Runner
When most people think of Kansas, they don't quite think of beautiful terrain and challenging trails; usually it is more of a Wizard of Oz–type of joke or tornado reference. However, those who have spent time in Jonathine Salas' home state of Kansas know what it really has to offer: vast, open terrain with a variety of scenic options complementing a beautiful sunset basically every single night. While there may not be any mountains, oceans, or large forests nearby, Salas could drive you in his Fifth-gen 4Runner a few hours in any direction from his home in Wichita, Kansas, and lead you to believe you have changed states. Don't believe us? Come through town and hit him up. You will be in for a treat.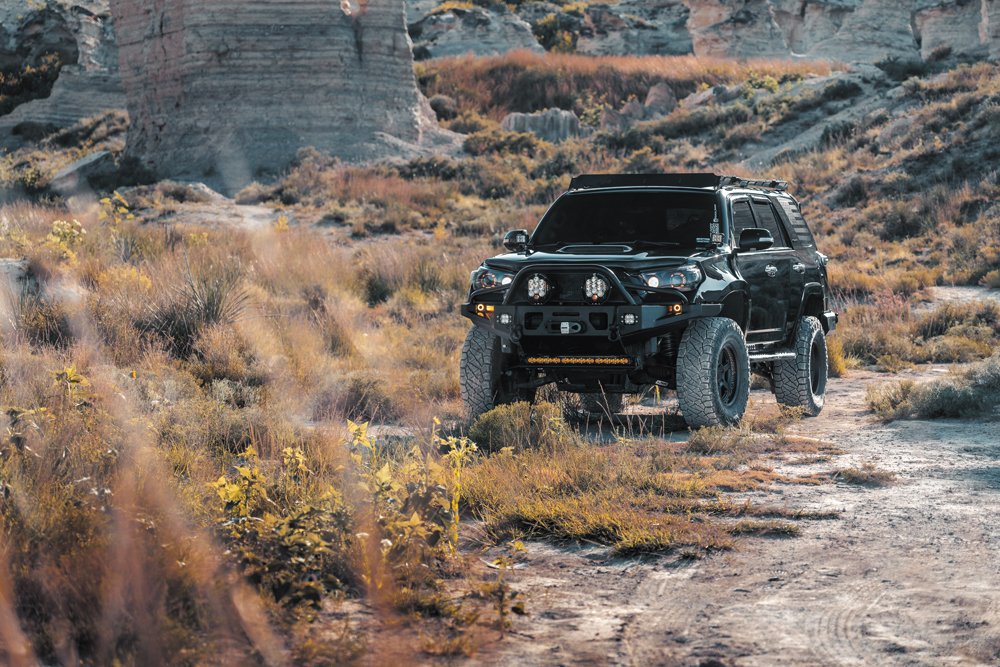 With a strong passion for all things automotive, Salas' interests do not only reside in the off-road world. From heavily modified imports to classic cars, he has had experience in just about every area of vehicle you can name. On top of that, outside of his career in the aircraft industry, he runs a very successful detailing shop out of his garage, doing everything from simple buffing to ceramic coating. That is an important fact for people to know considering his Fifth-gen 4Runner is almost always spotless. It's not from a life of pavement pushing; after hitting the trails, he meticulously and religiously cleans and polishes his truck more frequently than anyone in his area. No wonder that custom For Tuxedo Black paintjob really shines—all the time. But really, if you ever become his friend, you will notice the monotonous pattern of traveling 12 hours to hit the trails, only to return to his driveway where he washes away buckets of sand and dirt from his Toyota. The man is a glutton for punishment, it seems.
"When most people think of Kansas, they don't quite think of beautiful terrain and challenging trails; usually it is more of a Wizard of Oz–type joke or tornado reference …"
For the build in front of you today, it all started with a bone-stock 2012 Toyota 4Runner Limited. After some challenging times in his personal life, Salas decided it was time to get rid of his Acura TL Type S and begin a new project. He found a 4Runner with crazy low miles and knew it was exactly the platform for his focus and energy, acting almost as a coping mechanism for the difficult times in his life. Using the frustration and pain he was experiencing, he built a masterpiece. He knew the best thing he could do for his own personal life and mental state was to create something both he and his daughter could enjoy together. Salas went full force into his Fifth-gen 4Runner instead of dwelling on the negative, utilizing his already-established automotive skills and his ever-evolving yearn to learn new ones. It all started with simple modifications and progressed from there. With each change, Salas pushed harder and harder to make it better and more different. He pushed his platform to perform in exactly the way he wanted on and off the road. From stereo to suspension to even his camping setup, Salas wanted to maximize every bit of capability of the 2012. If we had a magazine the size of a phone book, we might have the space to list all the different wheel, suspension, and body part combos this Yota has had over the years … but since that is not the case, you'll hear more about how it sits today.
One of the most important things Jonathine Salas strived for with his rig was to make sure it is a reliable, fun way to get outside and spend time with his daughter and friends. Having originally started with only a roof rack and his rooftop tent, as his build kept progressing, he actually went ahead and built an entire overland trailer setup. From matching the Black Rhino wheels on the Runner, to a Bluetooth sound system, propane grilling setup, its own battery power source, an elevated rack mount for the FreeSpirit 55-inch roof top tent to sit on and so much more, this trailer is really quite the game changer. The ability to leave the trailer home in the garage with everything still installed allows him more freedom and not have to constantly install and remove his tent from the roof of the Fifth-gen 4Runner. If you daily drive your trail rig and also hit the trails/camp often, definitely look into the possibility of building your own. It can save a lot of hassle. The trailer also has an incredibly functional Timbren axleless setup, which not only makes maintenance of the trailer easier, but gives it more ground clearance in the center, as well. Having racked up over 150,000 miles since his original purchase date, there is a reason he has become so in touch with what he wants out of his rig. From knowing how he wants his suspension to react and feel, to having easy access to any and all of the camping accessories he may need, Salas has gone above and beyond in fine-tuning his Toyota to function to the highest performance. From crawling on back trails in forests to driving deep into the Colorado mountains, the installation of his Nitro Gears 4.56 gear setup keeps this daily driven Fifth-gen 4Runner kind of like the post office … "neither rain, nor sleet, nor snow" can keep it from going where it wants.
"With each change, Salas pushed harder and harder to make it better and more unique, as well as pushing his platform to perform in exactly the way he wanted it to on and off the road."
There are not many things that compare to a night out on the trail in western Kansas, hours away from the nearest major city under the stars. The Castle Rock Badlands are a place unlike any other in the Midwest. With limestone, chalk, and shale formations that were actually under the Cretaceous Sea over 60 million years ago, it is quite the place to set up camp under the stars for the evening. Clear skies are quite an understatement when in Kansas; we're talking stars that light up the entire sky as far as your eyes can see. Setting up his RTT and Expedition Essentials propane grill for a relaxing evening is no challenge in the Badlands with Salas' Rigid ditch lights and Ignite roof rack lights though. Giving all the visual assistance one could need, pulling some steaks or burgers out of his Roofnest refrigerator is a cake walk. Did we mention his off-road trailer also houses not one but two Yellow Top Optima batteries? Leaving no chance to accidentally drain down his rig's battery, Salas can listen to music, light his campsite, and even charge electronics without relying on his Toyota's power source at all. In addition to that, if the urge emerges to push out farther than he wants to explore on foot, he can disconnect the trailer, leaving camp fully set up and functional while driving the Fifth-gen 4Runner anywhere he wants. Never satisfied, we are sure there will be many changes left in store for this overlanding work of art, but until those happen, Salas and his daughter are content wheeling and camping their way into new memories year after year.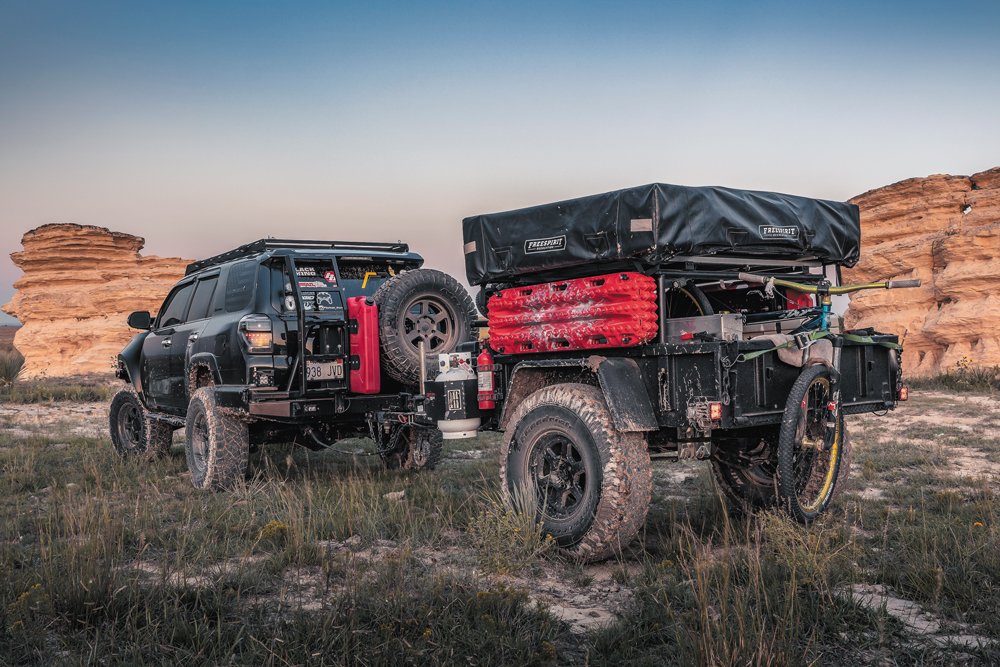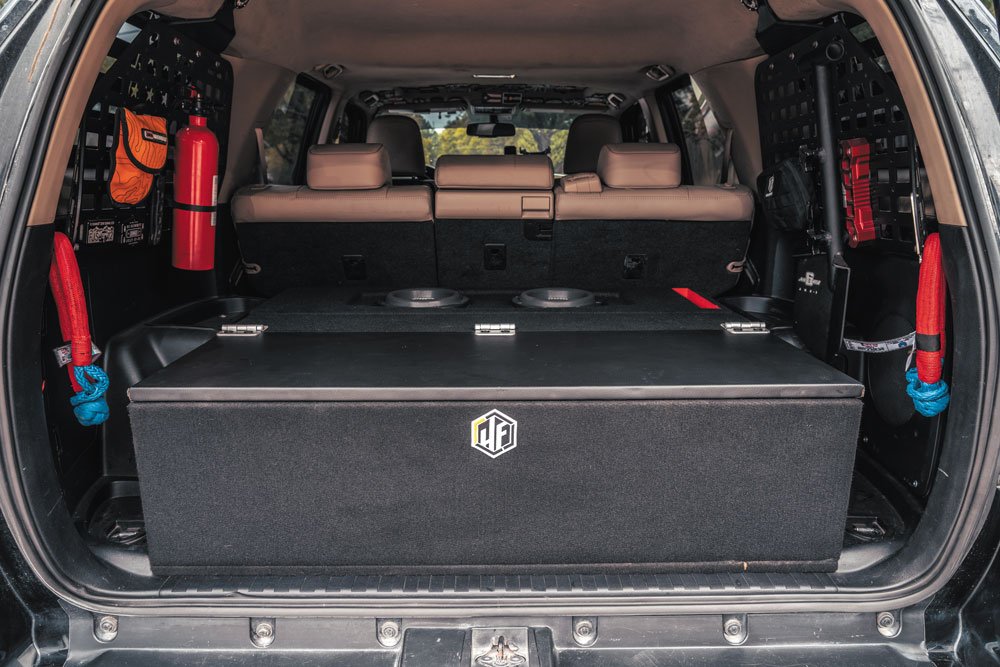 Jonathine Salas would like to give a special thanks to: Hefty Fabworks, Adan Martinez at Kansas Auto Sales, Black Rhino, The Retrofit Source, Expedition Essentials, Battle Born Offroad, Treaty Oak Offroad, Agency6, KC ActionTrax, Durobumps, Sound Authority, LSK suspension, Bulletproof Fabricating, Pro eagle, Timbren Industries, Rigid Industries, and Kustom54.
You can follow the adventures of Jonathine Salas as @pitorican_4runner on Instagram.
"The Castle Rock Badlands are a place unlike any other in the Midwest."
UPGRADES
2004 Toyota 4Runner Limited
Engine: 2012 Toyota 4.0L V-6
Suspension: Front: Fox DSC 2.5 coilovers, LSK lower control arms, Icon billet uppers, Total Chaos spindle gusset/cam tabs, front Dura bumpstops. Rear: Old Man Emu 899 Rear Spring HD, Icon Bumpstops, Rokmen Lower Arms/panhard, Dobinson adjustable sway bar links
Wheels & Tires: Black Rhino 17×8.5 -22 3.8 back spacing, Nitto Ridge Grappler 305/70-17 tires
Accessories: Custom-built headlights, Kustom54 taillights, Baja Designs 30-inch amber light bar and LP9s, Smittybilt X20 10k winch, custom-built rear hatch storage, Advanced Fiberglass Concepts front fenders, Hefty Fab skids/sliders/front and rear bumpers/armor, Expedition Essentials dash mount, Treaty Oak Recovery Gear, KC Action Trax, Expedition Essentials propane grill, Rigid Scene lights, Horn Blasters XL shocker horns, Agency 6 fairlead, Prinsu Design roof rack, Alpine 8-inch screen, Focal KRX 3-ways in front, Focal KRX 2-ways in rear. Audison bit-one processor and Hertz Amps, two 8-inch DC Audio subs, custom-built CNC'd speaker box by Dave Martin, 150 feet of sound deadening throughout vehicle.
Editor's Note: A version of this article first appeared in the January/February 2020 print issue of Tread Magazine.