EarthCruiser EXP and FX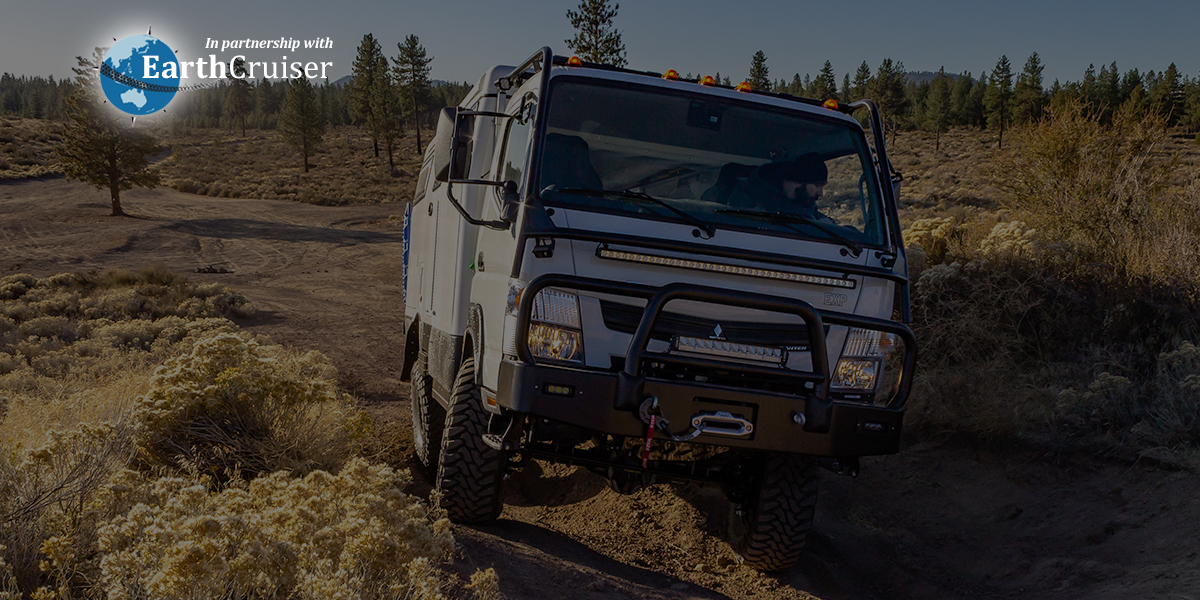 EarthCruiser Releases New Platform: Gasoline-Powered EXP and FX
As time forces evolution and change to both climates and situations, EarthCruiser knows how to roll with the punches and come out on top. They took their successful expedition platform and made it even more effective. As emission regulations shift consumers to high-efficiency gasoline and electric power plants, consumers who seek adventure and international off-road adventure need not fret. EarthCruiser still has you covered.
EarthCruiser has introduced over 160 vehicles to the world over the last 10 years with the 4-cylinder turbo diesel EXP expedition camper. The EarthCruiser EXP campers have roamed the Earth, seeing terrain from the Steps of Mongolia to the Steens Mountain in Oregon. This purpose-built and capable vehicle has proven its worth as it hasn't needed much modification since its creation—until now.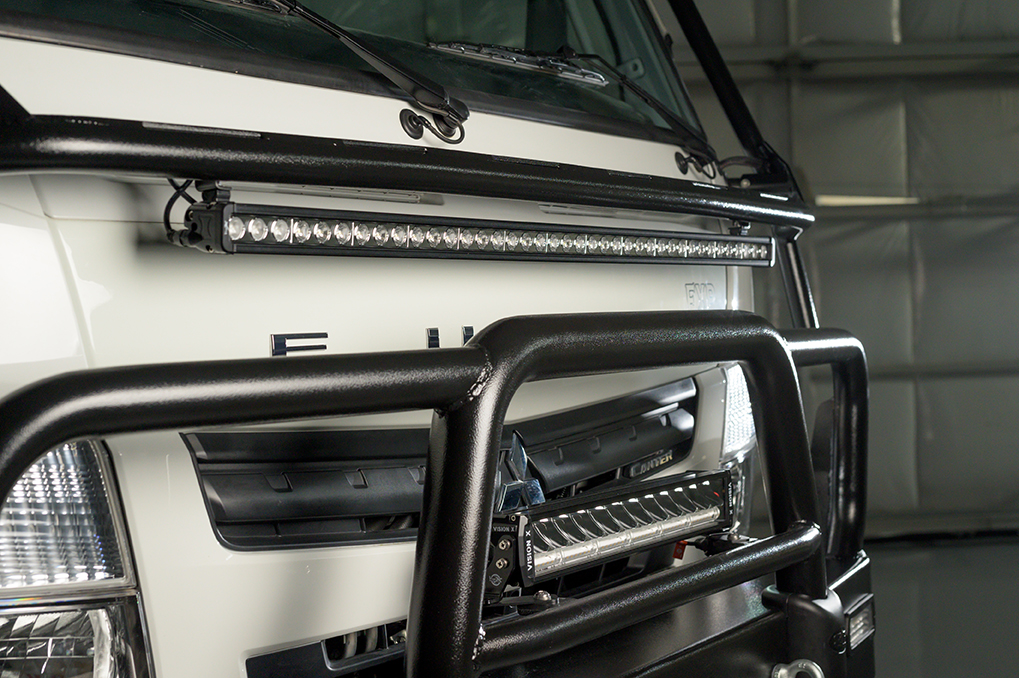 The all-new gasoline-powered EarthCruiser EXP and FX lead the way in purpose-built expedition trucks. They can be enjoyed on tight city streets and wide open dirt tracks around the world. It is your gateway to travel to any location—without limitations. With its size being no bigger than a mid-size truck, the EXP can take you anywhere and further. It fits into a shipping container, so international travel options are abound. With emissions concerns on the rise, EarthCruiser was elated to get the green light from Fuso to change the drivetrain to their engineers' choice of custom gearing and transmission. They built the ultimate gas-powered Fuso 4×4 with the engine and transmission combination they knew would provide the grit needed for off-grid travel, while maintaining the fuel efficiency most have gotten accustomed to with a diesel.
During this process, we have full control over final drive ratios, transfer case reduction gears, wheel and tire compatibility, locking differentials, and braking systems. These systems will be designed and engineered with OUR end in mind, resulting in an end product that is built from the ground up to travel the world. –Lance Gilles, founder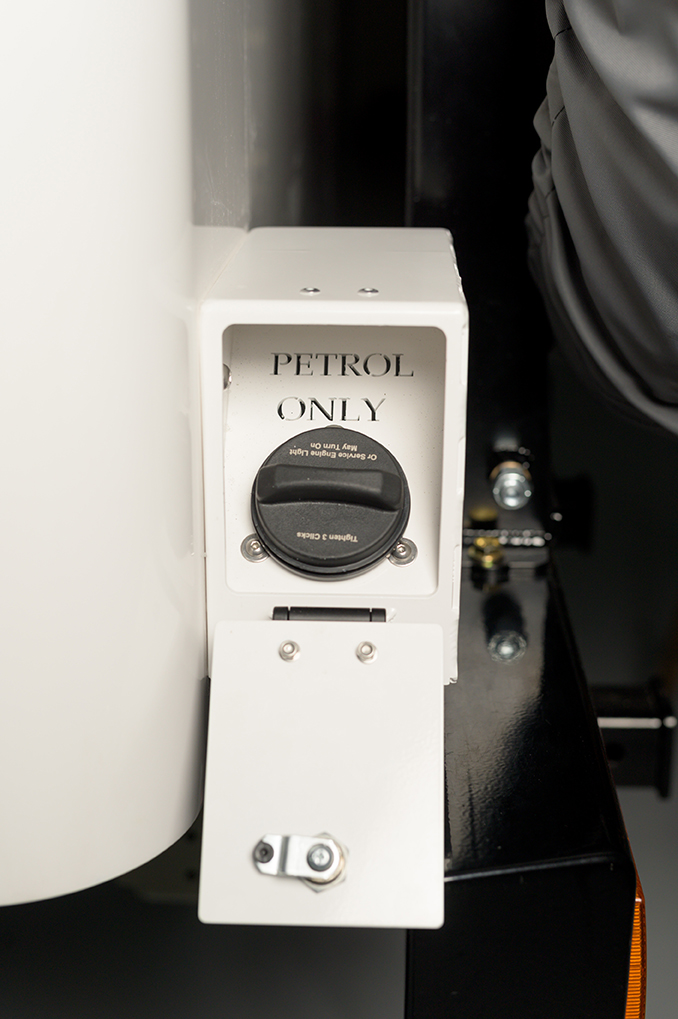 Capability
The ability to select the preferred drivetrain combination also brought about the inclusion of other previously lacking features. The 134-inch wheelbase smooths out any bumpy road as if one was gliding, and is now complemented with 14-inch disc brakes. Power is supplied by a capable Vortex 6.0L V-8 engine that delivers 297 hp and 361 lb-ft of torque, making it easy to get up hills and pass slower traffic. Maintaining the tried and true international commercial truck platform of the Fuso 4×4 body-on-frame chassis was important, and the addition of the free floating dana 80 axles by DynaTrac controlled by a Hero 2-speed transfer case, along with Warn locking hubs and ARB rear locking differential, make any terrain possible. And of course, there is not just one, but two, on-board air compressors to help air back up when needed.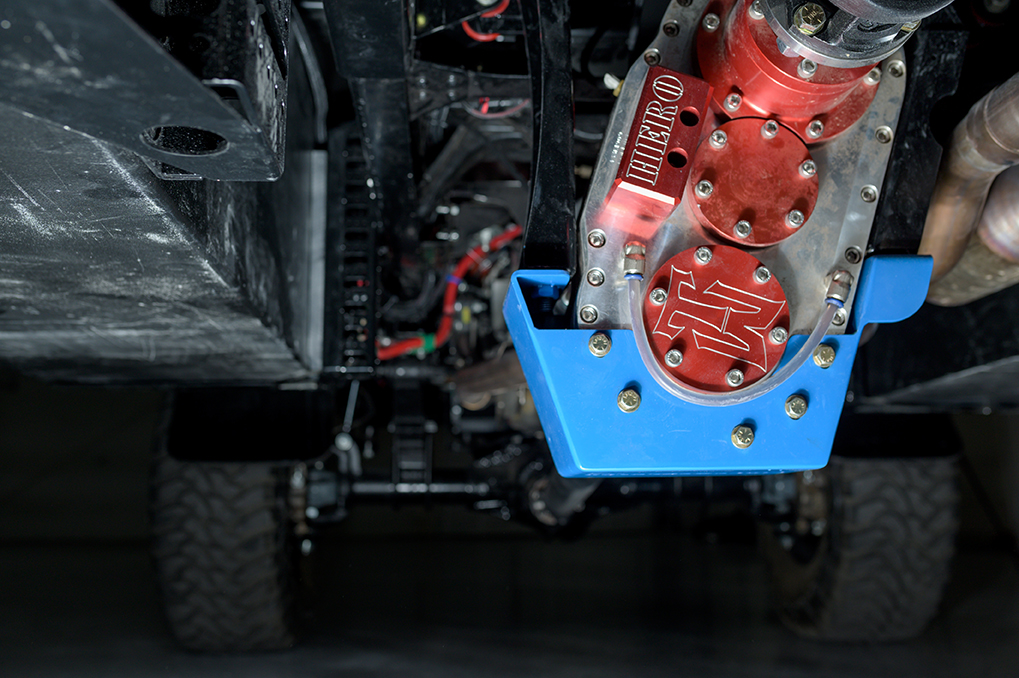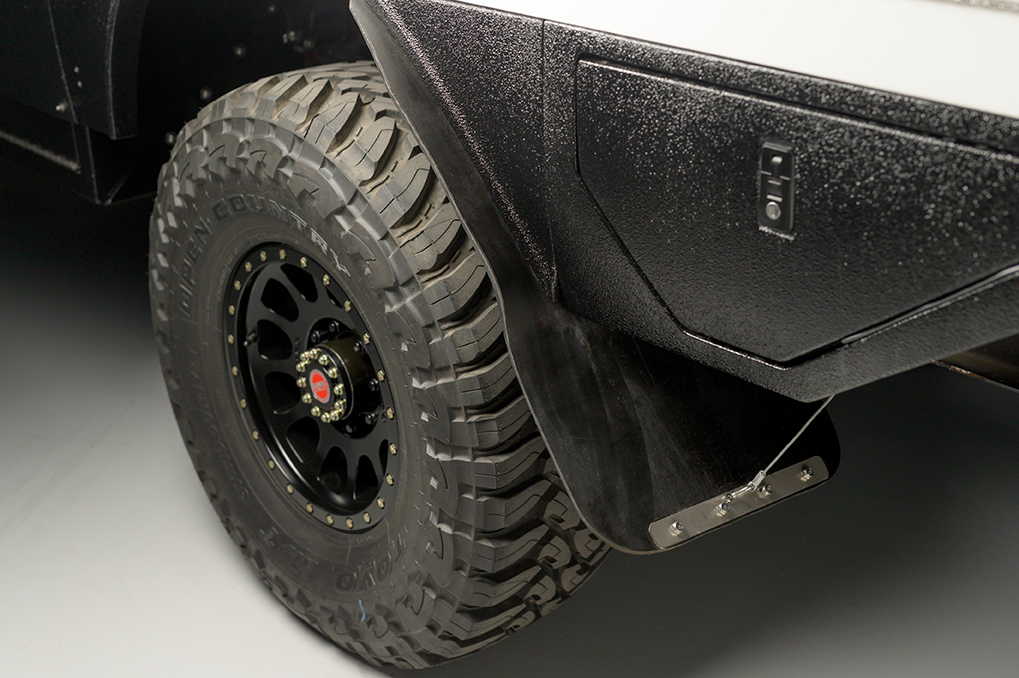 Driving Comfort
EarthCruiser thought of it all when equipping this expedition vehicle. It brings the utmost comfort and 4×4 capability all may seek. Carefully selected wheels, tires, and suspension were selected to bring passengers the utmost safety and performance. Whether traveling at high speeds or low crawling conditions, the drivetrain and suspension system will keep you comfortable while maintaining traction. Similarly, all materials that went into manufacturing the house have been carefully selected and made with marine-grade construction to tackle all types of travel for many miles over the years. There are two sets of brake lights and turn signals to provide the needed safety, even if recreational equipment is mounted. Appropriate recovery gear comes standard, including Warn winch and multiple recovery points. And the front bull bar and heavy-duty skid plates below provide extra protection. If all this and gear storage is still not enough, EarthCruiser offers plenty of additional options to fine-tune the vehicle to fit your specific needs.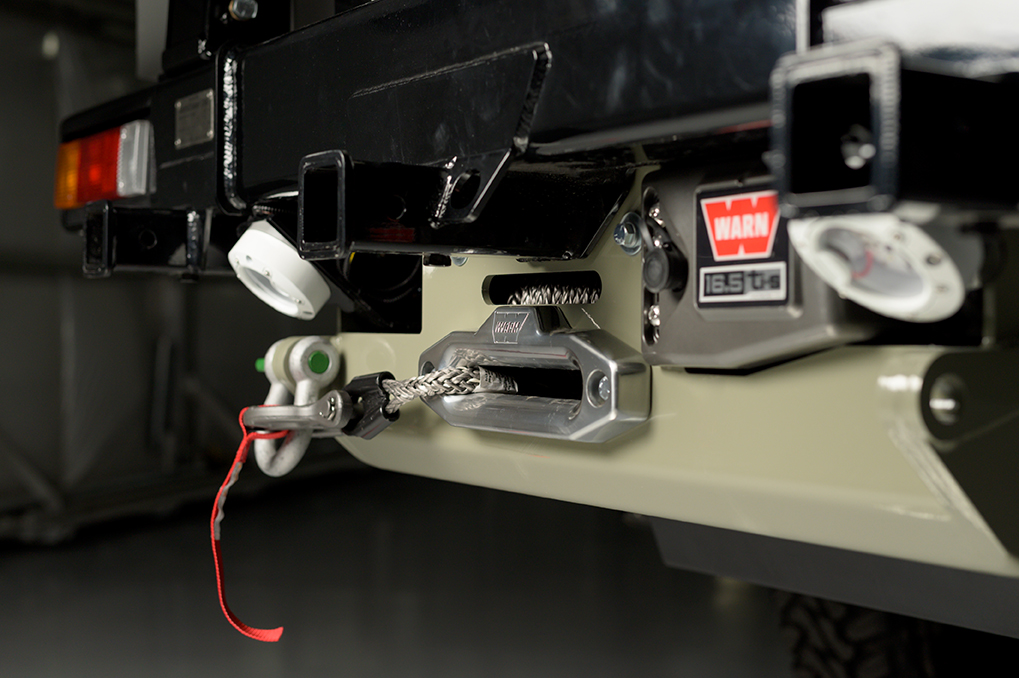 Creature Comforts
An EarthCruiser vehicle wouldn't be living up to its name if it wasn't providing you with amenities in a thoughtfully designed layout to make perfect use of the space given. An integrated pass through makes it easy to go back and forth from driving quarters to living quarters, especially in the elements. A full height shower and hidden pull-out toilet add a bit more luxury to camping. And don't worry, there is plenty of storage available throughout for all of your belongings and toys.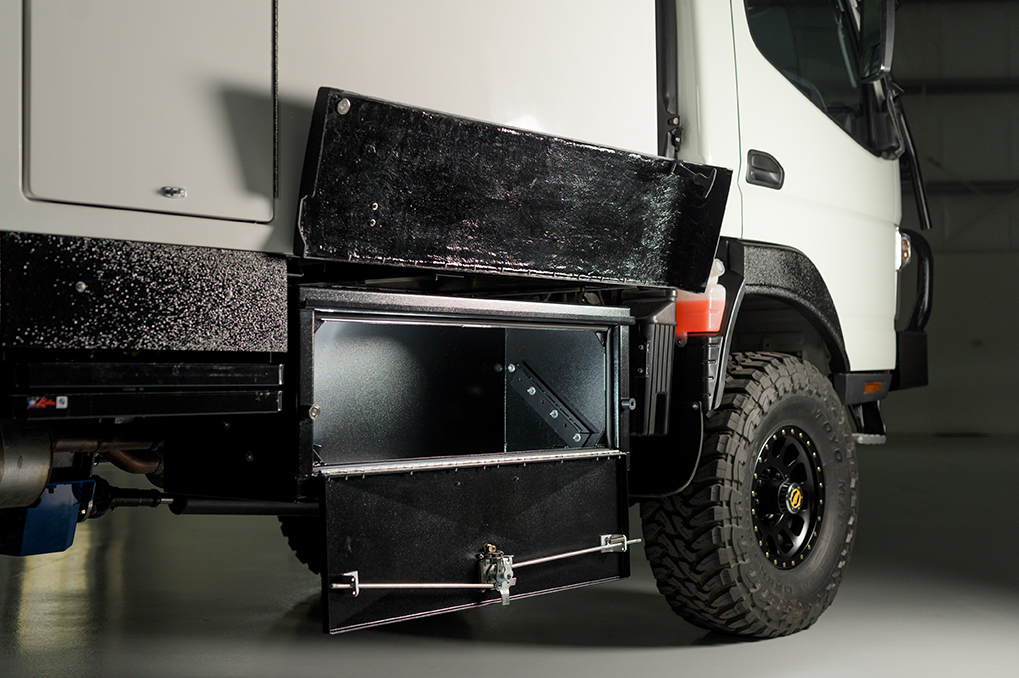 We can go on and on about all the amenities provided on the EarthCruiser EXP, but we'd prefer for you to check it out for yourself. Be sure to visit them online at earthcruiser.com
or stop by their showroom in Bend, Oregon. Has EarthCruiser knocked this one out of the park? Perhaps the universe? Time will tell. After seeing it in person at SEMA Show 2019, we were not only impressed, but devoted our piggy banks to get one to explore the world and parts unknown.