Portable Fire Pit Buyer's Guide
A Portable Fire Pit is Essential to Camping and Living Life in the Outdoors
Many fond memories are created while camping, and nothing is better than quality time with friends and family around a campfire. Whether you're looking to swap stories about the day's adventures, roast hot dogs, toast marshmallows for S'mores, or simply want to keep warm, a nice fire is essential to camping and living life in the outdoors. Gone are the days where a designated campfire area is required. With modern innovations in materials and product design, you can now bring the coziness of a campfire with you wherever you go. A portable fire pit is made for travel and constructed from lightweight materials, designed to fold up and pack away, and built for various occasions and usage.
Some of these fire pits work with propane tanks, which can provide the same benefits of a real fire, but without the smell of smoke on your clothes or throughout the campsite. This also alleviates the need to have a constant supply of firewood with you, which can take up valuable space in your vehicle and time trying to source wood. The problem with propane tanks occurs when you run out and there are no local stores or places to get a refill. Other benefits of a campfire in a can is the instant gratification of having full control of the size of the flame and the ease of turning the fire off and on to get started.
Yet, there's something about the smell of wood burning, the sound of wood crackling in the fire, and watching the embers glow with heat that is symbiotic to camping. For those who want to preserve the authentic campsite fire experience, there are a host of portable fire pits that allow you to use wood and/or coal to build your next fire.
A portable fire pit has major advantages. For one, you can easily move the campfire to be more convenient for your camp setup or outing. You can bring the fire pit with you practically anywhere from your backyard to a tailgate or even to the beach. For those who want to experience the fun of camping at home, you can easily set up a portable fire pit and enjoy it from the comforts of your patio, deck, or yard and then pack it away when you're done. We selected a few of the top options for portable fire pits for more quality time around the fire, wherever you may be.
[Note: The fire pits reviewed here are not made to use indoors, and it is suggested to be used in well-ventilated areas.]
Snow Peak Pack & Carry Fireplace Kit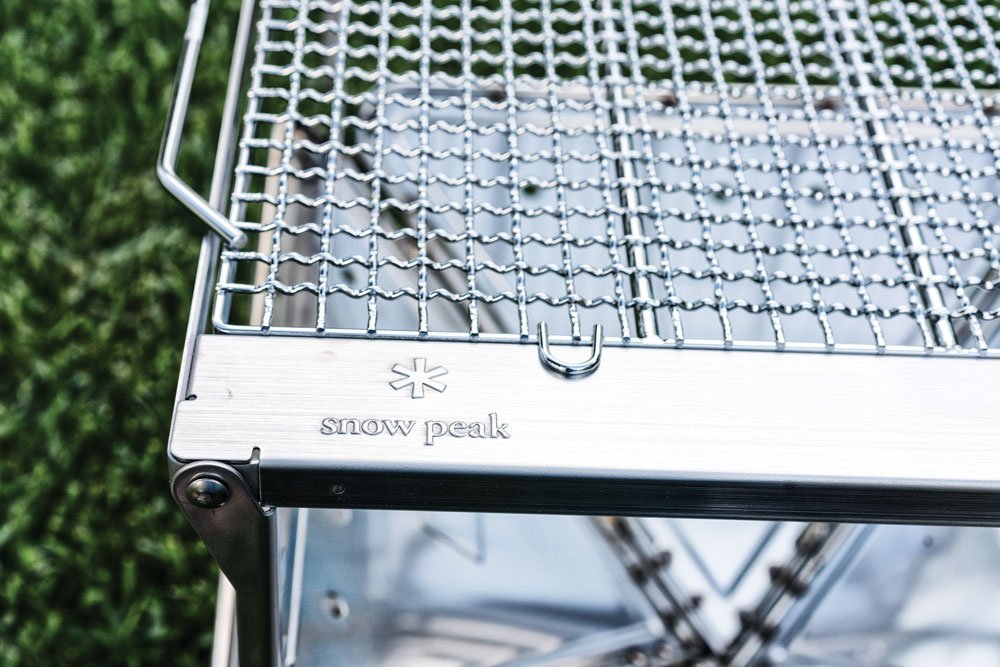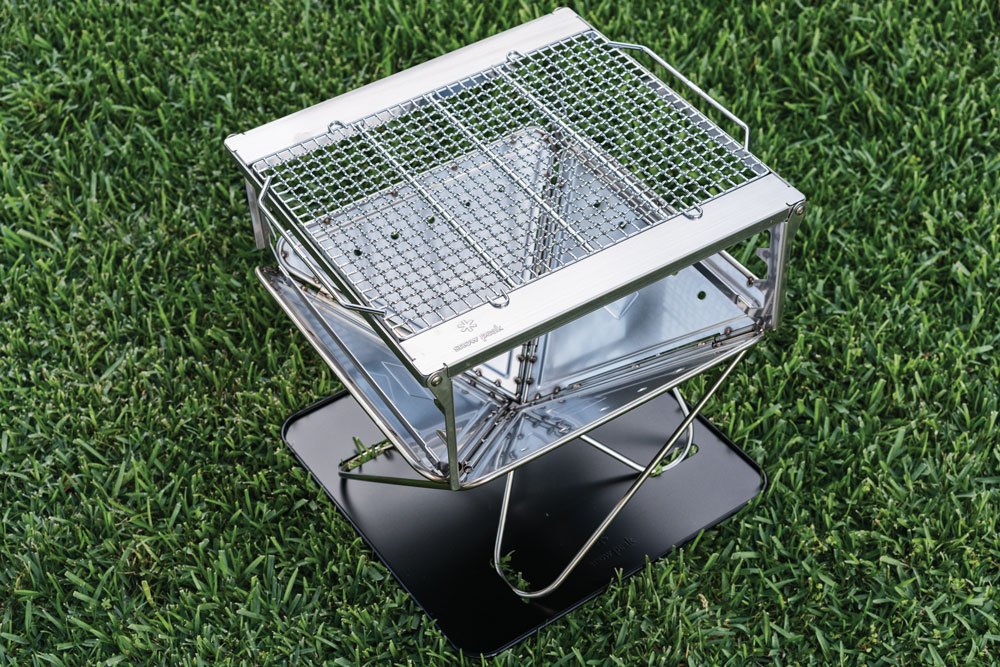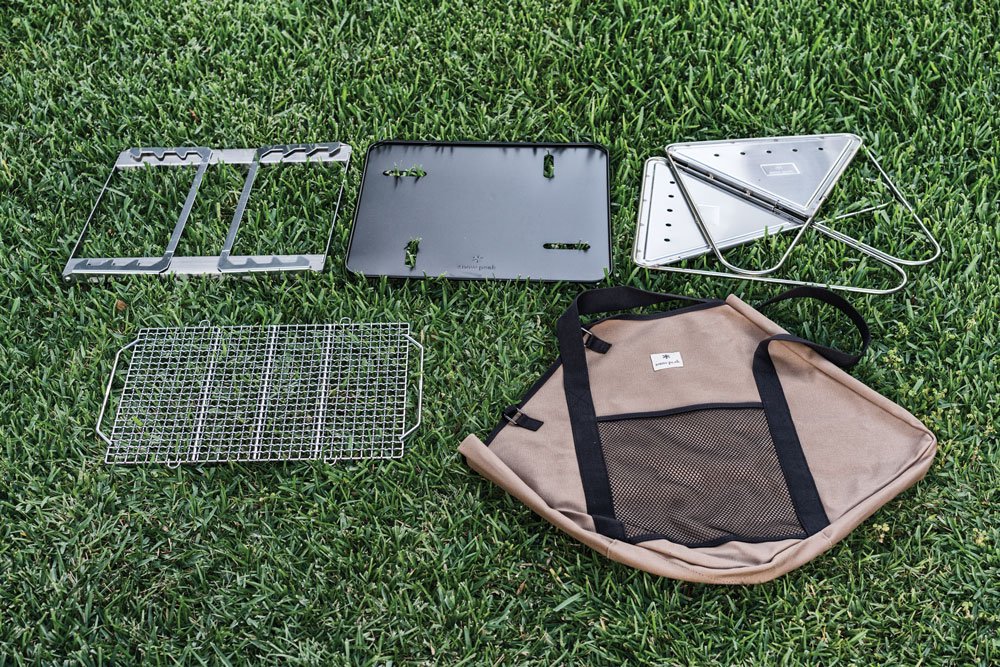 Highlights: This complete kit includes a grill net, grill bridge, pack and carry fireplace, and carrying case. It is made from durable stainless steel and works with both wood and charcoal as a campfire and for cooking.
Material: Stainless steel
Weight: 31 pounds, 8 ounces
Dimensions: 17.75 x 17.75 x 13 inches
Folded Dimensions: 22 x 25 x 6 inches
MSRP: $320
URL: snowpeak.com
Tread's Take: Our favorite for cooking while on the go. This portable fire pit is beautifully designed and easy to set up in about a minute. The height-adjustable grill lets your inner chef thrive while camping. The details are what separates this apart from other packable fireplaces. Even the carrying case is perfected, down to the quality of the canvas material and stitching, and we wouldn't expect less from the made-in-Japan brand. One thoughtful design cue can be found on the base, which supports the legs and secures them in place. At just over 30 pounds it's not the lightest, but it is an adequate size to provide warmth and food for a handful of people. Additional accessories are available from Snow Peak to pair with the Pack & Carry Fireplace, providing options for cooking. For the quality, you get what you pay for in this all-in-one kit.
Camp Chef Redwood Fire Pit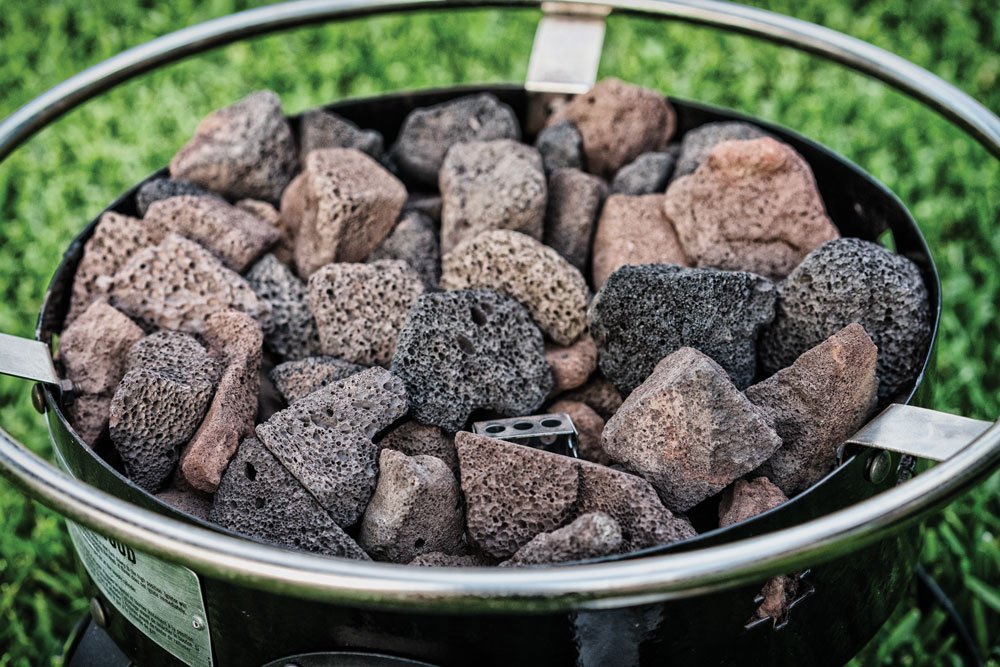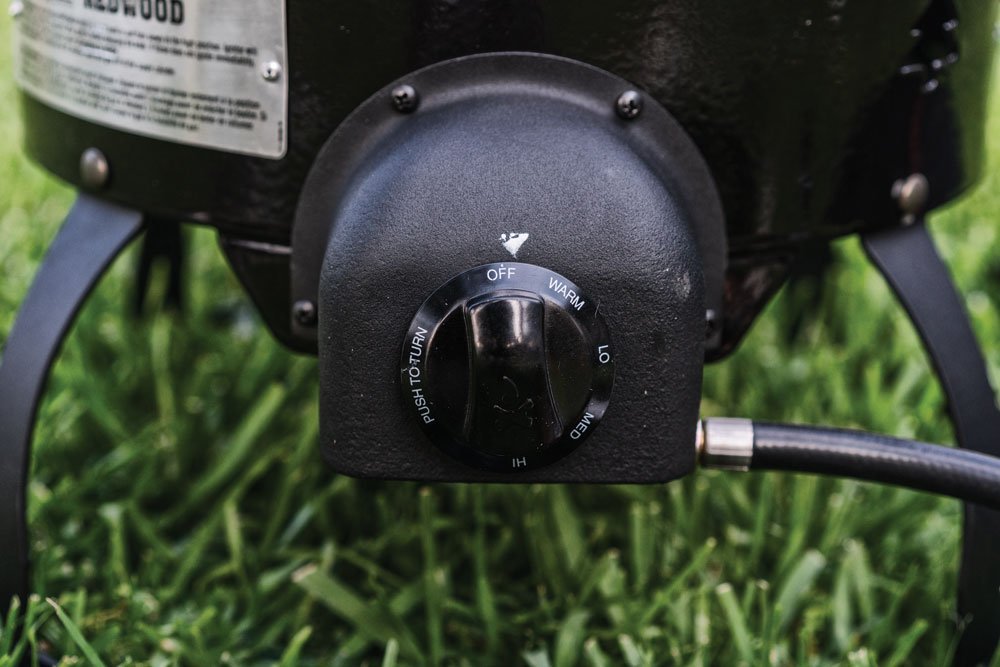 Highlights: The Camp Chef Redwood Fire Pit puts out 55,000 Btus/hour. The kit includes four extendable roasting sticks, heat dispersing lava rocks, carry bag, regulator, and 5-foot hose. The centerpiece features decorative pine tree cutouts.
Material: Heavy gauge steel and nickel-coated steel safety rings
Weight: 33 pounds
Dimensions: Diameter 19 inches / Height 13 inches
MSRP: $168
URL: campchef.com
Tread's Take: The only portable fire pit we tested that works with propane. The advantages of propane include the ability to adjust the flame as needed, smokeless, and in the case of fire ban restrictions, propane fires are typically allowed. We like that Camp Chef includes the lava rocks and roasting sticks in the package. The initial setup takes a couple of minutes as you will need to screw in three screws to attach the fire ring, but once installed it can remain on the unit. The carrying case makes it easy to store and carry everything as one assembled piece, including the lava rocks. This unit is built to provide warmth and for the occasional roasting of marshmallows and hot dogs. Camp Chef has many amazing products for those looking to cook while camping.
Kovea Firecamp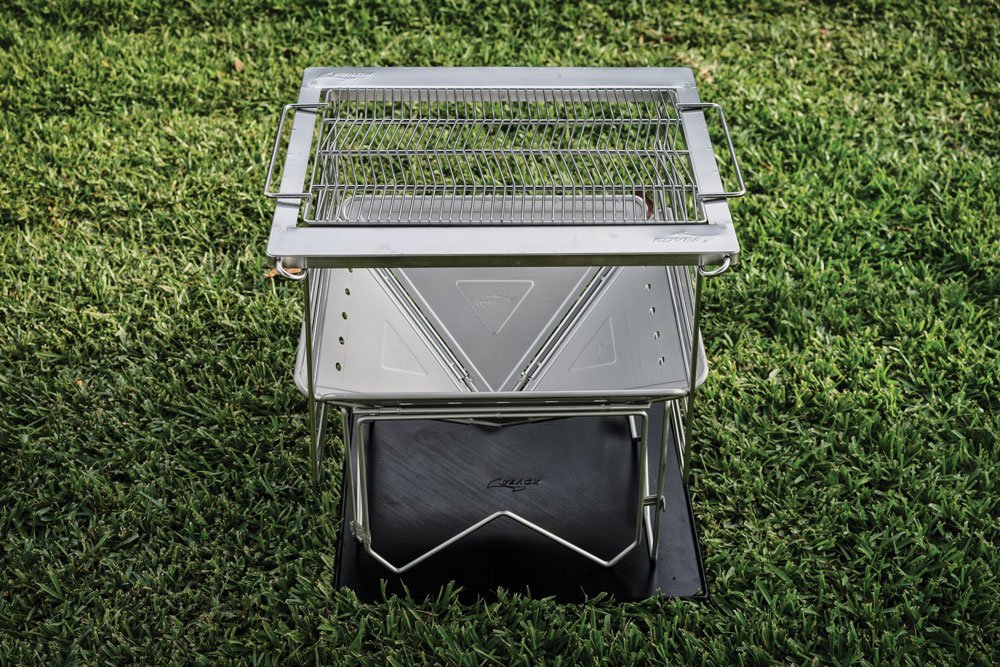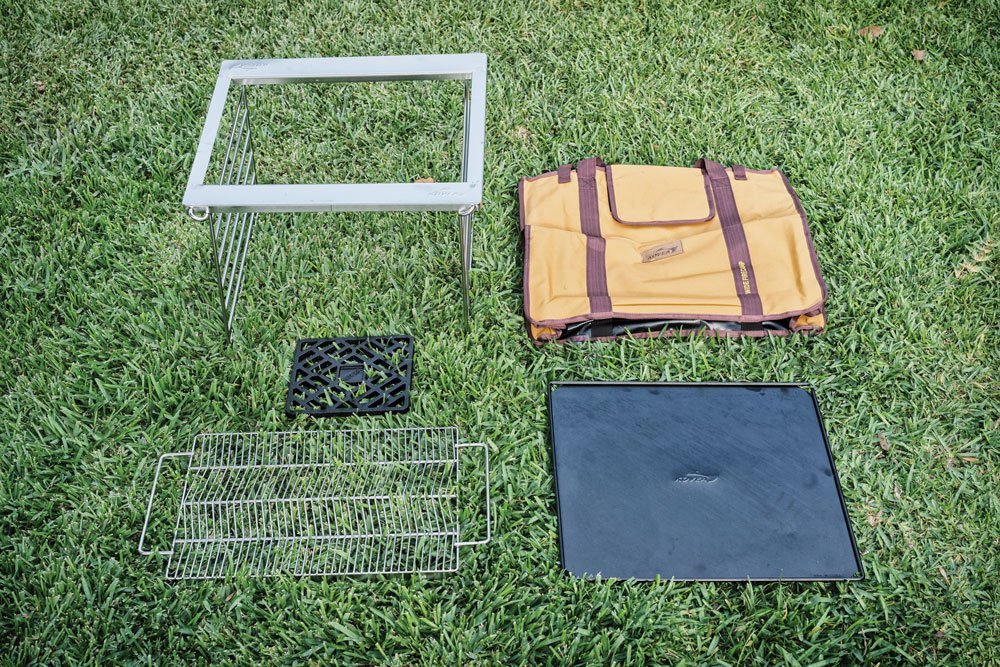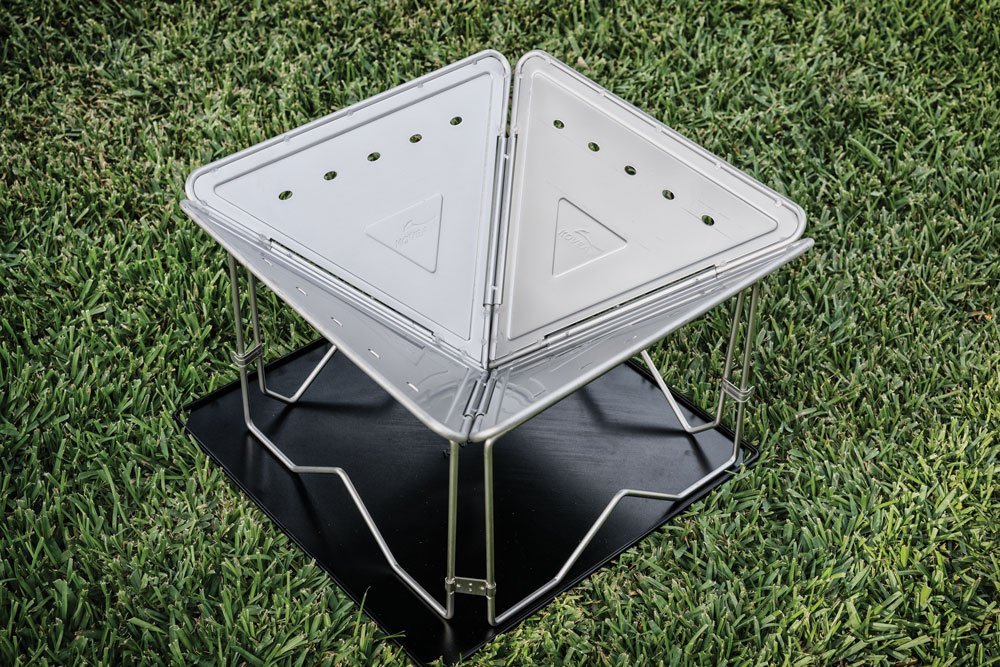 Highlights: The Kovea Firecamp works with both wood and charcoal and comes with a height-adjustable grill, baseplate, carrying case, grill net, and large fire pit. Ours also came with a cast-iron trivet to keep hot skillets off the ground or table.
Material: Stainless steel
Weight: 37 pounds, 0.6 ounce
Dimensions: 18.11 x 18.11 x 22.83 inches
Folded Dimensions: 19.69 x 19.69 x 3.94 inches
MSRP: $400
Tread's Take: This is a complete kit. It's great as both a campfire and a portable grill. The Firecamp sets up in under a minute. We appreciate the storage bags with internal dividers to prevent the pieces from damaging each other while in transport. The complete kit is heavy but packs up flat for convenient storage. The height adjustable grill allows you to control how much heat and how close your food comes in contact with the flame. The size is large enough to provide heat and feed several people. Overall, this is a great option with quality materials and craftsmanship.
Solo Stove Bonfire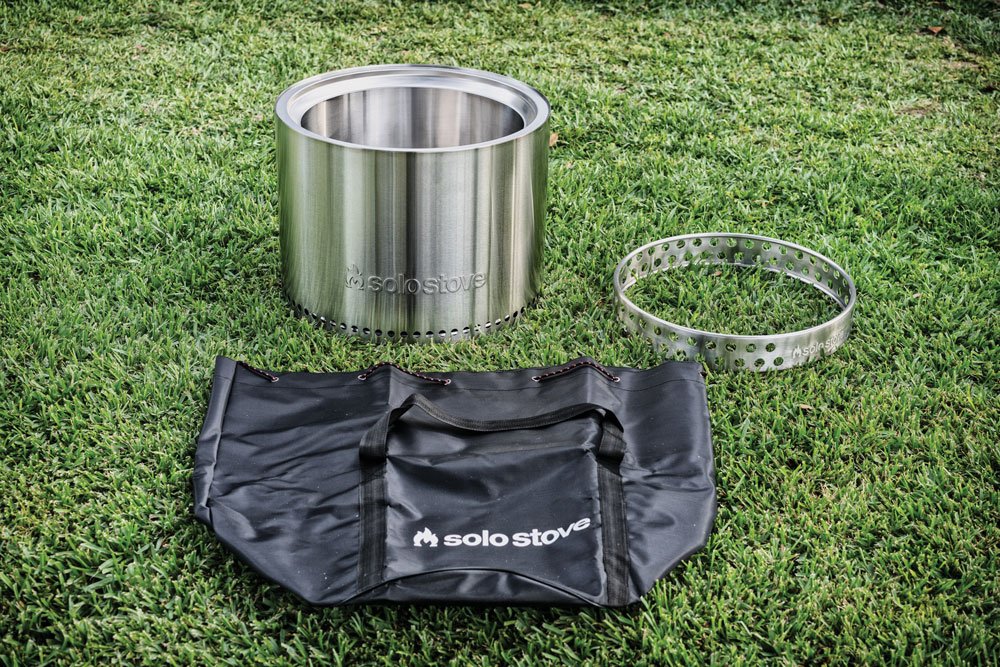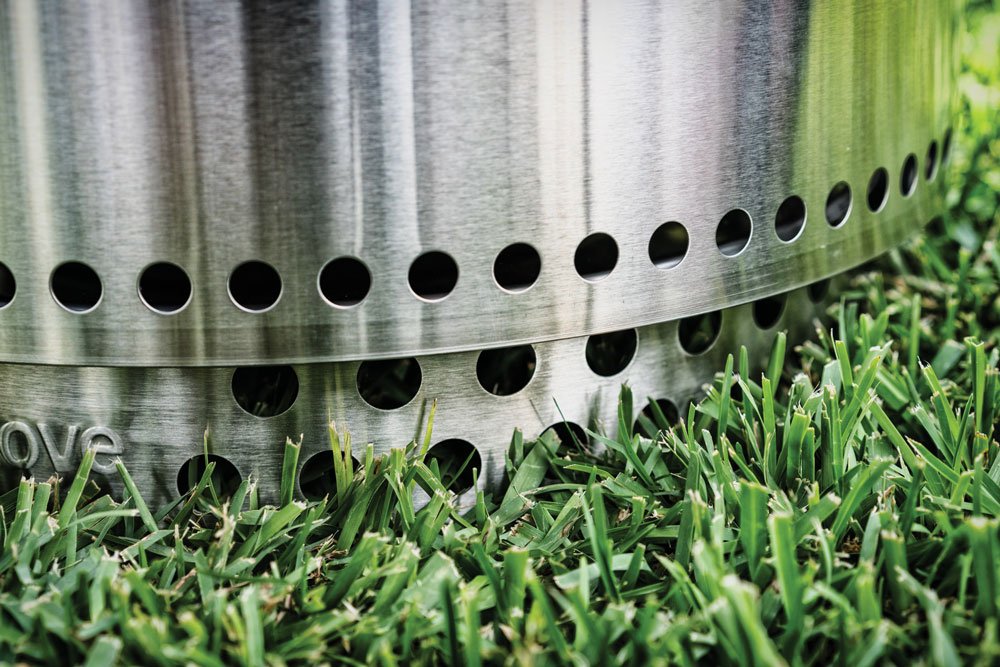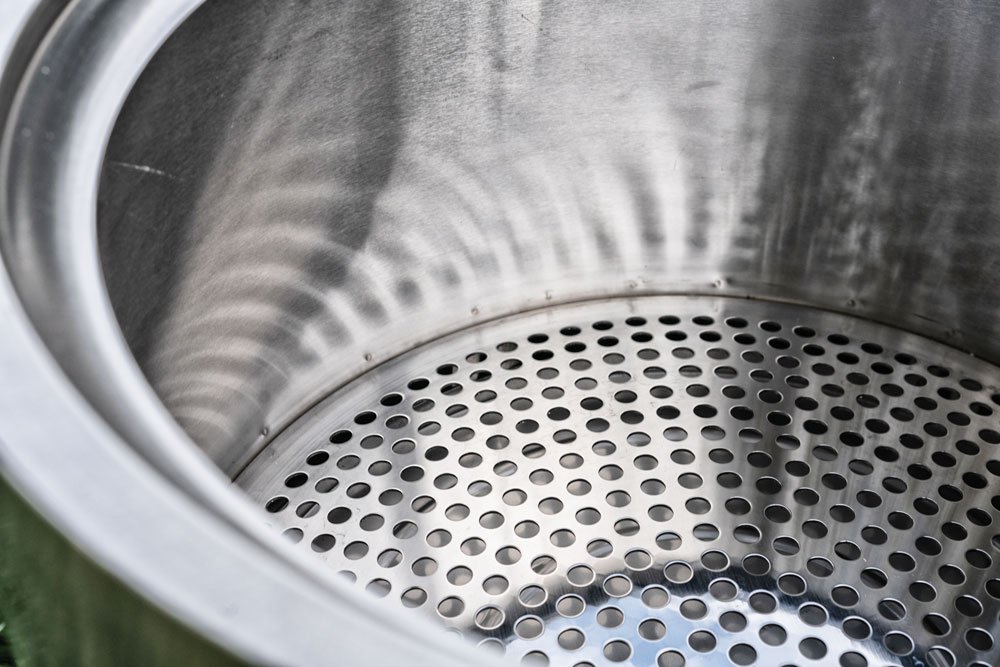 Highlights: The Solo Stove Bonfire uses patented technology that aids with the combustion airflow efficiency to burn logs while minimizing smoke and ash leftover, reducing smelling like a campfire. Works with wood, including logs, large sticks, and wood debris. Designed with double-wall construction with air intake holes at the bottom that pulls oxygen inward into the fire and allows air to be heated up and fed through the top vents, providing an extra boost of pre-heated oxygen creating secondary combustion.
Material: Stainless steel
Weight: 20 pounds
Dimensions: 19.5 x 14 inches overall / 17.5-inch opening
MSRP: $300
URL: solostove.com
Tread's Take: Innovation with modern design makes this great for the home. At only 20 pounds, it's light enough to be portable but does take up some valuable real estate while traveling. The nylon carrying case comes in handy for travel and storage. We found the Bonfire to perform as advertised with minimal smoke and ash after a night's use and efficient burning of wood logs. Setup takes seconds. At $300, this is a bit on the pricier side, and we don't suggest cooking with this unit as the grease can ruin the functionality of the product. This will become a staple fixture in our backyard during the cold season.
Primus Kamoto OpenFire Pit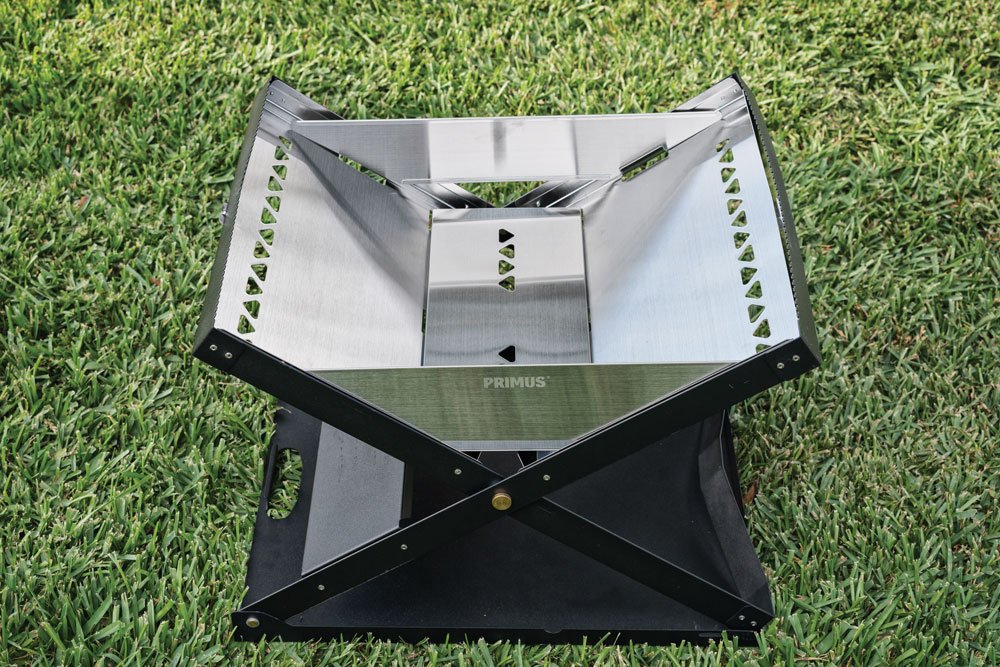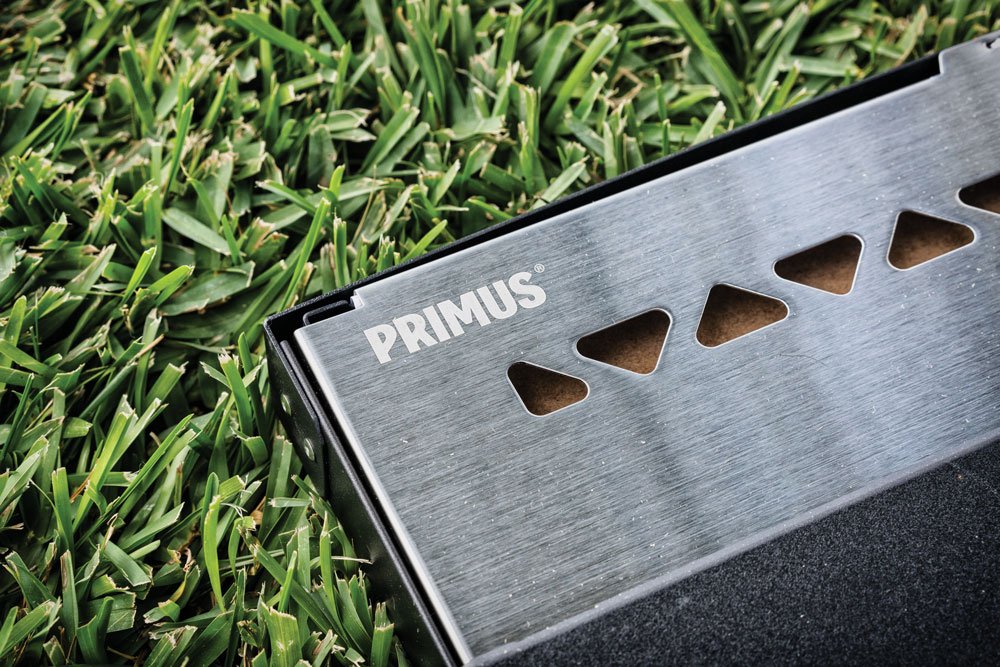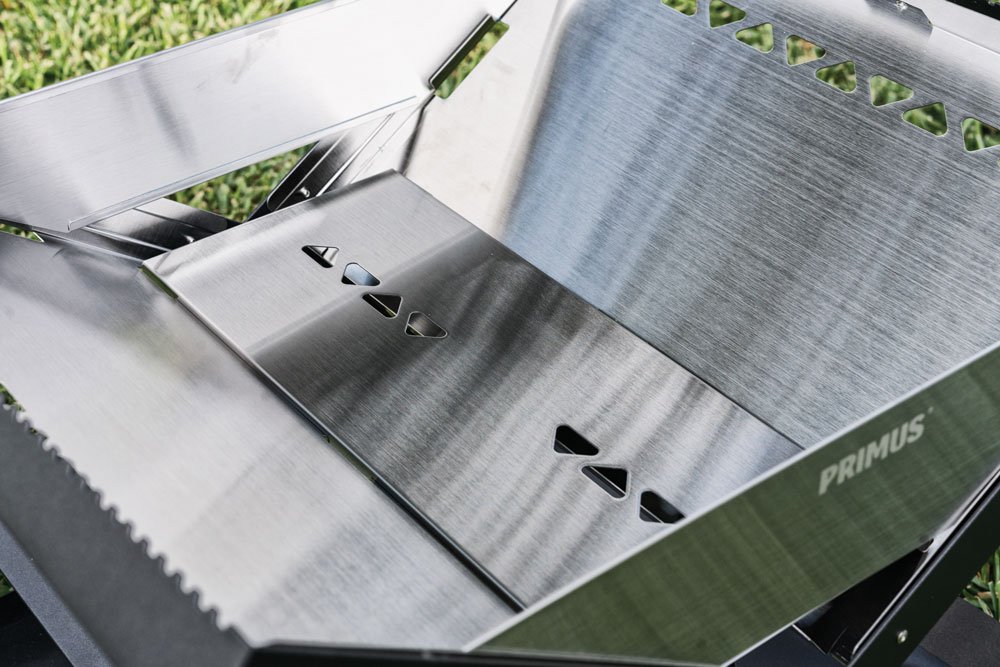 Highlights: The Primus Kamoto is a portable fire pit for no-trace campfires and works with both wood and charcoal. The fire pit is portable and folds for easy transport. The Kamoto features a stainless steel fire pit with wind protection sides and an air inlet that gives effective combustion. A built-in ashtray helps to protect the ground. Includes a grill grate.
Material: Stainless and powdercoated steel
Weight: 15 pounds, 6.4 ounces
Dimensions: 18.5 x 2.4 x 25.6 inches
MSRP: $150
URL: primus.us
Tread's Take: This lightweight option is quick and easy to assemble, within a minute, and packs down flat for convenient storage and portability. A grab-and-go handle is built into the design when folded and made it easy to carry. When folded, the portable fire pit is held together by a single strap, which could easily be lost so we suggest making a note of where it's placed while in use. The powdercoated top edge is serrated, which could become snagged or cut someone if not paying attention while setting up. For the price, it's a very solid option. Available in two sizes, we tested the large size that can hold standard U.S.-sized logs.
BioLite FirePit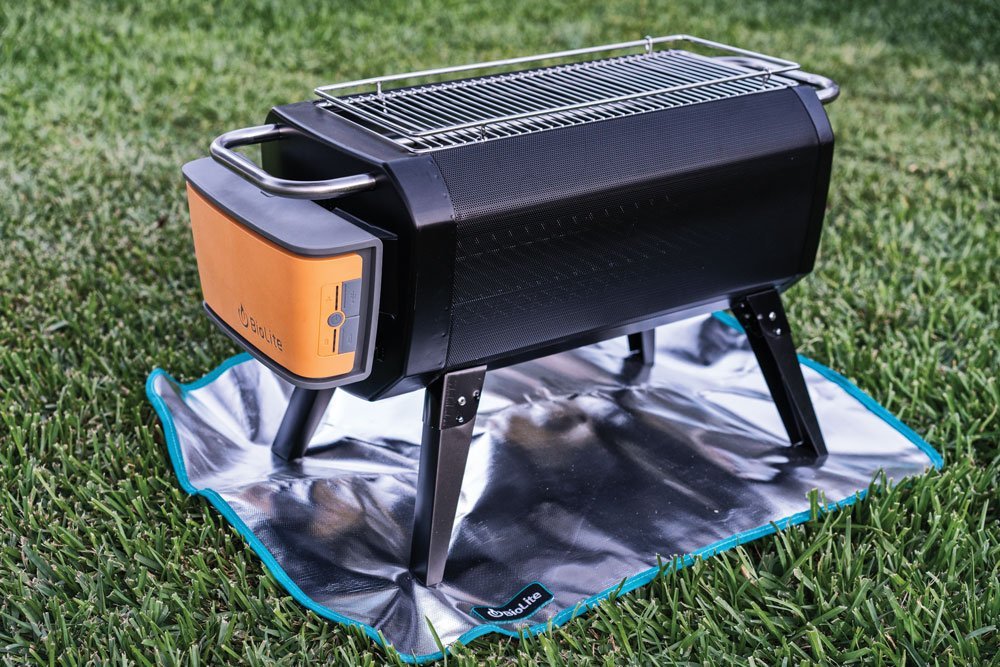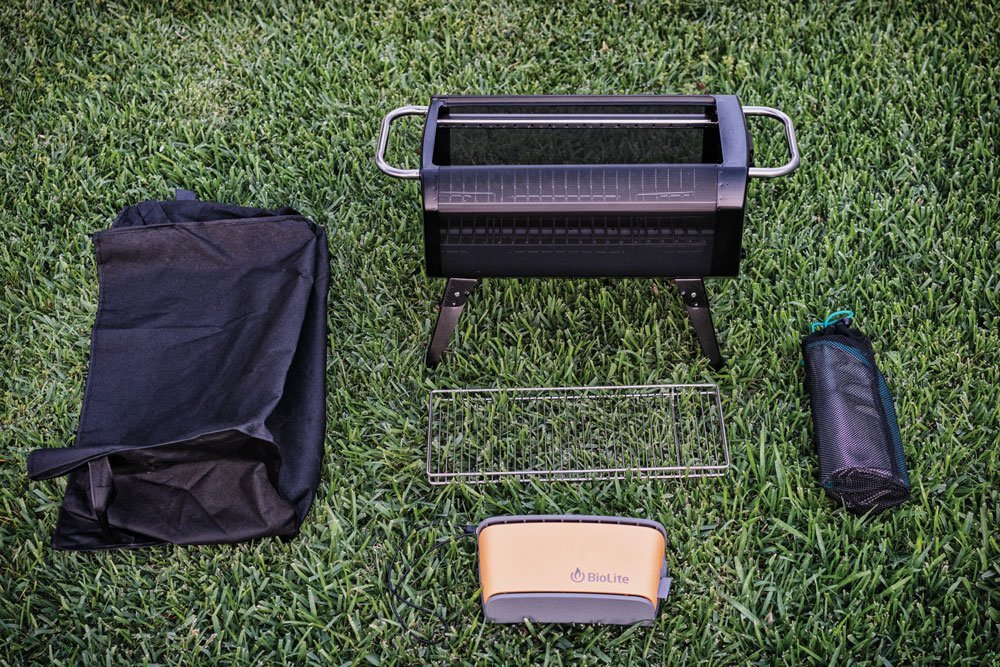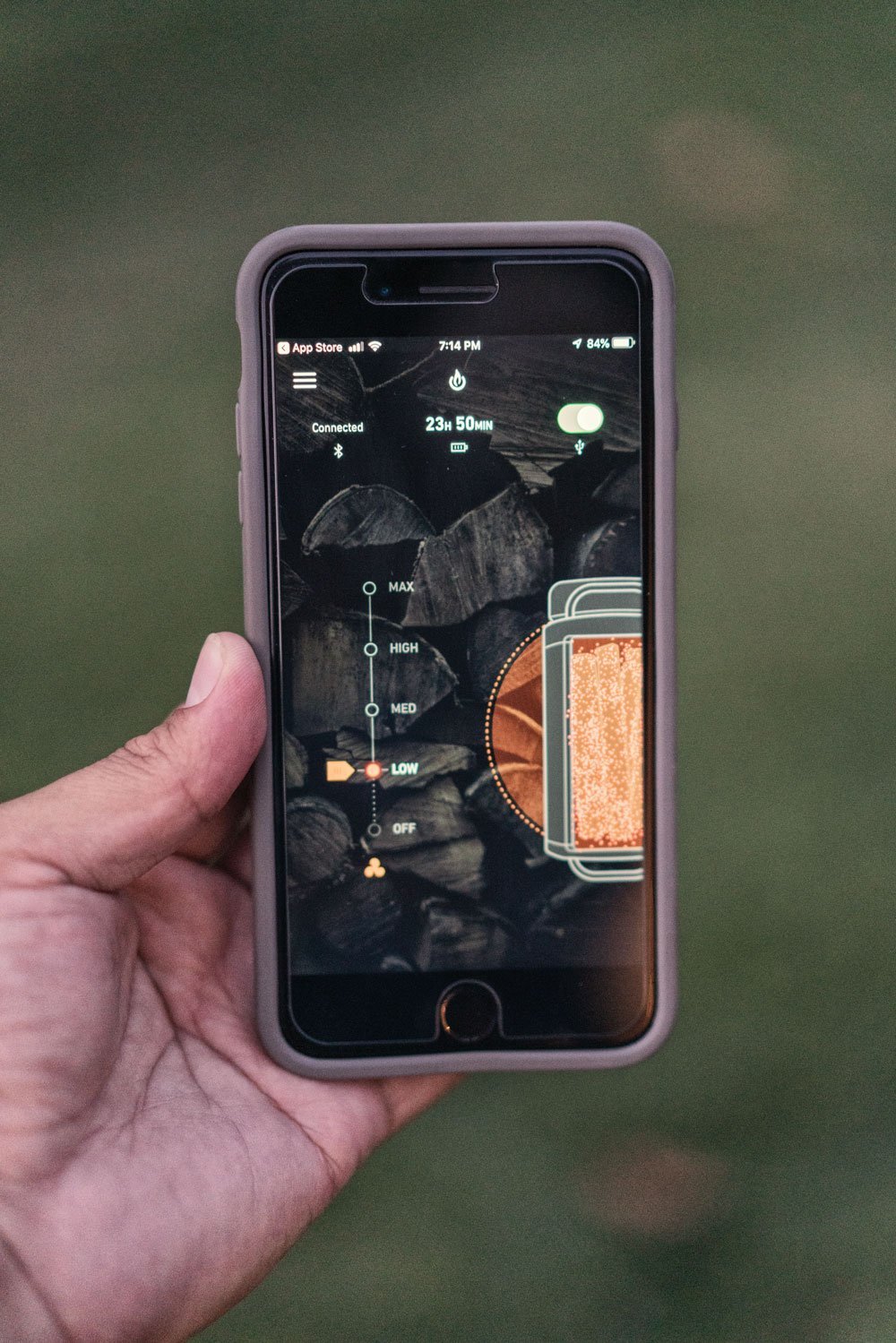 Highlights: The BioLite FirePit features hyper-efficient flames with patented airflow technology, which helps maximize the flames without the smoke. It has a capacity of up to four standard firewood logs. An X-ray mesh body helps to provide 360-degree views of the flames. Works also with charcoal to transform into a grill using the included grill grate. With the use of a free Bluetooth app the size of the flames can be controlled remotely or manually. The built-in fan can run up to 24 hours on low.
Material: Various
Weight: 19 pounds,12.8 ounces
Dimensions: 27 x 13 x 15.8 inches
MSRP: $200
URL: bioliteenergy.com
Tread's Take: The most innovative and technology-friendly portable fire pit we tested. The USB rechargeable powerpack provided convenient power when needed for USB devices, including smartphones, and can control the fire for up to 24 hours via the fan and came in handy while using the grill. The control via the app was simple and provided a solution to control the size of the flames without the need to get up and manually do it. The legs at the base of the unit lock into place and quickly fold away, although the unit is still quite large when folded down. The included carry cover comes in handy, although the quality of the cover itself isn't the best, so we suggest purchasing the optional Solar Carry Cover that they offer (not tested in our review). The X-ray mesh is unique and gives a nice view of the fire inside. We tested it using BioLite's fire mat to prevent burning the ground underneath. The price is reasonable considering all of the features you get.
Wolf and Grizzly Firesafe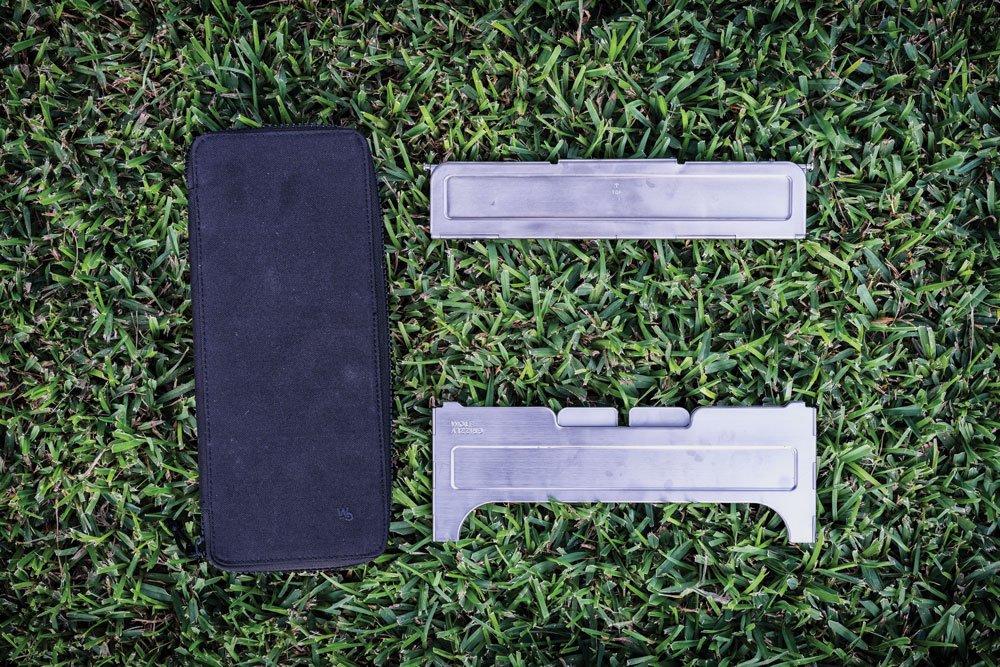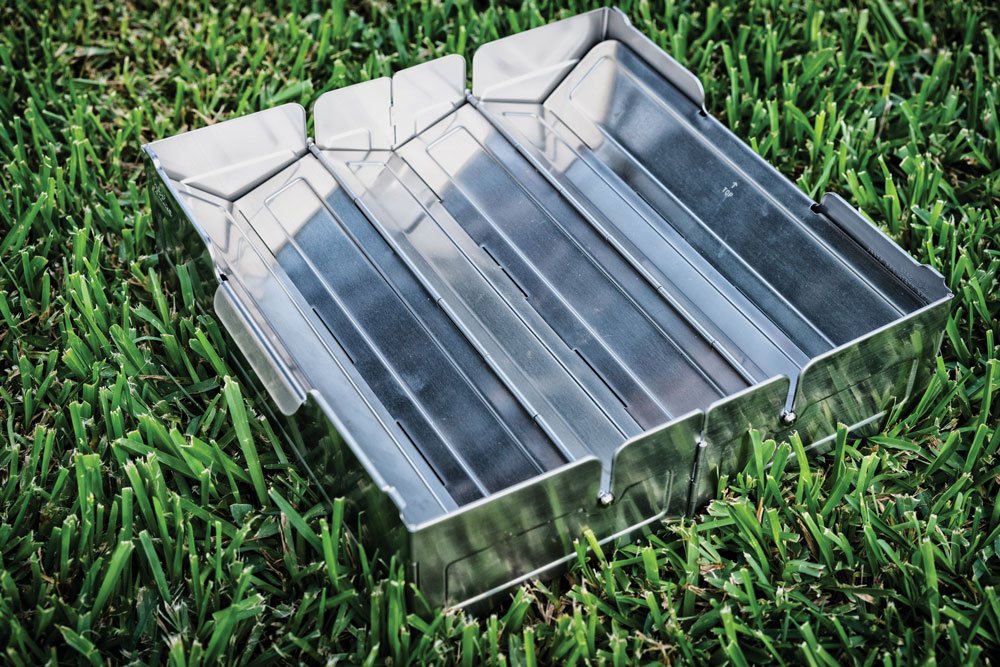 Highlights: The Wolf and Grizzly Firesafe was designed and engineered to maximize efficiencies while minimizing its consumption for a minimal-trace mentality. Through the design, the airflow direction has been carefully engineered to create an efficient and clean burn of charcoal and wood. The corrugated design allows to only place charcoal in specific places you want to heat rather than creating unnecessary waste while cooking.
Material: Stainless steel recycled polyester
Weight: 2 pounds
Dimensions: 11.2 x 10.9 x 4.1 inches
Packed Dimensions: 11.2 x .9 x 4.1 inches
MSRP: $79
URL: wolfandgrizzly.com
Tread's Take: By far the lightest and most compact of the portable fire pits we've tested and set up takes seconds. We appreciate the thought behind the design process as well as the minimal impact and more efficient mentality of the product. It's a small fire pit that packs down slimmer than 1 inch and can fit in practically any pack for camping, hiking, or just about anywhere. It provided just enough heat and flame to keep a couple of people warm. The canvas zippered pouch is a nice touch and makes it easy to bring with you. We didn't pair it with the Grill M1 Edition Kit, which allows for cooking on the go, but would suggest pairing the two products. We love this product for the convenience and utility it provides for hiking.
Fireside Outdoor Pop-Up Fire Pit Base Kit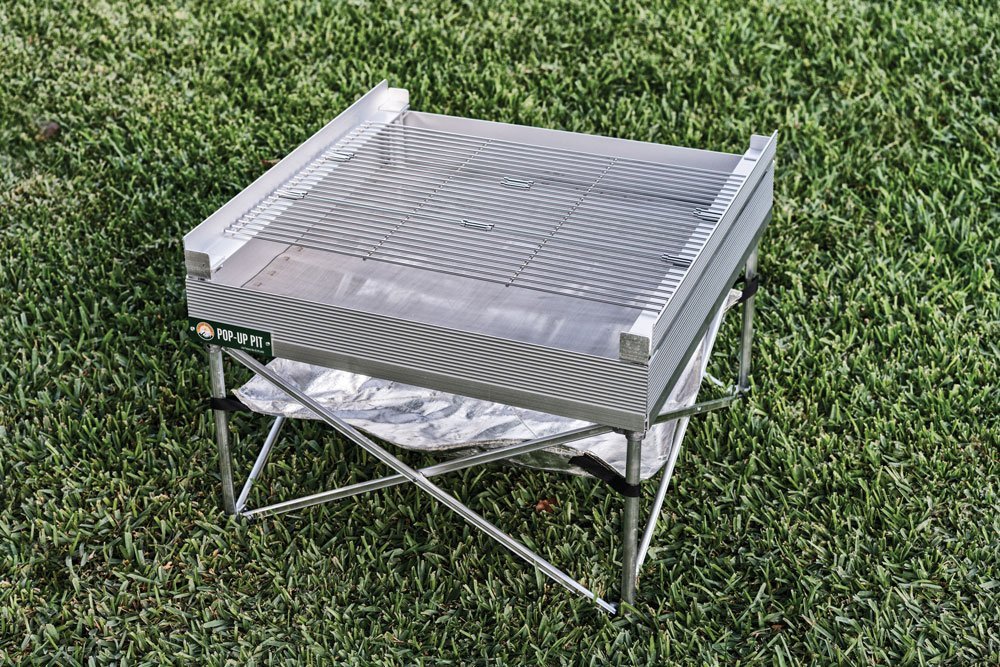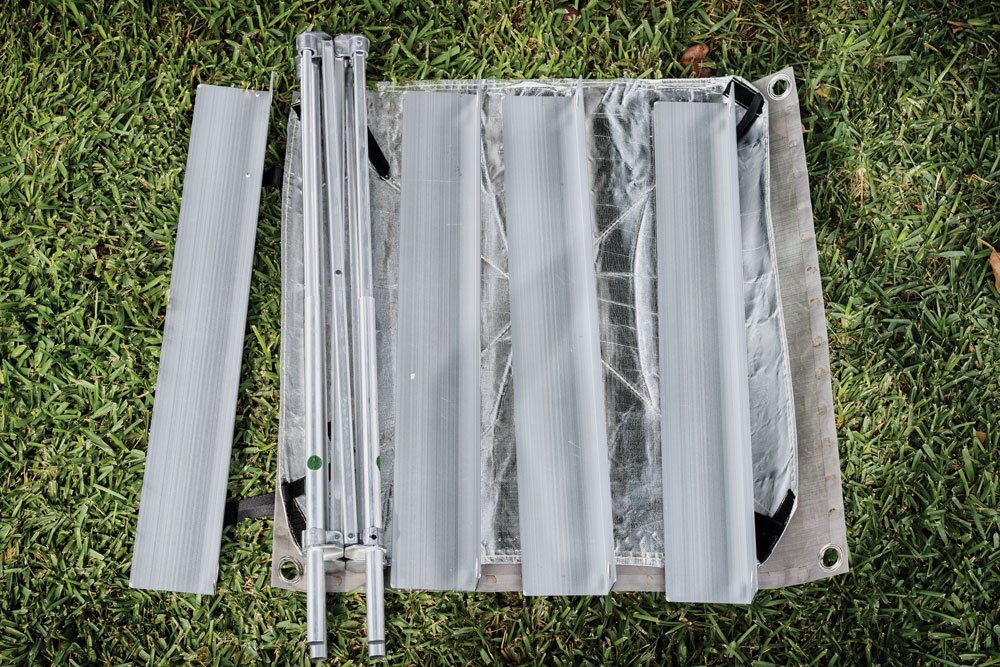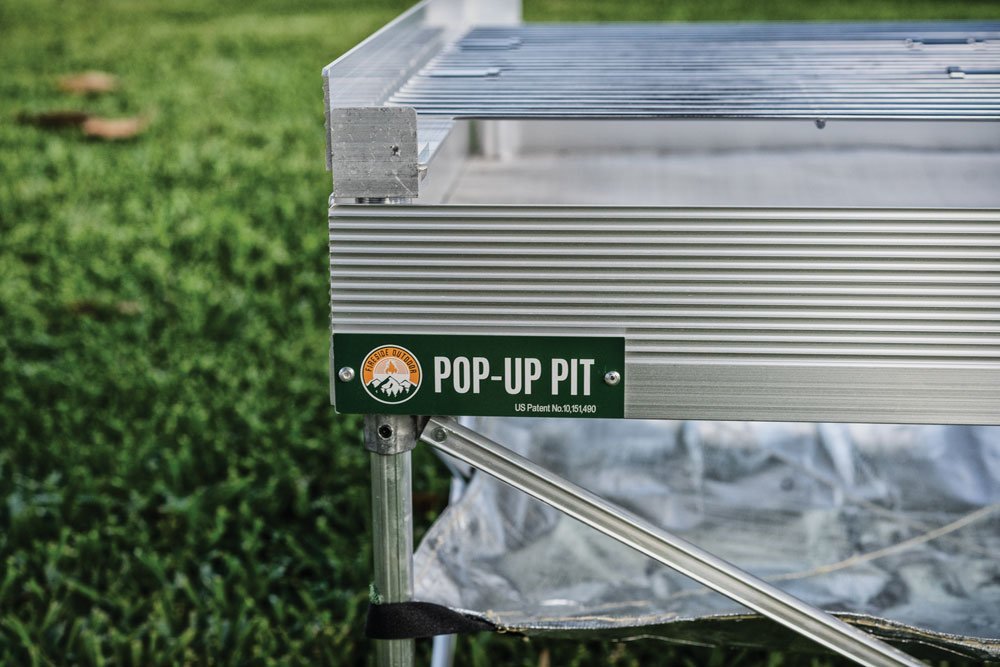 Highlights: The Fireside Outdoor Pop-Up Fire Pit Outdoor Grill comes complete with the Pop-Up pit base kit, heat shield, and tri-fold or quad-fold grilling grates. Constructed from all-aluminum and stainless steel for strength and stability that will never rust. Holds up to 100 pounds of wood and 80 pounds of meat and vegetables.
Material: Aircraft aluminum and stainless steel
Weight: 14 pounds
Dimensions: 24 x 24 x 15 inches
Packed Dimensions: 27 x 5 x 5 inches
MSRP: $180 (with tri-fold grill)
URL: firesideoutdoor.com
Tread's Take: A lightweight and portable fire pit that performs. It takes a couple of minutes to set up, as you want to make sure to install the sides and the grate. The system is easily portable, packs away in two small sling-style carrying cases, and opens to a fullsize fire pit and grill. The grill is unique and innovative with a design that allows for maximum airflow and less smoke. The heat shield is a nice touch to reflect heat back to the pit, while allowing the ground to stay cool so you can avoid a scorched ground or grass and leave no trace. We love the functionality and size it provides for both a campfire and cooking surface, all in a lightweight and portable design. At under $200, this is a good value.
UCO FlatPack Grill and Firepit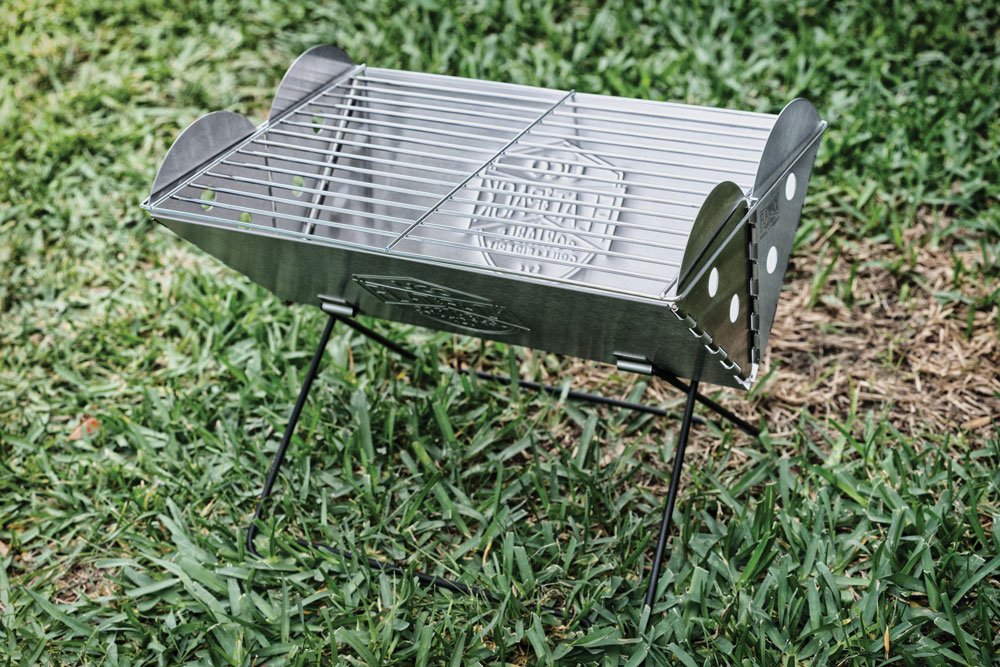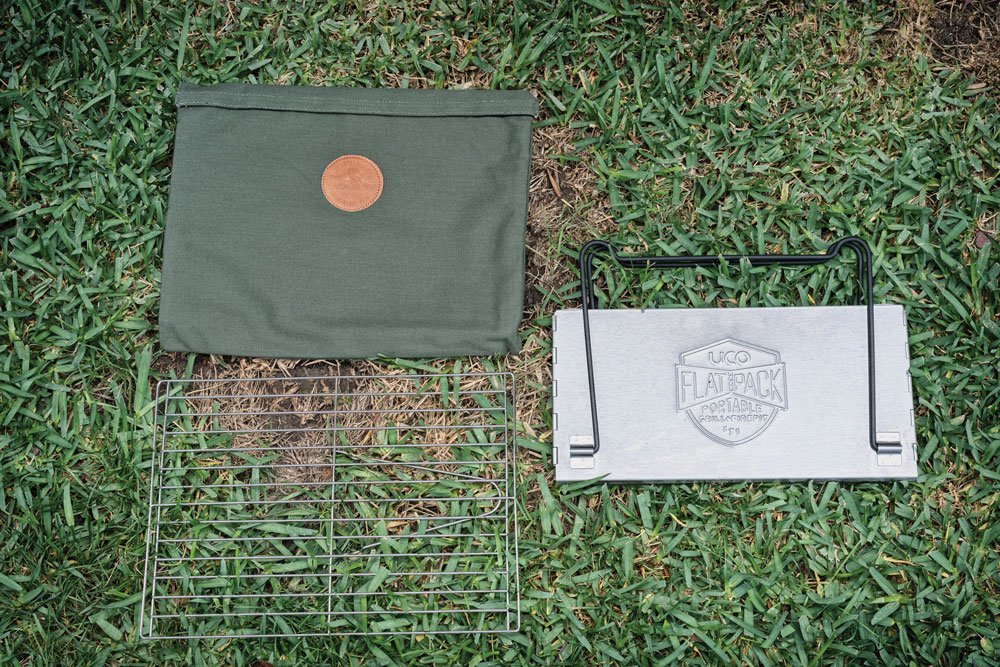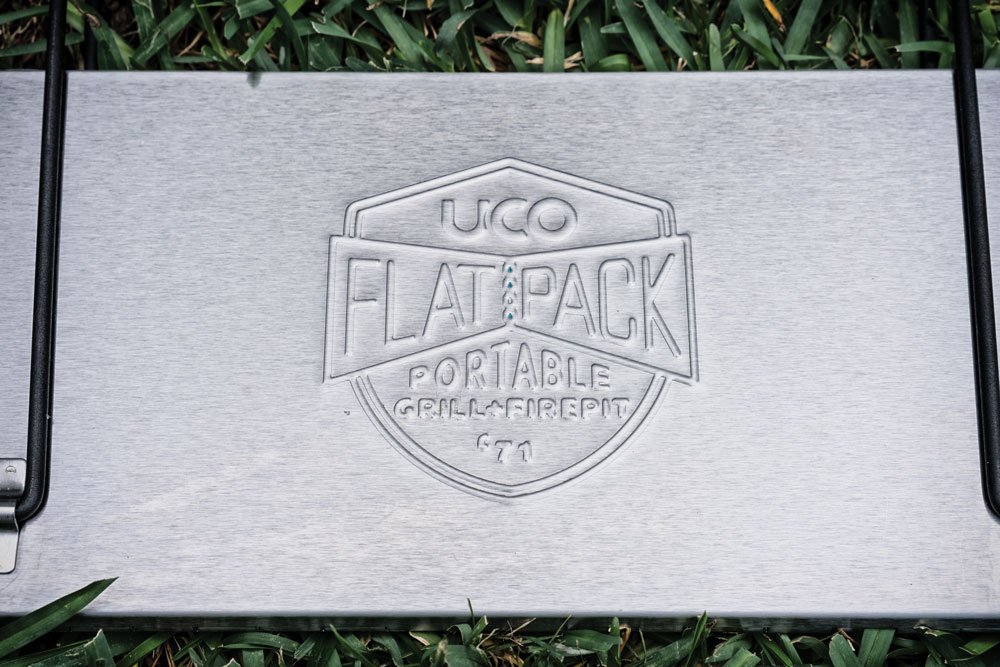 Highlights: The UCO Grill and Firepit features an ultra-portable and lightweight design built to fit into a backpack at only 1.5 inches thick when packed. A 10×13-inch grilling area provides up to six servings. The sides of the grill serve as a wind break. The durable stainless steel is high rusk and corrosion-resistant.
Material: Stainless steel
Weight: 3 pounds, 3.2 ounces
Packed Dimensions: 13.5 x 10 x 11 inches
MSRP: $50
URL: ucogear.com
Tread's Take: Set up is quick and easy; less than a minute. We found the design to be clever with the legs crossing each other to lock it securely down when open, as well as the heart-shaped sides that not only provide wind protection but also work to secure the grill in place. The product folds down neatly into the canvas carrying case and does fit quite well inside a standard backpack. We did experience an issue with the grill itself during testing. With a few hot coals, the grill started to warp and bend due to the heat. This is the most budget-friendly option we tested.
Deus Modern Fireflower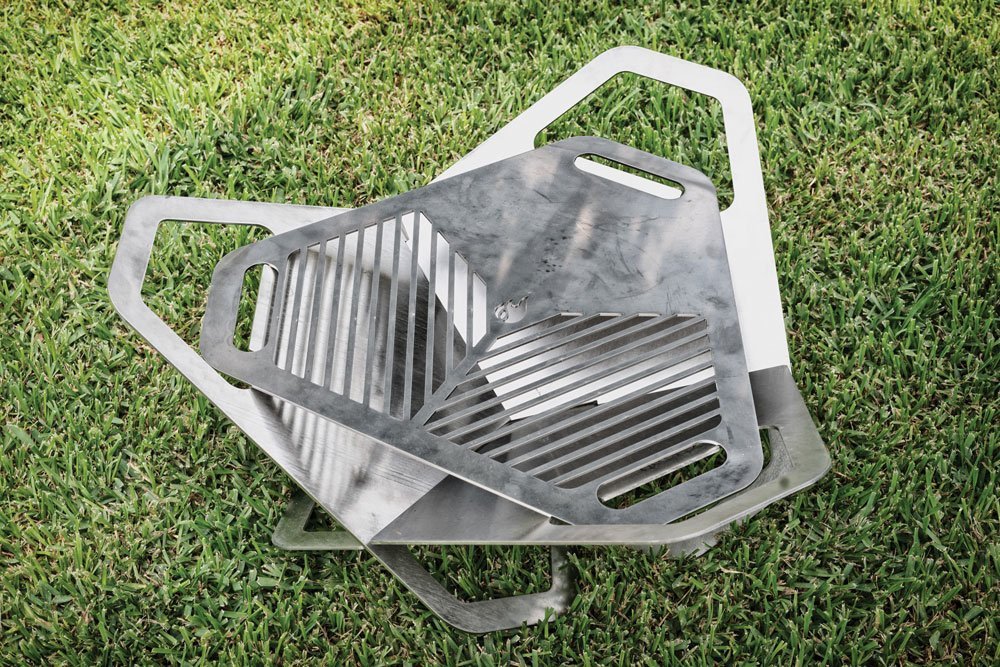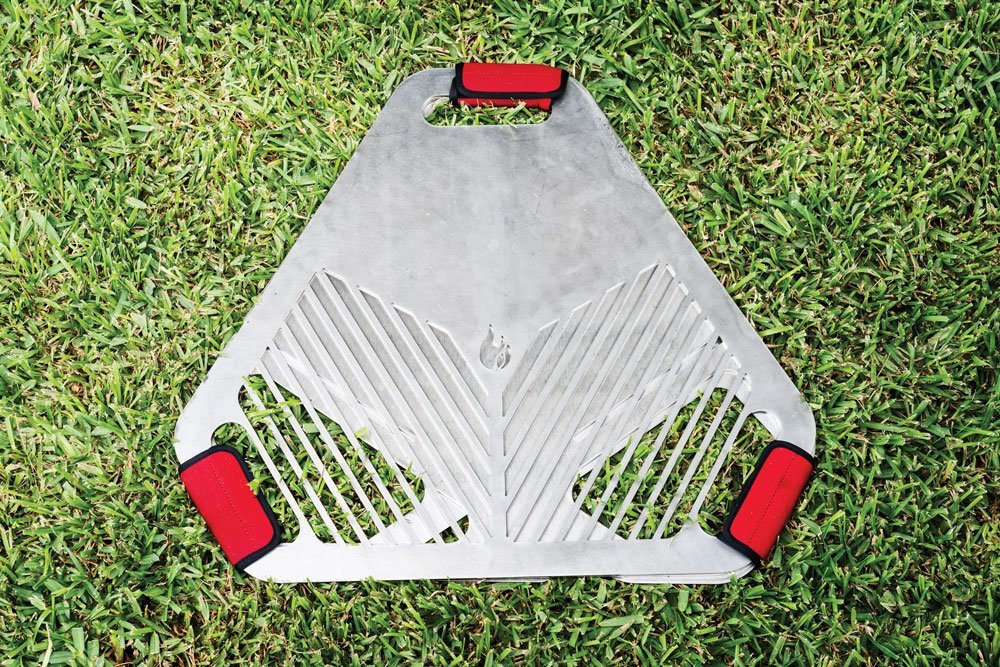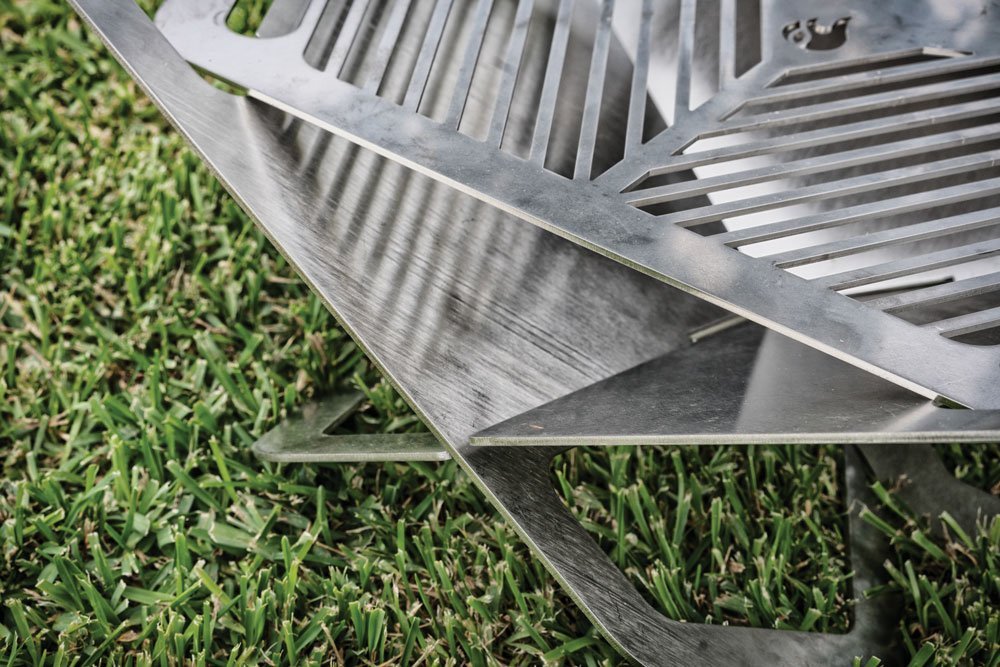 Highlights: The Deus Modern Fireflower is constructed from laser-cut 10-gauge mild steel (or rust-proof 304 stainless steel) with precision slots to allow for easy assembly and storage.
Material: Steel or stainless steel
Weight: 24 pounds (fire pit only) 30-32 pounds with grill module
Dimensions: Approx. 22 x 22 x 22 inches by 12 inches tall assembled
MSRP: $249 regular steel / $349 stainless steel
URL: deusmodern.com
Tread's Take: This portable fire pit is both form and function, built to last a lifetime. Set up is a bit trickier than that of the other fire pits we tested as you need to get the slots to align just right, and the weight of each piece is a bit hefty. Cleverly the instructions are actual foam die-cut pieces to show which part connects with the other. For carrying and storage, the fire pit/grill comes with three neoprene velcro handles when carrying the heavy product—around 30 pounds with the grill. It packs flat and can easily fit in the trunk of a car. Great for groups. Despite not having complete wind coverage, we didn't have any issues lighting and keeping a fire going, however, after use without anything underneath it does make a bit of a mess on the ground. The product itself easily cleans with a few wipes (after cooling down). There are options in both steel and stainless steel and with or without the grill top. Overall, if you're looking for a durable portable fire pit that can work at home or while camping this is a good option.
CVT Fire Pit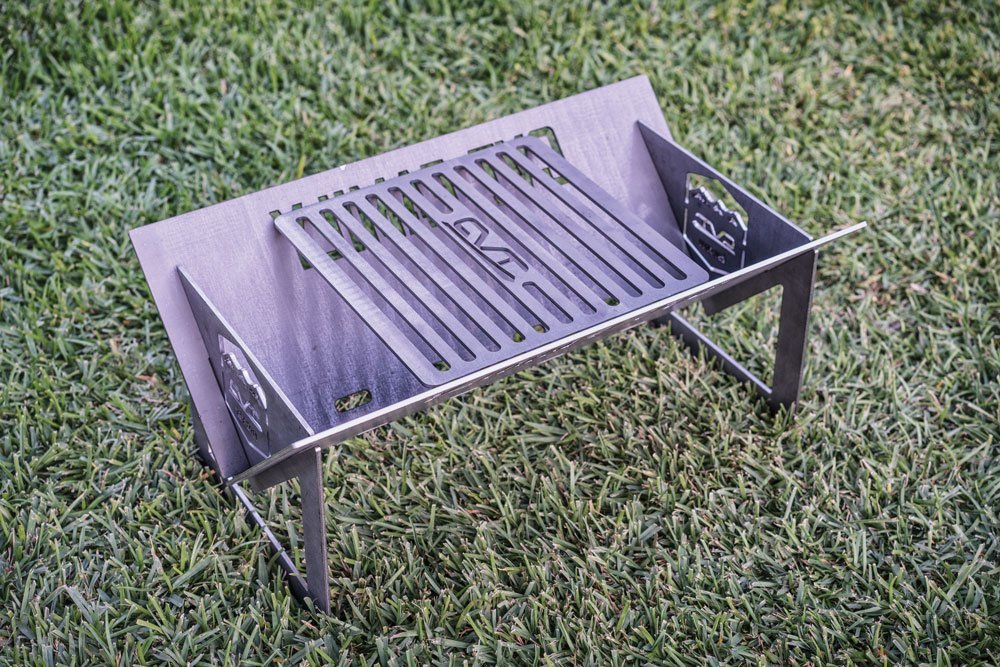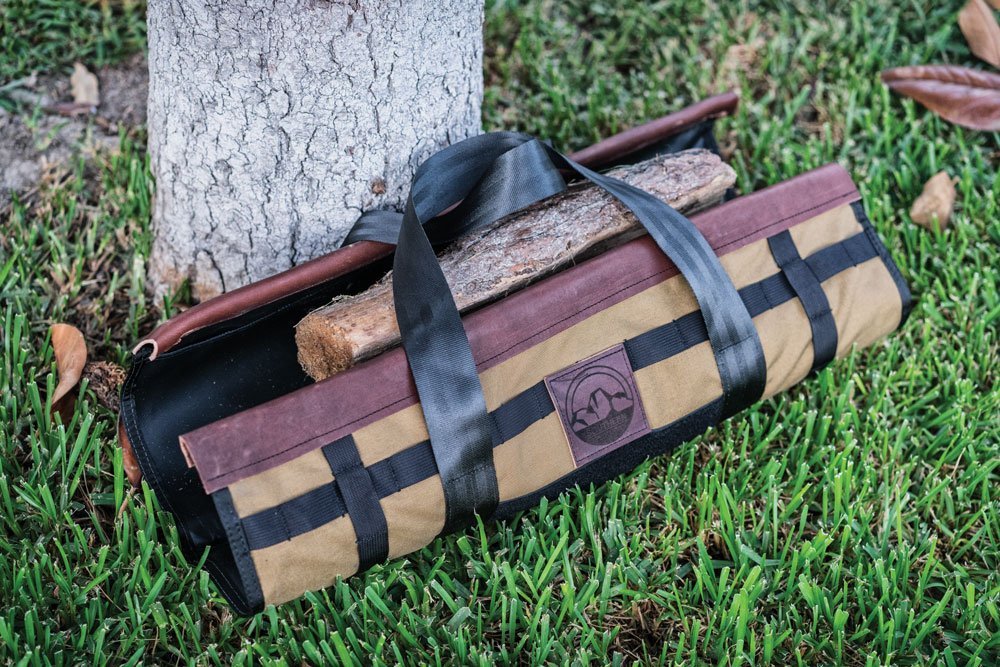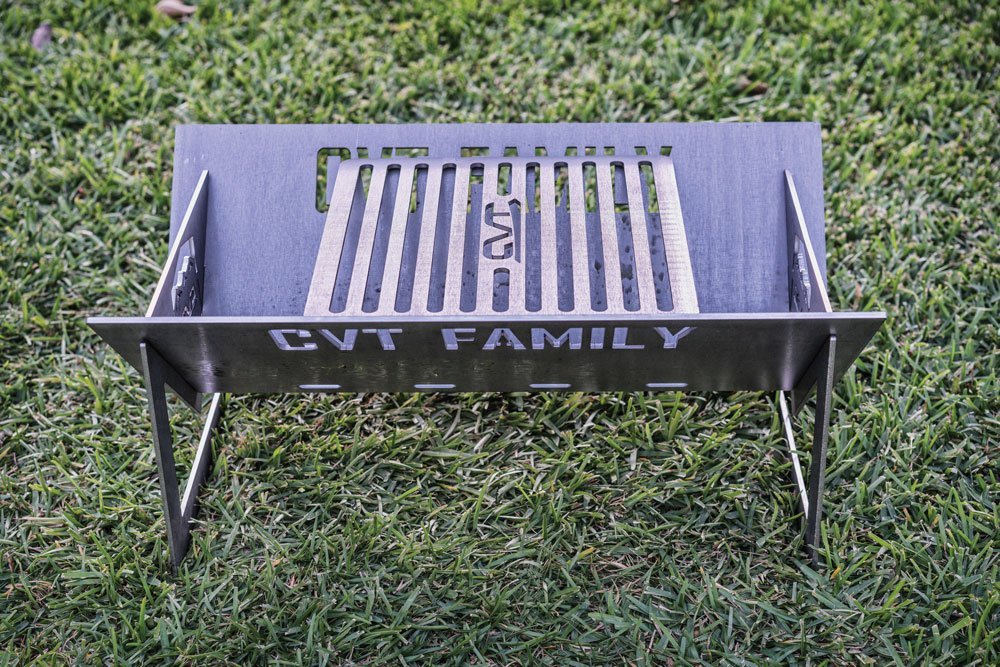 Highlights: The CVT Fire Pit includes a canvas travel bag and 12×12-inch cooking grate. The laser-cut steel panels are strong and durable to last a long time. The four-piece design packs up in seconds and folds flat. The BlueRidge Overland Gear leather-trimmed carrying case doubles as a firewood sling when not in use. Designed and made in the USA.
Material: Steel
Weight: 33 pounds
Packed Dimensions: 26 x 15 x 1 inches
MSRP: $289
URL: cascadiatents.com
Tread's Take: This is a heavy-duty portable fire pit and grill that is built tough and durable to last for a long time. It is also just plain heavy at over 30 pounds, but provides a large fire for several people to enjoy. Assembly takes less than a minute to connect the three pieces of steel. The grill simply lays on top without any notches or a real dedicated area so you can adjust as needed and still have access to the open flame. We like the details of the carrying case with the canvas and leather trim and the ability to open and be used as a firewood carrier. The entire fire pit and grill folds flat for easy storage. The finished edges of the fire pit are still a bit raw and can be sharp, especially where the laser cut letters are located. The price is also on the higher side of things.
Editor's Note: A version of this article first appeared in the November/December 2019 print issue of Tread Magazine.