Hiking in the Canadian Rockies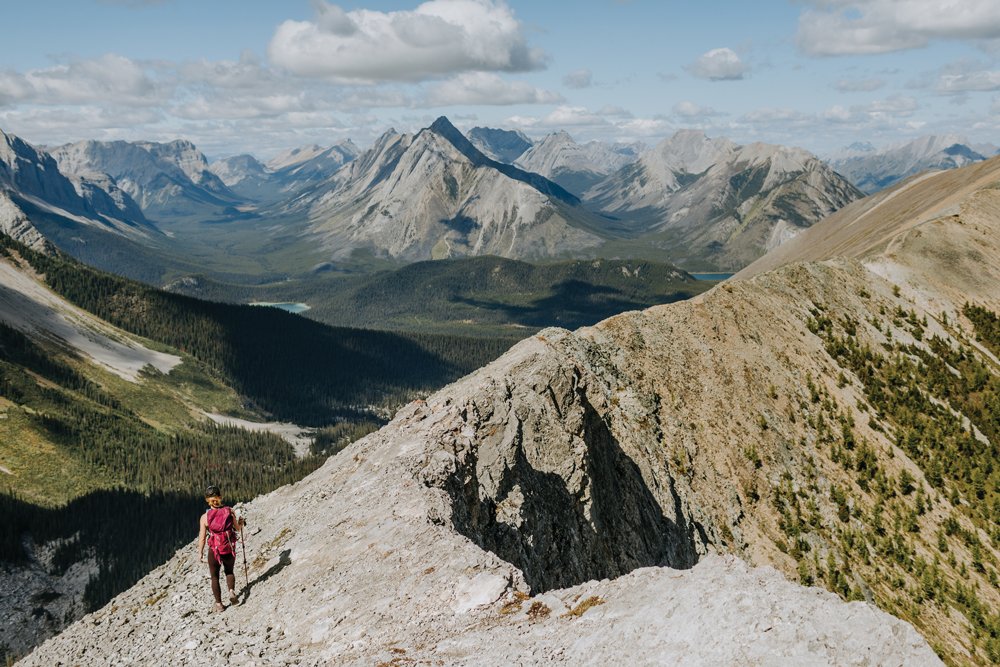 Preparation and Safety for Off-Season Hiking Adventures
I first experienced the Canadian Rocky Mountains with a fly fisherman friend who lived in Calgary. As we drove down Highway 40, I pressed my face against the glass of the back window, the only effective way to take in the towering mountains surrounding us. Lodgepole pines and Douglas firs lined the roadway, and the forests gradually sloped and terminated at the treeline where limestone and shale slabs formed pointy, jagged peaks. Even after road-tripping from Canada to Argentina and spending time in the Andes, the Canadian Rocky Mountains instantly stole my heart.
We parked and jumped out of my friend's Hilux Surf. I ran my fingers through juniper bushes and over tiny wild roses as we walked toward the jewel-colored Bow River. Old Man's Beard dangled from coniferous tree branches, and I inhaled deeply, savoring the strong smell of pine sap. Several hours later we reached the summit, taking in the endless view as the valley stretched out below. The scenery reminded me of a Bob Ross painting. It was then I promised myself I would return to this wild and untamed place, the next time to stay.
My husband and I now call the town of Canmore home. It's a 20-minute drive from Banff, Alberta, and we spend any chance we get hiking year-round in the Canadian Rockies. They may be intimidating at first, but with proper knowledge and preparedness, you'll feel confident and ready to tackle trails in the Canadian Rockies no matter the season. But why is this area so special? Why do you need to be properly prepared to explore it? Hikes in the Canadian Rockies aren't just a walk in the park, if you get my (snow) drift.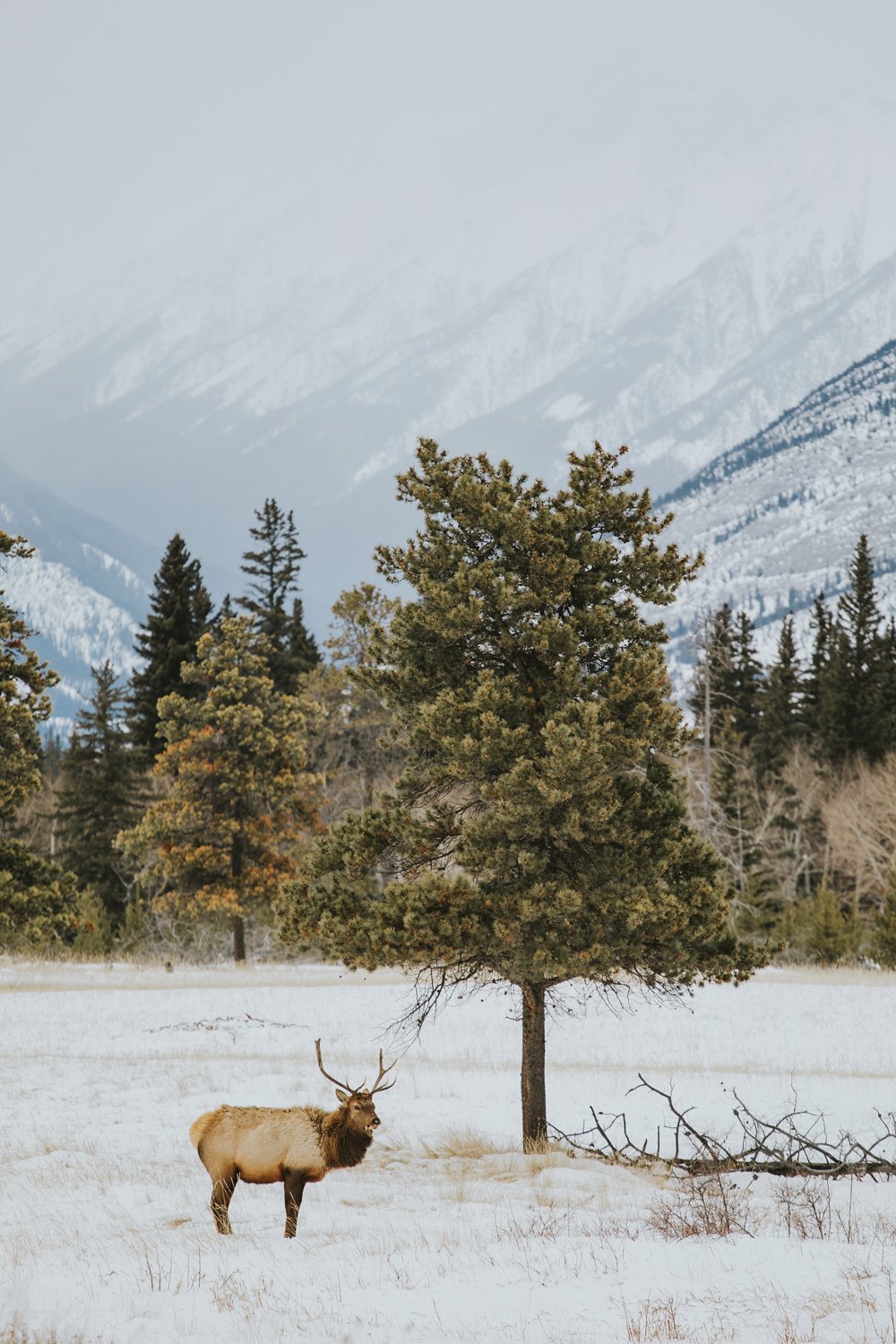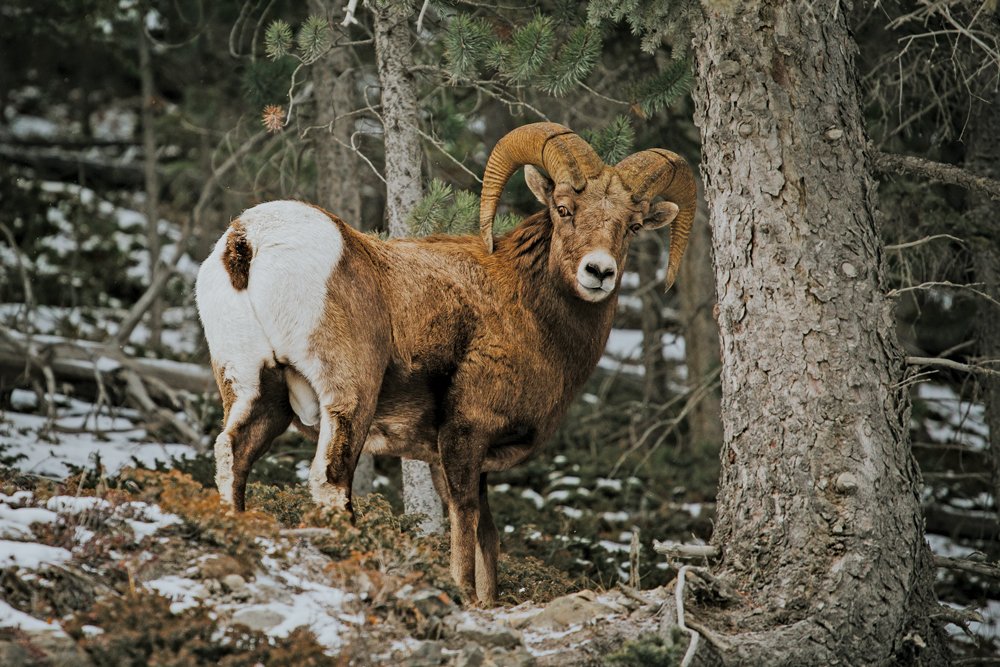 The Canadian Rockies
Located in Western Canada, the Canadian Rocky Mountains lie between the eastern prairies and the Rocky Mountain Trench to the west. This long, narrow mountain range runs north to south for nearly 950 miles (1,500 km), from northern British Columbia just below the Yukon territory to the international border between Canada and the United States near Waterton Lakes National Park in Alberta.
It's hard to believe, but this mountainous region was once underwater. About 185 million years ago, a chain of islands off the western coastline of Canada collided with the mainland. Angled thrust-faulting occurred over millions of years, stacking sheets of sedimentary rock on top of each other. Ben Gadd, a local Canadian Rockies Naturalist and author of the Handbook of the Canadian Rockies, likens the process to the effect of pushing the skin on the back of your hand along with your thumb, causing wrinkling ahead of the thumb. Those wrinkles on your hand are the Canadian Rockies. Over time, the mountain range was formed, characterized by rugged, angled peaks, ice fields and glaciers, alpine meadows, and turquoise lakes. The seawater dissipated but not without leaving its mark. You can still find rock-encased fossils from coral, snails, and molluscs while ascending many of the summits in the area.
"Lodgepole pines and Douglas firs lined the roadway, and the forests gradually sloped and terminated at the tree line where limestone and shale slabs formed pointy, jagged peaks."
Geographical and geological factors, combined with climactic considerations, dictate the need for unique safety and preparation considerations when embarking on off-season day hiking in this region. First off, I can't recommend having Wilderness First-Aid, Wilderness First Responder, and Avalanche Skills Training certifications enough. These courses will prepare you for emergency situations and illnesses that are outside the scope of this article. A sprained ankle can seem like a minor concern until you are five hours into the backcountry and a snowstorm is brewing. Oh, and you have no cell phone reception, you ran out of food, and you don't know how to recognize the signs of hypothermia. Good times. Understanding where you are and the conditions for your adventure can be the first step to proper preparedness.
Elevation Gain and Altitude
The town of Banff lies at an elevation of 4,537 feet (1,383 meters) and is the highest town in Canada. If you are arriving from sea level, I can assure you'll feel the altitude. The climate in the mountains here is very dry, so dehydration, a bloody nose, and that pesky static electricity hairdo are all commonplace.
While the American Rockies are higher in elevation overall, elevation gain in the Canadian Rockies is typically steeper. Glaciers spent some quality time and effort eroding deep valleys, resulting in lung-thrashing, heart-pounding, strenuous hiking that will remind you how incredibly out of shape you are, even if you are an Olympian training at the local Nordic center. Extreme elevation gain can increase the risk of injury and illness during off-season hiking, including the possibility of dehydration, dangerous exposure on scrambles and falls due to snow and/or ice. However, there are ways to minimize this risk.
"As an off-season hiker, your main goal is to stay dry and warm. An important rule of thumb to consider is that temperature will fall about 1 degree C for every 200 meters of elevation gain."
Many hikes in the region climb 2,600 feet (800 meters) in under 2 miles (3 km), so it is important to choose an appropriate hike for your skill level, experience, time of year, and the current conditions. Perhaps start with one or two less-strenuous hikes to gauge your comfort level, as they might be more well-trodden with less elevation gain and decreased risk of avalanche. Get in shape before you arrive. This might mean some gym time, cross-training, or doing quick hikes within your local area while wearing a weighted backpack. Don't forget to carry (and actually drink!) water, don't take unnecessary risks, and don't be afraid to take rest breaks on your way up. If you feel prepared, you'll get a lot more out of the hike and feel more confident on the trail.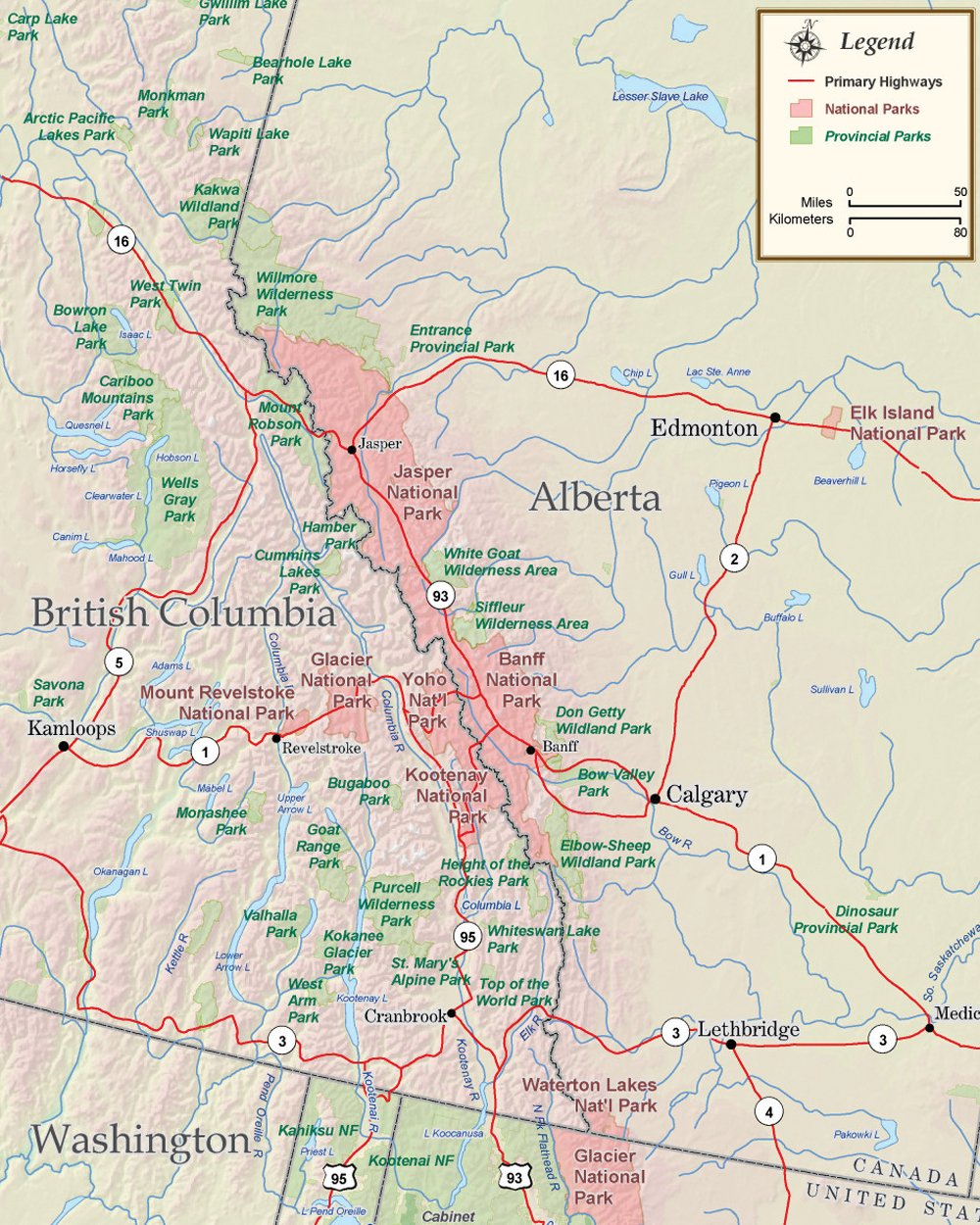 Cold Temperatures and Weather Conditions
It's no secret that Canada can be cold, so it is not surprising that the Canadian Rockies are cooler than their American counterparts. The treeline, the elevation or latitude above which trees are incapable of growing, is also much lower. I think it's fair to say that if a tree can't grow there, your chances of survival isn't great either unless you are prepared. According to Government of Canada statistics, the average temperature in the town of Banff in January (typically the coldest month of the year) ranges between 23 and 5 degrees F (-5 and -15 degrees C). Don't forget to factor in wind chill.
If you don't like the weather, just wait 5 minutes: This common observation sums up the weather in the Canadian Rockies quite nicely: It's unpredictable and can change rapidly. When hiking in the winter, keep in mind you'll have less daylight. The sun typically rises by 8:30 a.m. and sets around 4:30 p.m. during the month of December.
As you can imagine, cold temperatures and adverse weather conditions can generate safety concerns for off-season hikers. Cool temperatures mean increased likelihood of snowfall, wind chill, and risk of avalanche. Be cognizant of the potential for injury and illness, including hypothermia, frostbite, dehydration, and precarious descents due to snow or ice. Chinooks can also create hazardous hiking conditions, as a short influx of warm air from the Pacific Ocean can result in rapid snowmelt and thawing of frozen lakes. Post-chinook conditions can also be a concern for hikers (unless you bring ice skates) as the fresh snowmelt then freezes, resulting in treacherous sheets of ice.
"Over time, the mountain range was formed, characterized by rugged, angled peaks, ice fields and glaciers, alpine meadows, and turquoise lakes."
As an off-season hiker, your main goal is to stay dry and warm. An important rule of thumb to consider is that temperature will fall about 2 degrees F for every 650 feet (1 degree C for every 200 meters) of elevation gain. This means that it is essential to dress appropriately and plan for all types of weather. Layering clothing is one of the best ways to keep warm. You'll want a base layer made of wicking material, a warm mid-layer, and outer layer that protects against wind and moisture. Bring warm drinks and food in a thermos. Digestion stimulates heat production in the body, so adequate intake of calories is important. Checking on weather and trail conditions before you leave is prudent, as is effectively researching the area and sticking to established trails in the wintertime.
Wildlife and Remote Areas
Many hikes in the Canadian Rockies are in remote areas located well out of cell phone range. Some of my favorite hikes begin at trailheads located an hour's drive from the town of Canmore and continue into the backcountry for four to seven hours. Wildlife encounters are not uncommon in these areas. If you are fortunate you might spot elk, bighorn sheep, coyotes, cougars, wolves, moose, and bears. In the early autumn, you might even hear the high-pitched shriek of the pika, a tiny relative of the rabbit. Black bears go dormant in mid November, whereas grizzlies roam about for an additional week or two. Alberta Parks will issue warnings and trail closures when the presence of grizzly bears is a concern. However, there is still a definite possibility that you could still encounter a grizzly in late November or early December.
Remoteness and wildlife encounters can pose risks to even the most experienced hikers, but you can minimize these risks by preparing adequately. Bring appropriate amounts of food and water, a complete first-aid kit, as well as navigation tools such as a map and compass and/or satellite communication devices such as a Spot or inReach. Research the trail ahead of time and be conscious of trail markers along the way. For numerous safety reasons, do not hike alone in shoulder season. Be sure to make noise on the trail to alert any wild animals in the area about your presence. You can check wildlife warnings and trail closures on the Biosphere Institute of the Bow Valley website. Also, make sure to always carry bear spray. There are several outdoor outfitter stores in Banff, Canmore, and Jasper where you can rent or buy a can.
Optimizing safety and preparedness in the wilderness requires lifelong learning, much of which comes from experience, certification courses, and articles like this one. The off-season is the perfect time to escape the crowds, enjoy a variety of scenery, and understand what really goes on in those cold, wild places. Lace up your boots and safely enjoy the great outdoors near your own home, or to venture north and experience the incredible Canadian Rockies for yourself. See you out there on the trail!
---
Gear Checklist
Clothes
Jackets: Down or synthetic warm layer, waterproof shell
Pants: Hard shell, waterproof and windproof or snow pants (can do standard hiking pants or leggings in fall when temperatures are warmer)
Base layers: Shirt and/or bottoms (wool or synthetic)
Beanie/hat
Gloves
Extra pair of socks (wool)
Face mask/balaclava/buff (or equivalent)
Polarized sunglasses
Daypack
Snow gear: Snowshoes, crampons or microspikes, gaiters
Hiking boots, shoes, or trail runners
Trekking poles
Sunscreen and lip balm
Water bottle
Emergency shelter/emergency blanket
Multi-tool or knife
Lighter/matches
Hand and toe warmer packets
Spot or InReach (Topographical Map, Compass)
Headlamp and spare batteries
First-aid kit
Kleenex/wet wipes
Re-sealable double-bagged plastic bags for toilet paper, toilet paper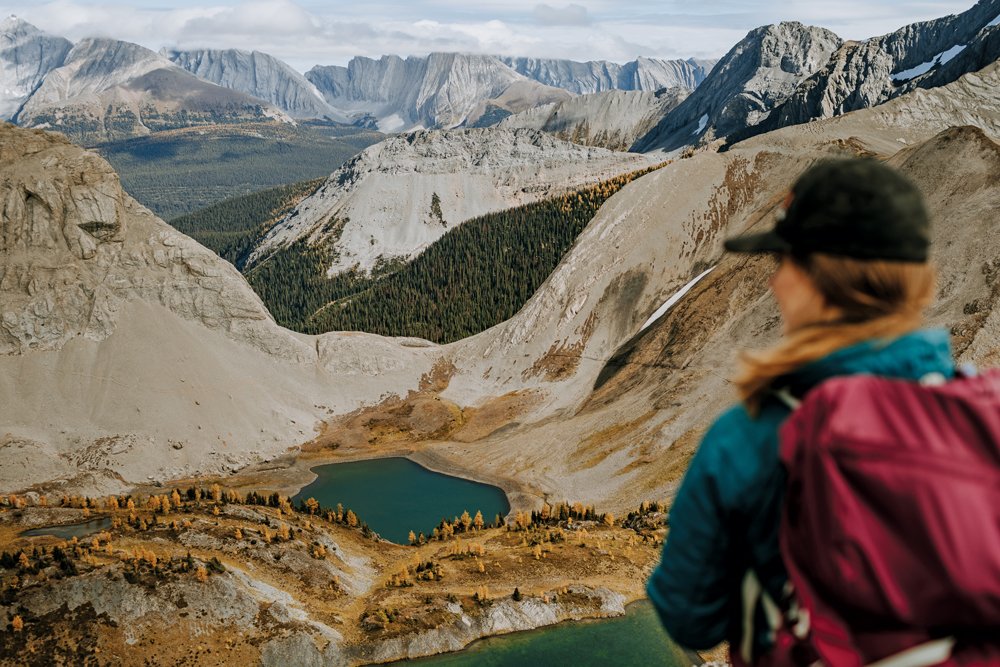 Enjoy this story? Enjoy the whole issue … for free! Click here to download your FREE copy of Tread March/April 2020.