Bring More Gear With a CUV Roof Rack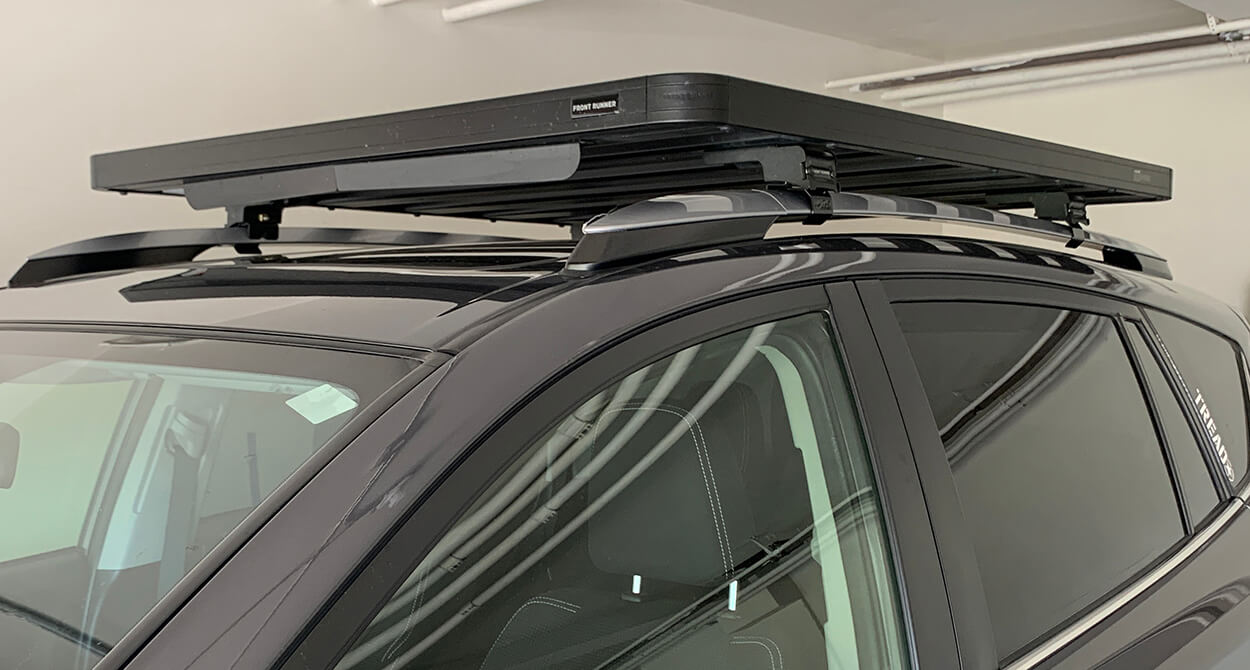 Rack 'Em Up: CUV Roof Rack Provides Extra Storage
Looking for extra storage for CUVs? A CUV roof rack may be just the answer. While CUVs provide better gas mileage and, at times, a smoother ride, the tradeoff is the inability to haul as much stuff. Usually, CUVs offer less cargo room than their larger SUV cousins. Adding a CUV roof rack opens up a wide array of options to turn your city driving gas saver into a camping king. And with an all-wheel drive (AWD) option, you're bound to get even further.
We started 2020 with intentions to get out further and see more in our 2017 Toyota RAV4 Hybrid. Originally purchased to provide cost savings in the fuel tank and be environmentally conscientious, we passed on the larger Toyota 4Runner. At the time we also didn't anticipate any off-road driving or longer camping trips. However, we wanted the AWD for driving in the snow. The Toyota RAV4 Hybrids all come standard AWD, so it seemed an obvious choice. And that didn't stop things when we were exposed to the overland lifestyle.
Today, we see plenty of CUVs out on the roads and on dirt, taking passengers on adventures to areas off the beaten path. The trick: adding a roof rack to carry more gear, a roof top tent or other accessories to help get them out further for longer.
We turned to Front Runner Outfitters (FRO) to outfit our RAV4 with a proper roof rack to get those journeys started. With the release of the Slimline II Roof Rack for the Toyota RAV4, it was perfect timing. We had heard positive reviews from others who used the FRO Slimline Roof Rack system. The versatile system with myriads of accessory mounting options proved beneficial. The added bonus was that we could install it ourselves.
Assembly and Installation of Slimline II Roof Rack
A CUV roof rack is smaller and seemed less daunting for one person to put together and assemble. The Front Runner Outfitters Slimline II Roof Rack was exactly that. It took a couple hours in the garage to get the bulk of it completed by one person.
Easy to Understand and Follow Instructions
After carefully reviewing the included instructions and laying out the materials given, I got to work. The instructions were fairly easy to follow, especially with the included diagrams (pictures do wonders), with each piece and hardware mapped out. It instructed exactly which bolt, nut, screw, panel, and rail was needed for each task ahead.
Assembling the Platform
A drop cloth helped to keep the pieces from being scratched as they shifted on the garage floor. This part doesn't take more than one person, regardless of roof rack size. The included hex wrenches, a tape measure and a socket wrench set were the only tools needed to build this CUV roof rack. Pieces were laid out and then bolted together, ensuring the panels and corners were properly in place.
Mounting to Factory Side Rails
Once assembled, I called upon a friend to help lift and mount it to the factory side rails. Front Runner Outfitters makes this an easy and straightforward task. Once we figured out how the pieces of each mount worked, we were able to easily assemble all four footpads and mount them to the factory side rails. Next we lifted the assembled platform rack and placed it on the mounts. The instructions remind you to measure appropriately to get it properly aligned, both front and back and side to side. Once aligned, we tightened down bolts and installation was complete.
We highly recommend to mount the included wind deflector. It greatly reduces wind friction that can adversely affect your miles per gallon, and add unnecessary noise while traveling at higher speeds. This time we mounted the deflectors prior to mounting the rack to the roof. However, the design of the panels allows it to easily be mounted after the fact through the sunroof, if you have one.
Accessories and Options for Slimline II Roof Rack
FRO offers many accessory mounts and options for the Slimline II Roof Rack. One that was a key selling point was the Pro Ski, Snowboard and Fishing Pole Carrier. The old ski and snowboard rack is no longer useable since the factory roof rails were removed. Thankfully, FRO has the solution to keep your Slimline II Roof Rack mounted while throwing your snow gear or fishing poles up top. Mounting it to the roof rack for winter is easy due to their universal mounting system. A couple of bolts tightened to the roof rack panels and it is good to go. In fact, it can even be mounted on the side to free up the space on top.
Accessory Mounts for Extra Storage
Whether camping or snowboarding, there is usually a lot of gear to haul. Mount storage cases up top and securely hold gear now that a CUV roof rack is installed. Front Runner Outfitters offers a few options for storage case mounting. The Adjustable Rack Cargo Chocks and Tie-down rings along with Stratchits securely mount storage cases of various sizes, including the Wolf Pack boxes. And if you're one to take the extra step towards storage solutions, the Pelican Cargo Cases can seamlessly mount on to a Slimline II Roof Rack with size specific brackets.
Accessory Mounts for Roof Top Tents
Roof top tents mount to the Slimline II Roof Rack. The Front Runner Outfitters Roof Top Tent is the obvious combination with this roof rack. Other mounting solutions for various hardshell tents are also available. The way this specific Slimline II Roof Rack mounts to the factory side rails makes us less prone to mount a heavier hardshell roof top tent to it, due to the added weight. Be sure to reference your vehicle's factory recommended roof weight capacity. On another version of the Slimline II Roof Rack we use, it mounts directly to the mounting points on the roof of the vehicle. We'd be more apt to mount a heavier roof top tent to that version since it allows for more stability and the ability to hold the weight properly.
Accessory Mounts for Overlanding Gear
For overlanders and campers looking to carry other items, Front Runner Outfitters offers plenty of solutions. The Slimline II Roof Rack mounts options for extra fuel, a table, a spare tire, a water tank, propane tanks and even a Dutch oven.
Overall Thoughts of the FRO Slimline II Roof Rack for RAV4
Those in the market to add a CUV roof rack, or any roof rack, should strongly consider a Front Runner Outfitters Slimline II Roof Rack. They come in sizes and styles to fit most, if not all, vehicles. The ease of assembly and installation impressed us. The CUV roof rack didn't cut too much into the gas mileage. Of course, anything on top of a car will negatively affect gas mileage. We thought that was a fair trade in order to gain valuable space in the rear cargo hatch area.
Compared to other roof racks, the FRO Slimline II Roof Rack was much quieter when driving on the highway. The addition of the wind deflectors definitely help keep down noise for speeds above 30mph. The abundance of accessory mount options gravitated us towards this specific roof rack, and that did not disappoint. It sits a bit high on the factory roof rails, however, it is not obtrusive and added to the look of the vehicle in a positive way. The biggest advantage of adding a roof rack to a CUV is the ability to have more storage space inside the vehicle. More precious cargo, like a Dometic CFX3 35L fridge, can be hauled inside. While camping gear, extra storage containers or other overlanding accessories can now be mounted on the rack.