Packaged Camp Food Buyer's Guide
The Perfect, Easy Meal Packed With Flavor
After long hours on the road and finally reaching your destination, the last thing you want to do is take the time to set up camp and prepare a full meal. Luckily, you no longer have to settle on soggy sandwiches, hot dogs on a stick, or even s'mores for dessert. For those looking for a quick and easy meal, yet want something with more flavor, look no further than packaged camp food.
Over the past decade, the number of options for packaged camp food has increased significantly to include gourmet meal options for breakfast, lunch, dinner, and even dessert. Meals now include many types of food from Asian-centric to vegan, gluten-free, and even Paleo diet options. Many simply require adding hot water and take less than 10 minutes to cook.
We did find the meals that required water don't have a measuring system for the amount of water, such as the line you may find inside a Cup O' Noodles. Also, having all of the ingredients included means less space is required for additional cooking utensils and ingredients. For backpackers, this becomes the ultimate option, as many of these weigh less than a half a pound and can be cooked directly inside the bag it came in—add water, let sit, and then enjoy.
Whether you are car camping, on an overland adventure, or hiking in the wilderness, the stress-free convenience of the packaged meals allows you to relax while in the outdoors. We tested a dozen varieties of packaged camp food, from pancakes to Vietnamese beef pho and even coconut Chala masala, and here are the results—keep in mind cook times can vary due to elevation. We also suggest bringing a measuring cup, and for those hiking, you may need a double-insulated vessel to keep the water hot enough to cook the food.
Note: Most of the food can be eaten and cooked in the pouch it comes in. Food was photographed on plates and bowls to show actual appearance.
Backpacker's Pantry Mango Sticky Rice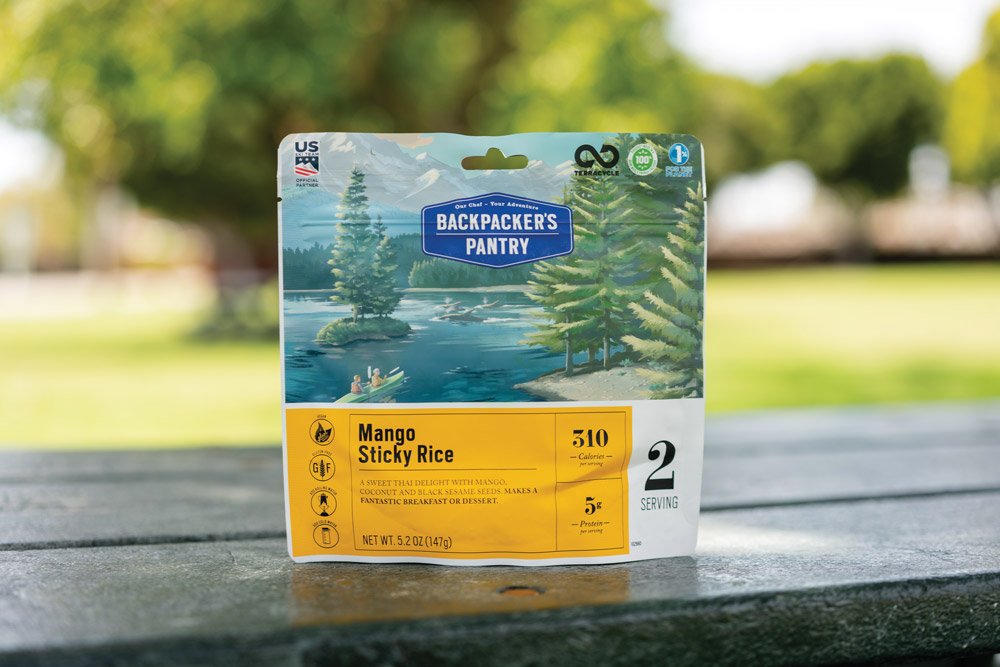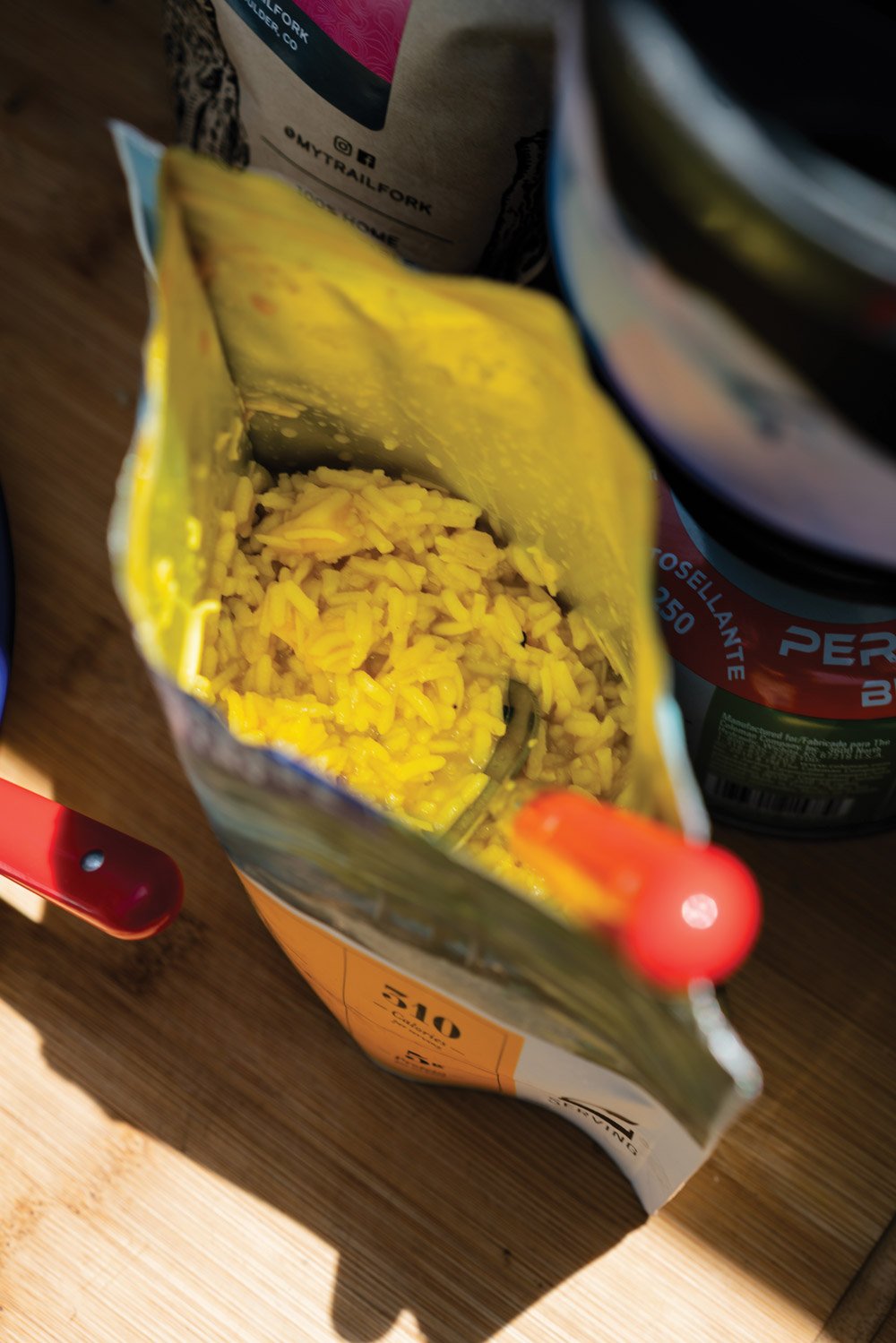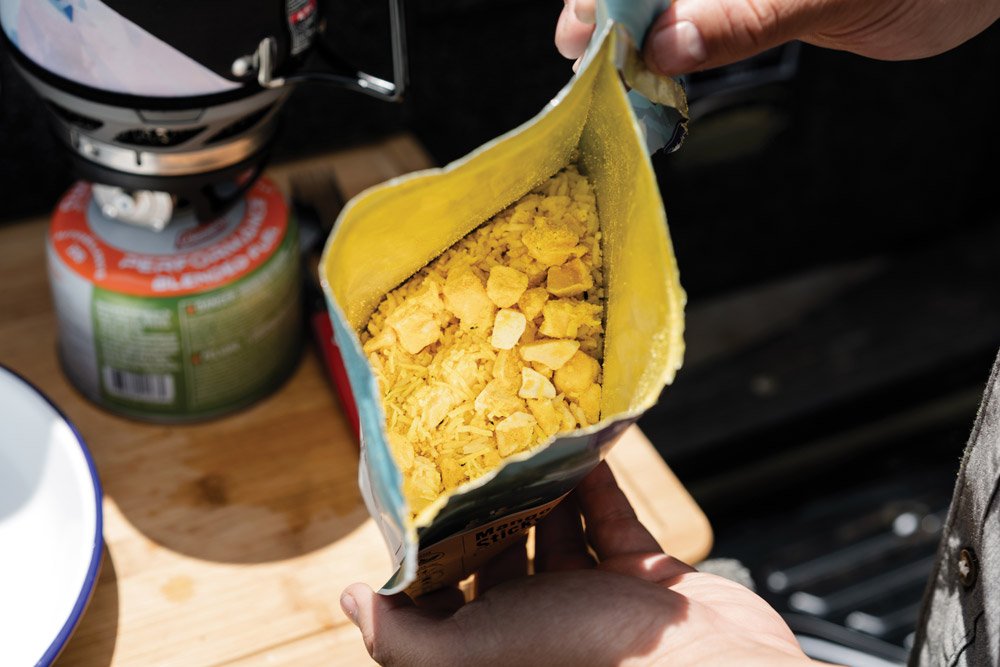 Highlight: This classic Thai dessert features pre-cooked long-grain white rice, sugar, mango, coconut milk powder, arrowroot powder, sesame seed, and turmeric. Includes two servings.
MSRP: $6.50
Tread's Take: We were excited to try this dessert, and we were not disappointed. The flavor was sweet and tasty, and the serving size was plentiful. And to boot, a good value, as well. The downside is it takes about 15 to 20 minutes after adding hot water before you can enjoy this delicious treat.
Backpacker's Pantry Beef Pho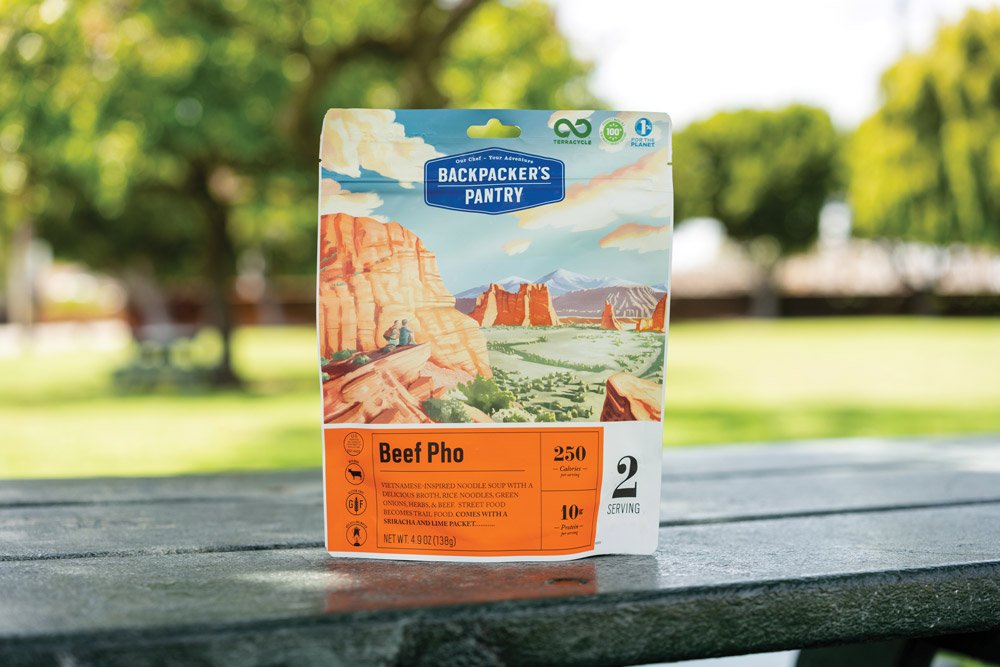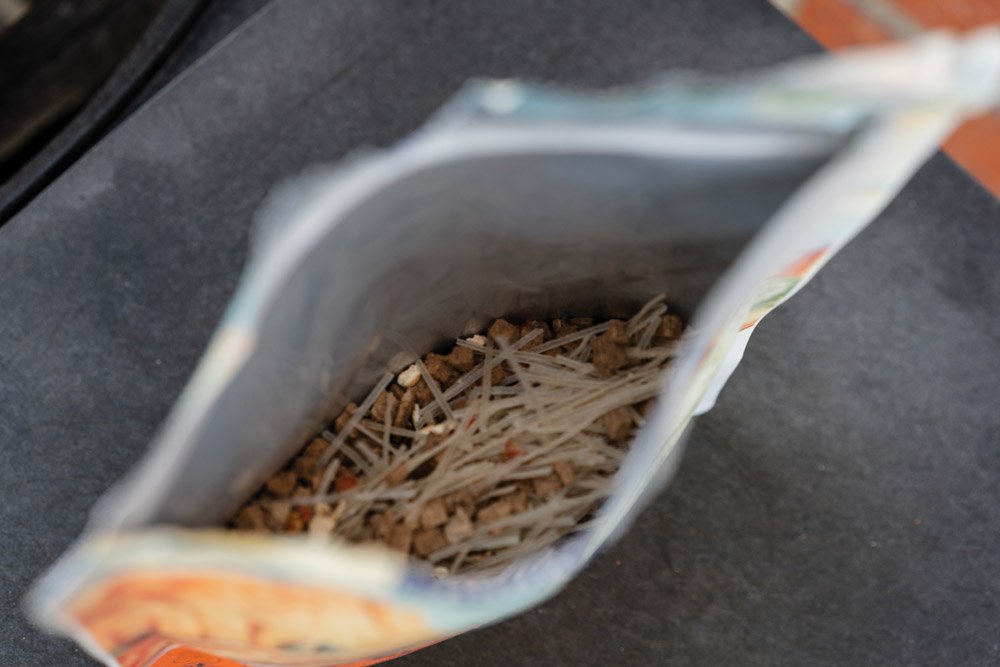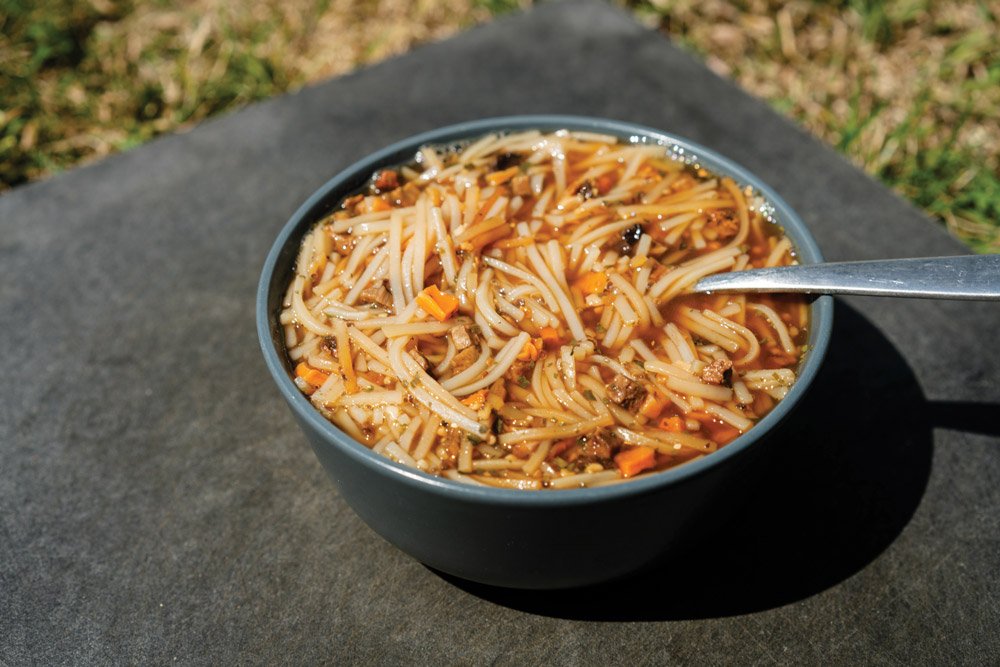 Highlights: This classic Vietnamese dish consists of broth, linguine-shaped rice noodles, herbs, meat, and comes with a lime juice packet and sriracha sauce packet. The pouch provides two servings.
MSRP: $9
Tread's Take: Convenient to prepare with only boiling water required. The flavor fell flat and was a little bland, although the included lime and sriracha packet do help. We really wanted to like this dish, as fans of pho in general, but it just didn't hit the spot. We suggest eating with a soup spoon and chopsticks.
Mountain Standard Farmers Market Scrambler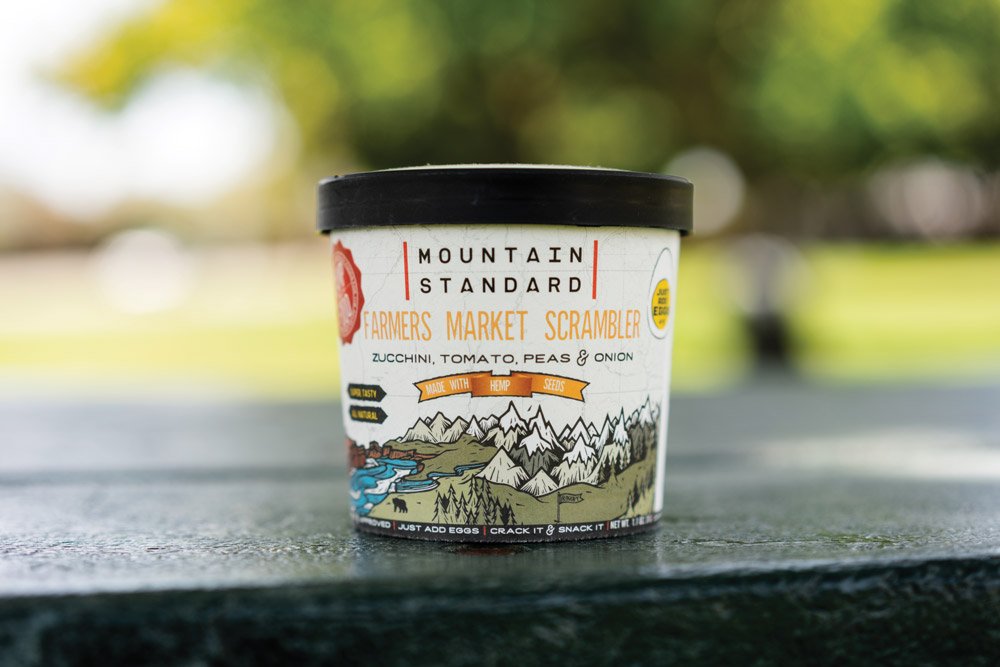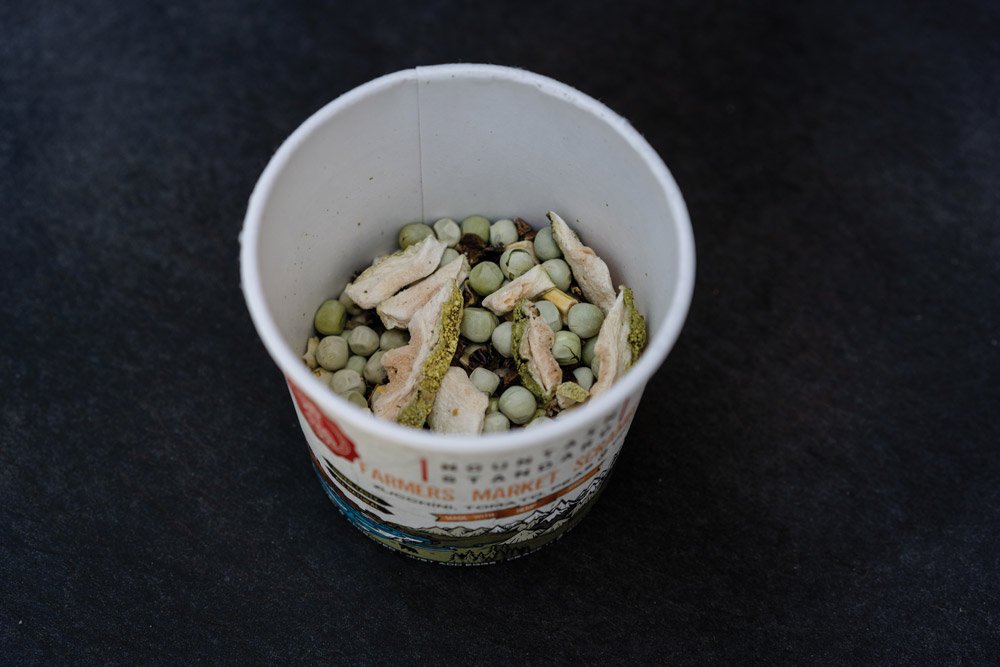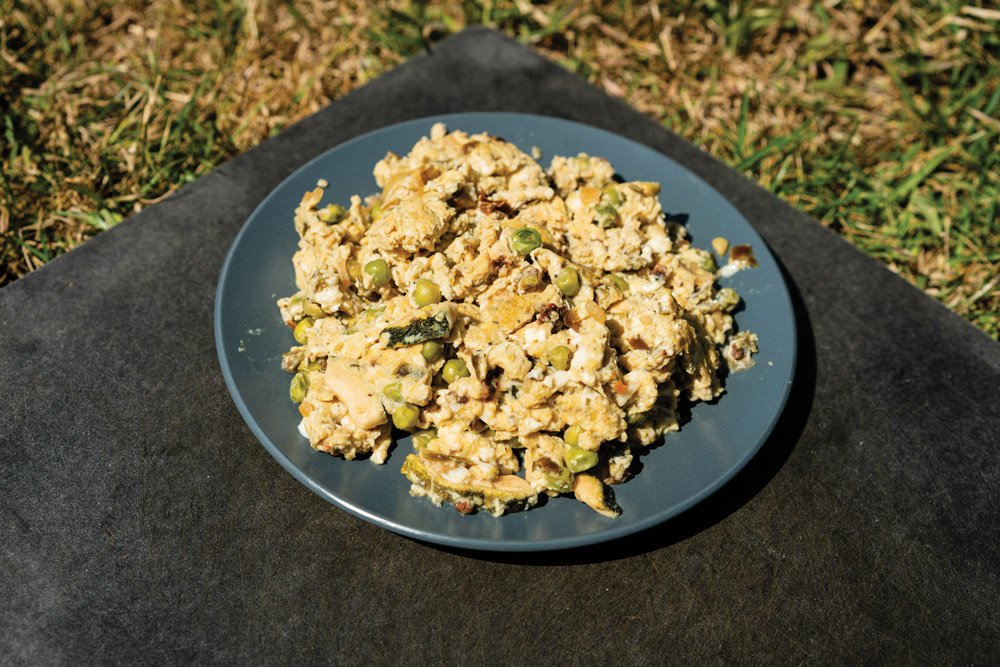 Highlights: Made with a blend of zucchini, organic tomato, sweet corn, and peas. The ingredients are all-natural and have added protein from hemp seed. This meal requires adding eggs, which are not included.
MSRP: $4
Tread's Take: An affordable option to add to your morning eggs to give them extra flavor. The meal serving size varies depending on how many eggs you add.  And you will need a griddle or pan to cook after mixing.
URL: mountainstandard.com
Good to Go Chicken Gumbo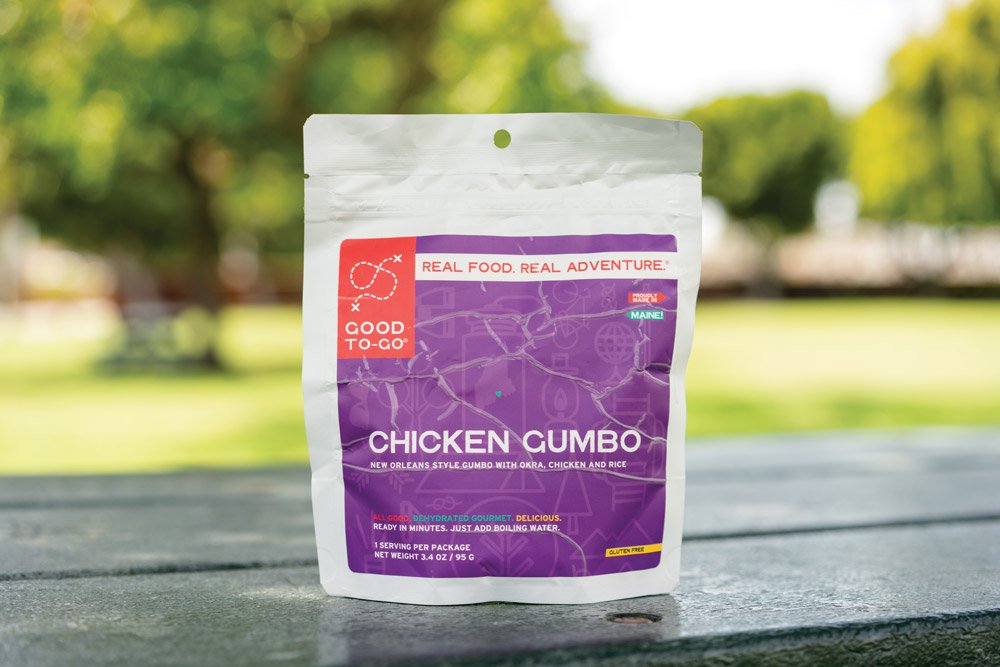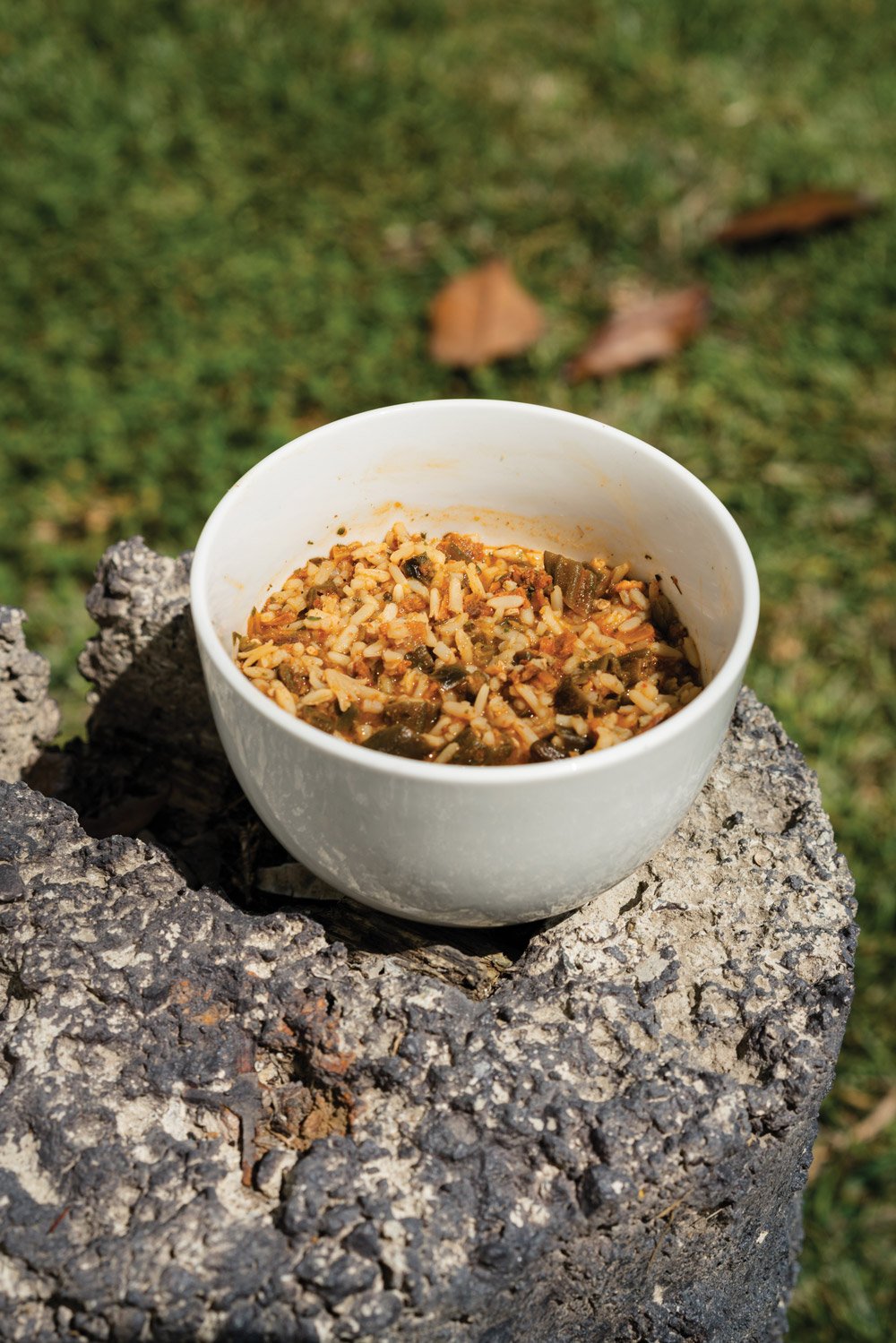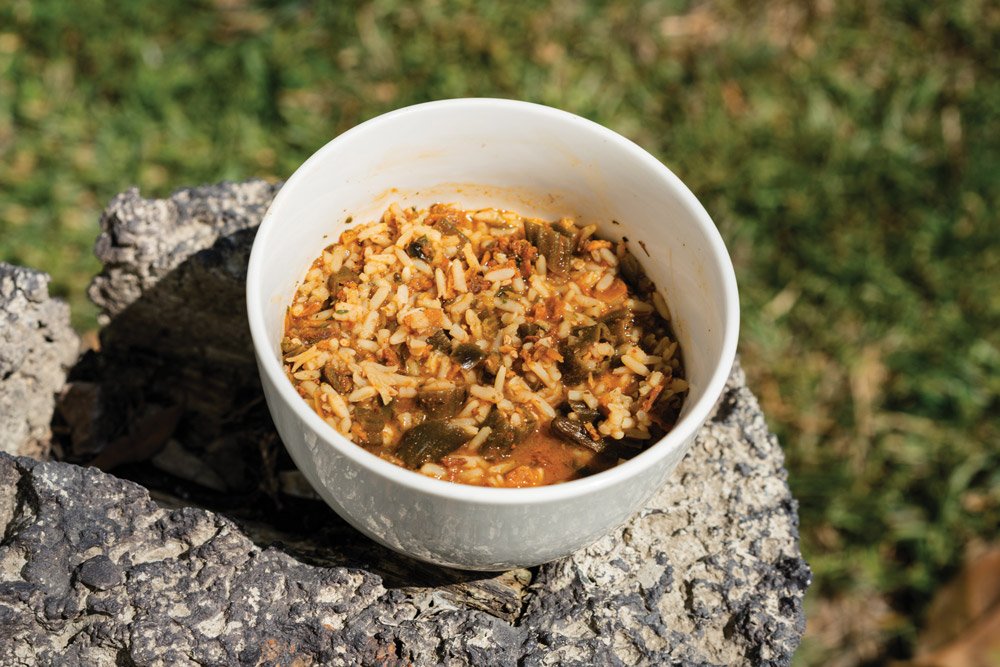 Highlights: Features antibiotic-free chicken and traditional gumbo ingredients, such as okra, onion, celery, long-grain white rice and flavored with filé spices. Includes long-grain white rice and cayenne pepper. The meal is gluten-free and has a 1-year shelf life. The package includes one serving.
MSRP: $13.50
Tread's Take: This packaged camp food is simple to make with boiling water and cooks in the same packaging. It takes about 15 minutes to fully cook and cool enough to eat. We found the food to be sufficient portions for two servings, but the overall taste wasn't our favorite. There were some spice and flavors, but this one missed the mark. We felt the price was a bit high to justify as well.
URL: goodto-go.com
Mountain House Chicken Fajita Bowl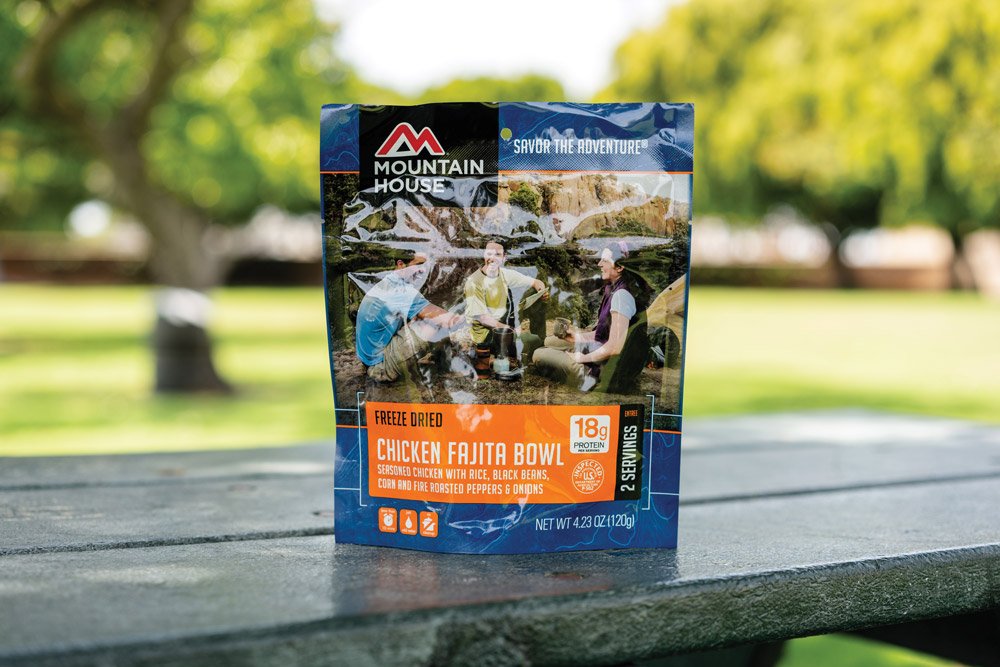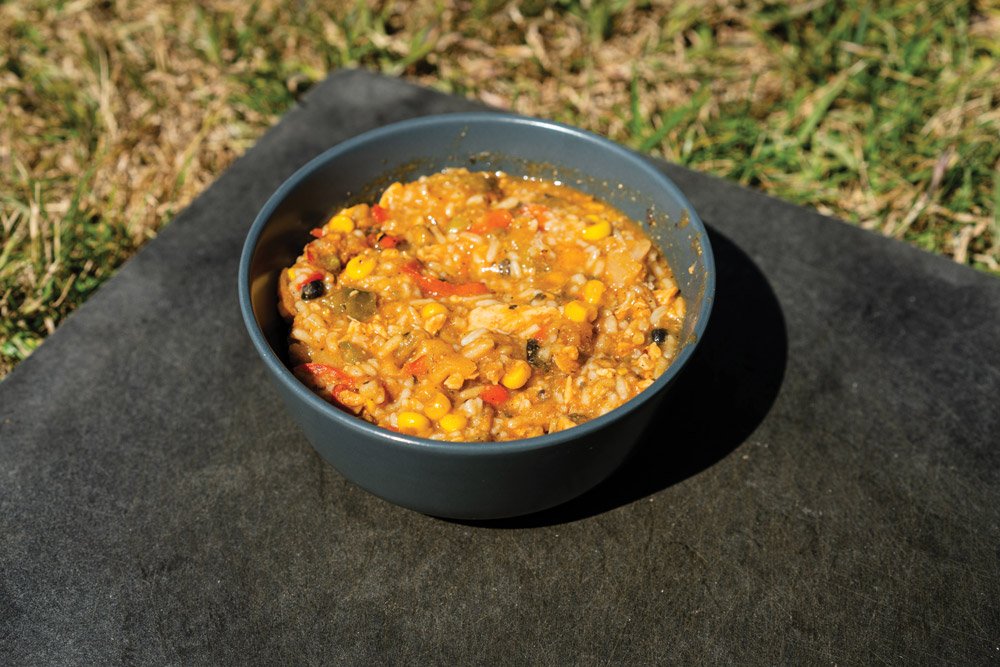 Highlights: Made with real pieces of chicken mixed with rice, black beans, bell peppers, corn, onions, and seasoning. No artificial flavors, colors, or preservatives and gluten free. Includes two servings.
MSRP: $10
Tread's Take: A convenient option that is ready to go with hot water. The meal was full of flavor with a hint of spice. The serving size was good for one hungry camper.
Mountain Standard Carrot Cake Pancakes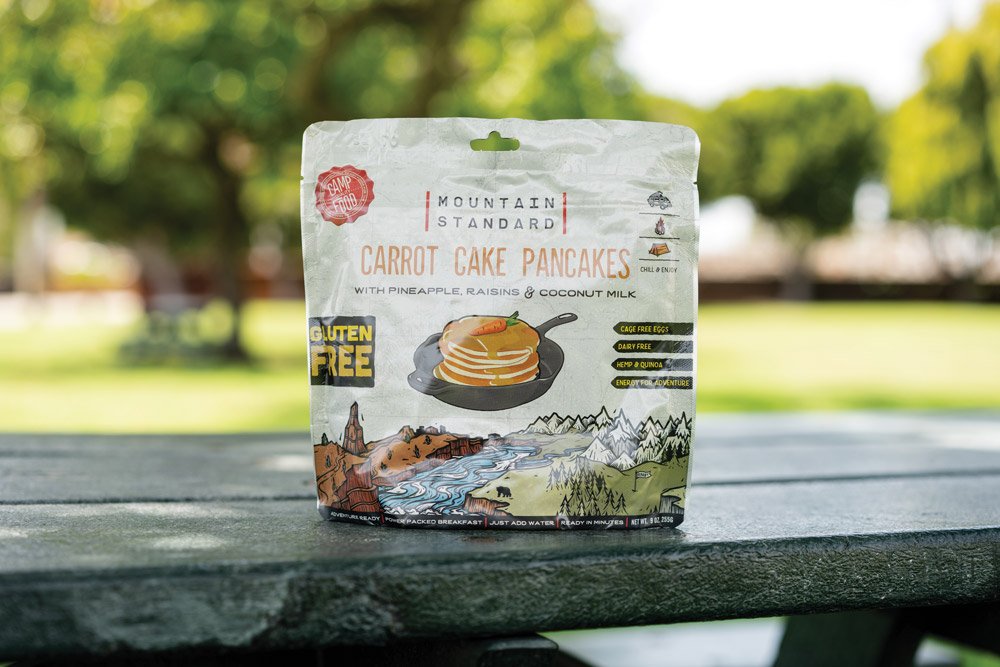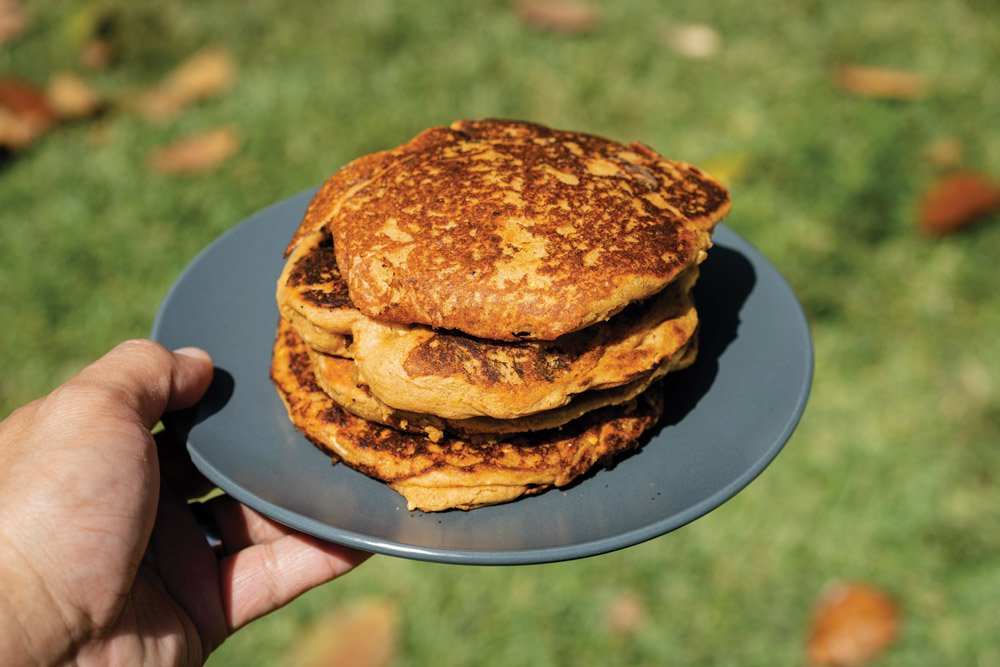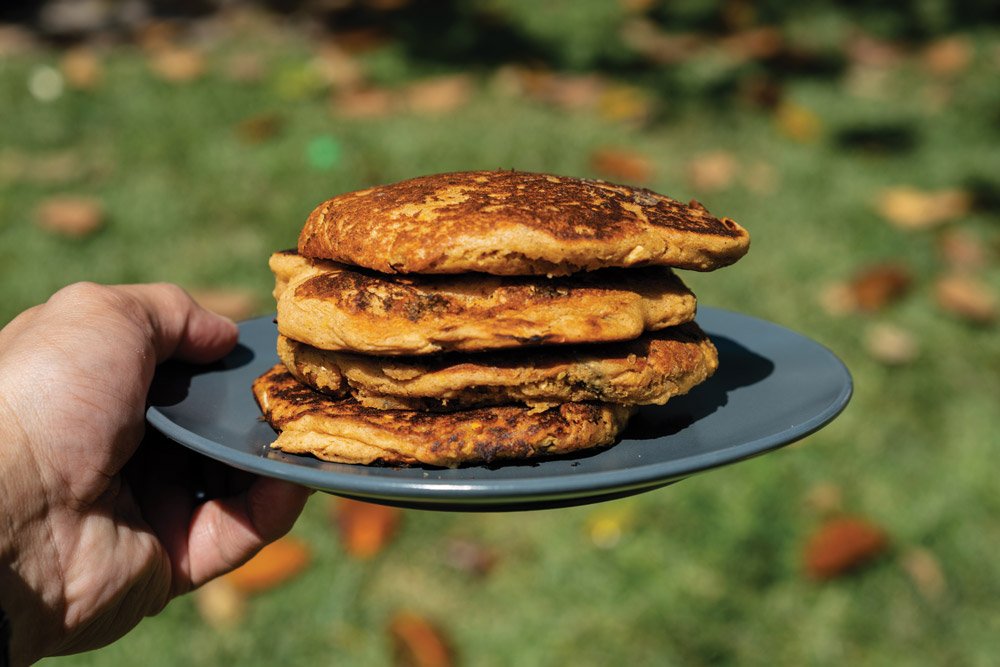 Highlights: This pancake mix includes pineapple, organic raisins, and spicy cinnamon and nutmeg. The meal is gluten-free and has 22 grams of plant-based protein per serving. Gluten-free using cage-free eggs, dairy-free, and includes hemp and quinoa.
MSRP: $13
Tread's Take: This packaged camp food requires hot water and a griddle or pan to cook. It's easy to mix inside the packet and quick to cook on a hot griddle. The pancakes are good and the flavor has a sweetness to it, however, we do suggest bringing your own maple syrup. A great way to start the day.
URL: mountainstandard.com
Wild Zora Mountain Beef Stew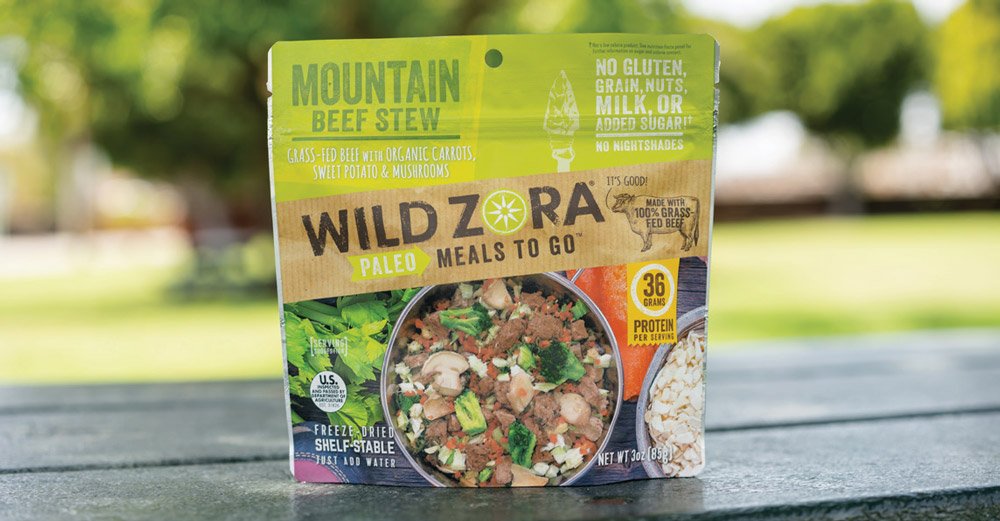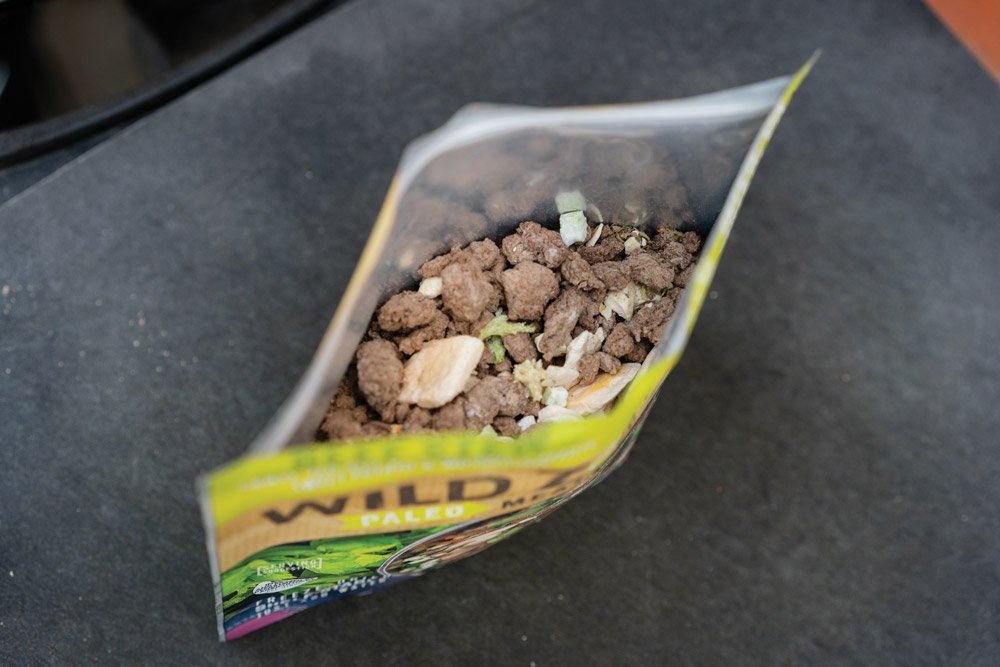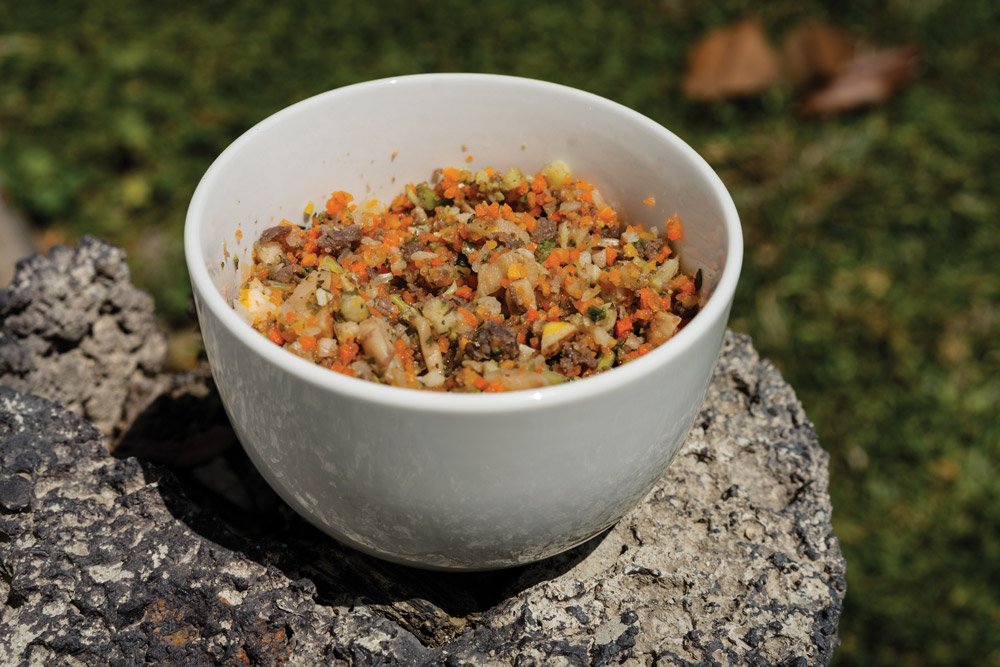 Highlights: This Paleo meal is made with grass-fed beef, organic carrots, sweet potato, onion, broccoli, mushrooms, celery, green onion, sea salt, majoram, thyme, garlic, and parsley. No gluten, grain, nuts, milk, or added sugar.
MSRP: $13
Tread's Take: The meal is hearty and easy to prepare with only hot water. The flavor was good and the serving size is plentiful to keep hunger at bay. Great for those looking for a nice and healthy option while traveling.
URL: wildzora.com
Trail Fork Coconut Chala Masala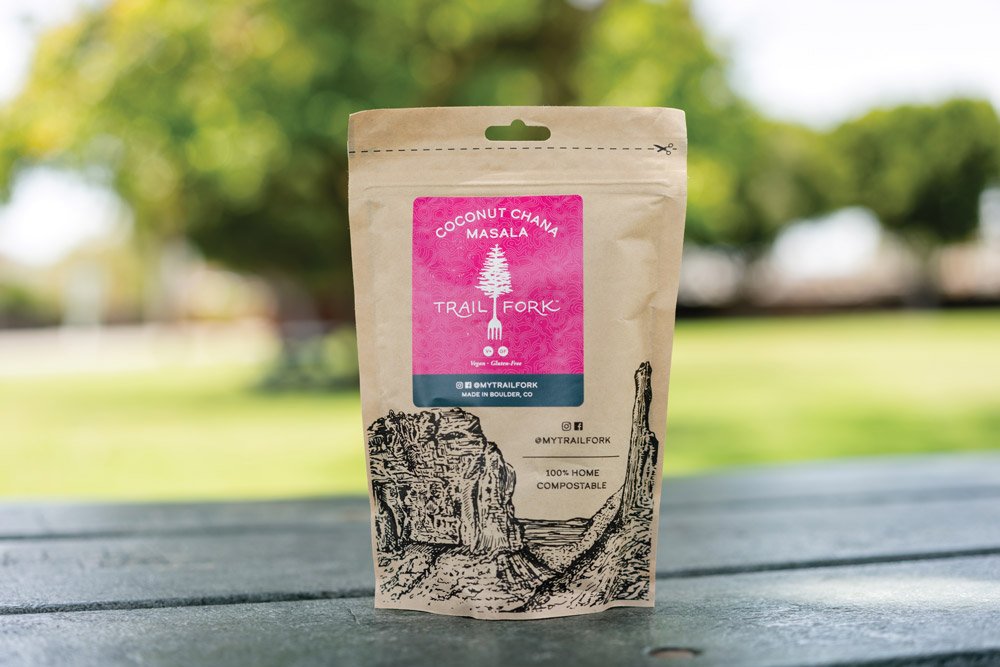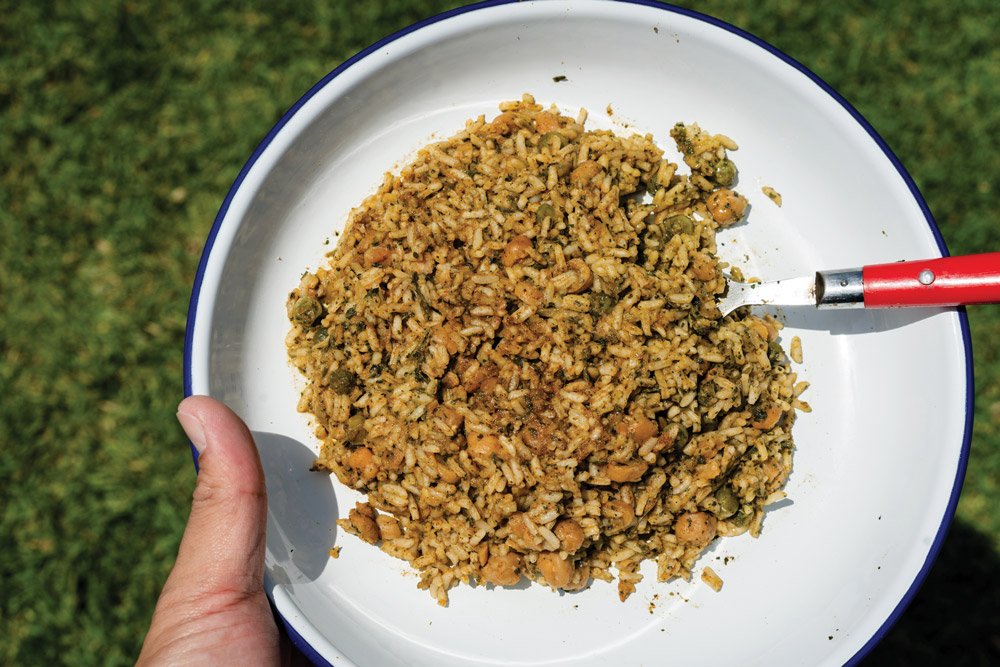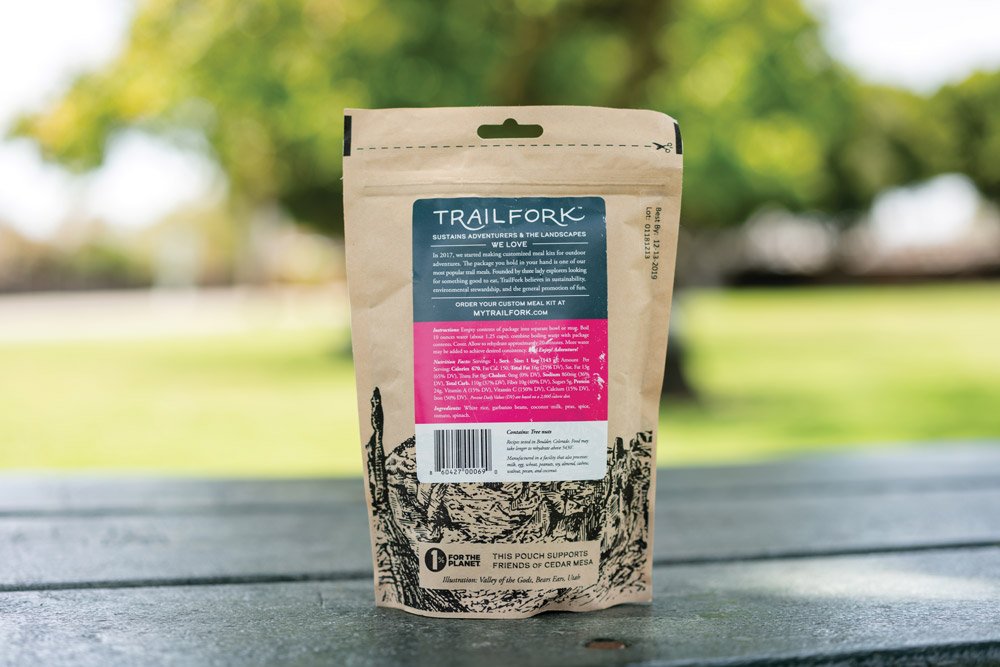 Highlights: Includes white rice, garbanzo beans, coconut milk, hearty chickpeas, and mild garam spices.
MSRP: $11.50
Tread's Take: This Indian-inspired dish is full of flavor. The serving size is good enough for two. It is a great option for the gluten-adverse or vegans who are looking for a healthy food option while out on the trails. Takes a little longer to prepare, at about 20 minutes. This was one of our favorite packaged camp food dishes.
URL: mytrailfork.com
Editor's Note: A version of this article first appeared in the July/August 2019 print issue of Tread Magazine.