Exploring the Nordics in a 2015 Toyota Hilux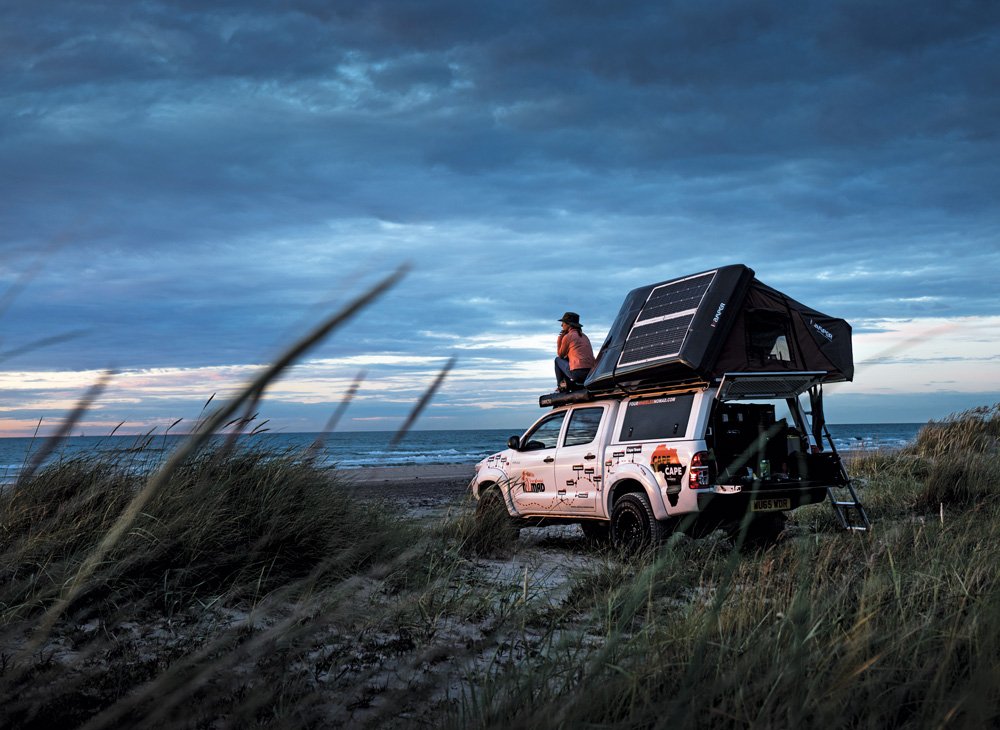 An Experience to Rejuvenate Life
Sitting comfortably in a reclinable seat—coffee cup holder on my left, Jason on my right—a warm goodbye was exchanged on my mum's doorstep in England before releasing the handbrake. A hot-as-blazes zip across Europe to the northern beaches of Denmark, we were on the trip proper. Quite the contrast to motorcycling the Americas previously: This jaunt entailed a cape-to-cape expedition through the Nordics, up to Northern Norway before overlanding the African continent bottom-up. And then COVID-19 happened, which, like the planet over, halted 2020 proceedings dead in their tracks. While uncertainty prevails around a reunion, "White Rhino," our 2015 Toyota Hilux 2.5L turbo diesel, remains planted on South African soil. Still, the first leg through the Nordics was phenomenal, and for that, we're grateful to the pre-pandemic world over.
Hiking the Highlights in Norway
Norway is at least twice as long as the UK, with only 8 percent of its population nice. The trees are so dense you'll think you're in the Yukon. They carpet the foothills over a remarkable mountain range, big lumps of granite iced in glaciers.
You can't go to this Nordic territory and not yomp the hills, much less pass up on the Bolt in Southern Norway. It'd be like going to Mount Rushmore and saying, "We didn't bother with the big, carved, mountainside thing. We just had a peek in the gift shop." The Bolt is a glacier-deposited boulder sandwiched snugly into Kjerag's crevasse, down from which towering views of Lysefjord are bestowed.
My crown jewel of the evening came when we spotted a guy who must have possessed balls the size of church bells. A strip of webbing—easily 600 feet long and 3,000 feet above the fjord—held him while slacklining. Distracted from myself, I lost count how many times he fell with unbridled purpose. The only thing saving him from nose-diving into the abyss was a harness and a bit of rope connected to a string of dental floss.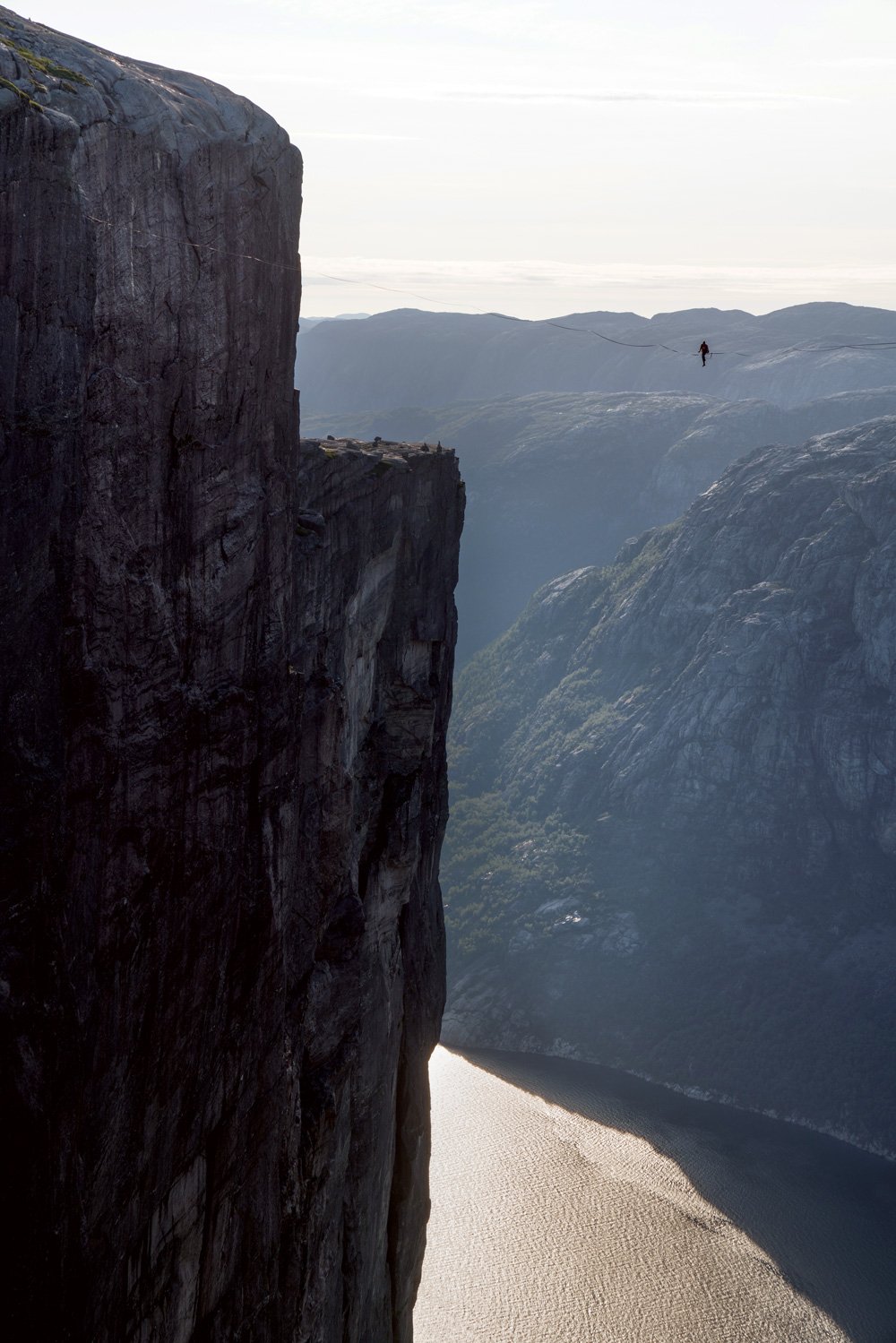 The adrenaline-charged day concluded and night slowly cloaked us in soft, safe silence. Just us and our vertiginous surroundings, blood zinging and triumphant. No one spoke, so great was our reverence for where we were—a stone's throw from the Bolt, by ourselves.
Having returned from a hoof to the "Troll's Tongue" broken, Norway, it seemed, had one last hand to play before she'd let us leave. A heavy drizzle at Nordkapp was set to stay. It meant another cramped night hunkered down in the double cab. Coupled with wild weather, the iKamper roof top tent, while sturdy and robust, fares hopelessly in silly conditions. Out we emerged in the small hours of fading darkness. Blind-wrapped fog swallowed us whole. Location pinned, we picked our way over flat but obscured terrain the few hundred yards to Nordkapp's spherical monument.
Sleep drunk but off course anyway during what should have entailed a quick beeline to the landmark. Bleak conditions set to daft, it was absurdly easy to miss. "Is that it?" A hollowed-out globe materialized atop some concrete steps. Laughter rolled out of my mouth. Not exactly a momentous occasion, symbolic to the northernmost point in Europe. Jason stood there brewing like a teapot. Brutal winds prevailed, driving rain lashed down, a low-voltage moment akin to "Good, now that that's bloody done let's go and get the kettle on."
Finland Bear Sightings
On the fringe of the Finnish-Russian border you'll find Karhu-Kuusamo Oy, a husband-and-wife-run business that offers bear watching out of Kuusamo, the northernmost part of Finland. Protected from hunting, a healthy number of European brown bears dwell in the forest at Kuntilampi. Who knew these fantastic beasts resided on the continent?
A four-hour detour and a nervous detachment with 120 Euros each later, we set aside a few hours in the hopes of encountering a sleuth of bears. But only after rescuing yet another tourist's hire car stuck in a muddy ditch with the winch. For the endless support we received on two wheels in bygone times, the debt of paying it forward was finally getting settled.
We patiently waited to catch a glimpse of these beautiful creatures. Lo and behold, two large males padded along within five minutes. Soon enough, there were plenty more. We had won the lottery. All the bears were surprisingly comfortable among one another, while we feasted our eyes on them bathing, tree-climbing for the fun of it, and chowing down their fillet of fish. No less than 16 big browns in a single afternoon. When nature becomes this spectacular, joy is my constant companion.
Faroe Islands: The Nordics' Best-Kept Secret
Soon after, Mother Nature saw us at the tail end of Hurricane Dorian as we embarked on the next crossing. A fierce wind battered our ferry from Hirtshals, Denmark, as we pitched and rolled through the chop, blown into a white-capped frenzy. Two days of being tossed up and down in the North Atlantic, we anchored with relief to an island situated between Norway and Iceland. Connected by bridges, causeways, and mountains gift-wrapped in velvety green heathland ran rampant across every wind-swept valley. A stirring way to encounter the Faroe Islands, I wondered about how else we'd experience this near faraway place. A self-governed land of Denmark, it's composed of 18 volcanic islands of pristine stomping ground, 47 miles wide, 70 miles long.
"FORGET TRAFFIC-CHOKED ROADS AND SITES SWOLLEN WITH TOURISTS, THE PACE OF LIFE IS HOW IT SHOULD BE IN THE FAROES; UNHURRIED WITH A CLOSE-KNIT COMMUNITY SPIRIT."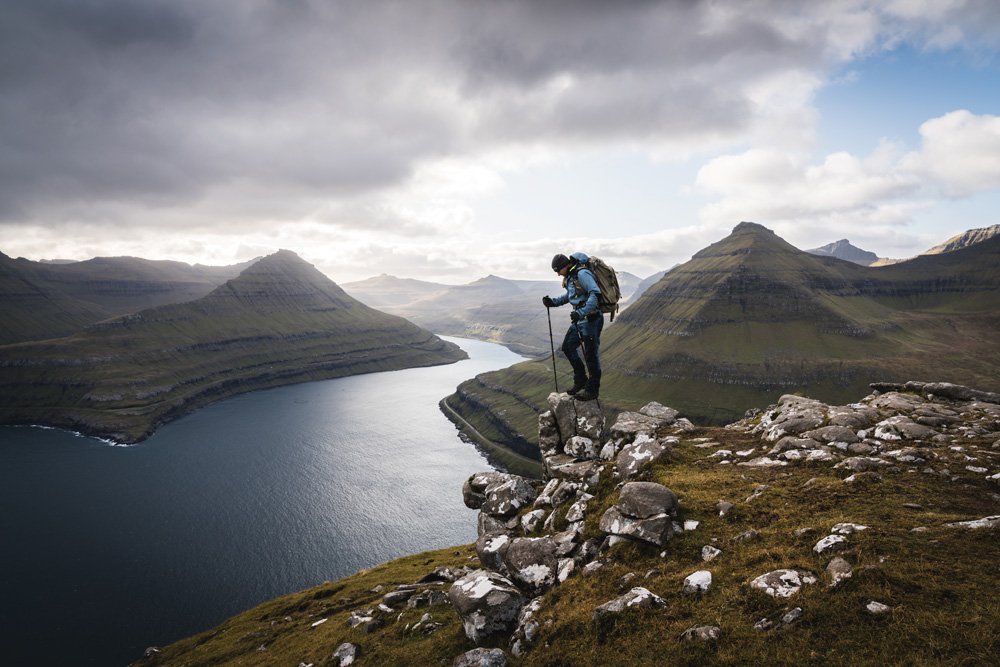 Until Instagram gives the secluded pearl the same exposure as Iceland, it has to be one of the Nordic's best-kept secrets. Forget traffic-choked roads and sites swollen with tourists, the pace of life is how it should be in the Faroes; unhurried with a close-knit community spirit. Surprisingly, the prime minister's number is in the phone book and buses in the capital are free. While the national language, Faroese, is featured on milk cartons to keep it alive, English is widely spoken. There are as many traffic lights as there are hostels: three.
One day, I saw a fjord on my left bejeweled with mossy-looking icebergs with Tolkien-sounding names like Tindhólmur. A pair of grass-roof black houses sat at the bottom of a striking wedge of rock, turfed once for insulation but now as a symbol of tradition. At the summit, we gaped at a valley where a path switch-backed sharply down to a settlement: Gásadalur. Inaccessible by boat, word has it that the postman makes this daunting journey three times a week. What a place to live! A fortnight on the Faroes, tinged with just a hint of island mentality, was good enough.
Unrivaled Beauty of Iceland
Admittedly on arrival, my curiosity antenna couldn't help ponder if Iceland would fulfill a world of hype and, thus, bowl us over after years of travel. When you see its unrivaled beauty preserved by a nonstop process of change, you'll draw your own conclusion. Driving every gravel yard in White Rhino over all-but-impassable mountain passes and carefully traversing around pearls of nature, we ventured nowhere on a whim without first checking the local weather (vedur.is) and road conditions (road.is, safetravel.is), courtesy of our onboard Internet from motorhome Wi-Fi. Regular 110-plus mph winds blowing temperatures to 10 degrees F seemed to warrant it. Such a degree of cold was also when we discovered our Transporter Energy lithium leisure battery—ordinarily unstoppable—temporarily failed and should have been insulated. Fortunately, we had a Dometic lithium battery and Powertraveller chargers in our overlander's arsenal to fall back on.
Distinguished as the most visited part of the island, not least because of the imposing waterfalls and glaciers at our feet, the south is where the contrasts of the Icelandic landscape were the most discernible. Verdant valleys—surrounded by green slopes, gorges, and cliffs—met black sand deserts. Welcome to the Golden Circle. Volcanoes punctuated the skyline, scaling one in particular; I've never better appreciated the truck's snow-ready BFGoodrich K02 tires on Icon Vehicle Dynamics wheels with a stage 4 Icon suspension. Jammed cheek-by-jowl at certain touristic spots, even during October through December, the south still accorded us an easy sell to get going.
The landscape of the Nordics on the Southeastern side was astonishing—think mountains jutting out of the earth next to the ocean. Swathes of land, such as Stokksnes, attract not just globetrotters to see this glittering marvel, but Game of Thrones cast and crew, too. Situated between Skardsfjordur and Papafjordur fjords, it's one of the few plutonic gabbro formations in Iceland dating back 8 to 11 million years. Vestrahorn is Jason's personal favorite. No wonder, photographers come from every corner of the earth to hail the 1,490-foot magnet.
Tingling with excitement, we yearned to experience Iceland's Northern Lights inspired by imagery Jason had long salivated over. Latin for "northern dawn," the aurora borealis exhibits a solar-powered jig of shimmering green drapes rippling across the horizon. Faces glued to the sky on every clear night, we observed nature's greatest show numerous times. Some auroras glowed a gentle emerald. Others flashed in a fleeting moment. Sometimes lasting the night, the miracle exploded into the phenomenon that it is.
"THERE WILL ALWAYS BE HIDDEN PIECES OF OUR PLANET THAT HAVE DEFIED ALL ATTEMPTS TO TAME THEM, AND MANY OF THEM ARE WONDROUS. ICELAND, FOR INSTANCE, IS ONE OF THOSE PLACES."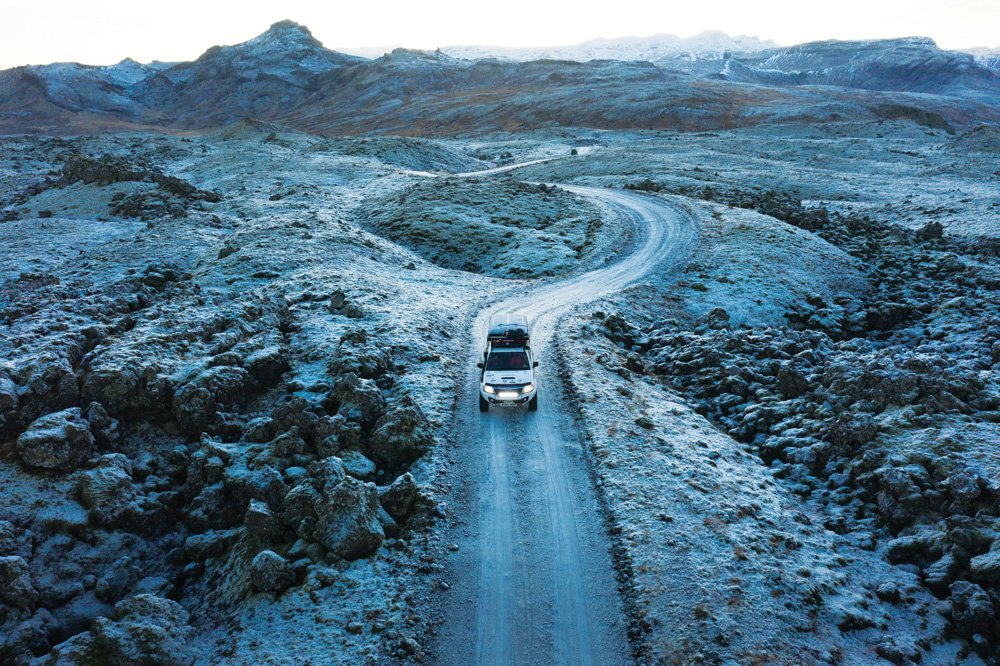 What attracted us to the hidden pearl of the west was the stark and shapeshifting lava formations of the Snæfellsnes Peninsula. The border between mountain and shore became narrow, and Iceland was distilled to its very own miniature version of the island country. Entirely outside of the Ring Road's loop, we discovered boundless coastlines, bird cliffs buzzing with life, and at the foot of the mountains, quaint little communities. The roads were carved into a sequence of vast flat-topped mountains, which sloped sharply down to tiny towns in narrow fjords serrating the shoreline, often with inviting spots to make camp for the night. Sparsely populated, it's as good as it gets to get away from people.
Cataclysmic Endings
Ten weeks on the island country hurtled by, which saw our penultimate day present itself. While the silencing snow hushed the air, a spate of violent and disturbing weather alerts chased one another across our phones. A 10-year Bombogenesis cyclone was due to hit. Alas, the mountain pass—over the sole 170-mile route to get us out—was scheduled to close. There really is nothing like a cyclonic weather fest gone freak to round off one's Icelandic adventures. Hightailing it was wiped out in our icy surroundings and absolute concentration out of there. Indeed, biblical departures at glacial speeds brought us wordless sanctuary as we boarded the ship with moments to spare, and stayed 30 miles ahead of the perfect storm during the crossing. Skol!
There will always be hidden pieces of our planet that have defied all attempts to tame them, and many of them are wondrous. Iceland, for instance, is one of those places. Like all its neighbors, infinitely precious, yet infinitely vulnerable. Overlanding a good portion of the Nordics sharpened the realization that there is no time to sit around and overthink how life should go. It's a region that will leave you ready to stop trying to matter. It will make you ready to simply live.
You can follow Lisa and Jason's adventures @fourwheelednomad on Instagram/Facebook and at fourwheelednomad.com.
Editor's Note: A version of this article first appeared in the Winter 2020 print issue of YOTA Magazine.