Motorbike Camping to SUV Camping: A Journey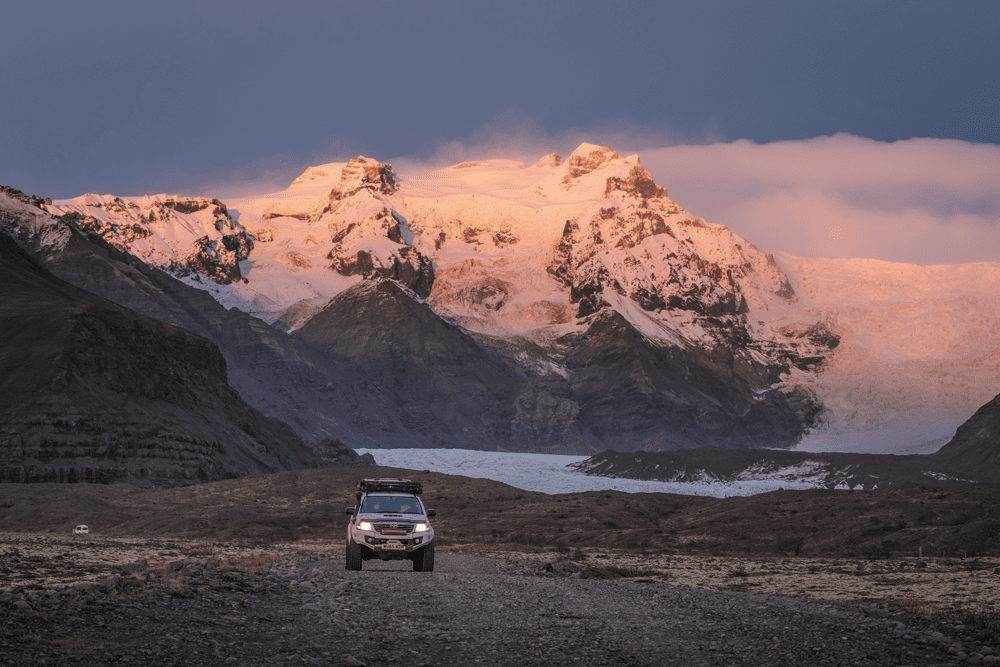 Travel Metamorphosis
For nearly a decade, my partner and I combined our childhood love for diving and photography—but it was time to hang up the fins and take pictures of the world above the waterline. We decided to embark on a motorcycle camping journey from Antarctica to the Arctic.
We sold our country cottage, pared down possessions to a few boxes, and packed what we thought we'd need for such an adventure. We've lived a few trips, but this one took the prize—a life-changing, two-wheeled, four-year camping journey ensued.
After some searching, I found Pearl, a factory-lowered 2001 BMW F650 GS on eBay. I chose her because her color matched my helmet, much to Jason's exasperation. He soon utilized Pearl as the pack mule and reserved his 2008 BMW F800 GS for "tech" as Jason calls it: a camera, its lenses, and a drone, plus anything else a photographer can get away with carrying on a dual sport bike.
Minimal ride time under my belt necessitated a giant leap of faith into the unknown. Not exactly a natural rider, I learned heuristically while doing my utmost not to wrap myself around a lamppost, wind up in a ditch, or wheelie my bike into a catastrophic catapult, although one of those three happened—routinely! But, thanks to Jason's sage advice and patience, I got back on my bike and we rode it out together.
Magically, the bikes defined the trip, what we yearned for, who we were. It's the grueling satisfaction of big-distance riding that made the camping journey hard but euphoric; the hard is what makes it so great. Throughout long, beautiful days in the saddle, I adored how the motorcycles magnetized people to us. You make contact, share, learn, and grow. It's integral to what makes me happy.
Two Wheels Take Their Toll
Empowered as I became, however, motorcycle travel occasionally took its toll. Upon reaching a trailhead in the mountains, for instance, we'd crave time to go trekking, to give ourselves a break from munching hundreds of miles. But rarely could we find a place to secure our gear and valuables, let alone the bikes.
Added to that was the inability to carry enough provisions in two panniers to stay off-grid longer than 48 hours. We ran out of water all three times we descended into Death Valley and found ourselves at the mercy of four-wheeled travelers. Thankfully, we managed, but we were forced to forego exploring those faraway places.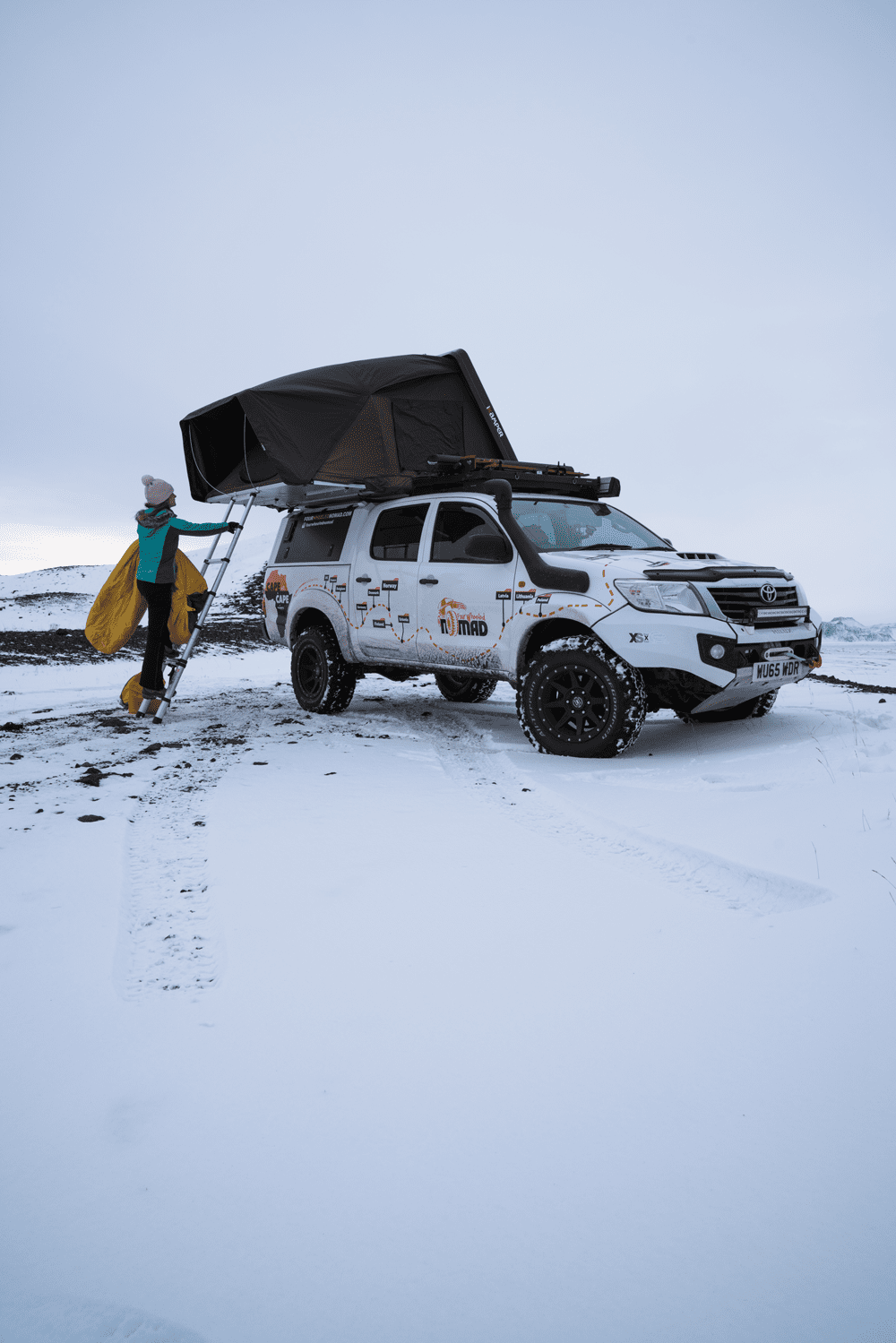 In the cooler months, we'd find ourselves in the opposite situation—hunkered down in one place for months on end. In Alberta, for instance, our bike camping journey came to an abrupt six-month halt until the following springtime. Plugged into heated clothing while astride my bike worked its lifesaving charm, but riding in thick snow while it's -22 degrees F, not to mention feeling the elements as soon as we kicked the side stands down, got the better of me time and time again.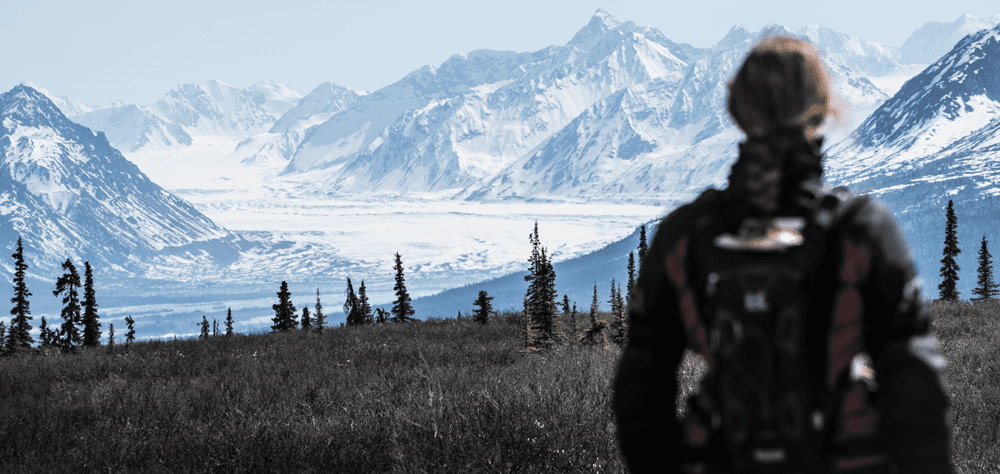 Will I miss having rain-obscured vision as we made a beeline toward a bank of swollen clouds into a coming storm? Or cruise-missile insects smacking my face at 50 mph? Or leaning into raging Patagonian winds on Argentina's Ruta 40 while involuntarily making the grunts of a professional tennis player? Or worse still, making camp when the icy wind siphons all feeling from the fingers, my nose, and toes so cold it gnaws skin and bone? Probably not.
Trading Two Wheels for Four
While I ache periodically for my bike, our most recent endeavor, which started in June 2019, sees us on a cape-to-cape 4WD photographic expedition. From the UK, we wended our way through Europe to Nordkapp, Northern Norway, ferried over to the windswept Faroes in the shoulder season, and moored up in Iceland early October for a two-and-a-half-month stint of sublime craziness.
As tempting as it was to jump back in the saddle, we needed a mode of transport that provided a higher level of comfort and refinement, something self-sufficient beyond a charging point on the bike and with more refrigeration than a double-walled water bottle. Something that would allow us some lock-up-and-walk-away-from-your-rig freedom.
A 4WD pickup truck seems glaringly obvious now—especially with 2020 plans to traverse the warm African continent.
We sought judicious advice from those who had done precisely what we intended to do. Tapping into expertise from the industry pros, we followed our instincts and sourced a 2015 Toyota Hilux 2.5L turbo diesel, affectionately known as White Rhino. On par with an underpowered Tacoma, it was easy to source at a reasonable price of $15,500 in the UK. Admittedly, the fuel economy could be better, but at Africa's prices that won't matter as much. Plus, the Hilux is common over there, which should hopefully make the maintenance and any repairs relatively straightforward.
Aboard the White Rhino
While the ability to carry adequate supplies to stay off the beaten path adds a newfound harmony to our camping journey, it wasn't the only contributing factor in switching to four wheels.
The fully featured splendor afforded by a four-berth bedroom, solar and lithium power, main sockets all over the rig, a shower, gallons of refrigerated magic, a kitchen and drawer-loads of lockable storage, not to mention an awning and annexed room, bring overlanding bliss. On the bikes, we could pack only the items that mattered, multi-purposed and miniaturized; in White Rhino, the light and tight mindset still exists, but we can pack some nice-to-haves as well.
Alas, we didn't reach some places on our Americas trip because of my, ahem, riding abilities, particularly in the first year when I was still learning the technical ropes. But our new beast—ready for adventure with beefy wheels and aftermarket suspension, recovery equipment, and a snorkel—will take us anywhere we want.
Gloriously, our backsides have kissed saddle soreness goodbye. Instead of feeling wiped out after 300-plus moto miles, we emerge full of vigor. Vulnerability-induced excitement aside, two wheels always poses more risk than four among other road users.
Growing Pains
Undoubtedly, it'd be naïve to think we wouldn't encounter an array of challenges born from a 4WD camping journey. Entertainingly, we have paid it forward nine times to date in the Nordic countries as we deployed the winch to rescue tourists getting their 2WD cars stuck off-road.
Another tale from the trail began when we pulled the handbrake up for the night in southern Iceland. Mindfully, we faced the roof top tent's hard shell into a light wind, granting us optimal protection. We climbed inside and battened down the hatches. Ensconced with the earplugs in, I fell into a fitful sleep—the canvas flapping like bees' wings, the wind rustling through the glaciated valley, whistling past us. We were startled awake by an incredible gust that blasted the supporting ladder, which was connected to the hinged floor, clean off the ground, throwing it back down at an awkward angle. As the platform launched skyward, it took tension out of the canvas around the supporting steel bar, which collapsed and came crashing down on us.
Catching on, we're now dialed into 24-hour weather notifications. When inclement conditions are due to prevail, we take refuge in the double cab, dive into the four-season sleeping bags, and almost fully recline the seats. The sleeping arrangement is akin to flying economy on a budget flight, but it's infinitely better than trying to sleep while 110-mph storm-force gales rip our bedroom to shreds.
That said, this style of camping means that when it dips below freezing, we open our eyes to striking patterns of ice—on the inside of the windscreen. An interior heater would have changed that but at some point, you have to invest in the camping journey over gear and equipment. Laying an insulated seat pad in each footwell underneath 55-liter dry bags containing our down jackets, coupled with hot water bottles and fleece liners inside our sleeping bags, keep Jack Frost from nipping at our toes.
While Iceland kicked the hell out of us weather-wise, it was one of the greatest privileges of my life to be there, exploring the fierce drama of its untamed coastline and otherworldly interior in a 4WD. But it will also be my curse—the yardstick against which every other adventure in my life will be judged. It's a window back on the glacier-studded landscapes the woolly mammoths once roamed.
Next Trip: Africa
Having evolved after every trip, we prioritized our wants and needs for the next one. What matters to us is that we're out there unearthing the planet's natural beauty. Right now, there is nothing more appealing than staying self-reliant—come freezing one's maracas off in the volcanic highlands, or having the mind and cobwebs blown in a wind-tortured valley.
Next year, we'll melt like a stick of warm butter under a hot-as-blazes African sun. But all other things being equal, our house-on-wheels—built more for more temperate climes—will come into its own. After loading up on gear and new aspirations, it's time to thank White Rhino for lifting the roof off our brains in facilitating a new era: to stuff ourselves with everything an unscripted, four-wheeled life has to give.
You can follow Lisa and Jason's adventures @fourwheelednomad on Instagram/Facebook and fourwheelednomad.com.
Editor's Note: A version of this article first appeared in the January/February 2020 print issue of Tread Magazine.