1987 Trakka Toyota Land Cruiser HJ75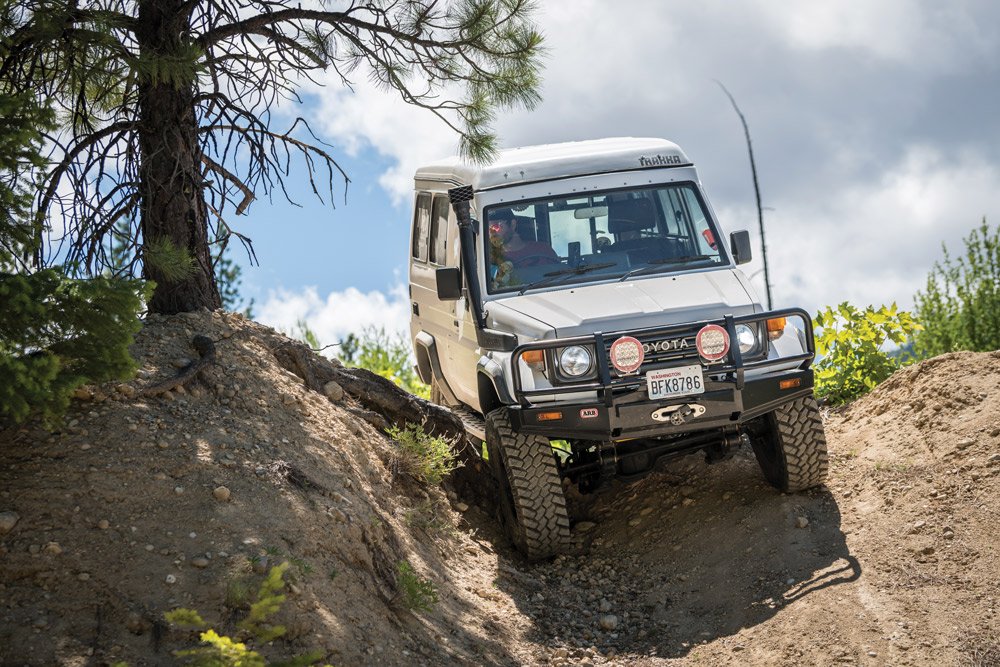 Cobby Bob, a 1987 Trakka Troopy
You can usually find Carl Montoya alongside his employees at Nitro Gear & Axle and Just Differentials in Cashmere, Washington. When not at work, Montoya is out in the mountains off-roading, skiing, mountain biking, or camping with his family. He has an affinity for top-spec, world-class Toyotas and has owned and built a wide range of Toyota off-road vehicles, from 70 Series Land Cruiser rock crawlers to custom TRD Pro 200 Series Land Cruisers, and recently a superclean 2019 Tacoma and this 1987 Land Cruiser Troop Carrier.
"This 1987 Toyota Land Cruiser HJ75 lived its former life in the outback of Australia."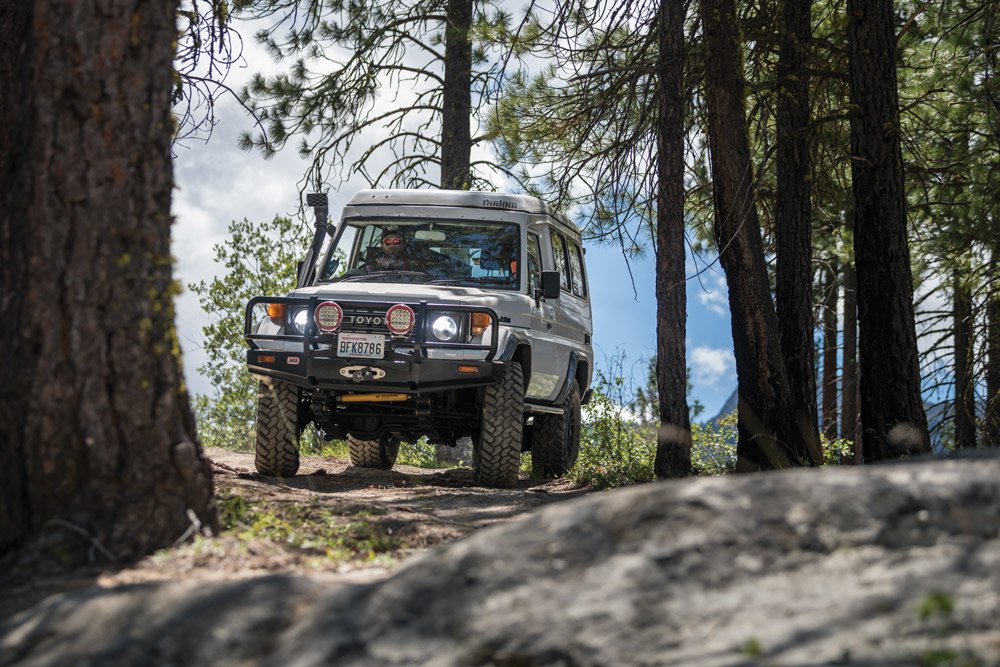 Aussie Pop-Top Troopy
This 1987 Toyota Land Cruiser HJ75 lived its former life in the outback of Australia. It was actually converted as a factory-fresh vehicle into a pop-top camper by the Trakka Bushman company. Trakka specializes in pop-top conversions and is known the world over for its quality design.
Montoya found this vehicle in the U.S. in rough condition. The obvious deficiency was a non-running factory diesel engine. The not-so-obvious deficiency with this vehicle was the deep cancerous rust. If Montoya had known the full extent of what he was getting into he might not have taken on this project. But, as you can see from these pictures, Montoya fully resurrected this Trakka Troopy from the dead.
A Full-Body Overhaul
The first step was to get the body back into OEM-quality shape before starting on all the mechanicals and upgrades. Sadly, the rust was a much bigger issue the deeper into the project the team got. In the end, it took an excruciating six-plus months to do the in-depth bodywork and repaint the truck.
"It was actually converted as a factory-fresh vehicle into a pop-top camper by the Trakka Bushman company. Trakka specializes in pop-top conversions and is known the world over for its quality design."
Besides the bodywork, which included extensive roof and gutter reconstruction, the Troopy also needed much of the fit and finish bits replaced and/or upgraded. New window and door seals and gaskets were installed throughout. Some new glass was needed and many of the door hinges needed to be replaced. Up top, a new custom tent was fabricated for the pop-top. It was made with durable UV stable Sunbrella fabric and has mesh and solid openings on all three sides for ventilation.
Heart Transplant Time
Under the hood of this old machine was a blown Toyota 2H diesel engine. Montoya decided he wanted a bit more grunt than that old tiny powerplant would provide. Specifically, he wanted to go highway speeds through the mountains with a fully loaded camper.
The answer was a new Toyota 4.2L 1HD-FT straight-six 24-valve diesel engine by Torfab. Torfab of course upgraded the engine with a "Grunter Extreme" GTurbo, PDI intercooler and radiator. This combo produces about 450 lb-ft of torque, a considerable upgrade over the 177 lb-ft that the original 2H in this Land Cruiser put out.
One of the trick new custom parts on this Troopy came about from necessity. Once the new engine was installed it was quickly determined that the factory snorkel just didn't allow enough air into the engine. To get around this, and keep the functionality and look of the Snorkel, Torfab fabricated a custom air intake that allows the driver to switch between normal mode and snorkel mode. This lets the truck breathe easy when cruising the highway and also utilize the snorkel when needed in the dust or when fording streams.
Backing that new upgraded diesel engine is a brand-new Toyota H55 five-speed manual transmission. An appropriate input shaft was sourced to link up the 1HD-FT engine and H55 trans. An HD Terrain Tamer clutch was also installed to provide longterm off-road driving reliability.
The Magic is Underneath
Since this Land Cruiser is going to not only be an adventure rig for Montoya, but also a showpiece for his gearing and differential business, you know the axles received the full overhaul and upgrade program.
Up front this Troopy got a fully upgraded Toyota 9.5 axle. The front axle has been rebuilt with Nitro 4.10 ring-and-pinion, chromoly 30/30 Birfield kit, chromoly hub gears, a Front Range Offroad late-model Tacoma/FJ brake conversion, and an ARB AirLocker. This setup is not only stronger in every way but also provides this Troopy with a 3-inch-wider front track width.
The rear axle is also a Toyota 9.5 with a similar build as the front. It has also been gusseted and has new OE drum brakes installed. Nitro 1.5-inch wheel spacers allow it to line up with the front track width for optimal off-road capability.
These new axles are suspended by a full Old Man Emu suspension system with BP51 internal bypass shocks and an upgraded sway bar. The whole setup works perfectly to fit 35-inch Nitto Ridge Grappler tires mounted on 17-inch OEM TRD Pro wheels.
Off-Road Goodies
Now that the Troopy was rust free, looking good, powered up, and rolling right, it was time to protect all that goodness from the hazards found off road. Up front an ARB bumper is installed, along with ARB Intensity lights and a Warn winch. Custom DC Fab rock sliders protect the sides of the truck from trail damage. Out back an Expedition One/Cruiser Outfitters rear dual swing-out bumper with custom bike rack is fitted. Under the truck there is a custom rear frame–mounted skid plate to protect the fuel tank and other vulnerable bits under this long vehicle. An ARB twin compressor rounds out the off-road upgrades.
Overland Adventuremobile
This Troopy is ready to traverse the globe, but without being outfitted with a proper interior and camper system it wouldn't be very comfortable doing so. The big upgrade in the front of the truck are a set of scheel-mann Vario seats. These are some of the most comfortable seats you'll ever sit in, and are perfect for long trips off the beaten path. They even have built-in seat warmers.
This Troopy is also fully outfitted with all the comforts of home. The entire interior has been built out by Goose Gear, with their new S-Series cabinet products, to fully optimize the space for living and travel. Up top there is a custom strut-mounted Goose Gear sleep platform that splits 70/30 for easy use inside the Land Cruiser. Below there is a tall cabinet system on the driver side with integrated fridge, sink, cartridge toilet, and lots of secure storage. On the passenger side, a long, low Goose Gear bench houses the battery and offers up even more storage. Montoya also retained one of the original jump seats from the troop carrier for his kids to travel on.
Rounding out the camper build are matching memory foam cushions for the bed, bench, and lower convertible sleeping deck. Keeping things toasty year round is an Espar diesel furnace system that is fueled off the dual main tanks of the truck. The finishing touch is an Expedition Essentials drop-down table/stove mount on the rear door.
Cobby Bob
All legendary vehicles need a name. Montoya named his resurrected—maybe even restomodded—Trakka Troopy "Cobby Bob." This name comes from the infamous Australian bushman and caretaker at Old Andado Station. Montoya met Cobby Bob during an off-road trip across the Australian Outback in 2016.
Keep up with the adventures of Cobby Bob the Trakka Troopy by following @NitroGears on social media.
1987 Toyota Land Cruiser HJ75
Engine:
Torfab 1HDFT diesel engine
Gturbo
PDI intercooler
Custom air intake with Snorkel Mode switch
Full Throttle AGM batteries
Running Gear:
ARB BP51 shocks
Upgraded sway bar
32-spline chromoly Pro Series  Nitro Axle Shafts
Chromoly Nitro Birfields
ARB AirLockers
Nitro Gear HD 4.10 ring-and-pinion
Wheels & Tires:
Nitto Ridge Grapplers (35×11.50R17) on TRD Pro Wheels
Accessories:
ARB front bumper
Expedition One/Cruiser Outfitters  rear dual swingout with custom  bike rack
Custom DC Fab rock sliders
ARB intensity lights
Warn winch
ARB twin compressor
scheel-mann seats
Trakka pop-top
Goose Gear S-Series cabinets and  bed platform
Espar diesel furnace
Expedition Essentials rear door stove mount
Custom Sunbrella tent
Dometic fridge, sink, and cartridge toilet
Editor's Note: A version of this article first appeared in the Winter 2020 print issue of YOTA Magazine.