First Built 2020 Defender on 35s
Proud Rhino Build 2020 Land Rover Defender
While purists complain about the modern looks, creature comforts, and electronic nannies of the new 2020 Land Rover Defender, there is a shop in Buffalo, New York, working hard to unlock the off-road potential of this new machine. Lucky8 Off Road has not only managed to squeeze 35-inch mud-terrains on 18-inch wheels under the big-motored new Defender, the first in the world to do so, but also upgraded the truck's look and capabilities to help it meet the expectation of its nameplate.
Lucky8 set out to build a new 2020 Defender that not only works better off-road than stock, but also looks better, while retaining all the modern comforts that you expect out of a Land Rover. While not everyone will go the route of putting 35-inch tires under this machine, many will appreciate and bolt on the other accessories. Both because these quality-select products are super functional also because they will look amazing while dropping the kids off at soccer practice and when hitting the trails in Moab.
This is the story of the Lucky8 Proud Rhino Defender 2 build—a vehicle Lucky8 founder Justin Monnin has been dreaming up for years, especially after building super-capable off-road–oriented Land Rover Discovery 5s.
Start With the Right Defender
You first want to start with the right Defender. For the team at Lucky8, that truck  is the 2020 Land Rover Defender 110 SE with the 3.0L straight-six, rear lockers, and Terrain Response 2.
This "big" Defender motor is a mild hybrid system that gets you the power you want for the trail and to turn big tires. The 3.0L inline-six puts out 395 hp and 406 lb-ft of torque. The big motor option also gets you bigger brakes and 19- or 20-inch wheels. The big brakes are great for an off-road truck, but the big wheels aren't. Lucky8 found a solution for that though, which we'll get to later.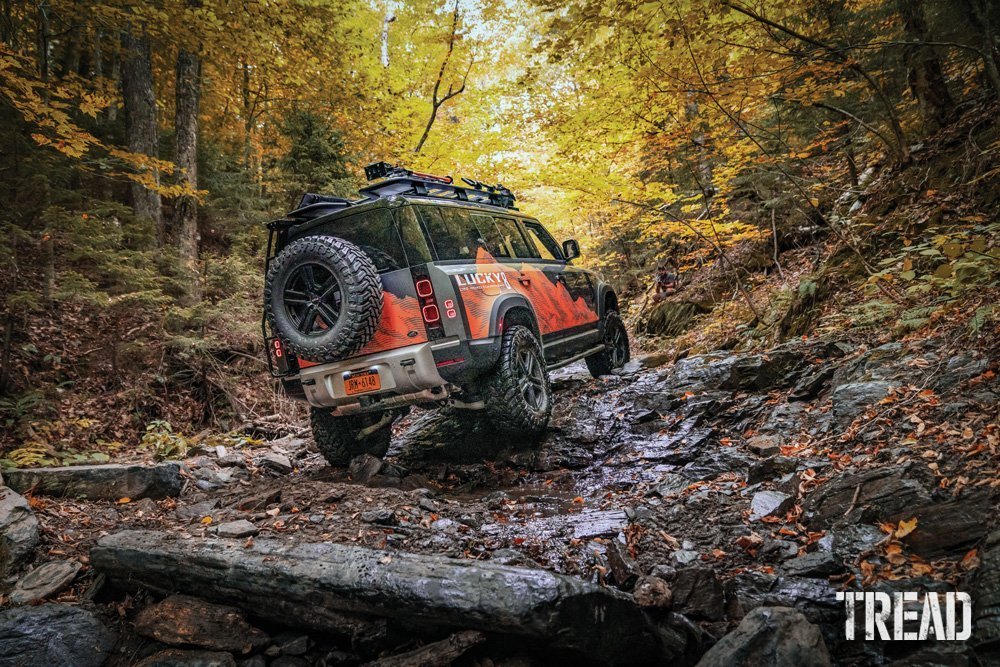 Along with the big motor you'll want to tick off the rear-locker and latest Terrain Response 2 system options on your Defender order form. The Terrain Response 2 system is smarter than ever and is more user configurable than ever. It lets you actually fully set the throttle and locker response within the on-screen menus yourself. This gives you ultimate control over an already-smart vehicle.
Making 35s Work
There is a bit of magic in getting one of these modern, fully independent suspension, airbagged trucks to play nice with big tires and a lift. Especially on a Land Rover, there are a lot of sensors and computers that don't like to operate outside the OEM parameters. Lucky8 has lots of experience with this, as they've done a lift and bigger tire combo on just about everything in the Land Rover lineup over the years.
There is a bit of magic in getting one of these modern, fully independent suspension, airbagged trucks to play nice with big tires and a lift.
Fitting 35-inch mud-terrain tires under the new Defender was no easy task, and took a lot of knowledge and a bit of trial and error. What Lucky8 landed on was a combination of Proud Rhino lift rods, specific 18-inch Tuff Ant wheels, new rear brake calipers, moving the front intercoolers, custom fender brackets, and a bit of lower bumper trimming. The key to this program is that none of the frame or body was cut or modified in any way, meaning you could revert back to stock without an issue.
While it's the full suite of mods that allow for the 35s on 18s, it's the ingenious brake caliper conversion and intercooler move that really make it happen. The big-motor Defender comes with bigger rear brakes, which doesn't allow for fitment of 18-inch wheels. Lucky8 found a way to just swap out the calipers for a slimmer version, while retaining all other brake components and stopping performance.
After the truck is lifted and wheels and tires mounted, the next hurdle was moving the intercoolers in front of the wheelwells, as they are in the way of full articulation of the new, big, front tires. Some custom fabwork gets the coolers up out of the way while custom brackets hold the fender liners out of the way. A little bit of a trim to the lower front bumper and the new Defender is rolling on 35s.
Capability & Good Looks
Besides the tire, wheel, and lift package Lucky8 also sorted out this new Defender with a host of off-road upgrades. Not only does it have the catalog of Land Rover OEM upgrades on it, but a full quiver of select and custom Proud Rhino parts from Lucky8.
From Land Rover, Lucky8 ordered the fender flare kit, snorkel, and roof rack. The 1/4-inch-wider fender flares help contain the big tires, but mostly just help with the brawny good looks. The snorkel and roof rack are perfectly proportioned and fitted to this vehicle.
With those upgrades are a foundation, Lucky8 went to work making the truck truly off-road ready. For armor, Lucky8 built custom rock sliders. For recovery, a hidden winch tray was installed containing a Warn Zeon 10-S and finished off with a Factor55 UtraHook and fairlead. On the roof rack, custom mounts were made for a set of TRED Pros, a Krazy Beaver shovel, a Hi-Lift, and two jerricans. A new rear ladder from Proud Rhino allows quick-and-easy roof rack access, and is much more out of the way for off-road adventures than Land Rover's side-mounted ladder. A custom Proud Rhino light bar, holding four Baja Design LP9 off-road driving lights, finish off Lucky8's Proud Rhino off-road upgrade package.
One of the big gripes about the new Defender are the silly optional rear window side glass storage boxes and the floating plastic square in its place if not optioned with the boxes. Lucky8  has worked out a solution for this "problem" as well. The Lucky8 Defender Square Delete Kit replaces the floating plastic square with three tiny pieces of shiny black plastic, which fill in the alignment holes in the glass and match the color of dark-tinted glass, and a Land Rover oval logo then covers up the fourth hole. This gives the first built 2020 Defender a much more sleek look.
Retaining All-Terrain Comfort
This new Defender, even on 35s and a roof loaded with gear, can cruise at 80 mph with just one finger on the wheel. A classic Land Rover Defender could never do that. Even more impressive is that all the electronics and traction control systems work as if the truck was stock.
Monnin reports that this lifted Defender does ride a bit stiffer than stock, but not nearly as stiff as a lifted Discovery 5. He also says the stiffness helps counteract the extra weight on the roof, making the truck feel super stable. No lifted vehicle wobble here.
This new Defender, even on 35s and a roof loaded with gear, can cruise at 80 mph with just one finger on the wheel. A classic Land Rover Defender could never do that!
Off-road is of course where this build shines. With the really smart computers on board and an experienced off-road driver like Monnin behind the wheel, there are very few places this new Defender can't go.
Get Your Own Proud Rhino Defender
While you can order all these upgrade parts for your own Defender from Lucky8 Off Road, the 35-inch tire conversion program is done in-house in Buffalo. The shop has already had trucks shipped in from places like North Carolina and Colorado for the conversion. One customer even bought a new Defender in Buffalo just so Lucky8 could convert it quickly before shipping it on to him across the country.
Find out more about this Lucky8 Proud Rhino build at www.lucky8llc.com.