2020 Nissan Titan Pro-4X and Titan XD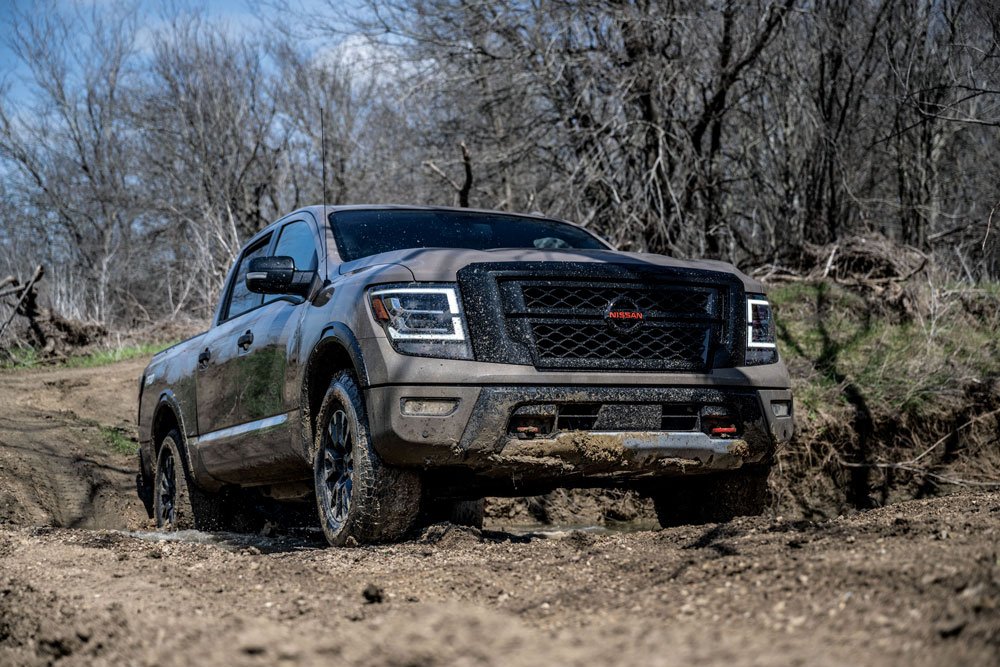 Can the 2020 Nissan Titan Pro-4X and Titan XD Hold Their Own?
On my third lap of a 10-mile-long, closed-loop, off-road course in Midlothian, Texas, I realized two things: I was having heap big fun motoring the refreshed 2020 Nissan Titan Pro-4X at speeds far faster than 90 percent of its buyers would ever think of driving it and the truck's handling and performance was far greater than I expected.
Testing the Updated Titan
I was on a daylong testdrive of the updated 2020 Nissan Titan with two of its five trim levels to evaluate: the Titan Pro-4X and Titan XD. The 2020 Nissan Titan Pro-4X is set up with a collection of Nissan's 4WD hardware to give it prowess for locations where the pavement ends; this 1/2-ton is designed for customers who use their pickup on rugged and rough terrain—both on the job and for recreational activities in the backcountry. The 2020 Nissan Titan XD has been engineered to tow heavy loads and is endowed with technologies that help buyers feel competent and safe when hauling payload, trailering, and towing. Nissan also provided an opportunity for me to pull a 9,500-pound load with this 3/4-ton variant in the Titan lineup equipped with a gooseneck trailer. Like my experience with the Pro-4X, this ride and drive portion of my day on two lanes and along stretches of highway offered valuable and positive real-world feedback. Deemed the "ambassadors" of the Titan lineup by Nissan, the Titan Pro-4X and Titan XD impressed more than expected.
Nissan's light-duty trucks compete with the Toyota Tundra, Ford F-150, Chevy Silverado, GMC Sierra, and Ram 1500 models. The Titan XD is in a class of its own, slotting between the light- and medium-duty trucks. While Nissan's turbodiesel V-8 XD model is now discontinued, the offerings still available include configuration choices of King Cab or crew cab body styles—Titan XD only comes in crew cab—and five grade levels: S, SV, Pro-4X, SL, and Platinum Reserve.
What's New?
I first saw the 2020 Nissan Titan when it was unveiled at the 2019 State Fair of Texas. The Japanese automaker called it "reinvented" and described it as a "huge minor change" because it has an updated exterior, enhanced interior, expanded safety, and improved driving performance. After seeing it at the reveal and driving the two new models, I consider it more of a "midcycle refresh." I took note of its slightly modernized and somewhat toned-down outside styling. I personally found it more appealing than some of the previous looks that stamped it with more of a big-boy bravado in design and trim dimensions. Although the "Big and Tall Man's Store" styling is not my personal taste in trucks, this type of emboldened persona has increasingly become more expected as the character of today's pickups are adorned with more immense and aggressive grilles, bulging fender flares, bigger wheel and tire packages, and larger knobs and controls on the interior.
Styling
A team at Nissan Design America, in La Jolla, California, led the tailoring of this pickup from its origin, with the latest version themed "Powerful Warrior." Designers accentuated the truck's solid beam construction by striving to create cues that bring a more aggressive and stronger look. I like its more high-tech appearance that comes from large LED headlights and "double boomerang" LED daytime running lights, along with all-LED lighting that illuminates the pickup bed, and new LED tailgate finishers in the rear. Not only does this bring increased lighting over the previous generation trucks, but it's also what the market describes as "jewelry." Also new are the front bumper, interlocking frame grille and surround, foglights, badging, wheel designs, and three new colors. Additionally, there is more differentiation between grade levels, with three separate grille designs and five different wheels, giving buyers more opportunity to customize from the factory.
Interior
I was pleased to see the changes to the Titan's cabin; it's more family oriented, with crafted details and premium materials, and there are more places to store small- and medium-sized items. As the price-of-entry in today's office-like cockpit environments, a high-resolution Integrated Command Center with 9-inch touchscreen with an internal Wi-Fi router dominates the cabin, while a 7-inch programmable driver information display is the centerpiece of the instrument panel—the big and attractive touchscreen is the largest in its class. Standard Apple Car- Play and Android Auto also bests the F-150, Silverado, and Ram, although it comes standard on the Tundra. Next-gen NissanConnect provides over-the-air software updates, HD Traffic, and Google Places/Search, along with new safety and security features like remote access features and emergency response services that can be accessed from the truck, on a computer, on a smartphone or smartwatch app, and with Amazon Alexa or Google Assistant. Also new is Nissan Concierge, which brings 24-hour access to a team of professional, live assistants who can help with tasks such as appointment scheduling, wake-up calls, restaurant reservations, and personal shopping.
Notable is the clever and flexible smartphone holder/charging system—one of my favorite features. A 12-speaker Fender Premium Audio System is available and crew cab models now get an available dual-panel panoramic moonroof, one of the largest in the segment measuring over 3-feet squared.
Standard on the new trucks is Nissan Safety Shield 360. This suite of six class-exclusive technologies comes on all trim levels and includes Automatic Emergency Braking with Pedestrian Detection, Blind Spot Warning, Rear Cross Traffic Alert, Lane Departure Warning, and High Beam Assist; class-exclusive Rear Automatic Braking is not available on all others in this class with the exception of Ram. Other class-exclusive technologies are Intelligent Forward Collision Warning, Blind Spot Warning, Rear Cross Traffic Alert, and Intelligent Around View Monitor. Additional systems include Intelligent Cruise Control, Intelligent Driver Alertness, Traffic Sign Recognition, and Nissan's innovative Rear Door Alert.
Driver Impression: 2020 Nissan Titan Pro-4X
When pushing the 2020 Titan Pro-4X close to the limits at the TexPlex Motorsports Park, I appreciated a number of strengths. Weighing in at just under 3 tons, with a payload of 7,300 pounds, there is ample torque on tap to move it quickly, with nine gears now instead of seven. Carried over is a 5.6L gas engine that gets a slight bump in performance numbers and is now rated at 400/413, touted Best In Class by Nissan. Shifting with nine gears puts Titan ahead of Tundra that lags behind with a six-speed automatic, Silverado and Ram that have eight, while Ford comes out on top with 10.
What really impressed me is Titan's new transmission: the larger final gear ratio of 4.083:1 (versus 3.692:1) provides more torque at the wheels in a given gear and it has smoother and faster acceleration. Nissan says all trucks have improved performance for standing starts and at cruising speeds.
Stops continue to come in a measured manner with a four-wheel disc system with 14.2×1.5 front/14.4×1.2 rear ventilated discs and hydraulic power assist. I was particularly impressed with its steering response and handling in tight and twisty maneuvers; it has a decent amount of suspension squat without bottoming out. Of note is its ground clearance of 9.8 inches, which is bested by GMC's Sierra AT4 that has 10.9 and Tundra's TRD Pro's 10.6, but it tops the F-150 FX4's 9.4 inches. This attribute helps with maneuverability in the backcountry on uneven terrain.
The Pro-4X receives the updates and carryover bones of all trims, but stands apart for its specialized off-road technologies. Motoring in 4WD high and low range, I made note of off-road features, such as Hill Descent Control, Hill Start Assist, Brake Limited-Slip Differential (BLSD), and the electronic-locking rear differential—all are expected for today's truck buyers who are looking for off-road chops and, again, the price of entry in this segment. An enhanced off-road gauge displayed the vehicle's tire angle, relative pitch, and roll angles that proved helpful for steep and off-camber terrain on the course. All other truck makers that have models in this specialized segment have these technologies, while some have more information displays.
A range of unique interior custom accents include stain-resistance seat coverings with vinyl bolsters and Pro-4X embroidery, a leather-wrapped steering wheel with unique contrasting stitching, metallic instrument panel finishers, and a black headliner.
Driver Impression: 2020 Nissan Titan XD
The newest Titan XD has been built to serve as a tough tow vehicle that competes with larger, higher-priced, heavy-duty trucks. This Class 2B vehicle shares many of the new features and technologies with the 1/2-ton but is engineered on a unique, reinforced, fully boxed, full-length ladder frame and sports strong braking that come from Titan's four-wheel disc system. The XD bests Titan with higher maximum towing and payload capacities and an extended 151.6-inch wheelbase—about 15 inches longer than Titan models—and is available only in a crew cab body with a 6.5-foot bed and 4WD only. It's rated for 11,000 pounds towing and 2,450 payload versus 9,300/1680. Since this truck sits in between light- and medium-duty pickups, there is no exact back-to-back comparison with others, with regards to towing and payload. It's fair to say these numbers are impressive and provide buyers with an opportunity to buy the XD, which will typically provide better fuel economy and strong, stable towing.
During my time behind the wheel of the XD that tips the scales at approximately 6,600 pounds, I found its ride and handling confidence-inspiring while towing a nearly 10,000-pound load. Notable were its steering and lane-changing maneuverability, launches from a stop, and mannered power on the road, as well as strong, smooth braking and good visibility, as a result of its mirrors, cameras, and ergonomics. One of my favorite attributes is Nissan's Zero Gravity seats that provide a well-bolstered cushion and sides that are designed to reduce fatigue.
Titan XD can accommodate a range of available hitches, including an integrated gooseneck hitch engineered into the frame that is easily accessible in the bed. Available towing aids include an Integrated Trailer Brake Controller, Trailer Sway Control, Tow/ Haul Mode with Downhill Speed Control, and a Trailer Light Check system that allows one-person hookup operation—to check turn signals, brake lights, and running/ clearance lights from inside the cab or with the key fob.
Also available are RearView Monitor with Trailer Guides and Nissan's Intelligent Around View Monitor that gives a composite bird's-eye view with front, rear, and side cameras to help with tight parking or even off-roading at low speeds. The system also includes Moving Object Detection, which helps alert the driver to detected moving objects around the vehicle via an on-screen notification and warning chime. Off-road features include Hill Start Assist and Brake Limited-Slip Differential and Nissan's enhanced Off-Road Gauge. While most manufacturers have a collection of updated towing technologies, the Titan XD has more trailer towing and off-road prowess than 1/2-ton trucks from Ford, Chevy, and Ram.
It's a Wrap
Starting at $36,190 ($43,590 for XDs), its starting price is lower than Ford's F-150 starting price of $37,825 and equal to Ram's $36,190, with comparably equipped models. The Titan went on sale in early 2020 and comes with America's Best Truck Warranty, featuring bumper-to-bumper coverage of five years/100,000 miles, whichever comes first, and includes basic and powertrain coverage. Titan was top-ranked in the J.D. Power "Large Light Duty Truck" in the 2019 Initial Quality Study (IQS). This fullsize pickup is made for the American market and perhaps the vehicle for you to start your outdoor adventures.
Editor's Note: A version of this article first appeared in the September/October 2020 print issue of Tread Magazine.